2012 Ducati 1199 Panigale Recalled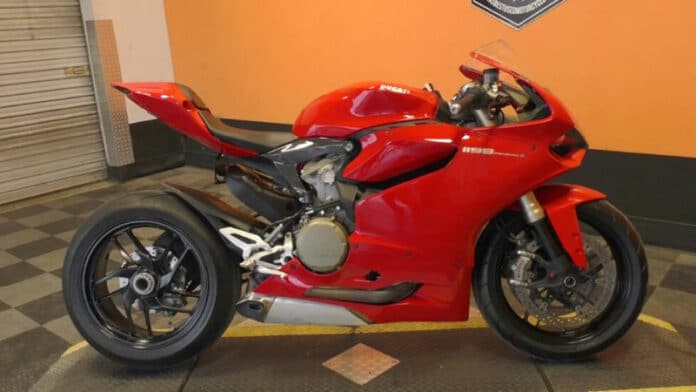 Ducati North America has just announced that it is recalling 375 model-year 2012 1199 Panigale superbikes due to rear suspension concerns. Apparently, certain 1199 models contain a defective screw, which is used for retaining the swingarm to the rear suspension linkage.
The Recall
If the linkage were to detach from the swingarm, the suspension would collapse, according to the National Highway Traffic Safety Administration. Consequently, the handling of the vehicle would be affected, increasing the risk of a crash.
Ducati will notify customers of the recall shortly, but have not disclosed an exact date. Owners of affected Ducati motorcycles will receive a new screw, free of charge. In the meantime, concerned motorcyclists can contact Ducati North America by phone at 1-800-231-6696 or online at www.ducatiusa.com. Consumers may also contact the NHTSA Hotline at 1-888-327-4236 or go to www.safercar.gov. The NHTSA Recall Number is 12V270000.
2012 Ducati 1199 Panigale
Introduced in 2011, the Ducati 1199 Panigale is cutting edge sport bike named after the manufacturing town of Borgo Panigale. The 2012 model touts a 4vcp L-twin engine, which Ducati claims is the most powerful production twin-cylinder motor. Not to mention, the superbike also contains a laundry lists of features including Ducati Electronic Suspension, Ducati Traction Control, Anti-lock Braking System 9ME, Engine Brake Control and Ducati Quick Shift. The 1199 Panigale comes in three versions: the standard, the S model and the Tricolore S.
Ducati's 5th Recall in 2012
Unfortunately for Ducati, this week's recall is the fifth for the Italian-based manufacturer just this year. Most recently, Ducati recalled 283 2012 motorcycles due to a brake problem. The recall, which was issued in May, affected six Ducati models including the 848 EVO, Hypermotard 796, Monster 1100 EVO, Monster 796, Multistrada 1200 ABS and Streetfighter 848.
Ducati also recalled roughly 900 model-year 2011-2012 Monster 1100 EVOs to repair a rear-wheel rim defect in March. The motorcycles contained a defective wheel rim, which may crack over time, increasing the likelihood of a crash. The Monster 1100 EVO was also recalled the following month due to brake line difficulties.
Lastly, Ducati recalled approximately 900 motorcycles in February because of a fuel leak issue. The dangerous issue, which affected certain Monster and Hypermotard models, could lead to fires, according to NHTSA reports.
Ducati's Reputation
Despite being one of the world's most famous motorcycle companies, Ducati initially manufactured radio equipment when it was founded in 1926. It wasn't until 1944 that Ducati began building motorcycles after its original factory was destroyed during World War II. After the bombing, the Italian government urged Ducati to focus its attention on motorcycles and the rest is history.
Ducati 1199 Panigale