2013 BMW F 800 GS Review
2013 BMW F 800 GS is designed for the weekend warrior to tackle any type of terrain or the daily commuter that also wants to go off road. The water-cooled 4-stroke in-line two-cylinder engine has a very surprising mid range punch that puts a smile on any type of riders face. The tubular steel frame, upside-down telescopic forks, dual sided swing arm, and tall riding position all contribute to a remarkably well-balanced and maneuverable machine.
The 2013 BMW F 800 GS is inherently tall as are all of the other BMW GS family members, but once on board the wide handle bars, comfortable seat and electronic suspension adjustment all blend in to make this machine a really fun and easy bike to ride.
| | |
| --- | --- |
| Manufacturer | BMW |
| Bike Class | Dual Sport, Enduro |
| Year | 2013 |
| Country | Germany |
| MSRP | $12.00 |
| Engine Size | 798cc |
| Configuration | Water cooled, in-line two cylinders, 4-stroke |
| Top Speed | 125 mph |
| Weight | 421 lb (dry) |
| Seat Height | 34.6 inch Standard, 32.3 loweredmm |
| Colors | Kalamata Metallic, Alpine White, Cordoba Blue |
AllAboutBikes BMW F800 GS Video Review
Average editor rating from: 2 user(s)
| | |
| --- | --- |
| Overall rating | 3.6 (2) |
| Rider Comfort | 3.5 (2) |
| Power Feel | 4.0 (2) |
| Handling & Shifting | 3.8 (2) |
| Features & Controls | 3.8 (2) |
| Appearance | 3.5 (2) |
| Confidence Inspiring | 3.8 (2) |
| Value | 3.0 (2) |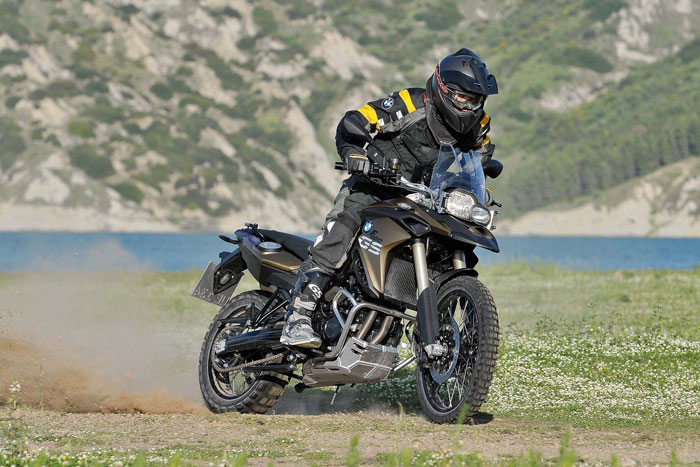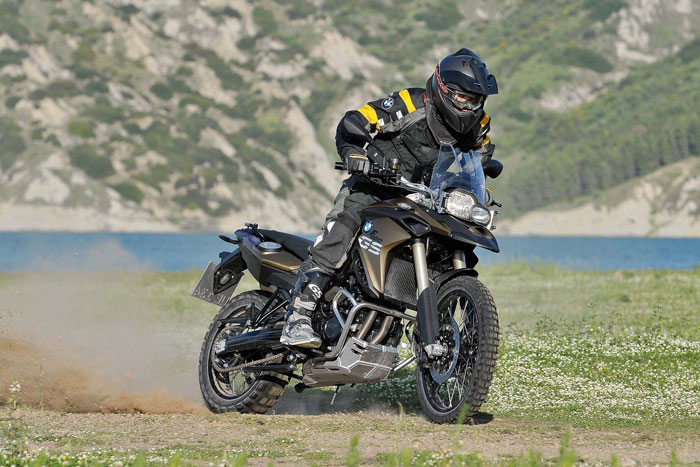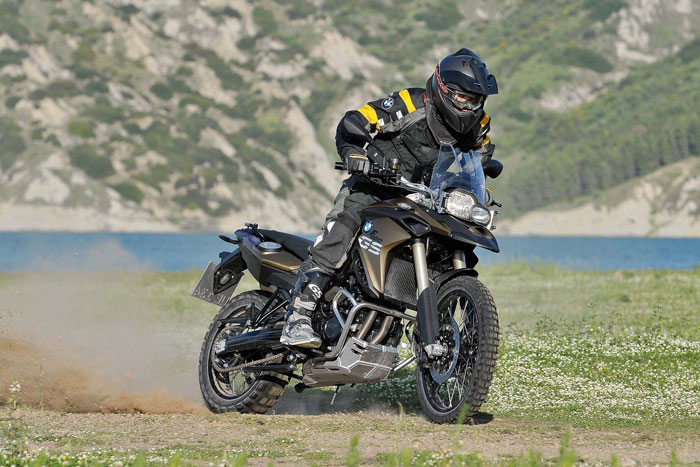 2013 BMW F 800 GS Review-Reviewed by Julian Taylor
| | |
| --- | --- |
| Overall rating | 3.5 |
| Rider Comfort | 4.0 |
| Power Feel | 4.0 |
| Handling & Shifting | 3.5 |
| Features & Controls | 3.5 |
| Appearance | 3.5 |
| Confidence Inspiring | 3.0 |
| Value | 3.0 |
Pros
Engine power
Suspension balance
Visibility
Ride height
Smooth gearbox
Cons
Ride height for shorter people
Factory screen on the interstate
Little top heavy at very slow speeds
Review
Most people when they buy a bike really don't think about whether it will be truly capable on and off road. BMW have built their Dual Sport heritage specifically for the road rider that would love and could take their bike onto the dirt. This middle of the road sportier model in the GS family is as capable at commuting to a downtown city as it is on a fire road or mountain pass. The mid range power of the engine allows the bike to go anywhere you want it to with no concerns of getting bogged down or running out of power. The acceleration of the motorcycle allows you to take full advantage while overtaking groups of slower vehicles or making it up a steep off road incline. Just drop the gearbox open the throttle and the bike will quickly but not overwhelmingly take you to the next level.In typical BMW GS Style this bike has all of the bells and whistles you could ask for. It comes with ABS as standard. BMW's Electronic Suspension Adjustment (ESA) as standard, which allows you to chose your comfort level and suspension set up on the fly. As an added extra you can buy the Traction Control (ASC) that has become synonymous with BMW Motorcycles over the years.The brakes are top notch too. With a Brembo braking system the front dual disc, floating arrangement with double-piston allows you to single finger brake both on and off road. They bite straight away with just enough force to inspire confidence but not too much to over-power the front end and drop the nose too aggressively. The back brakes are single-piston floating calipers with ABS on all models.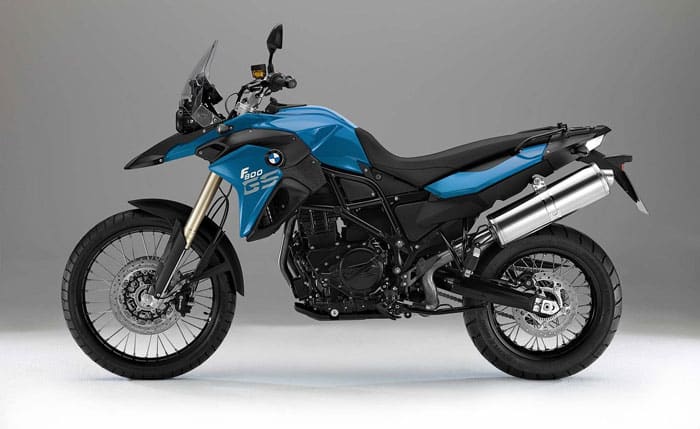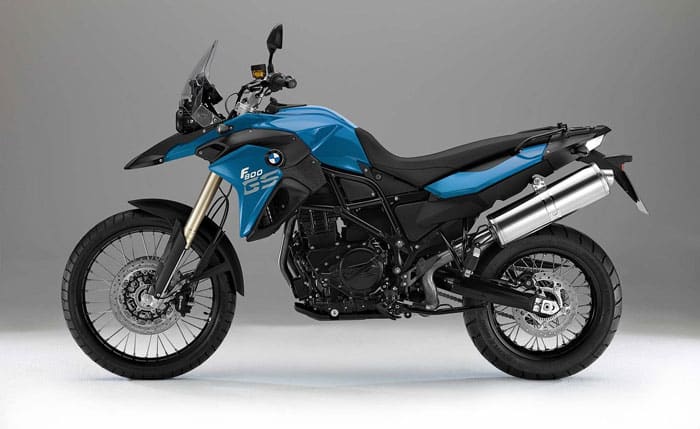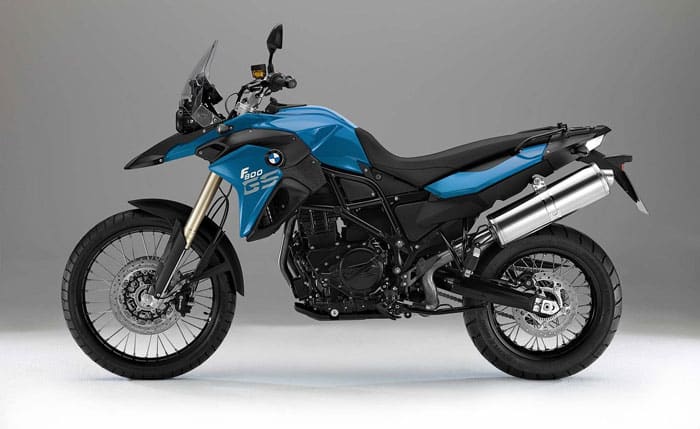 F 800 GS adapting to everyone's height requirementsMotorcycle ride height has always been an issue for anyone that has a short inside leg measurement, especially if they want to own any bike in the GS line. However, the available seats on the F 800 GS allow for shorter riders to be able to ride this bike but you do lose a few valuable features if you install the lower seat. See the other road testers description of what has to change to fit the lower seat (add link to Marks piece here)The standard seat height is 34.6 inches. But with the variable seat options you can now take it down as low as 32.3 inches. Obviously, it is not a cruiser but it does adapt to one of the lower configurations within this category. The seats also come in a couple of different shapes for comfort and off road needs. There is the High seat which is the standard seat, the Low which is easier for riders to get their feet on the ground, the Rally seat which is much harder for off-road riding and the comfort seat with a wider broader surface with more padding for comfort which was the one on our bike.General ThoughtsThe suspension allows for any type of road surface. Our test included backcountry roads that were tight and undulating, interstate riding and city commuting type terrain. The F 800 GS riding position provided clear concise visibility all around, even mid corner or looked over you shoulder to overtake, visibility was never an issue especially with the upright handle bar position and clear visible mirrors.On the interstate sitting at 90 miles an hour was easy for this machine. Wind protection was adequate but I can imagine the larger screen would be a little more enjoyable on the highway. We were able to roll the throttle on in sixth gear with a clean crisp throttle response from the electronic fuel injection that never lacked excitement or power keeping a constant pace and never running out of breath.Off road all of the above still applies. We did some fire roads and ideally knobby tires would have been our preference but you still got the idea what this bike is very capable in an off road environment.
Ratings Details
Rider Comfort
With the comfort seat installed the F 800 GS is very rider friendly. Rider's back is straight and the seat has a lip for added back support. Soft seat allow rider to feel the padding underneath with extra obvious comfort. The bars are wide allowing for stretched arms and a very comfortable posture.
Power Feel & Engine
Power delivery is instant. The 798 cc engine is responsive and punchy. Throttle response is crisp, clean and progressive with the chain drive allowing for instant power transfer to the rear wheel. Dropping the gearbox allows for more higher rev power delivery on an overtaking maneuver but is not needed at interstate speeds.
Handling & Shifting
Concise progressive steering. The suspension provides loads of feel on any type of road due to the wide handlebars. The upside down forks deliver precise feedback from the front wheel and the ride height provides a very easy flick-able highly visible riding position.Gear shifting is typical BMW, very precise, clean and easy. Every gear change even under hard acceleration slots into place with no resistance. Clutch less changes are very easy upwards with a blip of the accelerator. Down shifts under hard braking with front brake only engaged gave a little back wheel hop, when the back brake is applied at the same time the down changes are much smoother.
Features & Controls
Clear analog rev counter and speedometer. Digital display for suspension setting's fuel and warning levels.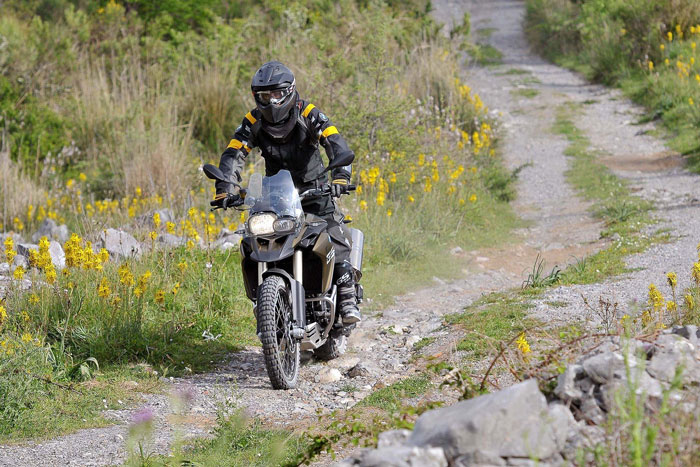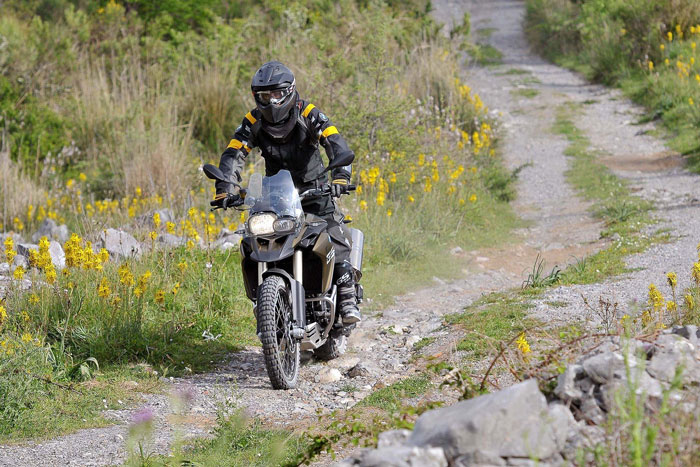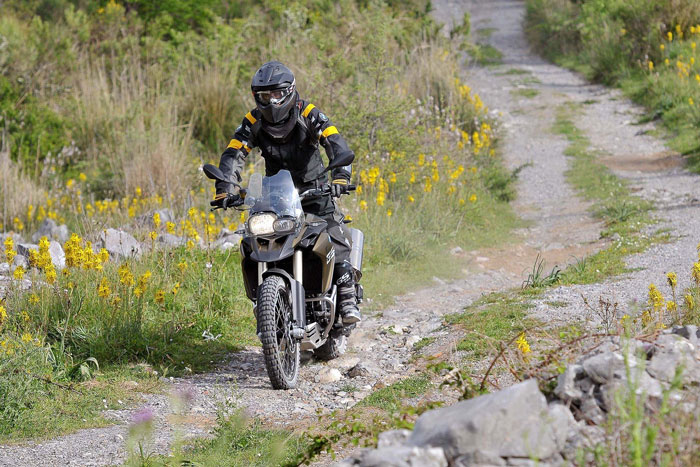 Appearance
Dual Sport/Enduro heritage is very evident in the design. High front nose, rugged engine protection, high seat all provide the unique design that is a BMW GS. The width of the bike is smaller than the larger 1200cc Adventure big brother and it is evident when you are aboard. Rugged looking with a real off road feel and very comfortable for the everyday road.
Confidence Inspiring
The height of the machine is the only place you can lack confidence if you have a short inside leg measurement. The wide-handlebars and straight back riding position allow for clear concise movements that pin-point the bike to go exactly where you want it to go. The ground clearance allows for any type of terrain which again inspires confidence.
Value
BMW's are never the cheapest of motorcycles but that reflects in the quality. Sticker shock can be evident on this machine if you want extra's. Starting price includes ABS at $12,090 but with some accessories added and maybe the lower seat you quickly put the machine in the mid $16K range out the door.
More Info
BMW F 800 GS is truly an all-round rider friendly machine. Suspension will handle anything, ride height let's you go anywhere, the power delivery allows for quick responsive overtaking and the powerful headlights provide great visibility at night.Be careful if you are a shorter rider when moving the bike slowly the fully fueled weight of 472 lbs (214) kg can catch you quickly. As soon as it is moving the weight disappear and its plain sailing just a little top heavy at very slow speeds.798 cc engine, water-cooled 4-stroke in-line two-cylinder engine, four valves per cylinder, two overhead camshafts, dry sump lubrication.85HP at 7,500 rpm and 61 lb/ft of max torque at 5,750 rpm.Electronic intake pipe injection and a digital engine management system. Closed-loop 3-way catalytic converter, emission standard EU-3.Clutch is a multiple wet disc clutch submerged in oil and mechanically operated.Front suspension is upside-down telescopic fork. The rear suspension is cast aluminum dual sided swingarm, WAD strut (travel related damping), spring pre-load hydraulically adjustable at handwheel, rebound damping adjustable.Wire spoke wheels. Front brake dual disc, floating brake discs with double-piston floating calipers, ABS. Rear brake single disc, single-piston floating caliper, ABSUnladen weight, road ready, fully fueled 472 lbs (214 kg). Dry weight 421 lbs (191 kg)4.2 gallon tank.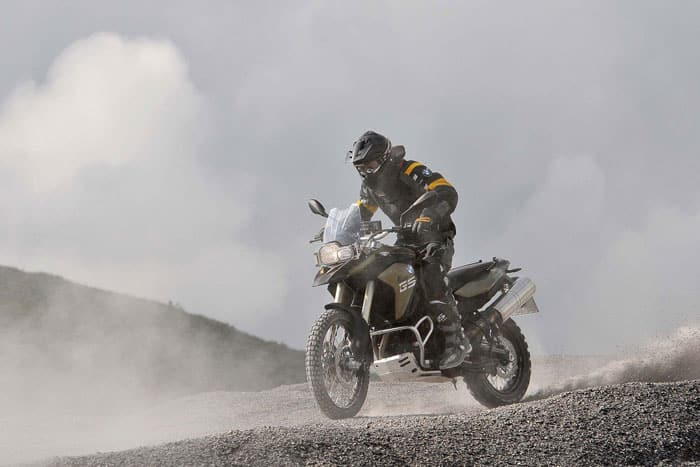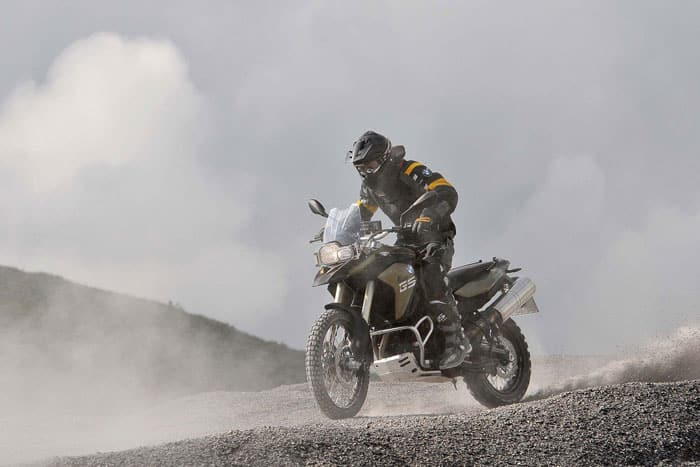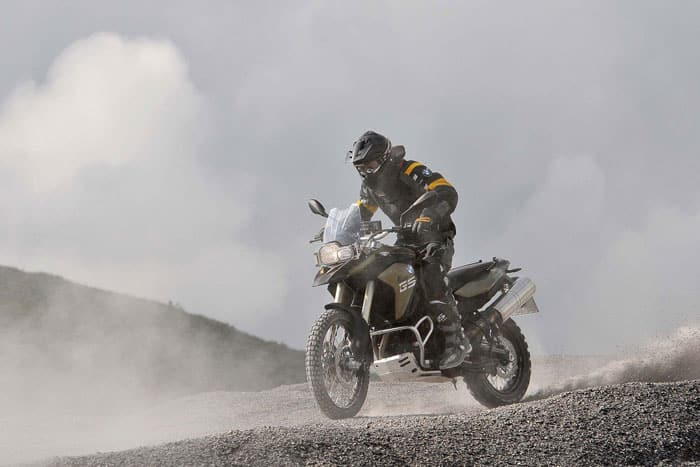 Extras
F 800 GS accessories and Givi Luggage systemThe F 800 GS comes with a standard clear screen, with the option of a touring windscreen that is a little larger for better wind protection. It is also available in a tinted version. Akrapovic make a slip on end can for the factory exhaust that has a deeper note and is considerably lighter than the stock system. Our model had a crash bar fitted on the engine. It looked neat and robust in stainless steal providing protection both underneath the bike and around each side and in front of the exhaust.Our press bike did not have any luggage attached but BMW do have the Vario Luggage system available with black plastic cases and a bow shaped bar system for changing case capacities, a back rest pad for the Vario top-case. There is also an aluminum luggage system available as an OEM accessory.For this test though we chose to go down the after market parts route and fit a Givi V46NT Monokey Tech Case 46 Ltr. It fit perfectly, we removed the back OEM platform added some spacers that were supplied by Givi, put the platform back and fit the back box. It took all of five minutes. I highly recommend Givi after market parts for this bike.
2013 BMW F 800 GS Review-Reviewed by Mark Kerr
| | |
| --- | --- |
| Overall rating | 3.7 |
| Rider Comfort | 3.0 |
| Power Feel | 4.0 |
| Handling & Shifting | 4.0 |
| Features & Controls | 4.0 |
| Appearance | 3.5 |
| Confidence Inspiring | 4.5 |
| Value | 3.0 |
Pros
Great power at all ranges
On the fly mode adjustments
Excellent weight distribution
Cons
A bit tall for me
Price a little steep
Review
As soon as you start this bike you fall in love with the sound. Ok maybe I am a bit of a bike nerd but I loved the tone. All controls are super easy to work and after only a few minutes riding you feel right at home on this GS.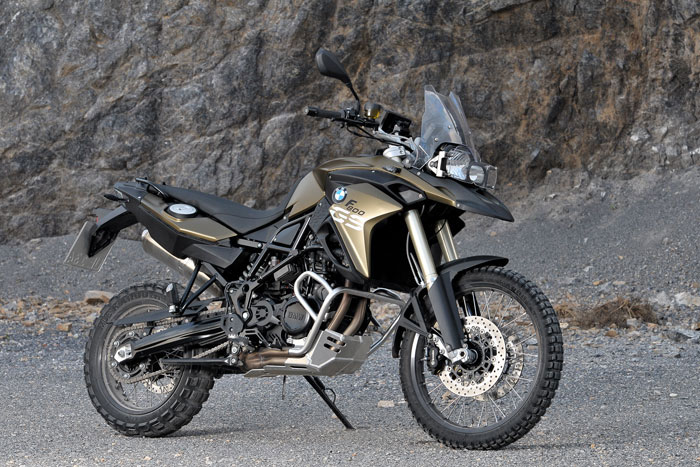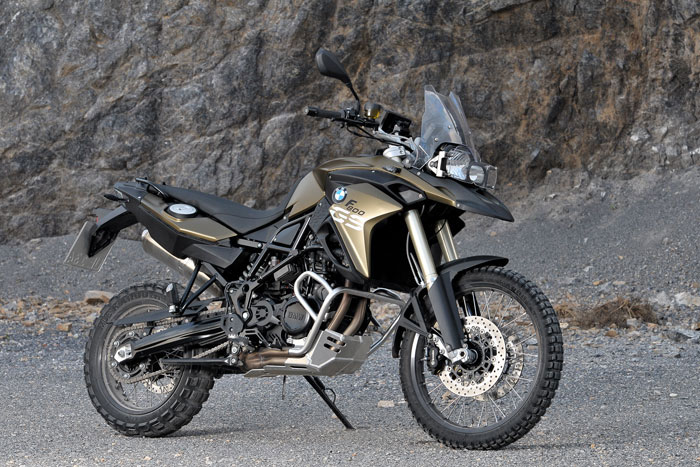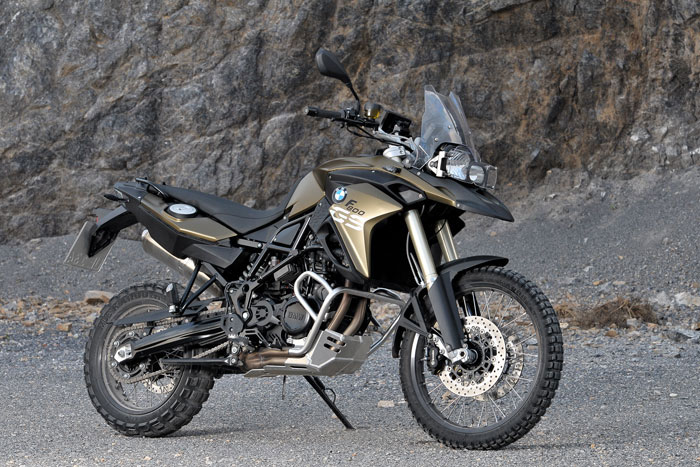 The heated grips (which I think should be available on every bike made) seemed to heat up much faster than what I am used to on my R1150GS. Big plus! While we are talking about grips just a personal thing I guess, I found wearing a gel pad quality glove (Olympia Gel Gloves http://olympiamotosports.com) with this bike made for a very comfortable feel as far as grip size goes.The new 800GS comes with chain drive as with all the smaller GS's. A little more maintenance and care than on my huge 1150 but we all know the benefits of more power and less weight and that seems to be a fair trade especially on this bike.Let's talk about the ride. Surprising Torque is the first thing that comes to mind. This bike is stuffed full of power. All areas are more than adequate but it seems to shine in the 4000 -5500 RPM range to me. It's very competent in city riding and the gear ratios seem to work really well on the mild off roading.I got to open the bike up on the highway a few times during the 400-500 miles I rode it. Passing a few trucks or slow caged drivers is no problem. I do know for a fact that in 6th gear after only a very small amount of asphalt passing by on the highway it will easily do well over 100MPH, don't try this at home.
RATING DETAILS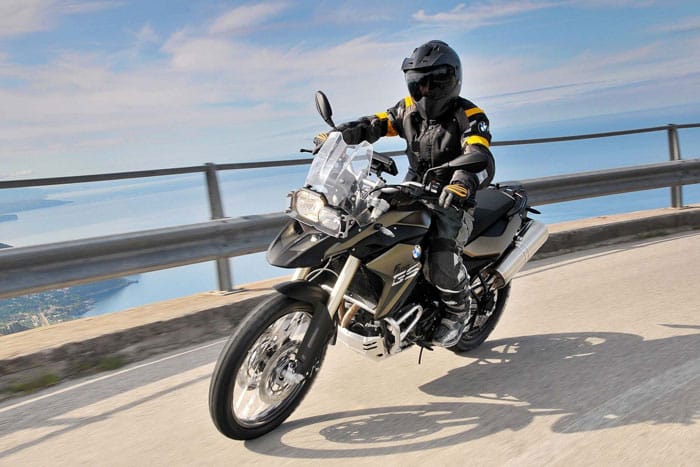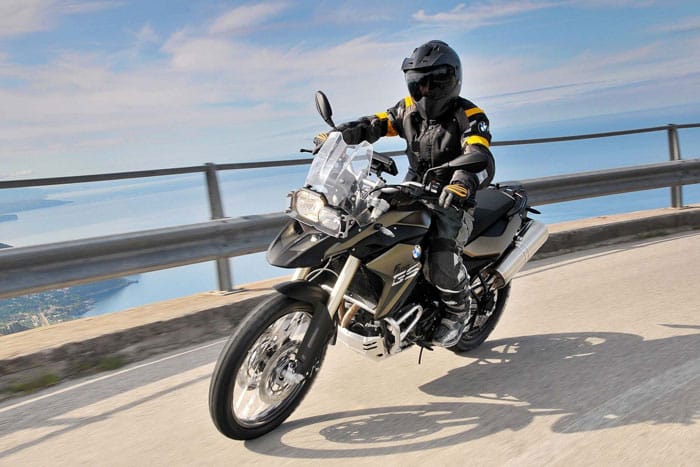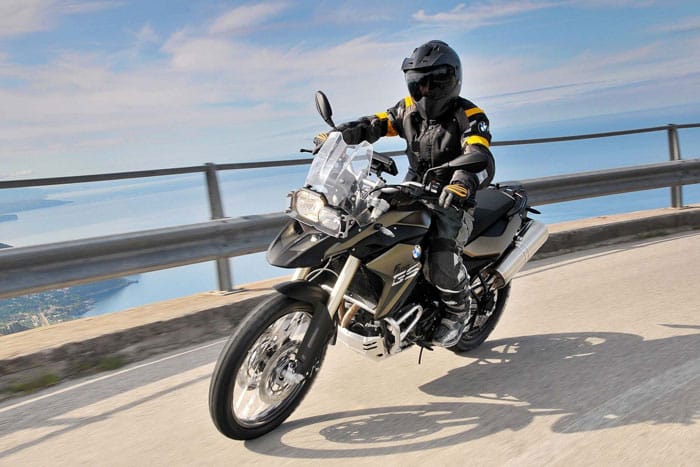 Rider Comfort
Very comfortable
Typical BMW GS sitting position (perfect)
Power Feel & Engine
Great at all speeds
Top end even better than expected
Handling & Shifting
Superior at any speed or terrain
Smoothest gearbox on any GS I have riden
Features & Controls
Easy to find and switch even with gloves
Cluster visiblity good in all light conditions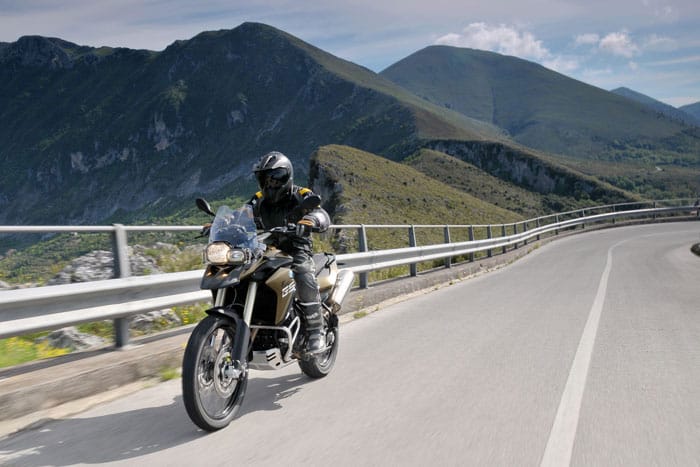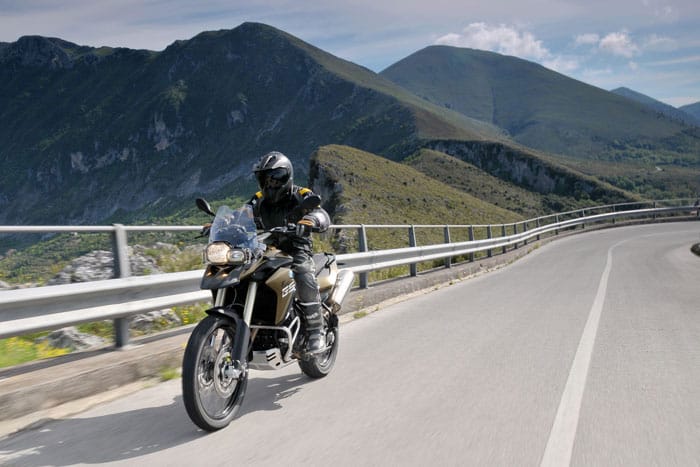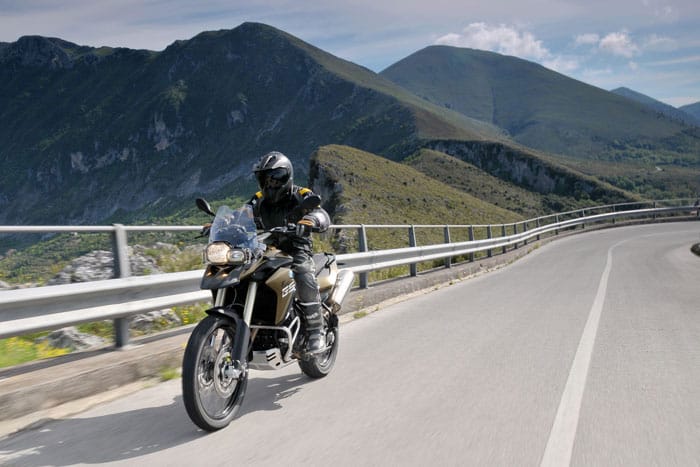 Appearance
The windshield seems to do a good job at keeping the bulk of the wind off your torso. It does dump the rest just below your chin, which is not an issue with a good helmet, a plus in hot weather.I had concerns that the sleek looking mirrors would not work very well. I was wrong, once I had them in position they worked just fine.
Confidence Inspiring
The transmission on this bike was by far the smoothest I have ever encountered on a BMW. The new style gearbox on this bike is amazing! I would actually say as smooth as any other bike in the class.The ability to change suspension settings on this bike while riding is nothing less than genius. And the differences between modes are very noticeable. I ran through all the settings both alone and while riding with a passenger. BTW if you take your wife with you the ride height is perfect! Just hold on when she climbs on and off due to the tiptoe the bike is top heavy.The ABS is also a button away to control, but I have to say I feel the rear ABS came on rather easily and I was never able to activate the front. Even after some intentional quick stops.
Value
You get what you pay for!
But you wll pay in the upper teens to enoy!