2013 Honda PCX 150 & Metropolitan Scooters Revealed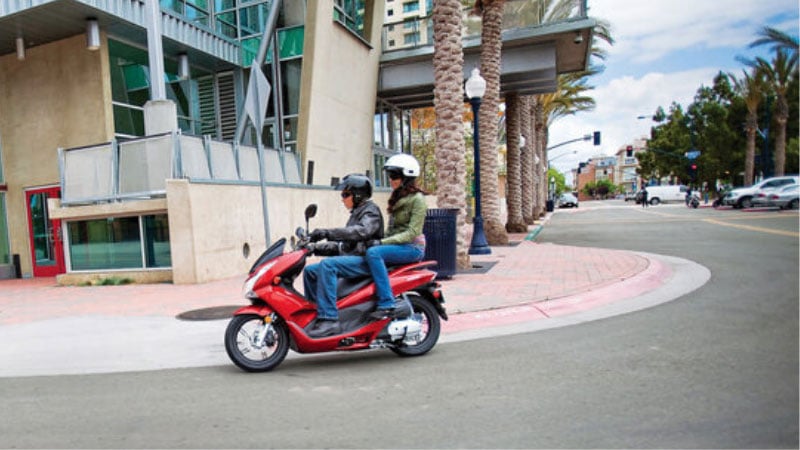 Honda has announced their new or revised scooter models (PCX 150 and Metropolitan) for the 2013 model year. No, that's not a typo, I did write 2013 — but you don't have to wait until 2013 to see them because these new models will be available during the Spring & Summer of 2012.
The Honda PCX 150 scooter and the Metropolitan scooter are polar opposites when it comes to styling. Honda designed the PCX with styling cues from modern sport motorcycles and it's the more powerful of the two. The Metropolitan is an old school style scooter that's designed more for cruising than ripping it up.
2013 Honda PCX 150 Scooter
The 2013 Honda PCX scooter has a number of fresh features, including a four stroke 150cc engine which can push the PCX to freeway speeds and an under-seat storage area that can accommodate a full face helmet.
2013 Honda Metropolitan Scooter
The Metropolitan is Honda's classic scooter. This model has also been "freshened" for the 2013 model year. Updated styling features include a new headlight, a new metric instrument cluster, different handlebars, and a new taillight section.
The Metropolitan is powered by a fuel injected 50cc, four "stroker" tied to an automatic transmission. Honda's 2013 Metropolitan also includes convenience features like an under-seat storage area, an inner storage area big enough for a one liter bottle, and a larger hook for bags.
Honda Scooters in the U.S.A.
Unlike motorcycles, scooters have never been as popular here in the USA as they have been elsewhere around the globe. The scooter became popular as a recreational toy in the 1950s, but most Americas have never seen the scooter as a serious transportation tool.
The last spike in the popularity of scooters in America occurred in 2008 when fuel prices rose above $4. Ah, do you see where I am going with this? Now that fuel prices are above $4 again, the popularity of scooters has spiked again. In fact, sales have already risen nearly 50%. You can probably expect to see more of the Honda PCX 150 and the Honda Metropolitan on roads around you soon.
Honda Metropolitan Scooter CHF 50 Consumer Review