2013 Kawasaki Ninja EX 300 ABS SE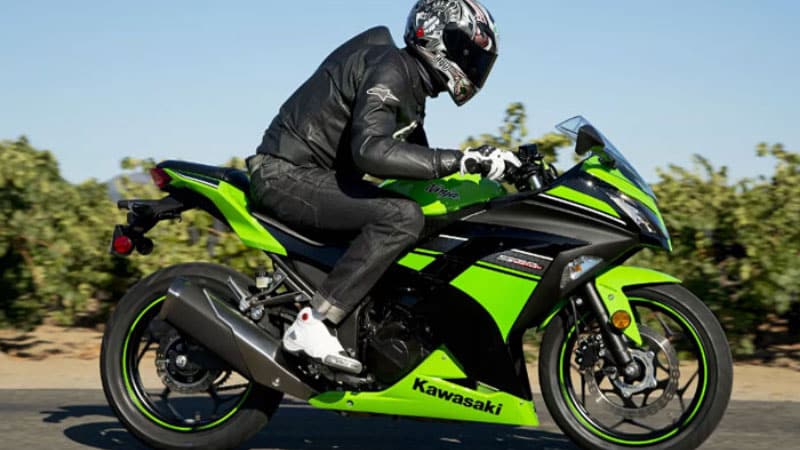 2013 Kawasaki EX 300 Ninja ABS SE is the perfect entry level motorcycle, bar-none. If you're looking for a bike within the sport-bike category this machine has it all. It's stylish, modern, quick for a small bike, flickable, smooth and has "street cred" The Kawasaki EX300 Ninja is the ideal entry level motorcycle.
The Ninja 300 is not expensive starting at $4,999. It has impressive power for a small entry level bike that will surprise even the long in the tooth riders, like us road testers. If you want fun and maneuverability, want to pass cars or other bikes while slip streaming, (especially the CBR 250 from Honda) or maybe even get your knee down on a sharp bend or a race track, the Kawasaki EX 300 Ninja is the bike for you.
| | |
| --- | --- |
| Manufacturer | Kawasaki |
| Model | EX300 Ninja ABS SE |
| Bike Class | SportEntry Level |
| Year | 2013 |
| Country | Japan |
| MSRP | $4,999.00 |
| Engine Size | 296cc |
| Power | 35 hp |
| Top Speed | 111 mph |
| Weight | 384 lb (dry) |
| Seat Height | 30.9mm |
| Colors | Lime green, Ebony, Pearl, Stardust White (2014) |
This little bike will keep you safe mid corner, deliver confidence to the new rider and the power delivery is easy to handle. When you crank the throttle open and pretend to ride like an AMA hero the little Ninja will not disappoint. If you keep it pinned corner speeds are extremely exciting. You can stay with the middleweight bikes mid corner on a track easily, but on the straights they leave you standing and on the open road it is all down to the rider.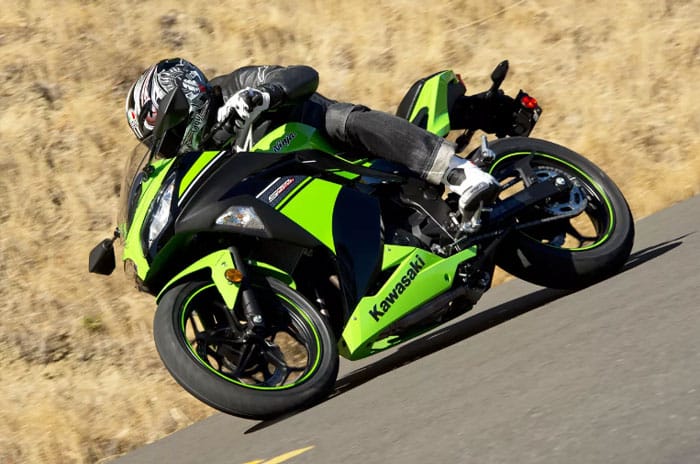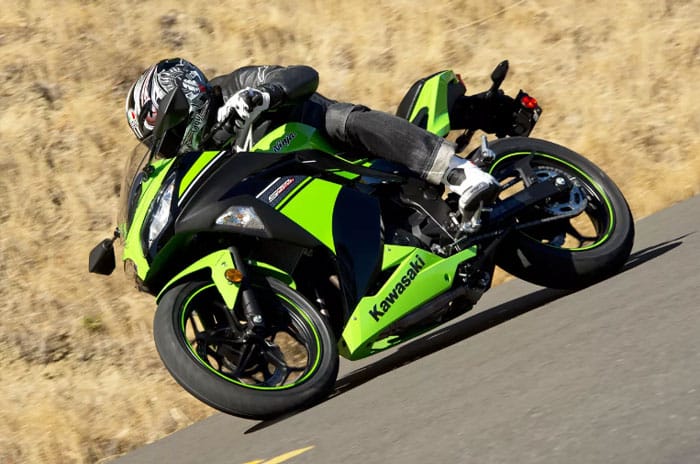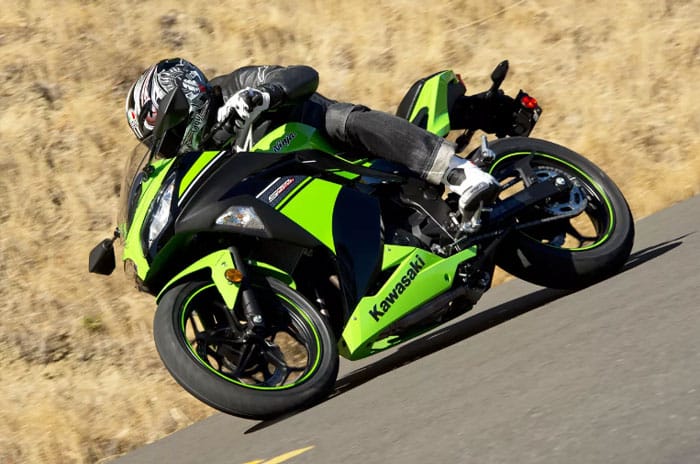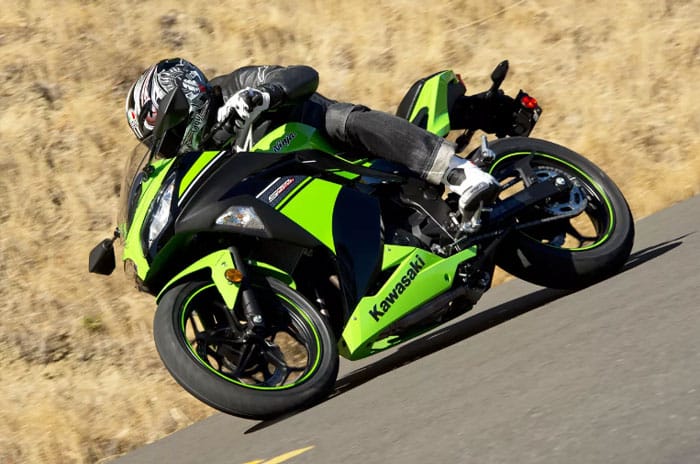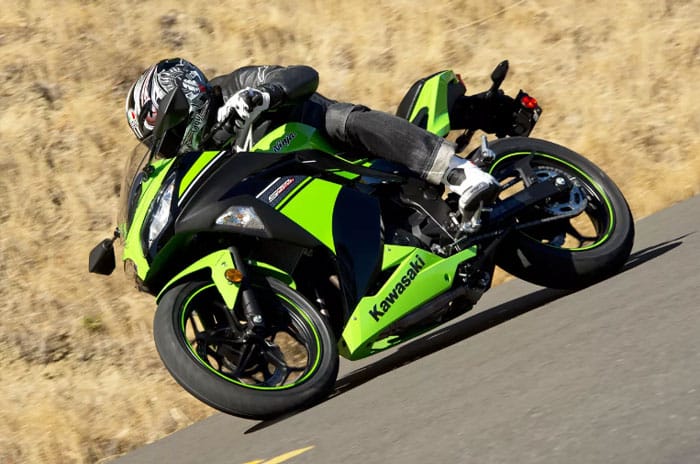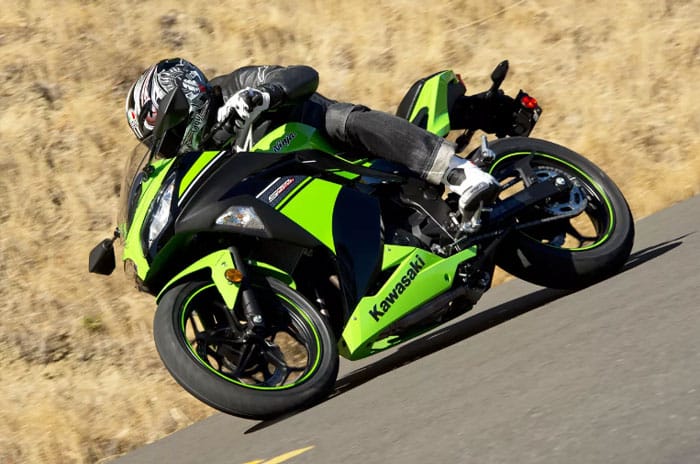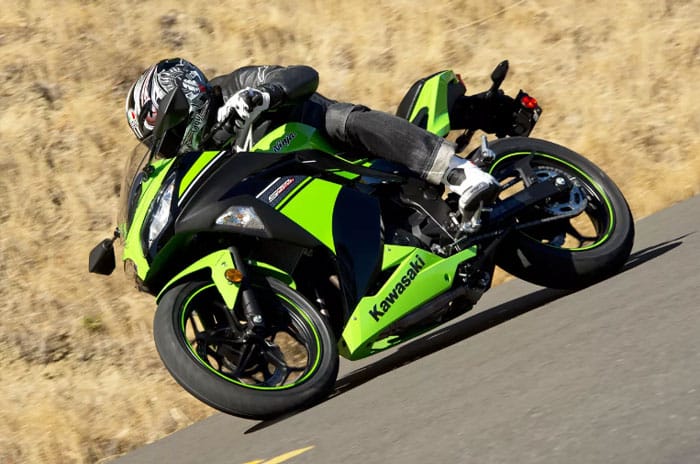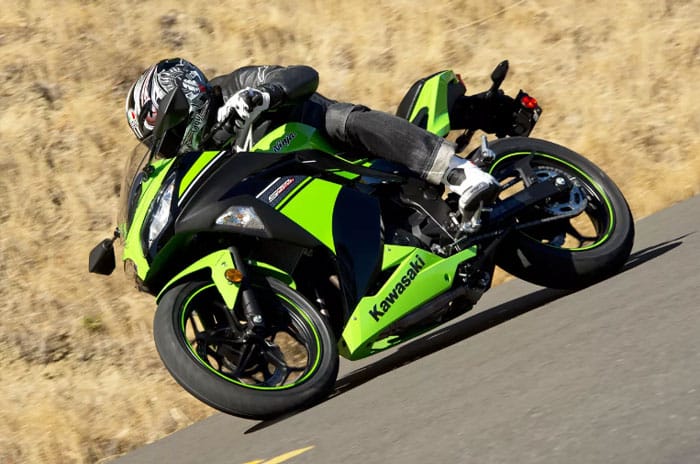 The Kawasaki Ninja EX 300 allows you to let your hair down while at the same time staying very easily within the speed limit if you so desire to keep your driving license. The little Ninja EX300 is the place to start for anyone wanting to get into motorcycling. The lightweight category means you don't have to worry about huge power delivery across the rev range or a heavy bike to maneuver stationary or mid corner . If you just received your permit or passed your MSF course this bike will keep you going for a few season's, its truly the perfect entry level bike.Some dealerships also guaranteed 90% trade in value within the first year when you upgrade, which makes it much easier to decide on a bike like this for your first riding season if you know you are not going to lose too much when purchasing new.
2013 Kawasaki Ninja EX300 ABS SE-Reviewed by Julian Taylor
| | |
| --- | --- |
| Overall rating | 4.2 |
| Rider Comfort | 3.5 |
| Power Feel | 3.0 |
| Handling & Shifting | 3.5 |
| Features & Controls | 4.0 |
| Appearance | 5.0 |
| Confidence Inspiring | 5.0 |
| Value | 5.0 |
Pros
Light,
Clean crisp power delivery
Flickable
Comfortable
Smooth gear box
Good fuel consumption
Sport bike genre
Aggressive looking
ABS on selected models
Imbedded indicators
Cheap insurance
Cons
Short first gear
constantly full throttle
Hero blobs touch down easily
no canceling indicators
Cheap tires
Brakes don't bite quick enough
Sounds very quiet with standard stock exhaust
Review
Kawasaki did a really good job with the larger extra engine power against its competitors. That extra 50cc just provides the mid range with a little more punch and allows you to really go places on this little bike. With the wind behind us and down hill on a closed course we did see 111mph on the speedo.With the Ninja 300 being an entry level sportbike the riding position is designed to get you use to leaning forward. It is not too aggressive but it does provide the feeling of what it would be like if you were riding a Ninja 636. Riders can imagine themselves getting onto the larger big brother once able to handle everything that the baby Ninja offers.We tested the bike on the street within normal country road surroundings. We include an interstate where it sat at 80mph very easily, we took it up steep hill's where you did have to change gear quite a bit, and we took it to the New York Safety Track www.nysafetytrack.com in upstate New York.This track is brand new it only opened in May so the road surface was very fresh, clean and relatively bump free.
The Ninja 300 swallowed up the twisty tight portions of the track. It is very capable of keeping with the larger midrange bikes with the right pilot on board with it's 34hp parallel twin engine. It even wheelied ever the wheelie hill turn 7 ever so slightly, if you had a good drive out of turn 6 and yanked on the bars a little. The suspension was a little soft but what do you expect with absolutely no changes to the stock bike. I did find myself grinding mid corner on the first few laps, when I got back to the pits we realized we still had the Hero blobs on, they had to go.Then there was the tires. This is the only part of the stock bike from Kawasaki I didn't like. They should have put better rubber on straight from the factory as they sell them. The stock tire is an IRC RX 01-F Road Winner. I understand this is an entry level bike, but what is wrong with sticky rubber for any type of riding?? It provides the rider with confidence, they know the tires are there to help keep the bike solid mid corner, these things were all over the place. They are probably great in the rain, but who cares, it's a sportbike, we need stability and grip with our dinky little contact patch. So just budget for new tires when you buy this bike.
Ratings Details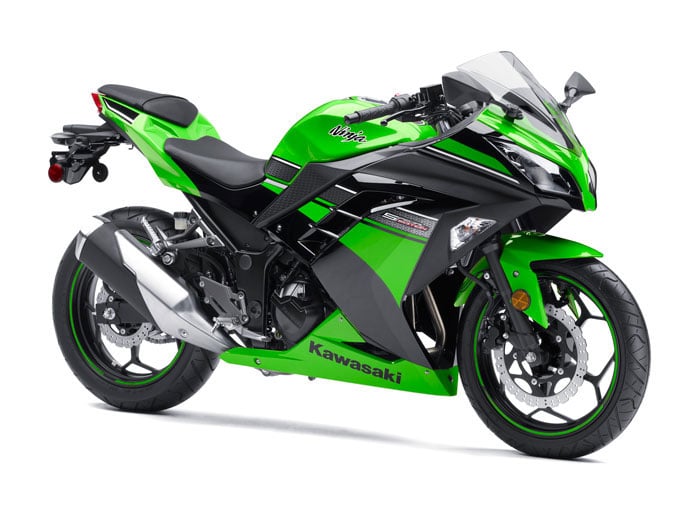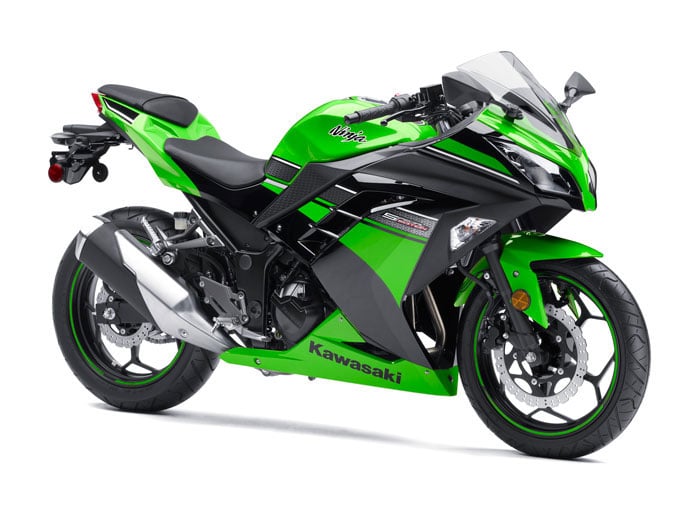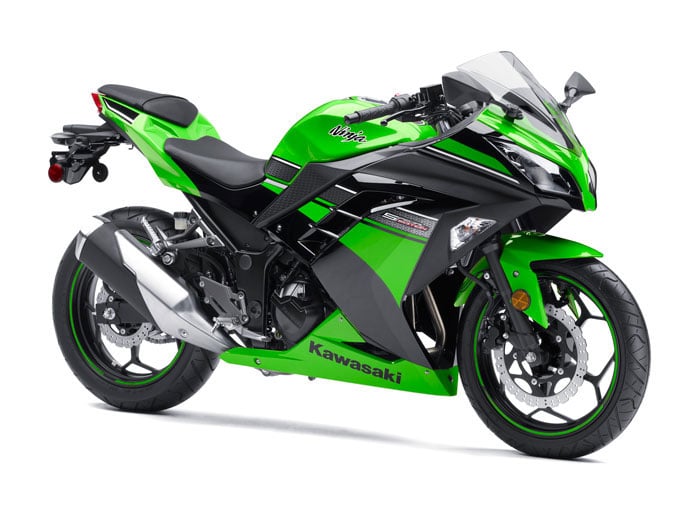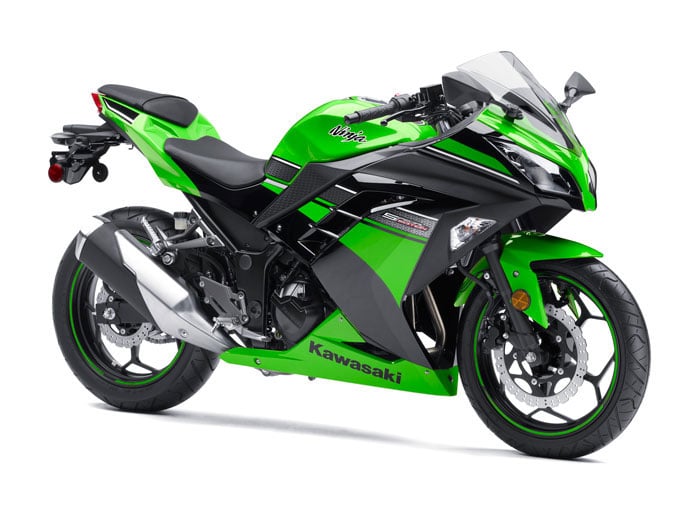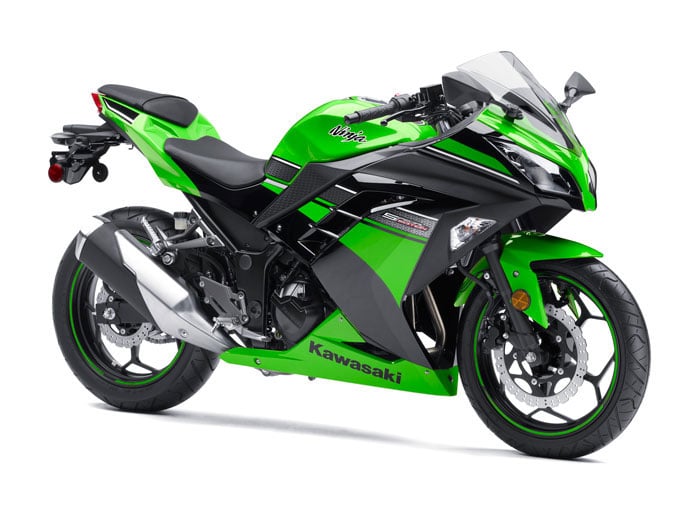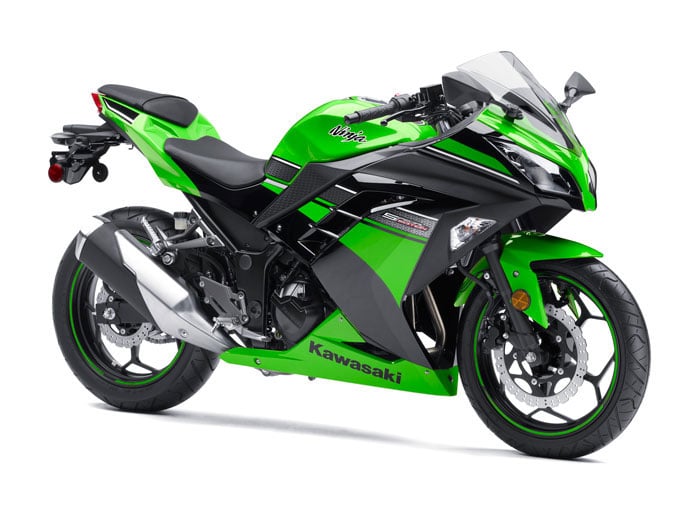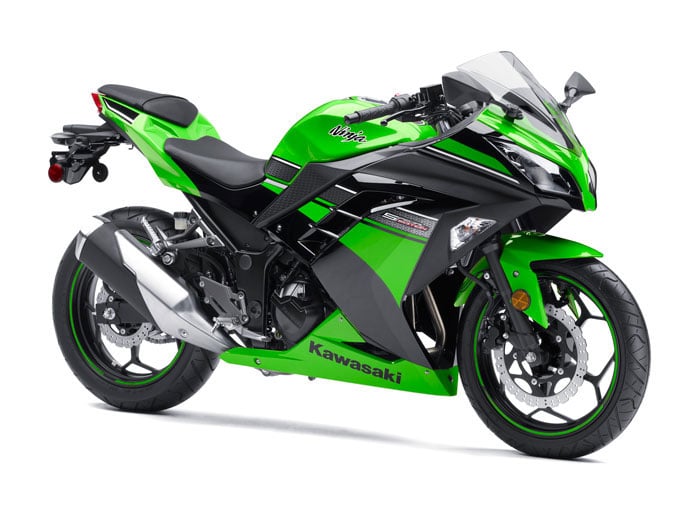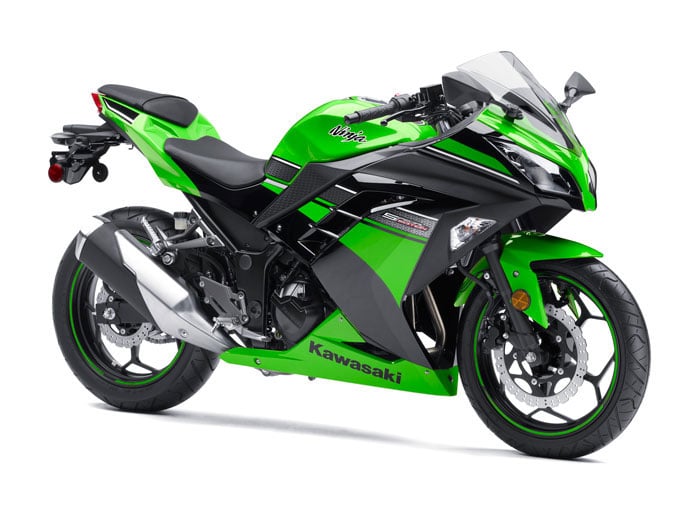 Rider Comfort
Typical sportbike position slightly forward to the bars pressure to look upwards all the time on your neck. Comfortable with not too much weight on the wrists. Small machine feels very light at 383.7lbs. Decent seat hight not to cramped, legs relatively straight not too bent at the knees. Small frame feels thin between your inseam great height and weight for new riders.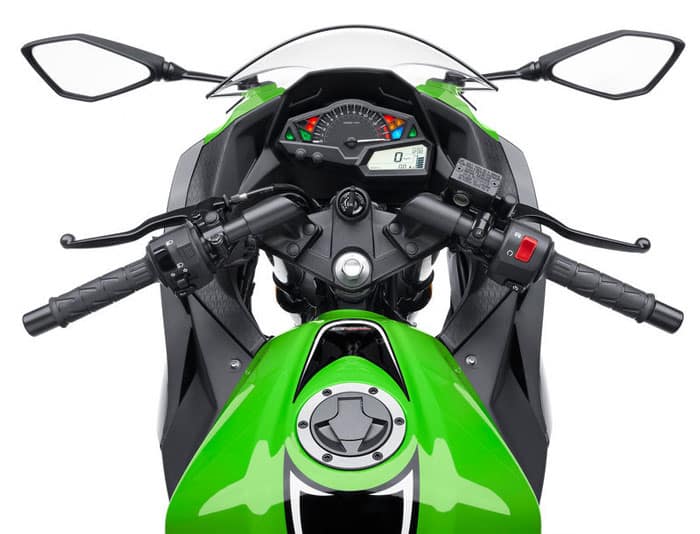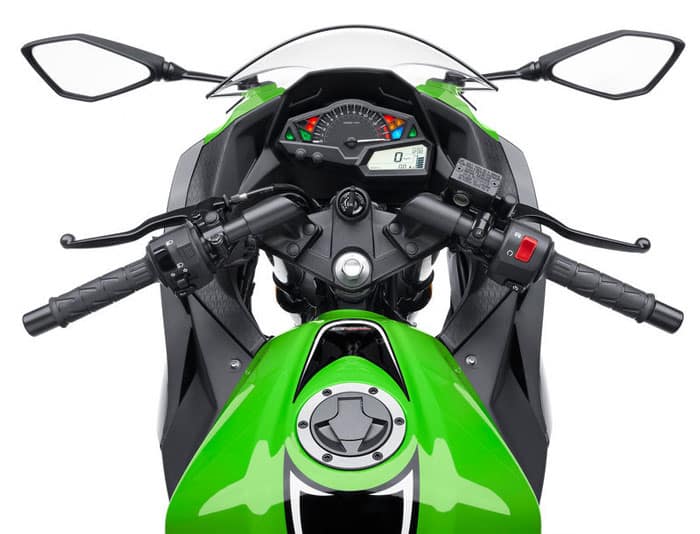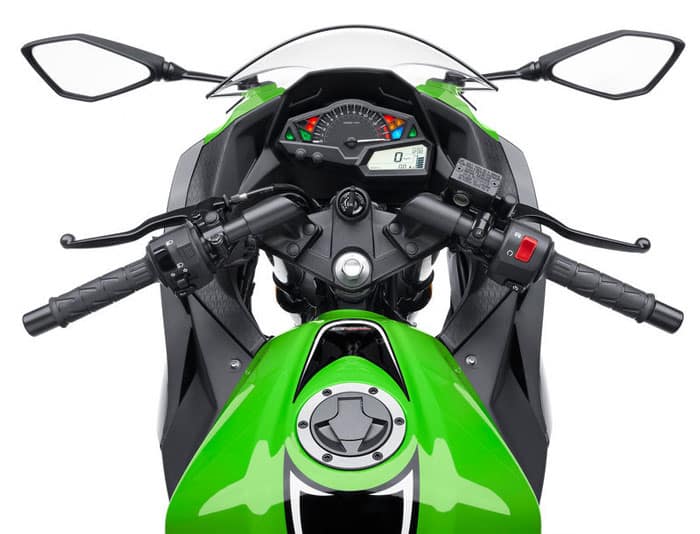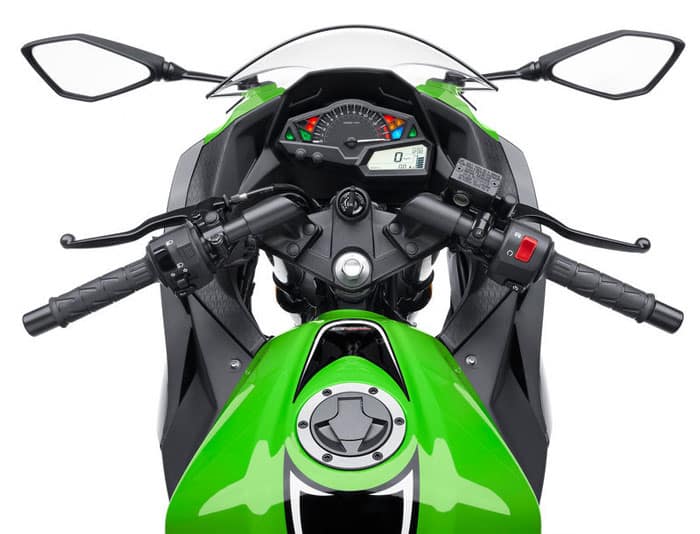 Power Feel & Engine
Obviously, it is a 300cc, 296 engine to be precise. However, the power delivery is very surprising. Straight away you move up the gears to full throttle all the time. You don't need to use the clutch to move up, just blip the throttle putting the gear shifter under weight and she falls straight into gear.The power is adequate for interstates, country roads and long straight rides into the sunset type of roads. It accelerates to 80mph easily and the bike also encourages you to stay wide open mid corner. It's tuned to deliver high rpm's and is exceptionally smooth. Chain drive needs a little attention. It has an economical riding indicator (ECA) that highlights when you are getting the best most economical riding maximizing fuel economy.
Handling & Shifting
Light, maneuverable, progressive, flickable. Great lean angles allowing for tight cornering at open throttle. Easy to move around with light stationary weight. Gear box very smooth with or without clutch for upshifts. Six speed with slipper clutch function negating any rear wheel hopping when down shifting. Positive neutral finder allows easy location of neutral when coming to a stop, it does sometime produce false neutrals while going up from first to second at full throttle.
Features & Controls
ABS available SE has imbedded indicators with matt paint finish and carbon fiber looking graphic on the body panels. Clear screen allows for a clear view with wide mirrors that allow you to see behind with no adjustment. Digital speedo, with clock, fuel gauge and standard analog rev counter. Twin headlights allow for clear vision at night. matted out black single sided exhaust provides sport bike look but no real sound.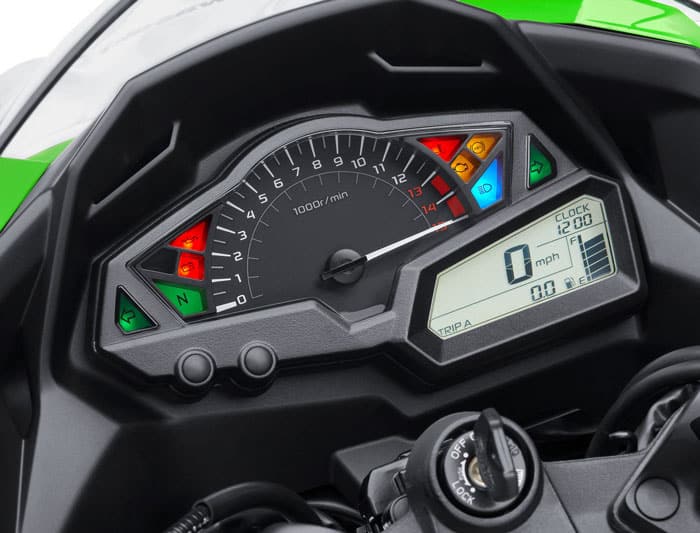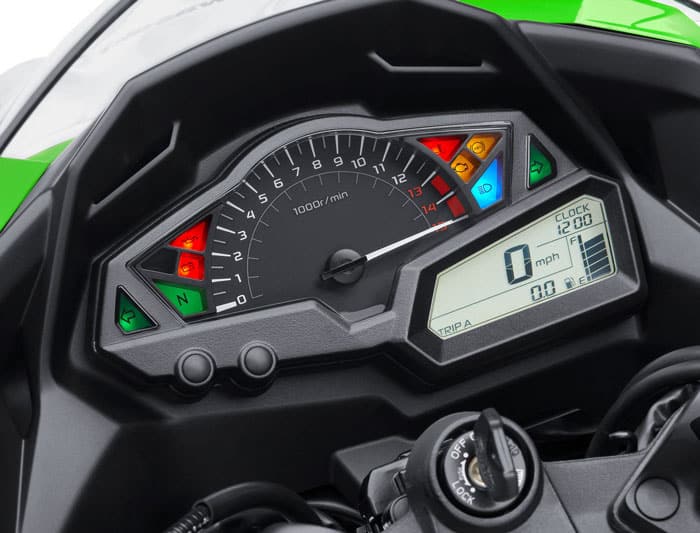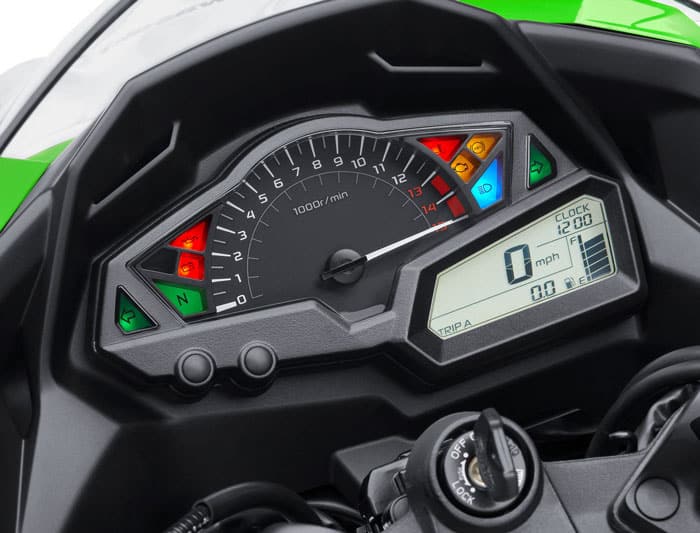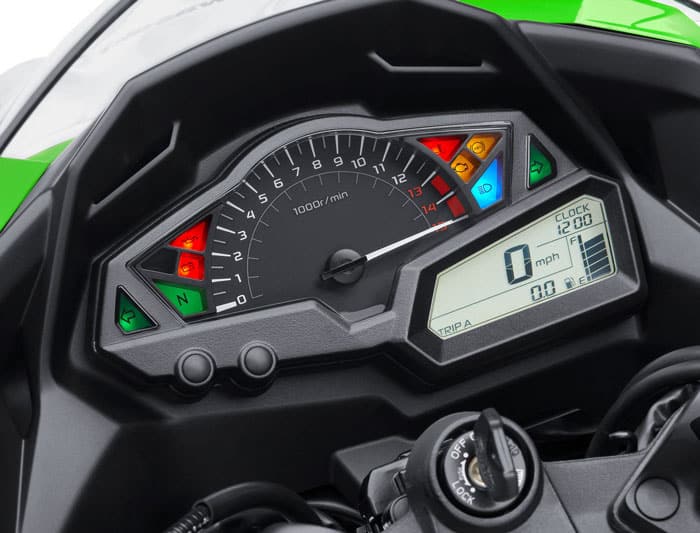 Appearance
Sportbike body work with aggressive styling. Obviously you can tell it is a part of the Ninja family. Dual headlight, minimalist tail section with separate seats add to the sportbike look. Riders seat is narrow and forward-slanting to allow for riders to reach the ground easily.
Confidence Inspiring
Smooth power delivery, low seat height, light weight and extra displacement allows for confidence. Corner speeds can be held with the help of the telescopic front forks and the Uni-Trak rear suspension linkage helps provide predictable sportbike handling which naturally inspires confidence.
Value
Starting at $4,999 for the basic model the EX300 Ninja is great value for money. If you want to spend a little extra up to $5,499 for the Special Edition SE model you get ABS brakes and some wicked graphics.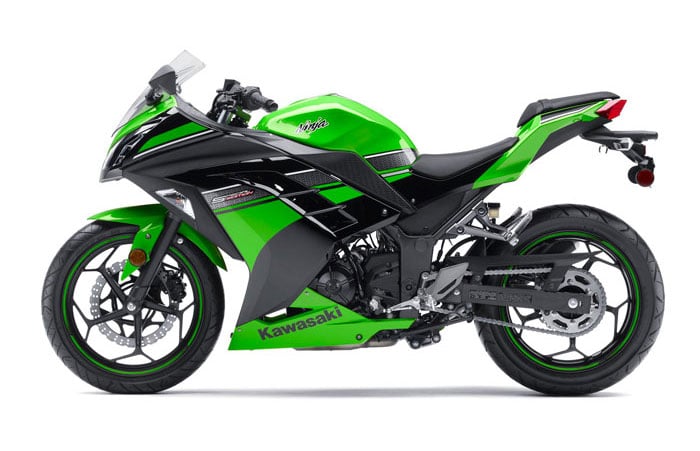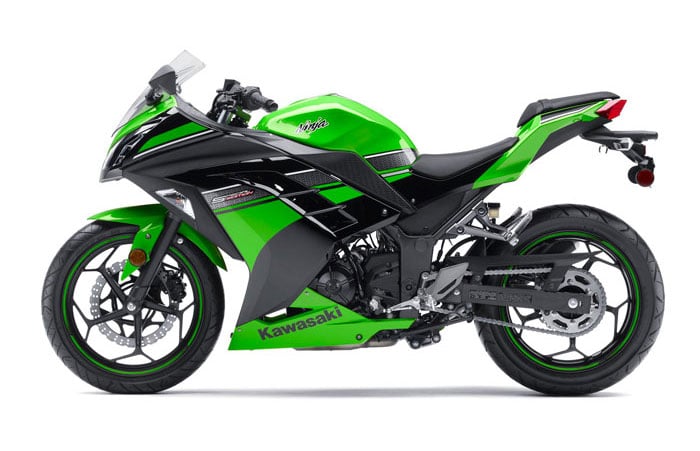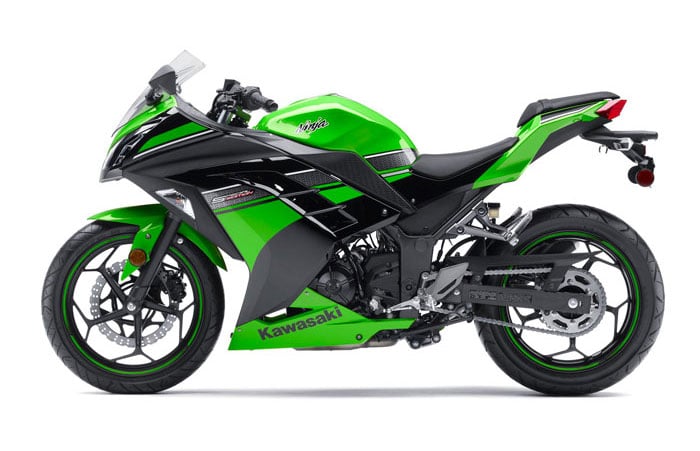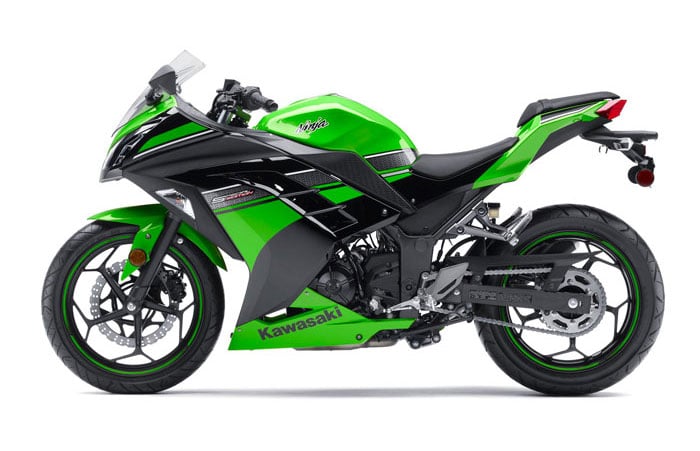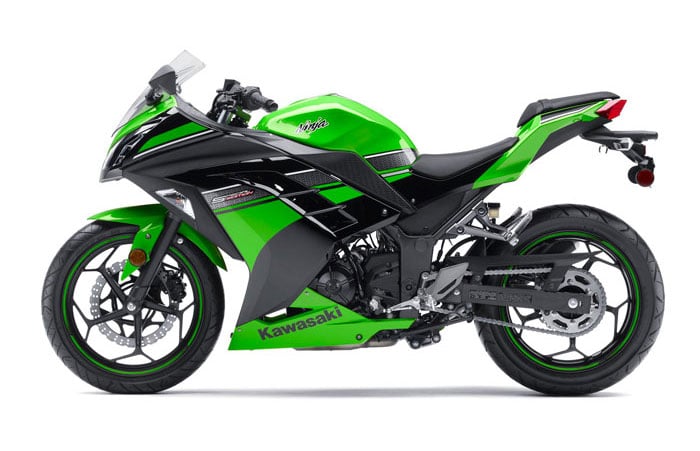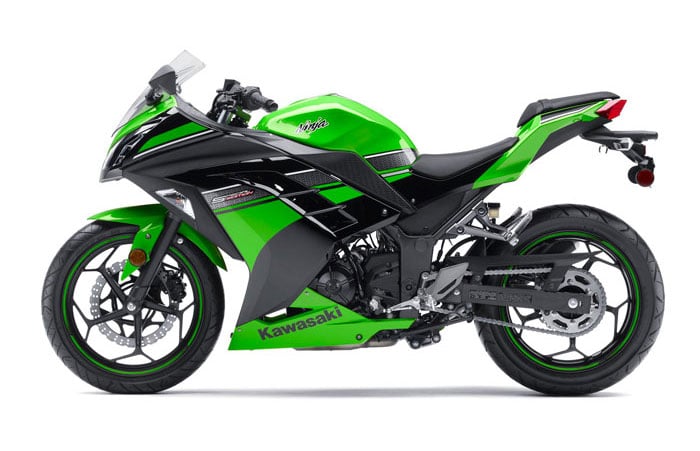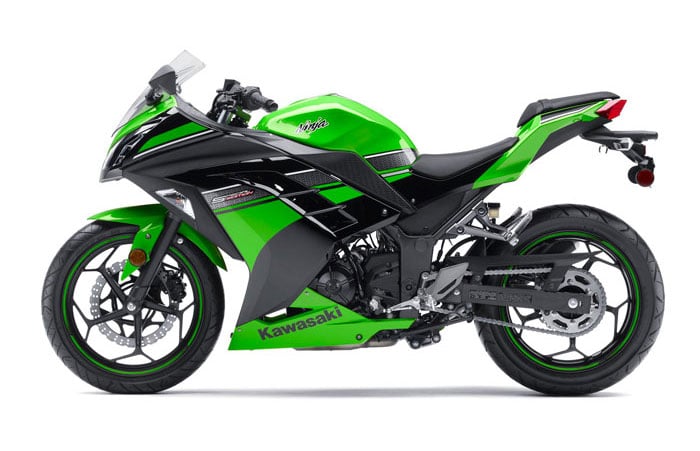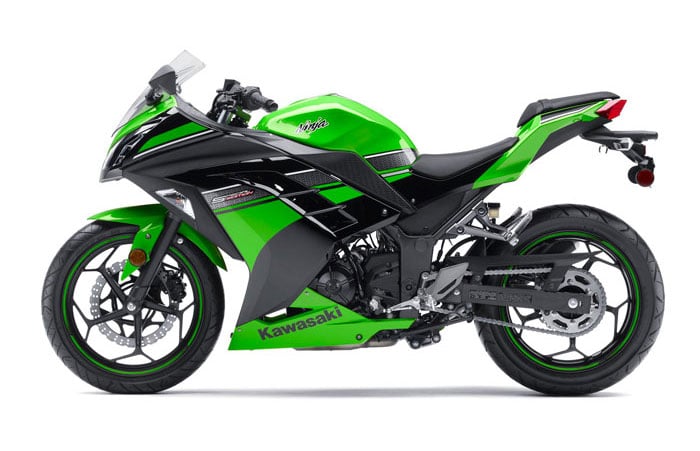 More Info
The brakes are very interesting. The front is a single Nissin 290mm petal-type disc's with two-piston caliper and ABS. The entire ABS system only weighs 4.5lbs. The rear is also a single 220mm petal-type disc. They pull you to a stop adequately on the road, no real bite just a smooth progressive stop, but on the track you need more. I found we had some brake fade when using them under heavy pressure. I kept telling myself that this bike is an "entry level lightweight machine" give it a break, so if you look at it that way then the brakes are brilliant..!!!Don't expect too much in the way of sound from this bike. The stock exhaust does a great job of masking any sweet engine note that you might hear, and the engine isn't loud it's more of a hum. The exhaust does look very nice blending in with the aerodynamic body work and it won't wake anyone up when you get home late at night. I bet some people will put a Two Brothers or some type of after market pipe on.The rear suspension has a Uni-Trac rear suspension linkage system. It provides predictable sportbike handling and comfort. The rear shock features a 5-way adjustable preload system to allow you to manage the ride height and adjustability when carrying a passenger.
Extras
Givi www.giviusa.com make a very neat small 15 ltr tank bag for this bike. It comes with the Tanklock tank ring system that just fits to the tank. You remove the bolts from the tank O ring and install the Tanklock ring. Then the bag simply clicks into place to allow for a very secure tank bag that won't scratch your tank.The bag has water proof hinges, it's reflective with a fluorescent rain cover. It has a waterproof bag inside the bag to store contents and keep them from getting wet. It also has a map and iPhone pocket on the top.When we rode with the bag it really didn't feel like it was there, and at only $169.00 for the bag it is very worth while for the extra storage.