Allstate's Motorcycle Awareness Signs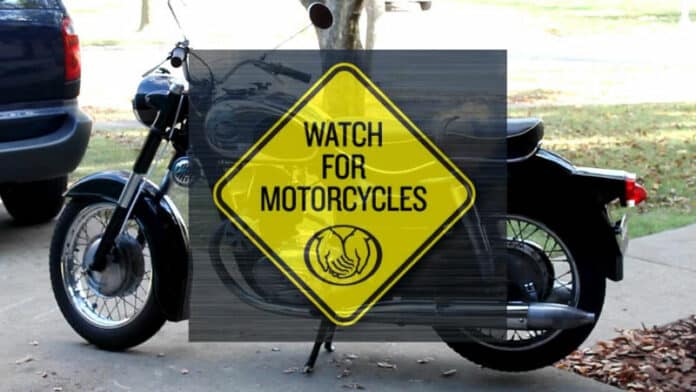 The Allstate Insurance Company announced that it will install motorcycle warning signs in dangerous U.S. intersections in 30 cities this year. The first ones were recently erected at the intersection President and Pratt in Baltimore, the site of two bad, non-fatal motorcycle crashes in the past few years, and Atlanta, said Allstate spokesman Adam Polak.
"It gives drivers an extra couple of seconds to think about what they're doing while they're driving," said Polak. "Often when people are driving around in a car, they're in their own world and they're not thinking about motorcycles so it's good for us to remember about safety and take a couple of extra seconds."
Allstate's Motorcycle Safety Signs
The signs are diamond-shaped yellow panels with black trim that contain the message "WATCH FOR MOTORCYCLES" written in black lettering. It was created after two years of development which saw more than 100 temporary installations in the U.S. It's a standardized warning device, approved by the federal Department of Transportation, that's intended for use local and state agencies which will be recognized by riders and motorists across the country.
The signs are part of Allstate's "Once is Never Enough" (ONE) program, which encourages people to look twice for motorcycles at intersections.
Dangerous Intersections for Motorcyclists
"I lost a friend in Michigan in March and it was one of those cases where the driver was making a left (impeding the motorcyclist's right-of-way) and he said he didn't see him coming," Polak said. "The signs are a heads up to look for motorcyclists. Take that extra couple of seconds and look."
About a third of Maryland's motorcycle fatalities happened in intersections in 2010. In Baltimore, site of one of the first signs, motorcyclists accounted for 25 percent of all vehicular fatalities. The average age of a biker struck down and killed is 42 and it's 37 in Baltimore, according to the Fatality Analysis Reporting System (FARS).
Forty-six percent of all multi-vehicle motorcycle fatalities occurred at intersections, according to FARS.
Bill Engvall For Motorcycle Safety
Allstate is also conducting a marketing campaign starring comedian Bill Engvall to get the word out about motorcycle awareness.
"As a person who's had someone very close to me involved in a serious motorcycle crash and as a rider myself, I jumped at the chance to work with Allstate on this important campaign," said Engvall in a statement. "I've made a living making jokes about signs of the obvious, but here's one sign that carries a vital message and is no laughing matter."
The company is now set to work with local and state agencies to indentify dangerous intersections for bikers and then install the signs where they're needed.
"As a rider in Baltimore, being seen at intersections should always be top of mind, especially on our crowded roads," said Allstate Claims employee Mike Porter in a statement. "The addition of these motorcycle warning signs will be a great reminder to help keep everyone safe."
Bill Engvall for Allstate's "Once Is Never Enough" motorcycle safety program.