7 Best 250cc Dirt Bikes 2023 – [The Ultimate Review]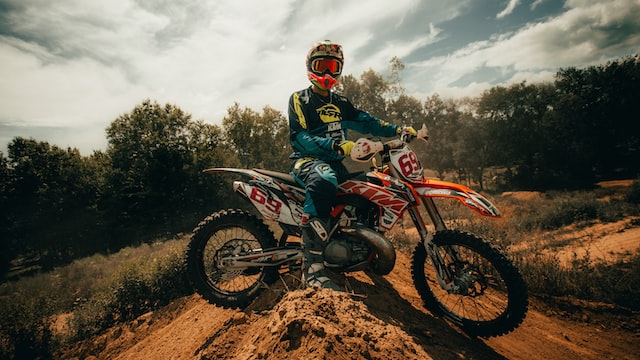 Whether you're an experienced rider or a beginner, choosing a good dirt bike with the right specs can be tricky. Deciding that you want a 250cc dirt bike is the first step. But you still have to choose the right bike that fits your size, budget, and what you're buying it for.
I'm a dirt bike enthusiast who spends most of his time reviewing some of the best bikes on the market. And I've made a list of 7 of the best 250cc dirt bikes to make your search easier. 
Our top choice is the Yamaha Z250 is one of the best dirt bikes by critics and dirt bike enthusiasts. It's perfect for both beginners and experienced riders, making it a popular choice. The bike's 2-stroke liquid-cooled engine punches way above its weight and outclasses many 4-stroke engines. The Yamaha Z250 is reliable, easy to repair, and maintain.   
 7 Best 250cc Dirt Bike 
At A Glance: Best 250cc Dirt Bikes
Below are the seven best 250cc dirt bikes on the market: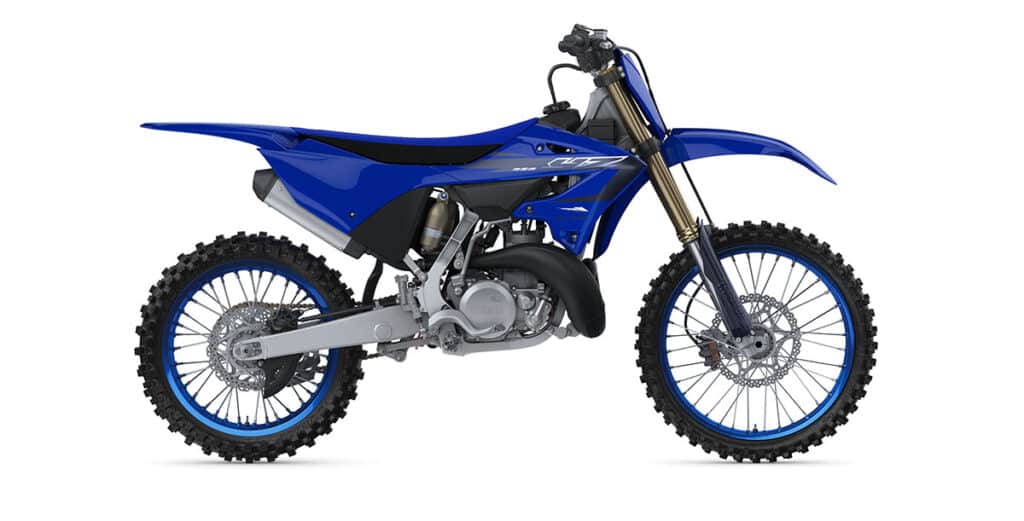 The Yamaha YZ250 is possibly one of the most iconic dirt bikes ever made. Known for its lightweight frame and agile handling, it's a great fit for riders of all levels. Although it's not the most economical option, you'll find that its performance is worth the money.   
The YZ250 has a 2-stroke liquid cool engine that lets you ride smoothly on a trail or in the woods without overheating. 2-stroke bikes are a dying breed, but the YZ250 trumps many 250cc bikes with 4-stroke engines. 
The engine comes with a YPVS exhaust valve and reed valve, providing a good blend of power and comfort. Its power output is about 39.0 horsepower. If you're wondering how good that is, it powers the bike to an impressive maximum speed of 74mph. 
With a weight of 234lbs, this bike is super lightweight, which gives it nimble handling and reduces rider fatigue. Its lightweight design also helps to improve its chassis and suspension. Unfortunately, the YZ250 still comes with the old-fashioned kick starter. But you don't need more than a few kicks to get you going. 
In terms of the overall design, the bodywork is aesthetically pleasing. Its 38.2 inches seat height is pretty normal for a 250cc bike. It's quite comfy for riders who are over 5'7″ tall. 
Pros
Powerful 2-stroke engine with YPVS exhaust and reed valve
Lightweight and nimble
Supportive and comfortable handling
Easy to repair and maintain
Reliable
Cons
First gear lacks power for off-riding
The seats are a bit too hard
Overall, the YZ250 is fun to ride. Many test riders have praised its lightweight design and improved suspension settings. Whether a novice or an experienced rider, you should have no problem taking this out for a spin! 
Best 250cc Dirt Bikes for Beginners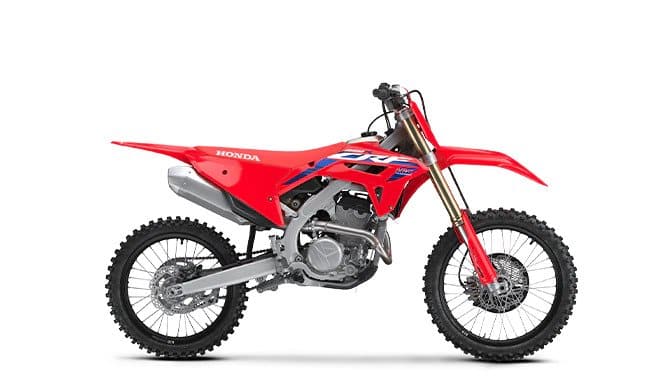 Reliable, affordable, and easy to maintain, there's plenty to like about the Honda CRF250R. The 2022 model has eye-catching upgrades, including an all-new design, modified air intake, and revised valve timing. While its power output isn't as impressive as some of the options on this list, it's still a great bike. 
The CRF250R comes with a liquid-cooled 4-stroke engine which puts out 37.6 hp and 18.1 pound-feet of torque. It's enough to power you to a 250cc dirt bike's top speed of 67 mph, which is good news for racers.
At 229 lbs, it's one of the market's lightest 250 4-stroke dirt bikes. Its weight offers superb handling, and its excellent straight-line traction ensures you don't oversteer often. 
The CRF250R's Showa A-Kit suspension comes with a standard spring design. This feature helps to improve its handling and front-end precision. 
At 37.8 inches, the seat height is perfect for people who are 5'6″ and taller. 
Pros
Powerful 4-stroke engine
Affordable
Good traction and cornering
Shows A-Kit suspension  improves handling
Cons
Acceleration needs improvement
Top speed needs improvement
Compared to other bikes with similar specs, the CRF250R is quite affordable. It also has one of the most impressive low-end to mid-range engine power.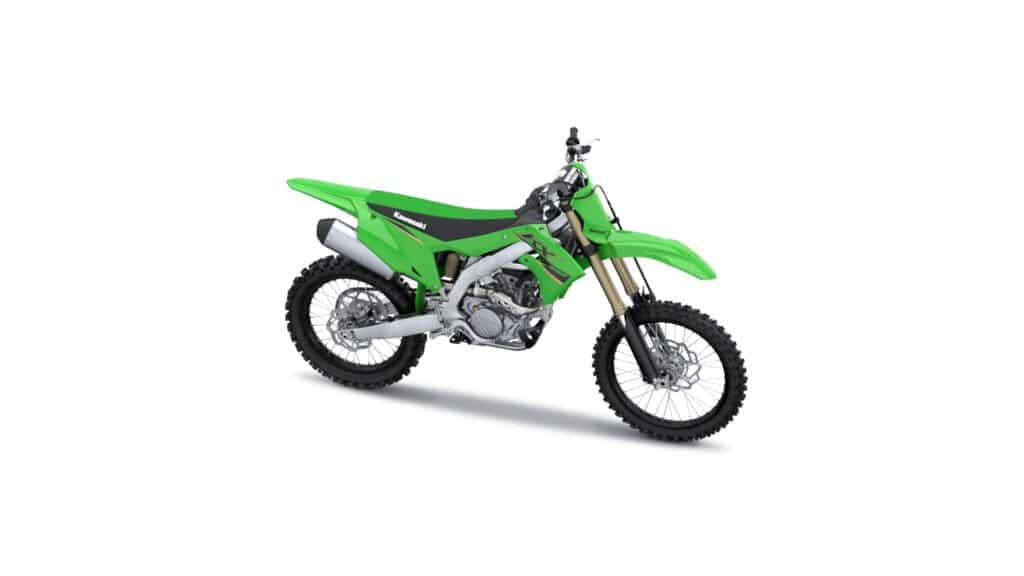 If you're looking for a championship-proven bike, look no further than the Kawasaki KX250. With more Motocross and Supercross championships than any other brand, the KX250 name has a huge reputation.
The Kawasaki KX250 is a lesson in speed and agility. This is a great bike to own if you can get past its unusually loud exhaust sound. 
It features a high-revving 4-stroke engine, praise-worthy ergonomics, and an excellent chassis that gives you maximum comfort on the road. Although its 2022 model did not get updates, it's still one of the best 250cc bikes on the market.
The KX250 is powered by a liquid-cooled 4-stroke engine that puts out 39.5hp and 18.5 pound-feet of peak torque. With that much power, this incredible machine can achieve a maximum speed of 87mph. That's enough speed to win any race! 
At 238 pounds, the KX250 is one of the heaviest bikes on this list. But it still feels remarkably lightweight due to its rigid frame. The bike's frame geometry provides excellent handling and allows you to make quick transitions through corners and bumps.  
The Nissin hydraulic clutch provides a super slick pull and pinpoints actuation. This feature is helpful when you need to keep the rpm up while searching for traction or cornering. 
If you're below 5'6″ tall, you may feel slightly uncomfortable mounting the KX250's 37.4 inches seat. However, the seat is relatively flat, which allows easy movement.
Pros
High-revving 4-stroke engine
Good throttle response
Electric starter ignition
Nissin hydraulic clutch for precise actuation and smooth pull
Cons
Loud exhaust sound
The Clutch lever is too thin.
The Kawasaki KX250 may not be as stable as the YZ250F or corner as sharply as the CRF250R, but it's still an excellent choice. It has quick revving, great response, and balanced handling.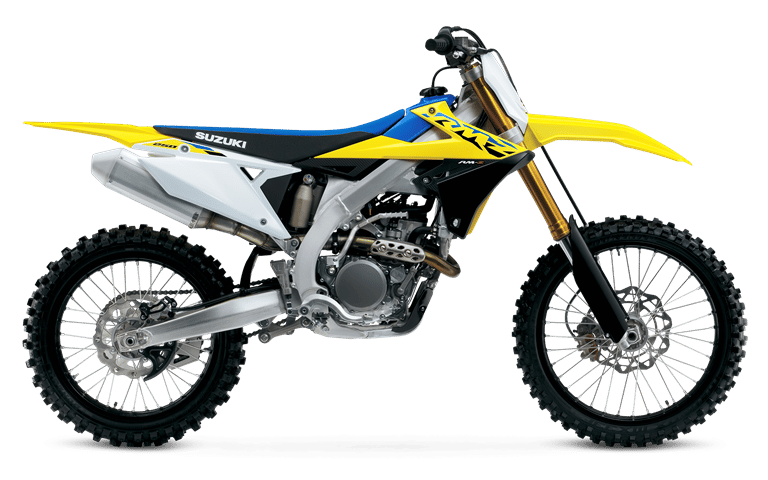 If you're thinking about a reliable 250cc dirt bike with a versatile engine, sleek design, and reliable chassis, look no further than the Suzuki RM-Z250. For all its brilliance, the Suzuki RM-Z250's biggest drawback is its lack of a significant update since 2019. So if you already own an older model, you aren't missing out on much. 
A single-cylinder, liquid-cooled 4-stroke engine power the RM-Z250. The engine has a dual fuel injector and puts out 36.8 horsepower and 18.3 pound-feet of torque. While the numbers don't match up with its competition, it's still enough to power you to a maximum speed of 85 mph. 
The bike also has a kick-starter which is a bit disappointing. However, the starter comes with an auto decompressor which significantly reduces the force needed to kick-start the bike. 
Weighing 233lbs, the RM-Z250 is lightweight and has slim bodywork. It offers razor-sharp cornering and is certainly one of the best handling bikes of its class. But unlike the Honda CRF250R, the RM-Z250 is quite stable at high gear speeds despite its sharp turning ability. 
Another good thing this bike has got going is its balanced ergonomics. It also has a seat height of 37.5 inches, and the seat shape allows you to position it for cornering. 
Pros
Excellent handling
Easy to ride for beginners
Kick starter has an auto decompressor
The cockpit is perfect for short riders
Relatively stable at 3rd gear speeds and higher despite sharp cornering
Cons
Vibrates more than other bikes in its class
Least peak horsepower amongst 250cc bikes
Despite Suzuki's reluctance to update a bike that is due for an upgrade, the RM-Z250 can still hold its own against some of its competitors. 
Best Quality Bikes for Experienced Riders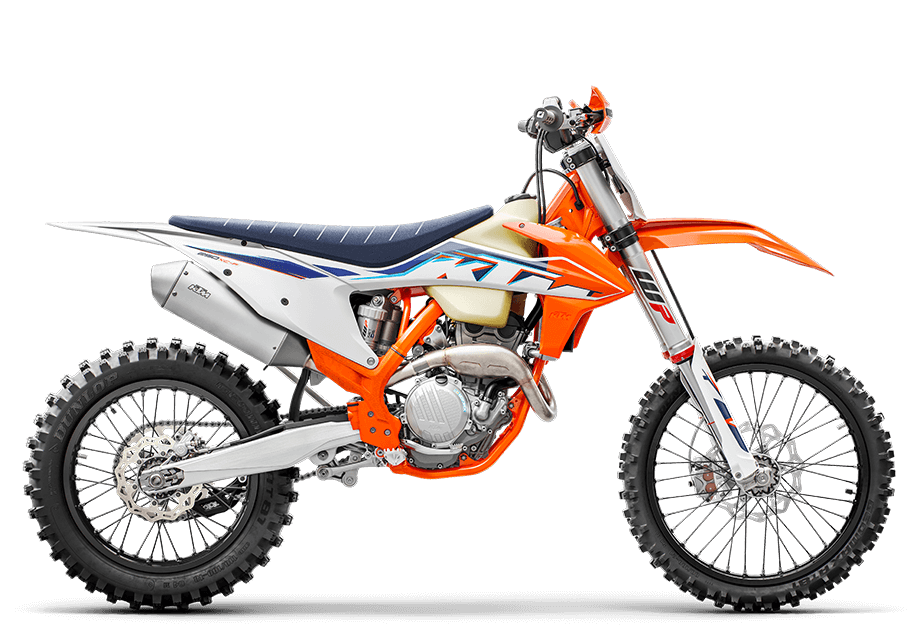 Sturdy, lightweight, and with a monstrous 4-stroke engine, the KTM 250XC-F is what you buy when you need to dominate the tracks. Although it's challenging to maintain 
Its single-cylinder 4-stroke engine is good as it gets in this category. It puts out 39.8 hp at 13,400 rpm and about 19.1-pound-feet of torque at 8,700 rpm. Combined with its performance-focused chassis set-up, this engine can power you to a maximum speed of 98.1 mph. 
For riders who prefer to start their bikes the easy way, the 250XC-F comes with an electric starter ignition. Meanwhile, Its high-performance Brembo brakes and lightweight Wave brake discs combo allows you to brake stronger and faster. 
Another thing many riders will love about the KTM 250 XC-F is its ergonomics. Its 37.4 inches seat has a high foam volume, providing durability and comfort. The bike's handlebar has a map-select switch to choose alternative engine maps and activate traction control. 
Weighing 220lbs, this bike is extremely lightweight. Its lightweight steel frame offers top-class handling, stability, and precision. 
This bike comes with a 6-speed semi-wide ratio transmission. Some test riders believe the 6th gear is too high to pull. However, the 5th gear pulls quite long, so you don't necessarily need the 5th gear. 
Pros
Powerful 4-stroke engine
Impressive maximum speed
The lightweight frame provides excellent handling
The handlebar has a map switch and activates a traction control
Class-leading ergonomics
Cons
6th gear is near impossible to pull
The KTM 250 XC-F is renowned for its powerful engine, which is one of the best in its class. An upgrade is required to allow riders to pull their 6th gear without much hassle. That aside, it's an impressive all-around bike.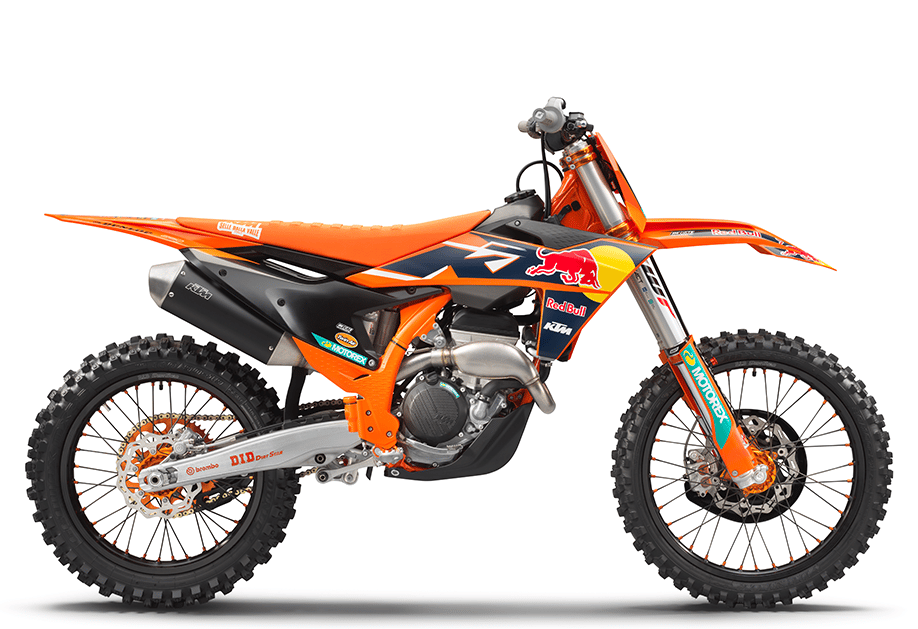 KTM makes some of the best dirt bikes on the market, and the 250 SX-F is another masterpiece. Fast, reliable, and ultra-lightweight, this bike is a dream come through on the tracks. 
The KTM 250 SX-F comes with an aggressive single-cylinder 2-stroke engine. It puts out an incredible 49.23hp and 91.1 pound-feet of torque. It's enough power to get you to a maximum speed of 85 mph which effectively makes it a race monster! 
The engine comes with a 5-speed transmission gearbox to match its power delivery. The gearbox also has a no-dirt gear shifter which prevents dirt build-up and ensures the gear is always in top condition. 
The bike comes with a durable DDS clutch with BREMBO hydraulics for easy and pinpoints clutch modulation. 
It also comes with an electric starter, saving your strength when starting the bike.
Away from its powerful features, the 250 SX weighs 210 pounds. Its ultra-lightweight frame gives you all the control you need for a comfortable ride.
Its seat height is 33.5 inches which is relatively low for its class. But it allows shorter riders to achieve the perfect seat height. 
Pros
Revs quickly
Powerful and aggressive engine
Fast, lightweight, and agile.
Durable DDS clutch
Cons
No significant update from the 2021 model
Expensive
The KTM  250 SX has good handling, rideability, and speed. Although it'll cost you more than the YZ250, it's a great option.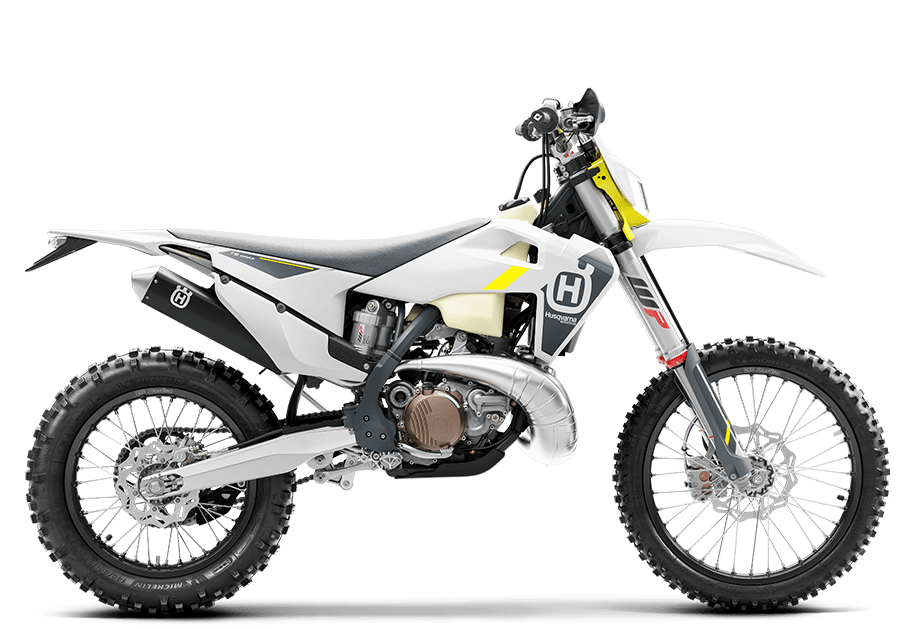 Featuring a powerful, lightweight engine and 6-speed manual transmission, the TE 250i is powerful, versatile, and a joy to ride. It's also an Enduro bike, so if you're not looking for a large bike, you might want to check the other options on this list. 
The bike comes with an electric starter, allowing you to start without exerting much energy. It also has an electronic dual fuel injector which means fueling is self-adjusted. 
Weighing  234lbs, the TE 250i has impressive handling, which offers you plenty of control in any terrain. It offers a state-of-the-art chassis made with a chromium molybdenum steel frame, providing durability. 
The seat height is 37.4 inches, which is typical for an enduro bike. So, this may not be the best bike for you if you're a short rider. 
Other features include a high-quality BRAKTEC hydraulic clutch for perfect modulation in all conditions. There is also the WXP XPLOR front lock designed for enduro riding. 
Pros
Superior rider comfort
Low maintenance engine
Self-canceling indicators 
Superior traction
Balanced ergonomics
Cons
Not suitable for short riders
The Husqvarna TE 250i has all the makings of an excellent dirt bike. It's low maintenance, fast, and versatile. This is an excellent option if you're looking for a good enduro bike.
---
How to Maintain Dirt Bike Batteries
As is with every machine with mechanical parts, dirt bike batteries require maintenance. Below are ways to perform maintenance checks on your dirt bike battery:
Check the Levels of Electrolyte
It's advisable to check your battery's electrolyte levels every month to see if it needs replenishment. Lead-acid batteries use a mixture of water and sulphuric acid as an electrolyte. The electrolyte heats up as the battery charges, which leads the water to evaporate. Hence, checking and ensuring your battery's electrolyte is at the required level is important to preserve battery life. 
Cover up the Battery Properly
Extreme temperatures can cause significant damage to your battery. The motor oil is thicker when it's too cold, and the battery's working mechanism is less efficient. Meanwhile, heat breaks down the oil quickly and reduces engine power and fuel economy. Therefore, you should always store your battery in a place that's neither too hot nor cold to keep it in good condition. 
Charging Memory
Lead-acid batteries have a charging memory effect. This means it won't accept any charge less than the highest it's experienced.
Hence, keeping your battery in a fully charged state is necessary. If you don't charge it regularly, it will begin to form sulphation crystals which reduce battery life. To maintain a fully charged battery, charge it regularly with a smart charger. 
Clean the Terminals
As time passes, acid and copper sulfate will accumulate on battery terminals. If left untreated, it could lead to battery corrosion. The accumulation of acid and copper sulfate can cause your battery terminals to overheat, damaging your bike. To prevent damage to your battery, clean the terminals with water and baking soda. You can also clean it with a stiff wire brush and rinse it with water. 
Buying Guide
There are different kinds of 250cc dirt bikes, some of which won't be the right fit. Some bikes aren't the right size for you, while others may not fit the purpose you need them for. 
So If you're in the market for a new dirt bike, here are a few things to consider before making a choice. 
Bike Purpose
One of the most important things to consider when buying a dirt bike is what you need it for. When you decide why you need a dirt bike, you can choose your ideal bike with the right features. If you need a dirt bike for racing, getting a trail bike doesn't exactly work.
Also, heavy bikes don't always make the best racing bikes. Choosing a bike that fits your needs is important to avoid spending a lot of time and money trying to upgrade it later.
Does It Fit Your Frame?
When you straddle a bike, the balls of your feet need to touch the ground. If you can't make it touch the ground, the bike is not the right size for you. 
There are different types of bike sizes for riders of various heights. Short riders are better off with bikes that have a lower average seat height to provide safety and comfort while riding.
If you're less than 173cm tall, you may want to go for a 250cc trail bike with an average seat height of 35.0″. However, riders over 173cm tall will feel much more comfortable riding the 250cc enduro/MX bike(37.5″.) 
Do you Need a 2 Stroke or 4 Stroke Engine?
Do you need a 2-stroke or a 4-stroke dirt bike? 2-stroke bikes have smaller engines which makes them easy and cost-effective to maintain. They also have fewer moving parts and a simple design that makes them lighter and easy to maneuver on a racetrack.  
By contrast, 4-stroke dirt bikes provide more stability on the track, consistent power, and better traction. 4-stroke bikes also come with big power and torque, which makes them ideal for riders who race professionally. 
Are you Buying a New or Used Dirt Bike? 
Used dirt bikes are cheap, but you may want to check a few things on the bike to ensure you're not getting ripped off. Check the oil to see if it's clean. If it's dirty, it's probably because the bike is not well-maintained.
You can also check the front suspension for dirt build-up and a sign of an oil leak. If the bike is in top condition, you won't find any problems I have mentioned. 
How Much Should You Spend on a Bike?
The answer to this question depends on several factors. If you're a racing pro, you need to invest in a top-end dirt bike that can give you the best chance to win races. But if you're still learning to ride a dirt bike, you probably shouldn't buy an expensive bike. You may also consider getting a used bike and saving money for a new one when you have enough experience. 
FAQs
How fast can a 250cc dirt bike go?
250cc dirt bikes can go as fast as 80mph. However, most bikes in this category usually have a maximum speed between 60 to 70mph.
How tall do you have to be to ride a 250cc motorcycle?
It depends on the kind of bike you're buying. If it's an enduro/MX bike, you must be at least 173cm tall to ride it comfortably. But if it's a trail bike, riders between 170cm and 173cm can straddle it comfortably. 
Is a 250cc dirt bike street legal?
It depends on the kind of bike you're buying. Many 250cc dirt bikes are street-legal, including the Yamaha WR250R and the Kawasaki KLX250. 
How much does a 250cc dirt bike weigh?
The weight of a 250cc dirt bike depends on its engine. Dirt bikes with 2-stroke engines have an average weight of 22lbs. Meanwhile, 4-stroke engines weigh 239lbs on average. 
Is a 250cc dirt bike good for a beginner?
Yes, many 250cc dirt bikes are good for beginners. However, some 250cc bikes, like the Honda CRF250R, aren't beginner friendly.
Final Thoughts
There are many good options on the market if you're looking for a 250cc dirt bike. But to get the best value, it's important to pick a choice based on your needs.
If you can't decide what that is, you should probably get the Yamaha YZ250. It's relatively affordable and perfect for drivers of all levels. But if you're an experienced driver looking for a high-performance bike, you may want to consider the KTM options on this list.