The Top 5 Best 50cc Dirt Bikes in 2021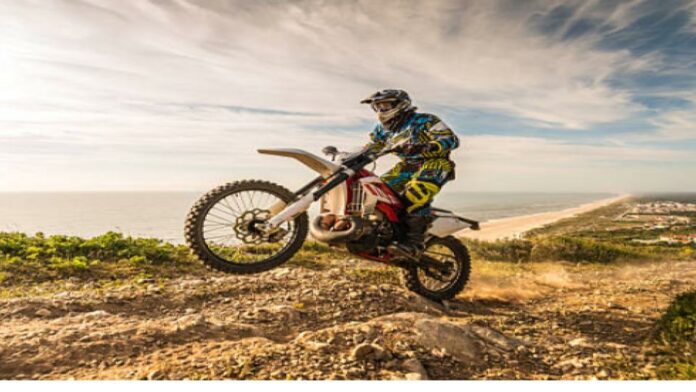 Dirt bike riding is one the best ways to introduce your kids to the thrills of motorcycle riding. It also allows them to develop new skills and hobbies to occupy their time positively. The 50cc dirt bike is the best motorcycle for children in the 4 -12 years age bracket as it has the smallest capacity engine.
While there are many mini dirt bike options in the market, we have narrowed our list to the best 50cc dirt bikes available. Additionally, we have included features to look for to help you in your decision-making.
Top Choice
The Suzuki DR-Z50 is our top pick for the best 50cc dirt bike. It's got a reliable engine performance with a smooth 3-speed transmission and a softer suspension for bumpy trails. This bike is also user-friendly for both newbies and advanced riders while providing plenty of safety features and flexible adult supervision.
The Top 5 Best 50cc Dirt Bikes Are…
1. Suzuki DR-Z50 – Top Pick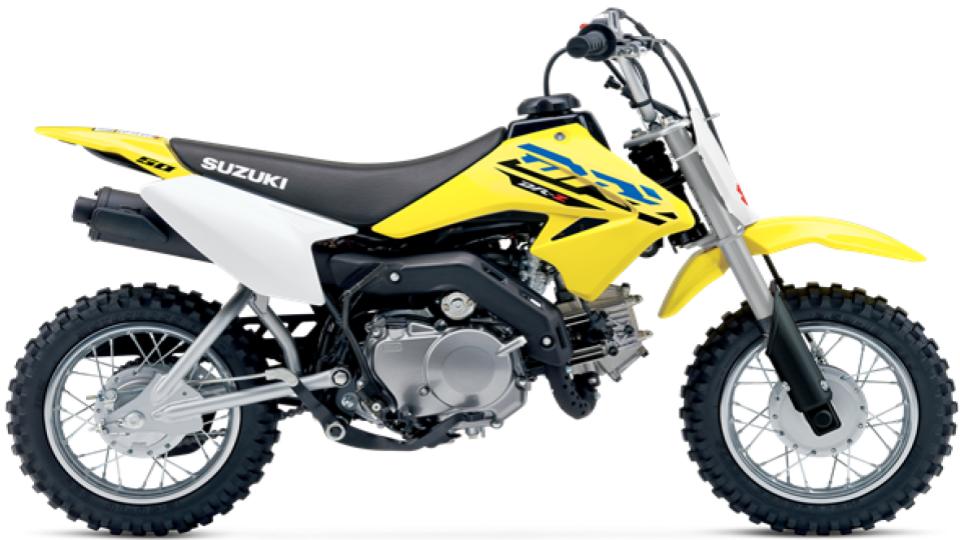 The 2021 Suzuki DR-Z50 is our top choice for the best 50cc dirt bike and is an exceptional entry-level bike for kids above seven years. The bike comes with a 22-inch seat height and a wet weight of 119 pounds that older kids can handle better.
This bike has an air-cooled 4-stroke single-cylinder engine for reliable performance with predictable throttle power and a 33mph top speed that is less intimidating for new riders.
Plus, it comes with various safety features, such as an adjustable throttle limiter to control the top speed as the kid learns to ride. It also has key ignition to prevent unsupervised riding.
The DR-Z50 offers flexible engine starting options that include an electric push-button and a Kickstart for advanced riders. It features a choke on the handlebars for starting the engine in cold conditions, while the 3-speed semi-automatic transmission ensures that the bike does not stall as the young rider adapts to shifting gears.
While the suspension system is not adjustable, it features a front-inverted telescopic fork with a long travel to absorb bumps and provide a smooth ride on uneven surfaces.
Pros
High-performance 4-stroke engine delivers reliable throttle output
Smooth gear shifting with the semi-automatic transmission
Long travel front suspension allows comfortable rides on uneven surfaces
Features an aggressive RM-Z styling with attractive bright colors
Cons
Higher and heavier for kids under seven years to control
Not widely available across the U.S.
While the Suzuki DR-Z50 costs slightly more than other trail dirt bikes on this list, it offers competitive value with a high-performance engine and transmission system for various trail surfaces. It is also user-friendly for both newbies and advanced riders while providing plenty of safety features and flexible adult supervision.
2. Yamaha TT- R50E – Best for Beginners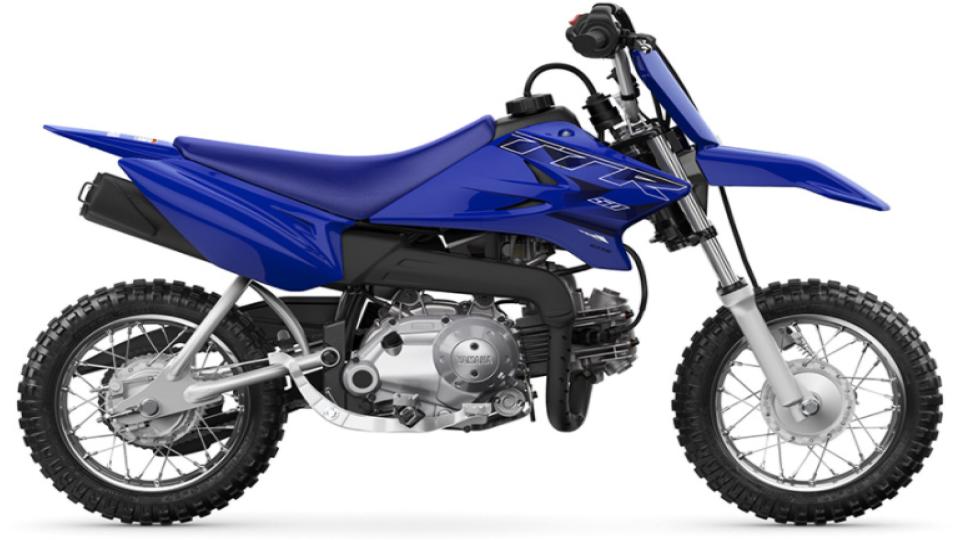 The Yamaha TT-R50E has a similar design quality to the PW50 model, although it also features a higher 21.9 seat height and a 4-stroke engine. It also has comparable build specifications with the Honda CRF50F dirt bike. But the TT-R50E features an electric start, while the Honda comes with a Kickstarter.
It is the most expensive of the three dirt bikes and is an excellent entry-level model for kids in the 5-8 years age bracket.
The TT-R50E is a 2021 model that features an electric push-button start upgrade from the key ignition of the earlier TT-R50 dirt bike. The bike comes with an air-cooled 4-stroke engine that offers a steady riding experience for beginners and low maintenance.
Additionally, its 3-speed semi-automatic transmission allows the new rider to get familiar with shifting gears quickly without clutch levers and stalling.
While this bike features a low 32mph top speed compared to the Honda CRF50F, it still comes with a safety throttle limiter to adjust the speed limit as your kid develops their riding skill. Plus, it features a compact long-travel suspension system that makes this bike comfortable for riding uneven terrain for long sessions.
Pros
Electric start push-button offers effortless start-up
Low maintenance 4-stroke engine delivers reliable and stable power
Low seat height enables better control and bike handling
The semi-automatic transmission allows smooth adjustments in uneven terrain
Cons
Significantly heavier at 128 lbs than the competition
Short service life as kids outgrow it quickly
The Yamaha TT-R50E is a fantastic beginner dirt bike with user-friendly attributes such as the low profile seat, low-speed limit, and 4-stroke engine that offers a smoother and steadier riding experience. However, it costs slightly more than the competition, and your kid may outgrow it quickly.
3. Yamaha PW50 – Best for Young Kids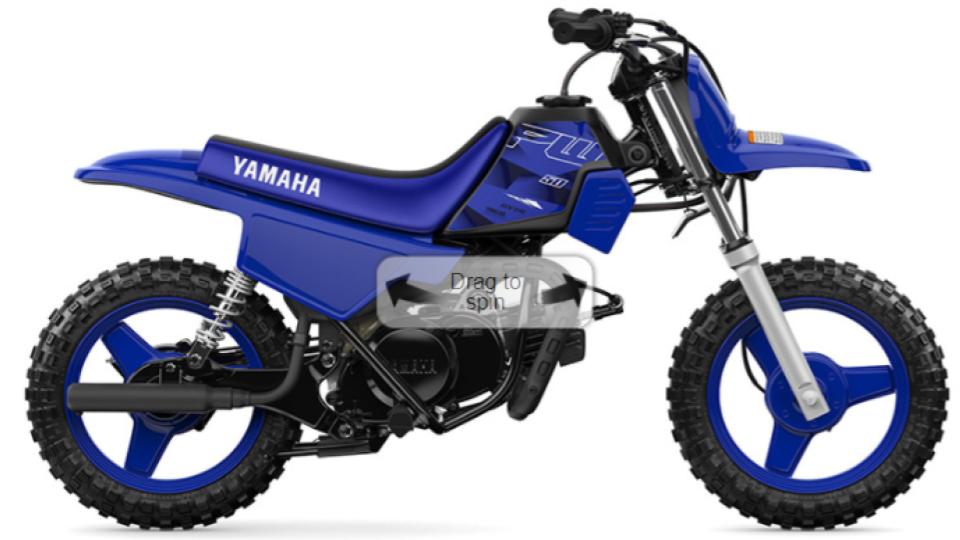 The Yamaha PW50 is the smallest dirt bike on this list and is ideal for training young 4- and 5-year-old kids to ride dirt bikes. Yamaha is a prolific brand in the motorcycle market, and it produces two 50cc dirt bike models that are excellent beginner bikes for kids. The PW50 model is several decades old and is a favorite in the mini-dirt bike market due to its dependable performance, small size, and affordability.
It features an air-cooled 2-stroke engine, tuned to deliver a steady output and create a smoother ride for newbies. It also features a fully automatic transmission with no gear shifts to enable young riders to concentrate on riding the bike without fear of stalling.
What makes this bike outstanding is its low seat height at 18.7 inches that allows most kids to put both feet on the ground for comfort. It also gives them stability when handling the bike because it's lighter and has a low center of gravity.
Pros
2-stroke engine delivers controlled output for new riders
Low seat height enables confident handling and stability for riders
It comes with an adjustable speed limiter for safety
A fully automatic system eliminates gear shifting for smooth riding
Shaft drive and autolube oil injection systems reduce maintenance requirements
Cons
Limited power and suspension for motocross racing
Fast learners will outgrow this bike quickly
The Yamaha PW50 comes with several safety features to prevent accidental injuries while the young riders are handling the bike. These include heat shields on the engine and exhaust to prevent burns, an adjustable speed limiter to restrict the top speed as the rider gains riding experience, and a start/run switch to block the bike from moving while in the start position. See our other recommended dirt bikes for kids.
4. Honda CRF50F – Best Budget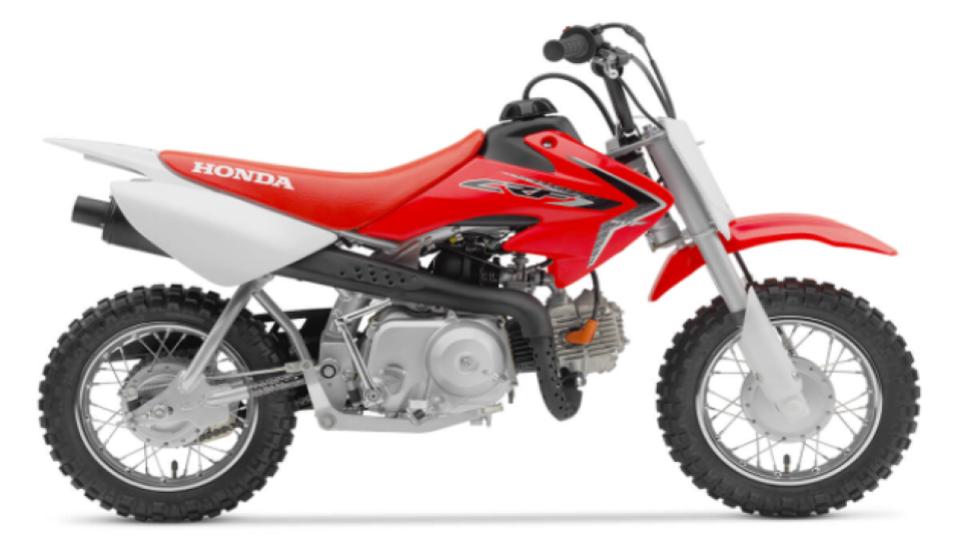 The Honda CRF50F is a heavy-duty 50cc trail dirt bike with a rugged steel frame that withstands rough use from beginner bikers. It is also one of the most affordable 50cc dirt bikes available and is a favorite among first-time buyers.
The bike features a high-performance air-cooled 4-stroke engine that offers a smoother riding experience that helps new riders adjust quickly to using dirt bikes.
Additionally, it comes with a keyed ignition that allows parents to supervise the kids using the bike. It also has a large gas tank capacity for long trail rides.
The CRF50F features a 3-speed automatic clutch transmission that allows young riders to shift gears with little effort so they can concentrate on handling the dirt bike.
It is a fast 40mph machine with an in-built throttle limiter to keep the speed adjustable to the kid's experience. It has a 21.6-inch seat height that would be comfortable for most 6-year-olds and up. This is also lightweight for the youngsters to pick up when they fall.
Pros
3-speed automatic transmission prevents stalling in uneven terrain
Features keyed ignition to prevent unsupervised rides
Reliable, durable, and affordable option for beginner riders
Adjustable throttle limiter to match speed with the rider's skill level
Generous tank capacity for long trail rides without refills
Cons
Kids will outgrow the dirt bike quickly
It may be expensive to maintain the engine
The Honda CRF50F comes in a speedy red color that makes it look competitive and attractive. However, it is more suitable for trail riding due to its engine design and transmission system.
5. KTM 50 SX MINI – Best for Racing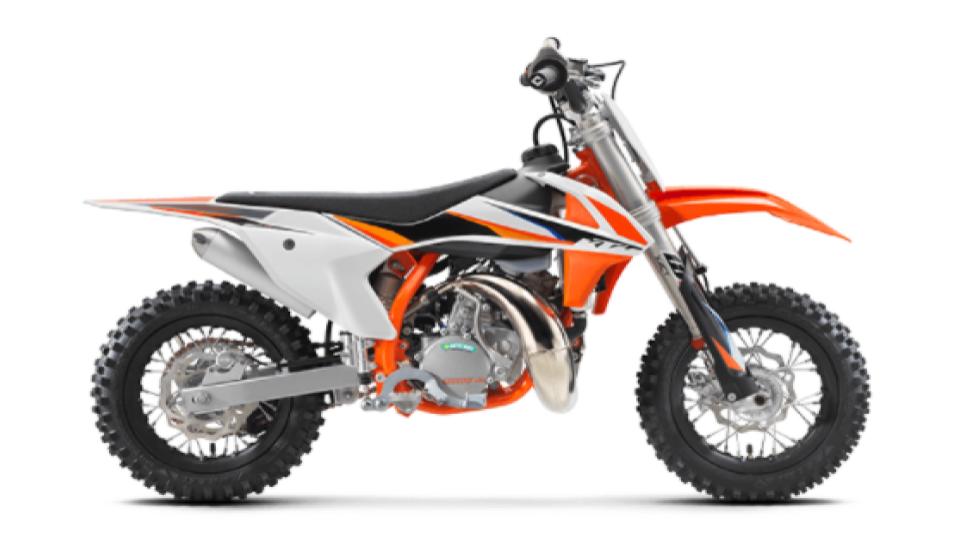 The KTM 50 SX Mini is one of the best motocross racing dirt bikes that you can get to transition your little rider into competitive riding. It is also quite expensive compared to the trail bikes reviewed earlier. However, the SX Mini features high-quality, scaled-down features of its bigger sibling and features an aggressive ready-to-race orange color that the kids like.
The SX Mini features a high-performance 2-stroke engine with a reed intake system, giving a better performance edge than the competition. It has a maximum speed of 45mph, which might be a little fast for kids, and a powerful braking system with lightweight wave discs.
You can add a power reduction kit to limit the speed and help your young one adjust to the bike safely. Additionally, the SX Mini features an adjustable USD suspension system that allows you to customize the seat and handlebar height as your kid grows.
The bike has a high seat at 22.9 inches for bigger kids against a starting bike such as the Yamaha PW50. It also features a lightweight structure with Chromoly steel that gives the bike stability and precision when riding.
Pros
High-performance 2-stroke engine with automatic transmission
Lightweight design allows better handling and efficient performance
The adjustable suspension system provides extended service for growing kids
Knobby tires with excellent traction for both trails and motocross tracks
Cons
Features a Kickstarter that is difficult for most kids to use
It costs three times as much as a trail dirt bike
The KTM 50 SX Mini is an excellent motocross dirt bike that is more user-friendly than other models, such as the Husqvarna TC50 and Cobra CX50P3. Additionally, it has a lower seat height with a better suspension system and is easier to maintain and find parts for than other brands.
The Best 50cc Dirt Bikes Buying Guide
Before buying a 50cc dirt bike, it might be necessary to understand what some of the main specs mean for you. Let's highlight the top things to consider before you buy a 50cc bike for your little biker.
Terrain
The terrain your kid will be riding their bike on is a major factor when choosing the type of dirt bike to buy for them. Generally, there are four kinds of dirt bikes depending on the riding terrain. They include motocross, trails, enduro (dual-sport), and trials. However, when buying a 50cc dirt bike for your kid, the MX and trail bikes will be your primary consideration.
Trail bikes typically have lower specs than MX bikes and therefore cost less. They also have a softer suspension that makes them comfortable for long rides and is generally easy for beginners to ride.
On the other hand, motocross bikes are better suited for advanced riders as they are faster, more lightweight, and have a stiffer suspension. They also feature a higher seat height than trail bikes which makes them better for more experienced kids.
Motor: 2-Stroke Vs 4-Stroke
Most 50cc dirt bikes come with either a 2-stroke or 4-stroke engine, depending on the brand. Air-cooled 2-stroke engines are typically more lightweight and have more horsepower than 4-stroke engines. It makes them more ideal for motocross racing and 4-stroke bikes for trail riding.
While they might be more challenging to control due to the frequent gear shifting, 50cc dirt bikes for kids such as the KTM 50 SX Mini and the Yamaha PW50 come with fully automatic transmissions.
The 2-stroke dirt bikes also have a less complicated engine than the 4-stroke models and are more efficient and cheaper to replace. However, they also require more frequent maintenance and are louder than 4-stroke dirt bikes.
On the other hand, 4-stroke motorcycle engines are more complex as they have more moving parts than 2-stroke engines. Generally, a 4-stroke engine executes two crankshaft revolutions to achieve one engine cycle, unlike a 2-stroke engine that performs one.
While it might be less efficient than the 2-stroke, the 4-stroke type delivers a steadier power output for a smoother ride. It makes them more suitable for beginners and for navigating dirt trails as the bikes require less effort to control.
Transmission
The best 50cc dirt bikes are generally made for young riders and typically feature a semi-automatic transmission or a fully automatic gearbox.
While mini dirt bikes such as the Yamaha TT-R50E and the Honda CRF50F feature a 3-speed semi-automatic transmission that makes it easier to navigate through uneven trails, the Yamaha PW50 comes with a fully automatic transmission.
On the other hand, the KTM 50 SX Mini features a single-speed gearbox that allows your young rider to concentrate on handling the bike at cruise speed and is easier for kids transitioning to motocross racing.
50cc dirt bikes for kids also come with either a Kickstarter or an electric start. The Yamaha TT-R50E features an e-start which allows your kid to start without the help of an adult. Additionally, it is more convenient for trail riding where you might need to start your bike in the middle of a hill. However, most 50cc dirt bikes come with Kickstarter, which is a manual process, and many kids will need adult assistance to use it.
Suspension
Generally, trail 50cc dirt bikes use non-adjustable suspension systems and have low ground clearance, unlike MX bikes that feature adjustable upside-down forks. USD forks have better responsiveness to sudden changes in maneuvering the bike, unlike conventional forks.
Furthermore, the adjustability feature allows you to change the seat and handlebar height for customization. On the flip side, the adjustments may also alter handling performance and braking stability when riding at high speed.
Maintenance
The best 50cc dirt bikes are typically easy to maintain and only require regular check-ups to keep them in top condition. Additionally, it is essential to care for the bike after every ride by cleaning to prevent wear and oiling the parts to prevent corrosion. We also recommend removing the starter battery and hooking it up with a trickle charger to prevent it from degrading.
FAQs
What is the best 50cc dirt bike for kids?
Factors such as budget, age, and skill level will determine the best 50cc dirt bike for your kid. The Yamaha PW50 is an excellent option for young 4-year olds, while the TT-R50E, Honda CRF50F, and Suzuki DR-Z50 are suitable for older riders. On the other hand, the KTM 50 SX Mini is ideal for advanced riders keen on motocross racing.
What is the fastest 50cc dirt bike?
The maximum speed you can expect from a trail mini dirt bike is between 25mph and 40mph and up to 45mph for motocross bikes. However, trail dirt bikes typically come with built-in throttle limiters, while speed kits are sold separately for motocross bikes.
How safe is a 50cc dirt bike?
While riding motorcycles does come with some risks, 50cc dirt bikes come with features that make them safe for young kids to handle. They include heat shields on the engine and exhaust, speed limiters to adjust the maximum speed, and training wheels to build confidence as they learn to ride.
How much does a 50cc dirt bike cost?
The cost of a 50cc dirt bike depends on the brand and its features. The trail dirt bikes on this list range between $1,600 – $1,800, while motocross bikes are typically more expensive, with the most affordable going for at least $3,800.
If you're looking for the cheapest dirt bikes you can buy, see this list of the best budget dirt bikes.
Final Thoughts
While all the dirt bikes reviewed above are excellent options, your final choice depends on the rider's needs. However, we consider the Suzuki DR-Z50 as the best 50cc dirt bike for both new and experienced riders, and it delivers reliable performance and long service life.