The Best Beginner Motorcycles: Coolest Starter Rides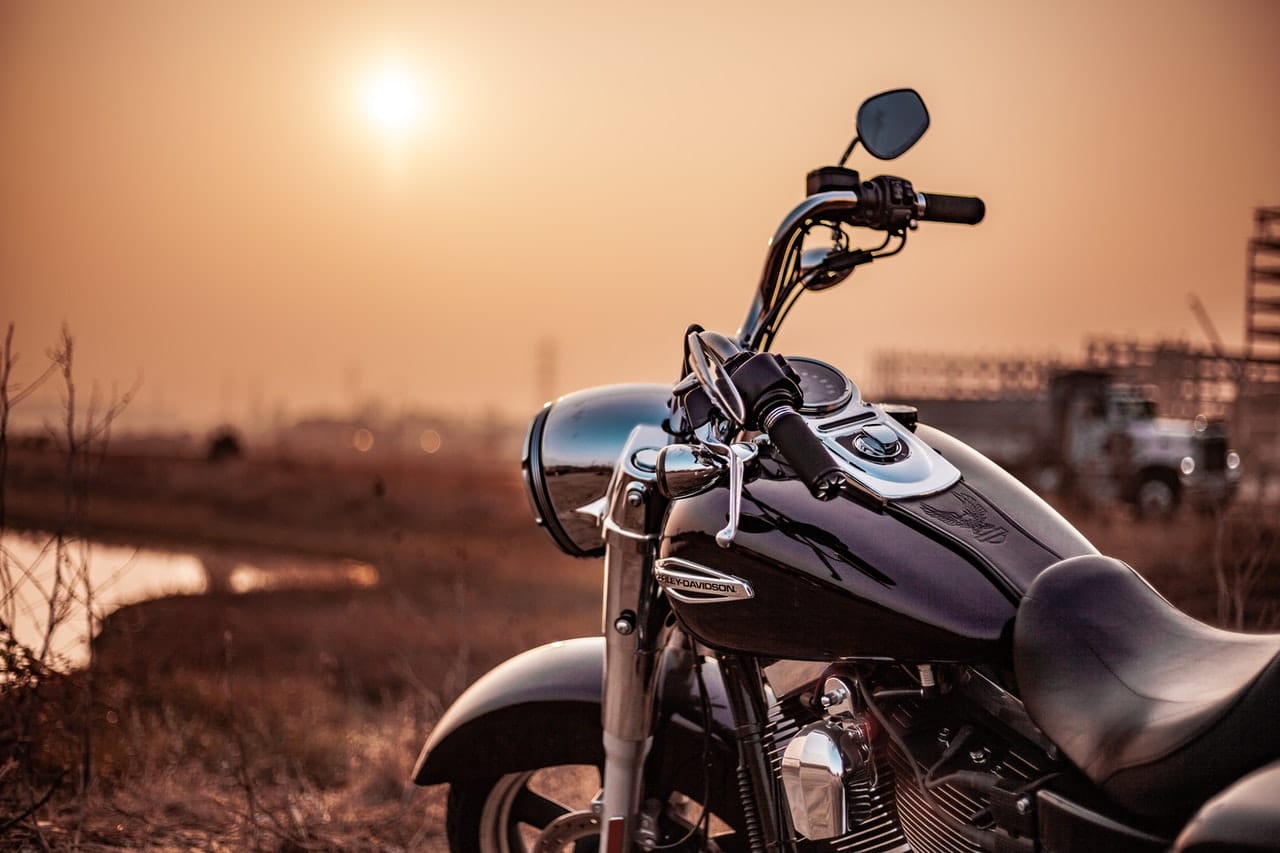 Riding a motorcycle is somewhat similar to riding a classic bicycle – you have to learn how to ride, and once you do, you will never forget. Nevertheless, learning to ride a motorcycle can be more difficult than learning to ride a bike. Fortunately, you can enjoy a smoother and safer learning experience by choosing to practice with the best starter motorcycle. 
There are many motorcycles on the market, but there are just a handful of the best starter motorcycles. However, we are here to help you find the right motorcycle ideal for beginners and first-timers. We have compiled a list of the top beginner motorbikes on the market. We will also expose you to some of the vital things you need to know and consider when buying a motorcycle to start your biking career. 
Top Pick​The Honda Rebel 500 is our top recommendation due to its excellent features such as seat height, weight, and engine capacity. These features are great for beginners. It also has the right power and functionality to help new riders get started. 
Here Are the Best Beginner Motorcycles:
1. Honda Rebel 500 – Top Beginner Motorcycle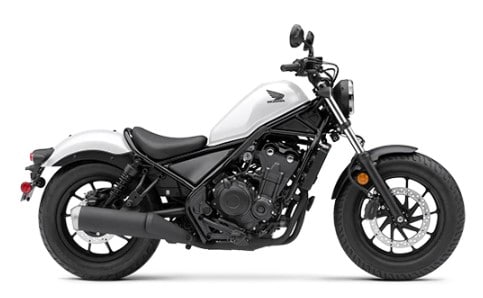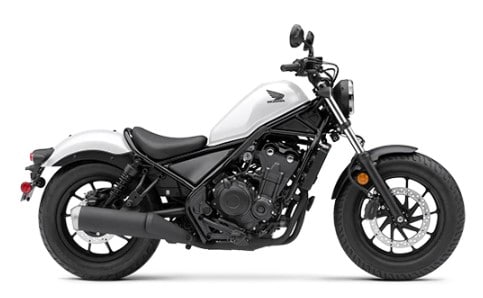 If you are looking for a beautiful beginner motorbike, this is one of the best options to consider. The Rebel 500 from Honda is one of the most classic-looking bikes out there, and it also delivers great performance. It is one of the most popular motorcycles Honda has made, thanks to its frame, compact architecture, and low-slung seat. 
The bike boasts of an extraordinary tilt angle, providing you with a bit of confidence when riding through tight corners and making tight turns. Honda designed it to provide you with a smooth ride regardless of where you are riding, and this makes it great for beginners. This motorcycle is equipped with a powerful 471cc parallel-twin engine that is designed to provide you with smooth and safe rides. 
When it comes to seat levels, lower seat heights tend to be better. The Rebel 500 has a very comfortable seat, at just 27.2 inches. It provides you with comfortable rides and makes it easier to flat-foot it in parking lots and spotlights. It also features a slipper/assist clutch that gives you a lighter clutch pull at the lever but a solid lockup upon the release of the lever and application of power. 
The parallel-twin engine of this motorcycle is narrow, and this reduces the overall size of the bike. It also offers a lot of higher-RPM performance and low-RPM torque. 
Specs
Engine: 4-stroke, 471cc parallel-twin

Fuel Capacity: 2.96 gallons

Transmission: 6-speed

Weight: 408 Pounds
Pros
Very comfortable seat

Allows for easy and smooth rides in tight corners

Classic look and design

Meets current EPA standards
Cons
Available in just three colors
2. Royal Enfield Continental GT 650 – Honorable Mention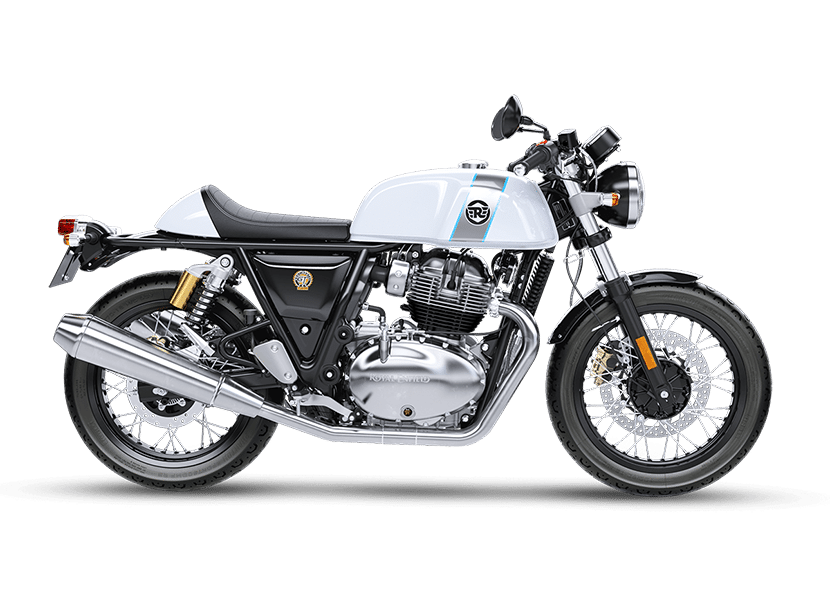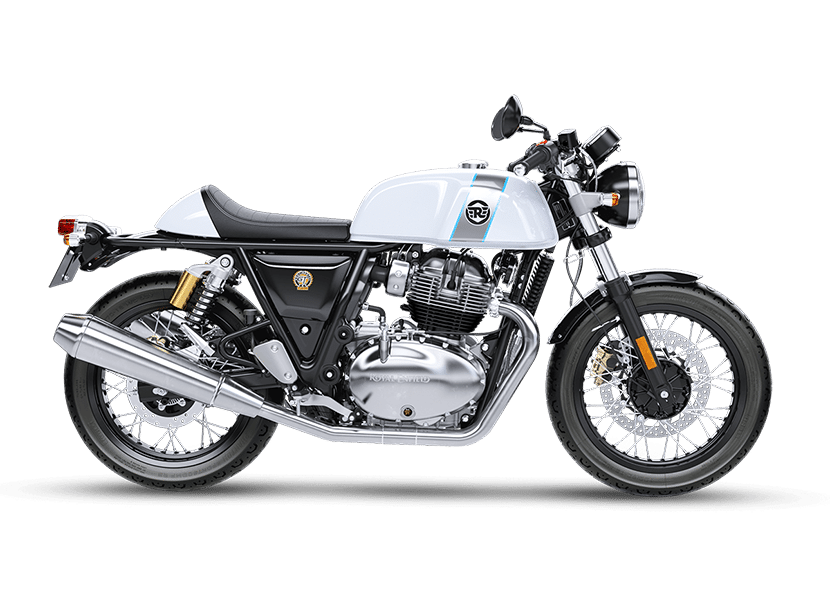 Royal Enfield is one of the best first motorcycles you can find. The Royal Enfield Continental GT650 is one of the top choices for beginners. This brand is specialized in creating all-encompassing, intuitive motorbikes, and this model is a prime example. 
This motorcycle comes with an impressive 648cc engine that delivers great power and speed. The engine of the bike is great for around-town shuttles and conventional riding. It also fosters enough performance to satisfy your lust for adrenaline. The motorcycle also has a fashionable aesthetic. 
It comes with a 4-stroke engine, and it features a 6-speed transmission. The fuel capacity of the bike is also impressive, at 3.3 gallons. It is also available in a wide range of colors, allowing you to choose a color that best suits your style. The air/oil-cooled parallel-twin engine is also easy to maintain. It offers a usable 47 HP at 7,150 RPM and a maximum of 52Nm torque at 5,250 RPM. 
Lastly, this motorcycle comes with 18-inch front and rear wheels, and they both have 36 spoke aluminum rims. It also features an ergonomic design that allows for an easy reach to the mid-level clip-on bars, providing you with an optimal blend of steering comfort and feel. The bike features an outstanding design, and it is great for beginners. 
Specs
Engine: 4-stroke, 648cc parallel-twin

Fuel Capacity: 3.3 gallons

Transmission: 6-speed

Weight: 436 Pounds
Pros
Powerful and easy-to-maintain engine

Large fuel capacity

Amazing finish and design

Ideal for everyday use
Cons
3. Triumph Street Scrambler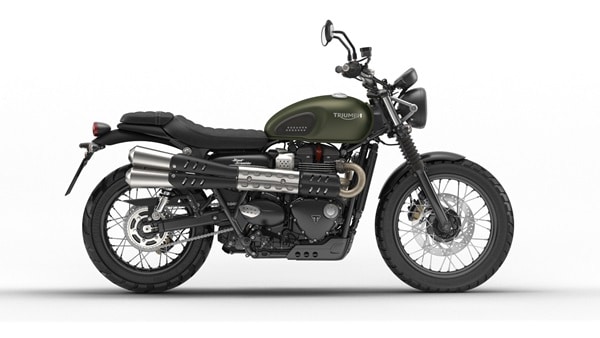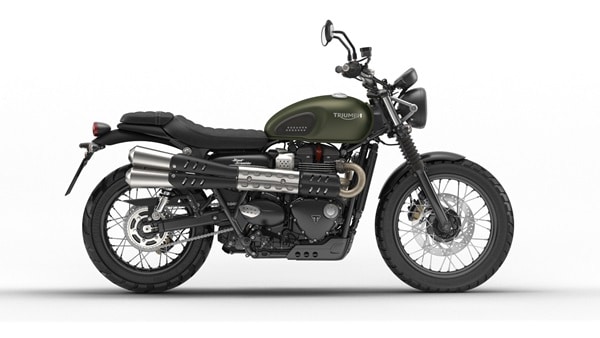 Next in line is the 2017 Triumph Street Scrambler, and it is a high-performance motorcycle. This motorbike is beautiful both inside and out. It features a blend of new technologies such as ABS, traction control, throttle-by-wire, and fuel-efficiency with the look and feel of old scrambler-style motorbikes from the 50s to 70s. 
Triumph designed the Street Scrambler to deliver a more purposeful and beautiful Scrambler style, and it comes with many great features and details. This machine comes with a liquid-cooled, 8-valve, SOHC, 270-degree crank angle 900cc parallel-twin engine. The maximum power EC is 54 bhp at 6,000 RPM, while the maximum torque EC is 80 Nm at 2,850 RPM. 
The gearbox has a 5-speed transition, and the unit comes with an impressive wet, multi-plate assist clutch. This motorcycle comes with longer rear shocks, low seat height, wide handlebars, and a 19-inch front wheel. It offers sure handling and safe rides on all roads. 
It also features an elegant laser cut aluminum rear rack and interchangeable pillion seat for more practicality. It has three different colors to choose from; Matt Khaki Green, Jet Black, and a twin color scheme Korosi Red/Frozen Silver.
Check out our scrambler motorcycle roundup here. 
Specs
Engine: 8-stroke, 900cc parallel-twin

Fuel Capacity: 3.17 gallons

Transmission: 5-speed

Weight: 454 Pounds
Pros
Low seat height

Distinctive scrambler features

Stripped back custom styling

Dynamic scrambler ergonomics

High-performance shocks and forks
Cons
4. Yamaha YZF-R3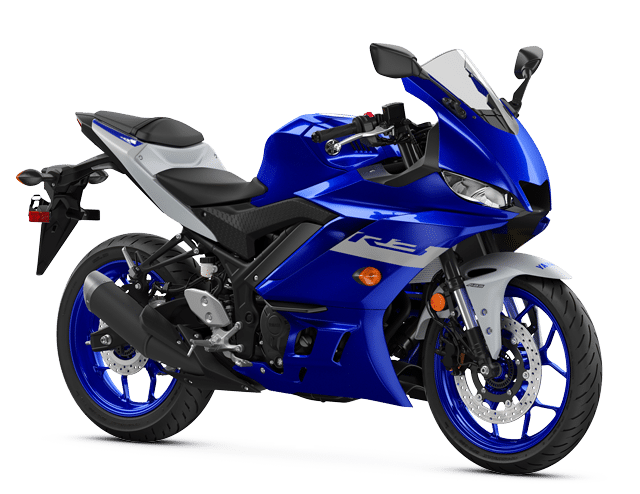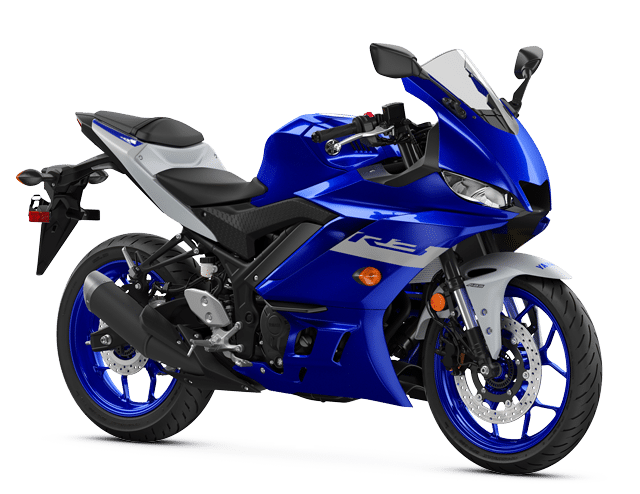 If you are looking for the best beginner motorcycle that will not leave a hole in your pocket, the Yamaha YZF-R3 is one of the most reliable options to consider. This is a budget-friendly motorbike that delivers great performance. It is the perfect sportbike for beginners, thanks to its amazing features and detailing. This motorbike comes with a twin-cylinder, 321cc engine that delivers awesome highway speed and overall performance. 
The liquid-cooled, DOHC inline twin-cylinder, 4-stroke engine is also easy to maintain. The compression ratio is 11.2:1, while the fuel delivery method is fuel injection. When it comes to transmission, this unit features a 6-speed multi-plate wet clutch. It also features flowing bodywork and ergonomics, thanks to its Sleek R-series styling. 
This motorcycle features advanced suspension, as it comes with an inverted fork that works with a Monocross rear shock to provide you with excellent handling. It features an almost 50/50 weight balance, ensuring you are stable even when making tight turns. The fuel capacity of this machine is an impressive 3.7 gallons, and it has a seat height of 30.7 inches.
It comes with strong and lightweight pistons that deliver great performance even at higher temperatures, ensuring reliability at higher RPM. The 6-speed smooth-shifting gearbox is also there to ensure you always have the right ratio. It also has a compact multi-function meter that brings every information about the motorbike to your display. 
Specs
Engine: 4-stroke, 321cc two-cylinder

Fuel Capacity: 3.7 gallons

Transmission: 6-speed

Weight: 375 Pounds
Pros
High-revving engine architecture

Delivers great performance in all conditions

Refined sportbike ergonomics

Advanced suspension and compact chassis
Cons
5. Yamaha Star Bolt R-Spec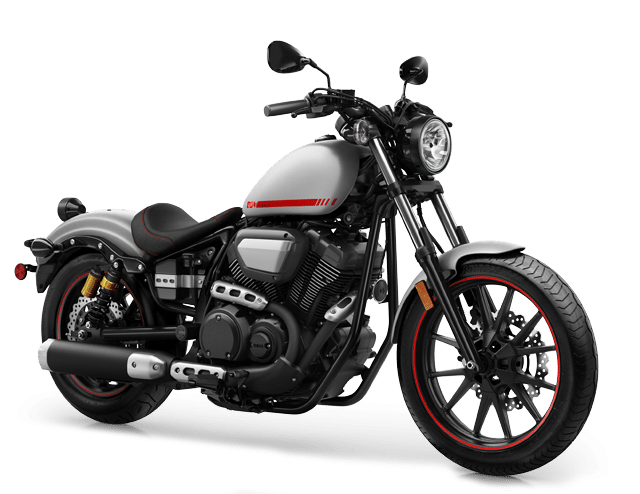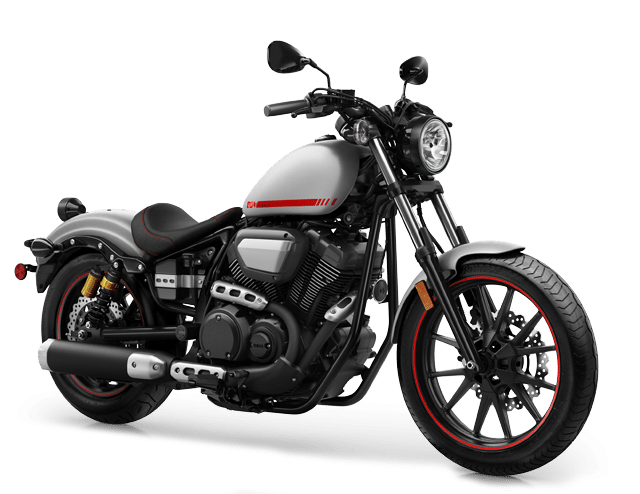 The Yamaha Star Bolt R-Spec is another ideal motorcycle for beginners, but it is a bit pricey. This motorbike meets the standards of great looks and excellent features. Also, it features a fantastic design and a torquey engine. This unit comes with wide handlebars that make steering much easier. The wide handlebars also give the motorcycle a more stable feel, and this allows you to enjoy smooth and powerful rides. 
It comes with a pretty low seat, with a height of only 27 inches from the ground, which means you do not need to be tall to enjoy a ride on this motorbike. When it comes to performance, this machine is a top contender, as it comes with 942cc (58-cubic-inch) air-cooled SOHC V-twin, 4-valves engine that offers exceptional performance and power. 
The Bolt R-Spec comes with modern technology that provides a superior riding experience than similarly sized motorcycles. It also features a slim body design that makes the motorbike light and easy to maneuver while providing you with stable handling. 
It comes with a compact digital LCD meter that provides clean styling with exceptional visibility. There are also modern lightings on this machine, and this contributes to its amazing look. The fuel capacity is 3.4 gallons, while the overall weight is 542 pounds. If you love personalization, this machine is ready for customization. The rear fenders and steel front are great for personalization, including customization and painting. 
Specs
Engine: 942cc SOHC V-twin

Fuel Capacity: 3.4 gallons

Transmission: 5-speed

Weight: 542 Pounds
Pros
Allows for customization and personalization

Offers superior performance

Low seat for more comfort while riding

High-performance engine
Cons
6. Suzuki GW250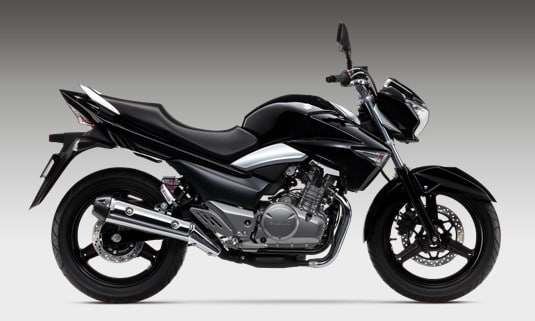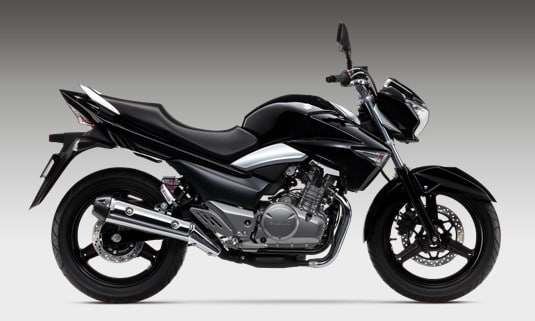 The Suzuki GW250 comes with many great features, and it can handle everything you need as a new rider. It boasts of high performance, allowing you to cruise at highway speeds safely and confidently. It also allows for easy maneuverability, which means you can use it to navigate the suburban jungle effortlessly. There is a small windscreen in front of the motorcycle to direct incoming air around you, and this would keep you energized on every ride. 
One of the most notable features of this motorbike is its adjustable brake levers, which provides you with a more comfortable ride. It also has a lower seat height for rider comfort, at 30.7 inches. The lower seat height allows for easy controls. The lightweight nature, customizable features, and extra supple suspension of this motorbike makes it an excellent choice for new riders and women. 
This machine generates lightning fast mid-range and low-end power from its liquid-cooled 248cc engine. The 2-cylinder engine is lightweight and very easy to maintain. In addition to delivering great power and comfort, this unit also offers style. 
The bodywork of this machine provides an aggressive naked statement to many riders. It features a 6-speed transmission, and the gear ratios are well-matched to the output of the engine. The motorbike comes with 17-inch aluminum wheels that deliver exceptional performance on a wide range of road conditions. It also comes with a distinctively designed fuel tank with a capacity of 3.5 gallons. 
Specs
Engine: Twin-cylinder, 248cc liquid-cooled engine

Fuel Capacity: 3.5 gallons

Transmission: 6-speed

Weight: 403 Pounds
Pros
Modern stylish design and great performance

Reduces emission and improves fuel economy

Provides support for different riding styles

Large fuel storage tank
Cons
The engine rating is a bit low
7. Honda Grom125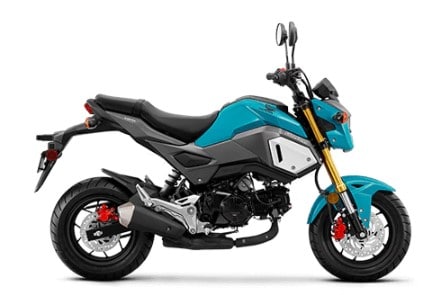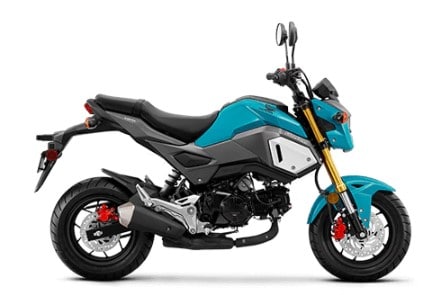 As a beginner, a mini bike is another great option you can start with. The Honda Grom125 is a mini bike, but it comes with a wide range of sports features that you would love. The seat height and suspension of this motorbike are like that of a sports bike. This bike comes at an affordable price, and this makes it even more fascinating for beginners. It is so far the most affordable motorbike on our list. The bike is relatively cheap, but it still delivers top-notch performance. 
The motorbike is great for commuting on the city streets, providing you with an unbelievably fun and comfortable ride. It is not one of the most powerful when it comes to engine power, but it features an excellent design that looks like the more expensive models. It also has different colors for you to choose from. This bike cannot handle highway speeds very well, so you need to be careful about that when you are on the highway. 
This motorbike is equipped with a 125cc air-cooled, single-cylinder, 4-stroke engine. The height of the seat is 30 inches from the ground, while the fuel capacity is 1.45 gallons. It also does a great job of economizing fuel. The motorbike meets current EPA standards, which means it is safe for the environment. It features a 4-speed transition with high-quality front and rear suspension. 
Specs
Engine: 125cc air-cooled single-cylinder four-stroke

Fuel Capacity: 1.45 gallons

Transmission: 4-speed

Weight: 229 Pounds
Pros
Lightweight and very easy to handle

Safe for the environment

Available in different colors

Relatively cheap
Cons
Not powerful enough for highway speeds
8. Triumph Bonneville T120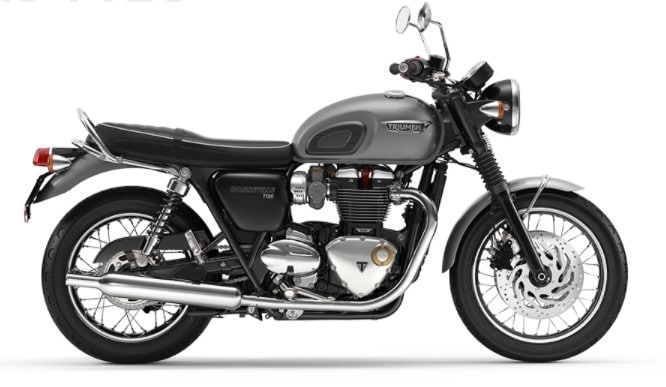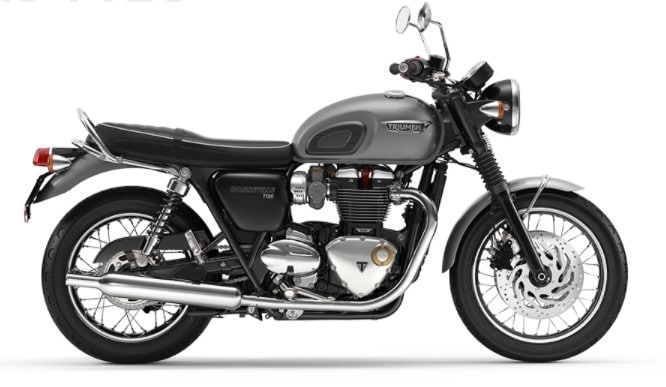 Next on our list is the Triumph Bonneville T120, and it is one of the best starter motorcycles on the market today. This machine features a timeless and classic look, as it was born of the original Bonneville style bike. It comes with a powerful engine that delivers superb performance in the streets and on the highways. 
The seat of this machine is mid-range, and it would provide you with a good balance between a relaxed riding position and control. The bike does not come cheap, but it is an investment you would not regret as a beginner. It comes with a liquid-cooled, SOHC, 8-valve, 270-degree crank angle parallel-twin engine with a capacity of 1,200cc. Impressive right?
The maximum power EC is 80Hp at 6,550 RPM, while the maximum torque EC is 105 Nm at 3,100 RPM. This is a high-performance motorbike that you can use to handle almost any task. It features a 6-speed transition and a tubular steel cradle frame. It also features a 32-spoke 18×2.75 inches front wheel and 32-spoke 17×4.25 rear wheel. 
The heat of the seat is 31 inches, while the capacity of the fuel tank is an impressive 3.8 gallons. It has an LCD multi-functional instrument pack that shows you every information about the bike. It uses a wet, multi-plate assist clutch with a multipoint sequential electronic fuel injection.
The motorcycle is designed to provide you with smooth and comfortable rides, and you would remain comfortable regardless of how long you ride on it. The parts of the bike are durable, and with proper maintenance, it would serve you for a very long time. 
After you get your feet wet with this one, check out the Triumph Sprint.
Specs
Engine: liquid-cooled, 8-valve, 1,200cc parallel-twin

Fuel Capacity: 3.8 gallons

Transmission: 6-speed

Weight: 494 Pounds
Pros
Very powerful engine

Provides comfort for different types of riders

Allows for personal styling

Great style and finishing
Cons
9. Kawasaki Z400 ABS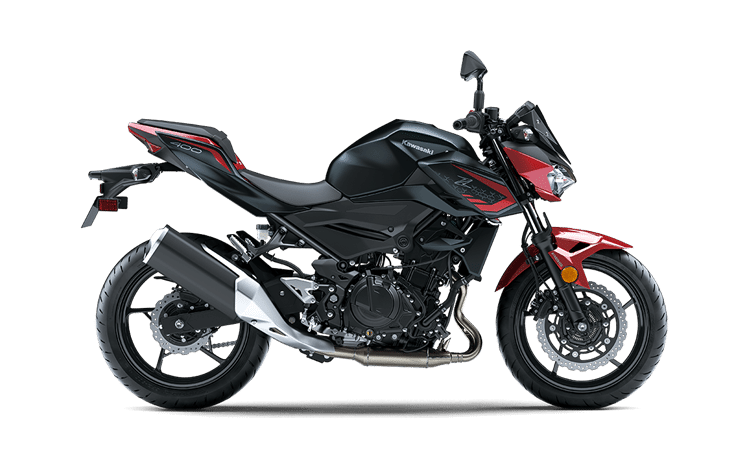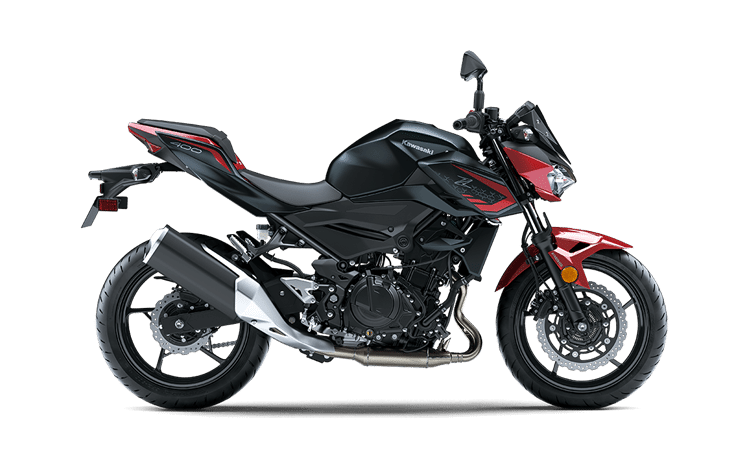 The Kawasaki Z400 is one of the top beginner motorcycles on the market. The motorbike comes with a "New Rider Friendly" seal of approval. Also, it provides balance, comfort, and stability. As a new rider, you will not be disappointed with this machine, and it would keep you smiling for years to come. 
The motorbike features an aggressive streetfighter styling with an upright riding position. It also has a low seat height with a lightweight chassis. The machine offers legendary sports performance, offering new riders a smooth response, exciting power, and abundant low-end torque. It is equipped with a 2-cylinder, 399cc, DOHC, 4-stroke engine. 
This unit comes with a compact clutch that assists with a light feel at the lever, as well as a wide engagement range, to provide the rider with more control. You will not experience rear-wheel hop when downshifting with this bike, thanks to its back-torque limiting slipper. It comes with a quad-LED headlamp that is highly visible; it provides superior brightness for a wide illuminated path. 
With the 5-way preload adjustability, you can adjust the stiffness and ride height to suit body weight. It comes with a wide handlebar that allows for easy maneuverability and dynamic control. This machine features an ABS that uses rear and front-wheel sensors to monitor wheel speed constantly. The maximum torque of this machine is 28 lb-ft at 8,000 RPM while the transition is 6-speed. The seat height is 30.9 inches while the capacity of the fuel storage is 3.7 gallons. 
Kawasaki is a great brand and you'll find Kawasaki models in a lot of motorcycle roundups, such as our best sport touring motorcycle list.
Specs
Engine: 4-stroke, 2-cylinder, DOHC, liquid-cooled 399cc engine

Fuel Capacity: 3.7 gallons

Transmission: 6-speed

Weight: 364 Pounds
Pros
Large fuel capacity

Simple yet stunning design

Economical riding indicator

Anti-lock brake system and assist & slipper clutch
Cons
How to Pick the Best Beginner Motorcycle
When buying a beginner motorcycle, there are many things involved. To determine the motorcycle that is best for you, you need to consider exactly what you would want to get out of it. For instance, some riders are more interested in the looks of the bike while others are more focused on getting a bike that they can take on their adventures or for off-roading and trick riding on rugged terrains. If you're interested in decongesting the streets and avoiding the use of fossil fuels, then you may want to check out electric bikes.
However, regardless of what your personal needs are, there are some vital factors you still need to consider. Since this might be your first motorcycle, we are here to help you make the right choice. The following are some of the vital features you need to look for when buying a beginner motorcycle. 
The Capacity of the Engine
The capacity of the engine is one of the first things you need to consider when looking for the perfect motorcycle for a beginner. The general recommended engine capacity for beginner riders is around 500cc engines. Top-of-the-line, expensive motorbikes can have up to 1,500cc engines. Nevertheless, as a beginner, you do not need anything that powerful. Most bikes that are designed for beginners usually come with an engine capacity of 600cc or smaller. 
However, some beginner riders have little experience, so they might want to try something higher. If this is your first time, we recommend you keep things low; we have many low-capacity engines on our list that you can start with. The higher the engine capacity, the more sensitive the throttle would be, and this might be difficult for beginners to get used to. 
Anti-Lock Braking System (ABS)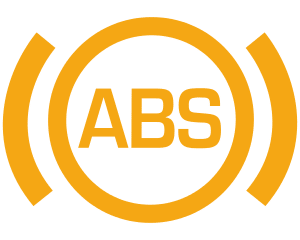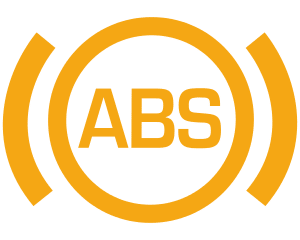 Many motorbike models come with standard braking systems that do not involve a computer keeping the brakes from locking when too much pressure is applied. Some motorcycles come with an anti-lock braking system (ABS) with the normal cost of the motorbike but some models only feature as an add-on that you need to purchase separately. 
The anti-lock braking system is a very important feature, and it is one feature that should not be missing in the motorbike of a new rider. This feature is very important because it keeps the brakes and tires from skidding and lock if you apply the brakes too hard. New riders are more likely to exact much pressure on the application of the brake than worrying about not applying them enough in panic cases. 
As such, you want to make sure the motorbike comes with this vital feature. If the bike does not come with it, you might want to consider buying it as an add-on feature. However, it would save you more money when you purchase a motorcycle that already has this feature. With this feature, you will have more control over the motorbike and you will enjoy smooth rides without sliding or skidding. 
The Height of the Handlebar
As a beginner, you want to make sure the motorbike you pick is very easy and comfortable for you to ride on. When considering ease of use, one of the most important things you need to consider is the height of the handlebar. Motorcycles with lower handlebars are very easy to grip and maneuver and that should be your focus. Some versions come with very high handlebars compared to the height of the seat and they may be difficult for beginners to handle and get used to. 
The height of the handlebar affects your riding posture, and this in turn results in fatigue and discomfort. You should make sure the handlebars are low and you are very comfortable handling them. Your hands should not be positioned higher than your neck and your elbows should be slightly bent. 
The Height of the Seat
The height of the seat is another very important thing you need to consider, as it plays a major role in your comfort while riding. When it comes to the perfect motorcycle for beginners, the lower the better. When you want to stop the bike after riding for some time, you need to put a foot or both feet down. At this point, the height of the seat should be able to accommodate the length of your legs. 
If the seat is too high, you would always need to lean the motorbike to one side just to put your foot down. On the other hand, the seat does not have to be too short, as your feet might be touching the ground easily, which is somewhat uncomfortable. Hence, you need to find the right balance of inseam length and seat height. All the motorbikes on this guide come with lower seat height, making them great for beginners and first-timers. 
Fairing or Windscreen
A windscreen or fairing on the front of the motorbike is also a great addition, as you can tuck behind it to stay out of the weather and wind. Leaning forwards to battle the force of the wind would leave you very tired and stressed out on longer rides.
Riding at high speed would result in more wind force, which is why it is very important to have a windscreen, especially when riding on the highway. In addition to blocking wind, this useful accessory would also help to block bugs and small rocks while riding. 
How Much Are You Willing to Spend?
As a new rider, "dropping" a motorbike is a possibility. Damaging a motorbike means you have to fix it, and that would cost money. Inexpensive and smaller motorbikes are cheaper and easier to repair compared to larger and more expensive motorcycles. Furthermore, a larger engine means higher insurance payments for the first three years of having your license. 
As such, you want to consider how much you are willing to invest in the bike. As a beginner, your handling skills may not be high, which means you would not be able to maintain the bike as a professional would. As such, you want to make sure you go for an option that is cheap and easy to maintain, should anything happen to it.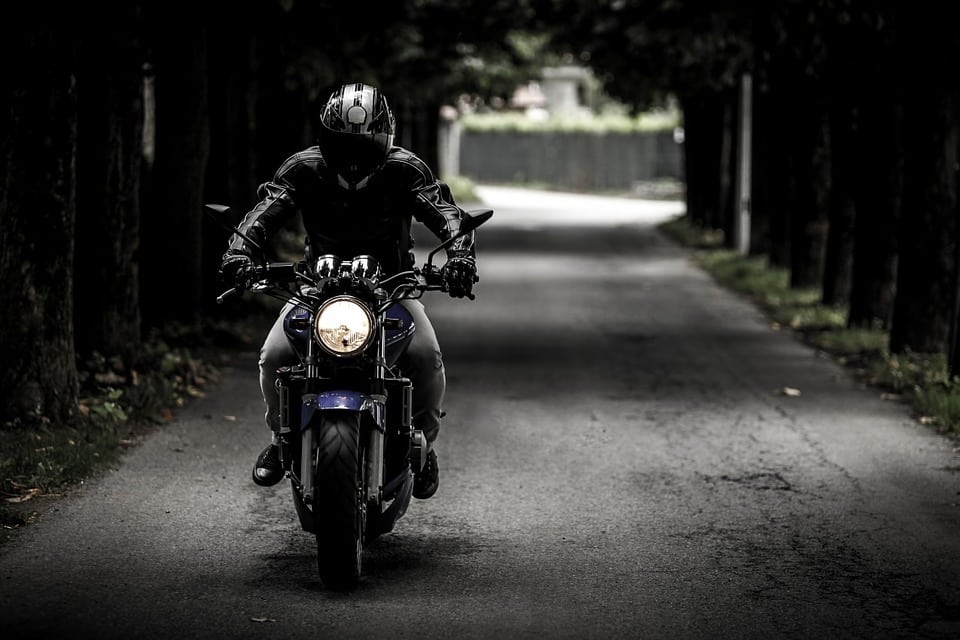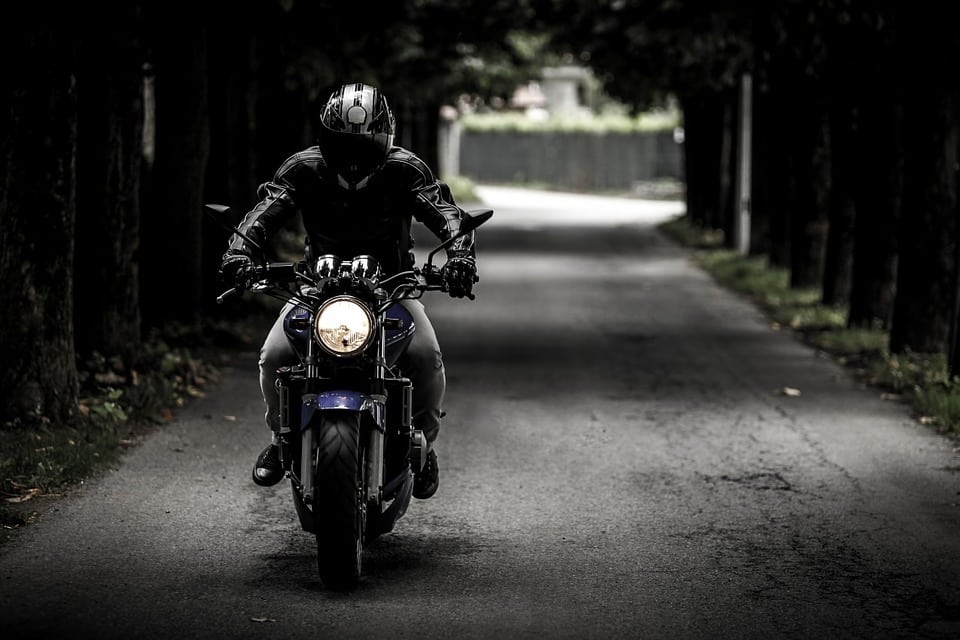 Weight
When it comes to motorcycles, many people do not know that weight matters. The heavier a motorbike, the harder it falls. This is even more important as a new rider when you are still developing your skill set, and you are prone to mistakes. A little mistake on a heavy motorbike can escalate into much larger, and dangerous issues. Hence, you should consider going for lightweight motorbikes. 
You should go for a relatively lightweight motorbike, as this would provide you with better control over the bike. A lightweight motorbike will give you a more detailed rider feel while allowing you to feel more comfortable with feet down. 
Ease-of-Use
The usability of the bike is one of the most important things you need to consider before buying. You need to make sure all the controls are very easy to reach. You should also check for things like comfort features, storage capacity, wind protection, and more. 
Frequently Asked Questions (FAQs)
Is a 650cc a good beginner bike?
A 650cc motorbike is OK for a beginner, but not all 650s are good. The recommended engine capacity for new riders is 600cc and below. 
What is a good weight for a starter motorbike?
For beginners or smaller riders, you can find a motorbike between 250 pounds and 500 pounds with great handling and a low seat height. However, for new riders, the lighter the bike, the better. 
Are heavier motorcycles harder to ride?
Heavier motorbikes may not offer the kind of handling lighter bikes offer. They are also less enjoyable to ride. Lighter bikes are more fun to ride, as you can ride them faster and farther. 
Conclusion
So there you have it! Those are nine of the best starter motorbikes on the market, according to some professionals and trainers. Most of these bikes were designed and manufactured this year, which means they come with some of the latest and advanced biking technologies.
There are many great motorcycles on the market, but not all of them are ideal for new riders, which is why we have to take out time to come up with this list. From the beginner motorcycles reviewed in this guide, our number one pick is the Honda Rebel 500 because it features the ideal weight, engine capacity, storage capacity, and features for beginners.