Best Bike Grease for Bearings 2020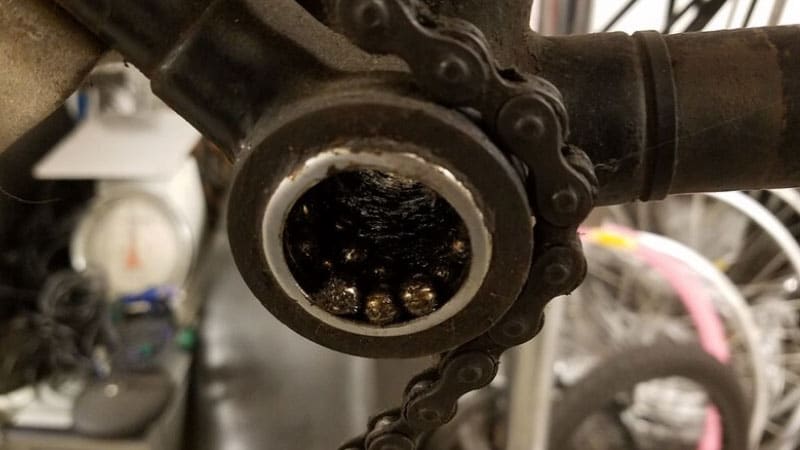 Much like anything, owning a bike requires maintenance. It does not just refer to cleaning your bike regularly but also keeping it lubricated well. This is important because it ensures the smooth movement of your motorcycle.
In this article, we are going to tell you about different grease products for your bike bearings and how you can find the best bike grease for bearings. Bearings are the components that are often ignored and yet, are vital for a bike to perform well. One of the ways they help us is by making sure the suspension works properly.
Take your bicycle out and give some attention to the bearings. If you provide them with a bit of a spin and find some resistance there, they are probably in need of some grease.
5 Best Bike Grease Reviews
So, what is the best bike grease for bearing? There are a lot of options out there, so it is okay you feel overwhelmed. It also depends on what type of bearing we are talking about. With this guide, we are hoping to make things easier for you. Below is a list of our picks for the best bicycle grease for bearings. Let us get to it.
1. Park Tool PolyLube 1000 Grease
Park tool PPL-1 is a great product to have around whenever you are having trouble with your bike. This high-quality grease is poly-urea based and has been specifically designed for any bicycle components.
These types of grease are considered fantastic when it comes to bearing greases. Poly-urea based greases are truly seen as one of the best bearing greases on the market.
When you wash your bike quite often, the bearings need to be greased as well because the water washes away some of the greases along with the dirt. This is why the fact that this lubricant is water-resistant makes it super handy.
PPL-1 has been specially formulated for the construction, maintenance, and repair of bicycles. It works great with pedals, along with a lot of other stuff. Having extremely high shear strength, this thing will guard your bearings against harm even under the most extreme circumstances.
You do not need to worry about any lousy odor with this product. You may also find the tube a lot easier to work with compared to a round container or a gun that needs to be loaded. This tube can hold a volume of 4 oz greases in it.
2. Phil Wood 3- Ounce Grease Tube
The grease you use on your bicycle needs to be water-resistant, while also having a specific viscosity depending on the loads placed on the bearings. That is why this waterproof Grease by Phil Wood is perfect for the job.
With this grease, you will not need to worry about cycling in the rain or giving your bike a good wash. Its water-repelling ability is as good as it gets.
This 3-ounce grease tube can last you a long time with careful usage. While using, you only need to squeeze a small amount out of the tube, and that alone will take you a long way. The thread on the cap on the tube makes it super easy to open and close.
Its specialty lies in working for the ball and roller bearings, for anyone that does the maintenance and repairing work on their own. Although it is ideal for bicycle-related components, you can even use this product for some household work.
It not only ensures smooth performance by the bike, but it also increases the life span of the components when you apply it on bolt threads or other areas where metals come into contact with each other.
3. Bel-Ray Waterproof Grease
Have you ever taken your bike out early in the morning to go for a ride, only to find that the steering head bearings feel rough? Well, things like that will never be a problem again as long as you have this water-repelling grease with you. If you are looking for good grease, this is undoubtedly the stuff to use.
This high-quality grease has been made to serve multiple purposes. You can use it for any bearings, be it wheel or something else, along with any other areas that require lubrication. No need to worry about water washing the grease away, as it is super useful in resisting it. So, it gives your bike full protection, even against rust.
Waterproof grease will neither melt nor run out. This is because it has an aluminum complex formula. It does an excellent job shielding bearings and making sure they do not wear down and increases their service period. This gives the bike more stability and dramatically boosts its performance.
You can use this blue colored grease on your snowmobile or dirt bike bearings or any other lubrication points to make them run smoother. Any equipment you have that comes in contact with water use this grease to keep it well protected. It is the best all-purpose bike grease.
4. White Lightning Crystal Grease Biodegradable
White Lightning raised the bar when they brought in this amazing product into the market. Crystal Grease is a lubricant that does not let the user down. You can use it on any part of a bike that needs some grease.
This odorless grease does not stain at all, leaving the bearings crystal clear after use, just as the name suggests. But wait, there's more. The product is also non-toxic and biodegradable and has been formulated to resist any impurity.
It has a temperature range of -4oF to 320oF, and so, it does not melt even under extremely high temperatures. Its ability to hold its own against intense heat is proof of its effectiveness and strength.
No matter what type of seals, threads, carbon fiber, or bearings we are talking about, this grease is ideally suited for all. The grease is aluminum-based and also has hydro-treated based oils.
It is entirely waterproof and will keep your bearing components durable and as good as new. In addition to all that, it is also totally safe to use on all surfaces.
With this product, you can even determine the flow of the grease as it has a tip on the tube that can be adjusted to your preference. The grease itself is not too thin or too thick, so it has a perfect balance and can be used for a lot of different purposes.
Cleaning up after use is convenient as the product is not very sticky and can be wiped off easily.
5. SHIMANO Dura-Ace Grease
Anyone in need of grease should consider this product. It is excellent for packing bearings, and using it on your bike will make sure it works smoother than ever.
This German grease is suitable for bearings, threads, or basically any lubricating points that have become rough. That includes cables, wheel bearings and pivots as well.
This amazing grease keeps the components from harm, such as corrosion and rust. You will also see that it ensures the durability of the bearings by not letting them wear out.
Its lid seals very well, so you do not have to worry about the grease leaking out. This even makes sure that the product lasts a long time. The brightly colored grease itself is extremely slippery but stays put perfectly when you apply it.
For anything that requires precision, this should be a go-to lubricant for all. You can use a syringe for the best results if you want to be perfectly precise. It is highly resistant to water. Not just that, it handles intense heat very well, too.
One drawback of this product is that it is quite expensive. So, it is better not to use it too generously as you don't want to use it all up too fast. However, a good thing about it is that you actually do not need to apply too much as a little amount goes a long way. Also, the price of a product this good can be overlooked anyway.
Bike Grease Buying Guide
Just by normal use, bike bearings start to wear down. The problem is when dirt and water get into them, it destroys them.
So, the trick is to know how to keep them fresh, and you do that with keeping them clean. And, you do that by keeping the bearings all nice and greased.
However, not all of these products will be the same; neither will they all cater to your bike's overall needs. Bearings require different types of grease, depending on what it is for.
That is why it is essential to make sure you know exactly what your bike requires before purchasing any grease. Here, we will take a look at some of the aspects you need to consider when buying the product.
Is It Waterproof?
If your vehicle is frequently exposed to water, it will wash away the grease. So, you need to make sure it is always greased. However, a way to cut down on that work of always keeping it greased is using grease that repels water.
A Waterproof grease also helps to resist corrosion. This way, your bike components will also last a long time.
Does It Handle Fluctuating Temperatures Well?
A lot of these products melt and run under extremely high temperatures. You do not want that to happen with the grease that you end up purchasing. Although not all bearings face fluctuating temperatures, many of them do. Look for the ones that have a reputation of being able to hold out even under extreme heat.
Price
It depends on how much you are willing to spend on grease. If you work in a garage where you maintain and repair bikes on your own, you will probably want to look for high-quality grease that delivers well, regardless of the price.
However, if you are on a budget and just looking for a good lubricant for your bike at home, you should go for products that are cheap but offer great performance for the bike. Even in our list, you will find some products that are not only amazing; they also come at a reasonable price.
Frequently Asked Questions
1. How will I know if my bike bearings have gone bad?
There are some signs you will see if your bearings go bad. These include rough movement of the pedals, handlebar, or the wheels. You may also hear snapping sounds.
2. How does grease help bikes perform better?
Grease greatly reduces friction between the metals. When you apply lubricants on bearings and chains, they become less resistant. This ensures smooth performance on their part and makes riding the bike a nicer experience for the user.
3. Does grease need to be water-resistant?
Waterproof grease helps a lot as you do not want it all to wash away when it rains or when your bike comes into contact with water.
4. How do I look after bicycle bearings to make sure they last?
The best way to make sure you do not damage your bearings is by not directing a jet straight towards the bearings. It ends up forcing dirt into them.
You can also purchase a good grease for better maintenance, depending on the bearings and what type of grease it needs.
5. Is it possible to over grease a bearing?
It is. Applying too much grease to bearings ends up increasing pressure, and hence, the friction as well, rather than decreasing it. This causes the components to heat up, which defeats the whole purpose of using a lubricant in the first place.
Conclusion
Bearings are what keep your bike rolling. So, it is high time they got the love and appreciation they really deserve, and now you know just how to do that. Invest in some good quality grease and see how far your bike takes you.
So, have you picked any of the products mentioned on our list? Or have you decided to go with some other grease product? Either way, make sure you consider all the things mentioned in this guide before you buy the product.
Now, what are you waiting for? Go and get the best bike grease for bearings that is ideal for you!