Best Bluetooth Motorcycle Helmet Reviews 2020 – Guide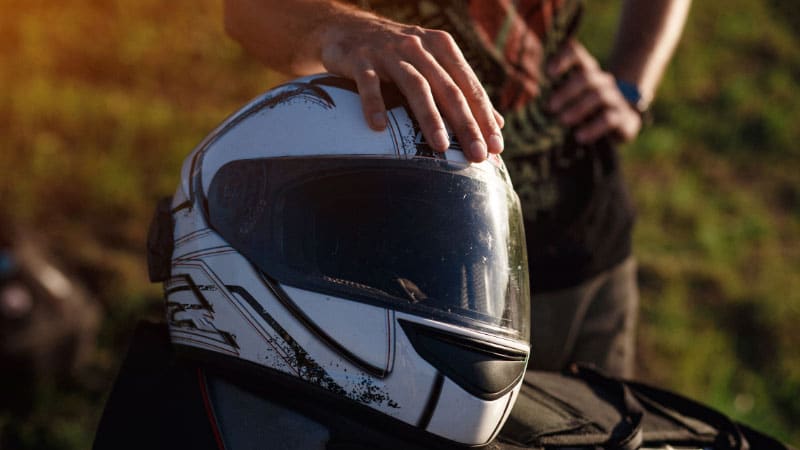 Suppose you're in the middle of a long bike ride along the countryside with your friends. The scenery is surreal; the experience is thrilling.
Suddenly, your phone rings. It's a call from your boss. You can't stop and take the call, because that means you'd be left behind. But you can't exactly take your helmet off and receive it either.
This is where a built-in Bluetooth motorcycle helmet comes into play. With the help of these fantastic devices, you can stay connected to the outside world without any risk while riding. Not sure how to choose one?
Read on, because we've put together a list of the best Bluetooth helmets, along with their buying guide for you.
Why is Bluetooth Technology Needed for Motorcycle Helmets?
Bluetooth technology is not a must in a motorcycle helmet. However, having a Bluetooth system built-in can offer a lot of attractive advantages to a rider. Some of these are listed below: -
Communication
While riding in a group, it is often vital to communicate with your co-riders. Now, you can't always do that by shouting at the top of your lungs. That's impractical as well as disturbing to other people on the road.
Plus, the chances are that you will not be able to find all of your co-riders at one place if there are too many people on the road.
In such a scenario, Bluetooth helmets will help you all remain connected without any hassle at all.
If you suddenly forget the directions or decide on a sudden change of plans, you can quickly get others on board by communicating through your helmets.
Safety
One of the significant causes of motorcycle accidents is talking while on the bike. While riding a motorcycle, your hands need to be on the bike's gears, not on your phone.
However, sometimes there are calls that you can't just avoid. In those cases, Bluetooth helps you to receive those with little to no interruption. Bluetooth motorcycle helmets with voice commands or one button for all configuration are best in this regard.
Music
Riding alone in the countryside can often get lonely, and you always can't find someone to keep you company. Listening to music certainly helps to alleviate loneliness.
Bluetooth helmets will help you to listen to music, and the better ones will provide such fantastic quality that you will be confused as to whether you are operating a noisy vehicle.
GPS
In situations where you can't find the right directions, and there is no option to stop the bike, Bluetooth will help you to listen to GPS instructions. You will not have to face much hassle either, as you can operate it with voice commands in many Bluetooth helmets.
Comfort
A lot of helmets have the option to wear different Bluetooth headsets with them. However, it is not the most comfortable choice. A Bluetooth helmet instead will offer you all the benefits along with maximum comfort. So, it is a win-win situation.
10 Best Bluetooth Motorcycle Helmet Reviews
Here we have selected 10 Bluetooth motorcycle helmets for you, which are undeniably the best in the market. From weight to comfort to long-range, these Bluetooth helmets have it all.
So, go through these and all their features and cons to decide which one is the best for you!
1. ILM Bluetooth Integrated Modular Flip Up Full Face Motorcycle Helmet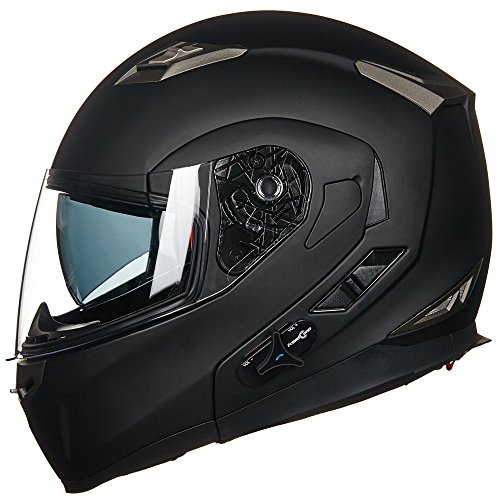 This one is one of the very best full-face motorcycle helmets with Bluetooth out there. It is well known for its top-notch material and comfort. This one is weatherproof so that it can withstand rain, storms, and intense heat.
It is also made of washable microfiber, so you do not need to worry about cleaning it. Also, it comes in different sizes that you can choose from.
The talk time on this device is impressive. You can talk for 8 hours without any interruption and keep it for standby for 110 hours. It uses Bluetooth technology to pick up calls, use the GPS, or listen to music. The two built-in speakers in this helmet are of high quality and offer excellent sound even amid complete chaos.
One of the best things about this product is its vast range. With this, you can communicate with users up to 1000 feet distance. It is also a very safe helmet to use as it has a one-touch option for taking incoming calls, dialing or redialing.
So, you do not have to take your hands off your bike for more than one second, therefore minimizing the risk of severe accidents.
The helmet also can cancel off outside sound by using noise suppression technology. So that means you will be able to take calls or communicate with other riders without being continuously interrupted by outside noise. All in one, this is a very comfortable helmet.
2. Torc T14B Bluetooth Integrated Mako Full Face Helmet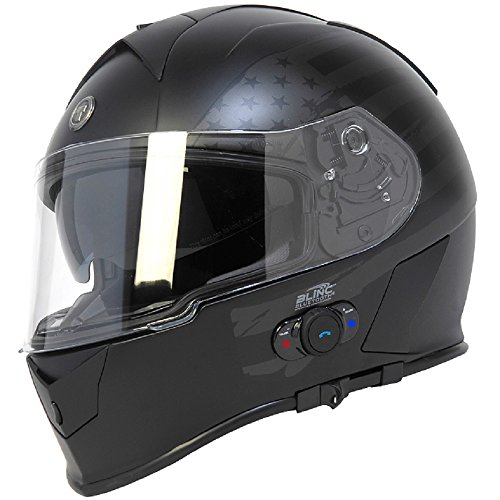 Are you one of those riders who love speeding up while remaining in contact with fellow riders? Then this is the best Bluetooth helmet for you.
This helmet is quite heavy-duty, meaning it will lessen the impact of even the most severe accidents, thus making it a very reliable option. It also allows the Bluetooth to help you stay connected even at speeds like 60 mph.
Since the product is quite heavy on the head, it also limits the airflow inside. Therefore, while wearing this, most riders will experience feeling a bit hot and sweaty.
However, the inner liner of the helmet absorbs all the sweat. Therefore, you will not have to be all wet in there, and it definitely will not obstruct your riding experience.
The plus point of this helmet is that the liner in it can be removed and washed very easily. So even if you sweat tons in there, you do not have to worry about any foul smell as you can easily take the liner out and clean it.
Furthermore, the product is a convenient option because it has 6 different sizes to choose from according to your comfort.
The helmet is also very stylish and will earn you the look of other bedazzled riders while on your commute. However, the added elegance does not affect its comfort at all.
In addition to the sharp features and the various colors to choose from, this one also offers a scratch-free visor system which can be easily adjusted.
3. TORC T27 Full Face Modular Helmet with Integrated Blinc Bluetooth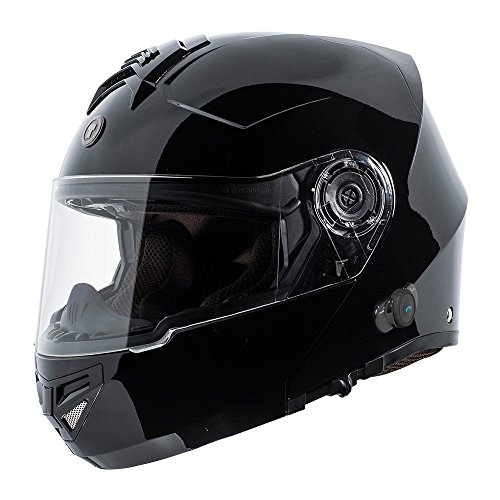 Heavy-duty helmets are great for maximum protection, but they can be a real pain while going on long trips due to their limited airflow.
This is where you can turn to this one for maximum protection without it compromising your comfort. It is 20% smaller in size than regular heavy-duty helmets, which makes it a top favorite.
The helmet uses Bluetooth technology to receive and make calls, to listen to music or navigate using GPS directions. It has built-in speakers and applies noise reduction technology to give as much as a good hearing experience as possible at high speed. You wil find its talk time of 6 hours and a standby time of 11 hours quite impressive.
This product is very comfortable despite being very stable due to its various vents. The vents in the back, chin and top help to replace all warm air, making it less stuffy for you. Therefore, you will not have to sweat through long rides just for the sake of getting a bit of extra protection.
This device is not only comfortable to use but also equipped with things that make it better than a lot of others. The visor in this helmet is fog and scratch-resistant. Therefore it does not compromise your vision even while traveling through places with an adverse climate.
It also has a drop-down sun visor, so you do not have to face the prospect of the sun obstructing your vision.
4. Sena Bluetooth Stereo Headset and Intercom with Built-in FM Tuner for Half Helmets
The Sena Bluetooth stereo headset is a favorite among riders who use half helmets. Complete with Bluetooth 3.0 technology, this headset makes receiving and making calls or communicating with other passengers or bikers near you a very smooth process.
Even when it is very noisy or windy outside, or the speed is breakneck, this headset has got your back.
One of the things that make this headset a fan favorite is how it can be installed easily. It can be fitted easily into most half helmets, so you do not have to waste your valuable time looking for what kind of helmet you would need to use this. It can also be very easily paired up with any devices, without any hassle.
This device uses a voice activation feature so that you can keep your hands where you need them while riding your bike, which is not on the phone.
Because of this, this is a very safe helmet to use. It also uses a unique technology to block noise, so that you can get the most out of your hearing experience even in adverse situations.
Another good thing about this helmet is that it comes with a lot of small side equipment such as – speaker and velcro pads, microphone caps, mic sponges, USB power and data cable, etc.
The headset is also water-resistant, so you do not have to worry about it getting affected in the rain. Also, the long-range (980 yards) is a big plus point.
5. FreedConn Bluetooth Motorcycle Helmets Speakers Integrated Modular Flip up
This helmet is undoubtedly the best modular Bluetooth motorcycle helmet out there. It is quite lightweight and comfortable to use, which makes it very user-friendly during long hours of commute.
The helmet also has a washable, removable inner lining inside it, which is also sweat absorbent. So, you do not need to worry about any bad odor in there.
It uses Bluetooth 3.0 technology and has 8 hours of talk time on a single charge. It also supports 110 hours on standby.
A considerable advantage of this thing is its wide range of 1640 feet, which means you can talk to other bikers who are up to 1640 feet away from you. It also supports three riders pairing instead of the traditional two-rider pairing, which makes it all the better.
This one has a very stylish, sleek design, yet the makers have made sure that the model does not make it too hard to operate. It comes in six different colors for you to choose from and has a ventilation system to let all the warm air out.
Its visor system is also praiseworthy, as it can be easily adjusted according to your various needs. It also helps to give a good view.
The headset uses one button to do all the necessary things – make calls, receive the redial numbers, listen to music or GPS instructions. Therefore, it is a very safe model to use and does not risk putting you into an accident while you try to operate it. It's the features like this that make it the best Bluetooth motorcycle helmet.
6. Sena CAVALRY-CL-MB-L Matt Black Large Bluetooth
This one is one of the best built-in Bluetooth motorcycle helmets out there. It is different from most other ones in the sense that it uses an advanced Bluetooth 4.1 technology, while other Bluetooth helmets use either Bluetooth 3.0 or 4.0 technology. Therefore, it has a competitive edge over others.
The headset can be used for almost everything, like chatting with users up to a range of 900 meters to sharing music and listening to the radio. You can also communicate with other bikers around you, which would have been a challenging task in windy environments or at high speed.
It has a 10-hour talk time after being charged, which is quite impressive. The sound quality of the integrated speakers in the helmet is also top-notch. So, you can listen to music or take a crucial call even in the middle of a high-speed ride without it affecting the sound quality at all.
This thing can also be paired up with the Sena headset app, which provides a wide range of choices such as accessing an interactive guide, choosing FM radio settings, etc. all in one, this is a quite convenient and smartly designed helmet, and provides a wide range of benefits.
7. Bilt Techno 2.0 Evolution Sena Bluetooth Drop Down Sun Shield Vented DOT Sport Bike Street Motorcycle Modular Helmet
This is the best Bluetooth motorcycle helmet, which is made with high-quality materials (polycarbonate shells). It is quite popular due to some additional features, such as its double visors.
The helmet has a sun visor on the inside that can be dropped down whenever the sun is glaring too brightly, and thus it helps to make sure nothing is obstructing your view.
It offers up to 8 hours of talk time and seven days of standby time once charged. It has a range of 400 meters,s st you can stay communicated with other bikers within this range.
You can also pick up and make calls and listen to music while alone on a ride, making it the perfect system not to get bored or miss out important things.
Although helmets can be cumbersome and make you sweat like a pig most times, this helmet comes with a sweat-absorbent inner liner. An added advantage is that the coating can be removed and also can be washed, so if you are worried about cleanliness, know that this helmet will not cause any issue with that.
A ventilation system is a must in helmets, especially if you often have to travel for large amounts of time. This thing comes with such systems, only adding to its list of plus points, as it is easy to put on and take off, so you will not face any problems in case of any emergency that might occur.
8. Origine O528B Pilota 3/4 Helmet with Blinc Bluetooth
This is one of the best helmets in the market. As it provides you with safety as well as comfort. While most helmets are very much on the heavy side to keep you protected, this helmet is only 4 pounds. The material in this thing makes it feel even lighter than it is, so you can't go wrong on the comfort side with this.
Along with comfort and convenience, this guy is quite famous for its sleek design too. It has a range of colors for you to choose from and also has various sizes. Each size comes again with adjustable straps, so you can fit it to your head as needed. The design also allows enough breathing space and provides a great vision.
One of the worst things about wearing a helmet is sweating in it profusely. This helmet solves that problem quite well, as it has quite a remarkable air ventilation system. It helps you to stay calm even for long periods while riding.
There is an inner layer in the helmet which absorbs most of your sweat too, and you can easily clean it by removing it.
This helmet uses the Bluetooth 3.0 technology for staying connected to the outside world. It has ear pockets in it, so you will not miss any calls or any GPS instructions while riding. A button system is incorporated in the helmet. As a result, you do not have to keep your hands away from the helmet for too long.
9. HJC Solid Men's CL-MAX II Bluetooth Sports Bike Motorcycle Helmet
It is well known for how much comfortable it is. One of the most irritating things about buying a helmet is not able to find the appropriate size. This model is different in the sense that it comes in a broad range of sizes, from XS to 5XL, so you do not need to worry about getting that perfect size for yourself.
Aside from its comfort, this model is quite convenient and simple to use. It has a single button that will do the job of releasing the chin bar and the shield for you. This saves a lot of extra hassle that would usually occur while taking off a helmet, especially in the case of emergencies.
A sound ventilation system is an added plus point in this helmet, which makes riding in hot, humid weather way easier. It also comes with a comfortable inner lining, that can be removed and washed whenever you need it.
Along with all these, it also offers protection from harmful UV rays through the face shield. You can't go wrong with choosing this for comfort.
One of the downsides of this product is that it is not a motorcycle helmet with Bluetooth built-in. However, its design is fully equipped to add one, so you have to install one by yourself. Its paint quality is a little rough too, but since it comes at a quite low price, it is a good bargain for the money.
10. MOPHOTO Bluetooth Integrated Motorcycle Helmet
The Mophoto Bluetooth integrated model is quite comfortable and convenient to use. It is not too heavy yet offers the right amount of protection, which is a considerable advantage for bikers who ride for a long time in hot, humid weathers. It is also straightforward to wear and take off, so you do not have to spend much time behind it while in a rush.
This thing provides 20 hours of talk time, which is very impressive, on a single charge. Its Bluetooth technology enables you to remain connected with two riders in its range and to take or make phone calls, listen to music, navigate using GPS instructions, etc.
The model has an ace shield which is fog-resistance, so you can use it in extremely foggy weathers too. Its material is also waterproof, so you do not have to worry about it getting damaged in a consistent downpour.
Along with all these plus points, this helmet also has a return option. So, if you feel it is not working well enough for you, you can take it to the store and return it or refund it. This is why it never hurts to try using this for a couple of days. After all, you can always get your money back if it does not work out for you.
Bluetooth Motorcycle Helmet Buying Guide
There are a few things to consider while buying a Bluetooth motorcycle helmet. These will help you ensure that you get the best experience and the maximum advantages out of using these. The following things are-
Proper Fitting
It very is essential to get a helmet that fits you properly while riding a motorcycle. If you get one too small, then chances are you will not be able to wear it all. On the other hand, one that is way too big will have the risk of coming off while riding and can lead to various serious injuries even.
While buying a helmet, look for their size charts and choose one according to your size. But size charts can be faulty in some cases, so keep that in mind too.
Weight
While there is a public statement that the heavier the helmet is, the better protection it provides, it is not wholly accurate. In fact, when a heavy helmet absorbs most of the impact during a fatal accident, it might provide some discomfort too.
Even more, if you are riding in a hot climate for a long time, they can lead you to feel quite sick and congested.
Therefore, you can opt for lightweight helmets that do not compromise with protection wither. Such helmets can be found in plenty in the market and definitely at the right choice for most people.
Ventilation System
While riding under the scorching sun for an extended period of times, it is natural to get all sweaty. Therefore, it is a must to get a helmet that has a proper ventilation system. Most helmets have ventilation systems at the front but opt for one that has one at the rear too if you want to stay fresh and dry.
Range
Bluetooth helmets mostly have a range of 1000 feet, which means that any device needs to be in 1000 feet range from the helmet for the device to be able to and/it or receive signals.
So, if you want to listen to some music from your phone, you need to keep the phone somewhere between 100 feet. Same goes for if you're going to communicate with other bikers near you, they must be in a 1000 feet range near you.
Talk Time
Choose Bluetooth helmets that can provide you with at least 6 hours of talk time. By choosing such helmets, you will be able to go on long trips by only charging it once before the trip. Standby time is also necessary, try to find one with at least 80 hours of standby time.
Comfort
One of the things that you should not compromise with ever while doing anything is a comfort. You can get all the fancy new edge stylish helmets you like, but if you are not comfortable in them, then it is almost of no use.
Make sure that your helmet has straps that will let you adjust them according to your comfort. Also, an inner lining in helmets will help absorb your sweat and keep you from feeling all stuffed and heavy. More plus points if the coating can be removed and washed!
Budget
You do not need to spend tons on these things always. You can get all the basic features at a low price too. Just make sure that you are doing all your necessary research, and do not leave out any important detail. Compromising safety for a low price should never be an option.
If you do not have a big budget, you can also opt for buying a second-hand helmet. Just make sure you are buying it from a trusted source and that it does not have significant faults.
Visibility
Make sure you can see well through your Bluetooth helmet. Such a simple task can become impossible when mother nature is not on your side.
Therefore, you should get a helmet with fog and scratch-resistant shield. A drop-down sun visor will also be of enormous help when the sun is pointing at your direction.
Frequently Asked Questions
1. How much should my budget be?
Your budget should be dependent on the kind of features you want in a Bluetooth helmet. If you want a comfortable helmet that will also keep you protected and that has a decent sound quality, you need not invest too much. But if you want a sleek design along with extra perks and noise cancellation systems, keeping some extra cash on hand might come of use.
2. What range should I look out for?
Bluetooth motorcycle helmets that work at the range of 1000 feet are quite useful to go.
3. Is a removable inner lining must in the helmet?
No, an inner lining is not essential in Bluetooth helmets. However, riding for a long time under the sun with a helmet fastened on can get you hot and sweaty. Therefore, having some kind of me lining that will absorb all the sweat, and that can be washed is quite helpful.
Final Verdict
Now that you have entirely gone through our best Bluetooth motorcycle helmet review, you definitely should have picked a favorite. However, if you ask us, we would recommend the ILM Bluetooth integrated helmet.
Although all these helmets are amazing and give good value for the money, you can't go wrong with the ILM helmet, owing to its one-touch control, comfort, and convenience.
Related Posts: