10 of The Best BMX Bikes 2023 – Reviews & Expert Buying Guide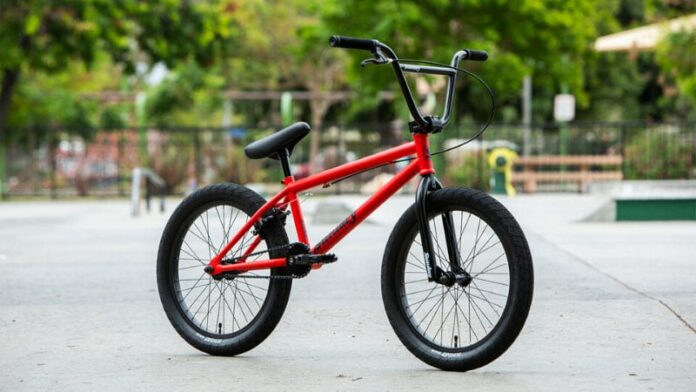 Want to own a BMX bike for fun riding around skate parks, street, BMX tracks, etc.? If yes, this easy guide will walk you through the process of picking the best BMX bike for your unique needs.
Most people don't know it, but BMX bikes are NOT the same. Different models serve different styles of riding. The bikes also come with unique features and from different brands. To sum it up, picking the right BMX can be quite overwhelming for you.
Luck's on your side, though. We have maneuvered through the various bike models on the market—making every jump, trick, and stunt—to get the finest BMX bikes for you to choose from.
Below is our ultimate compilation of the 12 top-rated BMX bikes you can today…
12 Best BMX Bikes Review:
1. Mongoose Legion L80 Freestyle BMX Bike
Mongoose is one of the most popular brands in the BMX world and boasts an extensive range of top-quality BMX bikes for all ages and riding skills. This Legion is one of their highly-rated BMX bikes. It is ideal for a beginner or advanced rider looking for a freestyle bike for riding in the park, street, or dirt.
This is a well-made bike that comes with a highly durable Chromoly main triangle frame, Hi-tensile steel fork, and a mid-BB—all of which enable it to handle all the park and street riding abuse and last a lifetime. The frame and form are not only robust but also built with the modern BMX geometry to give you the ultimate riding experience.
The freestyling machine also comes equipped with 3-piece tubular Chromoly cranks whose unmatched reliability ensures you enjoy the best of the rides every time you take this bike out.
Don't forget that this bike also comes fitted with aluminum U-brakes to grant you the speed control you need on your bike when out there in the skater park or streets. Its beefy 20 x 2.3" tires plus single-wall aluminum rims work together to ensure you enjoy a smooth ride.
Highlighted Features:
2. Dynacraft Tony Hawk Park Series 720 Boys BMX Freestyle Bike
The Dynacraft Tony Hawk is a 24-inch freestyle BMX bike designed for any rider, whether a beginner or seasoned. The bike features stylish looks with Tony Hawk design and red accents on its handlebars and pedals. Its vivid color enables it to stand out in the parks and streets.
As one of the top-rated freestyle BMX bike models, this bike comes with a durable steel frame that can withstand various abuses and last longer. It also features durable and lightweight alloy rims for increased longevity.
The 24-inch freestyle BMX has a threadless stem that enables you to move its handlebars at 360 degrees for more fun riding experience. We also like that this bike offers you U-style rear handbrake and lever to ensure you have smooth stopping ability while out there enjoying your rides.
Thanks to the deluxe padded seat and adjustable seat post, you'll feel pretty comfortable when riding on this bike for long hours. Assembling this bike is easy and fast. If you're looking for the perfect gift for your son, who is 12 years and above, consider getting them this Dynacraft 24" freestyle bike.
Highlighted Features:
3. Razor High Roller BMX/Freestyle Bike
If you're looking for the perfect entry-level BMX for your kiddo, this is it. Razor High Roller 20-inch freestyle BMX is the perfect bike for your kid to stunt around the neighborhood or tear it up on the streets and parks.
The bike features an extremely tough steel frame and fork that can withstand the harshest of the street and park abuses and serve you for more years. What's more, the bike's frame is designed to enable your little one to easily do tricks on the streets, in the dirt, or in the park.
Your young rider will doubtlessly have an easy time controlling this bike with its high rise traditional BMX cross-type handlebars that come securely held in place by a sturdy 4-bolt system. The durable alloy levers for the front and rear side pull handbrakes grant your little more control over the bike.
The High Roller also features coaster brakes to ensure your kid can easily control the bike speed while out there. It also comes with front-wheel axle pegs for easily grinding on obstacles. And a quick-release "no tool required" seat post clamp for easy height adjustment.
Highlighted Features:
4. X-Games FS20 Freestyle Bicycle
Here's another cool freestyle BMX bike you can surprise the little daredevil in your house with. The bike comes equipped with all the necessary features of a standard bike but with a stronger and more reliable quality to meet your kid's biking needs.
One of the top features of this freestyle BMX bike involves the brakes. It comes fitted with both the front and rear brakes that help give your kiddo better handling, improving their confidence and safety on the road. Since this braking system is gyro-style, you don't have to worry about your kids' legs or ankles getting caught up in the brakes cables.
We also like that the front and rear wheels of this bike come fitted with 4 pegs, 2 pegs for each side of the wheel. These will go a long way in enabling your young rider to do those mind-blowing tricks with this bike.
The sturdy steel welded frame and fork make this bike incredibly durable. It rolls on smooth, grippy tires, with durable alloy wheels, for smoother riding experience. With the awesome BMX handlebar with a welded cross brace ensures that your kiddo can safely take on various bike tricks.
Highlighted Features:
5. Dynacraft Magna Youth Bike
Looking for a cool, stylish for your little one? If yes, we found this Dynacraft Magna Youth bike for you. This bike comes with kid-friendly features to give you your little one a smooth start with BMX bikes, and who knows? It might be their key t becoming a pro rider someday.
The bike is a suitable gift for kids from ages 3 to 5 and can support a rider weighing up to 50 lbs. It comes fitted with training wheels to give your little one an easy and safe entry into the BMX riding experience. When your kid gets the handle of it, you can simply draw away or take off the training wheels to make it a two-wheeler.
This Dynacraft also features coaster brakes to grant your kiddo total control over it—making it even safer for your little rider.
Keep in mind that you can easily adjust the seat of this bike up or down to make it feel comfortable for your kid. The handlebars also come with padding to make them feel comfortable for your kid's soft hands.
Highlighted Features:
6. Elite The Stealth Freestyle BMX Bicycle
The Stealth Freestyle model is a great entry level BMX. And a great option for those looking for the best BMX bikes for street riding. You can also ride in the skater park and dirt.
Made from extremely tough steel frame, this bike is sure to hold up to the park, dirt, and street environment. The frame comes reinforced in all the points where it takes impact when you're doing tricks to assure you of maximum longevity.
It comes equipped with everything you need to hit the streets or the park. These include rear brakes to enable you to easily control the bike, top load stem, and Cro-Mo bars.
When riding for long hours, you'll appreciate the amount of comfort the thickly padded saddle grants you. Add to the fact that you can easily adjust this saddle to suit your comfort needs, and you'll have the comfiest riding experience.
Like all the other top BMXs featured on this list, this model features a perfect BMX geometry to enable you to easily do all the tricks and stunts you've been dreaming of. The included easy assembly instructions allow you to quickly put the bike together and start rolling.
Highlighted Features:
7. Razor Nebula BMX/Freestyle Bike
Rated as one of the best BMX bikes for kids, this is probably the best thing you can give to your son on his next birthday. The 20-inch freestyle bike comes with a beautiful design that makes it stand from the rest and is incredibly easy to put together.
The reasonably priced bike comes with quality construction. It features a tig-welded steel frame and fork that can withstand beatings and daily use and last a lifetime.
We like that this bike comes equipped with both the front and rear handbrakes. These give your young rider total control over it and even increase their confidence when rolling on the streets and parks.
Unlike most models in the same price category as this bike, this Razor provides you with pegs to enable your son to impressively execute various BMX tricks and stunts.
Highlighted Features:
8. Mongoose Title Pro Xxl BMX Race Bike
For beginners to intermediates looking for an excellent BMX racing bike, you should consider this Mongoose Title Pro Xxl as one of your top options. Proudly designed by Mongoose, one of the best BMX brands out there, this model comes optimized for the ultimate performance on the BMX race tracks.
One of the key features that make this Mongoose the ultimate racing machine is the hydro-formed and butted aluminum frame construction. This gives it an overall lightweight feel while enabling it to handle the abuse that comes with long riding hours.
The bike also comes equipped with CrMo forks plus the modern BMX geometry—allowing it to blast the gates and soar toward the finish line with unmatched strength and power!
The Samox 2-piece crankset also adds to the overall performance of the bike on the tracks. It delivers immense torque power that enables you to maintain your momentum as you accelerate towards the finish line.
Above all, the Mongoose features double-walled wheels to grant you confidence-inspiring stability, speed, and maximum durability. Not to forget, it comes with alloy V-style brakes for quality speed control.
Highlighted Features:
9. Redline Bikes MX BMX Race Bike
Get that young aspiring racer in your life this BMX racing bike from Redline Bikes and see him/her rise to become a pro racer. This Redline is made for all entry-level youth racers around 50 to 54 inches tall.
To ensure it's up to the task, this bike was engineered with a durable but lightweight aluminum frame and integrated head tube. This design makes the bike incredibly easy for your young racer to maneuver on the racing tracks.
Other components are also made using lightweight aluminum (such as the aluminum alloy rims) to further contribute to maintain the lightweight feel of this bike and make it a great racing model.
Don't forget that this bike comes with a high-quality aluminum 3-piece crankset that translates to unmatched strength and durability. The 20-inch Vee speedster tires promote smooth rolling on the racing tracks. And the integrated saddle and seat post combinations facilitate ease of use.
Highlighted Features:
10. Elite BMX Bicycle Destro Model Freestyle Bike
Elite BMX is a great mid-level bike that comes designed to perform impressively on the streets, parks, and dirt. It offers you quality and features similar to those of high-end bikes but comes at a lower cost, making it affordable for every rider.
The bike features a high-strength steel frame for maximum durability. Moreover, the frame comes reinforced at all the points where it experiences impacts when you're doing tricks for added durability.
The complete BMX bike also features a robust and reliable 3-piece Cro-Mo crankset for improved performance on the streets and parks. It's equipped with a thick foam padded seat for hours and hours of comfort…and an alloy post to form a lightweight combo.
As for the wheels, this bike feature low profile alloy rims that come wrapped in smooth rolling 2.4" street tires. It also features a 14mm rear sealed hub. Each wheel comes with pro grinding pegs that can easily work through various obstacles.
Highlighted Features:
11. Redline Bikes MX BMX Race Bike
Like the previously discussed BMX race bike from Redline Bikes, this model is also a great entry-level option for beginner youth racers. It's recommended for riders with a height of 4'6" to 5'1" tall.
To enable it to perform well on the race tracks, this bike is designed using a durable but extremely lightweight aluminum frame. The integrated head tube, too, is made using lightweight aluminum. The overall result is a lightweight racing bike that's easy for your kiddo to handle and maneuver.
It's also important to note that this bike features a top-quality aluminum 3-piece crankset, aluminum alloy rims, and Vee Speedster 20-inch wheels—all of which further ensure the bike retains a lightweight feel. The integrated saddle plus seat post combination helps maintain the lightweight feel of the bike.
Other features that make this Redline a good BMX bike for young aspiring racers include the fair pricing and ease of assembly (you can set it up in less than 15 minutes).
Highlighted Features:
12. Sunday Primer Bike 2020 Complete BMX Bike
Closing our list of the best BMX bikes is Sunday's Primer Bike. This bike comes complete and ready to roll. It comes in an assortment of fresh and varying tube sizes to meet the unique needs of different riders.
Like all the other best BMX bikes for beginners we have featured above, this bike is built for durability and reliability. It boasts a sturdy steel frame, fork, and handlebars that can bear regular punishment in the streets and parks for years to come.
Sunday even goes a step further and upgrades this bike version with welded forks, giving them the much-needed toughness to withstand the impact that comes from bunny-hopping and other BMX tricks.
An excellent freestyle BMX bike for beginner class should give you the ability to control it. This Primer is armed with Odyssey Springfield rear U-brake, giving the rider the freedom to slow down or make stops when the need arises.
Other notable features include a fully sealed cassette hub, FSA headset, and Sunday Freeze stem, all of which boost the bike's top high performance. Remember, this bike comes 75% pre-assembled for easy and quick setup.
Highlighted Features:
What Makes The Right BMX Bike?
Before you purchase a BMX bike, you'd want to thoroughly examine before rushing to make a decision. This will help ensure you get the right bike for your unique needs. The following factors will help you easily get the best BMX bike for you.
Riding style
To get the right BMX bike, you'll first need to define what you want to use the bike for. This is because different BMX models come designed for different styles of rides.
The most common types of BMX bikes you'll find on the market today include:
Size
The BMX bikes are meant for all ages, from kids to teens to adults. And this means they come with varying sizes to suit the height of different riders for safe and comfortable riding.
To get a perfect size, you need to match up your height/age with the wheel size of various bikes to see which one will be comfortable for you to ride.
Luckily, the manufacturers usually include a sizing guide to help you easily decide on the right size of bike to buy. Be sure to check this crucial piece of information before you make up your mind.
Materials
Another key consideration to help you get the right BMX bike for your needs is checking the materials used to construct it.
Ideally, you should look for a bike whose frame is made using strong material that can withstand the demanding nature of BMX bikes while being light enough to enable you to perform quick maneuvers.
As you might have noted from our list of good BMX bikes above, the most common material used in these bikes is the high tensile steel. Higher-end models are made using Chromoly due to its perfect balance between durability and weight.
As for the racing bikes, they usually feature aluminum construction as they're meant for riding on less technical courses where maximum speed and stiffness for excellent power transfer is required. Carbon fiber is also an excellent material choice for racing bikes.
The individual components
The components that make up a BMX bike are important as they affect the performance and quality of your bike. Some of the key components to examine closely include:
Wheels
The standard wheel size for BMX bikes is around 20-inch. Kids' bikes might come with a bit smaller wheels, approximately 16 to 18 inches. Also, look for a bike that comes with durable wheels. Models with double-wall rims tend to be more durable than single-walled models.
Brakes
Though most BMX bikes don't come with a braking system, we highly recommend you get one with brakes if you're just getting started into this world. These will enable you to easily control your bike and give you confidence when riding it. Bikes with both front and rear brakes are even better for beginners.
Pegs
Pegs are usually metal or plastic tubes situated at the ends of BMX wheel axles. They help with balance when doing tricks with a flatland bike. They also help you perform grinds or ledges or rails in parking or street for a freestyle BMX bike.
If you go for a flatland bike, then make sure it features pegs on all its 4 axles. For a freestyle bike, you only need one side with pegs on the front and rear. The pegs are not helpful for dirt jump and racing BMX bikes.
Sealed bearings
The problem with unsealed bearings is that they can easily get loose and give you a lot of work to keep them running smoothly. The exact opposite is true for bikes that come with sealed bearings in the front and rear hub; they enable you to enjoy clean rides for longer.
What Size BMX Bike Do I Need?
The size of BMX bikes is usually expressed in terms of the wheel size. This can range from as small as 14-inch wheels (for young riders) to as big as 20-inch wheels (considered the standard size for full-sized BMX bikes). Though these bikes might also feature varying sizes of frames, most of them come with standard frame sizes.
That said, the MOST important thing to consider when choosing the right bike size is the height of the rider. The rider age might also help you select the correct size.
Now, the right bike size for you is one that enables you to comfortably stand over the frame, with a minimum gap of approx. 2cm between you and the top tube. You should also be able to easily reach the handlebars without stretching yourself.
The bike manufacturers provide you with a sizing chart where you can match up your height and age against the various bike sizes, making it easy to identify the perfect bike size for you.
Frequently Asked Questions
Q: What are BMX bikes good for?
BMX bikes have multiple benefits to the riders, in addition to offering you many hours of fun riding. Let's briefly discuss some of the top benefits why riding a BMB bike is good for you:
Q: Which are the best BMX brands?
Like in any other market, the BMX bikes market has some brands that have set a name for themselves with their top-notch, reliable line of BMX bikes.
Some of the most popular BMX bike brands available today include Mongoose, Hoffman, Dynacraft, Chillafish, and Kent.
Keep in mind that not all the bikes from these top BMX bike brands will meet your needs. You'll need to define what you need in a bike to enable you to get the perfect bike. Simply put, you're not limited to these brands.
Q: How much should I spend on BMX?
These bikes don't have a fixed price tag. Their cost varies depending on multiple factors such as build quality, quality of components, brand, and more.
That said, most of the models we have discussed above range from $100 to $200, which is within an affordable range.
If you want a higher-end bike, then you'll have to cough several hundreds of dollars; some top-end models can cost you as high as $800.
However, beware of models below the $50 mark as their quality and performance is questionable.
Final Verdict
With the ever-rising popularity of BMX bikes, you don't want to be left behind. You want to own one of the best BMX bikes that meet your unique needs to enable you to experience the fun BMX biking world.
We have just listed 12 of the most popular BMX bikes on the market today for you to choose from. Whether you want a bike for yourself or that young rider on your life, the additional helpful buying info we have equipped you with will help you easily make a wiser choice.