Best BMX Helmets For Safety: Full Face, Youth & Flatland/Freestyle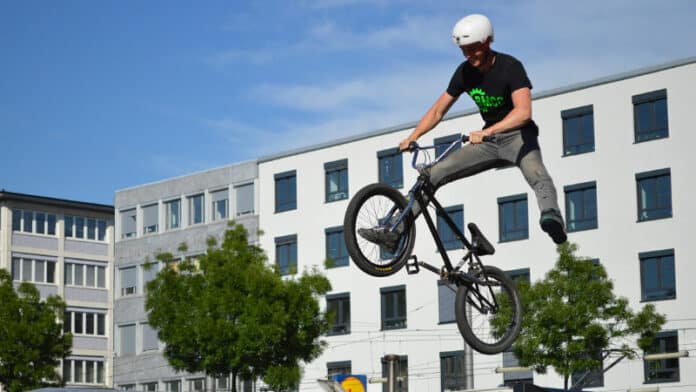 Wondering what's the best BMX helmet to keep your head safe from concussions or brain injury in case of a crash when having fun with your BMX bike?
If yes, we've prepared this guide to help you out.
We researched the safest helmets for BMX riders with a keen eye on the build quality, great safety features, safety certifications, and price.
Discover below our final compilation of the 10 most reliable helmets for BMX riders that ensure you stay safe while having fun.
10 Best BMX Helmet Reviews:
1. Razor V-17 Youth Multi-Sport Helmet
The Razor V-17 perfectly fits our criteria for the best BMX helmets you can find on the market today. It puts together superior quality plus modern, cutting-edge design. And it comes CPSC certified for BMX biking, skating, and other sporting activities that require head protection.
The minds behind the design of this helmet did a god job of ensuring that it meets all your comfort needs when BMX biking. This is seen from the ergonomic interior padding the helmet comes with. The generous padding ensures you enjoy a snug and comfortable fit.
Another reason to like that helmet is that it comes optimized with 17 vents (strategically placed at the top, rear, and sides) to keep you cool all day long.
And to ensure your helmet stays on the head no matter how rigorous the biking activity becomes, this helmet provides you with adjustable straps plus a secure buckle.
If you're having a hard time making your young rider to wear a helmet, this helmet might be your ideal solution. It not only comes in a stylish design but also features multiple color options. You can choose a color that matches your kiddo's BMX bike, and they'll be longing to wear it before they hop on their bike. Problem solved!
Highlighted Features:
2. Triple Eight Dual Certified Bike Helmet
The Triple Eight is a good BMX helmet that doesn't hurt your wallet. It's engineered for a low profile and close fit. And can be used in BMX riding, skateboarding, scooters, and other similar sport.
It features a durable ABS shell with impact-absorbing EPS foam liner to assure you of maximum protection in a crash. It boasts dual safety certifications from the U.S. CPSC Bike and ASTM F-1492 Skate safety standards.
If you're one of those bikers who tend to get pretty sweaty when cycling, then you'll appreciate the moisture-wicking fit pads that come with this helmet as they keep your head dry. Because these pads are also fully removable and easy to clean, you don't have to worry about them producing unpleasant odors with continued sweat-wicking.
Don't forget that this helmet also looks really cool, thanks to its elegant matte grey finish. Previous users praise its eye-pleasing looks and express how cool they feel wearing it. Your young BMX biker, too, would not want to get this awesome looking off their head.
If you want a certified BMX helmet that combines quality, affordability, and cool looks, get this Triple Eight helmet today!
Highlighted Features:
3. JBM BMX biking Helmet
JBM BMX biking Helmet fits the definition of a well-made helmet for your kid at a great price!
The manufacturer utilizes top-quality, tough PVC, and PC materials for the shell construction. This gives the helmet an excellent impact-resistant function that cushions your young one's head from direct impact.
You can easily tighten or loosen this helmet to obtain the perfect fit for your child's head. The size makes the helmet feel secure and comfy around your head, and you might you're wearing when you get into fun BMX riding.
Also, this BMX helmet comes equipped with multiple vents to allow the air to easily go through it and keep you cool when riding on those hot days. Moreover, the EPS lining is fully breathable to prevent sweating and help in keeping you even cooler.
You'll doubtlessly love the wide selection of colors this helmet comes in. Parents who have bought these helmets for their kids confess that their young riders fall in love with them instantly.
Apart from BMX biking, you can also use this helmet for multi-sport activities that require head protection such as skateboarding, cycling, scootering, inline/roller skating, and more.
Highlighted Features:
4. Retrospec CM-1 Classic Commuter Bike Helmet
The CM-1 features a classic helmet design and comes designed to offer you unwavering protection as you ride your BMX. It is tested and approved by both CPSC and ASTM for biking, skating, and skiing.
One of the most notable features of this helmet is the strategically situated 10 vents. These allow air to easily flow around your head and keep you cool, dry, and comfortable all day.
Because this helmet comes with a fully-formed ABS outer shell, it's sure to offer you superior protection from the outside if you can get involved in an accident. What's more, its interior is made from high-quality EPS foam to help absorb shock and impact before it reaches your head.
Note that this helmet comes with an ultralight design to so it doesn't weigh you down and feel uncomfortable on your head. Included in the package are two sets of interchangeable inner pads with varying thickness to help you customize your fit and comfort.
Highlighted Features:
5. Skull Cap Skateboard & BMX Bike Helmet
The design of this helmet revolves around the idea that most head injuries occur in the lower head area. This explains why it comes with a half shell design that covers this specific area and keeps it out of harm's way.
Unlike the ordinary bike helmets, this model features an extremely durable hard outer shell made from polycarbonate. The out shell is then firmly molded into the inner high-quality EPS liner using the advanced in-mold technology. This results in an extremely stable lid structure for superior head protection.
Another thing that makes this Skull Cap a good BMX helmet is how easy it easy to adjust its looseness or tightness. This is made possible by its variable adjustable system that you can easily set to get the best fit for your head.
This is also a well-ventilated helmet. It features a total of 8 air channels that ensure sufficient fresh air gets in and pushes out stuffy air, so you don't end up soaking your head in sweat and feeling uncomfortable.
Highlighted Features:
6. BASE CAMP Adult Bike Helmet
Base camp is the perfect helmet for adult BMX bikers. It comes at fair pricing and the US CPSC sticker, meaning it has been tested and proved to protect your head when riding your bike.
This helmet is designed using quality materials. Its outer shell feels incredibly durable and will shield your head from sharp objects if you crash when wearing it. The inner foam is thick and dense and will excellently absorb shock and impact to prevent you from sustaining concussions and brain injuries.
Fitment gets better with this helmet. It presents you with a rear dial system that you can operate with one hand to obtain the best fit. It also provides you with an adjustable chin strap that further ensures the helmet fits comfortably and securely around your head.
Thanks to the 9 air vents, maximum flow of fresh air your head is guaranteed, so you won't get all sweaty when riding in hot weather.
As a BONUS, the helmet comes with a free rear light (easily detachable) to help increase your visibility when riding at night. A drawstring storage bag is also included to help you keep your helmet well protected when not in use.
Highlighted Features:
7. Giro Scamp Youth Bike Helmet
For that young BMX rider in your life, gift them with this Scamp Youth bike helmet. Mark you, Giro also enjoys its place as one of the BMX helmet brands known today, so this helmet will keep your kid safe.
One of the things that separate this model from its competition is that it's constructed using Multi-Directional Impact Protection System. For starters, this is a unique, advanced helmet technology that excellently deflects impact to keep your head safe.
The lightweight nature plus the fun colors that come with this helmet make it a kid-friendly model that your young BMX rider would want to keep on their head all day long.
A well-fitting helmet is crucial to enjoying maximum head protection. This helmet comes in several sizes—small, medium, and large—to enable you to find one that perfectly fits your head. Each model comes with a pinch guard buckle that you can easily adjust to ensure an even more perfect and comfortable fit.
There's no better gift for that little guy in your life who loves BMX riding! This helmet easily fits the heads of many toddlers. Its exceptional fit, fun colors, and lightweight feel makes it 100% kid-friendly!
Highlighted Features:
8. OutdoorMaster Multi-Sport Cycling Helmet
This helmet also comes designed for maximum protection of your dome when you're out there having fun with your BMX bike. It comes with both ASTM and CPSC certification for use not only in BMX biking but also skateboarding, cycling, and roller-skating.
The reasonably priced helmet comes with quality construction to ensure it delivers quality protection. It features a reinforced ABS shell and thicker shock-absorbing EPS core to help absorb impact and prevent it from reaching your head. The durable, adjustable dial and adjustable chin strap offer you double adjustment options for the best fit and comfort wearing.
This helmet has a lightweight and classic low profile design to ensure it feels comfortable around your head. Its inner lining is fully removable, so you can easily take it out for cleaning away the sweat after a hot day ride.
As with the other top helmets above, this model also comes with a ventilation system, featuring 12 air vents to keep you cool and comfortable when riding for long hours in warm weather.
Highlighted Features:
9. Bell Sanction Adult Full Face Bike Helmet
If you're looking for the best BMX full-face helmet, choose this Bell full-face bike helmet today! The fact that this helmet comes from Bell, one of the most reputable BMX helmet brands, means it dictates quality.
Its shell is made from sturdy ABS plastic material, which means it'll offer you maximum protection in the event of a crash. This means you can now hit those challenging trails with your BMX bike with peace of mind knowing that your dome is fully protected from the worst.
We also like that this helmet comes with an incredibly lightweight design—weighs 850 grams only. This means it won't feel like a burden on your head, and you might even forget you have it on. Plus, it features as many as 15 vents to keep your head cool and further improve your comfort.
With its low-profile design, this helmet will, no doubt, be the coolest choice of any BMX rider who wants head protection in a smaller size and profile.
Don't forget that the helmet is fully certified for BMX biking. To be specific, it features certifications by CPSC Bicycle and CE EN1078, so there's no doubt that this helmet has got what it takes to keep you safe!
Highlighted Features:
10. Flybar Dual Certified Multi-Sport Helmets
This brand new multi-sports helmet from Flybar seals our list of top-rated helmets for BMX riding. It comes with dual certifications (i.e., it's both CPSC & ASTM Safety Certified)—meaning it'll protect your noggin when having fun with your BMX bike or any other sports that require head protection gear.
As with all the other 9 helmets listed above, this is a well-made helmet. It comes with an outer shell made from high-quality ABS material that works with the high-density EPS foam lining to keep your head fully protected from the potentially dangerous impact that comes with engaging yourself in different kinds of BMX riding.
With a total of 12 wide, stylish vents, this helmet is sure to provide even flow of fresh air around your head and keep you cool and comfy when BMXing on hot days.
The incredibly lightweight helmet will fit your head excellently. It comes in up to 3 different sizes for different head sizes, from kids to adult riders. It also comes with an easily adjustable dial at the back that helps you loosen or tighten it for a snug, comfy, and secure fit.
Other noteworthy features include a secure and robust buckle that keeps your helmet in place and padded chin strap for added comfort.
Highlighted Features:
What Size BMX Helmet Do I Need?
Proper helmet fit is a crucial factor for not only comfort but safety. If you get a helmet that doesn't properly fit, you might not be able to enjoy maximum protection from it, no matter how advanced and excellent protection it features.
Let's guide you on how to decide the right helmet size in two easy steps below…
Step I: Measure your head circumference.
You start by measuring the circumference (where you'll be wearing your helmet) by simply wrapping a flexible tape measure around the largest portion of your head. Be sure to place the tape around 1-inch above the eyebrows for the best results.
In case you don't have a tape measure, you might also consider using a shoelace, ribbon, or string around your head. And then measure the resulting string length using a yardstick or straight edge ruler.
Step II: Find the right helmet size.
Once you have obtained your head circumference, the next step is relatively easy as it involves your correct helmet size as per the manufacturer guidelines. The manufacturers usually provide you with a sizing chart for different head circumferences, so you just need to compare your measurement to find the right size for you.
Things To Check Before Getting One
Apart from size, there are other factors to consider when shopping for the best BMX helmet. These include:
High impact resistance
The best helmet for BMX biking should feature a sturdy and durable outer shell that helps with shock and impact absorption. It should also feature a high-density inner lining that further enhances impact absorption to ensure your head remains cushioned from the same if you get involved in a crash.
Helmet weight
Most riders don't know this, but the weight of helmet you buy can affect your biking performance. We highly encourage you to go for a lightweight model as it doesn't make you feel weighed down and uncomfortable. A lightweight helmet gives you the agility you need when doing various BMX tricks.
Ventilation
A well-ventilated helmet will allow fresh air to easily flow around your head and keep it cool and comfortable. This is especially helpful when riding in hot weather as you can get sweaty and uncomfortable when wearing a helmet.
Safety certification
The two most common certifications for BMX helmets include the CPSC Bicycle and ASTM standards. A BMX helmet that comes with either or both of these certifications means it has undergone testing and approval for use in BMX biking to protect your head in case of a crash.
Brand
When it comes to a crucial investment such as a BMX helmet that will protect your head from a life-threatening injury, you want to make sure you get a quality product designed to offer you maximum protection by a trusted brand.
Some of the big names to consider include Bell, Pro-Tec, Odyssey, TSG, Triple Eight, Fox Racing, Giro, JBM, and Razor.
Style
Since this is something you'll be using every day, you might want to look for a model that looks pretty stylish for your preferences. If looking for a helmet for a kid, getting them a stylish-looking model is one way to make them wear it.
Frequently Asked Questions
Q: What size BMX helmet do I need?
The ideal size of the BMX helmet for you depends on your specific head size. Check our sizing guide above to know how to go about picking the right helmet size for your head.
Q: How much does a BMX helmet cost?
A quality, certified BMX helmet should cost you around $30-60, while cheaper models tend to cost you approximately $20-$40. However, we highly caution you against sacrificing quality just to save a few bucks as you might end up with a helmet that doesn't offer you the level of protection you need.
Q: What's the best BMX helmet for a kid?
The best helmet for a young BMX rider is one made using high-impact materials. It should also come with a lightweight design and fit them perfectly and comfortably. Ensure you get your kid a certified helmet as it gives you peace of mind knowing that it'll protect your kiddo if the worst happens.
Final Verdict
Whether you do freestyle or racing BMX riding, wearing a good quality helmet is crucial. Wearing a perfectly fitting and quality helmet will help keep of concussions or brain injuries if you get involved in a crash when riding your BMX bike. In this guide, we have just outlined some of the best BMX helmet models you can get on the market today to ensure you stay safe when out enjoying BMX bike rides with your biking buddies.
Have fun, be safe!