Best BMX Seat Reviewed: Includes Saddle Buying Guide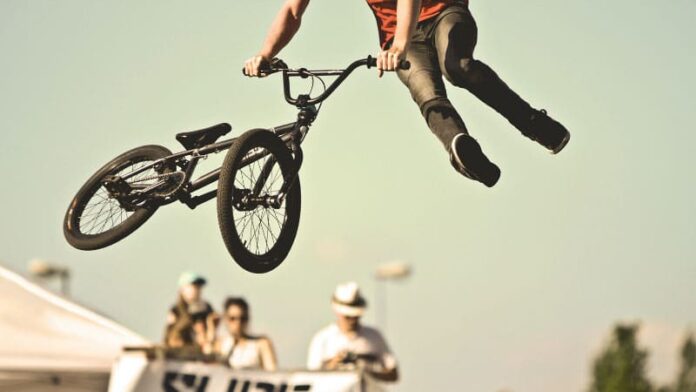 So you've made up your mind to upgrade your BMX seat?
Well, before you go shopping for the best BMX seat, bear in mind that the perfect seat should be sturdily built to withstand regular impact associated with BMXing, comfortable, and small enough not to get in your way when doing tricks and stunts.
We entered the market in search of seats that match the above definition. And after much analysis, we compiled the following list of highly-rated BMX saddles for you to choose from.
7 Best BMX Seat Reviews:
1. Schwinn Comfort Bike Saddle
Proudly made by Schwinn, a name synonymous with top-quality BMX bikes and parts, this is your most comfortable BMX seat available on the market today. It features extra-soft padding that offers you the comfort you need for a whole day BMXing.
Even better, it boasts of gel padding that perfectly molds to your body shape. It also comes equipped with elastomer springs that provide you with plenty of cushion for smoother and more comfortable rides.
The bike seat also features a broader design that helps improve your stability when doing those tricks and stunts.
You don't have to worry about rainwater getting absorbed into this seat and damaging it, thanks to its 100% waterproof cover.
With its universal design, you can rest assured that this Schwinn saddle will easily fit just any standard seat post. It's pretty easy to install and adjust as all the necessary hardware comes included in the box.
If your O.E.M. seat doesn't meet your comfort needs, switch to this Schwinn today, and enjoy lots of comfort. You'll find yourself riding for longer hours and more regularly, thanks to the exceptional level of comfort you get from this saddle.
Highlighted Features:
2. OUTERDO Bike Saddle Mountain Bike Seat
In our second spot, we have another comfy BMX seat for you. This one comes with a unique hollow design, where the center is cutout to offer you anatomic relief and facilitate breathability. This helps relieve pressure on your perineum while providing you sufficient airflow—all resulting in unmatched comfort when doing long rides.
It's also easy to see that this hollow-out design helps reduce the material in the middle of this saddle, making it even lighter than most of the competition. Don't forget that this also comes sufficiently padded for added comfort and to save you from cycling pain that results from taking long rides.
The seat also comes designed to deliver excellent shockproof and maximum firmness. These two aspects will enable you to perform at your fullest potential and gain a whole new BMXing experience.
This isn't the type of saddle that degrades after a few uses. It boasts of sturdy polyurethane plus leather construction that makes it one of the most durable seats available today. The seat offers exceptional resistance to tears, sweat, and even water/moisture for maximum longevity.
Don't forget that this top-rated saddle is suitable for nearly all BMX bikes. Its narrow design enables it to increase your speed while getting out of your way when doing various tricks and stunts. Installing it on your bike is easy as pie and requires no special skills.
To start enjoying comfort cycling without pain, this OUTERDO Bike Saddle is all you need!
Highlighted Features:
3. Bikeroo Mens Padded Bicycle Saddle
Can't bear the painful rides coming from your current BMX seat anymore? If yes, here's another comfy BMX seat you might be interested in. It features an anatomically supportive and comfortable design that perfectly distributes pressure from your back across its surface, instantly eliminating the sit bone pain.
This Bikeroo unique saddle features a narrow design, soft padding, and a deep center cutout. These make it a highly ergonomic seat that conforms to a man's unique anatomy. And this goes a long way in relieving your pressure points in the sensitive areas, so you can start enjoying longer rides without worries of experiencing soreness, chaffing, and pain afterward.
Another reason that makes this saddle a suitable replacement for your BMX bike is that it's built to last a lifetime. It features high-quality foam padding, synthetic leather, and stainless steel rails that enable it to withstand rigorous BMXing environments.
You'll appreciate that the manufacturer sends you this saddle in a complete package, with everything you need to mount it on your BMX, including an easy to follow user manual.
Highlighted Features:
4. Pioneeryao Men and Women Bike Seat
If you're looking for a comfortable replacement BMX seat at a great price, this saddle is also a good bet. Designed for both men and women riders, the seat comes optimized to deliver superior comfort without costing you an arm and a leg.
One way in which this seat meets your comfort needs is by featuring a hollow-out design. This means it comes with a hollow in the middle that makes it more breathable than standard seats. The high breathability helps relieve you heat and sweat during those long rides.
Another thing that makes this seat highly comfortable is the artificial fatty gel it comes with. Compared to the regular plastic polymer, this kind of gel makes you more comfortable by effectively reducing by up to 40% the pressure towards the prostate, sciatic area, and ossa pubis. In other words, you won't suffer any body aches and numbness after riding for long hours sitting on this saddle.
Despite the attractive price tag, this seat is well made and looks great on your BMX bike. It's made using durable material and won't easily tear or wear with regular use. Overall, if you want to get a great seat that offers you plenty of comfort without paying a premium, this is it!
Highlighted Features:
5. Planet Bike A.R.S. Standard Bike seat
Here's another unisex, comfort-oriented saddle that comes at a more affordable rate. Like our previously discussed seat, this model also comes with an anatomical groove that runs through the length of the saddle to offer you anatomical relief when sitting on your bike for longer hours.
Besides the center recess, this seat also comes with a genuinely thick foam padding that's complemented with sit-bone gel padding on top to offer you maximum pressure relief on your hot spots and boost your riding comfort.
We like that this seat is designed with longevity in mind. This is evident from its sturdy steel rails and durable plastic shell. Moreover, its cover is made from ultra-suede material for maximum resistance against tear, wear, and moisture. The material is also abrasion-resistant.
At only 393g, this is one of the lightest bike seats available. It won't weigh your bike down, so you can rest assured it won't affect your cycling performance and ability to do various stunts and tricks.
We can't stress enough how a good choice this Planet Bike A.R.S. bike seat is for all BMX riders looking for an economical replacement that offers plenty of comfort for painless rides.
Highlighted Features:
6. Sunlite MX Juvenile Saddle
If you're still looking for a comfortable BMX seat at a fair price, this Sunlike juvenile saddle will not disappoint you. It comes with heavy padding beneath the soft cover material to offer you plenty of comfort so that you can focus on riding your bike for longer distances.
Apart from comfort, this saddle is also designed to hold up to the demanding BMX biking environment. It features an extremely sturdy and robust vinyl material that can withstand repeated impact from your bike. It's also durable and won't split, fade, or peel anytime soon. The cover material is also waterproof to ensure water doesn't get in and damage it.
Installing this saddle on your BMX is easy-peasy as the package comes with all the necessary mounting hardware, including nut, bolt, and clamp. You'll last a couple of minutes setting it in place. Keep in mind that the seat works with most standard seat posts, so there are high chances it'll work with your BMX.
The little saddle measures approx. 9" L x 5.5" W and comes in three color options—white, black, and purple—to give you varieties to choose from.
If you want a high quality, super comfortable BMX saddle at a great price, go with this Sunlite MX Juvenile Saddle.
Highlighted Features:
7. Selle Royal Lookin RoyalGel Comfort Bike Saddle
Don't let your current unbearable seat get in your way of hitting your fully BMXing potential. The saddle is designed to sit in an upright riding style, making it an excellent choice for cyclists who prefer riding their bikes in an upright position.
With a width of 160mm, this saddle is broad enough to grip between your thighs when doing hands-free tricks. It features a viscous and elastic foam padding that adapts to your body shape, offering you instant pressure relief on your sit bone area.
The seat weighs 474g, making it incredibly lightweight, and it'll now overburden your bike and or make it hard for you to do tricks.
Also worth mentioning is the silver scuff guards that cover this seat. These not only enhance sits looks but also help prevent accidental tear and scratching for maximum longevity of the seat.
This is a comfortable, unisex bike seat with an upright riding position and will enable you to ride for extended hours without developing chaffing or soreness.
Highlighted Features:
What to look for before buying?
Here's our easy and fast criteria for choosing the best BMX seat for your bike without getting lost into the world of multiple saddles out there…
Materials
A good quality BMX saddle should be constructed from quality materials so that it can withstand the tough BMXing environment. The top-rated saddles usually come with a molded plastic hull and some minimal polyurethane foam padding to help with comfort. On top of this, it should come with a cover material that's weather, scratch, and fade-resistant. Some of the best cover materials to consider include leather, nylon, and Kevlar.
Width
Another essential consideration for the BMX seat is the width. We can group the seat width into slim, mid-width, or fat. Slim width is recommended for BMX racers as it doesn't get in your way when pedaling. And the fat (broad) saddle is great for jump riders as it offers you plenty of grip between your thighs when doing no-hand tricks. For street or park BMXing, go for the mid-width saddle as it strikes a balance between slim and fat models.
Comfort
Probably the main reason why you're replacing your current seat with a new one is that it gives you a painful cycling experience. With this in mind, you should make sure that the new saddle you buy will eliminate this problem. Look for a well-padded seat that will enable you to ride for extended distances without developing aches or sores. Seats that come with a hollow-out design are an added plus as they offer instant pressure relief and promote ventilation—boosting your cycling comfort.
Other considerations:
A good quality seat should also come with a bumper (plastic or Kevlar) to help keep its nose protected from impacts. A lightweight seat that doesn't weigh down and slow you down is also worth consideration. Make sure you get a seat that's easy and straightforward to install.
Tripod or Pivotal BMX Seat?
When shopping for a BMX saddle, you'll come across seats with different designs. The most common types include the tripod and pivotal. By knowing what each of these seats entails, you'll get to make a more informed decision on which one to buy.
Frequently Asked Questions
Q: Which BMX saddle is the most comfortable?
The most comfortable saddle depends on how it's constructed. The secret to ensuring you get a seat that offers you high-level comfort involves double-checking that it's sufficiently padded so that you can sit it for long hours without feeling pain.
Q: Why do some BMX saddles have holes at the center?
Seats that come with a hollow-out designed to offer you comfort. They achieve this in two ways. First, the hole helps with ventilation, allowing fresh air to circulate and prevent the build of up of heat. Second, the hole keeps the pressure off the sensitive tissue in your crotch area to ensure you don't feel pain after hours of biking.
Final Verdict
Don't let your OEM BMX seat continue giving you a painful cycling experience. Upgrade to a more comfortable seat today and enjoy long rides more frequently without developing any chaffing, aches, or soreness. We have just provided you with some of the most durable and comfiest BMX seats on the market today, so choosing the best BMX seat for your bike should be easy.