10 Best BMX Shoes 2023 – Low-Top, Mid-Top & High-Top Reviews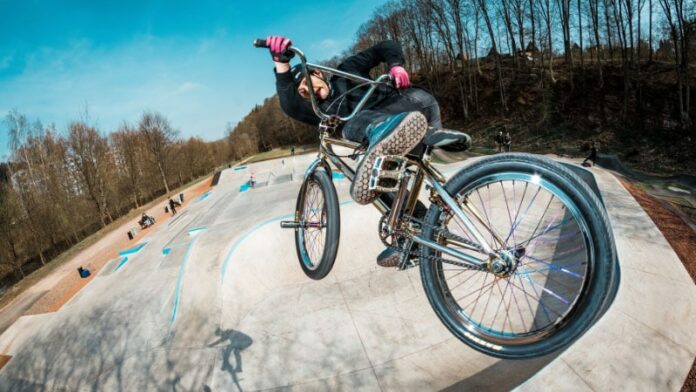 For a smooth and safe BMX riding experience, you'll need to invest in a pair of the best BMX shoes.
Beginner riders don't know this, but not every shoe is suitable for BMX riding. You wear the wrong type of footwear, and you risk messing up your foot.
Our team of expert researchers has scouted the market for BMX shoes that score highly in terms of grip-ability, durability, and affordability.
Here's our final list of top-rated BMX shoes you can get on the market today…
Our Best BMX Shoes Picks:
1. PUMA Select Men's Suede Classic Plus Sneakers
PUMA doesn't need an introduction in the world of shoes for fashion, lifestyles, and sport. They have been around for decades producing top-notch products inspired by technical innovation and revolutionary design.
With a lace-up closure, these kicks are sure to offer you a secure fit, and you don't have to worry about them coming when you're in the middle of a ride.
We like that they come with a cushioned midsole that helps deliver plenty of comfort and support to your feet every time you head out for a ride. The collar and tongue also come well-padded to offer your feet additional comfort.
These BMX sneakers are also a cool choice for those who want to ride their BMX in style. They come in the form of old school looks but feature elevated features that make suitable for BMXing. They feature a smooth suede upper plus streetwise swagger that makes them stylish. Not forgetting they offer you various combos to pick from.
Highlighted Features:
2. Vans Men's Embossed Suede Slip-On Skate Shoe
Who said vans don't make the best shoes for BMX? These low-profile slip-on vans will change your perspective on the suitability of vans for BMXing. It not only looks fantastic but also comes packed with excellent features that make them more than the standard vans.
You'll also appreciate how super-comfortable these vans feel. At first, they might feel kind of stiff, as with any other canvas, but will break in in no time. They're engineered with an incredibly wide and spacious toe box that comfortably accommodates riders with a broader foot. The padded heel and collar areas make these kicks feel even comfier.
As for the sizing, these shoes will fit as expected; they stay true to size. Just make sure you measure your foot size correctly to ensure you order the right size for you.
Don't forget that the pair also features cotton drill lining that allows for breathability, ensuring your feet do not get soaked up in sweat inside the shoe. This contributes to the overall comfort feel of the shoe.
Overall, if you want a pair of BMX shoes that's super-stylish and super-comfortable, consider these slip-on vans!
Highlighted Features:
3. DC Men's Pure Skate Shoe
For durable shoes that make your BMX riding smoother and faster, you can always trust DC to give you one of the best options. This shoe comes with 100% leather uppers in addition to an abrasion-resistant rubber sole that makes it durable enough to hold up for longer than your previous pair.
The rubber outsole feels sticky, and this enables it to excellently grip your pedals when BMXing for a smooth ride. The shoe also features DC's trademarked pill pattern tread that further adds to its gripability.
The shoe also features two small breathable holes on the side to help fresh air circulate inside and prevent odors and sweat. The breathable mesh also assists in allowing sufficient flow of air to the inside.
Your feet will feel incredibly comfortable in these shoes. The generous collar and tongue padding give you're the comfort you need so that you can entirely focus on pedaling your BMX.
Since this shoe comes in multiple color options, you can easily get a color that of your preferences or one that matches your BMX. Oh! The DC's indistinctive logo detailing at the side of the side makes this shoe even more the stylish!
Highlighted Features:
4. Adidas Originals Men's Seeley Running Shoe
Adidas is also a household name with years and years of reputation for producing highly durable and dependable shoes.  This particular Seeley running shoe is designed to be ready to wear, right out of the box, and doesn't require any break-in time.
One of the most notable features of these shoes involves the syndetic suede construction. This material delivers high abrasion resistance and is sure to hold up to daily BMXing. It also features a durable rubber sole that offers you high flexibility and pedal gripability.
With their laid-back style, there's no doubt that these Adidas will make good BMX shoes for uphill cycling.
With these shoes, you'll get plenty of comfort! They boast a textile lining that keeps your feet happy, whether you're biking or walking. The canvas itself is breathable to keep your feet cool and dry and prevent sweating.
Because they feature the lace closure style, these shoes are sure to give you the most secure fit. The easily noticeable classic Adidas Logo with 3 stripes and linear Trefoil gives these shoes a mark of authenticity. This shoe comes in various colors to offer you variety when shopping.
Highlighted Features:
5. Etnies Men's Kingpin Skateboarding Shoe
Etnies is also a respected brand and boasts its place as the brand that set the bar for technological advances and changing the face of skateboarding shoe forever.
This Etnies is made with your cycling needs in mind. It features durable leather uppers that will withstand the regular BMX riding environment. The uppers are also perforated to allow fresh to sip in easily and keep your feet cool and free from sweating.
It also features adjustable lacing that enables you to tighten or loosen it as per your preferences and obtain a secure fit.
The collar and tongue appear puffy with excellent padding. This not only makes you feel comfortable but also makes your feet remain stable when you need to land when doing those challenging BMX tricks.
Both the midsole and insole are made using die-cut EVA for exceptional flexibility, comfort, and durability. And rubber outsole has a herringbone-treaded pattern that delivers superior grip on your BMX pedals as well as while walking on the streets.
Highlighted Features:
6. Five Ten Men's Freerider MTB Bike Shoes
The Five Ten Men's Freerider is a BMX-inspired leather sneaker and one of the best shoes for BMX you can find on the market today. Its high popularity is based on its high durability, excellent fit, comfort, and the sleek looks it comes with.
It features 100% leather uppers, which enables it to hold up to the rough and demanding dirt jump BMX world.
As for the outsole, it features a stealth dotty rubber outsole whose high stickiness gives you an unparalleled level of traction. Previous users of this pair of shoes liken its stickiness on your pedals to glue—no more slipping off pedals or when walking on the street!
Keep in mind that it features breathable suede and mesh upper that enables fresh air to easily flow around your feet and keep them dry and odor-free.
The lace-up closure will enable you to adjust the shoe fit to a more comfortable feel. And the lace-up vamp helps you secure the laces in such a way that they don't get caught up in your bike chain and compromise your safety.
And unlike most of the shoes out there, this Five Ten stays true to fit, so you can rest assured you're ordering perfectly fitting footwear.
Highlighted Features:
7. Osiris Men's Relic Skateboarding Shoe
If you're on a tight budget, consider getting this affordably priced Osiris skateboarding shoe. This is an incredibly comfortable, highly effective, stylish, and performance-driven shoe
The shoes boast of durable uppers made from Nubuck synthetic leather to enable it to hold up to daily BMXing. Its toe cap also comes double-stitched for increased resistance and durability
Another thing that makes this sneaker suitable for BMX riders is the high level of comfort it offers you. This is partly due to the perfectly cushioned EVA midsole and insole, which ensure extra comfort and high shock absorbency.
The ollie and heal areas come reinforced for added durability. The tongue and color are padded for extra foot stability and comfort. With the high-quality cupsole and outer sole with excellent grip, this shoe gives you superior stability while remaining flexible enough to provide you with a board feel.
Highlighted Features:
8. Gavin Elite Road Cycling Shoe
These specially designed cycling shoes offer you comfort and high performance without being too hard on your wallet. They come ready to give you a completely new BMX cycling experience.
Regarding the design of these shoes, they feature mesh panels on the uppers that promote easy airflow to keep your feet cool and happy. Moreover, the shoe features vents in its rigid nylon fiberglass soles that further enhance fresh airflow.
You'll appreciate how the brains behind these shoes goes an extra step to ensure they offer you a perfect fit every ride. They come with a micro-adjustable buckle plus two hook-and-loop closure straps, which enable you to fine-tune it for the perfect fit and comfort.
The Gavins also comes equipped with a stiff, rigid sole that fits snugly and offers you excellent ground support (stability). Mind you, the shoe's sole can also work with clipless pedal systems to improve foot-to-pedal power transfer.
Highlighted Features:
9. Globe Men's Motley Mid Skate Shoe
If you want to upgrade to a mid-cut BMX shoe, this pair from Globe should make it on your list of top options. The clean, single-color skate shoe features a mid-height ankle that offers you a little extra support for safe and comfortable BMXing.
The skate shoe is also designed to last. It comes with clean suede uppers that will stand the test of time. It also features a seamless toe area, which further promotes shoe durability.
A good shoe for BMX should offer a good grip on pedals. This shoe comes with vulcanized rubber outsole with herringbone pattern. This translates to higher traction and exceptional gripability on your pedals—increasing your pedaling performance.
To ensure your feet feel comfortable in these shoes, they're equipped with a breathable textile lining that facilitates free airflow.
The shoe fits perfectly well and comes with lace up closure to help you get a secure fit. Other notable features that qualify this pair for an authentic BMX shoe include padded collar and tongue for comfort and support, vulcanized construction for board feel.
Highlighted Features:
10. Nike Men's Skateboarding Shoes
We reserved our last spot for these skateboarding shoes from Nike, one of the leading names in the production of top-quality footwear. These shoes come designed to keep your feet pleased and happy and enable you to fully concentrate on your biking sessions.
They boast of dual-density Solarsoft insole that offers your feet the perfect combination of softness and support. The outsole is durable and snug and features a herringbone pattern. This translates to excellent traction that will excellently grip your pedals to boost your biking performance.
Another reason why these Nikes make good BMXing shoes is that they offer you a more secure fit than most shoes out there. They come with a ¼-inch leather insert that withstands tension and offers you stability, strength, and secure fit whether you're pedaling or off your bike.
You'll quickly notice that the shoes look slimmer on the forefoot. This helps promote maximum freedom of movement of your feet and comfortable when riding your bike. The reinforcement at the tip offers excellent grip and resistance.
Highlighted Features:
What shoes do BMX riders wear?
As we have mentioned before, not all shoes are suitable for BMX riding. The likes of sandals, flip-flops, etc. are out of question as they aren't as sturdy enough for BMXing and will not hold up for long.
Good BMXing shoes are those made with the BMX biking in mind.
BMX shoes can take the form of a low top (the most popular), mid-top, and even high-top. Regardless of what design they come in, these shoes come designed with durable materials to enable them to stand up to various forms of abuse attributed to BMX riding environments. They also come with high traction to improve your cycling efficiency.
And they're designed to make your feet feel comfortable so that you can ride for extended hours without feeling distracted.
In the next section, we'll look at the key aspects that define the perfect shoe for a BMX rider.
Things To Check Before Getting One
When shopping for the best BMX shoes for the first time, you can easily get overwhelmed with the multiple shoes out there and choose the wrong type. In this section, we'll outline the key factors to look for to help you get the best shoes for BMXing.
Durability
One of the most important things to consider when looking for the ideal BMX shoes is durability. You want to ensure you get a pair that will hold up to the harsh environments you'll be riding your BMX bike in and last longer.
To ensure you get a durable pair, check the materials used to construct it. Shoes made from leather (whether natural or synthetic) tend to hold up well to BMXing. Additional aspects such as heavy-duty stitching, quality lacing, and lace loops also contribute to the overall durability of a given shoe.
Comfort
You should make sure the pair of shoes you buy for BMX riding will offer your feet comfort. You don't want to imagine a shoe that makes your feet feel uncomfortable, especially when riding for long hours—this can easily distract you from your bike and affect your performance.
The first step to ensuring you get a comfortable shoe is ensuring it fits you perfectly well. Start by measuring your feet size and find the right size for you from the sizing chart.
You should also ensure the shoe comes with sufficient padding around critical areas such as collar and tongue to make your feet feel stable and comfy. A cushioned sole is also a plus as it absorbs shock to keep your feet comfortable for long hours.
Above all, ensure the shoe comes with the breathability aspect to allow for free airflow around your feet. This will keep them cool and prevent them from getting sweaty. A breathable shoe will also prevent unpleasant odors from forming in your shoes.
Traction
One of the key reasons why you're; looking for a shoe specially made for BMX biking is that it helps increase your foot-to-pedal power transfer efficiency.
That said, the best shoe should come with high traction to enable it to excellently stick to your bike pedals for smoother and faster riding experience. Checking the outsole will give you an idea of what level of traction a given shoe can deliver.
The more detailed the tread pattern, the more the traction. And the better the shoe will adhere to your pedals. Most of the top-rated shoes we have featured above come with a herringbone pattern, which sticks to your pedals like glue.
Weight
It goes without saying that the perfect BMXing shoe should come with an incredibly lightweight design. If you ignore this aspect, you might end up with unsuitable footwear that weighs you down and makes your feet feel exhausted faster. This will limit your riding performance. As you can't cycle for long when feeling exhausted.
To ensure you get a lightweight shoe, check the materials used to make it. In most cases, lightweight shoe features a rubber outsole. The uppers such as light leather, canvas, or fabric also contribute to a lighter shoe.
Frequently Asked Questions
Q: Why do I need BMX shoes?
Getting BMX-specific shoes is highly recommended for all serious BMX riders. This is because these shoes come optimized for BMX riding and are sure to give you a whole new cycling experience.
By wearing these shoes, you'll get to boost your riding confidence that you have the right BMX gear on, and you can take on those challenging stunts and tricks. Putting on BMX shoes will also put you into the right mindset and prepare you for the day's riding.
Pro riders also wear BMX shoes, so why shouldn't you wear them as well and look like your favorite BMX racer?
Q: Are vans good for BMX?
Absolutely! You can wear vans for BMX riding. These shoes are highly durable and come at a friendly price. They also feel incredibly comfortable and have excellent grip-ability on your bike pedals, so they're an excellent choice for BMX riders.
Q: What are the best BMX shoe brands?
Some of the most popular brands among BMX riders include DC Shoes, Etnies, Adidas, Nike, Vans, Osiris, Emerica, Vans, and Five Ten.
Final Verdict
If you're a serious BMX rider, you should own 1-2 pairs of the best BMX shoes. These unique shoes optimize your pedaling experience and improve your cycling experience. To help you easily find the best BMX shoes for you, we have outlined for you some of the most popular kicks among BMX riders above. All these shoes are durable, comfortable, fit perfectly well, and look stylish.