Best Brake Pads for Harley Davidson Touring Reviewed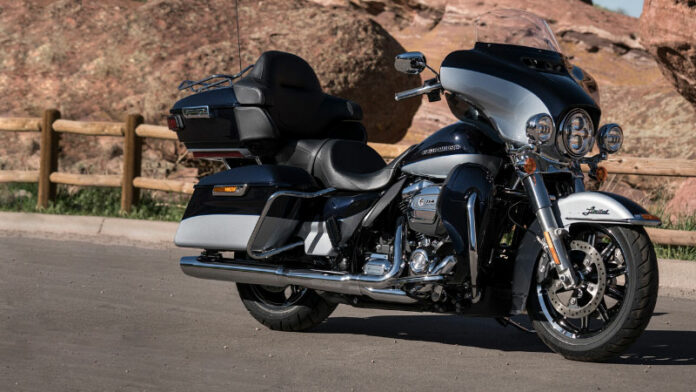 Your bike's braking ability is very often the thing that keeps you from getting into horrific accidents. Having the right brake pads is crucial.
Do you own a Harley Davidson bike? Let's take a look at the best Harley brake pads on the market today.
Are Harley Brake Pads Sintered?
A lot of manufacturers have availed to Harley Davidson users a variety of brake pads as replacements for the stock pads that come with their bikes. In some cases, the replacement pads are far better than the stock pads.
A lot of these replacement pads are sintered, but not all. Some are organic. While sintered brake pads are created from metallic particles, organic pads are made of softer materials such as carbon, Kevlar, or aramid, bonded with a resin.
Another name for sintered brake pads is metal sintered or metallic brake pads, because they are built from metallic particles which go through a high-pressure, high-temperature process that fuses them together.
Sintered brake pads are popular because they give good performance in a range of conditions, including the adverse ones. You can ride with a higher assurance of safety even in wet and muddy trail conditions.
6 Best Brake Pads for Harley Davidson Touring
1. EBC Brakes EBPCK1027 Complete Double-H  Sintered Brake Pad Change Kit
If you are looking for the best Harley brake pads, we can recommend this EBC model. They come highly recommended in Harley Davidson online forums by Harley biking enthusiasts who have tried them out. If you are looking for brakes that stop quietly and securely, they certainly do that. Furthermore, they are durable and will last long.
 Some users have noted that they sometimes tend to "sing" when they are new, but after you do about 100 miles that problem goes away.  The sound is still audible, but it is no longer loud.
It is also notable that these are sintered and not organic brake pads. Sintered brake pads are famed for their ability to perform well in various conditions, including muddy terrain. Furthermore, sintered brake pads are less prone to fading on long steep descents, in comparison to organic brake pads.
These brake pads have the highest friction rating in two conditions: H-rated when hot and H-rated when cold (double-H rating). That makes them excellent at braking under a variety of rider conditions, including dry or wet, cold or hot.
Highlighted Features:
2. Carbon Fiber Brake Pads ECCPP Motorcycle Replacement Front and Rear Braking Pad Kits
If the noise created by your brake pads is an annoyance to you and you are looking for relatively quiet ones, these are it. They feature kevlar carbon fiber compound that has anti-noise shim and that delivers a quiet braking experience.
The Kevlar brake pads deliver a beautiful stopping power, which makes riding a pleasure because it gives you more control over your bike. The brake pads are minimal on noise and have no rotor galling, even in the case of polished rotors.
Note that these Kevlar carbon brake pads feature a combo of high-strength fibers. These serve to reinforce the brake pad's friction material and that leads to enhancement of thermal stability and durability while at the same time minimizing abrasion levels on the rotor. Kevlar brake pads are better than your standard organic brake pads and they certainly rank above standard semi-metallic pads.
They deliver fingertip control and a strong brake response that is predictable, in spite of the terrain or conditions you are riding through. This enhances safety when riding and also the pleasure one can take in a riding experience because you can be a bit more daring in your riding.
Highlighted Features:
3. Foreverun Motor Front and Rear Sintered Brake Pads
These set is among the best brake pads for Harley Davidson touring. They are sintered metal brake pads. We know that sintered brakes typically last longer than organic brake pads and that they are able to better withstand the heat generated by heavy braking. Sintered brake pads are the best when you are driving through muddy terrain.
They are safer and give you more freedom to have fun when you are riding. Having sintered brake pads gives you the ability to ride through all sorts of extreme riding conditions, including mud, farm use, or racing. They also work well on winding, hilly terrain. Furthermore, sintered brake pads are long-lasting.
If you have a bit of experience, installing them is a walk in the park. They fit just nearly as well as the original equipment and are compatible with Harley Davidson street-cruiser motorcycles. The list of bikes compatible with the brake pads is too long to reproduce here, so follow the Amazon link to see if yours is one of them.
One small issue we can point out is their tendency to produce a squeaking sound now and then.
Highlighted Features:
4. Lyndall Brakes Z-Plus Brake Pads Front or Rear 7195-Z
These Lyndall brake pads are a great replacement for you HD pads. For instance, your HD pads might overheat and fade when you are riding on tough terrain like the mountains, but these ones can do the same terrain with relative ease. They are very low on brake fade.
While we cannot say that they are entirely dust-free, but they are still a better option in that regard than the stock pads. In addition, they are cleaner and they last longer.
Of course, the comparison with the stock pads would not be complete if we did not speak about stopping power. On that count too they give a better performance than the stock pads. Fast stopping is absolutely necessary for safety when riding. Being able to stop fast also liberates you as a rider and you can take more risks.
Another advantage is the absence of squeaking. We can definitely endorse them as the best brake pads for Harley Davidson touring. They are perfect for most 2000 -2007 Harleys.
Highlighted Features:
5. KMG Front + Rear Brake Pads
These are non-metallic organic brake pads and they have the advantages of organic brake pads. Organic brake pads are typically made of a combination of fibers and resin. Since the materials that make up organic brake pads are generally softer than those that make up sintered brake pads. As a result, they are quieter – that is, they do not squeak loudly.
These KMG brake pads consist of a combo of high-strength fibers which reinforce the friction material of the pads. The result is enhanced durability and thermal stability. It also brings down the amount of abrasion on the rotor.
Note however, that these are non-metallic organic pads and these tend to be better than standard organic brake pads. They are also better than standard semi-metallic pads. They are, however, not as great as sintered brake pads when it comes to heat management and handling wet or muddy terrain.
Installation is not difficult. You should be done in like 45 minutes, depending on how well you know what you are doing.
Highlighted Features:
6. Zinger Brake Pad for Harley Davidson VRSCA/VRSCB
This is among the best brake pads for Harley touring and is compatible with the Harley Davidson touring series models
Being sintered brake pads means they are ideal for wet and muddy conditions. Sintered brake pads also have a high level of resistance to fading, so you if you are going biking in the mountains and you are afraid that you might give your brakes terribly hard use when coming down those long, steep descents, then these brake pads are what you absolutely need.
The one problem you will have to deal with is the noisiness. They are sintered brake pads after all.
It is also possible that they will be harder on the rotors – because sintered pads are made of harder material. However, that probably isn't a problem, unless you are doing really tough terrains, where you are forced to give your brakes some serious level of abuse that goes so extreme that it burns up the brake rotors.
In conclusion, these brake pads will give great performance in all sorts of poor conditions: mud, rock, sandy creeks, steep terrain, crawling etc.
Highlighted Features:
Things to Check before Getting One
Are your looking for a replacement set of brake pads for your Harley Davidson? The following is a list of things to consider when you go shopping:
Materials/Type
The first thing you must consider is the type of brake pad you want to buy. Type is determined by the materials used in the pads' construction. There are sintered brake pads, which are metallic, and there are organic brake pads, which are non-metallic. Semi-metallic pads also exist. Interrogate the advantages and disadvantages of each of these types and decide which types are appropriate for your particular situation.
For instance, if you are looking for pads that don't make any noise, you should go for organic pads, because sintered pads are noisy.
On the other hand, if you are intending to go riding in a wet, muddy terrain or one that has long, steep descents, then you should go for sintered pads instead.
Organic pads produce more brake dust than sintered pads.
Compatibility
Different brake pads are compatible with different bikes. For instance, some of the pads we have reviewed here are compatible with street-cruiser motorcycles. One of them is specifically compatible with Harley Davidson bikes from 2000 to 2007. Another is compatible with touring series models.
If you go to the Amazon links for each of the products we have reviewed, you can see full lists of the Harley Davidson models compatible with those brake pads.
When you are purchasing brake pads, you must first consult the list provided by the manufacturer of the bikes compatible with those particular pads.
Type of Rotors
Different brake pads are compatible with different rotors. You must therefore find out the type of rotor your bike has. Using brake pads with incompatible rotors can end up harming the rotors. For instance, sintered brake pads are at the risk of wearing down some types of rotors.
For rotors made of steel, cast iron, or stainless steel, the best choice is organic brake pads.
If the rotors are made of aluminum alloy or are chrome-plated, you need brake pads that can be gentle on them – ceramic brake pads can do the job.
Type of Bike
Type of bike is a huge determinant of the type of brake pads you should buy. For instance, the way we ride racing bikes is vastly different from how we ride regular bikes.  Racing bikes require hard-wearing brake pads.
Fade
Fade happens because of heat buildup. Brake pads made of softer materials (organic brake pads) are more susceptible to brake fade. When brake fade happens, your bike is unable to brake.
For long, steep descents, sintered brake pads are the better option because they care able to withstand a higher level of heat and are therefore not as susceptible to brake fade. This quality also makes them more ideal for racing than organic brake pads.
Brake Dust
Some brake pads are more prone to brake dust than others. If that is a deal-breaker for you, find out beforehand which models are less prone.
Noise
The squeaking sound is annoying. In some brake pads, the noise can get quite loud, while in others it is audible but quiet. Sintered brake pads can get rather loud. Organic brake pads are quieter.
Conditions it Can Handle
You buy a bike for the terrain and weather you are going to use it in. You should also consider weather and terrain when you are picking brake pads. For instance, wet and muddy trails are best served by sintered brake pads.
Ceramic brake pads are good all-rounders, in that they are able to give good performance in a range of situations.
Frequently Asked Questions
Q: What is the difference between organic and sintered brake pads?
A:  Organic brake pads are created from materials such as carbon, Kevlar, and rubber. They consist of a blend of fibers combined with a resin. Since these materials are softer than the metal of their sintered counterparts, organic pads are generally quieter. However, they tend to fade as you come down long descents. They also don't do well in wet, muddy conditions.
On the other hand, sintered brake pads are create from the fusion of metallic particles occurring at a high pressure and temperature. They perform well in wet, muddy conditions. In addition, fade is minimal because heat buildup doesn't affect them as much as it does organic pads.  They are however quite noisy.
Q: Should I also change the rotors when I'm replacing the brake pads?
A: You could, but it is not necessary. If you maintain your rotors properly and match them with the right brake pads, you can use one set of rotors through the lifetimes of up to 3 or 4 brake pad sets.
Signs you need to change your rotors: if they look warped, if they look discolored (usually blue), if they look worn thin or deeply grooved by the pads.
Q: How long should I expect my pads to last?
A: This question is subjective and depends on a range of factors. For instance, if you are an aggressive rider, your brake pads will have a shorter life than if you are a more careful rider. Aggressive riding makes pads wear out fast. Furthermore, some people use one break more than the other – if you use the rear brake more than the front, obviously you will wear it out faster.
Brake pads are built to give good service for thousands of miles. Depending on what type of rider you are, you could even use them for tens of thousands of miles.
Factors such as pad thickness are the best determinants of how long the pads will last.
Q: Since brake pads come as a set, does that mean I must replace the front and rear pads simultaneously?
A: No, you don't have to replace the front and rear pads simultaneously, since it's obvious that the two will wear at different rates, depending on the one dominantly in use.
That said, it is necessary to replace all brake pads for one wheel at the same time.
Q: Which is the better option: OEM or aftermarket?
A: A lot of times, OEM (original equipment manufacturer) brake pads are the ideal choice. That is because OEM pads are specifically designed to be compatible with your motorcycle. This provides a perfect combo of feel, performance, and longevity.
That said, if you want to give your bike extra braking performance, we recommend you upgrade to a pad that is more aggressive. However, it should be noted that this is tradeoff. If you pick an aggressive pad, you will have to sacrifice rotor life. The aggressive pad will have more "biting" and higher stopping power, but the rotors will wear out faster.
Aggressive pads work best if you need them for racing, carrying extreme loads on your motorbike, or during track days.
If your bike is using aftermarket rotors, look for the brake pads produced by the rotors' manufacturer. Each rotor type has a particular type of pad material it is most compatible with.
Q:  How can I tell when my brake pads are in good condition?
A: Once you purchase your new brake pads after reading this, you should get into the habit of often visually inspecting the brake pads. You might need a flashlight. Inspect the calipers, looking into the inner and outer pads
If you notice that the friction lining has become worn down to 1/8 of an inch or lower, you should replace the brake pads.
Besides visual inspection, you should also start listening to the sounds produced by the brake pad. Not all sounds mean something. For instance, a squealing does not necessarily mean something is wrong. Sometimes the squealing sounds produced by the pads are just high-pitched vibrations that take place as of pads get clamped onto the rotors.
The noise to worry about is when you hear a grinding or scraping noise. That usually indicates that the metal rake pad backing has started to rub off against the surface of the rotor. If you continue riding the bike when this metal-to-metal contact is happening will harm the rotors and could eventually cause a crash (because the brakes don't work well, so you can't stop fast enough).
Pro tip: the high-pitched squeal goes away when you clamp the brakes with greater pressure. In the case of the grinding noise, clamping the brakes only makes the noise louder and worse.
Q: Is lubricating the brake pads necessary?
A: As you fit new brake pads, you must apply cooper grease onto the pads' rear surface. This ensures the brakes do not squeal.
Final Verdict
If there is one thing the bikers cannot afford to compromise on, it is their machines' stopping power. That's why you must be extra careful when you are choosing your bike's brake pads. Follow the guidelines provided here on how to pick appropriate pads.
If you don't know where to start, just take your pick of the 6 products we've reviewed.