6 Best Chain Lube for Your Dirt Bike [2023 Updated]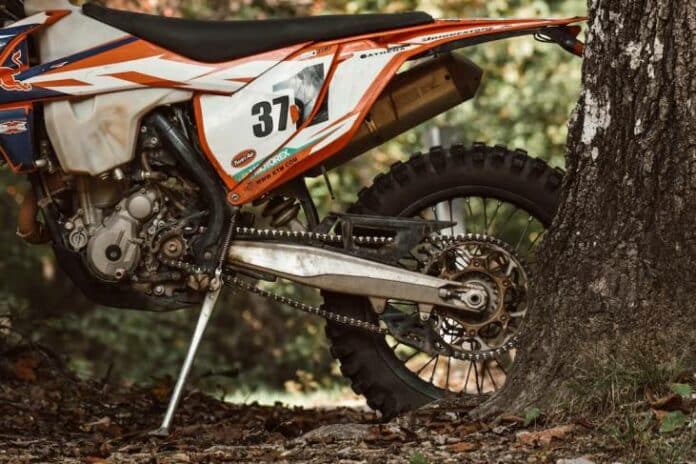 Ripping around on a dirt bike is a great way to spend an afternoon. When the ride is over, though, maintenance is important to keep your bike in good condition. Keeping the chain oiled is a key part of ensuring your bike continues to run smoothly. 
Applying lubricant to your bike's chain regularly is a small but essential step with big benefits. A well-maintained chain helps with performance and longevity and can even help avoid costly repairs. The best chain lube for you will often be different depending on where and how you ride.
Choosing the best chain lubricant is the first step in this simple but important process. There are options available for every kind of rider from dirt track to street applications. In this guide, we'll review some of the best options available from some of the most trusted brands. We will also provide some important information to consider when choosing the chain lube to use for your bike.
Our Top Choice:
Our favorite product overall is the Motul Motorcycle Off-Road Chain Lube. This is a great, cost-effective offering from one of the most recognizable brands in motorsport. Motul has been on the cutting edge of synthetic fluids for over a century. Their expertly formulated chain lube is an excellent option for any dirt bike application. 
At A Glance: Best Chain Lube for Your Dirt Bike
Our Top Picks for the Best Chain Lube:
Lubricating your bike's chain is the most routine maintenance you're going to do. Making sure to pick the right fluid for the job is important, but there can be a lot of confusion with so many options out there. Fortunately, we've done the research for you and selected some of the best products available.
From wax-type chain protectants to straightforward chain oil, here are our picks for the best chain lube you can buy today.
Top 6 Best Chain Lube for Your Dirt Bike
At the top of our list is Motul's special formula of chain oil. This offering was specifically formulated for off-road applications. The attached straw makes precise application easy, and the lube does not attract dirt or other debris while riding. 
Motul's patented EsterCore technology leverages the base materials of its synthetic fluids. This formula creates a product that improves performance and can be used on any type of chain. Additionally, Motul's long history in producing high-performance lubricants informs their products. This expertise results in a formula that has been tested in some of the most rigorous conditions possible. 
While Motul's C3 chain lube boasts an advanced and proven formula, it also has a tendency to be sticky. This stickiness can make the application of the lube a messy process. It has also been reported to fling off of the chain and onto the swing arm of the bike if applied too heavily. 
Pros
Proven, high-performance formula
Works on any type of chainTwo-color options
Excellent, proven protection for your chain
Easy to apply
Cons
Sticky fluid can be messy
Verdict:
Motul delivers a tested and versatile formula developed for heavy duty use. The special formula sticks to the chain but does not attract dirt and debris. This lubricant is a very safe choice from a company renowned for its quality.  
Also Read: Best Way to Clean a Dirt Bike
Muc-Off is a popular brand well known for its high-quality products. This all-weather chain lube is no exception! Some chain lube can wash off when riding in wet or even damp conditions. This product was developed to stick to the chain in any condition, wet or dry. 
The premium synthetic formula that Muc-Off uses feature ceramic additives. These additives help to increase the protection of the chain over long distances. For the quality of life, they have also added a UV dye. The dye helps ensure that you know where you've already applied the lubricant and which spots still need attention. 
This high-performance chain lube is recommended to be used sparingly, though. Some riders that have used this product report that it can clump up or fling from the chain, resulting in a drop in effectiveness. It's recommended that you clean your chain often when using this lubricant to avoid this issue.  
Pros
Excellent all-weather formula
Ceramic additives for superior protection
UV Dye helps ensure total chain coverage
Cons
Can clump up when applied excessively
Has been reported to fling from the chain
Verdict:
This chain lube is an excellent and popular choice from a company dedicated to making quality products. Special features like UV dye and ceramic additives in the formula add to the appeal. 
Maxima is a California-based company creating quality, race-inspired products. This synthetic chain guard uses a unique, fortified formula to ensure the best possible protection for your chain. Maxima has also included additives in their formula to minimize corrosion as well. 
An added bonus to this chain lube is that it is transparent. This is a particularly good thing if your bike happens to have a gold or other colored chain. The lubricant protects your chain without diminishing its stylish look! 
People who have used this chain lube have also reported that it can be very messy. Some reviews of the product mention that it sprays too much, and others report that it has a tendency to fling from the chain when riding. 
Pros
Additives to prevent corrosion of chain
Transparent lube is excellent for colored chains
American company, for those seeking a locally produced product
Cons
Messy on application
Tends to fling from the chain while riding
Verdict:
Maxima makes a good product, and the transparent application is great for colored chains. The lube can be messy and fling from the chain while riding. The product made in the US is a potential bonus for any rider that prefers to buy products that are produced locally.  
Lucas Oil is another brand closely associated with motorsports. This chain lube is a semi-synthetic formula designed to maximize the longevity of your chain and protect it from corrosion. While a less popular option than some other chain lubricants, Lucas Oil still provides proven protection for your bike's chain. 
The lubricant also leaves a protective film behind after drying. This feature helps to further protect the chain from wear and drag. The protective coating is also effective against dirt and debris. During application, the chain lube foams up before settling as it dries. This makes it easier to know where you have applied the lubricant. 
Applying this chain lube with precision can be difficult, and it also needs a few minutes to soak in. Overspray is more common with this product than some others. Because of the messy application, it is a good idea to prepare for cleaning up when using this chain lube.   
Pros
Excellent, tested formula
Protective film is effective against wear and drag
Verdict:
Lucas Oil is a well-known staple of motorsports. Their chain lube is an excellent product that will definitely help keep your bike operating smoothly. This is a simple option without gimmicks or special features to complicate its use. The semi-synthetic formula makes use of conventional materials in its formula. This makes Lucas' offering unique on our list. 
Bel-Ray's chain lube offers heavy-duty protection for your bike's chain. This lubricant uses a formula developed to resist flinging off even in high-speed applications. It also forms a protective coating to help resist corrosion and debris build-up. 
The chain lube dries into a protective coating that helps resist corrosion and ensures total coverage. The coating also helps keep dirt and debris from sticking to the chain. The coating dries visibly as well, letting you more easily see where you've applied the chain lube.   
While the protective coating of this lubricant is a key feature, it also dries white. This may not be ideal for every rider, especially those with colored chains who would prefer a chain lube with a clear finish. Additionally, the cost is a bit higher compared to some of the other options on this list with similar features.  
Pros
Lube resists flinging off of the chain
Protective coating helps resist corrosion and debris
Cons
White film may not be desirable for every rider
Slightly more pricey than other available options
Verdict:
This chain lube is subject to personal preference more than most of the other listed options. The protective coating that helps resist corrosion and debris build-up also leaves a white film that you may not want to see. In addition, it is priced a bit higher than some of its competitors.  
This fully synthetic chain lube from Motorex is a great option for riders who would rather avoid chain-wax-type lubricants. Motorex is well known for its high-performance oils and lubricants. They develop their products for maximum effectiveness both on and off the race track. 
Unlike a lot of wax-type chain lubricants, this product goes on thin and doesn't build up or leave behind a residue. Another benefit of this approach is that the fluid doesn't attract dirt or debris. Since the fluid is so thin, it does not develop clumps that may fling from the chain while riding. 
The drawback of using a thinner chain lube is the need to reapply more frequently. A wax-type chain lube that goes on thicker will be able to endure longer times between applications. By contrast, this thinner solution will dry out faster. Additionally, this chain lube is a more expensive option than a lot of its competition. 
Pros
Does not build up on the chain
Does not fling from the chain
Cons
Thinner lubricant will need more frequent application
Higher cost than some options
Verdict:
This chain lube is for riders that prefer to avoid a wax-type lubricant. This product goes on thin and doesn't attract dirt and debris, but it will need to be reapplied more often. The cost is also slightly higher than some similar competing brands. 
Things to Think About When Choosing Your Chain Lube
Here are a few considerations to keep in mind when choosing the chain lubricant you will be using on your bike. All of the listed factors are important, but which of them you choose to focus on the most will be different. 
What works for one rider may not work for another. This guide will help you understand the major factors that go into picking the product that is the best fit for you. 
Chain Wax vs. Chain Oil,
The two most common types of chain lube can be divided into chain wax vs chain lube. Both of these have their strengths and weaknesses. Chain oil is the preferred option for some riders, while others prefer wax. When deciding between the two, you should consider the way they work. Your own preferences will be unique to you. 
A wax-type chain lube goes on heavy and often leaves behind a protective coating or film to minimize wear. These lubricants are some of the most popular ones since they can go further between applications. However, wax-type chain lube can also build up and fling from the chain while riding. Eventually, you will need to clean your chain to remove the built-up wax. This can be a tedious and time-consuming process for some riders. 
Chain oil, by contrast, goes on thin. This type of lubricant does not leave a residue that builds up or flings from the chain. Because it goes on thinner than wax-type lubricants, you will need to reapply an oil-type lubricant more often. With more frequent applications, you will often end up using more lubricant in the long run. 
Riding Application
Different styles of riding will take different levels of protection to keep up. Protecting your chain from dirt and debris may not be as much of a consideration if you only ever ride on the road. However, the way your chain lube handles debris may be one of the most important factors to think about for riding on a dirt track. 
Some chain lube is also specially formulated to be water and weather-resistant. If you make a point never to ride in the rain, then this may not be a big selling point for you. On the other hand, if you frequently find yourself riding in the wet, you may want to focus on products that are made especially for those conditions. 
Formula
Most chain lube uses a fully synthetic formula. The components of a lubricant's formula may impact its ability to handle high stress or heat. Different components in the formula can even have an impact on the environment. Conventional and semi-synthetic formulas are available. Yet these are also less common than you may see with other lubricants like motor oil. 
The main benefit of a synthetic formula is consistency. Synthetic lubricants are carefully formulated. Because of this, their production is often more uniform than older products using a conventional formula. They are also more environmentally friendly. 
A formula that uses special additives may also cater to specialized needs. Some chain lube will use special materials for a variety of effects. This can be to better handle heat, stick to the chain more effectively, or help you ensure total coverage with visible markers. These factors are often a matter of personal preference. 
Pricing
As with any product, getting the best value for your money is important. Once you know which lubricants will suit your specific use, price is the next thing to consider. No one wants to pay more for something that doesn't fit their needs!
Some premium chain lube will come at a higher cost. It's important to remember that a product's price is not necessarily a sign of its quality. Brand name, intended use, and special production methods can all raise the price of a product. These are factors that may or may not come into play for you. 
Final Thoughts
Out of the chain lube reviewed, our favorite is Motul's Off-Road Chain Lube. It is a popular and cost-effective option with a proven formula. This chain lube is safe for all types of chains and does not build up or fling from the chain. 
With their history in motorsports and straightforward approach, Motul is a safe option. Even with its long history and brand recognition, the company is also a cost-effective option. Motul's chain lube is a product that we can recommend to most riders with confidence.