The Best Cruiser Motorcycle Boots: Reviews for Men and Women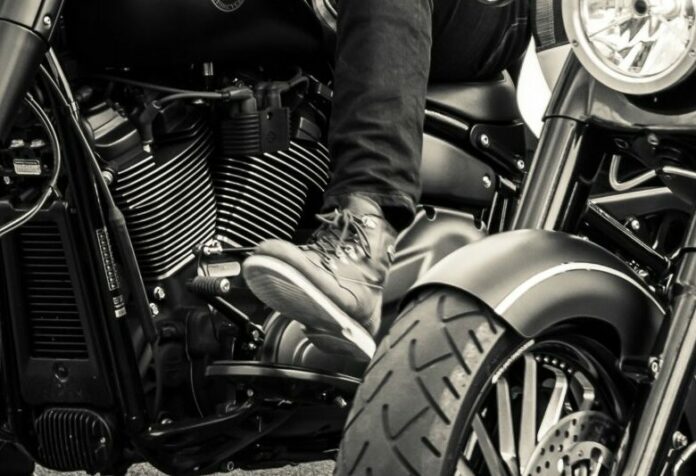 Motorcycle riding is a risky endeavor; thus, you need to wear boots that will protect your feet. This type of footwear not only provides protection but comfort as well. It supports your ankles and keeps your feet dry and warm. However, it's understandable if you find it confusing and frustrating to pick one that will suit your needs. Let this review help you find the best cruiser motorcycle boots.
Top Pick
The pair of Durango Harness boots has a conventional style that many men riders love. Its supple and shiny leather material makes it stylish, while its rubber soles offer outstanding grip and control. You'll like this versatile footwear because of the protection and support it provides while you're riding your cruiser motorcycle.
The Best Cruiser Motorcycle Boots Are:
1. Durango Harness Boot — Best Motorcycle Boots for Cruiser Riding
The Durango Harness boot boasts of a shiny and supple leather upper, which makes it stylish. It comes in five colors that match the personality and outfits of riders. I like its moderate and sleek design because it makes the premium materials stand out. It has a harness strap as an accessory, so it goes well with the minimalist in me. 
This pair offers excellent ankle support, and because it's 11 inches in height, it also ensures protection to my legs. The rubber outsoles provide outstanding control and grip because they're slip and oil resistant. This Durango boot is versatile because I can wear it when I ride my cruiser motorcycle and even on dinner dates. It has a foam insole padding for added comfort. Its sole flaw is that, like many other shoes, it has sizing issues like being a tad too narrow for men with wide feet.
Specs
If you are searching for a conventional, leather motorcycle boot for cruising around on your Harley, you can't go wrong with the Durango Harness. It has a classic style that's both comfortable and sleek. The leather upper and the rubber sole ensure that the pair will last a long time. It's a tall boot that will keep the dust and sand off your foot, but its 14.5-inch diameter assures you that you can put it on and slip it off quickly.
Overall Rating: 4.5
2. AdTec Harness Motorcycle Boot — Grippy and Oil-Resistant Sole!
AdTec Harness motorcycle boot is a top choice of men riders because it is oil-resistant and durable. The oiled leather is of premium quality. The Goodyear welt construction ensures excellent adherence of the various parts for robustness. 
I like the cushioned insole because it offers ultimate comfort. It's my favorite shoe when I'm taking a joy ride on my cruiser motorcycle. Other men may have issues with the sizing because it runs narrow. 
Specs
If you want a feel-good boot that you can wear when you're cruising, you may try the AdTec Harness motorcycle boot. It offers ample protection from your toes to your leg, and it ensures that you gain optimal comfort. It's a durable boot because the upper is of high-quality leather, and the synthetic, oil-resistant sole offers excellent grip. Your toes also have ample space to splay because of its square design. The comfortable insoles provide maximum comfort too.
Overall rating: 4.5
3. Harley-Davidson Scout Harness Motorcycle Boot — Lightweight and Iconic!
I like the allure of the Harley-Davidson Scout boot because of its high-quality construction. It's durable and comfortable to wear while riding. The harness strap enhances the riding experience because it improves the grip while on the motorbike. The rubber outsole is slip-resistant, oil-resistant, and sturdy, and I have an assurance that this pair will last a long time.
I don't have any issues about putting it on and slipping it off. I like that I don't feel any discomfort around my feet even if I wear them the whole day. It may have an intimidating appearance, but I prefer wearing it because it's lightweight. The sizes tend to run wide, so fellow riders with narrow feet may feel like a clown when wearing the pair.
Specs


Stylish and comfortable


High-quality materials


Resistant to slip, oil, and abrasion
Snug fit due to the instep zippers
If you're looking for timeless and professionally-made boots, you may like the Harley-Davidson Scout. It has a classic harness silhouette and an iconic moto-inspiration. If you're a fan of the brand, you'll love this lightweight pair that has the core features of the best cruiser motorcycle boots. Its Goodyear welt outsole is abrasion, oil, and slip-resistant. It's an excellent option for riding and walking all day long.
Overall rating: 4.5
4. Harley-Davidson Eda Motorcycle Boot — Sleek and Durable!
I have a biker friend who likes wearing her Harley-Davidson Eda motorcycle boot. She always gets a lot of compliments every time because it suits her well. The sleek design screams high quality, and I see that she is very comfortable riding with it. The full-grain leather ensures durability. The lightweight platform and outsole allow her to move around with ease. 
I asked her one time what she thought was a flaw of her boot, and she said the sizing runs narrow. Moreover, break-in time took longer.
Specs
Harley-Davidson isn't only a favorite for its cruiser motorcycles, but it's also a top choice for the best motorcycle boots for cruiser riding. If you're after functionality and outstanding comfort, you may want to try the Harley-Davidson Eda motorcycle boot. You get excellent footwear construction for a pleasant riding experience. 
5. Harley-Davidson Amherst Motorcycle Boot — No-Slip Grip on the Slickest Road!
The Harley-Davidson Amherst motorcycle boot is footwear that women riders love to wear because they can slide their feet in easily. It's comfortable to wear for long hours of cruising, and it's also suitable for all-day walking. The pure leather upper covers most of the feet and offers warmth during chilly early morning rides. The double-stitched design makes the shoe durable and sturdy. 
Women, who wear the Amherst, prefer its robust sole. They do not have to worry about it detaching from the rest of the boot. The two zippers on both sides allow for quick and effortless slipping in and off the foot. Its outsole is slip-resistant and offers outstanding traction. According to my rider friend, sizing tends to run wide, so women may have to check the size chart to ensure a better fit.
Specs
If you are looking for motorcycle boots that provide excellent traction, you may prefer the Harley-Davidson Amherst. It offers comfort even if you have to take long rides on rough roads. You'll appreciate the supportive insole and roomy design because it won't pinch your feet. If you have narrow feet, you can wear thicker socks to keep you warm during your night or early morning rides.
Overall rating: 4.5
6. Harley-Davidson Talley Ridge Motorcycle Boot
The Harley-Davidson Talley Ridge motorcycle boot offers excellent performance. My friend wears the pair while cruising, and she doesn't complain that she has to clean it often. She does apply an appropriate leather conditioner to remove the occasional scuff. The full-grain leather is not too stiff or too soft, and she told me that it allows her foot to experience a natural contour to it during shifting.
The double stitching holds the parts together, and the wearer gets a snug fit. The zippers on both sides make it effortless to put on and take off, and it's ideal for women riders who don't want to tie laces all the time. The rubber outsole is oil and slip-resistant, so they have an assurance that the boots will hold up on all surfaces. My friend has a teeny-bit complaint — it's pricey.
Specs
If you prefer a heavy-duty motorcycle boot that's also stylish, you can bet on the Harley-Davidson Talley Ridge. The leather is stiff enough to withstand impact and harsh weather. You'll like the rubber sole because you gain a stable position while shifting. It also provides stability even if you walk on slippery surfaces.
Overall rating: 4.6
Your Guide to Cruiser Motorcycle Boots
The cruiser boot is a classic because of its casual appearance and the comfort it offers for anyone wearing it. It has sensible appeal and looks. Generally, this type of footwear is mid-height and of leather construction. It has a zipper on one side for easy put-on-and-pull-off. Let this cruiser motorcycle boots review help you find the one that fits your needs.
Advantages of Wearing Motorcycle Boots
Offers Safety and Protection
Some riders think that they can use standard boots for riding, but it's a very inconvenient and unsafe way of thinking. The feet perform various tasks like supporting the weight of their body and their bike. People also switch gears using their feet. The right type of footwear has to protect the feet from debris and the heat from exhaust pipes. It also has to support the ankles when stopping at red lights or while taking a rest.
Boosts Driving Performance
Motorcycle boots protect you when you're riding, and they also provide comfort. You become a better driver because you don't have to worry about the discomfort or injuries you may have during your ride.
Top Considerations in Buying the Best Cruiser Motorcycle Boots 
Design and Style
When buying your boots, you have to ensure that they fit perfectly. Ill-fitting shoes will create a great distraction when you're on your motorcycle. You won't be able to concentrate on the road because your focus will be on your feet. Some styles have straps and zippers, while the others have buckles and laces. Whatever type of boots you choose, you have to ensure that it offers the best comfort.
Safety
Motorcycle boots should have safety features such as oil and slip resistance to protect you from harmful substances. You have to ensure that they cover your whole feet to provide support and protection while you're riding.
And speaking of safety — don't forget to wear your helmet every time you go cruise riding.
Durability
Aside from the safety and style features, you also have to consider durability. Your shoes have to be of durable material to withstand wear and tear. They must also be waterproof to protect your feet from getting wet. Many cruiser motorcycle boots are of Cordura or leather material, so you have an assurance that they will go a long way.
Insulation
If you plan to ride in nippy weather, you have to ensure that your motorcycle boots have high-quality insulation. They have to keep your feet warm and protect them from debris and liquids.
Conclusion
Cruiser motorcycle boots offer protection and safety. They also help boost your driving performance. If you wish to buy your next riding footwear, you can use our buying guide to help you. You must pick a durable pair and provide safety and insulation. Of course, you have to consider style and design to get some compliments from your fellow riders.
The Durango Harness is a classic motorcycle boot that you may like to wear whenever you ride. It uses durable leather for a sleek look. Your shoes will keep sand and dust off your feet and protect you from any injury. This pair is a top pick of many men riders.