The Best Cruiser Motorcycle Helmets for Safety and Style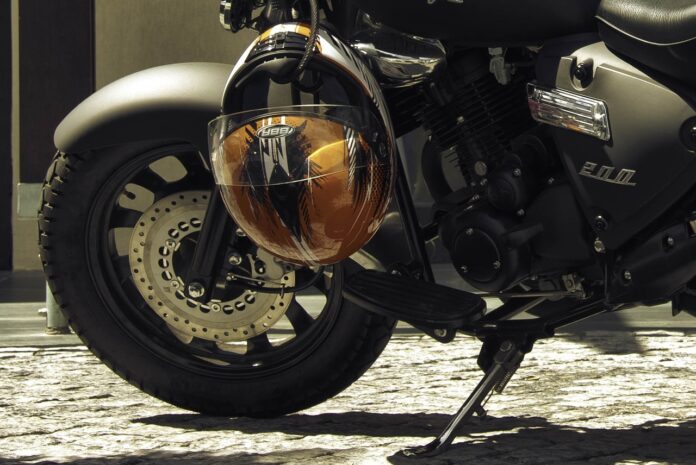 Even if you are enjoying a ride in your cruiser motorcycle helmet, you have to ensure that you wear your helmet every time. A quality headgear will protect you if you meet an accident and may even save your life. However, if you check the various brands and models, you may find it frustrating to search for one that will fit your requirements. Let us help you choose the best cruiser helmets with our carefully curated list.
Top Pick:
The Bell Qualifier full-face helmet is a popular choice by cruiser riders. It is tough, lightweight, and offers protection in case of an accident. It has a removable and washable interior and an aerodynamic and stylish shell. Riders often buy a tinted version because the best cruiser helmet comes with a transparent alternative.
The Best Cruiser Motorcycle Helmets Are
1. Bell Qualifier Full-Face Helmet — Best Helmet for Cruiser Motorcycle
The Bell Qualifier Full-Face Helmet is lightweight, sturdy, and protects the wearer in case of a crash. I like that it has a washable and removable interior, so it is perfect for riders who sweat a lot. The lightweight shell is stylish, and its aerodynamic design is excellent for brisk winds. This cruiser helmet comes with a clear shield, but a tinted version is available as an add-on. 
I also like that the clear shield features a NutraFog II technology for maximized fog protection. Fog is an issue that many riders face; therefore, it is a welcome treat if this full-face helmet solves this problem. The Bell Qualifier Helmet for cruisers has a padded wind collar, but it does not reduce the wind and road noises considerably. 
Features
If you are a newbie on a budget, the Bell Qualifier Full-Face Helmet is the perfect choice for you. You will like its lightweight shell and anti-bacterial, anti-microbial, and microfiber interior. You can remove and wash the lining as needed. It comes in several sizes; therefore, you will get a superior fit. It offers great value for your money, and it even comes with a 5-year manufacturer warranty.
Overall rating: 4.5
2. Vega Warrior Motorcycle Half-Face Helmet — Lightweight and Simple Design
Vega Warrior Motorcycle Half-Helmet is for riders who want to enjoy the wind on their faces. It lessens fatigue and prevents discomfort and neck strain because it is lightweight at 2.2 pounds. I like its drop-down, tinted sun shield because it protects my eyes from the bright light conditions, dust, bugs, and flying debris. However, I cannot wear it at night because it affects visibility. 
The moisture-wicking liner prevents sweat from getting into my face and eyes, and it keeps me relaxed and dry. The EPS foam not only provides cooling abilities but keeps me safe because it absorbs most of the force upon impact. I can quickly take it off because of its quick-release strap.
Features
If you want a lightweight and simple helmet, you may want to try Vega Warrior Half-Helmet because it only weighs 2.2 pounds. You will not notice you are wearing one as you ride during the day. You will like its Comfort Tech Wick-Dri Liner System because it traps moisture. The padded straps will keep off pressure or friction, especially when you are on a long trip. 
Overall rating: 4.6
3. Scorpion Covert Half-Face Helmet — Unconventional Modular Design
The Scorpion Covert Half-Helmet is a customizable three-in-one headgear that fits your preferences. It comes in three pieces, and the top is a standard half-size version. The second part has a rear comfort sleeve that protects the neck and the back of the head. Lastly, it consists of a face mask that uses high-powered magnets to attach to the shell for a quick and straightforward way to put it on and take it off.
I prefer the Scorpion Covert because of its sleek and futuristic look. I get a lot of compliments when I wear it. My sole issue about this helmet is that because it is not a full-face helmet, road noise can be an issue. I wear earplugs as a solution. The front piece is a face mask and does not come with a chin bar. In the case of spin-out or collision, it will not provide protection.
Features
The Scorpion Covert has a half-face helmet design with add-ons. If you are searching for a dynamic and sleek head covering, you may find that it fits your requirements. You will appreciate its modular design and functionality. The liner and visor provide comfort and practicality. 
Overall rating: 4.5
4. BELL Custom 500 Helmet — Classic Look
I like the old-school look of the Bell Custom 500 Helmet. It is the style and shape that I prefer whenever I am riding my cruiser motorcycle. Its bubble-like, fiberglass shell is durable, and the custom-fit, fast-wicking inner padding keeps my head dry during my ride. This helmet is a winner for me, although I have to purchase a face protector and goggles separately for eye protection and cold weather riding. Riding in the winter, gloves are a must-have accessory in addition to a helmet. You must need cold weather riding gloves to maintain warm and responsive fingers, which is therefore essential for survival rather than just for comfort.
I sometimes want to feel the sun and wind on my face whenever I ride for long hours. This three-fourth helmet is an excellent option, although some riders, who always wear a full-face headgear, may feel a bit exposed. I also like its removable liner for effortless washing after my road trips or weekend rides. There are no air vents, so it has awesome noise dampening. I always wear my earplugs, though.
Features
If you want a classic helmet with some safety features and modern updates, you can give the Bell Custom 500 Helmet a chance. It provides excellent value for money, but you may have to put your sunglasses or goggles on whenever you ride. You can also wear a balaclava mask if you will be riding early mornings or in nippy weather.
Overall rating: 4.3
5. Torc T1 Retro Full-Face Helmet — Retro with a View
The TORC T1 Retro Full-Face Helmet does not come with a hefty price tag. It is of fiberglass construction with ECE certification. It is China-made, but I discovered that the company is the largest helmet manufacturer of some of the brands that we know today. This headgear runs large, so it provides a comfortable fit to riders with big heads. I like its fiberglass shell, and upon closer inspection, it is well constructed and lightweight. 
The paint finish and the faux suede interior are not of premium quality. I can understand its misgivings because it isn't one of the most expensive helmets available. I like the D-ring closure and the vent controls, but it is best to adjust them when not moving. I find the visor effortless to operate, and it's locking level keeps it secure. I bought the tinted visor as an add-on for cruising under the glaring sun.
Features
Torc T1 Retro Full-Face Helmet provides an exceptional field of view because of the massive visor. Its lack of breath guard and low chin bar, however, make it prone to fogging on cold mornings. You may want to try it if you prefer a retro style for a change. If you have been donning a sports-oriented helmet, you may notice the whistling and wind noise once you wear this dated headgear. You will find it stylish and affordable with the classic look you want. 
Overall rating: 4.5
6. LS2 Bagger Half-Face Helmet — A Bag Full of Surprises
I like to put on the LS2 Bagger helmet whenever I cruise on a casual weekend because I like how the wind touches my face. Its minimalist design suits my style, and I feel like I was part of the biker gang back in the '70s and '80s. I enjoy my ride with this headgear because it's very functional too. The high-performance fiberglass composite (HPFC) shell makes it durable and lightweight. I'm happy that the liner is removable, hypoallergenic, and breathable.
The underside strap has a quick-lock technology for added comfort and security. It's easier and quicker to lock, unlock, and adjust it, unlike the conventional D-ring version. The neck skirt also fits securely and snugly around my neck and ears. It keeps me warm during my early morning rides. Its downside is that because it's a half-face helmet, it does not suppress road and wind noise. 
If you want maximum visibility and ventilation, you will like the LS2 Bagger half-face helmet. It is ideal for riding during the hot weather because you only have to add a pair of protective goggles, and you're ready to go. Its quick-lock strap secures your head, and you will be happy to know that it meets the US Department of Transportation requirements. You have an assurance that it can protect you in case of accidents because it is also SNELL-rated and ECE-rated. 
Overall rating: 4.4
7. Shoei Neotec II Helmet — A+ for Versatility
The Shoei Neotec II modular helmet is one of my favorites because of its high-quality construction. The fiberglass composite shell uses the Advanced Integrated Method for strength. However, at 5 lbs, this headgear is still on the heavy side, but modular helmets are hefty. 
In terms of aerodynamics, the helmet glides through the air that effectively reduces the overall drag. It has two vents with a straightforward open-and-close mechanism. Hot air escapes, so I always feel chilly. The high-end visor has pin locks, and I can open it into any of the seven positions available. 
Features
If you have the budget for a high-quality, modular helmet, you may opt for the Shoei Neotec II helmet. You will like its comfy liner because it's washable and removable. If you want a customized fit, you may avail of the cheek pad sizes that Shoei offers. 
The pads help reduce the noise from the road and wind, especially if you get the right size. If you're on the techie side, you will find the integrated communications system an excellent feature. You have to purchase the Sena SRL 1 because it's the only one compatible with this headgear.
Click here to view more full-face helmets.
Overall rating: 4.5
How to Pick the Best Cruiser Motorcycle Helmets
You have to opt for a motorcycle helmet because it's the most vital piece of protective gear, far above biker jackets, gloves, and boots. Even if you're cruising at moderate speeds, you have to wear your headgear / helmet models. You may get a permanent injury if there is a sudden change in the stability of your motorcycle. 
If the helmet fits you to a T, you protect your head if there is an accident. It can help save your life. Cruiser motorcycle helmet reviews point out that your head must be safe should you get into any mishaps.
Selecting a Quality Cruiser Helmet
Type of Helmet
You can choose from many types of motorcycle helmets. Half helmets are a reinforced version of a bike headgear, and they offer the least protection and don't protect your eyes while moving. The open-face or ¾ helmets cover the top down to the back of the head and neck but leave the face open. They protect without encasing the head entirely. 
Full-face helmets provide the best protection from all impacts. You may also consider flip-up or modular headgears. They combine the functionalities of open-face and full-face helmets, and they offer full protection with a flip-up visor.
Shell Construction
You have to take into account the material used in constructing the helmet shell. You can choose durable materials like carbon fiber, fiberglass composites, or Lexan polycarbonate. You have to opt for a helmet that offers extra protection against heavy friction and impacts.
Weight
Riders don't wear helmets because of the perceived weight, but if you leave it at home, you don't have anything to protect you. If you plan to buy a helmet, you have to ensure that it's not too heavy by your standards.
Safety Features
You have to ensure that your chosen biker helmet has the necessary safety features for enhanced protection. For instance, you can look for a multi-directional impact protection system. It has built-in padding that absorbs shocks from different directions.
DOT Approval
The best helmets for cruiser motorcycles have approval by the US Department of Transportation. They have to pass rigorous stress testing and meet the requirements of the Federal Motor Vehicle Standard.
Conclusion
Choosing the appropriate helmet is necessary because you need to protect your head in case of an accident while you're cruising. It can save your life, so you have to ensure that you pick the most suitable one for your needs. Our buying guide will ensure that you won't find it daunting and confusing to select the best helmet.
If you're on a tight budget but in dire need of a full-face helmet, you can opt for the Bell Qualifier. It has a microfiber, anti-bacterial, and anti-microbial inner and a lightweight shell. You can easily remove the lining and wash it. You will be happy that you can choose from the available sizes for the most comfortable fit.