Top 7 Best Dirt Bike Battery [Expert Review]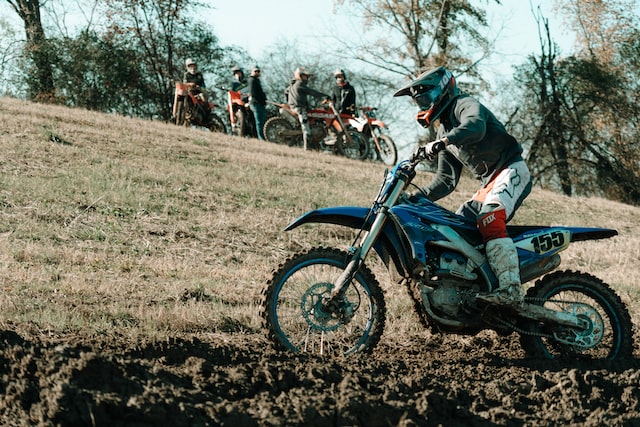 Are you looking to buy a new dirt bike battery? Dirt bikes don't necessarily need batteries to work unless they have electric components. However, more manufacturers are now releasing dirt bike models with electric parts like electronic fuel injection and electric starters. 
While most dirt bike batteries—especially lithium batteries—will last long, they won't last forever. If it keeps losing charge or you're struggling to fire up your bike, you need new batteries. But with so many options in the market, how do you choose the best dirt bike battery? 
I'm a dirt bike enthusiast with over a decade of experience reviewing different dirt bike models and accessories. I have selected seven of the best dirt bike batteries according to their features and benefits. Read on to find out which dirt bike battery you should buy.
At A Glance: Best Dirt Bike Battery
My top choice is the Antigravity ATZ-10 lithium-ion battery. This battery features excellent cranking power, a full battery management system, and fast charge. It also comes with a 50% extra battery pack, which makes it more powerful and lasts longer than standard dirt bike batteries.
The ATZ-10 also features a built-in jump start button which helps you restart your battery when it dies. Although it's more expensive than lead-acid batteries, it also packs more power, charges faster, and last longer. 
7 Best Dirt Bike Batteries
Below are 7 of the best dirt bike batteries available:
Best Lithium-ion Batteries
The Antigravity ATZ-10 is the best lithium-ion motorcycle battery, including dirt bikes. This battery has impressive cranking power, a fast charge, and a decent battery management system. Although it weighs more than your standard lithium-ion battery, it also offers more power. 
The ATZ-10 comes with 12.8 volts of battery power and gives you around 6.1 Amps Hours. With that much power, you're guaranteed about 360 Cramping Amps and can start your dirt bike quickly. 
This battery weighs 2.6 pounds, over two times the normal size of standard lithium-ion batteries. However, the extra weight is due to a 50% extra battery pack, allowing it to produce more power and last longer. 
The ATZ-10 also comes with a full Battery Management Protection System (BMS.) This system performs automatic cell balancing and helps prevent over-charge, over-discharge, and over-voltage damage. 
Another feature worthy of mention is the battery's restart technology. This battery comes with an inbuilt jump-starting that allows you to restart a dead battery with a button press. Hence, you no longer need clamps or a jump starter whenever you have a dead battery. 
The Antigravity ATZ-10 provides enough power to start your engine at any temperature. Its battery management system can easily deal with common lithium battery problems like overcharging and over-voltage.
Like most lithium-ion batteries, it's expensive, so if you're on a tight budget, you may want to look at other options on this list. 
The ATZ-10 has a Quad 4 Terminal design, allowing it to fit anywhere easily. It also has fast charge technology which means you can charge it within a few minutes. 
Pros
Super fast charge
Built-in jump starter technology
Full Battery Management Protection System
Extra weight for 50% more power
Delivers 360 Cranking Amps
Lithium-ion batteries are worth their weight in gold, and the MMG YTZ7S is no exception. 
This battery is eco-friendly, does not require maintenance, and delivers superior performance. However, this may not be your option if you're looking for a cheap dirt bike battery. 
The MMG YTZ7S delivers  12 volts with a starting power of  150 CCA. If you're trying to start an inactive engine, this battery packs enough juice to bring it back to life. It offers more than 50,000 starts and guarantees over 2000 start cycles. 
Like all lithium batteries, the MMG YTZ7S is better than lead-acid batteries in many ways. You don't have to worry about sulphation, as lithium-ion batteries don't have that problem. Also, it doesn't require water, maintenance, or activation. 
With a weight of 1.05 pounds, this battery is ultra-lightweight, which helps to boost your bike's speed and acceleration. It can also fit into different dirt bike models from 49cc up to 250cc.
Another thing this battery has got going for it is its super-fast charge. With just 10 minutes of charging, it's ready to use. It takes around a year before you need to charge it, and it's safe to use even when the battery is not at full capacity.
The battery also comes sealed, allowing for top, front, or side installation.  
Pros
Easy installation
150 CCA starting power
Ultra-lightweight
Eco-friendly 
Maintenance free
Super fast charge
If you're looking for a top-quality dirt bike battery, there aren't many that are better than the MMG YTZ7S. While it may cost more than standard lead-acid batteries, you get good value. 
Best Lithium-ion Batteries
If you're looking for a powerful lead-acid battery, there aren't many options better than the Might Max YTX5L-BS. For starters, it's an Absorbent Glass Mat (AGM) battery which means it's more powerful and has a longer life span than normal lead-acid batteries. Although it lacks the technology of a standard lithium-ion battery, the YTX5L-BS is still one of the best motorcycle batteries money can buy.
The YTX5L-BS delivers a 12V power with a rating of  80CCA. It's enough power to start your engine easily in warm and cold temperatures. It can also power an engine that has been inactive for a while. 
The battery also has a user-friendly 4.40  x 2.75  x 4.25 inches dimension. The small size allows you to fit it into most Dirt bikes, unlike other lead-acid batteries. Also, you can only install the battery with screws, so you don't have to deal with complicated wiring during installation. 
The YTX5L-BS is rechargeable and resistant to shocks and vibrations. Hence, you can easily mount it in any position. 
As mentioned earlier, this is an AGM battery. Therefore, it comes equipped with the SLA / AGM spill-proof, allowing it to provide a high discharge rate. It also means you're guaranteed long service life and do not require a special charger to charge it. 
The Might Max YTX5L-BS is a sealed lead-acid battery. It doesn't require maintenance and is easy to install. While it's a bit more expensive than non-AGM batteries, you're getting good value. 
Pros
Maintenance free
Easy to install
SLA / AGM spill proof
Size allows it to fit into different dirt bikes
Long service life
Can survive low temperatures
Cons
More expensive than normal lead-acid batteries
Sensitive to overcharging
The  Yuasa YUAM YB7C is another lead-acid battery that is worth your attention. It's powerful, lightweight, and has a long service life. Although it's non-AGM, this battery has many impressive features that earn it a place on this list. 
The YB7C delivers a 12V battery power with an eight amp-hour capacity. With that much power, this battery is reliable even during extreme weather conditions. Also, the Yuan YB7C comes with two special thin separators, which allow for extra plates inside the battery. Hence, it packs 30% more power than your standard batteries. 
If you own a lead-acid battery, one of the problems you have to deal with is the build-up of lead sulfate crystals. But this battery comes with a sulfate stop, significantly reducing the battery sulphation. This feature will help prolong your battery life. 
With a weight of 5 pounds, this battery is lightweight and compact. This feature is especially helpful in reducing the weight of your dirt bike, which improves maximum speed and acceleration. 
One thing you should keep in mind is that this battery comes dry. Therefore, you need to order the electrolyte (acid) separately. While it's disappointing, you can easily get acid at your local store. 
There's a rubber cap over the battery's drain that you should take off to avoid getting misted with acid. Apart from the acid, you'll also need a charger to bring the battery to life. 
Pros
12 volts power with eight amp-hour capacity
Special thin separators for 30% more crank performance
Sulfate stop to reduce battery sulphation
Lightweight and compact
Cons
It doesn't come with acid.
It needs a charger to power it. 
The Yuasa YUAM YB7C can withstand vibration, protect against corrosion, and deliver high performance. If buying acid separately isn't too much trouble, this battery is a great option for your dirt bike.
The Weize YTX20L-BS is an AGM lead-acid battery with many excellent features that can enhance your dirt bike engine. It features high resistance to vibrations, a low self-discharge rate, and a high cold-cranking amp. 
This battery comes with 12 volts of battery power and an astonishing 18 amp-hour capacity. It's enough to produce a starting power of 180 CCA. This means you can start your engine in extreme weather conditions and expect it to come to life relatively easily. 
The YTX20L-BS has an Absorbed Glass Mat Design(AGM.) Hence, it has all the AGM battery benefits, including maintenance-free, low self-discharge, spill-proof, and high battery performance. 
Since it's maintenance-free, you can expect excellent performance, reliability, and long service life. You also don't have to keep adding water like standard lead-acid batteries. This saves you plenty of time and effort. 
This battery comes with a lead-plated silver terminal. It offers good conductivity, preserves normal power supply, and reduces power loss.  
Pros
Maintenance free
High cold cranking amp
Low self-discharge rate
Resistance to vibration
Long service life 
Cons
12.5 pounds weight 
More expensive than standard lead-acid batteries
With its high cold-cranking amp and overall battery performance, The YTX20L-BS is one of the best AGM batteries. Although it's heavier than most dirt bike batteries, it's an excellent option if performance is all that matters to you. 
The Chrome Pro YTX5L-BS is a lead-acid AGM battery from the renowned Chrome battery brand. It comes with smart technology, extended battery life, and all the power you need to start your engine. Although the battery capacity doesn't quite match up with some of the options on this list, it's still an efficient dirt bike battery. 
The YTX5L-BS has a 12 volts battery power with a four amp-hour capacity. It produces a respectable 70 CCA starting power. While the capacity isn't eye-popping, it's still enough to start your engine during harsh conditions. 
This battery is injected with gel electrolyte, reducing the risk of spills and splashes. There are many other benefits gel electrolytes bring to batteries. This includes maintenance-free performance, vibration resistance, and resistance to discharge death. 
The YTX5L-BS weighs 3.7 pounds, making it one of the most lightweight lead-acid batteries available. As already explained, dirt bikes perform better without unnecessary weight. Hence, Its lightweight and tough bridge welding combine to make this battery a perfect option for Motocross dirt bikes.  
The YTX5L-BS also boasts smart technology. It has an LED digital display screen that displays the alternator voltage and warning alerts when it is low. 
Pros
Gel electrolytes reduce the risk of spills and splashes 
Smart technology with LED digital display
Lightweight
Tough bridge welding produces vibration resistance.
Maintenance free
The Chrome Pro YTX5L-BS is an excellent lead acid battery that comes with many of the important features you need in a battery. If you don't want to deal with the hazardous nature of wet-cell batteries, this is a good option for your dirt bike. 
If the Chrome Pro YTX5L-BS is slightly above your budget, how about the Chrome Battery YTX4L-BS? It's more affordable and has many features we like in the model mentioned above. While it's not as powerful, it's got enough juice to power most dirt bike engines. 
Just like its successor, the YTX4L-BS is an AGM battery. This means it has many qualities associated with AGM batteries like electrical reliability, maintenance-free, and lightweight. 
It comes with 12 volts of battery power and a three amp-hour capacity. This gives you 62 cranking amps which don't quite match up with lithium-ion batteries but are respectable for a lead-acid battery. It is still enough power to start your engine quickly in moderate temperatures. 
This battery also comes with gel electrolytes. Hence, it can absorb vibrations and has resistance to discharge death.
The YTX4L-BS also has smart technology features like an intelligent chip and digital display. The display shows the battery voltage and will display a warning alert when the voltage is low. 
Pros
Gel electrolyte
Intelligent chip and digital display smart technology
Maintenance free
Electrical reliability
Affordable
According to the manufacturers, this battery is powerful enough to start engines of popular dirt bikes like the Husqvarna CC450, Kawasaki CC400 E/XC Racing 4-Stroke, and Honda CRF125F. However, some users believe they may have exaggerated a bit. In reality, it can power a few 250cc engines and everything else below. Any belief that it can power higher CC engine bikes is, however, far-fetched. 
How to Maintain Dirt Bike Batteries
Dirt bike batteries usually run on little maintenance. However, you may still want to check your battery occasionally. 
Here are some simple maintenance tips to increase your battery's life span and guarantee optimal performance.
1. Check the Electrolytes Level
The electrolyte level in your battery lowers over time. This could expose and damage the plates in the battery cell. You should check the electrolyte level once every month. Maintaining the electrolytes level of your lead-acid batteries ensures it functions properly. This maintenance tip is only necessary if you own a lead-acid battery.
2. Cover up the Battery Properly
Extreme weather conditions can have a damaging effect on your battery. Battery efficiency reduces when you store it in a place that is either too hot or cold. Ensure your battery is stored at a controlled temperature to maintain its condition.
3. Charging Memory
Lead-acid batteries will often not accept a charge that is less than what it has experienced. This is called the charging memory effect. You should use a charger specifically designed for your battery. Do not opt for a cheaper version, espeically if the provided charger fails. So, ensure you charge your battery to full capacity before use. 
Also Read: How Long Does It Take to Charge a Motorcycle Battery?
4. Clean the Terminals
Over time, your battery terminals will accumulate acid and copper sulfate. This can make your battery overheat and prevent it from charging. Keep your terminals clean with a stiff wire brush, and rinse off with water. You can also mix baking soda and water to clean the terminals.
Buying Guide
The following are factors to consider when buying a dirt bike battery:
1. Buy Factory-Sealed Batteries 
Choose a battery that is factory sealed to cut down water loss or acid spill. You don't need to perform regular checks or any water top-ups with factory-sealed batteries. This can save you time and effort. 
2. Cold Cranking Amps(CCA)
The cold cranking amps determine the battery's ability to start in cold conditions. If you buy a battery with low CCA, your dirt bike engine might fail to start during some cold winter days. 
Cold-cranking amps also determine how quickly your battery can start an engine left inactive for a long time. Hence, choosing a battery with high CCA for optimal performance all year round is important. 
3. Power Rating 
When buying a dirt bike battery, ensure the battery has enough voltage and amp-hour capacity to start your bike. Higher voltage means the battery can start your bike in harsh weather conditions. If you own a 450cc dirt bike, a battery that delivers a power rating below 150 CCA may not start your engine in extreme conditions.
4. Compatibility
Some batteries won't work for your dirt bike. Check your bike's manufacturer's guidelines for batteries before buying one. Also, check the battery manufacturer's guide to see if your bike is ls one of the brands they support.
You should also check for the size and dimensions of the battery to ensure it fits into your dirt bike. 
5. Warranty
You do not want to purchase a battery without the manufacturer's support. The longer the guarantee, the better your battery will serve you. Also, buying a battery with a warranty means you can easily return it if it doesn't work or stops working after a while. 
FAQ
How Do I Check My Bike Battery Health? 
Expose your battery terminals but do not disconnect from the bike. Hold the prongs of a voltmeter to the correct terminals and start your bike. Watch the reading on the voltmeter to see if the voltage drops.
Do Lithium Batteries Need a Special Charger? 
Yes, they do. Every battery requires its own specific charger. It increases battery life span and improves performance.
Are Dirt Bike Batteries 12v? 
Yes, most of them are. Any voltage below 12v cannot power a standard dirt bike engine. 
How Many Volts Does a Dirt Bike Battery Need to Start? 
A dirt bike battery needs at least 12  volts to start an engine. When at rest, a standard 12 volts battery will show 12.4 Volts. But when it's active, it shows around 14.4 volts. An active battery that shows below 13.6 volts is running on low voltage, and you should charge it. 
How long does a motorcycle battery last? 
Final Thoughts
Dirt bike batteries provide the power you need to start your engine quickly. Lithium-ion and lead-acid batteries are the two major types available.  Generally, lithium-ion batteries are better than lead-acid batteries. They are safer, more powerful, require less maintenance, and last longer. But this doesn't mean lead-acid batteries are terrible. Many powerful lead-acid batteries, especially AGM batteries, can compete with lithium-ion batteries, and I have listed some of them in this article. If you're looking for the real deal, look no further than the Antigravity ATZ-10. It's powerful, maintenance-free, charges quickly, and offers long battery life.