Best Dirt Bike Cleaner: Top Picks and Buying Guide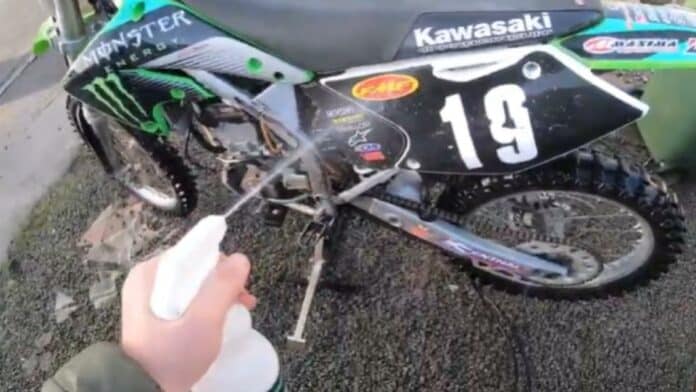 Off-road adventures on your dirt bike are fun! However, cleaning is frustrating. Mud and dirt are difficult to remove. Washing it with water alone won't cut it!
With the best dirt bike cleaner, you can bring your ride back to life without the need to exert a lot of effort! It makes care and maintenance a breeze. Best of all, it does not only restore the appearance of the dirt bike but also ensures peak performance. 
The options abound, but it does not mean that all dirt bike cleaners are the same. This buying guide looks at some of the top products that should be on your list.
Top Choice:
Our favorite product is the Muc-Off 664US Motorcycle Cleaner. It is a high-performance and fast-acting cleaner that requires minimal effort to use. With its spray-on and wash-off application, you can restore your dirt bike's spotless look within minutes. 
Our Top Picks for the Best Dirt Bike Cleaner 
From an all-purpose dirt bike cleaner to one that is made specifically for the chains, you have plenty of choices. We'll make things easier and give you a rundown of the top options in the market.
1. Muc-Off 664US Motorcycle Cleaner – Best Overall
Topping off our list is one of the most powerful cleaners in the market. It stands out because of its Nano Tech formula, which has been exclusively developed by the company. The technology allows it to deliver deep cleaning at a molecular level, making sure that it does not leave behind traces of dirt. 
Another good reason to choose this dirt bike cleaner is its safety. It is made using an alkaline-based ingredient, which is safe to use when washing the different components of your motorcycle. It won't damage brake pads, rotors, seals, and cables, among other parts. 
Speaking of the formula, it is biodegradable. You are not only doing yourself a favor by making dirt bike cleaning easier, but you are also doing something good for the environment. It does not contain CFCs, solvents, and acids that can harm the environment. 
It is also worth noting that it has a Project Green credential. This is a part of the manufacturer's commitment to focus on the environment. It means that you will be using something green for cleaning your dirt bike. 
Nonetheless, one of the problems with this cleaner is that it leaves a stubborn thick film on the surface. It can be quite difficult to remove, so be ready to exert more effort. It may require several rinses before you can get rid of the coat. 
Key Features:
Verdict:
From its innovative Nano Tech formula to the environment-friendly Project Green credential, this is our favorite dirt bike cleaner. 
Overall Rating: 4.9 out of 5 
2. S100 Total Cycle Cleaner - Runner-up 
Ease of use is one of the best reasons to choose this dirt bike cleaner. It is the perfect choice for impatient people. 
With its spray-on and rinse-off formula, you can clean your dirt bike within minutes. Attach a hose or nozzle to the container and you are good to go. If there is stubborn dirt, however, you might need to scrub a bit. 
More so, it is also excellent because of its pH-controlled and non-acid formula. Aside from being effective in removing tough dirt, it also contains corrosion inhibitors. The latter will help in prolonging the functional life of the different components of your dirt bike. Not to mention, it is also good for the environment since it has a biodegradable formula. 
The versatility of this cleaner is also notable. While the company markets it as a bike cleaner, it has many other applications. It is also great as an engine bay cleaner for cars. Additionally, it will yield great results when used in the garden and marine equipment. 
Speaking of versatility, it will work on multiple surfaces and deliver astounding results. Specifically, it is effective when cleaning rubber, alloy, plastic, and chrome. 
However, before using this cleaner, take note that it has corrosive properties. It can damage radiator tubes, rear shocks, painted crankcases, and sprockets. 
Key Features:
Verdict:
Wrapping up, this is an exceptional dirt bike cleaner because of its spray-on and rinse-off formula, which uses biodegradable ingredients. 
Overall Rating: 4.8 out of 5 
3. Slick Products Shine & Protectant Spray Coating - Best Protectant 
While most of the products in this guide are for washing a dirt bike, this option works differently. It is applied after cleaning. The main purpose is the restoration of shine while adding a layer of protection. 
It works on different materials, so you can use it on various parts of your dirt bike. The mild formula will not damage surfaces, including vinyl, aluminum, fiberglass, rubber, and plastic. Upon application, it brings high gloss in an instant. 
A lot of the dirt bike cleaners have a noticeable chemical-like smell. If you hate foul odor, this is an excellent alternative. With its good smell, applying the product won't be a burden. 
Ease of use is another selling point of this product. All that you need to do is to apply and wipe. Within minutes, you can see the results! 
Aside from adding shine and restoring the clean look of your dirt bike, it is also effective in the reduction of mud adhesion. It creates an invisible barrier that makes it difficult for dirt and grime to stick. As a result, cleaning your dirt bike next time will be a lot easier. 
Nonetheless, one of the issues with this product is that the shine does not last long. You need to reapply often if the goal is to make parts of the dirt bike shiny. 
Key Features:
Verdict:
Designed to restore shine and protect the surface, this is effective in creating a barrier that reduces mud adhesion for easy cleaning. 
Overall Rating: 4.6 out of 5
4. Maxima 70-749203-3PK Ultimate Chain Aerosol Combo Kit - Best for Chain Cleaning 
Deep cleaning your dirt bike requires paying attention to different components, and one that you should not miss is the chain. With this three-in-one cleaning kit, you will enjoy complete products that will keep your chain in its best condition. As a result, you can expect better horsepower. 
One of the inclusions in this set is the chain cleaner. It has a special formula specifically for the power sports industry. It is an emulsion-type professional-strength cleaner, which cleans without harming metal surfaces and O-rings. 
The kit is also inclusive of an aerosol chain lubricant. It penetrates the nooks and crannies for effective cleaning. With its distinct para-film formula, it goes deep and creates an effective seal for long-lasting protection. 
Meanwhile, the chain wax leaves a protective barrier that restores the look of the chain. Even better, it has lubricating properties to minimize friction and let the chain work like it is new. 
When applying this chain cleaner, make sure that you are in a well-ventilated area. It has noxious fumes and a strong chemical-like odor, which makes it irritating to use. 
Key Features:
Verdict:
This set ensures the optimal chain functionality by penetrating deeply and lubricating the surface to ensure smooth functioning and to increase the horsepower of your dirt bike. 
Overall Rating: 4.5 out of 5 
5. CRC Brakleen Brake Parts Cleaner - Best for Cleaning Brakes 
For all-around dirt bike cleaning, make sure that you do not miss the brake. This is an excellent product as it gets rid of dirt and grime in an instant. It has the company's strongest formula, so you can be confident that it will work instantly. 
Among others, this brake cleaner is well-loved because of its versatility. It cleans brake linings, brake drums, brake cylinders, brake disc pads, clutch discs, and brake shoes. You can use it even on the engine. Plus, it can be an effective stain remover on different materials. 
More than being powerful, another good thing about the formula is that it is non-chlorinated and non-flammable, making it safe. Nonetheless, take note that it is not approved for use in some states, including California and New Jersey.
One of the most common complaints about this product, however, is that its nozzle can be prone to leaking. Proper handling and storage will help prevent such from happening. 
Key Features:
Verdict:
Keep the dirt bike brake parts functioning at their peak with this non-chlorinated and non-flammable cleaner that can also be effective as a stain remover. 
Overall Rating: 4.4 out of 5 
6. Meguiar's Motorcycle EZ Clean Spray & Rinse
If you are an avid dirt bike rider, then you are probably aware of Meguiar's. More than being made by a reputable brand, we love its ease of application. It comes in a convenient spray bottle with a nozzle for effortless use. Spray, rinse, and your dirt bike will look better within minutes. 
One of the best features of this dirt bike cleaner is the Xtreme Cling foam. This is a proprietary technology that adheres to vertical surfaces to remove even stubborn dirt. It penetrates the tightest corners for 360-degree cleaning. With its foaming action, it cleans even water spots for a cleaner look. 
The formula is also incredible because it is pH-balanced. This means that it does not just clean, but it also won't remove the wax. Plus, it contains biodegradable ingredients, so you won't have to worry about its safety. 
We also love how it comes with an easy-to-use trigger, which makes it economical in the long run. The latter prevents over-application. The nozzle controls the amount of the cleaner to use, minimizing waste. 
Once you are done cleaning your dirt bike, we recommend rinsing the surface immediately. If you let the cleaner stay long on the surface before washing it off, it can leave unsightly streaks. 
Key Features:
Verdict:
Made by a reputable brand, this dirt bike cleaner has easy spray and rinse application and contains pH-balanced ingredients that won't remove wax. 
Overall Rating: 4.5 out of 5
7. Original Bike Spirits Cleaner and Polish 
The company markets this product as a roadside detailer, so you must already have an idea of what it can do. This is a waterless spray cleaner and polish, making it an environment-friendly solution to cleaning dirt bikes. It quickly gets rid of dirt, grime, and bugs, making your dirt bike look better in an instant. 
Packaged in a convenient aerosol spray can, it comes with a large spray tip. The latter ensures enough cleaner in every press, resulting in a large coverage area. It also has a tight cap to create a secure lid, preventing the cleaner from overflowing during storage. 
In terms of its functionality, this product can polish and protect different surfaces, including paint and chrome. It also repels water, protecting the surface from unsightly spots. Plus, it provides UV protection to keep the dirt bike's best look even after years of harsh rides. 
It is also impressive because of its safety. It is VOC compliant in 50 states, which proves that it does not contain volatile organic compounds that can be toxic during indoor applications. 
Nonetheless, some people might not like how it leaves a thick and hazy film after application. You might need to exert effort scrubbing to get rid of the residues. 
Key Features:
Verdict:
Marketed as a detailer in a can, this dirt bike cleaner comes with easy aerosol spray packaging and does not contain compounds that emit hazardous gases. 
Overall Rating: 4.5 out of 5 
8. Bike Brite MC441G Motorcycle Spray Wash Cleaner and Degreaser - Budget-Friendly
Wrapping up our list of the best dirt cleaners is an economical product. It comes in a one-gallon packaging, which will last several cleaning applications. The super-foaming action also makes it cheap in the long run. This allows it to deep clean a larger part of the motorcycle even without using too much of the concentrate. 
More than being effective in cleaning dirt bikes, we also love this cleaner because of its wildflower scent. It has a sweet smell, unlike others with a chemical-like odor. Plus, it is biodegradable and pH-controlled, making it eco-friendly. 
This spray wash goes beyond cleaning your dirt bike. It also degreases the moving parts, such as the bearings and O-rings. It minimizes friction for a smoother performance. To add, the dirt bike cleaner also adds sparkle to your wheels and trims. It works on different parts, including rubber tires and vinyl seats. 
With its biodegradable and non-acidic formula, the cleaner works without being loaded with toxic chemicals that can harm the environment. It also contains corrosion inhibitors, which will help in prolonging the good look of your dirt bike's metal components. 
If there is one problem with this dirt bike cleaner, however, it would be that it is prone to creating lots of water spots. It is tricky to remove, which often requires hard scrubbing. 
Key Features:
Verdict: 
An economical dirt bike cleaner with a biodegradable formula, it degreases and restores shine while also inhibiting future corrosion. 
Overall Rating: 4.4 out of 5 
Essential Considerations When Choosing the Best Dirt Bike Cleaner
To help you pick the best dirt bike cleaner, below are some of the most important things to consider. 
Type of Bike Cleaner 
Bike cleaners are available in different types depending on how they work. Below are some of the most popular product categories: 
Cleaning Concentrate: It has a high concentration of cleaning agents. You will need to mix it with water at the right ratio to achieve optimal functionality. Most of the time, it is an economical solution since you will use only a few drops. 
Cleaning Solution: This type of dirt bike cleaner is pre-mixed with water. It is ready to use out of the container. 
Cleaning Spray: It is a liquid dirt bike cleaner with a spray nozzle on the top of the bottle. This is convenient since it is sprayed directly on the dirt. 
Cleaning Aerosol: Packaged in an aerosol can, it targets dirt and softens it for easy removal and clean-up. 
Chain Cleaner: This will help get rid of debris stuck on the chain and lubricate it as well for smoother functionality. 
Brake Cleaner: Keep your brake in tip-top condition by using a high-quality cleaner, which will also make it more responsive. 
Protectant: This product will create an invisible barrier to protect the dirt bike from dirt, which will make future clean-up a breeze. 
Formula 
Look at the formula or the ingredients to determine the effectiveness and safety of the first bike cleaner. A lot will have powerful chemicals, which can be hazardous to your health and the environment. 
Many of the options above have a biodegradable and pH-balanced formula. See to it that the formula is approved for use in the state where you are in. 
Speaking of the formula, it is also good to have corrosion inhibitors. These are effective in minimizing wear on metal components. 
Ease of Use 
Find a user-friendly dirt bike cleaner so its application won't be a burden. We love those that come in spray bottles because they are pre-mixed and all that needs to be done is to apply it directly on the dirt. 
More so, rinsing the cleaner should be effortless as well. It should not leave stubborn water spots or hazy film that can be a struggle to remove. 
Safety 
Look at the safety standards of the dirt bike cleaner. A lot of them will contain toxic and flammable chemicals. Pay attention to the recommendations from the manufacturer about proper use, such as applying the cleaner in a well-ventilated area. 
Tips and Tricks When Cleaning Dirt Bike
Choosing the best cleaner is just the first step in keeping your dirt bike in its tip-top condition. Clean it like a pro with the following tips:
Before you proceed to the more intricate parts of cleaning the dirt bike, start by dealing with thick debris and mud. Use hot water with a mild cleaner and stiff brush to soften dirt, making it easier to scrub. 
By covering the exhaust, you can prevent water from getting into the system and wreaking havoc. If water accumulates inside the exhaust, rust can be a problem. Not to mention, it can compromise the overall performance of the dirt bike. 
Do No Use Pressure Washer 
Aside from the right dirt bike cleaner, many might resort to using a pressure washer. Nonetheless, it is a big no! The pressure can be too strong that it ends up doing more harm than good. 
As a part of the general cleaning of your dirt bike, do not forget to lubricate the moving parts, such as the chain. This will help in reducing wear and friction. This can also minimize the squeaky noise that the components of the motorcycle can generate throughout your ride. 
The most important tip is to use specialized cleaners, including the products we talked about above. They are made using ingredients specifically formulated to get rid of mud and grime on your dirt bike. Stay away from abrasive household cleaners, which can damage paint and chrome. 
Conclusion 
Of all the products in this best dirt bike cleaner buying guide, our favorite is the Muc-Off 664USMotorcycle Cleaner. It has a spray-on and wash-off application, which makes it convenient to use. Not to mention, the cleaner has a powerful but biodegradable formula to tackle even the toughest dirt. It has a proprietary technology that will break down grime at a molecular level.