Top 6 Best Dirt Bike for 13 Year Olds [Reviewed]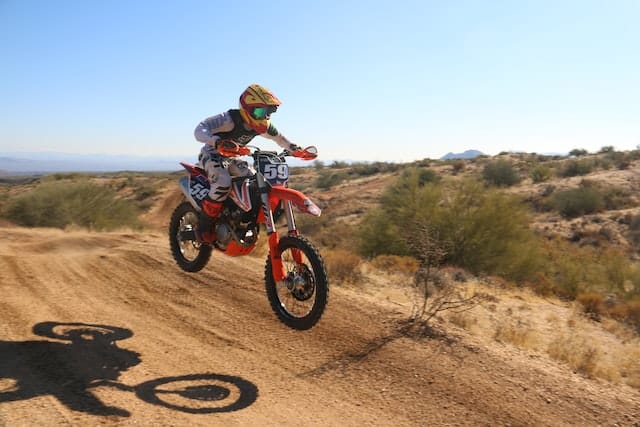 An afternoon riding dirt bikes can be a great way for the whole family to bond. If your young teenage son or daughter wants to get down in the dirt; there are quite a few options parents can choose from to bring the whole family closer together. 
At A Glance: Best DIRT BIKE for 13 YEAR OLDS
Basic Considerations
One of the first considerations to make when finding a dirt bike for your child is how age-appropriate it is. Kids mature at different rates, and what bike works for one child is not necessarily going to be appropriate for another.
Something to consider when getting your young ones on two wheels is previous experience; have they ridden a dirt bike before?
What kind of dirt bike are they wanting, or are you thinking about? You don't want to get a bike that's too big or overpowered for its abilities.
What type of bike are you considering? Dirt bikes come in 4-stroke, 2-stroke, and electric versions, which are a consideration depending on other factors such as age, height, etc.
The Dirt bike's size and the engine's power are important factors to consider too. You don't want to get a bike that's too big engine-wise.
What kind of transmission will the bike have? Depending on their skill level, some teens may be comfortable with a standard shift-type transmission, while those less experienced might find a bike with an automatic transmission more to their liking.
Another consideration is top speed. You don't want to get your child a bike that moves too fast for their skill level. Bad things happen fast, and sometimes bad things happen because you go fast.
And lastly, price is another factor. If your child is really into the sport, investing in a new dirt bike that is matched their capabilities would be a good investment. If your child is just starting to get interested, a second-hand dirt bike can often be picked up for far less than the average new dirt bike price of $7,000 to give your child a taste of the sport and see if they are truly into it.
If your child is a complete newbie to dirt bikes but does have the skills to be able to ride a
motorcycle, one of the good starting points might be an affordable Chinese dirt bike. Dirt bikes
from Asia are plentiful and affordable and can serve as a great entry into the sport. 
Top 6 Best Dirt Bike for 13 Year Olds
An entry-level dirt bike with a 50cc pull-start gas engine. The bike's rear monopole shock absorber helps smooth out the bumps, and an adjustable speed control lets parents limit how fast do dirtbikes go while the front disc brakes provide positive stopping power. This dirt bike can also be color-customized for your child's preferences and comes available in five different colors. It is a great way to get your kid into the game. 
Key Features:
50cc Pull-Start/2-Stroke gas-powered engine 
Top speed of 30 mph
Monopole Rear Shock Absorber 
Disc Brakes
Pros
Easy to start – give the cord a pull, and you're on your way. 
Adjustable speed control. 
Fully automatic; no need for young riders to shift gears.
Cons
Some assembly required 
Questionable reliability.
Maintenance issues have been reported.
The Syx Moto Holeshot 50cc dirt bike is a great entry into dirt bike fun. With its great performance, attractive features, and affordable pricing, the SYX MOTO 50cc Holeshot can be a great entry into dirt bike riding for your little one.
Razor is a well-known manufacturer of electric dirt bikes for kids, and the Razor MX400 Rocket is a great choice for your 13-year-old. Its 24-volt lead-acid battery provides the MX400 with 350 watts of power, enough to propel the bike up to a top speed of 14 miles per hour. Comparatively light at 140 pounds, the MX400 is able to hit that sweet spot of not being so slow that kids get bored with it but not too fast to make parents worry.  
Key Features:
650-watt electric motor 
Chain drive
Compact design fits in anywhere
12-inch knobby tires
Pros
Comes with its own charger
Super-quiet feedback as you ride
Maximum power transfer to the wheels 
Easily switches to high gear
Comfortable
Cons
12-hour charge time 
Runs out of charge fast 
Kids might outgrow it fast.
The Razor MX400 Rocket is a great entry-level electric bike to give kids interested in dirt bike riding a great way to start their hobby. Reasonably priced at around $329, the MX400 won't break the bank, either.
A bit bigger for teen dirt riders with more experience or as a bike your kids can grow into, the Apollo DB-X18 offers kids an upgraded performance kit to help take their riding experience to the next level. This 4-stroke single-cylinder bike features a kick-start 125cc air-cooled engine with a top speed of 55 miles per hour.  Hydraulic brakes help keep speed in check, and the 4- speed manual transmission gives kids the practice they need by shifting gears.
Key Features:
Air-cooled 125cc 4-stroke engine 
Hydraulic disc brakes 
Front and rear suspension
Pros
Great starter bike
Plenty of stopping power 
Easy shifting
Cons
Some assembly required
Some finicky carbs reported
Overall the Apollo DB-X18 offers both kids and grown-ups alike a great dirt riding experience at an attractive price for an entry-level 4-stroke dirt bike.
Moving up a little in the cc range is the X-Pro Sail 150. Built for those young riders ready to move up a little in the performance range, the X-PRO Sail 150 offers enhanced performance at a great price. At 170 pounds with a 4-speed manual transmission and 32.3-inch seat height, the X-PRO Sail 150 is a great fit for older teens and young adults. 
Features:
4-speed manual transmission 
Kick-start 
55mph top speed
Disc brakes front and rear
17" Front/14" Rear tires 
Pros
Good reviews 
Suitable for teens and young adults
Cons
Some assembly required
Some reports of finicky carbs
With its great price, good reviews, and rider versatility, the X-PRO Sail 150 delivers off-road fun at an affordable price.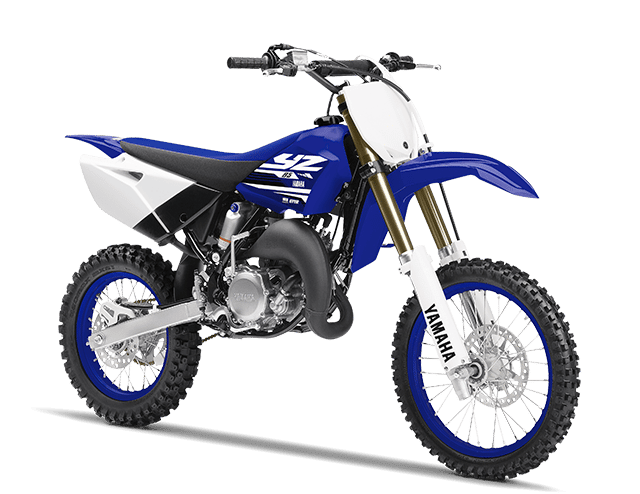 Yamaha's YZ 85 is another good choice for kids wanting to get in the dirt bike game. Yamaha, of course, is a well-known manufacturer of dirt and road bikes, and the YZ 85 carries on that tradition into its smaller-engined machines. 
Key Features:
84.7cc liquid-cooled engine
6-Speed gearbox
Hydraulic Brakes 
65mph top speed
Pros
High-powered, liquid-cooled engine
Improved Air Intake System
Hydraulic Brakes 
Slim design
Cons
Only comes in two-wheel sizes, which riders might outgrow
Not for beginners 
Yamaha's  YZ 85 is a great choice for teen riders who are ready to move up a little in their riding experience. With its more-than-capable engine, great braking capabilities, and Yamaha reliability, the YZ 85 stands out as a dirt bikes for teenager boy will be able to enjoy and refine their riding skills.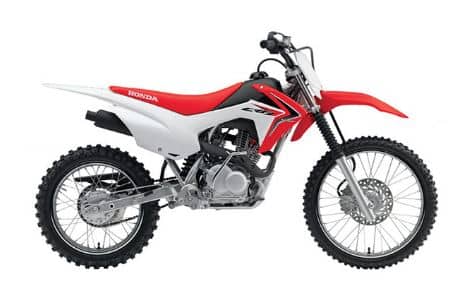 With a total weight of 194 pounds and a seat height of 29.1 inches, the CRF125F is a very popular choice for a youngster's first dirt bike, and parts and accessories can be found almost everywhere. Riders can also personalize their bike's appearance with graphics, easy-to-find parts, accessories, and more. The cool thing about these bikes is that almost every engine out there for dirt bikes of this type is interchangeable. 
Key Features:
Four-Speed Transmission 
Available with two different wheel sizes for teens of different heights 
Front disc brakes 
125cc fuel-injected engine – no carbs! 
Pros
Electric start 
Maintenance-free Battery
Key Ignition lets you decide who goes riding when. 
Cons
No handguards to protect the levers in case of a crash
Hard to find
The Honda CRF125F is a great choice for an entry-level dirt bike. With Honda's reliability, electronic fuel injection, and a range of quality dirt bikes for a wide range of ages, the Honda CRF125F is sure to be a comfortable fit for teens just starting their dirt bike journey.
Safety First
Dirt biking can be a dangerous sport. After considering all the parameters around your little one's interest, it's time to talk about safety. If your child wants to get involved in dirt biking, a safety-approved, age-appropriate DOT, ECE, or Snell-rated helmet is a must. Riding gloves, body armor, and the proper riding boots will also ensure your child stays safe and enjoys the experience.
Helmet 
First and foremost, a good helmet is vital for any rider's safety. Helmets come in a variety of styles, colors, and shapes, but you should look for the Department of Transportation (DOT) approved or Snell safety ratings. There is also the Economic Safety rating for Europe or 'ECE' safety rating for helmets, but that rating is primarily focused on European countries.
Boots
Another very important piece of safety equipment boots. Dirt Bike boots are made to take the abuse of dirt riding and will far outlast any other shoes or boots your child might wear while riding. Averaging about $150 per pair, the correct motorcycle boots are another piece of equipment worth having.
Final Thoughts
All of these dirt bikes listed here are a great way to introduce your teen son or daughter to the thrill and fun of dirt bike riding, but for our money – since anything beyond an introductory dirt bike can get pretty pricey, the Honda CRF125F is our pick for the top choice. The CRF125F brings the well-respected Honda heritage with it, a wide range of parts availability and interchangeability, and encompasses a great machine at a great price that is sure to keep your kids reliably entertained and learning well into their dirt bike journey.