Top 10 Best Dirt Bike Grips in 2023 [Expert Review]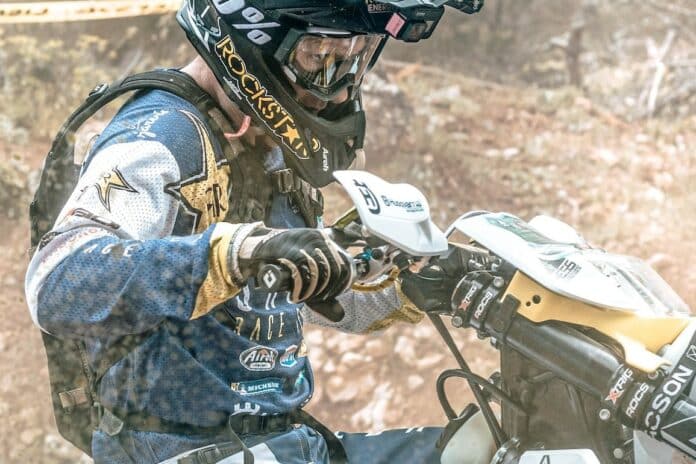 Having good quality grips is essential to getting the best experience and performance out of your dirt bike. Using a set of quality grips helps minimize fatigue, protect you from vibration, and maintain control while you're riding. Navigating the different options available can be challenging.
In this guide, we'll go over some of the key factors to consider when choosing the best grips for your bike. We'll also review our picks for the 10 Best Dirt Bike Grips in 2022 and why we think they're such awesome options for you. 
At A Glance: Best Dirt Bike Grips
Best Dirt Bike Grips in 2022:
Pros
Vibration-absorbing Pillow Top surface for maximum comfort. 
Tacky surface ensures superior grip and minimal sliding
Bonds strong to the handlebars
Cons
Softer compound grip sacrifices longevity for grip
These pillow-top grips from Pro Taper are a versatile and durable offering from a brand that is well known for their quality. The grips use a special surface to reduce vibration and impact when riding. The surface of the grips also features a tacky, gel-like surface which is ideal for off-road riding. 
The grips also feature a different inner core compound for the best possible installation. This compound bonds more effectively with your handlebars for a sturdier installation. This means that the grips are less likely to slide around, even when taking an enthusiastic lap of your favorite dirt track!
Pro Taper uses anti-rip tips and a denser core compound to improve durability. These grips are made to last and should be able to hold up even if you drop the bike. They are also designed to self-clean, shedding dirt and debris, so you don't have to spend extra time brushing them off after a ride. 
Pros
Kevlar-reinforced material for unmatched durability
Diamond and waffle pattern grips make for a versatile grip
Cons
Firm compound means less protection from handlebar vibration
These grips are a firm compound option from Renthal. By reinforcing their grips with Kevlar, Renthal has created a set of grips that take much longer to wear down than the competition. 
The grip pattern of these grips also helps maximize control. Using a diamond pattern gives these grips a less "sticky" feel, while the waffle pattern ensures that the grip is there when you need it. This approach gives you the advantages of both grip patterns without the typical drawbacks of either one.  
Overall, these grips by Renthal are an excellent option for most dirt bikes. However, the firm compound is more vulnerable to vibration and shock and might not be a good fit for someone looking for a "softer" feeling set of grips. 
Pros
Lock-on installation does not require adhesive to apply.
Thicker, softer grips protect very well against vibration.
Cons
Thicker grips may be less comfortable for some riders. 
This set of grips from ODI is designed to be simple and easy to install. Rather than using glue to install on your handlebars, lock-on bars use a tightening collar instead. This means that you can swap out your grips more quickly and get back to riding rather than waiting around for whatever adhesive you use to dry. 
The thick grip is also excellent at dampening vibration from the handlebars. These grips boast a soft compound to their grip surface, which protects you from heavy vibration and shock when riding. 
The thicker grip may also be a drawback for riders with smaller hands, though. If you prefer a thinner grip that is easier to wrap your hands around, then these grips may not be the ones you're looking for. 
Also Read: Best Motorcycle Grips Reviews
Pros
Triple-density design balances out durability and comfort
Multiple color offerings can be matched to bike color
Cons
Rough surface is not recommended to ride barehanded
Thin grips don't mitigate vibration as well as some other options
These patterned diamond grips from Scott are a well-balanced option that doesn't sacrifice riding comfort for durability. Rather than simply being soft, medium, or firm, Scott uses different compounds for different parts of their grip. 
The core compound and end caps are firm, maximizing the durability of the grips. For the diamond grip pattern, Scott used a medium compound to deliver a balance between durability and dampening, and the waffle pattern uses a soft compound for maximum comfort. 
These grips also come in a variety of stylish colors, letting you match the grips to your bike's color if you like. 
Pros
Well-balanced option for a variety of riding styles
Dual pattern design for versatility
Cons
Less resistance to vibration than a softer grip
These medium compound grips are another fine offering from Renthal. The G087 grips use a medium compound in their construction which is more durable than a soft compound but is also better for absorbing shock and vibration than a hard compound material. 
Much like their higher-end offering, these grips feature two grip patterns. The diamond texture allows flexibility, while the waffle pattern down below offers an excellent grip where you need it most. 
Using a medium compound for these grips is a compromise. While the major drawbacks of soft and hard compounds are addressed, the strengths are not present to the same degree. These grips will wear out more quickly than a hard compound and do not provide quite as much comfort as a soft compound grip. 
Pros
Good quality construction to the product
Wide variety of colors available to match your bike
Cons
The uniform diamond pattern doesn't provide exceptional grip
Logo on grips is known to come off
These grips by SCL Motor are a durable option meant to fit any bike. Like a lot of options available today, these grips use a tacky, gel-like surface to maximize grip. The inner compound of the grip helps ensure that the grips install securely. 
The diamond pattern of the grip is also easy to keep clean. Clearing the dirt and debris from these grips is as easy as wiping them down without the deep ridges found on many other grips. 
As a solid OEM replacement, these grips are a good option. However, by using a simple pattern, SCL Motor's offering comes across as having less grip than other options with more intricate or innovative designs. 
Pros
Single compound construction offers consistent comfort across the entire grip
Waffle pattern allows for superior grip and control
Cons
Soft compound wears out faster than a harder compound alternative
These grips from Scott Sports use a full waffle pattern for grip and a soft compound for comfort. Using a single compound means that these grips get the full benefit of that material. 
Soft compound grips offer superior grip and comfort. Vibration and arm pump are minimized, and it's easy to maintain a firm grip without sliding. The waffle pattern further enhances the grip for maximum control. 
Compared to harder compound grips, these grips will wear down more quickly. The softer material is more vulnerable to damage and tearing. For this reason, softer grips like these are a calculated compromise between durability and comfort. 
Pros
Good durability and wear resistance
Grip pattern makes it easier to adjust your grip while riding
Cons
Not great with vibration
Smoother grip pattern offers less control than some alternatives
These rubber grips from D1M offer an exceptionally durable product to fit any dirt bike model. The materials are resistant to wear from harsh conditions. 
The grips are a diamond texture. This helps ensure control without compromising your ability to adjust grip while riding. It is also more resistant to building up dirt and debris and is easier to clean after a ride. 
The trade-off in using a smoother grip pattern is less control overall. Waffle and pillow-top patterns provide better control and grip than the smoother diamond pattern. Using a simple rubber material also compromises the vibration resistance of the grips as well. 
Pros
Comfortable, soft compound grips
Smaller waffle-pattern offers easier readjustment when riding
Cons
Less durability with the softer material
Small array of waffle-pattern reduces grip
By using a smaller waffle pattern and extending the diamond pattern of these grips, Pro Taper makes a grip that offers a more user-friendly experience than some of the competition. Rather than a full half coverage of the waffle pattern, these grips only use the waffle pattern for ⅓ of their surface. 
The materials for these grips are extra soft. This helps with vibration and fatigue. The waffle pattern also compliments the softer compound. This combination allows the grips to provide comfort and control with no compromises. 
While these grips are very comfortable, they also suffer from reduced durability. The softer material is prone to tearing. Additionally, by reducing the coverage of the waffle pattern, these grips offer reduced control compared to the more common half coverage available from other brands. 
Pros
Raised diamond pattern provides excellent grip
Universal fit for most dirt bikes makes installation easy
Cons
Softer grips wear out faster
Raised pattern can be harsh if riding barehanded
These grips from YSMoto offer a stylish, aggressive look. Offered in five distinct colors, these grips are an excellent choice to match any dirt bike's look. 
The grip pattern is much more aggressive than typical options found elsewhere. By using raised studs, these grips offer superior grip. The outer compound is soft in order to offer better comfort. A harder inner compound enhances durability. 
While the unconventional grip pattern provides excellent grip, it can also be harsh on the rider. If you ride without gloves, the rough pattern will be hard on your hands. Like a lot of soft compound grips, these grips tend to wear out a bit faster than the harder grips that are also available. 
Things to Consider When Choosing Your Grips
When picking out the best grips for your dirt bike, there are a lot of options available. While it might seem difficult to choose with so many options advertising so many different features, picking the best grip for your dirt bike is actually a lot simpler than it seems. 
The factors to consider when looking at grips are actually very straightforward. More importantly, they are common to every grip on the market. In this section, we'll go over the things to consider when choosing the best grips for your dirt bike. 
Grip Compound
Most of the grips you will find when browsing around will use one of three different material compounds in their construction. The compound will have an effect on the overall feel of your grips. They are described as "soft," "medium," and "hard" or "firm."
Soft compound grips are made to absorb vibration and provide the most comfortable riding experience. These grips have a lot more give than the other types. A soft compound grip will often have a "sticky" texture, which also provides a better grip. 
The drawback of a softer compound grip is increased wear. Soft grips are more vulnerable to stretching and tearing. This means that they are a very comfortable choice but might not be suited to rough use. 
Hard compounds, by contrast, use a tougher material. These grips compromise comfort in order to provide better durability. Hard compound grips typically don't dampen vibration very well. 
A lot of riders looking for grips that can handle abuse will choose a hard compound grip. If you ride for long distances, though, keep in mind that these grips are not as effective against vibration and fatigue as a softer alternative would be. 
A medium compound grip is a balanced alternative. Grips using a medium compound are more durable than a soft grip but are more comfortable than hard compound grips. While they are not as comfortable as soft grips or as durable as hard ones, medium compound grips are a balanced option for most riders.
Some grips will use different compounds for different parts. It's common to use a harder, more durable compound for the core of the grip and a softer, more comfortable compound for the surface of the grips themselves. With this approach, some grips are able to overcome the limitations of a single compound and provide a better riding experience.  
Grip Pattern
The grip pattern is the easiest factor to notice when choosing your grips. You will be able to see the pattern of the grips immediately.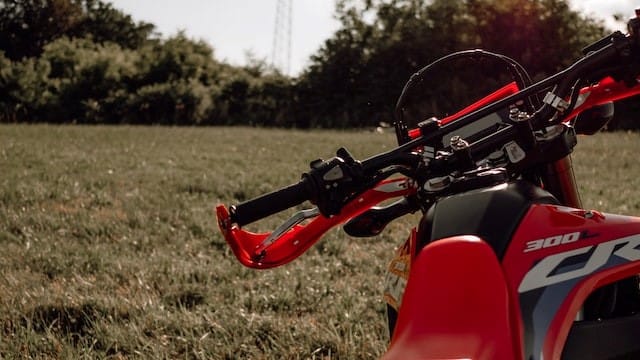 There are a lot of grip patterns available, including some unique designs. Ultimately, though, the most common grip patterns are "diamond," "waffle", and "pillow-top." 
Diamond pattern grips cover the grip with small diamond-shaped beads. This is the finest pattern, and because it lacks deep ridges, it is the easiest to keep clean. Because this pattern is smoother than the others, it also offers the least grip and is often paired up with another pattern to compensate. 
Waffle pattern grips use rectangular boxes to maximize grip in a variety of conditions. The boxes are easy to grip, and because of this, they are an excellent option for riders seeking superior control. 
Pillow-top grips are a specialty of the Pro Taper brand. This pattern uses elevated square cushions in offset rows which provides the greatest comfort and grip. In addition, this grip pattern is known to be nearly self-cleaning. 
Often you will find grips that mix more than one pattern. This is most common with 50/50 Diamond/Waffle grips, which are very common in motorsport. With this option, you get the smooth texture of a diamond pattern on your palm but the grip and control of a waffle pattern at your fingertips. 
Unique patterns that are not listed here are also available. Such patterns may be brand specific or designed more for style. In these cases, the benefits are very often similar to whichever pattern they most resemble. To give you an idea, a special pattern that uses boxes to create its design will be similar to a waffle pattern grip. 
A grip pattern is just as much a personal decision as a practical one. Not every rider will be looking for the same thing, so try and keep that in mind when deciding on your grip pattern. 
Visit Joshua D. Mattie article on Best Heated Motorcycle Grips.
Grip Size
This is an easy factor to deal with. Most grips come in ⅞" or 22mm. Almost every dirt bike available will be able to fit this size. For this reason, most dirt bike grips can be considered "universal" even if they don't advertise it. 
Unless your bike is very unique, you will be able to pick your grips without spending too much time considering the size. In the case that your bike does require a specialized size, that size will be listed in its specifications or owner's manual. 
Price
Just as with any other product you buy, price will always be a factor. Some grips will be significantly more costly than others. This can be because of anything from brand name to special features. 
When shopping for the best price, remember to consider what features you need and are worth paying extra for. If the grips you're looking at are packed with features, you don't need, or even some that would hurt your experience, then you might want to check for a more budget-friendly alternative. 
Your Style
It may be obvious, but different riders operate their bikes in different conditions and for different purposes. This is a major factor to consider that may have nothing to do with the grips themselves. 
For instance, many motocross racers favor medium and hard compound grips with waffle or 50/50 patterns. This combination gives them a tough grip that can take a lot of abuse and give them excellent control. These advantages do come at the expense of comfort, but for a rider that doesn't ride for long periods of time, that might not be a big deal. 
Always keep your own preferences in mind. The best possible grip for one situation may not be the best option for your needs. This is the all-important factor when choosing which grips to buy and install on your bike.  
Frequently Asked Questions
In this section, we'll cover some of the most common questions about dirt bike grips. Chances are, at least one of these has crossed your mind at some point, and now you'll have the answers!
How do I make my grips less slippery?
Your grips will be designed to provide grip, but wear or debris can make them slippery. Keeping your grips maintained and free from dirt and debris is a good first step. Remember also to check your grips for wear, as a worn-down grip pattern can lose grip as well. 
Worst case, if your grips are in good condition and you still find them slick, then it may be time to consider a different grip pattern!
What size motorcycle grips do I need?
This one's easy. Most motorcycles can fit a ⅞' or 22mm grip, as it is the standard size. If your bike is one of the few that needs a special size grip, that will be listed in its specifications. 
Glue or no glue for my grips?
For all but Lock-On grips, you will need adhesive when installing your grips. Using an adhesive ensures that your grips will not slip on the handlebars, even during high-activity riding. Lock-On grips are the exception because they attach with a tightening collar instead. 
Remember: a well-secured set of grips is a safe set of grips!
What grip texture should I choose?
This one is entirely up to you! Different textures provide different benefits, but no one knows the way you ride quite as you do. Your preference may be for a soft pillow-top grip, or it may be for a smooth diamond pattern.
Motocross racers and street riders need completely different things from their grips. Remember to think about what a typical ride looks like for you. However you ride, there's a grip out there that suits you perfectly. 
Best Pick and conclusion
Our pick for the best dirt bike grips of 2022 is the Pillow Top motorcycle grip by Pro Taper. These grips are designed with both comfort and durability in mind. 
As a balanced choice, these grips are suited for many riding conditions, from dirt track to on-road. The special pillow-top texture is also excellent at absorbing vibrations from the handlebars. 
Pro Taper is a very well-known brand, and they have once again delivered a quality product that we are confident to recommend as our top pick overall!
This article covered some of the major factors to consider when looking into new grips for your dirt bike. We also answered some of the common questions about grips and reviewed some of the best options available today. 
Now that you've got a stronger understanding of your grips, it's time to get riding.  Always remember that wherever and however you ride, an afternoon spent on your dirt bike is never an afternoon wasted!