Top 10 Best Dirt Bike Stand in 2023 [Expert Review]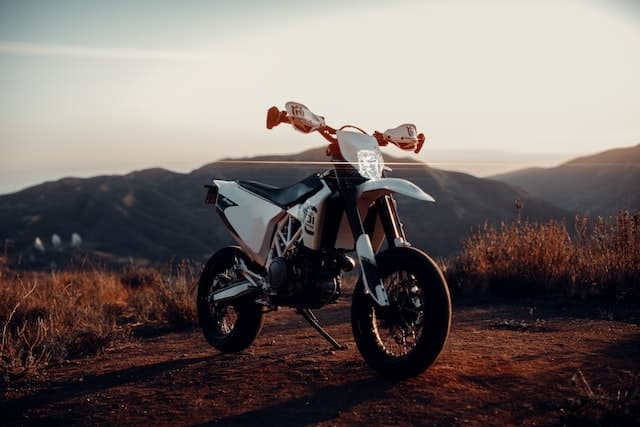 After a fun dirt bike ride, have you wondered which would be the best stand for your dirt bike to test it out before the next ride? 
Most Dirt bikes don't come with built-in stands, a deliberate decision by bike manufacturers. That is because you will make extreme landing jumps and maneuvers while riding and negotiating rugged terrain. Therefore, you wouldn't want to get tangled up by a side stand while at it.
Even though the lack of an inbuilt stand makes sense, how do you safely keep your dirt bike when you're done riding? Thankfully, there are various types of stands on the market, and it can be challenging to choose one.
Lucky for you, I took the time to review the best dirt bike stands you can use in the garage, at the pits or when you park between rides.
At A Glance: Best Dirt Bike Stand
Read on to learn more. 
10 Best Dirt Bike Stand
Here is a list of the ten best dirt bike stands:
Let us take a closer look at each.
Features
Weight capacity: maximum 300 pounds (136kg)
Product weight 63.8 pounds (29kg)
Maximum height 36 inches (914mm)
Minimum height 13 inches (330mm)
Locking pin and safety tie loops to prevent unplanned lowering 
Sizeable oil drain hole 
Heavy duty steel frame construction
Gas and oil resistant top 
Wheels to enable mobility. They also lock in place to provide stability
2-year warranty
Deck size 13 by 16 (350mm × 405mm)
Pros
Adjustable working height
Impressive safety features
Cons
Only for workshop use
May be unstable due to the increased working height.
Stand type 
Hydraulic scissor 
Review 
Pit Posse Dirt Bike Lift Stand is an efficient workshop lift able to handle all bike sizes. 
This stand is sturdy; it can lift dual sports bikes weighing up to 140 kgs.
Additionally, you can lower the stand down to 13" (330mm), and it will simply roll under your bike's wheels. 
The stand also enables you to lift the bike to your required working height up to 36" (914mm)
Once you raise your bike to the required height, you lock the wheels, so the stand stays in place.
What makes Pit Posse Dirt Bike stand unique is the extensive security features it possesses. 
Loops allow you to fasten tie-downs on the bike and secure it in place. 
Plus, a safety pin you place through the frame to stop the dirt bike from unexpectedly lowering.
The stand also has a sizeable deck measuring 13" ×16" (350mm × 406mm) and a rubber band that prevents the bike from slipping off.
Being a collapsible stand, Pit Posse has a drain hole but lacks a tray; thus, you will need to place a tray beneath while draining the oil.
The stand weighs 64 pounds (29kg) and can carry up to 300 pounds (135kg). 
Furthermore, it comes with a manufacturer warranty lasting two years, a critical aspect when buying such a stand.
Features
330 (150 kgs) pounds maximum lifting weight 
Completely adjustable deck height 
Long-lasting antislip pad that stops your dirt bike from sliding off the deck 
A safety lock to keep the bike in place while raising
Minimum collapsed height 9" (248mm), maximum collapsed height 14 ½" (368mm)
Minimum extended height is 13" (330mm), maximum extended height is 17" (450mm), making the stand highly versatile.
Dampers control the descent of the dirt bike, so the bike doesn't fall off while you are lowering it.
Pros
Fair height adjustment scale
Well-built steel construction
Cons
A relatively low lifting capacity
Stand type
Review 
BikeMaster Easy Lift & Lower dirt bike stand assumes position two in this list as it has all the stand essentials at a competitive price.
Firstly, you can tune the deck height to meet your bike's needs for its fully adjustable.
It spins on a threaded bar; all you need to do is place it under the bike, calibrate the deck height and lock it into position using a screw lock.
If you loosen the lock nut, you can spin the bike around; however, to keep it stable, we recommend locking it.
For more safety, the bike has antislip pads and a lever lock for securing the dirt bike while it's down. These two reduce cases of accidental disengagement with the bike on the stand.
Most bike owners report accidents when lowering their bikes from the stand. BikeMaster counters such cases using damper shocks that slow down a bike's descent.
The stand is also portable; consequently, you can carry it to the track or trail.
Features
Universal fit
Sizeable drain hole for fast oil changes
Heavy duty non-slip rubber pad
Magnetized side panels for storing nuts, tools, and bolts 
Completely adjustable top that enables you to determine bike sitting level
Oversized base and lid to improve bike stability
Hardy steel construction
Pros
Long-lasting
Easily adjustable
A non-slip rubber top 
It fits any type of bike 
Magnetic panels on the side provide storage room
Cons
A bit costlier than regular fixed stands
Stand type
Fixed, but it has adjustable height.
Review 
The Risk Racing ATS bike stand has more improved and unique features than most other fixed box stands.
For starters, the stand has an adjustable deck with a pair of anodized aluminum connecting rods that facilitates level finetuning to meet your bike needs.
Generally, dirt bikes have different chassis, and when you fit a skid plate, it interferes with how your bike rests on the stand. It may easily fall off.
To solve this problem, Risk Racing placed two adjustable connecting rods that allow you to lift both bike wheels off the ground evenly.
Place your bike on the stand, calibrate the connecting rods until the bike reaches your preferred level, and position and tighten the locking nuts—an easy and secure procedure.
Most fixed stands have separate trays to place your tools while servicing your bike. Risk Rasing did even better by magnetizing the side plates so that you won't need a tray. 
Additionally, those bolts and nuts that always seem to disappear won't anymore.
The stand has a rugged, chemical-resistant rubber top to prevent your dirt bike from slipping off. It also has a sizeable drain hole which will ease oil changes.
Even though Risk Racing is costlier, it provides stability and much-needed versatility.
Also Read: The Best Synthetic Motorcycle Engine Oil
Features
1500 pounds (680kg) highest weight capacity
Height 16 1/2" (420mm)
Oil and gas resistant rubber-mounted platform measuring 10" × 10" (25cm × 25cm)
Easy to handle as it made from lightweight aluminum
3.375" × 3.375" oil change cut out
A tray to hold spare parts and tools can also function as an oil pan.
Pros
Removable tray
Lightweight 
Heavy load capacity
Cons
You can't adjust the height.
Stand type
Review
Being a fixed stand, you will have to elevate the back of your dirt bike and slide it on the Black Widow MX stand.
The stand weighs a little over 6 pounds, so it's light. However, it can comfortably support 1500 pounds, more than you need. 
You can carry the Black Widow to the trail, track, or home for garage use.
A bike stand is supposed to provide stability; the Black Widow is manufactured using a 1-inch tube frame reinforced on the side and the top. Plus, it has a broad base measuring 16 1/2" × 16 5/8" (420mm × 422mm), which is stable.
I particularly like the oil and gas-resistant textured rubber pads which stop your bike from slipping off. 
The removable tray will help store spare parts, repair tools, and catch oil during oil changes.
Features
It has 11 adjustable height positions starting from 9.5" (240mm) to 14.4" (368mm)
Made to suit 50cc to 650cc dirt bikes 
Gas and oil resistant rubber pad top
Available in six colors: Red, Black, Blue, Green, Orange, and Silver
The foot lever eases the lifting process.
Pros
Strong structure
Good height range
A variety of colors you can choose from
Easy bike lifting 
Stand type
Review
The P12 Adjustable Lift Stand is arguably among the best dirt bike stands made by Motorsport.
For starters, it's not made from regular aluminum, which will easily bend after everyday use. It's made from premium quality airplane aluminum. No wonder it's durable.
Next, the stand has an easy-to-use lifting system and a foot lever that enables you to adjust the bike height while standing.
The 11 adjustable positions range from a minimum height of 9.5 inches to a maximum height of 14.5 inches.
Motorsport placed a hardy rubber patting that is oil and gas resistant and keeps the bike firmly in position.
Sometimes you may be in an area where the ground is uneven. The P12 Adjustable Stand can handle such terrain as its lower legs are made from boxed aluminum tubing arched with flat ends, which provide stability.
Moreover, the deck stand can handle dirt bikes ranging from 50cc to 650cc.
Features
Highest lifting weight is 330 pounds (150kg)
You can calibrate the plate height to fit below most dirt bikes
9 3/4" to 13 3/45" (250mm to 350mm) adjustable range
Efficiently operated using heavy duty double long levered jack pedal
To prevent accidents, the Safety Hold Hook locks the lever when it's in the raised position
The damper shock minimizes cases of the bike freefalling during lowering
Pros
Tough steel construction
Satisfactory height adjustment range
Stand type
Review 
Bike enthusiasts regard the DRC HC2 among the highly versatile bike stands on the market. 
That's because it can comfortably fit small youth bikes and even full-size dirt bikes up to 500cc.
It has extra stability courtesy of the dual plates found on the lifting arm.
To effectively deal with accidental freefall while your dirt bike is on the stand, the DRC HC2 has safety hooks that lock in the down position.
In addition, the damper shock controls the lowering speed to avoid freefall.
You can carry this lift stand to the trail or track, as it is easily portable.
The threaded bar allows you to calibrate the plate height to meet your particular dirt bike needs, after which you can lock it in using the lock ring.
The stand's top plate constitutes a non-slip rubber pad critical in stopping dirt bikes from slipping off.
Features
300 pounds (136kg) Highest weight capacity 
Product weight 76.12 pounds (34.6kg)
Hydraulic scissor lift suited for both MX and dirt bikes 
Completely adjustable height 14" (355mm) to 33" (838mm)
Foot pedals that enable you to raise or lower the stand 
Footpeg springs that stabilize the bike while lifting it
Made from hardened steel
Sizeable oil drain hole atop the platform
Gas and oil resistant rubber top 
Black hard coat covering
Safety pin to prevent unanticipated lowering
Pros
Numerous safety features
Ideal working height
Cons
Only for workshop use
Somewhat costly
Stand type
Review
The Motorsport Products 5012 Hydraulic Scissor Lift is perhaps the ultimate bike stand regarding capability and safety features.
The stand can lift a dirt bike to your required standing height, for it has a carrying capacity of up to 300 pounds (136kg)
You can use the foot pedals that can raise or lower your dirt bike to heights ranging from 14" to 33".
When you raise the bike on the stand, the securing springs connect to the foot pegs providing better stability.
Motorsport also has a safety pin you can insert into any of the four positions on the lower frame to stop the stand from lowering if the hydraulic ram fails.
Furthermore, the toughened rubber mat atop the platform is gas and oil-resistant, and there is a hole you can use while draining oil.
Since this stand needs an even and smooth surface to be stable at its working height, it's only suitable for workshop use.
Features
Product weight: 10 pounds (4.5kgs)
Extra wide feet that provide more stability
Rectangular anti-flex tubes 
Made using high-strength lightweight polycarbonate 
Eight color options: Orange, White, Green, Pink, Blue, Black, Red, and Yellow
Sizeable graphic side panels riders can customize with their racing numbers and names
Some top Supercross and Motocross teams endorse and use the M64 Elite stand.
Stand Type
Review
The Matrix M64 Elite Stand is also considered the Next Generation of Composite lightweight Off- Road stands.
Made from a blend of lightweight, heavy-duty polycarbonate plastic and weighing a measly 10 pounds, it's among the lightest bike stands on the market.
Furthermore, some top off-road, supercross, and motocross racing teams use the M64 Elite stand. 
A factor that puts aside doubts concerning the quality of the stand. That's because competitive teams will not use anything that doesn't meet their high standards.
If you like personalizing your stands, the M64 Elite stand allows you to do so quickly. 
It has spacious side panels on which you can put your name, sponsor's logo, racing number, or cool stickers.
Additionally, the stand has a magnetic strip on its top rail. You can position the M21 Stacking Tray on this strip and use it to store spare parts or tools.
Features
Lifetime warranty 
Steel construction
Broad triangle base for better stability
Fits many dirt bikes 
Pros
Solid build
Portable
Ideal parking stand
Easy to use
Cons
It doesn't raise the dirt bike off the ground.
Stand type
Review 
Pit Posse designed the PP2849 side stand for use when you want to park your dirt bike safely and quickly. It's the ideal parking stand.
Since the stand is compact and lightweight, all you need to do is affix it inside the rear axle, and that's it. 
Even though the stand may look flimsy, it's stable, courtesy of the widened base. Therefore, you don't have to fear that your bike will fall when it leans on it.
Whether you have a dirt bike with an 11mm, 14.5mm, or 18mm rear axial hole, the Pit Posse will fit perfectly.
If you also consider the tough life bike stands must endure, Pit Posse reduces your worry by providing a lifetime warranty. So, you're sure it's a quality product.
Features
Doesn't require tools to assemble 
Lightweight: item weighs 8.8 pounds (4kgs)
Inbuilt carry handle 
Oil and gas resistant 
Available colors: Black/Blue, Black/Black, Black/Red, Black/Orange
Saves space- it can fold to 2" × 17" × 24.5" (50mm × 432mm × 655mm), enabling easy transport.
Non-skid rubber injected top. 
Stable footprint that can support 772 pounds (350kg)
Injection molded finish
Expanded dimensions: base 17" × 18" (432mm × 457mm), high 17" (432mm), top 11.5" × 12" (292mm × 305mm)
Pros
High loading capacity
Easy transporting 
Cons
Platform height may be too tall for some riders.
Stand type
Review
The Polisports Black Folding stand doesn't only save space. It's also sturdy and durable and made from toughened polypropylene plastic.
This stand doesn't require assembly. Once you pull out the legs and press the ribbed section, which locks it into place, you can use it.
The stand's top constitutes molded rubber ribs that are lube, gas, and oil resistant. Features that stop your dirt bike from slipping.
The manufacturer cleverly designed the stand so it won't collapse or fold when your bike is on it.
Things to consider when buying a Dirt Bike Stand- [Best Buying Guide]
Now that you have looked at the best dirt bikes on the market, you may be wondering which one to choose among them.
We have outlined a few factors to help you make the right decision.
Price
You should buy a dirt bike stand that won't cause a massive dent in your wallet. 
For instance, triangle and fixed stands are pretty affordable. However, the prices rise as you head over to the improved scissor-type jacks.
Sturdy construction
An ideal stand should be able to carry your dirt bike without excessive movement securely.
Here, the critical factor is the stand's load capacity. Most stands on this list can handle loads weighing more than a dirt bike.
Height adjustment range
A dirt bike stands maximum and minimum height ranges are critical factors you must consider.
That's because it won't be ideal for repairing your bike while on a short stand, forcing you to bend over while working, which is intensely tiring.
The stand you pick should also have an adjustable deck.
Safety
Some bike stands offer more safety features than others. Even so, if you are looking for a workshop dirt bike stand, you need to take a closer look at its features.
The stand should hold the bike firmly in place while it's raised to maximum height.
It should also have stop-lock features to avoid cases of the stand collapsing while you're working on your dirt bike.
Use
Why are you buying the bike stand in the first place? 
If you like doing home repairs on your bike, it's better to go for a triangle or fixed stand.
These don't need installation and are easy to use. If you want a stand for workshop use, you will need a hydraulic or scissor lift stand.
Warranty 
A product's warranty says a lot about its durability. 
For instance, if a stand has a lifetime warranty, the manufacturer is confident their product will last you for a long time.
Therefore, should the stand develop any issues, the manufacturer will gladly repair or replace it with a new one. Hence you should look at a stands warranty before buying.
Ease of use
Some stands, particularly the triangle and fixed stands, are easy to use. However, the hydraulic scissor lift stands may require somewhat professional knowledge to install and use.
Hence, it's advisable to pick a stand you can comfortably use without much hassle.
Frequently asked questions 
Why put a dirt bike on a stand?
Placing your dirt bike on a stand keeps the wheels elevated to prevent tire and suspension problems. Such issues usually arise when you don't use your bike for a long time.
Furthermore, a stand will facilitate easy and safe dirt bike maintenance by providing a stable and raised working area.
How Tall Are Dirt Bike Stands?
On average, most dirt bikes stand like the fixed, and triangle stands have a height range of 9 inches (248mm) to 17 inches (450mm). 
However, some hydraulic and lift stands can reach a maximum height of up to 36 inches (914mm).
Can I Assemble My Dirt Bike Stand Myself?
There are bike stands you can personally assemble, particularly those that don't require assembly tools like the Polisport Black Folding Stand. Where you only have to connect parts.
We recommend seeking professional assistance if you face any difficulties while assembling.
Doing so prevents cases of the stand collapsing or the bike falling off due to faulty assembly.
What size bike stand do I need?
That will depend on your dirtbike and its intended use; will you use it at the tracks or repair shop?
If you want a stand for track or trail use, it would be advisable to go for a medium or pocket-sized stand. In contrast, a more prominent stand is more suited for workshop use.
How expensive are bike stands?
Bike stands aren't that costly. You can get a durable triangle bike stand for only $30. However, there are others like hydraulic scissor lift stands, which cost upwards of $340.
Conclusion
Choosing an ideal dirt bike stand comes down to two factors, how and where you plan to use it.
Fixed stands are popular among motocross riders since they are stable and light. Allowing you to raise the bike and work on it between races speedily.
Lift and hydraulic stands will work well in the workshop; since they are heavier and hence not easy to carry around.
You can choose from the different stands in this list, whether you're only looking for a stand or a tool to fasten your repair works.