Best Dirt Bikes For 10-Year-Olds 2023 [Reviewed]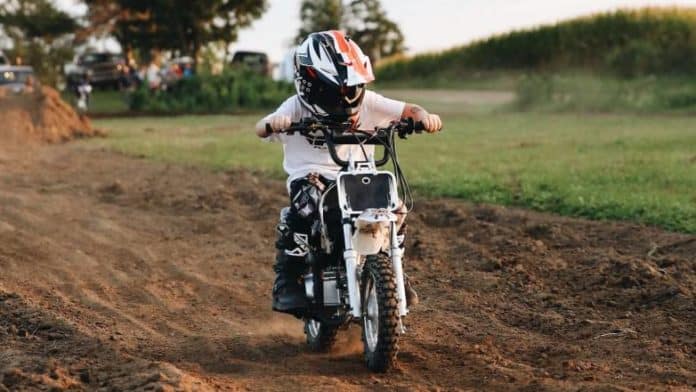 Are you looking for a dirt bike for your 10-year-old that ensures safety while improving the riding experience with loads of fun? This article is the right place to be as it gives you an excellent guide to the best dirt bikes for 10-year-olds. There is also a helpful buying guide on what to look for when buying your young loved one a dirt bike.
Best Gas Dirt Bikes For 10-Year-Olds 
For me, the best gas dirt bikes for 10-year-olds are the Honda CRF110F, Kawasaki KLX110, and Yamaha TT-R110E. Very little separates these three models, but I shall give you a detailed look at each to help you decide to buy what's best for your 10-year-old, along with a few other notable bikes.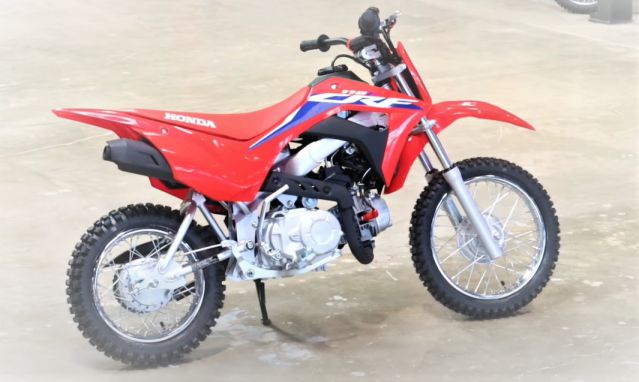 The Honda CRF110F has so much going for it as a dirt bike for kids. Although the top speed is 50mph on the 109cc, 4-stroke engine, there is a speed limiter that you set to match your child's growing riding experience. Most kids hardly get into third gear when riding, as it is fast enough for them in second gear. 
The seat height is 25.9 inches, and it is comfortable for someone who weighs 170lbs and is 4ft tall. This means your child will take longer to outgrow the Honda CRF110F as the average 10-year-old weighs two and a half times less. Some adults have been known to take the odd spin in the backyard comfortably with its wet weight of 163lbs. 
A fully automated transmission with a long suspension system gives ride comfort, while the stability on this bike provides the rider with better control on uneven trails. The CRF110F caters to kids who are taking an interest in biking and those already making biking their sport of choice. 
Another safety feature on the dirt bike is the keyed ignition that lets you control when your child gets to use the bike. There is an electric starter backed up by the old kick-start system for cranking it up when the weather is cold. The 1.1-gallon gas tank is slightly larger than the other two bikes I mention in this category, meaning it travels further.     
At the time of writing, the Honda CRF110F's price tag makes it about $50 cheaper than its main competitors. Add the fact that the bike's parts and accessories are readily available at major outlets like Amazon, and you have yourself a dirt bike well worth spending your money on.   
Pros
Cheaper than its competitors
Larger gas tank
It takes longer for a child to outgrow 
Cons
A bit heavy for some kids weight-wise
Stiffer suspension makes for a bumpier ride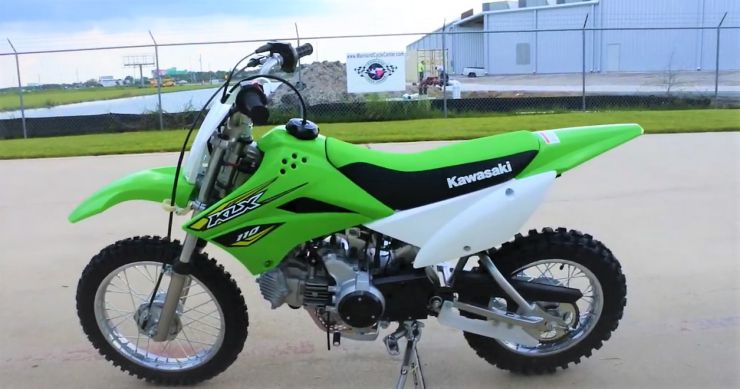 The biggest attraction of the KLX110 with 10-year-olds is the lime green color the manufacturer, Kawasaki, put on this model. Several other features make this dirt bike a perfect option for your 10-year-old biker. It is the best option for beginners as it is lightweight.  
There are dual front brakes on the KLX110, innovative moving reflectors, and training wheels for safety. The bike features drum brakes on 14" front and 12" rear tires with 30mm telescopic front and rear single-shock. 
A 112cc, 4-stroke air-cooled engine allows the Kawasaki KLX110 to take a fair bit of torture off-road. The bike carries an automatic transmission and a quick throttle that can take on bends at high-end speeds. Expect horsepower of approximately 7HP and torque of approximately 6lb-ft on this beginner's dirt bike. 
The seat on the KLX110 is 26.8, adjustable, and it is perfect for the average 10-year-old with a chance to push for a couple of years. It has a wet weight of 168lbs. The best dirt bikes for 10-year-olds are those with a seat height of 26-31. Anything less than that will affect the knee and leg room.   
As far as cost goes, the KLX110 will set you back a few more dollars than the Honda but is at the same price as the Yamaha TT-R110E. Your budget will rule, but there is nothing wrong with paying around $50 more on this Kawasaki if your child is just starting biking.  
Pros
Sound safety lockout system that allows the bike to start only in neutral when engaged
Suitable for varying heights and weights
Cons
No headlamps, indicators, or tail lamps, so it's unfit for main roads.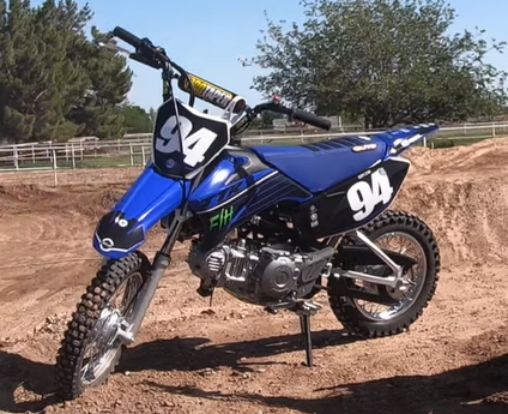 I have mentioned that the top three dirt bikes here are almost similar. The Yamaha TT-R110E provides the most significant difference with its 90-day warranty, whereas the Honda and Kawasaki are both on six-month warranties. As we are dealing with 10-year-olds, this is a factor worth considering and keeping in mind.  
The TT-R110E has a ground clearance of 7.1", giving your kid a fun ride up steep hills and rocks. It has a seat height of 26.4" and a wet weight of 159lbs. There is no need to fill a 10-year-old's gas tank as it might not be used and adds unnecessary weight. 
Like its Honda and Kawasaki competitors, the Yamaha TT-R110E has the backup kick start system installed, which generally needs one or tries to start it. The TT-R110E has a built-in lap timer on the electronic speedometer, making it a great entry-level motocross dirt bike for kids.
The 50cc dirt bike engine, two-valve, air-cooled, SOHC engine with 5.8lb-ft torque carries slightly more speed than the Honda CRF110F, getting maximum horsepower at 7200RPM. A three-speed automatic clutch helps your 10-year-old dirt bike rider learn shift points. 
Pros
Smooth stopping with emergency braking 
Easy to start
Also Read: How to Ride a Dirt Bike: Beginner's Guide
Best Electric Dirt Bikes For 10-Year-Olds
Having checked out the best dirt bikes using gas, let me take you through three electric dirt bikes that your 10-year-old will love. Electric bikes are the way of the future and will probably be what your child will be using as an adult. 
The Pulse Performance EM-1000 is the ultimate beginner dirt bike. Everything is simplified on this bike, and it is the best bike to introduce any child to biking. The centrally situated 24V motor has a power output of 100W at its peak and reaches a top speed of 10mph, which is safe for young beginners.
The Pulse Performance EM-1000 runs on rechargeable 24V 15Ah batteries with a 40-minute runtime. Having two kids sharing this bike might not be advisable as the runtime is relatively short. The bike comes with a 24V charger for a one-hour charging time. It's a simple twist-and-go operation because the Pulse Performance EM-1000 has a single gear. The EM-1000 has a button-operated ignition with a kill switch for safety.
Everything on the frame, including handlebars and swing arm, is made from durable steel with plastic covers giving the look and protection from weather elements. There is less wear and tear to worry about. The bike has a rear drum brake, which has more braking force than disc brakes, and no front brake. 
The EM-1000 pneumatic tires help with lost comfort because the bike has no suspension. Your 10-year-old might feel slightly bumps on this trainer dirt bike, so it is best to stick to smoother roads. The unevenly sized wheels improve off-road performance, with the front bigger than the rear. 
Pros
Gentle acceleration 
Easy to lift and carry around at 37lbs
Good for training first-timers
Pneumatic tires for a little more comfort
Cons
The top speed of 10mph is limited and a bit slow
The runtime of 40 minutes is not great for sharing
No suspension, so rough roads will be painful for the rider
The MotoTec 24V looks like your traditional dirt bike with added features that include adjustable handlebars so you can set your child's most comfortable position. There is a ride mode selector with three modes (Economy, Moderate, High), allowing you to select the maximum speed for your kid and lock it in. These security features make the MotoTec 24V one of the best dirt bikes for 10-year-olds. 
There is an analog battery display with indicator lights. The analog indicator makes it hard to know the level of the two removable 12V batteries that have a one-hour runtime with a 12Ah capacity. You will need 12 hours of charging time for the batteries to go from empty to full. 
The MotoTec 24V features a front and rear suspension with a 500W motor running on a one-speed chain-driven transmission. On Economy mode, you'll get a top speed of 5mph and two hours of runtime. When set to Moderate, the MotoTec 24V hits a top speed of 10mph with a one-hour runtime. The High mode has a maximum speed of 16mph and a running time of one hour. 
Levers control dual hydraulic brakes on either side of the handlebar on the MotoTec 24V. It uses the standard MotoTec hydraulic front forks and hydraulic rear with two 2.5 x 10 aluminum wheels and pneumatic off-road tires. The MotoTec 24V has a durable steel frame with covers made from solid plastic. 
Pros
The adjustable handlebars allow you to set the best riding position for your kid
Key-lock speed selection means you set the maximum speed for your child 
Durable steel frame that does not break easily
Cons
Short running time of one hour
The analog indicator does not show how battery life is left
It takes a long 12 hours to charge from empty to full
With all the basic features, the Razor Dirt Rocket MX350 resembles a traditional dirt bike with brakes operated from the left, a twist throttle, and a kickstand. It is a good bike for beginners and suits slightly older kids to about 13 years.
Two 12V rechargeable batteries sit in a convenient slide compartment under the motor on the MX350. The combined 24V gives your kid 30 minutes of continuous use, and it takes 12 hours to recharge the lead acid batteries from empty to full.   
An unobstructed headset and heavy frame make the MX350 a stable bike that your kid can easily control over rough terrain. Your child will not be tossed around on overly bumpy roads, a huge positive for the Razor Dirt Rock MX350.
The Razor Dirt Rocket MX350 runs a high-torque 350W chain-driven transmission motor with a top speed of 14mph. There is no speed selector on this single-gear beginner's bike. 
The MX350 does not have a rear suspension which makes acceleration from a stop easier as there is direct power from the motor to the rear wheel. The rigid tail takes a bit of comfort out of the ride in really rough terrain. It features a double crown front fork for shock dampening.     
Two 12-inch knobby tires on spoked wheels complement the traditional dirt bike look, making the MX350 best suited to packed dirt or gravel terrain. 
Pros
It comes as a pre-assembled bike
Easier to maneuver on rough terrain 
Easy to maintain 
Cons
Short runtime of 30 minutes
The rigid tail makes off-road rides uncomfortable for kids.
What To Look For When Buying A Dirt Bike For 10-Year-Olds
A dirt bike is a fantastic gift for your 10-year-old. It can be the start of a rewarding career in motorsports, a great hobby, and an excellent way to instill discipline in your child. Let's consider the main factors when buying a kid's dirt bike. 
Height – Take a simple test with your child before buying a bike. Let the child sit on the bike and lean forward. If your child's feet are flat on the ground or the tips of their toes touch the ground, then that dirt bike is not ideal for your 10-year-old. Flat feet on the ground mean the kid is too tall for the bike while touching the ground with their toes shows that the child is too short and will struggle for control. At least one-third of the feet must touch the ground for the safest, most ideal ride for your 10-year-old. 
Seat height – This is the distance from the ground to the top of the seat. Look for a seat height range of 26-31", as this is best for kids. Generally, 27" is ideal for 10-year-olds to get the best comfort when riding. 
Power – Too much power in a dirt bike will overwhelm the child and take the fun out of biking from the onset. If the power is too little, your kid will likely get bored with the dirt bike. Anything above 150cc is too much for a 10-year-old child. With electric bikes, 350-650W is the best range for your child. 350W is ideal for smaller-than-average children with no experience at all. I find that 500-600W of power makes the ride enjoyable for kids. 
Brand – User reviews on places like Amazon are always a good indicator of a good or bad brand. Good brands have aftermarket services and warranties that help maintain your child's dirt bike. Spare parts and accessories are also readily available with trusted brands. Yamaha, Honda, and Kawasaki are well-known brands that have been around for a long time. 
Price – Electric dirt bikes are cheaper than gas dirt bikes but come with less running time and battery charging. Knowing that your child will outgrow the bike sooner rather than later is essential, so you don't want to overspend. You will need to buy another dirt bike in a couple of years.  
Looks – Despite having great safety features, the Kawasaki KLX110R is a hit with kids because of its striking lime green color, so looks are important for this age group. Your 10-year-old will appreciate something that looks like a traditional dirt bike. 
Check out our article on the Cheapest Dirt Bikes written by Joshua D. Mattie.
Conclusion – Buy What's Best For Your 10-Year-Old
What is vital for your 10-year-old is having fun. What is essential for you is that they are safe. The dirt bikes in this article are manufactured to give enjoyment and safety to kids as they start biking. 
There is no need to have the gas tank always full, just as there is no need to buy a dirt bike with more than 150cc power for a 10-year-old. You will buy another dirt bike in a couple of years, so there is no need to overspend.  
Ultimately, the best dirt bike for your 10-year-old is one that will bring the most joy while giving you peace of mind without breaking the bank. Some kids will take the sport seriously, while others will take it as a fun activity. It all depends on that first dirt bike bought by you.