10 Best Heated Motorcycle Gear – Reviews & Buyers Guide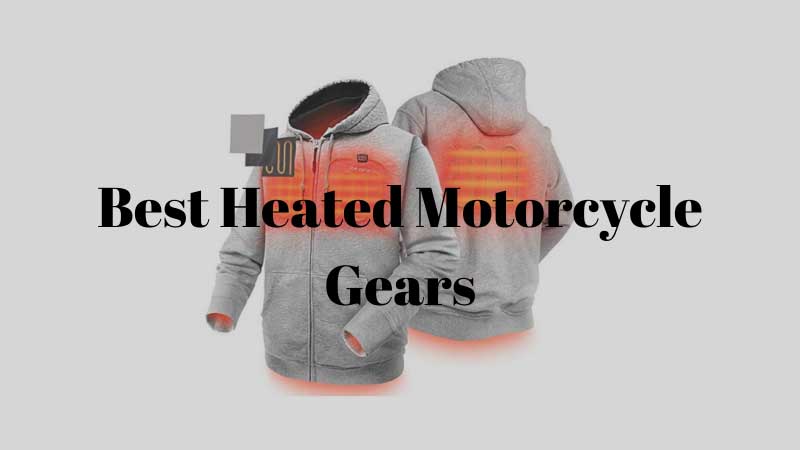 Riding in the cold can be quite tricky if you are not prepared. The wind blast makes it worse, and sometimes, no amount of gear is sufficient enough to keep you warm.

With a little investment, you can get yourself some necessary heating gear to help keep yourself comfortable and toasty. Even something as simple as a pair of heated gloves can provide you with a modicum amount of comfort when riding on a cold wintery night.

Once you've tried heated gear, there's no going back. Get ready to dive in, because, in this article, we will discuss the best-heated motorcycle gear that you can buy to save yourself from frostbite.
Why let cold weather ruin the fun? Read our top reviews on the best battery powered motorcycle heated riding gear, clothing and jacket liners.
Why Do You Need Battery Powered Heated Motorcycle Gear?
When riding a motorcycle, you are continually facing chilly winds traveling at a speed of 60-70 MPH. No matter what speed you're riding at, the constant wind is going to make it feel a lot chillier than it is.

You can either power through the cold or you can take steps to prevent it altogether.

Riding in such conditions is uncomfortable. When you're riding, all you need to focus on is the road and nothing. Being uncomfortably cold can be extremely distracting and thus, dangerous.

Here's why you should consider investing in heated riding gear.
Keeps You Warm
Heated bike gear is a lifesaver when it comes to keeping your driving conditions optimal.

They can make the entire driving experience comfortable, saving you from low temperatures and numbness. You no longer need to dread taking your bike out on a cold winter night.
Improves Concentration 
If your body temperature falls too low, your ability to control the bike takes a severe hit. When your hand start to feel numb, you reflex actions will slow down. This can be prevented with the help of a heated motorcycle suit.
Allows You To Ride in The Winter 
Without these types of heated riding gear, it can be challenging to take your bike out in the winter. Because the weather can often be unpredictable, the likelihood of you getting stuck in the wrong spot is quite high.

Heated gears ensure that your body remains warm if you fall victim to such incidents until help arrives. The only downside to this type of product is that it can get quite expensive. On the flip side, you can use heated motorcycle gears in other winter activities, such as snowboarding or hunting.

With that in mind, you are not investing in something that you will only use occasionally. You get a versatile product that mostly keeps your core warm in any situation you could face.
Our Best Heated Motorcycle Gear, Jacket Liner and Clothing Reviews
In the upcoming section, we have compiled a list of the top-tier products available in the market. The readers will find a detailed breakdown followed by the primary features outlined; let's have a look.
1. ORORO Men's Heated Jacket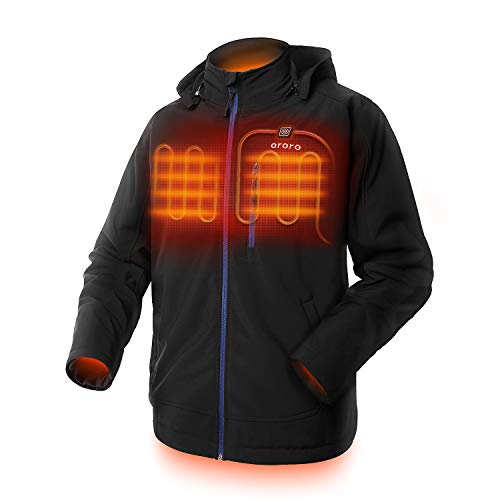 Sometimes having traditional sweaters and jackets isn't enough, and this is where the ORORO Men's Heated Jacket comes in.

This heated jacket has a ton of amazing features. If you are looking for something versatile and lightweight, then this product is for you.

One of the first things you'll notice is just how comfortable and snug it is. It has an external soft and delicate shell fabric lined with thick fleece that will help you stay warm even if it's chilly outside.

The extra features of the jacket don't compromise the heat efficiency. It has three types of warm settings which range from high to low, enabling you to adjust it to your preference. It is also highly durable; at the lowest option, you can run it for a whopping 10 hours whereas the highest last till 3 hours.

Another unique element of the battery in the jacket is that it is lightweight and not easily visible. You can also use it as your mobile charger whenever you are not using it for comfort, which is extremely convenient for you.

It also comes with three heating elements made from carbon fiber, two of which you'll find on the chest and one on the lower back. You can regulate these on the heat settings with a simple push of a button.

The outer material of the jacket is completely wind and waterproof, so you can wear it outdoors, even when it rains or snows. Also, it has a detachable hood that you can remove or put on whenever you want.
Highlighted Features:
2. Mechanix Heat Sleeves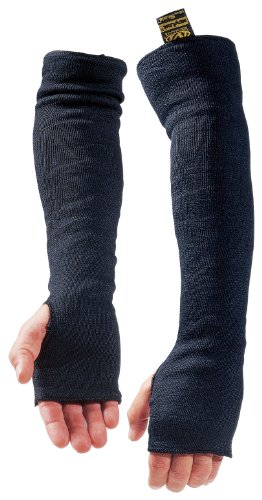 All enjoyable activities come with their own set of risks. For instance, welding can be a fun task to pursue, but it also has several disadvantages. The heat, rays, gases, and flames from the process can affect your well-being.

So, if you want to do the right thing and use a smart and efficient tool while you weld, the Mechanix Heat Sleeves is the perfect product for you. Not only regarding welding, but you can also use the heat sleeves on other similar fields of work. These sleeves protect you from the burns and injuries with efficacy.

It ensures high effectiveness because it is treated and made with Fibreshield; this feature makes the sleeves completely waterproof. Another versatile element is that it gives you more protection than the non-fiber shield sleeves. Other than water, it also repels oils, erosive liquids, and fuels, which keeps you safe and dry.

The sleeves weigh 3.04 ounces and measures up to 18 inches. It comes with allotted thumbholes so that it will fit very securely in your arms and hands. Moreover, the sleeves prevent you from getting any splashes of fuel or oils and are resistant to CE level 2 injuries.

Most heat sleeves come in a single design, but with this particular product, you don't need to worry since you can purchase the stylish and sleek ones in pairs.

You can also wash these heat sleeves in the washing machine or anywhere you want, and it will remain as good as new. And since they provide warmth, you can use them in a cold environment.
Highlighted Features:
3. Saviour Heated Gloves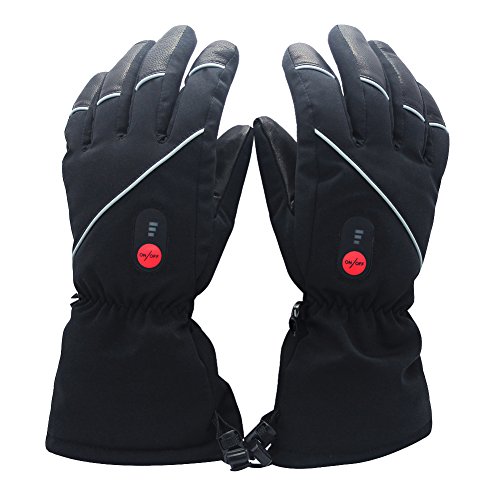 As we all know, the two most temperature-sensitive parts of our body are hands and feet. It's a struggle to keep your hands warm if they regularly stay cold, no matter how much you try.

Most people use insulated motorcycle gloves to heat their hands. However, these gloves come with limitations because they are only able to absorb the warmth that our hands create. So, it will be a problem if your hands don't produce enough heat or if you happen to be in a cold environment.

Also, if you happen to be outdoorsy and enjoy all kinds of outdoor activities, the Saviour Heated Gloves will make a great addition to your equipment. These gloves are the best-heated motorcycle gear that comes with lots of unique and versatile features.

These heated gloves are quite well known because they are made of high-quality riding gears. And since they possess materials of good quality, the gloves are waterproof, so even if you accidentally soak them in the water, they'll most assuredly remain dry.

It also includes a touchscreen compatible patch at the end of the fingertips. This feature will enable you to use your phone or any other device without having to remove the gloves. The heat settings on the glove range from high to low, and you can change it according to your preference.

Moreover, it has a highly durable battery made of lithium-ion, which recharges itself fully within 3 hours. If you suffer from joint pain, carpal tunnel, or chronic arthritis, these motorcycle gloves will help your hands heal as it can warm the fingers as well as the back of your hand.

The gloves come in a sleek black design with reflective white lines across it. This facility allows you and your hands to be seen by other people, especially when you're out cycling, running, or camping.
Highlighted Features:
4. ORORO Heated Hoodie
Hoodies are something that we all love to wrap ourselves inside. Long sleeves, pockets, and a hood, what's not to like? They're convenient, snug, and most importantly, they keep you safe from the cold.

The traditional hoodies sometimes don't provide enough warmth from the bitter cold, and this is where modern technology comes in. Heated hoodies give you not only constant warmth but also can be worn by both men and women, such as the ORORO Heated Hoodie.

When you buy a piece of clothing, other than comfort, the next most crucial element is its style and design. This heated hoodie comes in colors black and silver-gray, made of lightweight materials. The heating components are neither visible nor heavy or stiff, so they are flexible with the fabric.

The heating units are fixed on both sides at the front and also extended across the back. Therefore, the hoodie will provide heat all over the front and back, which will keep you toasty and warm.

Furthermore, the hoodie heats up very quickly. The heat ranges from high to low, so when you are freezing, you can switch the heat setting to its peak, but that will also compromise the battery life. Whereas, a low or medium heat setting will give you up to 10 to 12 hours of battery life.

The battery is very portable and lightweight, and you'll find it at the front of the hoodie, which will not cause you any discomfort.

You can wear this hoodie under a coat to experience complete warmth. Moreover, you can put on this hoodie while you go running, camping, and cycling since it's one of the best motorcycle heated gear.
Highlighted Features:
5. SOA Men's Leather Vest
With such a wide range of leather vests in the market, it sometimes feels a bit perplexing when you have to make a choice. A lot of features have to be looked into, especially if you're looking for something fit for outdoors.

The SOA Men's Leather Vest is a very sought-after vest, mostly because of its leather material. Since these wearables don't have sleeves, that makes it more portable and suitable for you to wear it more frequently.

Very often, some so-called leather vests that you find on sale in the market are made from cheap sewn patches. However, the SOA leather vest is made from 100% authentic cowhide leather. The thick material of the leather ensures extended durability and will not tear up quickly, but it also will not overheat and cause discomfort.

Moreover, it features an individual panel back, over which you can add a club or biker patch. The front part of the vest has a button for a quick close up, and a zipper that you can use to keep the chilly wind away when you're traveling on your motorcycle.

This vest also comes with some pockets, four pockets on the inside and outside, and two kinds of internal pockets that can hold necessary items. One of the top pockets is also featured to hold your sunglasses, which you can use to cover your eyes on a sunny day as you ride on the motorcycle.

The inside pockets have elastic linings and snap buttons that will hold your magazine (if you carry a firearm) and prevent it from tumbling. Its back design will also allow you to paste badges or artwork with ease.
Highlighted Features:
6. Firstgear Thermo Suit
To have a perfect ride on a motorcycle along a highway or mountainside, you also need perfect outwear to compliment the journey. And this is where most of us get puzzled. Often, we underestimate or overestimate the temperature outside and do not gear up accordingly.

As a result, we end up having an uncomfortable ride. What we wear during such an occasion is quite significant. Putting on heavy clothes during a journey outside can restrict your movements, which will lead to a bitter trip.

On the other hand, if you don't wear enough clothes, especially when it's cold outside, you'll end up freezing. Therefore, the long ride will become short and inconvenient.

The Firstgear Thermo Suit is the best-heated motorcycle gear that will help you enjoy your journey!  What this suit does is that it enhances your experience and give you a pure bliss of riding. It is 100% waterproof, so you can take your motorcycle out for a ride even when it's pouring with rain.

This feature is enabled by the 210-denier hypertext, which not only keeps it waterproof, but also makes it quite durable and resistant to tear and wear.

The unique feature of this suit is its ability to give you warmth when it's cold, chilled when it's hot, and dry as a log when it's wet. It can keep you warm and toasted through its polyester insulation of 120 grams. Also, it contains cargo pockets where you can keep your everyday items.

Since it's a one-piece suit, the thermal suit comes with a lot of flexibility. It has adjustable armbands, elastic leg cuffs, and a flexible waist, which take up the add or slack for a fantastic fit. Also, you won't be needing any heated pants anymore. So, you'll be saving money on heated pant liners.
Highlighted Features:
7. Heating Electric Vest
One thing to look forward to when you buy a vest is that it should not carry the bulk that jackets usually do. Mostly, heavy jackets are criticized for being a little complicated and difficult to maintain. It hinders your movements and also makes you look less fashionable.

But vests, especially the heated ones like the Heating Electric Vest, provide you with sufficient warmth. They're also very flexible, so you can wear them over other clothes and they're quite elegant and stylish. It is arguably one of the best-heated motorcycle gears.

It's an ideal product to gift to your family or friends since the materials are of high quality and are perfectly safe for your skin. These features ensure that you will have a smooth and comfortable experience.

You can also wash this vest in your washing machine, and it will remain unharmed and unspoiled. Doing this will not damage the heating mechanism inside the garment, ensuring long-lasting durability.

Another versatile element is its temperature setting, consisting of five gears. It allows you to change the heat setting according to your preference. For instance, if you're hiking, skiing, motorcycling, or fishing, you can adjust the temperature to the environment of your surroundings.

The vest comes in four different sizes with flexible zippers that are on the side of the product. It heats up pretty quickly, with the help of carbon fibers. Also, it contains a TPU sheet, which heats the vest in a matter of a few seconds.

Lastly, the incredible equipment features three heaters that warm up the abdomen, back, waist, and stomach. Moreover, it will help your blood circulation and activate different functions that will help improve metabolism.
Highlighted Features:
8. Gerbing Heated Jacket Liner - 12V
This innovative jacket is the perfect combination of fashion and technology. Whether you want to fish, ski, go camping, or motorcycle riding, this vest can be your ideal companion to enhance your experience.

Being uniquely designed and manufactured for motorcycle riders, it heats up incredibly fast and keeps you warm and toasty during your long rides. It contains 30 meters of warming wire and zip up feature.

The process is quite simple. Before going on a ride, you have to connect one wire to your motorcycle's battery monitor and attach the plug underneath your seat. Next, you attach your jacket into the socket, generally through a temperature controller.

This temperature control will allow you to adjust the heat to your preferences, so you will be able to remain in constant warmth throughout your long ride. The procedure might seem daunting, but it is effortless.

However, the jacket does not include a controller, and you can purchase one for easy use. It is entirely waterproof, so you can go for a fun ride while it rains too! The heating materials are located on the back, chest, sleeves, and collar, which will surround you with complete warmth.

The heated jacket is the only jacket you need to wear when you go on a ride. Wearing too many clothes can make you feel uncomfortable and also quite hot, so this thin layer of the thermal jacket is all you need.

Highlighted Features:
Things to Consider When Buying a Heated Motorcycle Suit
Winter is not a very pleasant time for a rider. It is wet, cold, and uncomfortable if you do not prepare yourself with the right set of riding gear. Heated apparel can make a world of difference, and the options are vast.

In this section, we are going to break down the basics to show you what you need to consider when investing.
Apparel Options
Let us start with gloves as they are the most common of the heated gears.

It makes sense to put this much focus on gloves since frozen or numb hands is extremely dangerous when riding a bike. Moreover, gloves often come as a complete piece, which means that they are built with a full set of protective features.

Jackets and heated pants come in the same design set, meaning complete protection with heated elements, but they mostly come as liners. Liners are meant to be worn underneath your outfit.

Your other gear options are socks and insoles that you can wear inside your boot. Also, a heated vest will make sure you are kept cozy in the cold.

Fit is extremely important when choosing your riding gear. For gloves, make sure that the fit is not limiting your movement. You do not want any restrictions when it comes to you controlling your bike.

Liners should match the fit of your outer outfit. Finding the perfect fit is essential to ensure your comfort using the heated gears.
Power Supply
There are two ways of supplying power to your heated gear; either you use batteries, or they connect to the power supply of your bike. Both methods have their own set of pros and cons.

Let us first talk about batteries. Battery-powered gear is useful when you are planning to make short rides as they do not need any setup time. You do not have to worry about routing any cords or tapping into your bike's power source. All you need to keep in mind is the limited charge.

When it comes to these gears, 7.4-volt batteries are a good choice. Since the cells have a limited up-time, they are perfect for quick-trips and commutes. Batteries come in varying sizes, and you should go for the one that seems the most convenient to you.

On the other line of the spectrum, you get hard-wired gear. It draws power directly from the battery of your motorbike. You get unlimited up-time as long as the bike is kept running.

However, the disadvantage of this type of setup is that it takes some time to get it up and get functional. You cannot stay far from the bike, so you cannot make a stop.

The heating elements in this type of gears are typically bulkier than battery-powered ones. You do not have to worry about running out of juice in the middle of your trip. With an ample supply of power, you can keep your apparels at the perfect temperature as long as you need them.

Wired gear is the heavy-duty choice for making long rides and tours while battery-powered gears suit shorter trips.

However, if you want both options to be at your disposal, there are dual power options available on the market. Dual power devices can use both a wired connection and a battery, so you can switch it up depending on the duration of your ride.

Battery-powered devices come with a storage pouch that houses the cells. For wired gears, you need to route a lead line from the battery of your bike. You have to connect the terminal rings to the bike's battery and run the opposite end to a place that reaches your gear.

You also need to know how much extra electricity your bike can supply. Without that information, you cannot understand if your bike can handle the wattage of your gears. Determine the charging output and operating load. Also, consider any other extra accessories like lights or GPS systems that you may have included.
Adjustability
Battery-powered devices usually come with a preset list of temperature levels. You can switch between them using a button found on the body of the apparel. Hard-wired units come with a controller that needs to be connected to the power source.

Controllers can be either single or dual set. A single set of controllers works the same way as batteries with a list of preset options. With dual controllers, you can heat each piece of gears individually to give you much flexible experience. There are also Bluetooth enabled gears that allow you to access the options via your smartphone.
Tips to Get the Most Out of Your Heating Clothing
Here are a few tips so that your experience with heated gears are comfortable.
Make sure the fitting is snug, and there is no air circulation between the gear and your body.
A layer of clothing between your skin and the gear will make sure that there are no hot spots. If the cloth is sweat absorbing, that is a welcome addition.
The layer of clothing above your heated gear should be water and windproof.
Use a thermostat or controller to fine-tune heat delivery.
Keep fuses and tools as a backup if you need any replacement mid-trip.
Before turning the bike off, turn off your wired gears.
Keep disposable chemical heaters in case of an emergency.
Building Up Your Heated Gear Set
Heated gears can get quite expensive, and not everyone can afford to get the full set right away. But thankfully, due to the flexible nature of the product, you can get it one after the other.

The first item on your list should be the gloves. They are crucial to keep your control and reflex at its best in cold conditions.

If you can keep your hands warm and cozy, you can worry about the rest later. Some people opt for heated motorcycle grips, but gloves will give you the most value.

Next up on the list is getting a heated vest or jacket. Now that you made sure your palm is comfy, a heated vest will make sure that the rest of your upper body gets the same attention. It will allow you to be cozy and warm even in rough conditions.

Then, you should consider getting heated pants. Since you no longer have to worry about anything from the waist up, shift your focus to waist down. With this piece of equipment, you make sure that a comfortable temperature is regulated throughout your body.

Finally, heated insoles or socks will help give your set the perfect finishing. Do not underestimate the power of heated socks in any way. The heat generated from this garment will make sure you get an even flow of warmth all over your body.
Frequently Asked Questions
1. Is it dangerous to use heated motorcycle clothing? Can it catch fire?
The short answer is no. Heated clothing comes with a built-in fuse to protect the wearer in case of a short.
If, for some reason, the fuse is blown, make sure that you replace it with a good-quality fuse. Using low-grade fuses can cause several problems that you would not find very pleasant.
2. Can you wash the gears using a washing machine?
It is generally not advisable to wash these gears in the washing machine. You should wash them by hand when needed and dry them properly.
3. Is there a chance of getting electrocuted when I get wet wearing these products?
You have no reason to worry about getting electrocuted as almost all the products of this type come with protected wiring. You can take your bike out in the rain and wear these gears without any fear.
4. When storing the gears for a long time, is there anything I should be aware of?
No, there is no special treatment required when storing your gears away for the summer.
However, if you want to rid yourself of any worries, you could use a little amount of WD 40 in the connections to prevent any corrosion or moisture build-up. You can do the same for the battery harness.
5. Do heated socks work?
Yes, they do work. You would be surprised at how efficient the heated socks are at keeping your entire body feeling cozy and warm.
They are especially useful when you are doing any cold activities like snowboarding or biking in the winter.
Final Thoughts
Riding a motorcycle is a fun activity that one should enjoy and revel to its full extent. Nothing feels better than zipping across the freeway on your bike. But if something as trivial as the cold gets in the way of your comfort, then your whole experience on the road takes a big hit.

Heated motorcycle gears are not only a valuable investment but also an essential one if you plan on using your bike in the winter. It can get dangerous to be out on the slippery road if you are inhibited in your control due to the harsh weather.

So, if you do not want to put away your vehicle in the garage for the winter, investing in the best-heated motorcycle gear is a great idea. It provides you with the comfort and safety that you need out on the open road. After reading this guide, you should not doubt which heated motorcycle gear is best for you.