10 Best Hitch Cargo Carriers – Review & Guide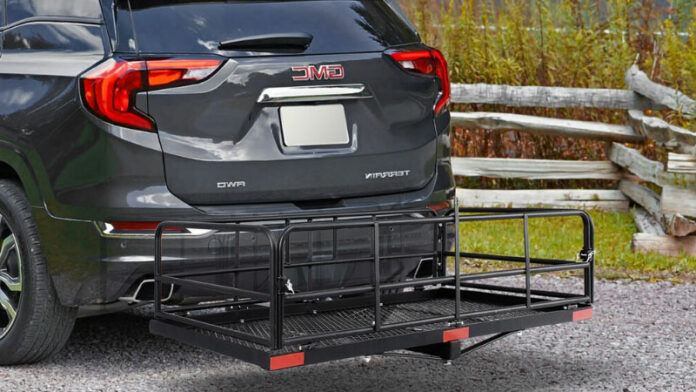 You're packing for a family vacation, long trip, or camping. Suddenly, it hits you that your car, truck, or SUV doesn't have enough space to hold all the gear you want to bring with you. You feel frustrated.
What's your next move?
You guessed it right—a hitch cargo carrier.
You can attach a hitch cargo carrier to your vehicle to maximize its storage. You'll appreciate how it makes hauling your gear easy, including the ones that are too bulky for your car's trunk or interior.
NOW…we researched the market for the best hitch cargo carrier for you. We analyzed numerous models to find a well-made, reliable cargo carrier that suits your needs.
Below, we'll give you our ultimate list of the most reliable models on the market today. We have also prepared a quick buying guide to help you quickly choose the perfect carrier for your vehicle.
Our Best Hitch Cargo Carrier Reviews:
1. MaxxHaul 70107 Hitch Mount Compact Cargo Carrier
Our list of top-rated hitch cargo carrier reviews starts with this MaxxHaul 70107 basket-style carrier. Featuring 500lbs carrying capacity, this carrier is ideal for hauling all your loads such as firewood, cooler, etc., that you'd rather have outside your vehicle during transport.
It comes with a sturdy all-steel tubular construction for maximum reliability, durability, and longevity. You'll also notice that it features 4-inch side rails that help secure even taller loads to keep them from sliding.
The cargo carrier gives you the option of using it with bungee cords to ensure additional security for your luggage and gear when traveling on those bumpy and rough roads/terrains.
Note that this hitch-mounted carrier works mounts to 2" x 2" Class III and IV hitch and can be used with a variety of vehicle models and makes. It comes armed with safety reflectors to help improve your visibility to other road users for safe night riding.
Highlighted Features:
2. ROLA 59502 Vortex Steel Cargo Carrier
This is another popular, high-quality cargo carrier for folks who want even larger storage capacity for their vehicle. It provides you with extra storage capacity (of up to 600lbs) than most of the models you'll find out there. And it is ideal for carrying camping gear, coolers, bags, and other loads.
Not many carriers can match the level of quality that comes with this ROLA. The basket-style carrier boasts heavy-duty steel construction that enables it to serve you for extended periods of time with regular use. Besides, it features a tough black powder coating for protection against elements, rusts, and even scratches.
Another feature that makes this carrier popular is its unique rise-shank design. This not only improves ground clearance for your low riding car but also facilitates easy loading/unloading of your cargo.
You won't struggle to assemble or install this carrier on your vehicle, thanks to its simple two-piece assembly plus easy attachment points for your vehicle license plate. The carrier easily fits 2-inch square receivers on different cars—whether it's a car, SUV, van, or the larger vehicles.
Whether you're looking for a smart storage solution for a road trip, camping, outdoor activities, and other excursions, you'll find this cargo carrier from ROLA an excellent solution for your needs.
Highlighted Features:
3. CURT 18153 Basket Trailer Hitch Cargo Carrier
No matter what you're hauling, what your vehicle you're driving, or where you're going, this is the best trailer hitch cargo carrier to help you add extra storage space in your car.
The Curt offers you an extra space worth 500lbs where you can conveniently haul any additional items that won't fit in your cat truck or interior. It comes designed with 6-inch tall sides that help keep all your items secure, so you can have peace of mind when traveling. If you like, you can also use these walls as attachment points for a cargo net or your cargo bag straps.
Curt uses a robust bolt-together design for this carrier. They also use heavy-duty steel carbide steel plus tubular construction for the carrier. Add these together, and you've got a super-strong carrier will help you haul your gear for years and years.
With its mesh base, cleaning up any debris and spills made by your messy cargo becomes easier!
Don't forget that this carrier comes with a 2x2-inch bent folding shank that offers you more ground clearance for a low riding vehicle. Plus, it will fold up when not in use for convenient storage. The safety reflectors ensure your safety when driving at night.
Whatever cargo you want to carry, from the bulky camping gear and equipment to messy items, this carrier will meet your needs.
Highlighted Features:
4. Pro Series 63153 Rambler Cargo Carrier Basket
Never stop seeking adventures because your small family car can't fit all the gear you need to bring along. This Pro Series cargo carrier is another storage solution that offers you a robust 500lbs instant extra space for all your additional gear and luggage.
Constructed from heavy-duty steel and covered with powder coating, this basket will stay strong and resist elements rust and scratches, giving you value for money.
It features a mesh floor that makes it incredibly easy to clean. It also comes fitted with taller (5.5-inch) side rails that keep your cargo secure and in place. This way, you can ride your whole journey without worrying about your stuff jumping off the carrier.
Just like our previously discussed models, this hitch mount carrier also comes with a rise shank design that helps elevate your cargo and create sufficient ground clearance. The basket carrier will easily slide into any vehicles with a 2-inch square receiver hitch.
With a total of 500lbs on a 60 x 24-inch platform, this carrier will enable you to haul all the gear you need for your upcoming tailgate, road trip, and whatever else life will throw at you.
Highlighted Features:
5. Tow Tuff TTF-2762KR Steel Cargo Carrier
If you want value for money, this is the perfect cargo carrier for you. The Tow Tuff features a unique 2-in-1 design, meaning it can work as a hitch cargo carrier or a bike rack. It's not always that you find a carrier that serves a dual purpose at an affordable rate, so this carrier is truly an exception.
When it comes to hauling your extra cargo, this carrier offers you a total of 500lbs extra storage space. It measures27" x 62" x 3" deep and will give you plenty of room to fit all those camping gear, sporting equipment, and loads that aren't suitable for carrying inside your car.
You can easily convert this carrier to serve its other purpose, which is hauling up to 4 bikes. In this case, you'll appreciate the included adjustable wheel holder and tie-down holes that work together to secure your bike for safe transport. Not to forget, its wheel cradles can accommodate a wide array of bikes and have slots for up to 4 bikes.
Since the carrier comes with heavy-duty steel construction, it's one of the reliable, long-lasting products you can find on the market today.
Assembly is easy and quick and will take you around 15 minutes. You simply attach this carrier into your vehicle's 2-inch receiver hitch and bolt it in place to make a secure attachment.
Highlighted Features:
6. Leader Accessories Hitch Cargo Carrier
This is another best hitch mounted cargo carrier for your vehicle storage need. It maximizes your vehicle storage with an additional 500lbs in the form of a 60" x 24" x 6" basket that will fit all your tailgate, camping, or road trip gear and equipment.
The cargo carrier boasts of even taller side rails—as high as 6 inches—to help keep your items secure during travel. With such heightened sides, not even the bumpy roads will throw your cargo out of the basket.
When you reach your destination, you can turn this cargo into a convenient BBQ cable. Sounds cool, right? It comes with a patented design, where you simply open the legs below the basket to convert it into a stable table for your camping kitchen, barbeque table, etc. Life has never been this easier!
Another reason to get this carrier is its foldable design. It features a folding shank that lets you tilt the cargo carrier and get it out of the way when not in use.
And yes, Leader has designed this carrier to serve you for a lifetime, thanks to the thick 2-piece steel construction plus durable powder coat finish that resists elements, rust, and scratches. The carrier easily fits a 2-inch receiver hitch, and installation is super-easy with all the 8 bolts included.
Highlighted Features:
7. ARKSEN Folding Cargo Carrier Luggage Basket
If you're looking for the best hitch cargo carrier for SUV that lasts for longer than most models out there, you can bet on this Arksen carrier luggage basket. It boasts a durable, heavy-duty steel construction. All the welding is done by a robot arm to ensure the carrier is strong and reliable.
Moreover, it features a black epoxy powder-coated finish that resists road grime, rust, and elements.
Its single-piece fully welded basket can hold up to 500lbs worth of distributed weight capacity. It measures60" x 24-3/4" inch and will just anything you throw into it. It comes with an equally durable steel mesh bottom that helps keep smaller items from falling through.
Thanks to its steel tube 6-inch side rails, this cargo carrier will hold all your items in place and ensure they don't jump off when riding on a rough and bumpy road.
With its pull-pin design, that carrier basket will easily fold out of your way when not in use. The basket will fit all SUVs with a 2-inch square receiver. Installing it on your vehicle is easy and straightforward.
You can use the carrier to carry coolers, tools, boxes, firewood, and other gear that you prefer to haul outside your vehicle.
Highlighted Features:
8. CURT 18151 Basket Trailer Hitch Cargo Carrier
Even if you think you have the roomiest vehicle, you might get frustrated when you try packing for a long trip and realize that you're short on space. This Curt basket trailer cargo carrier is designed to help extend your vehicle storage so that you don't leave behind a single piece of gear or luggage.
If it's from Curt, it's made to last! This cargo features a robust bolt-together design. It features heavy-duty carbide steel (with tubular design) construction for increased strength and longer lifespan. Moreover, it comes with a durable black powder coat finish to resist scratches, rust, and UV damage.
The carrier, like nearly all the others on this list, will offer you up to 500lbs storage space. It also comes armed with heightened sides (up to 6 inches) to ensure all your items stay put in the basket, and give you peace of mind as you sit behind the wheel.
Another cool thing about this carrier is its 2 x 2" folding shank that easily folds up and out of the way when not in use. The shank is also angled to offer additional ground clearance for your low riding vehicle. The sturdy mesh base keeps your smaller cargo from slipping through, further enhancing the security of your load.
Highlighted Features:
9. CURT 18145 Cargo Basket Hitch Trailer Hitch Cargo Carrier
Still looking for the best trailer hitch cargo carrier for the money? Try this basket cargo carrier. Like the previous carrier, this model is also proudly designed by Curt to meet your needs for extra storage space in your vehicle.
It comes with a 500lbs total capacity that easily fits most items, including the bigger and bulkier cargo, camping gear, etc. It has a basket style storage space with 6-inch high side rails to keep your things secure so that you can travel to your destination worry-free. Where necessary, you can use these side rails to fasten your cargo bags or cargo net.
The carrier's tubular base will ensure easy cleaning whenever you haul messy items. However, this might not be the ideal platform for carrying smaller items since they might easily fall through.
Unlike its sibling above, this carrier is more versatile as it fits both the 1 1 /4-inch and 2-inch receiver hitches. This simply means that it'll work with even more vehicle designs and models.
Being a Curt product, this carrier is also made of heavy-duty carbide steel for increased strength and reliability. Additionally, it has an e-coat and carbide black powder coat for long-lasting corrosion resistance. The integrated reflectors make you easily visible to other road users, ensuring a safer night ride!
Highlighted Features:
10. OKLEAD Heavy Duty Hitch Mount Cargo Carrier
The last model on our hitch cargo carrier reviews list is in no way the least of them all. It comes ready to offer you instant extra storage of up to 400lbs. And it will easily haul that cargo that's giving you a headache, including storage bags, luggage, camping gear, and more.
It also comes ready to reliably hauling your loads to various destinations for years to come. This is evident from the heavy-duty 1-piece steel construction it comes with for maximum strength. On top of this, it features a matte black powder coating that resists rust, elements, and scratches.
If you're hauling smaller items, you might be worried that they might slip through and fall off during transport. But this isn't true. The OKLEAD carrier comes with a mesh surface that helps keep your smaller items from falling. It also comes with14.4-inch raised tubular side rails that ensure your cargo doesn't jolt or slide while in transit.
The carrier is compatible with a 2-inch hitch receiver hitch and will easily fit a variety of vehicles. You'll appreciate that it comes equipped with two red reflectors to ensure you stay visible to other drivers when riding at night or in rainy and other severe weather conditions.
For hauling all your extra cargo bags, large camping gear, luggage, and more, you can trust this Oklead heavy-duty hitch mount carrier to meet your storage needs.
Highlighted Features:
Do hitch cargo carriers need lights?
One of the things you might be wondering when installing your new hitch mounted cargo carrier is whether you'll need to add lights to it.
Generally, you don't need to add any lights to your cargo carrier if it doesn't obscure your vehicle's taillights.
But then again, it will depend on what your state laws say regarding the cargo carrier…
You'll discover that some states take it as going against the law to have your cargo carrier block the taillights as well as the license plate. Thus, we highly recommend you to check what your local laws say regarding cargo carrier to ensure you don't find yourself attracting ridiculous fines or even jail time.
In our honest opinion, however, we believe that it's quite essential to have extra lights installed on your cargo carrier, even if your state laws don't require you to do it.
Why?
It's simple, these lights will increase your visibility on the road. This can significantly reduce your possibility of getting involved in a road accident—ensuring you enjoy safer rides.
Things To Check Before Getting One
When shopping for the best hitch cargo carrier, analyze the carriers available based on the following features to help you make a wider decision:
Construction material
One of the key features to look for a hitch carrier is the materials used to make it. This will give you a clue to its strength, reliability, and durability.
Steel or stainless steel is the most common material used for hitch cargo carriers. This is because it's heavy-duty and can't withstand regular use without showing any signs of bending or breaking under pressure. The best steel carrier should also feature a coating to protect it from elements, rust, and scratching.
Aluminum is another popular material used to construct these cargo carriers. The best aluminum hitch cargo carrier offers the same strength and reliability as a steel carrier. However, it feels more lightweight and is rust-resistant.
Then, there's polypropylene, a durable plastic. It also feels lightweight and is resistant to elements. Needless to say, a carrier made using this material will not have the same weight capacity as the steel or aluminum metal.
Carrier platform
Another important factor to consider when looking for a new cargo carrier for your vehicle is its platform. What really matters in a platform is its style and its size.
Let's break it down for you:
1. Type of platform
The two most popular types of platforms you'll get on the market today include basket and flatbed style:
2. Platform Dimensions
Apart from style, you should also check the size of the platform. Simply put, bigger is always better as it means you can put even more items in your carrier.
The most popular models have a length of around 58 to 60 inches and a width running from 20 to 24 inches. Models with this size can fit nearly anything without much hassle.
Your unique needs will help you pick the right size of the platform. If you plan to haul only a few items when traveling, you should go for a smaller carrier. The opposite is true.
Carrying capacity
Another equally important factor that will help you get the right cargo carrier for your needs involves the carrying capacity.
As you might have already noted from our list of the top-rated models above, most carriers have a weight capacity ranging from 400 to 600lbs. But the majority of them have a weight capacity of 500lbs.
If you plan to haul heavy cargo, then you'll be pleased to note that any carrier that's well built, using reliable and durable materials and with a weight capacity of 400-600lbs will meet your needs.
However, keep in mind that some manufacturers usually give misleading info on the capacity of their models. To ensure that your carrier is indeed capable of carrying the recommended weight, check its construction materials and weight.
Lightweight (unless it's an aluminum carrier) and flimsy carriers will, doubtlessly, not be able to hold heavy items and might end up breaking midway the journey.
Ease of assembly/installation
The perfect cargo carrier for your vehicle should also be easy and straightforward to assemble and install.
If you're not careful, you might buy a model that's pretty confusing to setup.
The secret is to look for a model that comes with a clear set of instruction on how to put it together and install in on your vehicle. Carriers that come with fewer bolts and nuts to work with will take you less time to install.
Alternatively, you can look for a carrier that comes fully pre-assembled, so you'll just have to worry about sliding it in your vehicle's receiver hitch.
Checking what the previous users are saying about a hitch cargo carrier will also give you clear details on its ease of assembly and installation.
Additional features:
Frequently Asked Questions
Q: Are hitch cargo carriers safe?
Absolutely! Hitch cargo carriers have been around for years and years and have proved their place as one of the safest and most convenient ways to ferry your cargo.
The accidents involving these carriers are usually due to user error. To ensure you have a safe experience with your carrier, we advise you to install it properly and avoid overloading it. Using safety reflectors will help enhance our safety when riding in bad weather or at night.
Q: Is it legal to attach a hitch carrier to my vehicle?
It's 100% legal to attach a hitch cargo carrier to your vehicle. The way you connect it, however, might be what draws the line between legality and illegality of these carriers. For instance, blocking your vehicle's license plate or vehicle tail lights with a cargo carrier is considered illegal. Be sure to check what your state says regarding the use of hitch cargo carriers.
Q: How much weight can a hitch-mounted cargo carrier hold?
Most of the hitch cargo carriers can comfortably hold several hundreds of pounds of weight of your cargo, with the average figure being 500 pounds. However, you can find a model with a higher capacity to meet your needs. The golden rule here is to ensure you only load your carrier according to the manufacturer's recommended capacity. Overloading can lead to bending and running your carrier, cutting short its lifespan.
Final Verdict
Buying your first hitch-mounted cargo carrier can be a hassle. You have no clue where to start, what to look for, what to ignore, or how much to spend. We have tailored this guide to help answer all your questions regarding the cargo carrier and help you easily select the most suitable one for your unique cargo carrying needs.
We have also provided you with our ultimate list of the 10 best hitch cargo carrier models to choose from. Order the most suitable carrier from this list so you can spend less time shopping and more time exploring new adventures with your family or friends.