Best Leather Motorcycle Gloves: Top Picks and Buying Guide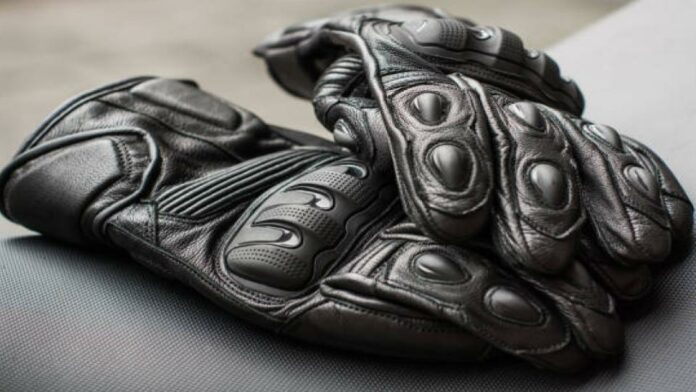 Needless to say, protecting your hands—including the skin, muscles, nerves, bones, and ligaments—when riding a motorcycle is very important.
This makes choosing a pair of motorcycle gloves an important decision. We think the best leather motorcycle gloves are the ones made of leather. But if you're not sure how to choose, we've got some great suggestions that we think will provide the reliable protection and comfort you have been looking for.
Keep on reading to find out more about our top six picks. 
Top Pick
Our top pick is Alpinestars SMX-2 Air Carbon V2 Leather Motorcycle Gloves. These multi-panel leather gloves will meet your specific needs. The full-grain leather provides great abrasion resistance and is highly breathable. You've also got reliable touchscreen capability and a comfortable pre-curved design.
Here Are the Best Leather Motorcycle Gloves:
1. Alpinestars SMX-2 Air Carbo n V2 Leather Motorcycle Gloves — Best Overall
Improve your motorcycle riding experience with these leather motorcycle gloves from Alpinestars. You will find them super cozy right out of the box. 
These gloves feature a multi-panel main shell construction, which is integrated with full-grain leather, abrasion resistance, 3D mesh, and high levels of breathability. The full-grain leather is exceptionally strong, breathable, and durable.
Then you've got a PU and microfiber grip insert on the thumb and palm for superior grip control. They come with an impressive ergonomic stretch insert that does a great job of improving the range of your hand movement. 
The carbon knuckle guards are just amazing, considering the abrasion and impact protection they provide. Not to mention that the guards are reinforced with EVA foam to improve fit, shock absorption, and comfort.
Another thing that makes these gloves our top choice is the many color options and sizes available. 
Key Features
Verdict
We think Alpinestars have done a great job on these gloves. So, you can rely on them for protection and comfort.
Overall Rating: 4.6
2.  Joe Rocket Classic Riding Leather Gloves
Are you planning a ride in the cold weather? The Joe Rocket classic riding leather gloves are the kind of protection you need for your hands. 
Joe Rocket used supple drum-dyed cowhide leather on these gloves, which is great because they offer exceptional puncture and abrasion resistance. You will truly appreciate the pre-curved design that keeps your fingers relaxed when riding over longer distances. 
They've also got a big gel palm that does a great job of enhancing your grip and dampening vibration.
The hinged fingers provide added dexterity when you are using your hands. The gloves don't come with a wrist strap for securing the fit, but they have a flex-wrist design for easy and quick on and off. This model, however, is a thick-fit version, which might run large for some riders.
Key Features
Verdict
The design of these gloves may appear simple, but we think they will exceed your specific needs. Just make sure you pick a size that won't run large.
Overall Rating: 4.6
3. ILM Goatskin Leather Motorcycle Gloves
This is the next incredible pair of leather motorcycle gloves we think you should consider buying if you are looking for protection, dexterity, and durability when riding.
The goatskin leather material is one of the strongest on the market. It is abrasion-resistant, waterproof, and supple. But what truly makes goatskin leather stand out is its fine dexterity, which allows you to use your mobile device without taking them off.
We really appreciate the stretch lips at the backhand and finger, which improves flex fatigue resistance and an excellent fit. With the cuff adjustment tab, you can effectively control the fit.
You will not have to worry about protection with these gloves because they are integrated with extra palm paddings and hard knuckle protectors for superior abrasion as well as impact resistance.
Key Features
Verdict
If you are the kind of rider who likes checking your phone most of the time, then we think you will appreciate the versatility of these gloves.
Overall Rating: 4.5
4. Indie Ridge Leather Motorcycle Gloves
If you're thinking of making your ride more stylish, more comfortable, and safer, then you might want to consider getting the Indie Ridge leather motorcycle gloves.
Our favorite feature about this model is the 100% top-grain cowskin leather, which is truly great as far as abrasion resistance is concerned. It is more heat-resistant and warmer than goat or pigskin. The integration of touchscreen fingertips on the middle, index, and thumb fingers makes it easy to use a smartphone without removing the gloves.
The pre-curved design on these gloves is quite impressive, considering how relaxed they allow your fingers to be when on and off your motorcycle. The design also ensures superior grip stability over longer distances.
You can depend on the palm and knuckle protection these gloves come with, thanks to the hardened, high-density rubber reinforcement. The knuckles are also arch-shaped for added protection from impact and road debris.
Key Features
Verdict
Overall, we think you are going to be impressed by the performance of these gloves, assuming you size them correctly and you avoid models with poor stitching.
Overall Rating: 4.5
5. Inbike Genuine Perforated Leather Motorcycle Gloves
Motorcycle riders looking for strong grip, protection, and comfort without excess heat will make good use of these perforated leather motorcycle gloves from Inbike. 
Inbike uses goatskin leather on this pair, which is a good thing for several reasons. First, the leather is supple, making it highly flexible and cozy. Second, the leather is strong and abrasion-resistant, providing superior protection. 
Inbike also equipped the gloves with a breathable fabric to improve performance in summer. The perforation on the gloves improves heat dissipation.
If you like riding over longer distances, then you will appreciate the wear-resistant thickened palm that offers great vibration damping. It also provides superior anti-slip capability as well as a full range of grasping.
They provide a great fit thanks to the heavy-duty YKK zippers that slide effortlessly when putting the gloves on and off. You can also adjust the tightness with the elastic wrist tab.
Key Features
Verdict
These gloves may not be touchscreen-compatible, but we think they will provide outstanding protection and comfort over longer distances.
Overall Rating: 4.5
6. Superbike Summer Leather Motorcycle Gloves
You don't have to scorch your hands with excess heat by wearing full-finger gloves when the weather is too hot. Instead, you could consider buying these fingerless gloves from Superbike for better cooling and comfort.
For superior performance, Superbike used goatskin leather, which has outstanding tensile strength. This material is highly abrasion-resistant and flexible. Not to mention that it is perforated for improved breathability in summer.
The antiskid palm construction is one of the features you may like most because it ensures you have a stronger grip on your machine for long-term comfort. The protection package of these half-finger gloves is impressive. First, the goatskin leather protects you from scraping. Second, the foam padding on the fingers and hard plastic knuckles protect you from impact.
Putting the gloves on and off is made easy with the quick-release tips on the ring and middle finger. You can also avoid losing one of the gloves by locking them together with the buckle button when you are not using them.
Key Features
Verdict
We think your summer riding experience will be amazing with these fingerless leather motorcycle gloves from Superbike. But avoid models with poor stitching.
Overall Rating: 4.5
Things to Consider When Looking for Leather Motorcycle Gloves
Here are the most important considerations you should make when looking for the best leather motorcycle gloves:
Full-Finger Vs Half-Finger
We think the very first consideration you have to make is the type of gloves before you start thinking about material and other factors. There are two types of leather motorcycle gloves you can consider: half-finger (fingerless) and full-finger.
Half-finger or fingerless leather gloves are the recommended summer motorcycle gloves. They are purposefully designed for heat dissipation and breathability. The best models are made of strong leather that provides good protection against road debris, vibration, and shock. You also don't have to worry about operating your phone because all your fingers are exposed.
The full-finger design, on the other hand, is recommended as the best winter motorcycle gloves. Although some full-finger leather motorcycle gloves can be used in all seasons. Full-finger gloves designed for cold weather usually feature heat-resistant leather. One of the biggest challenges with these gloves is dexterity. The best models, however, like the ones reviewed in this guide have an exceptional touchscreen capability.
Perforated and Unperforated
You also have the option of choosing between perforated and unperforated leather motorcycle gloves. The distinction here is simple: perforated gloves have holes and unperforated ones don't. 
You should go for a perforated design if you want more heat dissipation and breathability. But perforation may not be a good idea for cold weather riding.
Type of Leather
We also think it is important to consider the type of leather you are buying. Most types of leather have similar features but with a different degree of effectiveness.
Cowhide leather, for instance, is considered to have superior puncture and abrasion resistance, whereas goatskin is known for its outstanding flexibility. Regardless of which type of leather you choose, always make sure you can depend on its protection and comfort features.
Final Thoughts
For this roundup, our overall winner is Alpinestars SMX-2 Air Carbon V2 Leather Motorcycle Gloves. What makes these the best leather motorcycle gloves is their unique multi-panel design, which ensures great abrasion resistance, impact protection, high levels of breathability, and durability. These full-finger gloves also offer reliable dexterity and comfort when riding over longer distances.