The Best LED Lights for Motorcycles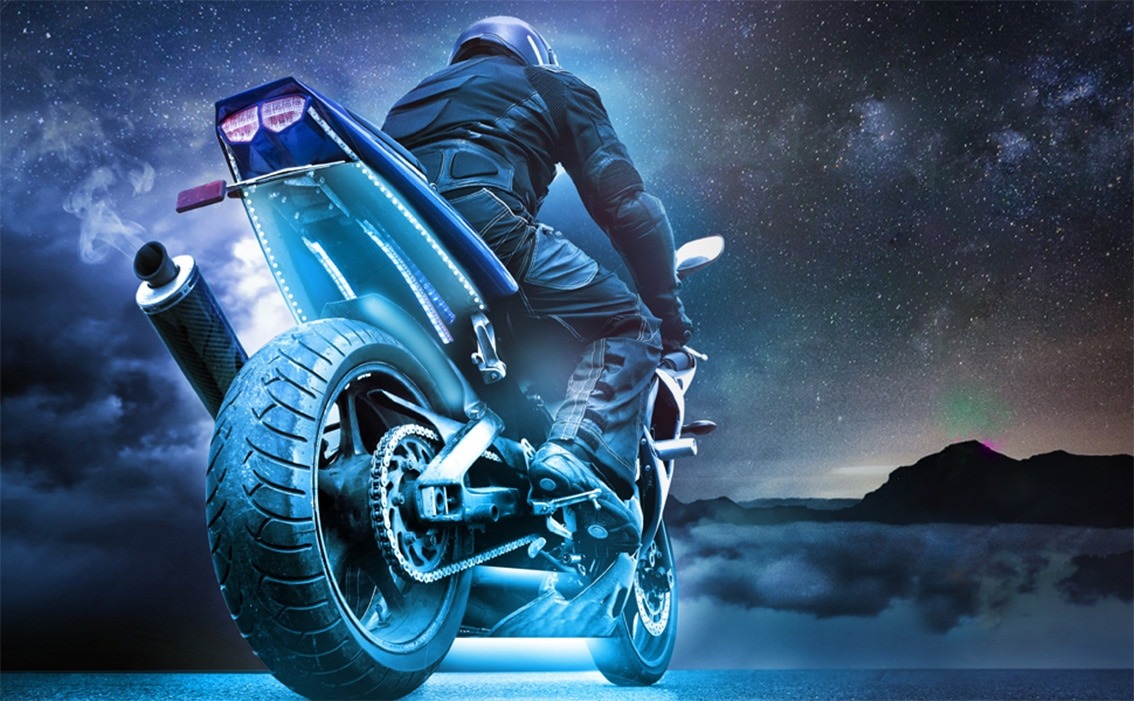 Installing LED lights on your bike not only gives it a custom look, but it also makes you safer on those dark roads as they make you more visible to oncoming traffic. The best LED lights for motorcycles come in a variety of colors, lengths, and brightness levels. Some even have wireless power controls and dimmers. You could really have a lot of fun with these lights and make them do what you want them to do.
In this motorcycle LED kit review, I'll give you my picks of LED lights that give you the reliability, variety, and flexibility that you need to get creative. 
Top Pick
Ditrio LED Lights for Motorcycles are the most-liked and the bestseller. These lights are designed to deliver superior brightness, quality, and reliability. They feature advanced technologies like dual-layer PCBs, a self-protective mechanism, and a replaceable kill switch. They also come with multiple functions for added versatility.
The Best LED Lights for Motorcycles Are:
1. Ditrio LED Lights for Motorcycles — Best Motorcycle LED Kit
With these incredible lights from Ditrio, you get the highest quality of brightness and reliability. For each material and component, Ditrio pays close attention to detail.
Specs
These LEDs come with dual-layer PCBs, which is great because the double-layer construction is more resistant to twisting, bending, or pulling. The lights are fitted with advanced extruded silicone tubes that will not shorten their lifespan. I appreciate the fact that silicone extrusions are highly flexible, making them ideal for curved surfaces.
These lights are fitted with an inductor for preventing instantaneous current changes and a capacitor for preserving voltage. The capacitor and the inductor work together to help keep the power supply clean. The design is integrated with two self-protective mechanisms for protection against reverse connections and short circuits. So, rest easy knowing that you will not blow the LEDs in case you make a wrong connection.
What I don't like about Ditrio, however, is the fact that there is a possibility of receiving a kit of LEDs with quality control issues.
Verdict
If you are looking for the best motorcycle LED kit that is high-performing, look no further than Ditrio.
Overall Rating: 4.5
2. Govee RGB Motorcycle LED Lights Kit — Best Waterproof Protection
Vibrant riding has never been easier with this incredible kit from Govee. You've got several advanced functionalities like RGB, music mode, and remote control.
Specs
These lights feature 5050 SMD RGB LEDs, which is great because they are integrated with color-changing technology. Each SMD has three smaller chips with blue, green, and red chips in the individual LEDs. This unique construction is energy efficient, has superior light focus, can withstand rough application, and has excellent design flexibility.
This advanced motorcycle lighting system comes with a pocket-size remote control that allows you to turn on the lights as you want. I truly appreciate the dynamic lighting effects, considering that the lighting modes are programmed to match your mode. The four music modes allow you to indulge in music for a more breathtaking experience. Thumbs up for the multi-color variations that make animating your riding road a breeze.
But the thing is, some kits may come with dim lights and even a faulty remote control.
Verdict
Highlight your motorbike with these vibrant LEDs. Don't worry about the weather because they are sealed for superior waterproofness.
Overall Rating: 4.5
3. HYB Motorcycle LED Light Kit 
Ride into the colorful world with this outstanding LED light kit from HYB. It has one of the best multifunction controls for superior versatility.
Specs
These light-emitting diode lamps can be controlled using RF remote control, IR remote control, or the advanced app control. The multifunction control feature makes this kit easy to use.
This flexible motorbike strip lamp kit is equipped with sixteen static colors and eighteen RGB colors to give your bike the most colorful illumination on those dark roads. You've also got one fading mode, three flashing modes, and two-color cycle modes with adjustable brightness for the ultimate best performance. The 5050 SMD RGB lamps have a remarkable lifespan of more than thirty thousand hours.
The strip is incredibly long and ideal for most motorcycle models. You can crop the length you need for the best customization.
But the thing is, the app control may fail to synchronize with lamps.
Verdict
This is a great product that is super easy to install and it comes with multiple control methods.
Overall Rating: 4.5
4. Ambother Motorcycle LED Light Kit — Easiest to Install
Improve your visibility in the dark and ride in style on those dark country roads with Ambother Motorcycle LED Light Kit.
Specs
The kit has universal compatibility, which means its uses and mounting possibilities are unlimited. With an extremely sticky adhesive, the flexible strip mounts easily on your motorcycle. The flexible ribbon bends and curves effortlessly, depending on your application.
This set comes equipped with a new generation of 5050 SMD LED chips. They form a color-changing tape that is highly visible and vibrant. This advanced light-emitting diode construction has a superior lifespan of up to thirty thousand hours. You've got multiple lighting modes, including three flashing modes, two-cycle modes, and one fading mode for added versatility.
The strip has a waterproof rating of IP68, which means you can ride your motorcycle in the rain at night without worrying about the LEDs getting damaged.
But the thing is, quality control appears to be an issue with some light-emitting diode strips.
Verdict
This innovatively designed light-emitting diode motorcycle kit provides bright and colorful illumination for a variety of motorbikes.
Overall Rating: 4.5
5. Sunpie Motorcycle LED Light Kit — Best Multi-Color Brightness 
This high performing motorcycle LEDs provide the stunning white, blue-green, yellow, pink, green, blue, and red glow. Not to mention that it is super easy to change color and brightness.
Specs
This is a universal motorcycle light-emitting diode kit and therefore it has multiple mounting possibilities and uses. You can mount the lights on your bike, snowmobile, and even trailers.
The strips come in different lengths, including 10.6, 8.6, 6.7, and 4.7 inches. This means you don't have to crop the strips when you want a specific length. You've got numerous functions to choose from like fading, jumping, flashing, white, blue-green, yellow, pink, green, blue, and red. You can also adjust the speed at which the LEDs are changing colors.
You can use the small remote control to conveniently turn the lights on/off and change colors.
What I don't like; however, is the inconsistent quality control because it is possible to receive a model with LEDs that don't work.
Verdict
If you have been looking for motorcycle LED strips that are easily customizable, look no further than this amazing kit from Sunpie.
Overall Rating: 4.5
6. Nineo Motorcycle RGB LED Strip Lights 
This high performing kit is suitable for a wide variety of bikes from Harley, Yamaha, Ducati, Indian, Suzuki, Victory, Honda, Kawasaki, BMW, and Triumph.
Specs
The chips feature an RGB design, which is great because it produces over sixteen million hues of light for the best lighting performance.
Apart from the vibrant colors, the chips are ultra-bright and exciting. You've got eighteen color options to choose from and four intelligent modes of operation (brake, fading, flashing, and static). All the modes are easy to control with the RF wireless remote that has a remarkably wide coverage of up to one hundred feet.
You can ride in the rain without worrying, thanks to the latest waterproof sealant technology. Each strip has a self-adhesive 3M tape for quick and easy mounting.
But the thing is, the wireless remote may come with dead batteries.
Verdict
The new generation six-chip RGB LEDs will keep you floodlit in the dark as you cruise in the night in style.
Overall Rating: 4.4
Things to Consider When Looking for Motorcycle LED Light Kits
The choice of the best LED lights for motorcycles is huge. But you can easily find the perfect kit for your bike by considering the following:
Compatibility
Most light-emitting diode lamps for motorbikes are designed with universal compatibility. But there are a few brand-specific models.
Number of Functions
For the best lighting performance, I strongly urge you to consider a kit with multiple functions or modes. The best LED lights for motorcycles have static color, cycle, flashing, and fading modes. Make sure the brightness is adjustable. This way, you can select the most appropriate brightness level in each mode of operation.
Reliable Construction
The design of the LEDs and strip dictates the durability of the entire kit. The light-emitting diodes should be innovatively designed to resist twisting, bending, and pulling, which are the usual suspects of LEDs going bad.
Go for chips that have built-in protection against rapid changes in the power supply. The best chips will have an inductor for managing current transients and a capacitor for preserving voltage. Always go for a kit that has self-protective mechanisms against a short circuit. This will help prolong the lifespan of the LEDs. The strips should also have reliable waterproofness, allowing you to ride in the rain.
Multiple Control Methods
Choose a kit that has more than one control method like RF remote control, IR control, and app. The wireless remote control range should be wide, at least one hundred feet for convenience. Make sure the app has no syncing issues and it is compatible with both Android and iOS systems.
Ease of Installation and Customization
For the easiest and the best installation, make sure that the strips have self-adhesive 3M tape that provides a more permanent attachment that will not peel off easily. Also, choose a kit that has strips of different lengths for easy customization.
Final Thoughts
For this roundup, the winner is Ditrio LED Lights for Motorcycles. These light-emitting diode lamps don't have instantaneous higher current or fluctuating voltage problems. They come with three different strip lengths for effortless customization. The kit comes complete with the lighting strips, Velcro stickers, double-sided adhesive, ring terminals, and an instruction booklet.
These lights feature heavy-duty construction with dual-layer PCBs and extruded silicone tubes. So, they will not get damaged by twisting, bending, or pulling. The strips have self-protective mechanisms and a replaceable kill switch. The kit also comes with two remotes (IR and RF remote control) for convenience. Not to mention that the strips install easily with double-sided adhesive.