10 Best Modular Helmet Reviews 2020 – Buying Guide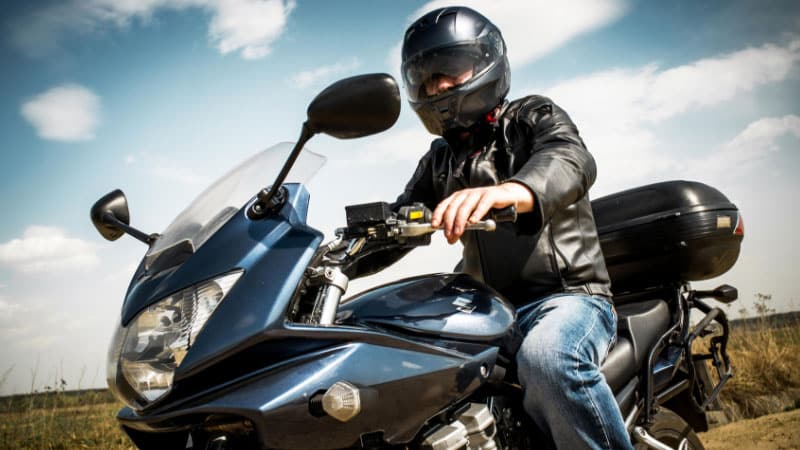 The recent years have witnessed a MAGICAL rise in the popularity of the modular helmets.
Every rider and their grandma wants to ride their bike when wearing the best modular helmet.
The reason?
It's simple…modular helmets are a hybrid of full-face and open-face helmets and offer you the best of both worlds.
They let you easily flip up to open face—say when you want to catch fresh air, smoke a cigar, take a snack, or show your face to the police.
With the high demand for these helmets, manufacturers have flooded the market with models of varying sizes, styles, shapes, etc.
It's, therefore, important that you carefully choose which helmet to buy.
In the following guide, you'll discover the easy-peasy way to choosing the perfect modular helmet from the multiple options out there.
We'll also list some of the top-rated modular helmets that guarantee you safety and comfort.
Are Modular Helmets Safe as Full Face?
You might have heard the debate in the motorbike riders circle on the possibility of modular helmets being less safe than full face models.
Our short answer to this question is—yes, a good-quality modular helmet will offer you the same level of safety as a full-face helmet.
See, unlike what people tend to believe, there are simply no safe helmets.
The helmet you put on increases your chances of survival in case you're involved in a bike crash—saving you from head and brain injuries.
As a motorbike rider, you can make your modular helmet reach its maximum protection potential by observing a few factors below…
In conclusion, modular helmets are just as safe as full-face helmets. You just need to ensure you choose the best-quality modular helmet you can get and make sure you use them the right way.
10 Best Modular Helmet Reviews:
1. 1Storm Motorcycle Street Bike Modular Helmet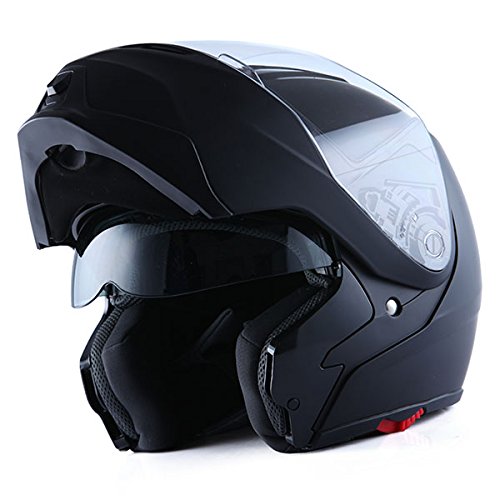 This is one of the best rated modular motorcycle helmets currently available at the market. 100% DOT-approved and available in an array of colors, the helmet features an advanced modular/flip-up and dual-lens design which translates to maximum rider safety.
It boasts of an incredibly lightweight but durable ABS plastic outer shell. This shell meets the DOT safety standards and will truly protect your brains from being scrambled forever in case of an accident. It also features multi-density EPS materials on the inner side, which absorbs all the impact force and ensure it doesn't hit directly at your head.
For the visor part, this helmet comes with a dual lens design: an inner smoked visor and clear outer shield. This allows you to easily switch between the two options when riding at day or night. Note that the visor system is super-easy to install/remove.
Rider's comfort is well taken care of on this helmet. This is evident from the 6-vents system (with 2 front and 2 top adjustable vent switches) to let you customize the helmet for air intake/exhaust.
With a quick release buckle, this helmet will stay secured on your head…and taking it off will be a breeze.
Highlighted Features:
2. 1Storm Motorcycle Modular Full Face Helmet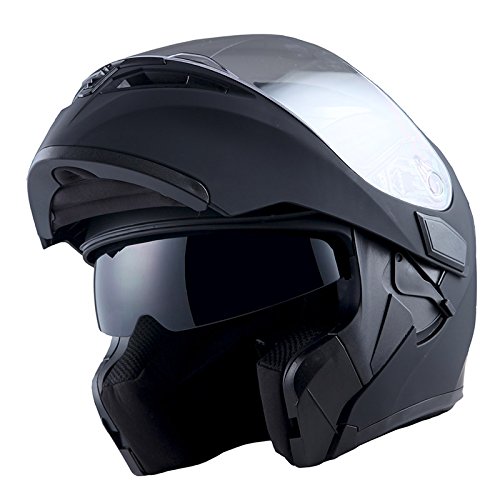 Our second spot goes to another top-rated modular helmet from 1Storm. Like its sibling above, this helmet also meets all the DOT safety standards and comes optimized to offer you comfort and protection when riding your bike. But it comes at a more affordable cost.
It features the same lightweight, durable ABS plastic shell construction as the other 1Storm. Keep in mind that this shell has an aerodynamic shape to reduce wind resistant when driving at high speeds.
When riding in hot weather, this helmet's 6 vents will help circulate air over your head to keep you cool. What's more, the exterior of this helmet is covered with UV-resistant finish to ensure it retains its brand new look even when riding in hot weather.
Most riders love the helmet's dual visor system which lets you switch between the clear outer shield (ideal for any time use) and the smoked inner visor (suitable for daytime use). With a built-in mouth cover, you can rest assured that breathing won't fog up your visor.
Riders love how snug and comfortable this helmet feels in their heads, thanks to the padding and liners. You can easily remove these interiors and wash them to keep the inside smelling fresh.
Highlighted Features:
3. ILM Motorcycle Dual Visor Flip up Modular Full Face Helmet
This top-rated helmet from ILM also made it our list of the top-rated modular helmet reviews owing to its remarkable features at a wallet-friendly cost. Like any other modular helmet, this model acts as the middle ground between full face and open face helmet, granting you maximum versatility and convenience.
The aesthetically pleasing helmet feels super-lightweight. And that's because it's constructed from the lightweight (but tough) Abs material.
Using this helmet is quite easy, even for starters. You just press the button covered by chin curtain and boom! You have a flip-up helmet. The fact that you can easily remove and wash the inner padding makes this helmet even more convenient to use.
You want to keep your head cool when riding your bike, right? This helmet takes care of this using the included vents at the top and fronts of the helmet. Note that you can easily close these vents at will.
Probably the most interesting bit about this helmet involves the anti-scratch, anti-fog, wide view dual visors. The easy-remove, clear outer visor comes handy when riding at night. And the inner black visor comes handy when you want to shield your face from the UV sun rays. Note that you can flip up the inner visor without opening the outer one.
Highlighted Features:
4. ILM Motorcycle Modular Flip up Dual Visor Helmet
Yes, this is another well-designed, DOT-approved helmet from ILM. Available in up to 8 color options, this helmet also features a sleek and lightweight design and is incredibly easy to use.
ILM invests heavily when it comes to material quality and craftsmanship. This is evident from this helmet's incredibly lightweight and durable ABS shell which offers high resistance against shattering in case of a crash. And on the interior, we have EPS lining which excellently absorbs impact resulting from a crash, increasing your survival chances from an accident.
While still on the inner side of this helmet, you'll discover lightweight padding that feels soft to the touch. These help ensure you feel comfortable when wearing this helmet. You can also remove and wash the interior lining and pads after long rides to keep them odor-free and clean.
Like its brother above, this helmet also comes with a dual visor system—a clear outer and smoked inner lens. Both of them are scratchproof, fog-proof, and offer you a wide field of view. They're quite easy to use/remove.
The chin guard will keep the helmet snug around your head and minimize movement of the helmet when you're riding.
Highlighted Features:
5. YEMA Helmet Unisex-Adult Motorcycle Racing Modular Helmet
If you're looking for a professional-grade modular motorcycle helmet that doesn't cost you an arm and a leg, you can't go wrong with this YEMA Helmet Unisex helmet. It features a fashionable design plus lots of exciting features, making it the perfect option for street biking, racing scooter, cruiser, and more.
The DOT-approved helmet is made of materials of outstanding quality, inside and out. The outer shell is made of tough and lightweight ABS plastic material for maximum impact protection. The interior features multi-density EPS for maximum impact absorption.
Not to forget the interior liners and cheek pads which give your head a comfier resting place. These liners and pads are easily removable and washable to keep the interior smelling fresh and clean.
Comfort gets better with the fully adjustable intake and exhaust vents that come with this helmet. These help create a constant light flow of air around your head to keep it cool and comfortable.
The easy to use, super-clear sun visor acts as your face shield, keeping you protected from the harmful sun rays. It feels quite tough and is easy to flip. Likewise, removing and switching it is easy and doesn't require any tools.
Highlighted Features:
6. AHR Full Face Flip up Modular Motorcycle Helmet
This is the least priced model on this list of top modular helmet reviews. But don't judge it by its price…the helmet comes optimized for comfort and protection. It looks great and fits really welt. It's made for riders with head circumference 24" to 24.41" (61 to 62 cm).
This YEMA boasts of high-quality ABS plastic shell, the same material used in the other top models out there. It also boasts of a highly cushioned interior to provide your head with maximum comfort. Riders also love the helmet's vents which delivers sufficient ventilation to keep your head cool all ride long.
As we've seen in the other models above, this modular helmet also comes with a dual visor design (with clear outer and dark inner lenses). Both visors offer you a wide field of view and are impact- and wear-resistant—taking your protection even higher.
Don't forget that this helmet is as light as a feather (at only 3.5lbs) and it's easy to operate for everyone. The removable and washable inner pads allow you to practice hygiene the easy way.
Highlighted Features:
7. ScorpionExo EXO-GT920 Full Face Modular Helmet
If you're looking for a premium modular helmet, capable of handling any hardcore riding sport, this ScorpionExo EXO-GT920 is a sure bet. The helmet comes stuffed with lots of great features not found in most of the lower-end models out there.
One of the key benefits you'll get from this helmet is a lightweight design. Scorpion uses a polycarbonate shell to achieve a lighter helmet that doesn't strain your neck muscles and make you feel uncomfortable during rides. Needless to mention, the shell also gives the helmet a robust and sturdy feel—granting you maximum premium protection.
Another winning point of this helmet is the use of dual-density, multi-layer EPS. This provides superior impact energy displacement, keeping your safe form all forms of impact.
You can't get enough of the Scorpion's no-fog face shield which has a weatherproof locking seal to let you ride comfortably in misty, rainy weather. What's more, it features an easy-to-operate retractable inner sun visor to help optimize your visibility when riding in the harsh sun.
With the aero-tuned ventilation system, this helmet provides you with the most comfortable level of airflow. This allows you to keep cool and remain fully focused on your ride. We also can't forget moisture-wicking inner KwikWick II lining. This is a long-lasting, washable material that contributes to keeping your head cool, relaxed, and comfortable.
And the BEST part? This helmet comes with speaker cutouts where you can add Bluetooth communication later on if you wish to. If you can't afford the pricey Bluetooth integrated helmets, this is doubtlessly a cheaper option for you.
Highlighted Features:
8. ScorpionEXO Unisex Modular Touring Motorcycle Helmet
As we draw closer to the end of our modular helmet reviews, we have yet another premium motorcycle modular helmet from Scorpion. This helmet is the BEST deal for riders who want a touring moto helmet with the versatility of the off-road helmet.
With the external peak visor attached, you can use it as a fully ADV helmet. Or you can remove the peak visor to use it as an aerodynamic touring helmet. You'll notice that this helmet comes with an oversized eye port which offers you a truly greater peripheral vision as well as downward visibility.
You can easily flip the modular chin bar when you want to smoke a cigar, ask for directions, drink some water, etc.
Like the previous Scorpion, this helmet also comes with an internal drop-down sun visor which gives you the much-needed protection when riding on harsh sunny weather.
The eyeglass compatible KwikWick II liner and cheek pads ensure total comfort. The liner itself has antimicrobial and moisture resistant properties for hygiene and comfort, respectively.
Oh! Don't forget that this helmet is constricted from premium LG polycarbonate shell plus dual-density EPS—resulting in a lightweight, strong, and protective helmet. The communication speaker pockets allow you to hassle-freely integrated Bluetooth into this helmet.
Highlighted Features:
9. Orion Voyager Modular Motorcycle Helmet
How about a unisex Bluetooth compatible computer that allows you to easily add a Bluetooth communication system later on? Sounds like a cool deal, right? The Orion Voyager Modular Motorcycle Helmet one such helmet.
All riders who have previously used this helmet that it fits your head perfectly well…as long as you pick the right choice. It hugs your head as if it were made for it, so it won't wobble around your head and compromise safety.
The modular helmets come with one-button, one-hand flip-up system which lets you easily and quickly converts the helmet between full face and open face. What's more, this button (and all the other controls that come with this helmet) is waterproof and glove-friendly, so you don't need to take out your gloves to operate it.
Another reason that makes this helmet a top choice for many riders revolves around the advanced ventilation system with a total of 10 venting ports. These ensure sufficient cool airflow around your head, and stale air flows out easily to keep your cool and relaxed.
The construction involves lightweight and durable thermoplastic shell plus impact absorption EPS layer—both of which have been approved by DOT for maximum protection.
Highlighted Features:
10. Bilt Techno 2.0 Evolution Sena Bluetooth Modular Helmet
Our list of the best modular motorcycle helmets comes to an end with this Bluetooth moto modular helmet from Bilt. This is the ideal package for those who enjoy a full face, open face, and Bluetooth communication system benefits—all in one place.
The helmet comes ready to use right out of the box. It comes ready to sync with any Bluetooth-enabled device, including your smartphone or mp3 player. It also allows communication between two riders or between the rider and passenger within an extended range of up to 400m.
You can feel the soft, sufficiently padded interior which is engineered to offer your head a comfortable feel. You can easily remove and wash this padding to keep it odor-free.
Because this DOT-approved comes with an excellent ventilation system, it allows fresh air to easily circulate over your head and keep you cool as you focus on enjoying your ride.
The drop-down tinted sun shield is another great feature you'll enjoy in this helmet. It helps block the harmful sun rays from reaching your eyes while maximizing your visibility in all riding conditions.
Highlighted Features:
What To Look For Before Buying
A modular motorcycle helmet can only be great if it's made of quality materials and offers you the best fit. It should provide you with comfort and protection while looking good.
Consider the factors below to help you choose the perfect modular helmet for you:
1. Shell material
Always start by checking the material used to construct the shell of the helmet you want to buy.
Why is the material so important? You might ask…
The truth is the shell material directly affects not only the helmet weight but also its impact on comfort and level of protection.
That said, the most common materials used for modular helmets include:
NOTE that you might come across helmets of more than one of the materials mentioned earlier.
2. Helmet size
Like the other types of helmets, modular helmets also come in varying sizes.
This means you need to measure your head circumference and use your findings to compare against the manufacturer's size table to get the ideal size and fit for you.
In case you can't recall how to make a head measurement, here's a quick reminder:
TIP: Try passing your fingers between your head and the new helmet. If they fit easily, then you should dump that helmet for a smaller one. You want something that hugs your head snugly, without creating any pressure points.
TIP 2: To get the best fitting modular helmet, we also suggest that you determine your head shape. Manufacturers are now optimizing their helmets according to the common rider's head shapes—round oval, intermediate oval, and long oval—to ensure every rider gets a good fit and maximum protection.
Remember the perfect helmet should fit snugly—not too tight and not too lose.
3. Weight
Due to the sophisticated design of modular helmets, they tend to become a bit heavier than a full face or open face model.
Nevertheless, the manufacturers of these helmets try to keep their weights within the acceptable range of approx. 3.5lbs.
Your best bet here is to look for the lightest helmet you can find (with respect to the type of material used for the shell). Otherwise, if you buy a too heavy helmet, the extra weight might end up straining your neck muscles and making you feel comfortable.
Not a good experience for long rides!
As you might have noticed, all the modular helmets we've featured in this guide come with an incredibly lightweight design to save your neck muscles and keep you comfortable all ride long.
4. Comfort
The modular helmets take the crown for being the most comfortable helmet types…especially when you consider their face shield's ability to flip up and down.
However, we still recommend you to thoroughly examine the helmet you want to buy for all the safety features it comes with to ensure it meets all your comfort needs.
Ensure the helmet comes with a sun visor which will allow you to ride comfortably in the hot sun.
Check that the helmet also comes with excellent ventilation to allow sufficient airflow around your head while riding.
And don't forget to check the interior padding and liners. The padding should feel soft and sufficient enough to give your head a soothing effect as you ride your bike.
5. Safety ratings
If you want an assurance that you're buying a real helmet that'll save your head in case of a crush, check if it comes with any safety standards.
The most common safety certifications you'll find on modular helmets is the DOT-approval.
For starters, the presence of this sticker on your helmet means that it has undergone the strict safety tests set by the United States Department of Transport (DOT) and passed with flying colors.
Some helmets might also feature ECE (Economic Commission for Europe) and Snell (M2015), which are also accepted as safety standards for moto helmet.
All in all, make sure the helmet you buy meets or exceeds the DOT safety standards.
Frequently Asked Questions
1. What is the best modular helmet for long rides?
The best modular helmet for long rides is one that feels exceptionally light, fits your head snugly, and offers you excellent protection from impact and elements you're likely to encounter along the way.
If you're riding in warm weather, the helmet should also come with excellent ventilation to allow free intake of fresh air for keeping your head cool and relaxed.
As experienced riders will tell you, no putting on the best fitting helmet when embarking on a long ride can cause headaches, rashes, and those painful pressure points.
In worst cases, a non-fitting helmet will slip and flop down over your eyes, which can distract your ride big time!
IMPORTANT: We also suggest that you use your modular helmet in full-face option when riding for long distances. Why? Because you want your entire face—including the face and eyes—protected from rocks, sticks, debris, wind, and rain. With the face shield on, your ears will be protected from the rushing wind for a quieter, more peaceful ride.
Of course, you can easily flip up the chin bar when you make a stop—say to smoke a cigar, take a sip or a snack, ask for directions, etc.—without removing your entire helmet. That's the beauty of a modular helmet!
2. What makes modular helmets so popular?
The popularity of modular helmets revolves around their versatility, comfort, and convenience.
As you already know, these helmets bring together the features of a full face and open face helmet styles into a single helmet. They come with a chin bar that you can easily flip up for open face style helmet or lockdown for full-face helmeting.
The good thing about this flexibility is that it saves you the hassle of having to take out your entire helmet every time you want to catch fresh air or show your face to the police at checkpoints.
3. How long does a modular helmet last?
When it comes to the longevity of modular helmets, it's no different from the other helmets.
Experts agree that you should always replace your helmet after every 5 years, regardless of what type or style you use. This is because the helmet materials degrade with time, making them weaker in the degree of protection they offer. (Source)
They also state that if your helmet gets involved in a crash, you should replace it immediately (don't wait for the 5 years to be over).
This is because the crash will have likely interfered with the helmet's structural integrity, making it less helpful in keeping your head and brain protected. Unfortunately, you can't see the damage with your bare eyes, unless you're a trained professional. So, it's advisable that you just get a new helmet.
4. How do I ensure I get the quietest modular helmet?
Helmets that come with a well-thought-out aerodynamic shape work well when it comes to sound (wind noise) cancellation—allowing you to enjoy a quieter, more comfortable riding atmosphere.
A quiet modular helmet is something you'd want to consider given that the wind noise inside motorcycle helmets tend to go as high as 115 decibels…or even more when riding at higher speeds.
And keeping in mind that noises of around 85db are enough to cause hearing loss, such high wind noise can turn out to be a huge problem.
Make sure you get a helmet that comes with an aerodynamic shape as it helps significantly reduce the sounds.
You'd also want to check what the previous users have to say about the quietness of the helmet. Believe you me; if most (if not all) the riders find out that a helmet provides a quiet riding experience, they'd be glad to share their experience.
5. How much does a modular helmet cost?
The price of modular helmets fluctuates as you move from one model or brand to the other.
Helmets on the higher end of the price spectrum are usually made of premium materials, feel the lightest, and offer the best fit. They also come with cool extras, which make them highly convenient for riders.
But that doesn't mean budget helmets aren't any good.
If you're on a tight budget, you can get a basic model that meets all your protection and comfort needs…a helmet with quality materials, good fit, excellent ventilation, and other basics.
Final Verdict
The modular helmets combine the features of full face plus open face helmets. This way, they provide you with a great deal of versatility and convenience. And this explains why they continue to enjoy popularity among motorcyclists.
When looking for the best modular helmet, we urge you to throw more focus on the shell material quality, your head size and shape, helmet weight, safety and comfort features. Not to forget the DOT safety ratings.
Browse through our list of the top-rated modular helmets currently available at the market. These helmets dictate safety, comfort, and convenience.
Ride Safe!
Related Posts: