12 Best Motocross Knee Brace Reviews – Buying Guide 2023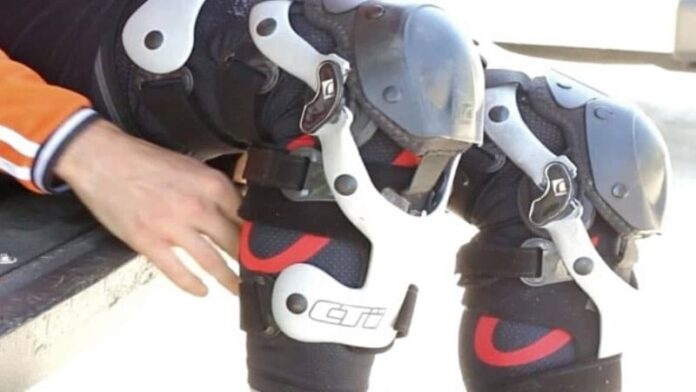 Struggling to choose the best motocross knee brace for you? If yes, this complete guide will hold your hand through every step of your shopping process.
As you already know, knee braces make up the list of crucial list of rider safety gear. And as such, you don't want to sacrifice quality just to save a few bucks. You want to ensure you invest a high-quality knee brace that shields your knees from potential injuries.
We went hunting for the best performing braces—analyzing various products for key features, customer feedback, and experts' opinions—and we have concluded that these are the top models you should buy today…
Do Motocross Knee Braces Work?
Motocross is a really dangerous action sport and requires heavy protection of your body. One particular part of the body that needs serious protection is the knees as they're exposed when riding in those rough paths.
A knee brace offers you knee protection.
The earlier knee braces were designed for use by riders who had existing knee injuries. Years later, the manufacturers realized the need to redesign the knee braces to help protect knee injuries from happening in the first place.
If you go riding off-road without braces for knee protection, you risk developing severe knee injuries.
The most common injury is the ACL (anterior cruciate ligament)—involves a torn ACL ligament. The recovery period of this injury will take approx. 6 months; it involves undergoing surgery to stabilize the joint and ensure the condition doesn't cause further injuries down the road.
This is essentially 6 months of just lying there—no work, no more racing, crazy medical bills, and a possibility you'll never enjoy the same range of motion.
If you think about it, investing in a knee brace is pretty worth it. A knee brace is an easier path than dealing with a knee injury that ends up costing you more and more money than you'd have invested in that knee brace.
Our Best Motocross Knee Brace Reviews:
1. SCOYCO Armor Knee Protectors
SCOYCO Armor Knee Protectors open our motocross knee braces review list. The pair is designed to offer you knee protection when motocross racing and comes at a decent prince. It's the perfect pair for anyone looking for entry-level protection.
The knee braces are designed using high-quality, with the main shell made using polypropylene that offers your knee tibia anterior significant protection. And an intermediate shell made from high-impact, crash-proof polycarbonate material for maximum shock resistance.
The braces also feel pretty comfortable when you wear them. They feature a triple mobile design at the joint that allows up to 30-180 degrees of motion to enable you to move your legs freely and comfortably.
On the side, you'll discover metal mesh. This is designed to be durable while offering maximum breathability as you involve yourself in the high-intensive motocross sport.
because these braces come with adjustable elastic straps, wearing them is as easy as ABC…Also, you can easily adjust them according to your needs, to get the perfect for your unique leg size and shape.
Highlighted Features:
2. HEROBIKER Moto Knee Pads Protective Motorcycle Kneepad
This is a budget knee protector designed to offer protection to your knee caps as well as the sides of your knees. They come engineered for professional riding and are ergonomically formatted to deliver maximum mobility.
The knee protectors are made using ultra-high-strength materials that equate to high-quality protection. These include the durable EVA foam padding that helps cushion your knees for hours on end. And a thick poly shield that keeps your knees from getting cut or scrapped on those tough terrains.
As this pair of knee pads are fully adjustable, you can always adjust them to obtain a tighter and more secure fit. Its sponge lining plus breathable fabric and ergonomic shape easily conform to your leg shape for comfort that lasts for hours.
Above all, the fabric used to design these protectors is fully breathable fabric to facilitate airflow and eliminate moisture and heat—keeping you cool and cozy so that you can focus entirely on the sport.
Highlighted Features:
3. Shift Racing Enforcer Adult Knee/Shin Guard
You don't need to spend a lot of money to protect your knees from potential knee injuries related to off-road racing. These Enforcer adult knee guards come at a crazily low price but offer you quality protection for your knees and shins.
Despite featuring a lower price tag, these knee/shin guards are made using a high-impact plastic shell that delivers maximum protection. Plus, they feature a 2-piece pivoting design that easily conforms to the rider movement.
The guards feel incredibly lightweight and comfortable, and you might even forget your wearing them. They come with dual elastic adjustment straps, with hook and loop closure, that make it easy for you to obtain a highly secure and comfortable fit.
Don't forget that these enforcers also come with ventilated, foam-padded backing for extra comfort that lasts all day long. The padding even features abrasion-resistant binding for maximum durability.
Highlighted Features:
4. Leatt Black Large/X-Large Knee & Shin Guard
Motocross as a rough sport will involve occasional falling and possibly injuring your knee. But if you put on these Leatt knee braces, you can fall many times with confidence knowing that you're fully protected from possible injuries again and again.
With these braces on, you'll also enjoy all-around protection or simply lots of protection. They cover all around your knee to ensure no part is left exposed to suffer the punishment of the rough terrains.
Keep in mind that these guards are made using high-density polyethylene material, which translates to quality and long-lasting protection. They also feature fully washable foam, which makes you feel comfortable when wearing the guards.
These guards are highly adjustable to enable you to securely fit them and make them stay on for as long as you want. The better the fitment, the better the protection the knee braces deliver. Moreover, these guards offer you an optional fit for both the right and left sides to ensure an even better fit.
Highlighted Features:
5. Acerbis Impact EVO Knee/Shin Guards
Forget about the cheap junks that come in the name of knee protectors but do very little to protect your knees from injuries. These knee and shin guards from Acerbis are the real deal for all motocross and off-road racers who want the ultimate protection.
The pair feels incredibly comfortable and lightweight. And its range of motion and hinge articulation feels pretty smooth and transparent when you're riding your MX motorcycle.
As a high-end knee guard, these Acerbis are made using quality materials. This enables them to take a lot of punishment that comes with off-road use while lasting longer than the low-quality models.
The guards have one size fits most design, so they'll easily fit most leg shapes and sizes. They feature elastic straps that you can use to adjust the tightness to ensure you get a more secure fit
The fully removable and washable padding makes you feel comfortable when wearing them. Not to forget, they also feature polyurethane foam with air vents to allow for maximum air circulation.
Highlighted Features:
6. Fox Racing Titan Pro Knee/Shin Guard
At the 6th spot on our top motocross knee braces reviews, we have these Fox racing Titan knee guards. These come dedicated to keeping your knees from harm's way at a budget.
One of the features that separate them from the pack revolves around their locking mechanism. That is, they feature a one-time adjustable posi-lock system that ensures they stay in place. Once you adjust the velcro to fit your unique leg size, the rest of the fittings will be a simple strap and go without needing to the readjustments all over again.
Comfort also reigns when it comes to this pair of Fox knee guards. They present you with a soft vented bio-foam chassis that allows free airflow to keep you cool and comfortable.
Not to forget, these knee protectors come in an asymmetric left-right design. This assures you of optimum fit that translates to maximum comfort and protection during off-road motorcycle riding.
Highlighted Features:
7. Fox Racing Titan Sport Knee/Shin Guards
Fox is one of the leading manufacturers of off-road motorcycle gear. They have a wide range of motocross gear, including these top-rated knee/shin guards, like this entry-level pair of Titan Sport Knee/Shin Guards.
The reasonably priced guards are destined to offer full knee and shin coverage and protection. They come with traditional, easy to use elastic fitting straps that ensure easy wearing and a secure fit. The guards have one size fits most design, so they'll easily fit your unique leg shape.
You'll also enjoy an incredible amount of comfort with these guards. They feature soft bio-foam chassis that ensures you feel comfortable when wearing them all through.
Thanks to their solid construction, these guards will stand up to various off-road punishments and serve you for longer.
Highlighted Features:
8. Leatt 3DF Hybrid EXT Knee and Shin Guard
Leatt is another top name in the race to giving you a safe motocross riding experience. Their 3DF hybrid guard is designed to offer you quality knee and shin protection and high levels of comfort at a fair cost.
The guard boasts a truly unique design characterized by a hybrid combination of soft, comfortable 3DF foam with a deflecting hard shell. Moreover, it comes with a moisture cool wicking fabric that eliminates excessive sweating and enables your skin to breathe for increased comfort.
Unlike most of the guars out there that keep shifting and frustrating you, Leatt uses silicone lamination in this guard to keep it from moving and ensure it stays in place.
You'll be pleased to note that this knee/shin guard comes CE certified for impact protection (CE number EN1621-1). They offer you a superior fit for your unique leg shape. And their 3D design makes them visually appealing!
Highlighted Features:
9. EVS Sports EPIC-K-L/XL Epic Knee Pad
Looking to upgrade your existing knee brace with a better one? If yes, this EVS Epic knee pad is a great option. Designed to be completely unique from the traditional knee guard, this guard offers you complete shin and patella protection.
The EVS utilizes most of the design elements from high-end brace technology to come up with this knee protector. Case in point, the pads feature a full floating knee cup that assures you of maximum protection.
It also comes with asymmetrical form-fit chassis for a more secure fit. The full flex dual pivoting hinge system to provide you with natural human leg motion when out there riding your MX bike.
You'll really appreciate that these pads come armed with upper and lower cuffs that excellently contour around your leg to offer you a more custom fit feel. Thanks to the quick adjustment strapping system, customizing this knee guard for your unique leg shape and diameter will become an easy task.
Highlighted Features:
10. Mobius X8 Knee Braces
As we edge closer to the end of our top best MX knee braces, we have this pair from Mobius, another respected brand in the motocross gear world. The brace presents you with some of the most impressive features you can find in a motocross knee brace.
One of these features involves the patent-pending CCRS (Continuous Cable Routing System) technology. This is a closure system that delivers unmatched support and protection. The system's forged CNC machined dial makes fit adjustments on the fly (and through your pants) easy as pie!
Since the braces come fully lined with plush EVA foam, they offer your knees an incredibly comfortable and an impact-absorbing surrounding.
The shells used to construct these braces are 20% glass-filled nylon. And are made to be flexible in places to enable them to easily conform to your leg for a better fit. This design also helps the braces achieve the rigidity needed to resist excessive movement as well as provide impact resistance.
Don't forget that these braces also feature fully adjustable hook-and-loop straps to enable you to easily customize them to perfectly fit your leg. When you purchase this pair of braces, you receive 2 extra sets of patella shell pads to help you achieve a more precise fit.
Highlighted Features:
11. POD K4016-595-XL/2X Unisex-Adult K4 Knee Brace
Real knee protection comes from wearing real knee braces. And these POD K4016-595 unisex braces are some of the best MX knee braces you can get on the market today. POD markets as one of the first full-featured knee braces that offer full coverage protection at an affordable price.
The braces are made using glass-reinforced polymer frames, making them extremely strong, durable, and long-lasting. The K40s are also designed to adapt to a variety of activities and sports-with ability to add/remove impact guards as necessary—enabling you to easily customize and maintain your brace.
We also like that these braces come fitted with premium padding that provides you with all-day comfort, without suffering any pressure points. Their lightweight nature and 0-25 degrees control range of motion further enhance your comfort.
Because these braces easily adapt to a verity of leg sizes and have easily adjustable straps and hinge spacers, you can rest assured that they'll offer you the perfect fit you're looking for. What's more, the hinge pads are 100% interchangeable to enable you to achieve an even more secure fit.
Highlighted Features:
12. Pod K4 2.0 Knee Braces
Last in our top motocross knee braces review list another top-rated pair of knee braces from POD. These knee braces boast of POD's new patent technology and are clinically proven to prevent leg or knee injuries such as ACL, MCL, LCL, PCL, rotary, and even combined instabilities.
The new POD technology uses in these braces not only deliver the ultimate knee injury protection but also offer you unpatrolled comfort, performance, and reliability. They feature a NEW human motion hinge that gives you progressive and multidirectional motion control.
The braces also come fitted with adaptive cuffs that easily conform to your unique leg shape while adapting to your muscle movement for the perfect fit.
We also can't fail to mention the luxurious interior that comes with these braces. This comes in the form of antimicrobial frame liners that bot only promotes comfort but also reduce odors, and capture the interior clips and straps to anchor the brace to your leg.
With the Quick-Loc clip system, anchoring the brace to your leg becomes easier and quicker than ever before.
Highlighted Features:
How do I know what type of knee brace I need?
As we have said many times above, knee braces are a crucial part of your motocross safety gear. That said, knowing how to pick the best motocross knee braces that protect you from potential knee injuries requires knowing the most essential aspects that a reliable knee brace should come with.
Let's outline these aspects below:
Protection
The TOP reason why you're looking for a motocross knee braces us to protect you from potential knee injuries that can end up costing you a lot of hospital bills.
With this in mind, you should start by fully examining the knee braces you wish to buy to see whether they're up to the task. AN easy to do this involves checking the materials used to design them. The perfect braces should be made using strong materials such as carbon fiber, fiberglass reinforced nylon, soft 3DF foam, etc., to enable them to withstand impacts and keep your knees from getting injured.
The braces should also be designed in such a way that they cover your entire knee for FULL protection. Models that come double knee cups offer even better protection.
Pro Tip: Look for models that come with impact protection certification. These are models that have undergone tests to ensure they're up to the task of protecting you.
Comfort
Another important aspect that makes up the perfect motocross knee brace is comfort.
The ideal braces should feel pretty comfortable when you put them on. Otherwise, they might end up distracting you from your rides and affect your performance.
To ensure you get the comfiest braces available, look for a model that feels lightweight and comes with breathable fabric to help keep you cool during the sport. Models with soft inner lining and cushion pads also offer extra comfort.
Above all, the most comfortable braces should NOT restrict your natural leg movement in any way. They should feature a hinge design that mimics your natural leg movement to give you a natural movement feel.
Sizing
As you already know, different motocross riders come with legs of varying sizes and shapes. For this reason, the manufacturers produce braces of different sizes to meet the needs of various riders.
By getting the best fitting braces, you're sure to enjoy a more comfortable feel and better protection. Take your leg diameter to get an idea of what size of brace you need.
Besides size, you'd also want to ensure you get braces that come with the strapping system to enable you to adjust them according to your needs. And to help ensure they stay in place—essential for excellent off-road performance.
How do you put a knee brace on?
Now that you have finally found the best knee braces from our MX knee brace review list above, your next big mystery is how to put them on. Remember, for you to enjoy full protection that comes with knee braces, you must put them on correctly.
This section will outline the key steps for correctly putting on a knee brace:
Step 1. Put it over your knee.
With your pant rolled up, apply the brace over to your knee. You can simply place the brace over your leg (if it's a wrap style) or slip in through your foot (for a slip-on type). For the latter, the top of the brace (the broader part designed to fit your thighs) should go in first.
Step 2. Center it.
Once you have the brace in place, the next thing you need to do is adjust it so that it sits correctly on your knee. Some braces come with a small hole at the front, which you can use to ensure you wear your braces correctly—that is, your kneecap should be visible through the hole. Ensure no part of your skin is compressed or pinched by the braces before you move on to the next step.
Step 3. Strap it.
Lastly, strap the braces so that you obtain a secure fit and ensure they stay in place when riding your MX motorcycle. You should ensure you have a snug fit; not too tight and not too lose. You can test the tightness of your braces by placing two fingers between the brace and your leg. If the fingers can't go through, then you might want to loosen your braces a bit.
Do you wear a knee brace under your pants?
If you want to get the most out of your knee brace, then you should consider wearing it under your pants. The manufacturers usually design these braces to be worn in such a way that they come into contact with the knee (i.e., under your pants). This means that wearing them outside your pants can compromise the level of protection they're designed to offer you.
Additionally, wearing the knee brace over your pants can also cause it to slip down, no matter how tight you secure it in place, further affecting its effectiveness as well as your overall comfort.
Seasoned riders would advise you to wear loose-fitting pants, say baggy jeans or sweatpants when wearing braces. This not only allows the braces to easily fit underneath but also increases your comfort.
Other Frequently Asked Questions
Q: knee braces vs. knee pads: what's the difference?
A knee pad is usually designed to keep your knees from getting skinned up in case you fall. A knee brace, on the other hand, offers you protection from serious knee injuries. Needless to say, a brace will provide you with greater protection than a knee pad. It also comes at a higher cost than a knee pad.
Q: Do pro motocross riders wear knee braces?
Absolutely. Being one of the most crucial safety gear for motocross, an extreme sport, you'll find professional riders wearing knee braces. This is because the knee brace will keep them protected from career-ending knee injuries and cost you a lot if terms of medical bills. If you do your research, you'll discover that the pro riders put on top-dollar knee braces for the ultimate protection.
Q: How should motocross knee braces fit?
Your knee brace should fit snugly. If you make it too loose, it might keep slipping and distracting you. And if you make it too tight, it might restrict your movement or cut off circulation around your leg.
Use the two-finger rule to ensure you achieve the perfect for your braces; if two fingers can't get between your leg and the brace, you'll to relax the brace a bit.
Q: Should I wear a knee brace if I have an existing knee injury?
Absolutely. Part of the job of a knee brace is to help you quickly recover from knee injuries. This was their initial role before the manufacturers redesigned them to offer protection from injuries as well. However, you'd want to make sure you use a brace specially made to help you recover from a knee injury.
Final Verdict
Motocross is one of those extreme sports that require heavy protection. Your knee, being one of the most vulnerable body parts when racing off-road, requires superior protection to keep off injuries that can bring your racing career to an end.
After reading this guide, you'll be armed with all the crucial information you with all the essential information you need to help you choose the best motocross knee brace today for maximum protection.