Best Motorcycle Alarm Reviews 2020 – Beginner Friendly Guide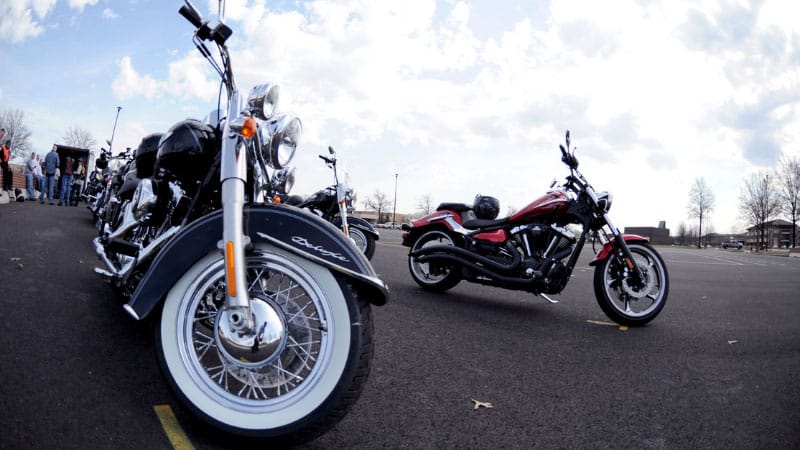 If you recently bought a new motorcycle that you plan to use for cruising around your neighborhood, long-distance trips, or even commute to work, you should know that it's a highly steal-able target for thieves.
With that in mind, we strongly suggest that you arm your bike with a highly sensitive motorcycle alarm that rings soo loud that it scares away any potential thieves while attracting the attention of the public.
Believe you me; no thieve will want to touch or get near your motorbike with this level of security.
Below, we're going to take you through some of the best motorcycle alarms you can get today to keep unwanted hands from your beloved bike and have peace of mind.
How Common is Motorcycle Theft?
Motorcycle theft is soo rampant in the states that every year records an increase in the number of motorcycles stolen.
Don't believe it?
Here's the prove…
According to statistics released by the National Insurance Crime Bureau (NICB), a non-profit body that records vehicles and motorbikes theft, a whopping total of 42,856 bikes were stolen in the year 2014 alone.
The number increased to 45,555 in 2015, recording a 5% increase in motorcycle theft cases.
And the figure skyrocketed to 46, 467 in 2016 alone. This translates to a 2% increase from the previous year.
Luckily, the following year (2017) saw a slight decrease in the number of motorcycles stolen, with the total number being 44,268. This is a -2% decrease and nothing to write home about.
From these figures, we can deduce that a motorbike is stolen every 11 minutes.
Quite worrying, right?
NICB further states that the most stolen bikes were the Hondas which were closely followed by Yamaha, Suzuki, Kawasaki, and the Harley Davidson.
Does this ring a bell in your mind?
It simply shows that the sports bikes are the hottest target for the thieves, with the cruisers following up closely.
Most of the thefts are reported in June, July, and August (the Summer months) …which is quite understandable given that this is the time 99% of the bikers hit the road.
California recorded the highest number of motorcycle theft cases (up to 7506 cases), followed by Florida, Texas, and South California.
City-wise, New York leads the pack with a total of 1209 thefts recorded. It's followed by San Diego, Las Vegas, and Los Angeles in that order.
(You can find more statistics regarding the latest motorcycle theft statists by NICB here).
If you don't want your motorbike to be part of these figures, we recommend you to safeguard it with a motorcycle alarm.
Let's look at some of the best motorcycle alarms you can use to keep thieves from stealing your motorbike…
10 Best Motorcycle Alarms Review:
1. YOHOOLYO Disc Lock Alarm Motorcycle Alarm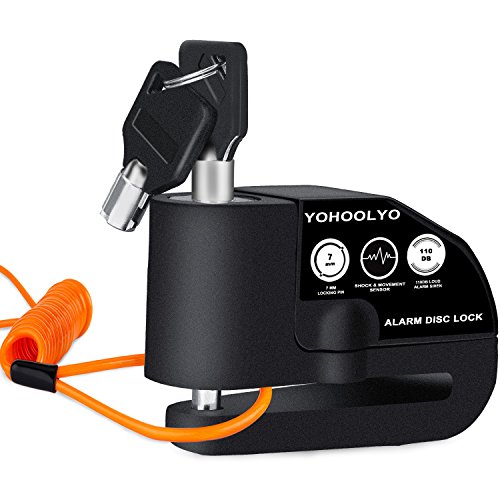 This Disco lock alarm from Yohoolyo gives you peace of mind knowing that opportunistic thieves can't get away with your lovely sports bike, cruiser, or any other bike with disc brakes.
The alarm lets out a quite loud yell when someone tries to move your bike—up to110 dB, which is equivalent to the sound made by a car horn. You'll rarely miss this alarm.
Despite its loudness, this comes in an incredibly compact and portable design, meaning you can't take it with you anywhere you go. It boasts of durable aluminum alloy design, with excellent anti-corrosion and waterproof properties, enabling it to safeguard your bike regardless of the weather conditions.
Note that it features a 7mm locking pin which lets you lock in your preferred angle.
Inside the box, you'll get up to keys…you can keep one somewhere safe or give it someone you trust to act as a spare in case you misplace the other key. You'll also get an Allen key which enables you to easily unscrew the battery compartment for easy battery replacement.
Overall, this is a highly effective alarm system. Its motion sensor is soo sensitive that it picks up the slightest movements of your bike and lets out the alarm, which will scare away the thieves and save your bike. The included set of batteries means you can start using this alarm system as soon as you receive it.
Highlighted Features:
2. BlueFire Motorcycle Security Kit Alarm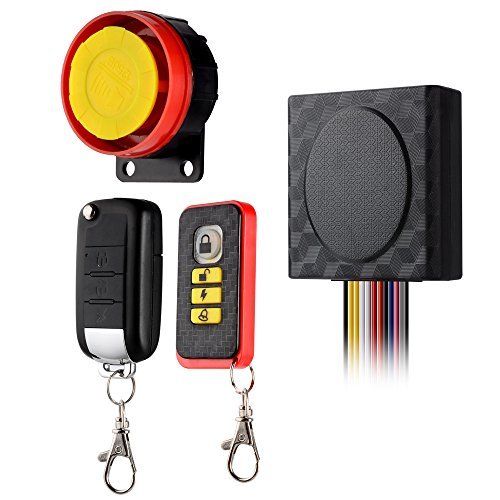 This alarm is also highly effective at keeping thieves away from your motorbike. It comes with an electronic anti-theft alarm with an extremely powerful 125db siren warning. This makes it even louder than our previous alarm up there… and it's sure to scare the hell out of thieves!
Not just an extremely loud siren, this alarm kit is also capable of delivering flashing light warnings. This acts as a visual deterrent against theft, making your motorcycle even more secure!
It's also worth noting that this security system presents you with an easily adjustable shock sensor. This helps detect the slightest forms of impact on your bike—ensuring that nobody gets near or touches your bike.
Another highly desirable feature that comes with this system is the anti-hijacking feature. Guess what it does? Well, it cuts off your motorcycle's power supply. And this stops your bike from igniting, frustrating the thief even more.
Thanks to the alarm's remote control capability (with included remote controllers), you can always arm or disarm your alarm system without necessarily being near your bike.
Previous users of this alarm appreciate its ability to work with all motorcycles with 12/24V batteries. They also love that it's incredibly easy to install, the extremely loud alarm, and ability to work in extreme weather conditions like winds and rain.
Highlighted Features:
3. Wsdcam 113dB Wireless Anti-Theft Vibration Motorcycle Alarm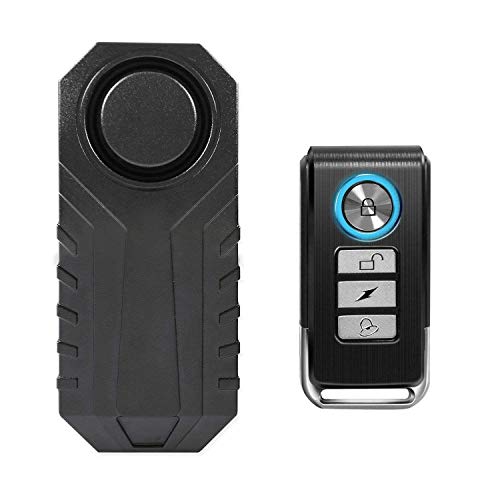 If you want the best motorcycle alarm that gives you REAL value for money, this is it! At unbelievably low cost, this anti-theft will present you with unique security features which collectively keep thieves off your bike, giving you peace of mind wherever you are.
Like the previously discussed alarms, this alarm also lets out a pretty loud siren of up to 113dB to deter opportunistic thieves.
One of the special features of this alarm is the 7 levels of sensor adjustability it presents you with. This enables you to customize your alarm system to react to different forms of impact—from the gentle touch to a push, beat, and more.
Another fantastic feature is the SOS function, which enables you to easily locate your bike if it gets lost…or when you can't locate it at the parking. What's more, the SOS feature triggers the alarm when your bike tilts in a 45-degree angle, say when you get an accident. This helps alert nearby people to come to your rescue.
Don't forget that this alarm comes with up to 6 ringtones to give you options to choose from.
The alarm is super-easy and fast to install. You simply tie it to your bike through the holes it comes with or stick it on your bike using the included double-sided tape. Remember that the alarm is constructed from IP55 waterproof PC material to enable it to hold up to light showers.
Highlighted Features:
4. MYSBIKER Disc Brake Motorcycle Alarm Lock
This lock alarm is a Silver Knight for your motorbike. It's a practical solution that allows you to protect your motorbike, scooter, cruiser, chopper, racing bike, or sportbike at home or while parking outside.
The alarm comes with an extremely loud 110dB alarm siren that helps fight off thieves trying to take away your valuable possession. Note that this is an intelligent alarm that automatically activates when it senses any shock or vibration.
Because the lock alarm comes with a durable stainless case, it feels firm and secure on your bike. It also offers maximum resistance against dirt, dust, and moisture. An inner silicone rubber gasket on the device edge helps effectively keep out rain and splash—enabling it to protect your bike even in rainy conditions.
Another cool thing about this lock alarm is the 2m/6ft disc lock reminder cable. It helps remind you to remove the lock, preventing potential damage that can result from riding your bike with the lock still on.
Overall, this is a good-quality alarm that will deter thieves from your motorbike, even in dusty and rainy days. It comes with 6 pre-installed batteries and an extra 6pcs backup batteries for user convenience. The included mini Allen helps you replace the batteries hassle-freely.
Highlighted Features:
5. Tchipie Red Alarm Disc Lock 110dB Anti-Theft Motorcycle Alarm
If you live in cities or states where motorcycle theft is common, the best precaution you can take to prevent this unfortunate incident from catching up with you is arming your bike with this 110dB anti-theft motorcycle alarm from Tchipie.
The bright red alarm is pretty easy to install…and produces a single beep when properly secured on your bike. It comes with a built-in super-sensitive sensor that triggers the alarm to beep thrice when it detects any of shock or vibration. Further tampering will make the alarm let out shrill sound with up to 10 beeps. Keep in mind that each alarm will last for around 10 seconds.
Because the alarm siren sound is rated 110dB, you can rest assured that it's loud enough to get your attention from wherever you are and even attract the public attention.
Just like our previous lock alarm, this model comes with a durable aluminum body which makes it one of the most robust motorcycle alarms you can get on the market today.
This alarm works with a variety of bikes, so there's a good chance it'll work with your specific model. It comes with pre-fitted with a set of 6 batteries and even an extra pack. It's easy to install and operate and will ring loud enough to discourage a would-be thief from stealing your beloved motorbike.
Highlighted Features:
6. JACOOL Anti-Theft Motorcycle Alarm
This JACOOL motorcycle alarm also made it to our list of the best motorcycle alarm reviews owing to its versatility and ability to keep an eye on your bike when you're away. It works with most motorcycles, including sportbikes, racing bikes, choppers, cruisers, and scooters from popular brands.
The lock comes with a built-in alarm sensor that activates the alarm when someone tries to touch or move your motorbike. The alarm, in turn, emits 3 long beeps plus a louder sound, all at intervals of 10 seconds. The sound is rated 110dB making it highly audible (as audible as the car's horn). To deactivate the alarm, you'll need to put the key in the lock.
We also like that this lock alarm is built with high-quality materials for maximum sturdiness. It features an aluminum alloy body, which is seals against dust, dirt, and moisture—ensuring maximum longevity, even when used in harsh weather conditions.
To save you the hassle of looking for batteries to power this alarm, the manufacturer has installed batteries into the device…plus they put an extra set inside the box for your own convenience. Remember that this alarm is straightforward to install and operate. The orange reminder cable will ensure you don't ride your bike with the lock on.
Highlighted Features:
7. Bibowa Disc Brake Lock With Alarm
Beep! Beep! Here's another highly reliable lock alarm you can use to secure your bike from opportunistic thieves. This particular lock features a small, 6mm pin which easily fits small disc holes. This significantly increases the alarm versatility, allowing it to work with a wide range of motorcycles.
The lock boasts of 110dB alarm device that makes a loud beep on closing the lock to let you know that the alarm is active and ready to scare off thieves. Now, if someone tries to touch the lock or open it with a different lock, or even try to move your bike, its incorporated vibration sensor causes the alarm to go beep! Beep! And the would-be thief will be forced to run for his life.
An incredibly bright orange, lengthy reminder cord comes with the package to remind you to remove the lock when riding your bike to prevent potential damages.
Like all the other lock alarms featured on this list, this model comes with a high-quality alloy steel body for the ultimate durability. The disc lock is hardened to resist sawing, cutting, or chisel attacks, maximizing your bike's protection.
Since this alarm has waterproof sealing, it will work reliably even in dusty and rainy conditions.
Previous users of this alarm regret not having bought it sooner. They're satisfied with its great quality and security features which maximizes your bike protection from unwanted hands. The price too is affordable and reasonable for the quality and features the lock alarm provides you with.
Highlighted Features:
8. Rupse Waterproof Motorcycle Remote Control Alarm
Our 8th motorcycle alarm review goes to this Rupse motorcycle anti-theft alarm with remote control. This compact, affordably priced alarm is a REAL bad-ass that will call you with a loud yell whenever someone tries to steal your bike.
Unlike other models in its price category, this alarm has remote control capability. It comes with a super-loud vibrational alarm (rated 125dB)—making it the ideal product for bikers who want an even louder alarm. However, you might think twice about using this alarm in your residential area if your neighbors hate noise.
Note that you can easily customize the sensitivity level of this alarm (explained in the instruction manual) to help eliminate false alarms.
You'll quickly notice that this alarm is flying saucer-shaped. This is helpful in that it helps maximize the device's waterproof performance, enabling it to protect your bike in humid conditions.
Oh! Don't forget the device is optimized for minimal power consumption, so you won't have to recharge it too often. An excellent way to save a few bucks, right?
If you think cheap motorcycle alarms don't get the job done, this device will prove you otherwise. Even with its compact design and affordable cost, this alarm acts as a little bad-ass that keeps a hawk-eye on your motorcycle to ensure no one touches or moves it.
Highlighted Features:
9. WINOMO Motorcycle Alarm System
This is an ergonomically designed motorcycle alarm that you can easily install and operate. It comes with a compact and portable design, allowing you to hassle-freely take it with you to any place.
The reasonably priced system features an anti-theft alarm with a double remote controller. The alarm has a sensor which detects shock and movements, after which it sets off the alarm to scare away the would-be thief. Mind you; the audio siren is quite loud, so you'll easily hear it.
Thanks to the system's remote capability, you can comfortably control various aspects of this device from the comfort of your house—e.g., the remote kill switch, flashing lights, and more.
Remember that this alarm system universally works with all motorcycles with 12V batteries, making it one of the most versatile models you can get on the market today.
Overall, this is incredibly easy to install and operate alarm system, even for absolute beginners. It's also extremely loud, so it'll give you peace of mind if you worry about your bike getting stolen when you leave it outside your home or in the parking.
Highlighted Features:
10. HENDUN Bicycle Waterproof Alarm with Remote
Our top-rated motorcycle alarm reviews come to an end with this alarm device from Hendun. If your motorcycle is moved or shaken when out there, this vibrational alarm produced extremely loud 113dB sirens—the perfect recipe for frightening and deterring thieves.
Easy and straightforward to set up, this device features a built-in sensor which can be customized through 7 levels of sensitivity. This means you can set the sensitivity from gentle touch to push, beat, etc., to suit your unique preferences. With the included remote controller, operating this device is incredibly easy, and you don't have to be near your bike.
Likewise, installing this device is quite easy and fast. No screws or wires involved. The super-strong adhesive tapes and cable ties make the installation hassle-free.
If you think motorcycle alarms can't work in rainy conditions, this Hendun will prove you wrong. It comes with a waterproof design which enables you to use it in harsh outdoor conditions to protect your bike from thieves.
Bikers who own this alarm have expressed their satisfaction in the way it works. Most of them are impressed by how loud it rings, its ability to work at far distances, and the adjustable sensitivity. The quality too is nice, and the device feels durable and robust.
Highlighted Features:
What To Look For Before Getting One?
It's not easily single out the most effective motorcycle alarm from the numerous products on the market today.
That's why you need a criterion to help you easily navigate to the ideal alarm for your specific needs and requirements.
Things to look for:
How loud is the alarm?
How loud the motorcycle alarm you want to buy directly determines its power or volume and is measured in decibels.
That said, the ideal alarm power for you will depend on where you usually park your bike.
If you usually park it near your home, then you will need a model with around 60dB. Such a model will alert you if someone tries to move your bike without being a nuisance to your neighbors.
If you'll be leaving your bike far away, however, you'd want to invest in a louder alarm with over 100dB.
Quality
You'll also want to ensure you buy a lock alarm that has a strong, durable construction.
This will ensure that in case the alarm is cut off, the would-be thieves will still have a hard time trying to move your bike as they can't easily saw, cut or drill through the durable materials.
Look for models made from stainless steel, aluminum alloy, or any other hardened metals that stay intact no matter how much thieves try to tamper with them.
While still on the design, ensure you get a motorcycle alarm that comes with a waterproof seal to prevent dust, dirt, and water from interfering with its functionality.
Cost
You should also consider the amount of cash you're willing to spend on a device that keeps an eye over your motorcycle.
If you're on a tight budget, you can look for models below $50. In this range, you can find a good quality disc brake alarm or alarm with adhesive tape for attachment to your bike. Most models in this range also feature a motion sensor, wireless remote control, and loud alarm sirens rated well over 100dB.
For over $50 to $100, you can get disc brake or handlebar alarms. If you're looking for the best motorcycle alarm system with GPS tracking system, this is the range for you. Other cool features you'll get here include perimeter sensor, louder sirens (over 150dB), wireless remote capability, smartphone compatibility, and durable construction.
How much are you willing to spend on a motorcycle alarm?
Ease of use
It also makes sense that you look for a model that comes with user-friendly design and features—to promote easy installation and operation.
If you're the type of biker who prefers simplicity, you'd want to look for an alarm system with a simple design, straightforward settings, and features.
Models which come with wireless remote control and Bluetooth compatibility are also easier to use as they let you activate the alarm and set other device parameters remotely.
Other concerns:
You might also consider looking out for the alarm's power consumption. Models that drain batteries pretty fast means you'll need to keep spending on batteries to keep them powered on. A reminder cable is also good to have in a lock alarm to remind you to remove the disc lock before riding to prevent costly bike damages.
PRO TIP: Resist the urge to invest in a second-hand motorcycle alarm!
The reason why we suggest that you invest in a brand new model is that used alarms might have functionality issues. They might have 1-2 malfunctions pieces. Also, you can't just trust anybody; the seller might duplicate the lock alarm key for ill intentions. For 100% peace of mind, get a brand new alarm that hasn't been used before.
Frequently Asked Questions
1. Isn't a wheel lock enough to protect my motorcycle from getting stolen?
Let nobody fool you! A lock alone isn't enough to protect your bike from thieves. Think of it this way…if you lock-in your bike, 3-4 people can easily lift it and put it into a van and drive away without your knowledge.
But things are different when using an alarm. Immediately, they touch or try to move your bike, the senor will trigger the alarm to emit loud siren (over 100dB). The sound will not only scare away thieves but will also alert you and the nearby people, saving your bike from thieves!
Another little known secret to bikers is that thieves tend to avoid stealing bikes with advanced security systems.
2. Can a motorcycle alarm work in all weather conditions?
This will depend on the materials used to design the alarm you're using.
If you invest in a good quality made from hardened metal, then it should be able to resist rust and corrosion. Models with waterproof feature also help protect the device from getting into contact with water.
Always check the user manual to see if the manufacturer states that their alarm is waterproof and anti-corrosion/rustproof.
You can also check what the previous users have to say regarding the device's ability to withstand extreme weather conditions.
3. Where should I place the alarm on my motorcycle?
We highly suggest that you place the alarm on the frame as that's where the slightest movement or shock can easily trigger it on your bike.
While most bikers prefer placing the alarm on the wheel, it's worth noting that an experienced thief can easily remove the wheel without triggering the alarm. This is especially true if your alarm has a low battery level or low ringtone.
If you feel that you must attach the alarm to the wheel, the go for the rear wheel as it'll take longer to remove the lock in it that in its front counterpart.
Final Verdict
Numbers don't lie. Motorcycle theft cases have been on the rise over the previous years. This is a big reason to worry for all motorcycle owners. If you live in states and cities that lead in motorcycle theft cases, you have an even bigger reason to worry.
Luckily, you can safeguard your motorcycle from being stolen by investing in a high-quality motorcycle alarm. The best motorcycle alarm should will sensor even a gentle touch or the slightest movement on your bike and let out a loud siren, scaring the hell out of the would-be thieves.
Get one of the top-rated alarm devices we've just outlined above today if you want to enjoy 100% peace of mind whenever you're far from your beloved motorbike.
See Also: