10 Best Motorcycle Amplifier Reviews 2020 – Buying Guide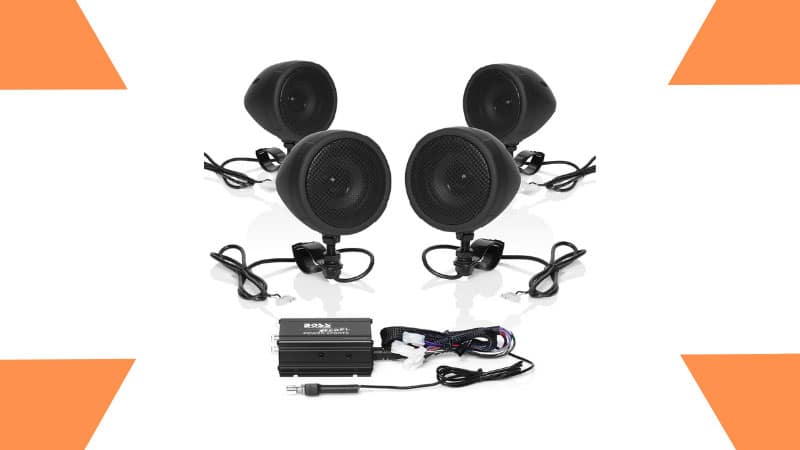 Imagine a long stretch of road ahead of you and the only sound renting the air is the vroom-broom of your bike engine?
The journey will quickly get boring, right?
Now, imagine if you spice up your journey with some cool, soothing music playing in the background.
You'll feel more lively, and you'll cruise with double-energy!
That's the HUGE difference a motorcycle amp can make in your rides.
It boosts the power and quality of sound signals from your music devices—making your long trips more fun and addictive.
That said, buying the best motorcycle amplifier is easier said than done.
Most bikers are guilty of rushing to buy an amp based on its power rating…and missing on other crucial specifications that determine the amp's performance.
In this guide, we'll reveal to you what makes the perfect motorcycle amp for your bike.
Plus, we'll give you a list of the hottest amps on the market today.
Let's do this…
Where To Install A Motorcycle Amplifier?
One of the most asked questions by bikers is where to install a motorcycle amplifier.
You need to know that there's no specific place for installing an amp on your motorcycle.
Just need to choose an area that doesn't block the amp's audio inputs (where you'll be inserting the memory card reader, smartphone or USB device).
You should also place in an area where you can easily access it at any time.
This can be on the handlebars, tank bag, saddlebag, under the headlight, or even under your bike seat.
Since most of the amplifiers currently available feature a compact design, many bikers prefer to stow them under the seat as the most convenient place.
Most of the motorcycle amps out there, including the ones listed below, comes with all the necessary installation hardware like velcro and brackets to facilitate easy installation.
They also come with a set of easy to comprehend instructions for even easier manual.
10 Best Motorcycle Amplifier Reviews:
1. Rockford Fosgate PBR300X4 Punch 4-Channel Amplifier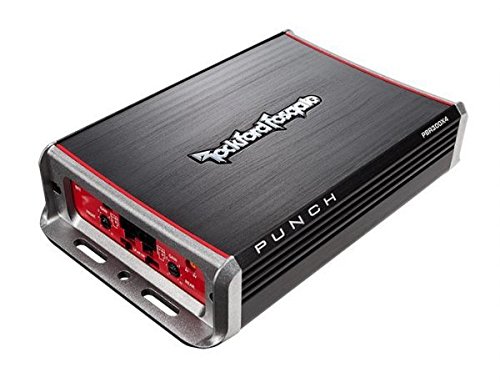 If you're looking for a super-compact amp that you can hassle-freely stow under your bike seat, go for this Rockford amplifier. Despite its compactness, this 4-channel amp is a solid performer and will serve you with good-quality music to make you forget your worries as you cruise around.
It has an incredible power rating of up to 300Watts. It has an impedance rating of 4ohms and generates 75Watts for each channel—which totals to 300Wats. This makes it adequately powerful to power all your bike's stereo speakers for heavy bass music.
The amp features both high pass and low pass filter for clearer output. It also provides you with a convenient switch which lets you hassle-freely hop between 2- and 4-channel. Not to forget the separate dial gains for both the front and rear speakers.
Unlike most products out there which tend to overheat after some use, this amp doesn't get overheated. You just need to ensure you give it around 1-inch clearance during setup to facilitate efficient heat sink cooling.
Overall, this little motorcycle amp rocks! It's incredibly easy to install and produces really good quality sound. It also doesn't cost an arm and a leg, so even a biker on a budget can afford it. Remember it's incredibly compact to enable you to hide it under your bike seat.
Highlighted Features:
2. Kenwood KAC-M1804 Compact 4-channel Amplifier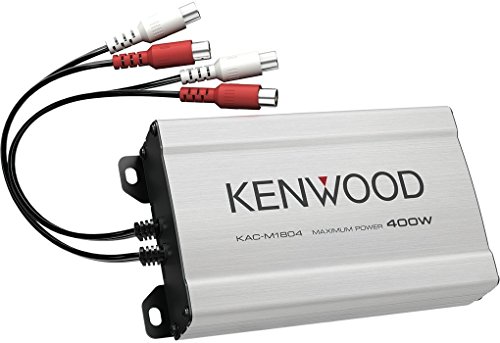 If you're looking for the best motorcycle amp for use in the marine environment, this is it. This amp comes with a conformal coated circuit board which prevents rusting and corrosion—enabling it to survive the marine/aquatic environments.
Like our previously discussed amp, this model also comes with an incredibly compact design…but packs a powerful performance that's sure to pump up your motorcycle's audio.
It's a 4-channel amp that will pump up your motorcycle's music system with 45 Watts RMS per channel. This means it outputs a total power of 400Watts, which is higher than what we've seen in our previous model.
Its compact design means it occupies less space on your bike's handlebars or any other place.
Another thing you'll appreciate in this model is its protruding aluminum heat sink. This helps prevent overheating of the amp and slowing down its performance.
This Kenwood is a great amp for your motorbike if you live around marine/aquatic areas. Its compact design enables it to occupy little space. It also has a powerful output which allows it to power serval of your motorcycle speakers for excellent quality sound (music) that adds fun to your trips.
Highlighted Features:
3. Kenwood KAC-M1824BT Compact Automotive/Marine Amplifier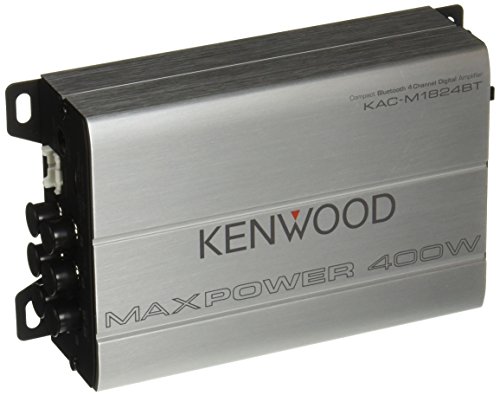 Still from Kenwood, we have another compact amplifier for your motorcycle that's also designed to survive the harsh marine environments. This is made possible by the conformal coating around its oriented circuit boards which offer excellent protection against moisture and damp air.
One of the TOP features that puts this amp strides ahead of its competition is the built-in Bluetooth. This enables you to connect your smartphone to the amp and listen to your favorite playlist with more enhanced audio quality.
And if you use this amp with your in-dash receiver, you'll be in for double the power of typical CD receiver with its integrated 45Watts x 4 amplifications.
Thanks to the strategically placed, water-resistant control button, you'll have an easy time adjusting the volume and jumping between tracks.
Another great reason to choose this amp is the convenient remote control it comes with. Mind you; this remote comes with an IPX5 water-resistant rating to ensure you can safely use in extreme weather conditions. This further justifies the applicability of this amp in marine areas
Like its sibling above, this Kenwood also features a truly compact design. This enables it to fit even in the most limited areas of your motorcycle.
Overall, this is another excellent product from Kenwood. It scores highly in key areas like ease of installation, sound quality, and compactness. Its Bluetooth connectivity feature makes it a darling for every motorcyclist. Apart from your bike, you can use this marine-rated amp on your boat, ATV, or car.
Highlighted Features:
4. DS18 CANDY-MICRO2 Amplifier
If you think all the amps available are too big for your bike, this mini amplifier for motorcycle will prove you otherwise. The device comes in an extremely compact housing (measuring 80.2 L x 124 W x 27 H mm) that fits into your palms…and virtually anywhere on your bike.
BUT…don't let its size fool you into underrating its performance. This little guy will pump up serious power when put to work. It has a maximum power output of 320, which is a sure way to magnify your music beats.
The versatile amp gives you impressive RMS ratings at different impedance levels. At 4ohms for 2 x 65W per channel or 2ohms for 80W per channel, and 4 ohms bridged it delivers 160W per channel.
Installing the amp is super-easy and fast. Since it comes in both 2-channel and 4-channel options, you'll get a chance to choose the model which meets your audio magnification needs.
For bikers with limited space in their motorcycles, DS18 is a smart choice for you. This amplifier has such a small design that it can fit in your hands. It feels as light as a feather and has pocket-friendly cost. Despite the small size, the amp will add juice to your system for some refreshing music that takes you to the end of the road.
Highlighted Features:
5. Kicker 12Px100.2 Two-Channel Amplifier
This is the perfect motorcycle amp for those who want something compact and powerful that can withstand extreme weather conditions. Like the Kenwood models we discussed earlier in our motorcycle amp reviews, this model also features conformal coating over the circuit board for maximum weather resistance.
The affordably priced amplifier is also optimized for maximum amplification of your audio input, for unforgettable music experience. It's a 2-channel amplifier that delivers up to 100Watts worth of power at 2ohm. This simply means there's little resistance to current flow which optimizes its amplification ability.
Note that this amplifier also comes with an integrated high pass filter plus 24dB/octave, which goes a long way in controlling higher frequencies for smoother music output.
Inside the package, you'll get a lengthy standardized wiring, main harness, and a set of instructions, all of which make the installation struggle-free and fast.
We highly recommend this amp to bikers who want to upgrade their OEM audio systems. This mini-amp delivers adequate RMS power output at pretty little impedance of 2ohms. It' can power your bike's rear and front speakers. Its weatherproof design means it can perform well in all weather conditions.
Highlighted Features:
6. Boss Audio Systems MCBK470B Motorcycle System
Planning to upgrade your entire motorcycle sound system? If yes, you should look for the best motorcycle amp and speakers. The Boss Audio System comes with not only the amp but also 4 speakers which are finely tuned to properly work with amp for unmatched music experience.
One of the coolest things about this system is the Bluetooth connectivity function. This allows you to easily connect it with your smartphone or mp3 player and listen to your favorite music while cruising for long distances.
Keep in mind that this system has an excellent power rating of 1000Watt. And being, a 4-channel amplifier, it comes with up to 4 full-range speakers which output powerful sound that gives you the energy to ride and ride. The inline volume control lets you adjust the volume on the fly.
Since it comes with a water-resistant design, you can ride with it through unfavorable weather without any problems. However, keep in mind that this system shouldn't be exposed to water for long as it only offers resistance to some degree.
If you want to do a complete upgrade to your bike's audio system, this is the perfect package for you. This system features an extremely powerful amp plus 4 full-range speakers for powerful music output. All the necessary mounting hardware is included for hassle-free setup.
Highlighted Features:
7. Cerwin-Vega B52 Stealth Bomber Class D Amp
When upgrading to a new amp, you should only go for a top-performance model that gives you cleaner and clearer sound than your previous model. Cerwin-Vega B52 makes one such great replacement for your motorcycle amp.
Bikers love this amplifier's ultra-compact design which enables it to fit under the bike's seat easily.
The 2-channel, 500W amp presents you with a speaker-level input with automatic turn-on which ensures extended compatibility and applicability. It also features a BTR port which works with the optional Cerwin Vega's mobile Bluetooth receiver for easy connectivity to your Bluetooth-enabled phone for unlimited music streaming.
With the advanced rollback and thermal protection circuit design, this amplifier will continue magnifying your music beats even when riding in the most extreme conditions.
Cerwin Vega B53 is a truly powerful motorcycle amp in a small package. It outputs great quality sound and features a budget-friendly cost. You don't need any special skills to install it on your motorcycle. This amp is simply an irresistible deal!
Highlighted Features:
8. Soundstream Stealth Series 1200W Class D 4 Channel Amplifier
This is a Class D, 4-channel amplifier amp that features a small size but performance like a real monster—capable of outputting a whopping 1200Watts worth of powerful music.
The pretty versatile amp offers you bridged full-range operation in 4ohms or 2ohms as stereo. It also presents you with a MOSFET power supply with Audi file-grade IRTM transistors for superior performance. Because it also comes with variable high and low pass filters, this amp will smoothen out your favorite tracks to give you nothing less of pure beats!
And unlike most amps out there, this model's circuit board is made using military-grade SMT PCB for steady, dynamic performance.
Don't forget that this motorbike amplifier comes in a hybrid aluminum alloy heat sink for maximum heat dissipation. This ensures the amp doesn't heat up, no matter where you fit it on your bike.
The included instructions make it easy for you to install this amp. And the included manufacturer warranty is sure to give you a worry-free buying experience.
Highlighted Features:
9. Velex Bluetooth Marine 4 Channel Class A/B Amplifier
This Velex is one of the best motorcycle amps with Bluetooth function at an attractive price tag. It makes it possible for you to pair your smartphone or any other Bluetooth compatible devices to it and listen to your favorite tracks while riding.
The 4-channel amplifier has a maximum power output of 50Watts at 4ohms. This means it can work with numerous speakers—including subwoofers, 2om, and 4-ohm speakers.
Other than Bluetooth technology, this amp also comes with a USB output, which gives you the option of connecting a USB device and stream your favorite music. Or you can use this USB port to charge your handheld device(s).
This is a class A/B amplifier, which simply means it falls in the class of superior music producers. It has a conformal coating on the printed circuit board, which ensures total protection against moisture and damp air.
Overall, this is one of the most affordable options for bikers who want a Bluetooth enabled amplifier. It's super-easy to install, and its micro design means it can fit just anywhere. It outputs excellent sound quality and comes optimized to survive the harsh marine or aquatic weathers.
Highlighted Features:
10. Gravity 600-Watt RMS Digital 4-Channel Full Range Amplifier
The last product on our rollout of the best motorcycle amps goes to this Gravity 600-Watt model. This 4-channel amp is a full-range model, so it covers the entire audio range and can be used with more just subwoofers.
We love that that this is one of the few motorcycle amplifiers that support bridging. It comes with integrated bridgeable technology which lets you use two of its channels to deliver a common load for even better sound output to your system speakers.
You can choose to turn the 2ohms or 4ohms stable 600 RMS with this amplifier, both of which deliver exceptional sound experience.
Featuring High, Low, and Full pass filters, this amplifier will allow you to hassle-freely adjust your audio system for perfect sound output.
Keep in mind that this amp features an IPX65 waterproof rating to enable it to withstand light showers. It also comes with a compact design to allow you to to fit just anywhere around your motorcycle.
Highlighted Features:
Things To Look For Before Buying A Motorcycle Amplifier:
Choosing the perfect amp for your motorcycle doesn't have to be hard, especially when you know exactly what to look for in an amplifier.
Below, we outline the TOP factors that define an ideal amp for your bike:
Number of channels
As you have seen in our motorcycle amplifier reviews list up there, motorcycle amps are categorized based on the number of channels.
For starters, "channels" simply means the discrete speakers a given can adequately power.
If your audio system is made up of only one speaker or a subwoofer, then you'd want to look for a mono-channel amp. A two-channel amp will power up to 2 speakers, 3 channels for 3 speakers, and so on.
While still at it, keep in mind that some amps allow you to bridge channels into one to form better sound outputs for multiple speakers.
Size
Another important thing to keep in mind when looking for a motorcycle amp is its physical size.
Different amps out there come in different sizes as you have seen in our motorcycle amp reviews above.
Although most of the feature small and compact designs, we advise you to double-check to ensure the specific model you pick will fit in the available space in your motorcycle.
Power rating
You'll also need to ensure that the amp you're purchasing has an output power that matches that of your system's speakers.
Why is this important?
Most bikers don't know this, but not matching the amp and speakers can lead to underpowered or overpowered speakers.
If you get an amp that supplies your speakers with less power, then they'll output weak, distorted, and unclear sounds.
And if you get an overpowered amp, it can blow out your speakers. This is especially true if the amp output is far much greater than that of your speakers.
To get the perfect match for amp and speakers, check the RMS rating of the amp (which indicates the consistent power the amp can provide) to and compare it with the total power requirements of your speakers.
Pro TIP: Not just speakers, ensure you get an amp that's compatible with your entire motorcycle audio system. Using the wrong amp will not give you any improvements. Look for amps that feature extended frequency responses as well as low deviations. Also, check if the amp manufacturer lists its product's THD (distortion). The lower the THD number the better.
Additional features:
Frequently Asked Questions:
1. What's the work of a motorcycle amplifier?
A motorcycle amplifier is typically an electronic device designed to boost (or amplify) the signals from your audio input devices such as radio, CD player, mp3 player, and more.
To do this, the amplifier alters the amplitude of the audio signal to output more powerful audio signals. And yes, you guessed it right, this translates to more powerful music.
2. How much power do I need on the motorcycle amplifier?
The power requirements for these devices vary from model to model. This explains why you'll find different models featuring different power ratings.
We advise you to pay close attention to the RMS power rating of the amplifier you plan to purchase. This indicates the average measure of the amount of power the amp can consistently output.
The RMS value should match or be very close to your bike speakers power requirements.
Overall, make sure you the amplifier you choose delivers an adequate amount of power to feed all the components of your sound system.
3. Can I use a car audio amplifier on my motorcycle?
No, it's not a good idea to use a car amp on your motorcycle. This is because the car-specific amp is designed to operate at extremely high loads, and can drain your motorcycle battery really fast.
Sooner, you might start experiencing issues like dimmer lights, engine failure, and more.
We STRONGLY urge you to stick to motorcycle-specific amplifiers as they draw low loads from the battery, so they won't strain your battery—enabling it to last longer.
Final Verdict
Riding your motorcycle for long trips while listening to your favorite music is a priceless experience. The music nourishes your soul, and give you the zeal to finish your journey.
Investing in the best motorcycle amplifier goes hand in hand in ensuring an entertaining "musical" journey. A good amp for your bike boosts the power and quality of the sound signals coming from your audio input devices—translating to more powerful music output.
Never take on a long stretch of roads again while listening to the dull sound of your engine.
Order one of the hottest amps we've outlined above to make your trips more memorable and addictive!
See Also: