The Best AGM Motorcycle Battery Brands and Reviews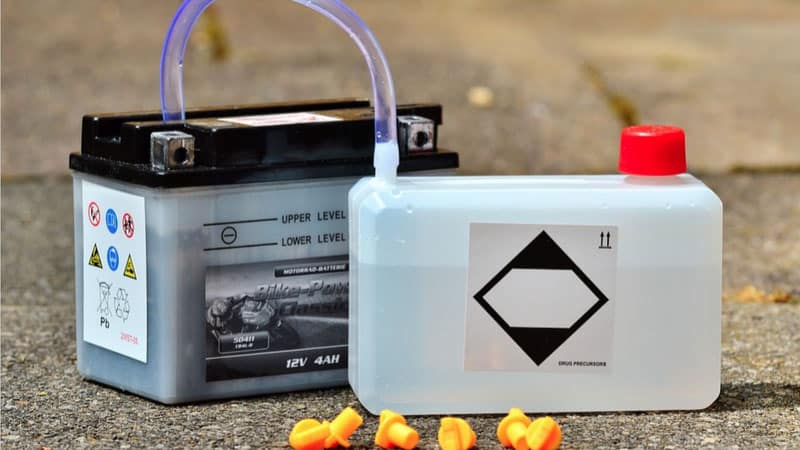 As electrical systems get more sophisticated by the day, it's more important than ever to use the best motorcycle batteries you possibly can.If you're planning to go for long trips with your motorcycle, the last thing you want is your battery dying when you're in the middle of nowhere. This can quickly turn your enthusiasm into frustration.As the experienced bikers will agree, a good battery is a necessity if you want to keep your bike running smoothly over long distances.That being said, we scoured the market in search of the best motorcycle battery, with steady performance and ability to hold power for longer hours.We scanned through customer feedback, compared products against each other until we found the most reliable models for your bike that we've outlined below.
Here's a motorcycle battery comparison chart:
Best Overall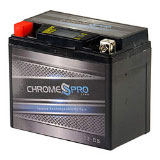 Best Value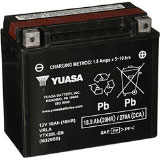 Honorable Mention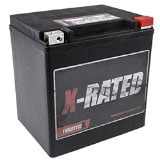 Types of Motorcycle Batteries
Before we roll out our list of the top-rated motorbike batteries, it's essential to familiarize yourself with the most common types of batteries you're likely to find on the market today.
The batteries can be classified into 3 main categories:
1. Lead-Acid Batteries
These are the oldest known motorcycle batteries. They're characterized by plates, lead, and lead oxide.They contain up to 35% sulfuric acid, and the remaining 65% is water solution. You'll need to regularly top up these batteries with distilled water to prevent possible damage to the plates.Also, keep in mind that these batteries should stay vertically oriented. This helps prevent nasty acid leakage whose highly corrosive nature can damage your motorbike parts and components.
2. Gel Batteries
These are simply the sealed lead-acid batteries. They typically feature a "gelified" electrolyte (sulfuric acid plus fumed silica which makes a gel-like, immobile substance).Because gel batteries contain immobile electrolyte, they don't need to be kept upright…and don't need regular topping (i.e., they're maintenance-free).The batteries also don't have issues like electrolyte spillage, leakage, and corrosion as seen in the wet lead-acid models above.These batteries are also known to show higher resistance to shock, vibration, and extreme temperatures.
3. AGM Batteries
Then we have the AGM (absorbed glass mat) batteries, which are regarded as the modern motorcycle batteries.These batteries come completely pre-sealed, making them 100% maintenance-free. Like the gel batteries, these models can be placed in any position or angle.They show excellent resistance to heat and vibration, the two well-known killers of motorcycle batteries. This translates to increased lifespan.Though AGM batteries and gel batteries deliver almost a similar performance, the former comes at a more affordable cost—making them more popular among bikers.
4. Lithium Batteries
Lithium batteries use technology that is way different from the other three, so and we cover them in a separate roundup article. This type of battery is a whole lot lighter (most are barely over a pound), is rechargeable, but is also a lot pricier. 
10 Best AGM Motorcycle Batteries Review
1. Chrome Battery YTX12-BS IGEL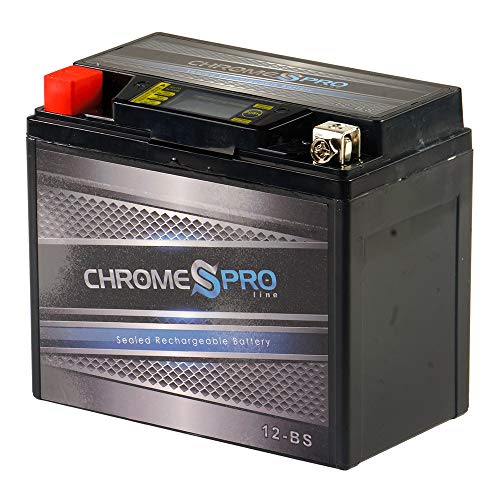 If you're looking for the best battery for motorcycle that requires 180CCA battery, this is a perfect pick. The product comes optimized to deliver optimal performance, safety, and effectiveness—all in a solid body.Since this battery comes with a gelified electrolyte and comes pre-sealed, you won't need to make any adjustments to it, so you can start using it right away. In addition, it doesn't require any maintenance like topping. You can also place it in any position/angle you wish without worrying about any kind of leakage.Regarding the construction, the manufacturer designed this battery using lead calcium alloy and copper terminals. This results in a dependable battery that offers excellent resistance to pressure, wear, heat, and vibration—ensuring maximum longevity and increased performance.For an even longer lifespan, the battery comes with high cell compression and fiberglass mat separators.Measuring 5.12″ H by 5.91″ L by 3.43″ W, this battery has an average size and will perfectly fit most bikes. You'll find the incorporated LCD display quite convenient as it shows you crucial battery info such as the charge level.Overall, this is a great battery for the price. It comes optimized for maximum lifespan, performance, and safety. Not to forget it comes in a compact, lightweight design that fits your bike without any issues.
Highlighted Features:
Smart LED display screen

Gelified electrolyte; maintenance-free

60-day money-back guarantee

Can be mounted in any position

Rechargeable up to 2000 times

High-performance operation

Vibration and shock-resistant
2. Yuasa YUAM320BS YTX20L-BS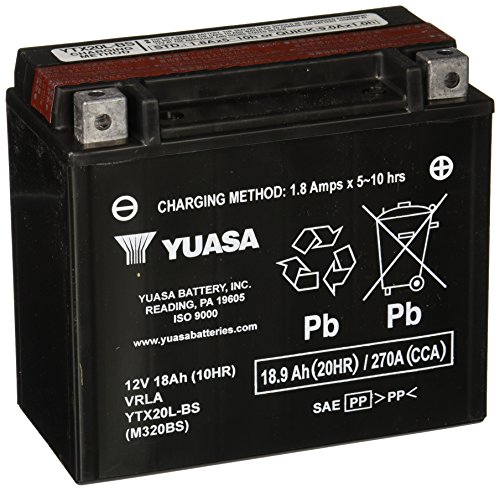 Yuasa is another top motorcycle battery brand in the U.S. They employ the highest standards for the manufacture of their batteries. This high-quality AGM type battery will make an excellent replacement for your existing motorbike battery.Unlike most models that fall in this battery's price range, this one features lead-calcium technology which enables it to hold gravity up to 3x longer than its competition.The battery comes entirely sealed and 100% spill-proof for maintenance-free operation. This means no more tiresome water top-ups. The fact that the electrolyte is immovable means you can set the battery in your preferred orientation or angle.The battery delivers an output voltage of up to 12V and 18 amps per hour—making it the perfect choice for reliably powering all of-road motorcycles and ATVs. It has 270CCA to ensure it starts most motorcycles easily.Unlike most of the batteries, however, this battery doesn't come charged. It's shipped dry with acid bottles, so you'll have to do the filling on your own. The included instructions will be helpful here.Regarding the size, this battery measures 6/9″ x 3/3″ x 6/1″ and weighs only 14.8 pounds light…so it won't feel like you've loaded your bike with a burden. For the price and quality, this is one of the best AGM batteries you can find around.
Highlighted Features:
12V, 18amp-hour battery

270 cold-cranking amps

100% maintenance-free battery

Totally sealed & spill-proof

Uses advanced lead-calcium technology

Dimensions: 6.87″ x 3.43″ x 6.12″
3. Throttle MX30L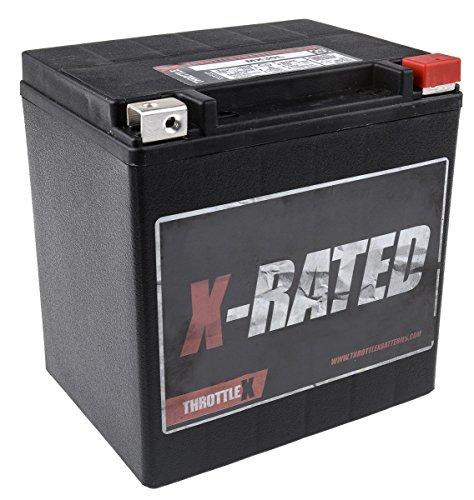 If you're looking for the best motorcycle battery at a wallet-friendly price, this is it. Straight from Throttle X, another reputable brand, this battery is designed for more just performance. It's designed with every riding enthusiast in mind to ensure you never get stuck in the jungle again with a dead battery.One of the top reasons why bikers have an undying love for this battery is the fact that it comes factory activated…it comes fully charged and ready to use right out of the box.Because this is an AGM type of battery, it has the desirable characteristics like leak-proof and spill-proof design, making it 100% maintenance-free.Even better, this battery comes with added vibration resistance which translates to increased reliability, performance, durability, service life, and safety. The top and side terminals of this battery feature extra strength to resist damage in the event of vibration or during installation.With its cool specs (i.e., 600+ CCA and 30 A.H.), there's no doubt that this battery will meet or exceed your current model's specifications.Oh! Don't forget that the battery has tear-resistant AGM separators which are protected by full-frame plates for increased cranking amps while keeping discharge rate low.
Highlighted Features:
AGM, sealed, non-spill battery

Comes fully charged

600+ CCA and 30 A.H.

30-day money-back guarantee

Dimensions: 6 5/8" L x 5 3/16" W x 6 7/8" H

Weighs 22.5lbs only
4. C.B. Chrome Rechargeable YTX30L-BS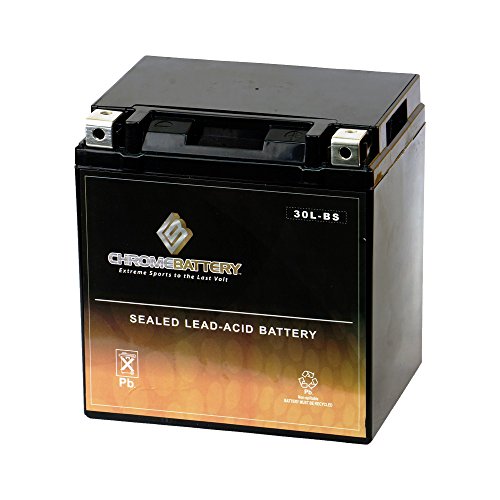 Chrome makes a comeback with an even more powerful AGM-type battery for your motorbike. With this highly dependable model, you can ride your motorcycle over long distances with confidence, knowing that your battery will not let you down.Measuring H)6. 89″ x (L)6. 54″ x (W)4. 96″, this battery will fit most battery compartments with ease.It offers you a pretty cool power capacity of up to 360 Watts. And being an AGM model, it comes fully charged and ready to go once shipped to your doorstep.Like its siblings from Chrome, this battery also boasts of lead-calcium technology which teams up with the absorbed glass mat technology to offer you a high-performance, maintenance-free battery for an extended period.With the patented sealed post, corrosion and rust will have no chance to damage your battery, resulting in an even longer lifespan. And like other top-rated A.G. Ms, this model also offers maximum resistance to vibration, heat, and pressure, extending its life even further.Overall, this battery is perfect for a wide range of applications, including motorcycles, ATVs, jet skis, and more. It perfectly fits most bikes. The 60-day money-back guarantee and 18-month warranty should help you order this battery with total confidence.
Highlighted Features:
Battery specs: 12V 30AH, 385 CCA, 360 Watts
Dimensions: (H)6. 89″ x (L)6. 54″ x (W)4. 96″

Fits a wide range of applications

AGM technology battery

Spill-proof, low maintenance battery

Comes fully charged
5. Throttle-X HDX20L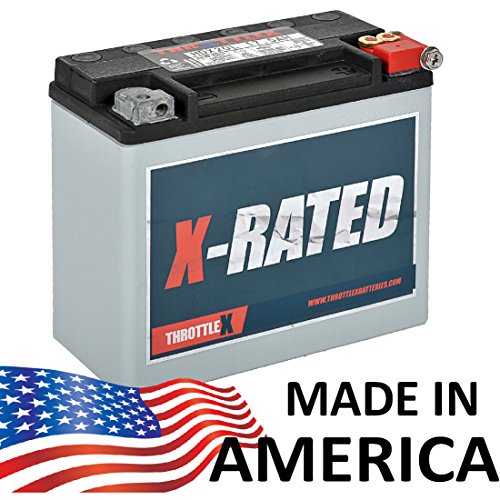 This battery is specially made to fit most Harley Davidson bikes from 1991 to 2016 including the Fat Boy, Sportster, Low Rider (Dyna), Night Rod, Super Glide, and many more.When it comes to performance, the AGM battery doesn't disappoint. It boasts of 310 cold-cranking amps (CCA), which means that it'll power up your Harley even in really cold temperatures.The battery is 100% made in the USA using modern technology (Absorbed Glass Mat) to eliminate leaks and spills for the best maintenance-free experience. It features a porous microfiber separator which excellently absorbs acid to ensure it doesn't leak or get shaken.Like our previously discussed A.G. Ms, this model also comes wholly sealed and fully charged, meaning it's ready to use right out of the box.The X-rated battery uses the latest AGM technology for the maintenance-free experience. The 30-day money-back guarantee and 18-month FREE replacement warranty make it a risk-free investment.
Highlighted Features:
100% made in the USA

Comes fully charged

AGM non-spillable technology

Requires no maintenance

Battery specs: 310 CCA and 18 A.H.

30-day money-back guarantee

18-month FREE replacement warranty
6. ExpertPower ETX9-BS 12v9AH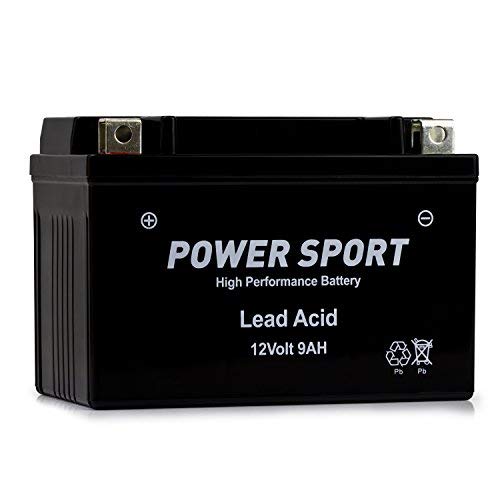 If you're looking for the best AGM motorcycle battery for your motorcycle, consider this battery as one of your top options. Like the other batteries above, this AGM also comes fully charged and ready to use as soon as you unpack it.Just like the other AGMs that made it to our motorcycle battery reviews, this battery also boasts of the latest in AGM technology. It comes pre-sealed to make it maintenance-free while allowing you to place it in any position that best fits in your bike.Keep in mind that it has a cold cranking ampere rating of 105ca, to ensure your bike does not fail in cold temperatures.Overall, this is a great motorcycle battery that comes at half the price of most of its competition while offering you top-of-the-line performance. Most users love it because it's effortless to install in most bikes and feels quite durable.
Highlighted Features:
12v9ah 105Cca sealed battery

Shipped fully charged

Maintenance-free battery

Dimensions: 5.9″ long, 3.3″ wide & 4.2″ high

90-day money-back policy
7. Pirate YTX5L-BS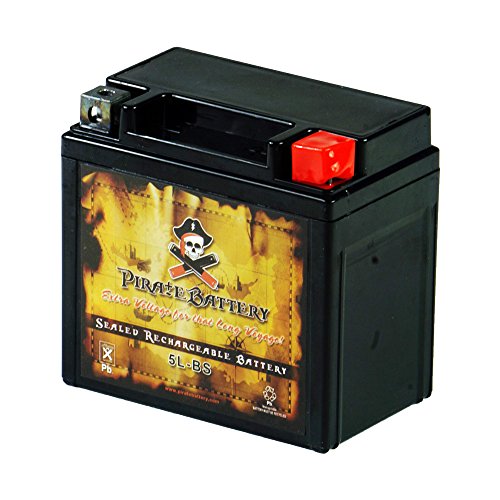 You have a new set of tires, GPS unit, and ready to explore adventures with your bike. But before you go, you'll need one more thing for an enjoyable, frustration-free ride— a good quality battery with steady performance. And that battery is Pirate YTX5L-BS.This is also an AGM battery, which validates its popularity among bikers. It comes with above-average specifications (12V, 48Watt, and 70 CCA0), which are sure to meet/exceed your current battery capabilities.As an AGM battery, it has solid electrolyte, eliminating issues like spilling and leaks. Not to forget that it doesn't require any maintenance.You'll also love that this battery comes fully charged, making it ready for use right out of the box. This is quite a convenient feature to have in a battery as all the experienced bikers will agree.Other cool features of this battery include heavy-duty anti-corrosion terminals, extreme vibration resistance, and higher life cycle performance.Don't forget that this is an incredibly versatile battery that you can use to power most motorcycles, scooters, and ATVs. With precise dimensions4. 21x 4. 45x 2. 60, this battery will surely offer a perfect fit for multiple motorcycle models.
Highlighted Features:
Battery specs: 12V, 48W, 70 CCA
Dimensions: 4. 21x 4. 45x 2. 60

Wide range of applications

AGM technology for low maintenance

Patented sealed post for anti-corrosion

Comes fully charged and ready to use
8. Chrome Rechargeable YTX7L-BS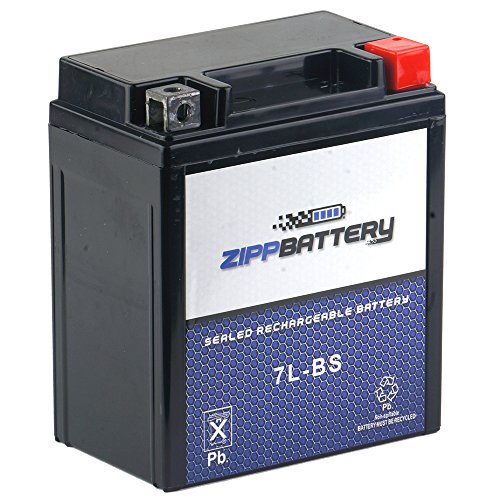 Just like the previously discussed batteries from the company, this model is also ideal for a wide range of applications ranging from motorcycles to jet skis, scooters, ATVs, and more.It features almost a similar size as our previous battery above (i.e., it measures 5. 12x 4. 45x 2. 76), so it'll perfectly fit in most bike's battery boxes…and in case it doesn't fit, a few modifications will solve the problem.One area where this battery garners lots of approvals from bikers is the fact that it comes pre-charged. This means you can start using right away, instead of waiting for it to charge.Another reason to pick this battery is that it uses the latest AGM technology to eliminate spills, leaks, making it a maintenance-free option.Most bikers who have bought this battery states that they were concerned with its low price at first. But after using it for a good enough period, they all agree it works great and can reliably fuel you to the longest trips you can imagine. Simply put, this is one of the best motorcycle deals you can get around.
Highlighted Features:
Battery specs: 12V, 72Watt, 6A
Dimensions: 5. 12x 4. 45x 2. 76

Fits a variety of applications

AGM technology; maintenance-free

Patented sealed posts; corrosion-resistant

Comes fully charged
9. Weize YTX12-BS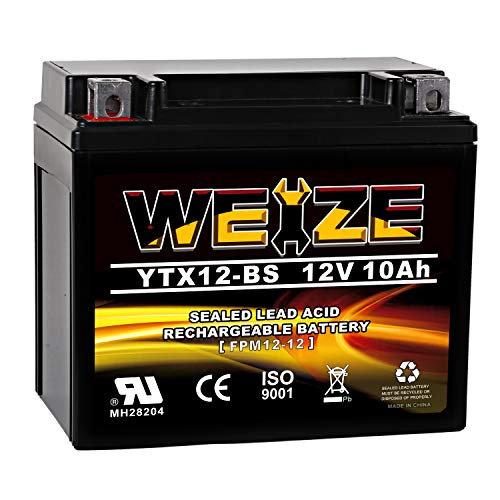 Weize YTX12-BS is a real powerhouse in a compact solid body. It's rated 12V and is capable of outputting as much as 10 amperes, which is unbelievable given its low price and compact (5.91 in x 3.35 in x 5.16), lightweight design (7.94lbs).The battery falls in the groups of sealed lead-acid (or the Absorbed glass mat) rechargeable batteries. This means it comes pre-charged and ready to install the moment it arrives at your doorstep. What's more, it doesn't need any regular topping or refilling, making it a maintenance-free battery.Installing this battery isn't a problem, its compact design enables it to easily fit most ATVs, motorcycles, personal watercraft, jet skis, snowmobiles, to name but a few.To sum it up, this is a compact, lightweight, and powerful battery. Despite costing half the price of a full-sized car battery, it provides you with a fantastic performance. It also fits a wide range of applications and comes with a 12-month warranty for peace of mind.
Highlighted Features:
Battery specs: 12V, 10AH,
Dimensions: 5.91 in x 3.35 in x 5.16

Sealed lead acid, rechargeable battery

Pre-charged, ready to go

30-day return policy

12-month manufacturer warranty
10. ExpertPower ET9B-BS Sealed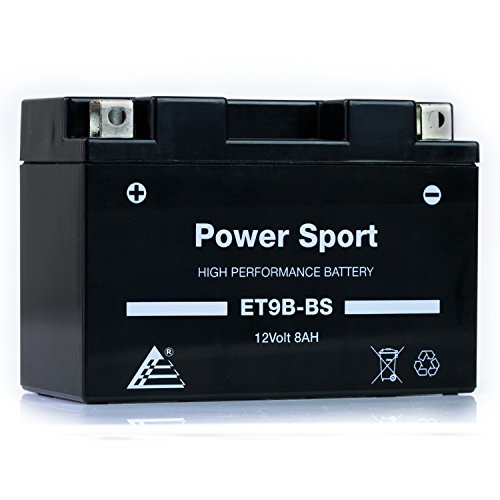 ExpertPoeer ET9B-BS signs an end to our list of the best motorcycle batteries. But this doesn't make it any less powerful. In fact, it offers you up to 100 cold-cranking amps at such a low price—eliminating engine starting issues for your motorbike.The motorcycle battery is similar to other models with around the same price tag in that it comes with a pretty compact (5.91(L) 2.72(W) 4.13(H)) and ultra-lightweight design (weighs as light as 6.46 lbs.). This design makes it the most suitable replacement for the 2001-2007 Yamaha YZF-R6, YZF-R6S UT9B-4 YT9B-BS YT9B-4.Since this is another sealed lead acid battery, it doesn't require you to perform any maintenance job on it. The manufacturer also fully charges it before shipping it to you for the ultimate convenience.Other than motorcycles, you can also use this battery to run your scooter, ATV, jet ski, home generator, and more.ExpertPower ET9B-BS' compact and lightweight design and low cost might make you skeptical about its performance at first. But once you put it to test, you'll be awed by its performance, and you'll not look back.
Highlighted Features:
Dimensions: 5.91" L x 2.72" W x 4.13" H

Weighs 6.46 lbs. only

100 cold-cranking amps

12V 8Ah high-performance battery

Sealed, maintenance-free battery
What Makes a Perfect Motorcycle Battery?
The world of motorcycle batteries can be intimidating as you stroll through different batteries looking for your perfect fit.The different types of batteries, with varying sizes, ampere ratings, price tags, etc., can make you feel soo overwhelmed that you might end up making the wrong choice.Below, we take you through the key factors to help you easily pick the best motorcycle battery for your bike.
Battery Type
One of the key things to consider when buying a motorcycle battery is what type you want to use for your motorbike.Now that we introduced you to the three main types of batteries—wet lead acid, gel cell, and AGM— at the beginning of this post, we won't go into the details about them.However, it's worth remembering that sealed batteries don't require any maintenance and come ready for use right out of the box.Rechargeable batteries might require some level of maintenance, though you won't be replacing them as often as the standard models. Most of them will charge for up to 2000 times before replacement.
Size
Size is another crucial consideration when looking for the perfect battery for your motorbike.Ideally, you want to get a motorcycle that perfectly in your motorcycle's battery box. To do this, you'll need to check the dimensions of your original battery and look for a battery that comes with around the same size.Bear in mind that using a battery that's too big for the box can lead to damages to the battery as you squeeze it to fit in.Also, a battery that's too small might rattle around and damage your bike. Or it might not even reach the cables.
Materials
Just like any other components of your motorcycle, the materials used to design the battery plays a significant role in its durability and longevity.Make sure you get a battery made from quality materials to enable it to withstand any abuse or tough use. This is especially true if you plan to use your bike for long trips more often.As you might have noted in our motorcycle battery reviews section above, the top manufacturers like Chrome are now using lead-calcium technology for its ability to withstand pressure, vibration, and excess heat.
Voltage
Motorcycles are designed differently and have varying power requirements, so you'll also need to consider the total voltage a battery delivers.Typical motorcycle batteries deliver a total of 12V. However, smaller motorcycle models might only require a 6v battery.If you're unsure what battery voltage is ideal for your motorcycle, we suggest that you look at the original battery voltage (or consult the user manual) and look for something with a similar rating.And while at it, keep in mind that using a battery that produces too much or smaller voltage can affect the performance of your bike.Just stick to the manufacturer recommend battery voltage for an excellent performance.
Performance
The performance of any given battery is determined in terms of the amount of power it can produce with respect to the power your motorcycle engine requires to start.With this in mind, you'll need to check the CCA (cold cranking amps) rating of the battery you plan to order.For starters, CCA refers to the total number of amperes a battery can deliver at around 32 degrees Fahrenheit for 30 seconds while maintaining 1.2 volts per cell.A brand new bike with fewer miles on its engine can be powered by a battery with a lower CCA rating.For the older bikes or ones which take long to start, however, you might want to look for the highest cold cranking amp motorcycle battery available.Pro TIP: We advise you to consider the overall power delivered by a given battery as well. If you intend to use your bike for longer trips, choose a battery with more power so that it lasts longer. Less power means you'll need to keep charging your battery frequently, which isn't suitable for long trips.
Lifespan
No biker would want to replace battery after every few months. It just doesn't make sense to keep spending money on a battery.That said, you should consider looking for a model that'll last for a couple of years and offer you value for money.A battery with extended lifespan should come with low self-discharge rates plus high-quality materials which resist various forms of abuse.Most of the batteries you'll find on the market today feature around 1500-2000 lifetime cycle which translates to around 3-5 years lifespan.Maintenance-free batteries which don't require any topping or water check tend to last for up to 5 years.Conventional batteries require some maintenance, but they also tend to last long and can perform well in varying weather conditions.The AGM batteries have shown to outlast the conventional batteries.
Other factors:
Warranty: a battery with a decent warranty policy will give you peace of mind when using your product.
Display: some models now come with a smart, convenient LCD screen which shows you the battery status
Brand: buying your motorcycle battery from companies that excel in the production of high-quality products and excellent customer service will help you avoid falling victim of the many junk products out there.
In the next section, we take a closer look at some of the highly reputable brands which produce high-performance batteries…
The Best Motorcycle Battery Brands
1. Chrome Battery
Chrome Battery is one of the top manufacturers of top-of-the-line motorcycle replacement batteries in the U.S. They present you with a vast selection of batteries to meet your specific bike needs.The company offers you sealed lead acid models which are incredibly versatile and can work with motorcycles, scooters, utility vehicles, ATVs, and more.BUT…what makes them highly popular is their unique line of AGM batteries. Designed using lead calcium alloy plus absorbed glass mat technology and passed through rigorous tests, these batteries come ready to offer you the best in terms of performance, longevity, and maintenance-free experience.
2. Yuasa
Established in 1979, Yuasa has risen over the decades to become one of the largest manufacturers of batteries for motorcycles, scooters, personal watercraft, snowmobiles, ATVs, etc. in the USA.The manufacturer uses quality materials for their products, giving them a durable and solid feel. They also manufacture a wide range of products to meet the needs of different bikers.You'll find Yuasa conventional, GYZ, and AGM lines of batteries—all of which have received overwhelming loads of positive feedbacks from happy customers.
3. ThrottleX
Based in Michigan, ThrottleX is another BIG name in the motorcycle battery industry. They take pride as a premier online retailer of dependable batteries that can power not just motorcycles but also watercraft, scooters, snowmobiles, ATVs, and even UTVs.This company has unearthed the secret to manufacturing long-lasting batteries by using high-quality materials for their products. Not to forget they optimize all their products for low discharge rates.All their products also offer excellent resistance against vibration, corrosion, pressure, and heat. And can perform in all-weather conditions.Given their wide selection of products, you'll surely find a Thrrotle X battery that perfectly fits and works with your specific model of motorbike.
4. MotoBatt
This is another reputable manufacturer of premium motorcycle batteries. They mostly focus on gel and AGM batteries which don't need any maintenance.The company even holds a patent for MotoBatt 4 terminal battery which is suitable for use with a variety of power sport vehicles.MotoBatt's secret to designing top-rated batteries revolves around the use of quality materials, power balance design, latest AGM technology, and high CCA. Their batteries also come factory activated, making them a favorite among biking enthusiasts.Other than batteries, this brand also produces equally dependable battery chargers, battery testers, and other related accessories.
5. ACDelco
ACDelco also made it to our top 5 motorcycle brands due to their popular line of motorcycle batteries.This brand too has been around for years and have an extensive array of motorcycle batteries that can also work with other moto vehicles, including scooters, ATVs, snowmobiles, and more.Like the other top-rated brands, this company also focuses more on the manufacturer of sealed motorcycles batteries which are maintenance-free and ready to use right out of the box.Keep in mind that ACDelco batteries come with front and top terminal in box style—allowing you to place your cables horizontally or vertically.
Frequently Asked Questions
1. How Long Do Motorcycle Batteries Last?
Most motorcycle batteries come with a lifespan of about 3 years. But the exact duration can vary from model to model depending on the battery type, how you use it, how often you ride your bike and charging frequency.
In other words, you can shorten or lengthen the lifespan of your battery, depending on how you use it.
You can take good care of your battery, and it'll serve you for up to 5 years, or you can treat it like trash, and it'll die on its first birthday.
Follow these tips to make your battery last longer:
Don't let your bike sit for extended periods of time

Consider taking your bike for long distances to give its charging system to charge your battery to capacity

Avoid under/overcharging your battery

Always use the right type of charger for your battery

Beware of faulty wiring or incorrectly installed accessories on your motorbike

Avoid the temptation of running too many electric accessories on your bike
2. How to Protect a Battery From Damage?
As we've just stated above, not practicing proper battery care can cause permanent damages and even cut short its lifespan.
That said, knowing the real killers of motorcycles batteries will help you keep your battery from them and prevent potential damages.
The most common killers for your motorcycle battery include:
Vibration: a rattling battery can get easily damaged. Make sure your battery is well secured and doesn't shake when riding your motorcycle. If you're using a smaller battery, consider using foam spacers or rubber supports/bumpers to fill in the remaining space for a secure feel.
Heat: Excessive heat can kill your battery without notice! If your battery temperature goes over 130 degrees F, it might not last as long. Also, storing a battery at 95 degrees F will make it discharge twice as fast as the one stored at 75 degrees.
Bottom line: avoid exposing your battery to excessive temperature levels, or you'll keep making replacements.
Freezing: when storing your battery, avoid placing it an area whose temperatures falls below the freezing point. Otherwise, you might find yourself with a cracked battery.
TIP: keeping the battery maintainer connected to your battery during storage can help keep your battery from freezing!
Sulfation: we've already stated this before…the moment you let your battery discharge excessively, you're allowing its lead plates to turn into sulfate crystals, which then usher in sulfation. You can avoid this by keeping your battery's electrolyte levels in check (for conventional models) and using a trickle charger.
3. How Long Does a Motorcycle Battery Take to Get Fully Charged?
Recharging your motorcycle can last anywhere around 4 to 24 hours.The length of time a motorcycle takes to become fully charged, however, will depend on various factors such as the capacity, self-discharge rate, the charge's output current, and the degree of discharge of your battery.We suggest that you use a smart charger due to its intelligent recharging capacity, which ensures you don't overcharge and destroy your battery.What's more, a smart charger comes with trickle charge capability, where it balances between the charge lost when you're not riding your motorbike.You can leave a smart charger recharging your battery overnight without worrying about it going over your battery's limits.
4. How Do I Know My Battery Is Dying?
The most common sign for a dying battery is sluggish starts. But don't judge too fast. Grab that voltmeter and test your battery if you're experiencing constant starting issues.A healthy 12V motorcycle battery should display around 12.7-12.8 volts when idle. If it reads anything around 12.5-13.5 volts, this means a serviceable battery.When the battery voltage drops below 12.4V, it'll give you headaches when starting your bike.Anything under 11.8V for your 12V battery means it's dead!
Final Verdict
Your battery choice can make or break your motorcycle ownership experience. It is extremely frustrating when your motorcycle struggles to start every morning or when you have a problematic electrical system. Just imagine having to push start your liter bike frequently!Avoid this bad experience by equipping your motorbike with the best possible battery. Something that delivers steady performance and holds its charge for longer.
See Also: