The Best Battery Tender / Trickle Charger for Motorcycles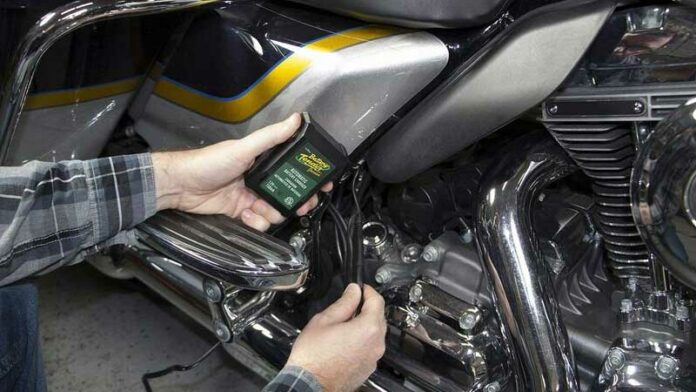 Tourers swear by this; using a battery tender or trickle charger for your motorcycle is the best thing you can do to keep your electricals reliable!

The best motorcycle trickle chargers are designed to keep your battery in good shape and ready to work. It keeps your battery charged to optimal levels throughout the winter, so you don't have to worry about starting it up at the beginning of spring and getting hit with the dead battery nightmare.

However, you'll have to spend hours and hours sorting out various products to get the perfect tender for your battery.

But don't worry, we've got your back.

After comparing the features and capacities of different models, we composed the ultimate list of the top motorcycle tenders presently available on the market.
Is a Battery Maintainer the Same as a Battery Tender?
Battery maintainer and battery tender refer to the same thing. If you go into details of products labeled as "battery maintainers" and "battery tenders," you'll discover that both do the same job of bringing your motorcycle battery up to full charge and keep it at that level.
The only difference (which is simply no difference) is that most people know these special device as "Battery Tenders," which is a brand name.
Hooking a battery tender to your motorcycle when storing it over a long period, say winter, will help replenish the battery and monitor its health, so you'll get your bike (read battery) ready to use when the season is over
However, the battery maintainer shouldn't be confused with the standard battery charger. The job of a charger is to simply send a constant charge to your motorcycle battery—whether the battery needs to continue getting charged or not.

In other words, part of the job of a tender does what the charger isn't able to do. It helps prevent overcharging your battery, thus preventing damages to it. The tender can monitor the charge rate to ensure no damaged gets to your battery through fast charge rates.
The Best Trickle Charger for Motorcycles
1. Battery Tender Junior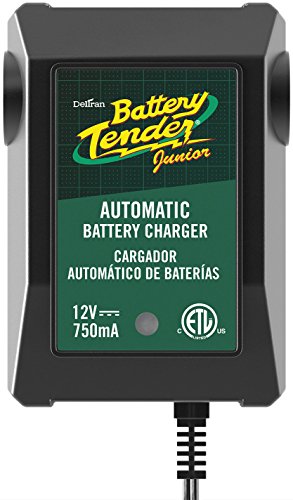 Battery Tender is one of the most respected brands in the battery maintainers industry. They've got a wide variety of battery trickle chargers to meet the needs of different motorcyclists.

Their Junior Automatic Charger/Maintainer is rated as the best option due to its ability to fully charge and then maintain your battery—ensuring it's always ready to go when you are.

The incredibly lightweight and compact tender will easily fit in small spaces. It also boasts of fully automatic operation, making it painless for you to operate. You simply hook this tender and forget it…it'll manage your battery's health on its own!

It takes your battery through the proper 4-stage charging process for correct charge and increased battery life. It comes integrated with a smart microcontroller which works tirelessly to ensure that only the correct power levels reach your battery.

We also like the reverse hook-up protection feature that helps you to make sure that the connections are correct before it can give power to the battery. The quick disconnect harness will let you connect/disconnect easily in seconds.
Highlighted Features:
2. NOCO Genius G1100
Noco Genius is also a smart charger and maintainer that you can trust to maintain your battery health and extend its lifespan. It's ideal for charging smaller capacity batteries on motorcycles, ATVs, scooters, watercraft, and even power wheels up to 40 ampere-hours.

The maintainer boasts of 4-in charge modes, which enable it to safely and adequately charge both 6V and 12V batteries (all models), repair desulfated cells, and charge your battery in cold conditions.

The Genius incorporates an intuitive visual diagnostic tool which easily detects reverse polarity, damaged batteries, and low voltages. In the case of detecting low voltage, sulfation, or lost capacity, this smart charger will send a high-pulse charge to help revive your battery.

It features spark-proof technology which, together with the reverse polarity protection, ensures maximum user safety. Other desirable functions include protection against overcharging, overheating, short-circuiting, and open circuits.
Highlighted Features:
3. Black & Decker BM3B
If you're on a tight budget but still want to keep your motorcycle battery in top condition (at optimal capacity) during the off Season, we encourage you to get this battery charger and maintainer today.

We like the incredible levels of versatility offered by this product. It comes ready to maintain both the 6V and 12V batteries. It can work with all battery types, including the lead-acid, AGM, and GEL models. And apart from your motorcycle, you can use it for RVs, ATVs, specialty vehicles, marine deep cycle batteries, lawnmowers, snowmobiles, personal watercraft, among others.

Operating this device is the easiest part. You simply slide the selector switch to 6V or 12V depending on the type of battery you're charging. The included battery clips and O-ring terminals enable you to hassle-freely connect this charger. It also has convenient indicators for wrong connection, charging, and fully charged statuses.

The charger automatically stops the charging process when your battery becomes fully charged or topped off…and switches to the float mode monitoring to help maintain this charge for as long as you want.

Above all, this battery charger comes ETL certified for the ultimate safety and performance. It has built-in protection against reverse polarity, overcharging and short-circuit. The super-tough housing prevents damages to the device during accidental drops. And the integrated mounting brackets facilitate easy, convenient placement.
Highlighted Features:
4. Schumacher SEM-1562A-CA
Schumacher SEM-1562A-CA is yet another versatile battery maintainer which works with both 6V and 12V batteries.

The automatic maintainer comes with a handy quick-connect harness which helps you easily and quick attach the clamps/ring connectors into place. Likewise, disconnecting it takes seconds.

The microprocessor-controlled battery maintainer boasts of automatic voltage detection, where it automatically detects if the connected battery is 6V or 12V—eliminating the possibility of damaging your battery due to wrong charge settings.

Once it identifies your battery, the multi-phase charging program kicks in to charge your battery until it hits the preset level. After that, it transitions to maintenance mode to help ensure you battery's level stays precisely where it should be.

Don't forget that this maintainer is backed by the manufacturer's 2-year limited warranty which means you can get a replacement or repair for any defects in materials and workmanship.
Highlighted Features:
5. Foval Automatic Battery Charger
The center spot goes to the Foval Automatic Trickle Battery charger. This is essentially a mini-trickle charger with a truly attractive price which doesn't compromise its quality or performance.

The comprehensive, easy to use charger comes with spark-proof lead connection, reverse polarity protection, and automatic charge adjustment. These are just the same features you'll get in the products which will cost you twice as much as this Foval.

The unit also comes with LED indicator lights which will let you know about the charging state and power level of your battery. It utilizes up to 4diffrent charging levels to easily adapt to your battery's unique needs. Thanks to the quick connect harness, you can connect/disconnect this charger in a matter of seconds.

Because of its compact size, this charger will be a great choice if space is premium for you. Other than the motorcycle, you can use this smart battery charger on other vehicles with 12V battery, including your car, scooter, camper, jet ski, lawnmower, ATV, and more.
Highlighted Features:
6. Motopower MP00205A
If you're still looking for an inexpensive 12V battery maintainer, this MOTOPOWER MP00205A is another viable option. This model is great for charging and maintain ALL types of 12V batteries for cars RVs, motorcycles, among others.

The unit is 100% automatic, which means you don't have to hang around to supervise the charging process. You just connect it to your battery, plug it in, and forget it. It'll safely charge your battery as you focus on other businesses.

Using the incorporated smart microprocessor-controlled program, this charger will easily monitor your bike's battery charging process throughout…and will ONLY stop when your battery gets fully charged. In simpler words, it eliminates the overcharging fears, helping keep your battery in top health.

What if you plan to store your motorcycle for an extended period of time? The battery will no doubt stay inactive for a long duration, which isn't good. Luckily, you just need to connect this maintainer and let it work in float mode. Believe you me; you'll get your motorcycle's battery in good shape and ready to go again.

Remember that this is an inexpensive trickle charger for all 12V wet, sealed, and flooded batteries. It offers multi-level protection against hazards, so you don't have to worry about the wrong connections, short-circuiting, overheating, and overcharging.
Highlighted Features:
7. Deltran Battery Tender Junior 12 Volt (3 Pack)
You might not know this, but Deltran was the brains behind the first-ever battery tender known to motorcyclists. From their first product in 1965, the company has only gotten better over the decades and, today, they present you with some of the finest tenders you can get on the market.

Their Junior pack comes designed to automatically switch from peak voltage (of 14.4 VDC) to floating voltage (of 13.2VDC) to help maintain your battery at the optimal levels.

And when the battery voltage drops below 12.6VDC, this tender will automatically resume charging at 14.4VDC. This will ensure that your bike battery stays at a constant operation voltage, so it's ready to use when you take out your bike after a long winter season.

Like most of the other previously discussed tenders, this device also features 2-color LED to show you the charge state.

Keep in mind that this product also comes equipped with spark-proof technology for your own safety. Not to forget it's 100% reverse polarity protected. The compact smart tender will work with all battery types—including lead-acid, sealed, and gel cell models.
Highlighted Features:
8. SUAOKI 4A
In this second last post, we serve with another great battery maintainer which offers you true value for money. It has all the premium features of the high-end models, but it costs you way less than these models.

As one of the highly versatile battery maintainers ever made, this unit presents you with as many as 8-stages charging process—enabling it to work with nearly all types of batteries. It automatically detects the voltage of the battery you connect it and decides whether to use the 12V or 6V charge.

And when your battery becomes fully charged, this smart trickle charger will automatically minimize the current flow to it and turn into a battery maintainer.

Wanna know what's cool about this unit? It features a super-intuitive LCD screen. This will feed you with the real-time charging current and voltage in BIG, CLEAR fonts. It also displays diagnostic and charging status info. Oh! It also has a backlight feature for easy reading in darker environments.

A multitude of safety features come packed into this product—they include reverse-polarity protection, overcharge protection, over-voltage protection, overcurrent protection, over-temperature protection, and spark-proof clamps.
Highlighted Features:
9. Aurelio Tech OMP-MBCT-SL
eep your 12V battery fully charged and ready for use with this affordably priced battery charger from Aurelio Tech. Featuring an incredibly compact and lightweight design, this is the perfect model for those looking for a transportable battery charging/maintenance solution.

The battery charger comes armed with alligator clips which promote easy attachment to your motorcycle battery.

Its multi-mode charger will fully charge your battery through a safer charging program. Like all the other maintainers featured here, this unit also offers protection against reverse polarity, overheating, short-circuiting, and overhearing. All these safety functions will go a long way in extending the life of your motorcycle battery.

Once your battery gets fully charged, this unit automatically transitions to float/maintenance voltage to ensure your battery stays at optimal charge levels and ready for use at all times.

Because this model features 2-color LED indicators for the charging state, knowing how much power your battery holds at any given time becomes pretty easy. You can use it with motorcycles, automobiles, personal watercrafts, boats, lawnmowers, tractors, and more.
Highlighted Features:
10. Extreme Max Battery Buddy 12294023 
Extreme Max 1229.4023 closes our list of the best battery maintainers. It comes designed to simultaneously charge up to 4 12V motorcycle batteries—saving you a lot of time and frustration when rotating a single tender around all the 4 batteries.

The smart multi-bank charger regulates the voltage flow during the charge—allowing all your 4 batteries to get fully and safely charged, without overcharging them. This is crucial in preventing damages and prolonging your batteries' life.

Apart from charging all your 4 batteries but will also maintain them at their correct storage levels. This is helpful when you want to store your motorcycle for an extended period as it helps you retrieve with the battery ready to start the engine.

Just like we've seen in the other top-rated tenders, this model also comes with protection against short-circuiting and wrong connections and overheating. The integrated LED light indicators to help you easily check your battery status.
Highlighted Features:
How To Buy The Best Battery Tender for Your Motorcycle Battery?
If you don't want to get lost in the ocean of multiple options out there, follow the key factors below to take you straight to the perfect model for you.
Charging modes
The primary reason why you're looking for a tender is that it comes with multiple charging modes.

If your standard charger has all these modes, you wouldn't need a tender.

The ideal device should come with trickle charge mode to help reduce the amount of power supplied to your battery once it gets fully charged.

It should also feature the maintenance made, where it completely shuts down the charging for a period of time.

Get a model with these charge modes, and you can rest assured that your battery will charge properly and safely. And it can maintain its optimal levels through the winter season.
Compatibility
We look at the compatibility in terms of voltage and amperage.

That is, the voltage of the unit you buy should match that of your battery (a 6V tender works with 6V battery and 12V tender works with 12V battery).

Models that work both the 6V and 12V batteries are worth giving a shot if you're looking for flexibility.

As for the amperage, you need to ensure that the charger's amperage rating matches the amount of power your battery needs to be supplied with.
Ease of use
You also want to ensure the battery tender you get is quite easy to connect to your battery and start the charging process.
Focus on how the tender is designed to connect to your battery terminals.
Also, ensure the unit comes with a cord long enough to make it easy to use with your motorcycle battery.
Safety features
Protection (or safety, if you like) is crucial when charging your battery, so we also suggest that you look for a battery charger/maintainer which cones incorporated with safety features.

Look for models with spark-proof connectors, reverse polarity protection, short-circuit protection, and overcharging protection.

Automatic voltage detection is also a great function as it helps ensure you use the right charge settings for your specific battery.
Other considerations:
Frequently Asked Questions:
1. What's the Best Motorcycle Battery Maintainer?
Each has units own sets of pros and cons. And their prices also vary. To find the most suitable model for you, we suggest that you study your motorcycle battery and then look for a tender whose specs match with those of your battery.

But don't just order any maintainer you get! Be sure to go through some user reviews to see what others have to say regarding the performance and reliability of the model.
2. Can I Leave a Trickle Charger on My Battery Overnight?
Yeah, it's possible to leave your tender connected to your battery overnight without worries of overcharging and damages to your b1attery.

See, unlike the standard chargers which are designed to continue charging even when your battery gets full, motorcycle tenders come with multiple charging modes to prevent overcharging.

Most of them even feature a microprocessor (a brain) which helps them automatically detect when the battery gets fully charged and switches to maintenance mode. And if the battery charge falls below the optimal level, they jump right in and replenish it.

The ideal tender is actually designed to watch over your battery for an extended period of time and ensure it remains full and ready to use whenever you need it.
3. Can I Use a Motorcycle Battery Charger/Tender on a Car?
It's possible to charge your car battery using a multi-purpose motorcycle battery charger which works with both 6V and 12V battery types.

While still on it, you can also use a motorcycle-specific charger rated at least 12V. The only problem is that the charger might do its job at a much lower rate (to avoid damaging the cells and other battery cells), so you'll have to be patient.
4. How Do I Use My New Battery Charger/Maintainer?
Using your new battery charger or maintainer isn't a hard task, even if it's your first time.
Follow these quick tips to use your new unit correctly:
Our Verdict
Without a single doubt, a motorcycle tender is a godsend device for serious motorcyclists. It helps ensure your motorcycle battery charge remains at optimal levels and is ready to use whenever you're.
When looking for the perfect motorcycle tender, we encourage you to take extra precaution, so you don't choose wrong. Be sure to follow our buyer's tips to help you easily pick the perfect model for you.
Grab one of the best motorcycle battery tender models we have outlined above for safe and sustained charging of your motorcycle battery.
See Also: