10 Best Motorcycle Boots Reviews 2023 – Buying Guide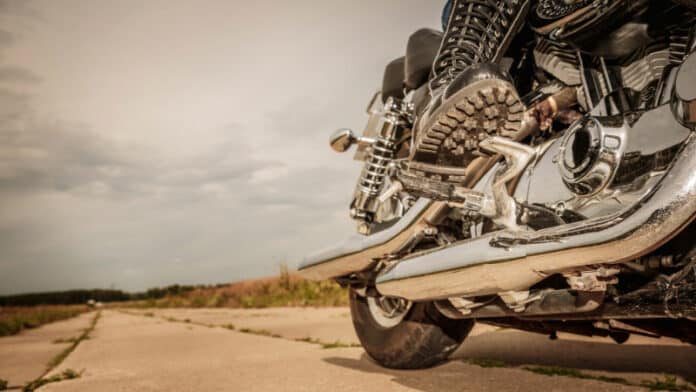 Ever looked at a product and thought to yourself, why would anyone need this?
Well, if you look at a pair of motorcycle boots and wonder the same, do yourself a favor and read this article.
There is a good chance that you are wearing sneakers or a pair of regular boots whenever you take that bike out for a therapeutic ride or just a regular commute.
If that's the case, you're missing out on all the convenience and benefits that the best motorcycle boots have to offer.
Why sacrifice safety, comfort, and that striking biker dude look, when all of that is just one purchase away?
Do I Need Motorcycle Boots?
The real question that you are not asking yourself is, why do I not have motorcycle boots already?
Besides making you look irresistible, as well as letting everyone know that you're a biker, here is a list of reasons why you should consider buying the best moto boots available today.
Protection from Heat
Riding a motorcycle is fantastic, until the day you get second-degree burns from your exhaust pipe. High leather boots are therefore your best friend, to ensure that your valuable legs are protected from the heat of the bike, as well as saving you from something nasty.
Keeping Your Feet Dry 
Have you ever had your lower legs wholly drenched in a puddle? Waterproof motorcycle boots could have saved you from the discomfort that can come along with the joy of riding quite often. Keep your feet dry by investing in a stylish pair that is also waterproof/water-resistant.
Protection from Debris 
If you wear sneakers or even low leather boots, chances of injury from flying debris on the road are much higher. High motorcycle boots made of thick leather, and possibly added steel, or plastic protection will make your rides a lot safer.
Safer if An Accident Occurs 
Riding always comes with an unfortunate likelihood of an accident occurring. So if that happens, would you not thank yourself if you were wearing some robust and high leather boots rather than a pair of frail loafers? Motorcycle boots can significantly reduce the severity of bruises and scrapes in the event of an accident.
However, at times having heavy-hitting motorcycle boots could cause people to lose focus. In that case, getting lightweight motorcycle boots can ensure proper safety when it comes to dealing with accidents.
Better Grip
Would you ever want the reason for an injury to be a silly slip? Most motorcycle boots have the neat feature of including a high-traction sole, which will ensure that you don't slip on rainy days and while mounting or dismounting your bike. Some may even feature an oil-resistant sole, for convenience in the garage.
Warmth
You do know how difficult it is to ride in a windy climate. Just imagine getting that cold breeze hitting your face, and then you look down, you get yourself frostbite. The pain is immense and could leave you scarred for life.
Hence, having the most comfortable motorcycle boots which are thoroughly insulated will provide you with the warmth that you desire and also protect you from getting affected from a freezing temperature residing outdoors.
Additional Assistance
If you have your cruiser motorcycle boots on, you'll instantly feel the amount of support that it provides during rides. In this case, having the best motorcycle shoes is essential.
The most crucial factor would be the fact that you are getting to achieve complete balanced control over your bike because your lower calf and ankle are quite heavily supported.
Moreover, the chances of having accidents get reduced. It is because you are unlikely to make any wrong break or twists through your ankle or foot during rides.
10 Best Motorcycle Boots
Making your mind up with one review on motorcycle boots may not be enough; you have to try at least a dozen reviews from the internet to get the best product possible. But, that task is challenging, and it could seem too much for your mind.
However, this article ensures your difficulties reach ground zero and gives you 10 of the best motorcycle boots that will surely provide you with the value for your money.
1. DailyShoes Women's Ankle Bootie High Lace up Military Combat Mid Calf Credit Card Knife Money Wallet Pocket Boots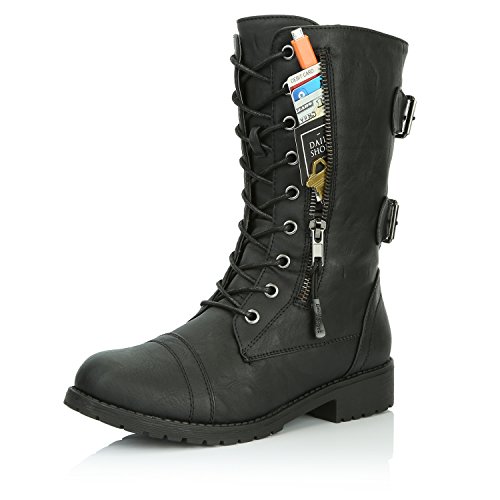 You think Huge Jackman is the only thing in the planet who makes a woman drool? Wait till your significant others see the features these boots possess. When it comes to showing sassiness and classiness at the same time, these are the boots to go for.
Plus, whether you are walking on rough terrain or muddy terrain, the shoes always win. They are probably the best motorcycle boots for walking.
The whole structure of this motorcycle boot is made out of the synthetic fiber. They are unlike any other material because they are twice as more durable than most of the natural fibers you will find in the marketplace.
Hence, the synthetic material will keep it stain-resistant for an extended period, and it will also make sure the product does not wear off.
Weight of this model is pretty lightweight, which means you will feel very relaxed and not feel too hefty. Moreover, one of the critical factors of this motorcycle boot is the 3-inch by 3.5-inch zippered pocket storage.
They enable you to place credit cards, cash, or even a butterfly knife. The zipper structure is made of an ultra-secure and safe design; you won't have to worry much about theft.
Entire shaft area is a bit under 10-inches, allowing you to fit in this model quite comfortably. Most of the time, size plays a crucial factor regarding the comfort zone of a motorcycle boot. If they don't work par your desire, you're doomed regardless of how classy the boots look.
Rubber sole, which is situated underneath the shoe consists of a slip-resistant technology. This is a new and improved innovative technology that has arrived in the marketplace, which enables a superior grip on slippery floors.
So, even if you are being a little cocky wearing these stylish boots, chances of slipping away become pretty slim.
Let's move on to interior design. There are padded cushions inserted in these boots. This means, with every step that you take you'll have comfort. Moreover, for maximum support; extra-long laces allow you to get full control over the fitness of these boots because they are easily adjustable. You can view our full roundup of motorcycle boots for women here.
2. Maelstrom Men's Tac Force Military Tactical Work Boots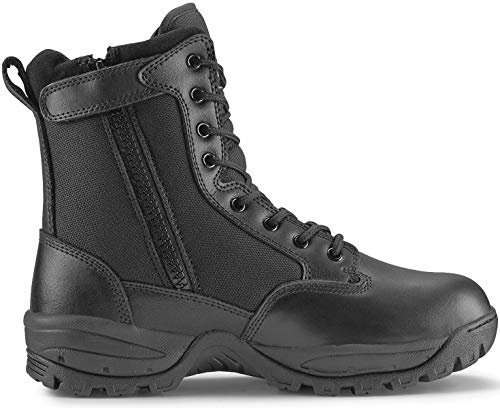 Here's another model to make it to the list of motorcycle boots for walking, but this one is also referred to as a tactical military work boot. This is an all-black designed motorcycle boot which focuses mostly on maintaining the strength and bringing pure quality to the consumers.
It is coming along with a synthesis of strong full-grain leather that surrounds the whole structure. The upper part of this model is coated with nylon to ensure a professional glance. These materials allow you to attain both flexibility and durability all at once.
Moreover, the nylon and leather material makes these motorcycle boots slightly advanced water-resistant. This product uses an iH20-Tex waterproof membrane line to ensure breathability; this, in turn, stops the build-up of bacteria in your shoes.
Hence, even if you are facing nasty rainy weather, your feet will remain completely comfortable and dry.
One of the best parts about this model is the anti-fatigue technology. It has a Dynamic 3-Sole System with the first one being a lightweight EVA midsole, the second is a removable cushion insole and lastly a heavily durable and sturdy rubber outsole. The whole design brings all energy back to your foot and reduces foot pain.
Another significant part of this model is that the leather is easily polishable. This means even if you decide to take these boots out for muddy places, he'll still perform as he was supposed to. Moreover, the rugged rubber outsole ensures optimal traction for your walks over terrains quite leniently.
Do you desire to have more features? Then the heavy-hitting side zipper is perfect when it comes to closure. The zipper ensures everyone is safely intact out there. Hence, you will be able to turn it off or on.
Furthermore, the padded gel inside the interior of the shoe ensures enhanced comfortability and also allows you to make natural movements.
3. Under Armour Men's Stellar Military and Tactical Boot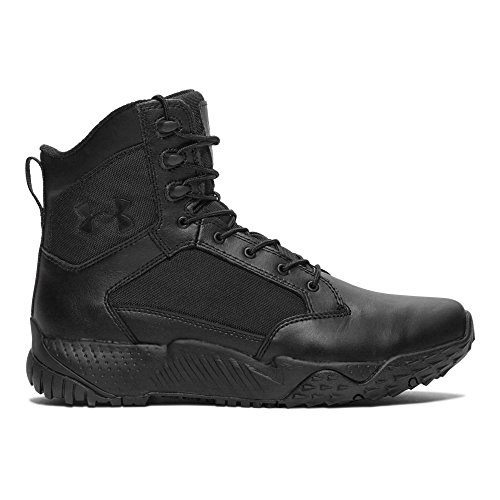 Riding while wearing a standard boot is okay, but riding while wearing a tactical and military boot takes you to a whole new level of awesome. So what if it is another motorcycle boots for walking, they pack twice the punch and even more so.
Moreover, these boots come along with a sleek all-black design that will make any man swoon. Speaking of the design, some people could find this boot to be too simple. However, it is this minimalistic structure that makes the whole thing even better.
Besides being aesthetically professional, these tactical boots are made of high-quality nylon textile and leather, which makes the whole structure of the boot highly durable.
Hence, over the coming years, your shoes will remain wear-and-tear resistant, and regardless of the pressure thrown at these shoes, they will be sturdy for an extended period.
The highlighted feature of this model would be the fact that it is durable yet very lightweight. They allow you to make movements with ease, reach the utmost comfort zone, and ensure complete freedom during journeys.
Furthermore, they fit well with your composite toe, giving you the protection that you need while riding in all sorts of terrains.
Along with all the astonishing features, these boots consist of a rubber sole that has an anti-slip technology inserted in them. This means, during rough journeys, the technology will provide superior traction and ultra-support.
Most of the time, we feel a bit unsafe about the interior part of a boot causing severe defects to our feet. To help solve this issue, the internal section is fortified with an Ortholite sock lining which the designers of this company have treated with anti-bacterial methods.
Since the chances of getting your feet infected have been completely neutralized, you will be able to wear your boots without having to worry much.
4. Skechers Men's Pilot Utility Boot
Are you looking for the best men's motorcycle boots? Then I guess it is time to put a red signal to that journey because the Skechers has already brought it in this list. This product comes with a professional design that looks very tough and provides extreme comfort.
Even though it is a utility boot for men, it has been structured and designed in a way so that these boots can be used anywhere you want to. Materials used in the production of these boots are 100% leather. They make these boots very durable and extremely sturdy.
Moreover, due to the leather, you will be able to use these boots in harsh conditions, and they will stay in good condition for years to come. A combination of a cushioned insole and padded collar has been inserted to attain a higher level of comfort along with immense support to the consumer's feet.
While wearing these boots, you won't face the slightest feeling of suffocation inside the boots. The reason for this is breathable vents are inserted in these boots, which makes the air pass by quite smoothly. Hence, your feet will dry out instantly.
The construction of this tactical boot is made through a Six-Eye Lacing System, which features tonal stitching and padded collar. This makes the boots pretty swift and agile. These boots are exquisite when it comes to achieving complete comfort. They keep the feet in shape and doesn't wear out quickly.
Whether you are riding in dry hard surfaces or wet ones, to ensure total grip over your boots, a thick lug traction sole has been inserted. Every step you take from now on will be strong and firm. Hence, you'll be able to clutch that gear smoothly and keep things well-balanced at the same time.
5. Ryno Gear Tactical Combat Boots with Coolmax Lining (Beige)
If you are searching for the very best cruiser motorcycle boots, then please don't look any further. This is a heavy hitter from Ryno Gear that is making an entry in this list. Its superior quality material, along with an exquisite design is what captures the attention of many out there.
This product is reinforced with ballistic nylon and produced with high-quality leather, a combination that is sure to bring the utmost comfort. Moreover, these materials also provide durability. Hence, these boots will be able to withstand the toughest of conditions and not wear out for many years to come.
During conditions which tend to get roughly wet due to heavy raining, you know your boots are about to get dirty and damaged pretty severely. This boot has a new feature called the CoolMax Lining Technology which keeps your feet completely dry in such conditions. So, there is absolutely no reason to worry.
Slipping away is probably the most frequent reason for conceding accidents. Hence, for that, approximately 5mm deep thick lug slip-resistant rubber sole has been added. They'll make sure you get proper traction and remain worry-free while you ride along in those long journeys.
For your feet to remain calm as a cucumber, a breathable mesh lining technology has been applied. So, your feet won't go numb after you've had a pretty long journey. At times when proper air doesn't pass by, not just your feet, your body as a whole starts to get in an uncomfortable zone.
Hence, the mesh lining will keep your feet in a delimited temperature. One of the best things about these boots is its convenient and consistent design. Moreover, there isn't any lacking from this model as comfort, security, and accessibility; all are available.
6. Harley-Davidson Men's Scout Boot
Want to have the last say? Get yourself a Harley-Davidson boot. This is undoubtedly the best-branded motorcycle boots. The whole thing is just aesthetically exquisite, and if it wasn't enough, there is a detailed metal logo placed at the shaft. A simple piece of detail, yet it creates a significant difference among other boots.
Optimum imported leather is used to make this model, thoroughly stitched to perfection. This material makes your motorcycle boots extremely resilient and equally comforting. The well-balanced nature of these boots makes it one of a kind in the market.
For uncompromising dependability, probably one of the oldest and most significant methods has been used to make the outsole of these boots. It has also a welted sturdy rubber outsole that is entirely slip-resistant. Hence, you will be able to ride quite precisely and with style.
Moreover, the sole of a shoe tends to get infected with corrosion by time. This is due to the low-quality method, which is used to produce most of the motorcycle boots in the market. However, that is not the case with these boots. Since they are made with excellent quality materials, they are entirely immune to abrasion.
There is a locking zipper attached to these branded boots. This allows you to achieve a proper snug fit and a nice closure. Having a side lock zipper helps you out in adjusting the fit quite cleanly and efficiently.
Lastly, to add more premium vibe to this product, a vintage biker harness strap has been attached. This lets you feel the grip while you are riding on your bike and add extra protection to these boots. Moreover, we can all agree with the fact that these straps do make the shoes look merely exquisite.
7. O'Neal Men's New Logo Rider Boot (Black, Size 11)
This one is for the aggressive riders out there and undoubtedly one of the best motorcycle riding boots. They come at a reasonable price regardless of the cool features and value it provides. Moreover, it's not just the price that locks in the consumer's attention; it is the sturdy designing of the product.
Let's start with the obvious; these boots provide superior protection, and that is what sets it apart from the rest. These boots are fortified with injection-molded plastic plates which will ensure enhanced protection from massive impacts which will occur during off-road biking.
For additional support to your feet, a metal shank has been inserted to this boot. They reinforce the whole structure of this model so that you can make natural movements leniently. Hence, with such protection formulated in these boots, you'll be able to get peace of mind.
A Goodyear welted sole has also been inserted to this model. They are one of the most premium and well-balanced rubber soles in the marketplace. Ensuring durability and proper grip is the everyday job of these soles. Moreover, you are also getting superior traction with the usage of these boots.
These motorcycle boots consist of a 4-Buckle Snap Lock System. They provide even more security to your feet and gives you the perfect fitting too. For the longevity game to remain active, the designers of these brands have inserted a metal guard for the toe. This means they will remain highly protected from issues like delaminating.
Combination of a cushioned insole and air mesh interior system has been added to this structure to ensure that complete comfort is achieved, and proper airflow is maintained. Moreover, a touch of synthetic leather has also been inserted in these boots as a shield to cause prevention from heat damage.
8. Bruno Marc Men's Apache Motorcycle Combat Ankle Boots
We often don't buy boots because we feel these boots with their high price tag cannot be used anywhere other than harsh environments. But, think about boots that ensure your absolute versatility, the one where you quickly shift from bike to street. Well, these boots from Bruno Marc provide just that and even more.
These boots come along with faux fur leather. Other than giving you a premium feel, the leather ensures stability, durability, and comfortability in a product. Hence, with just one material, you are getting provided with full value.
The rubber sole of this model is skid-resistant. This means you definitely won't slip away and you will also be able to achieve enhanced grip over your bike. Even in rough terrains, these boots will maintain proper solidity.
Speaking of enhanced grip, there are side zippers also included in these boots. Firstly, this is a massive benefit for those who can't tie their shoelaces; using the zippers is an excellent alternative. Secondly, you get a substantial grip over your boots, and these zippers also let you adjust the hold.
Now let's move on to the "comfortability" part. Other than the fact that the whole design is made out of leather, the footbed area consists of soft cushions that ensure complete coziness when you wear these boots. You won't have to worry about your feet getting random aches due to extensive usage.
Last of all, what adds more value to these combat boots? Stylish and convenient design structure along with a range of options are available for you to choose from. Each possibility has combinations of vintage colors that will ensure the aesthetic look that you desire.
9. AdTec Men's 11" Harness Motorcycle Boot
Want to get rid of that creepy uncle look and switch to a striking biker persona? Do yourself a favor and purchase the best seller from AdTec. These boots have gone through a complete inspection by superior quality control standards to make sure there are zero defects in the product.
The entire shaft length is approximately 11.75 inches, with heel measurements that consist of 1.5 inches and the surface sole is 0.25 inches in thickness. Overall, all these measurements keep the capacity game of this product pretty strong.
These motorcycle boots are produced in maximum full-grain imported leather. This means that these boots will remain robust for quite a long time. Moreover, this material also brings comfortability to this product. So, you will be able to drive in long journeys with complete smoothness.
A lot of people faces the issue of bending their foot while wearing a motorcycle boot. They tend to think that motorcycle boots are quite constricted. However, the forepart of the product is also coated with leather, which makes that area flexible. Hence, you won't feel that pressure when you put these boots on.
O-Ring Harness straps and ankles have been inserted in these boots, not just to add more provision but it also gives these boots classic, quintessential look. These straps are produced in Goodyear welted construction. This method, along with added hard-hitting materials provides more resilience.
Furthermore, the insole part of these boots is quite comforting enough. However, the remaining outer part is even better. A neoprene rubber sole doesn't only provide traction so that you can get superior control over your boots, but they are also resistant to oil.
Even if oil spills all over your boots, you'll able to clean it up with simple swipes.
10. Joe Rocket Big Bang 2.0 Men's Motorcycle Riding Boots (Black, Size 11)
The last one to make it to the list is probably one of the least popular but high branded boots in town. Even though they are referred to as motorcycle boots, they ensure versatility at its most excellent level, because you'll be able to use it in any conditions. Whether it is for cruising or for sports, these boots perform really well.
Most of the time, after wearing motorcycle boots for an extended period, our feet often feel numb due to the rigidness. However, a molded polymeric protection technology has been enabled in these boots to make sure that your ankle area is widely secured.
Joe Rocket uses full-grain leather material in all of their boots, and this model makes no exception. The leather finish always provides sturdiness and resilience, which ensures the boots to last for a very long time withstanding any pressurized situations thrown at them.
Some of the stress areas where there are maximum chances of impacts are stitched right about three times to ensure that the hardness remains intact. Moreover, the eyelets are made up of steel so that the heavy-duty laces are well within the boots.
Additionally, the top toe section of the boots is reinforced with non-leather shifted lever wear.
To ensure you get a firm grip over your boots, the slip-resistant technology has been applied in the sturdy rubber soles of the product. Furthermore, to ensure your boots doesn't get damaged through oil spillage or dirt, they are protected by the oil-resistant system.
With a quick-lock buckle mechanism, there is a polymeric aluminum adjustment strap inserted. These straps allow you to get an enhanced grip over these boots. Also, the frontal part of the boots has an etched badge that has been placed with a laser system to ensure more flexibility.
How to Buy the Right Pair of Motorcycle Boots?
Getting yourself the ideal motorcycle boots can be difficult, especially when you go through hours of research.
Hence, this article has narrowed down all the important factors that you should consider before making the purchase.
Riding Style
When you think about your ideal motorcycle boot, you also have to give a thought on what kind of a rider you are. Do you ride frequently or infrequently? Are you an off-road person or an on-road? Street or sports? These are not just questions; they are considerations in disguise.
If you are a highway on-road person, then going for something which is military-based or tactical would be the best option. The reason for choosing this option would be for versatility. You'll be able to wear it anywhere you want to. These types tend to be the most stylish.
But, if you are looking for off-road dirt biker boots, in this case, you may want to go for something hard-hitting with additional protection. Because off-road locations tend to be quite harsh, and they will indefinitely cause your boots to get dirty. Hence having such heavy-duty will surely aid in your journeys.
Proper Size
In your priority list, having the right size should undoubtedly be on top. This is a crucial factor when it comes to achieving precision. If you want to get yourself the right motorcycle boots, then it is necessary to have the size that will be suitable for you. Otherwise, you will reach a very discomforting zone.
One of the main reasons of size being so important is because motorcycle boots tend to be costly. Now suppose you purchase one and that's not the right size, you'll need to change it or else you won't be able to walk around comfortably — so much effort just for one simple mistake.
Hence, if you want to solve this issue, when you purchase a motorcycle boot, you should instantly try it out in the shop to meet the size, or you can get the measurements of your feet so that you can ask and search for the right dimensions.
Make sure that the boot you choose to go with is not too large nor too small because some boots require time to break-in.
Materials Used
Boots are produced in a variety of materials out there in the market. Each of them possesses different functionalities that help us out, one way or another. Some ensure superior protection, some provide coziness, and there are some which offer both.
But, it is up to you to decide on which type of material in boots will be fit for your usage. So, let's have a look at one of the most top-quality materials used in a motorcycle boot.
Thermal Plastic Polyurethane
This one is for the 21st century. These type of materials are well-known for providing resistance against corrosion and cold blows in winter. Both of these issues can cause severe damage to any of your journeys. Hence, in recent days' thermal plastic is used in making motorcycle boots which come at a reasonable price.
Kevlar
This is another modern-day material which is often used in boots these days. When it comes to comparison with thermal plastic, kevlar materials ensure high protection and comfort.
One thing that sets them apart from the rest is the fact that these light fabrics also come along with plastic plates and metal padding which provides safety from getting infected with abrasions and protection from getting hit with heavy impacts.
Such material fits perfectly for those people who are into sports and tournaments that involve racing because experts highly recommend having both protection and comfort in these situations.
Gore-Tex
When it comes to ensuring optimum breathability, Gore-Tex tops the list. Nothing comes close to providing maximum air-circulation better than this material.
If you are a summer person, then going for Gore-Tex boots will surely ensure comfort because the material's wicked moisturization will keep your feet cool and dry. Additionally, these materials work very well against water too.
Leather
Leather is probably the oldest, most popular and premium material used in production for motorcycle boots. No matter what you are wearing, if you hear the words "leather", you instantly know it is going to be an exquisite product.
However, in recent days,' some manufacturers are imitating this iconic material to sell products at a lower price.
Classifying original leather among so many materials in the market is a tough job. To ensure you get genuine leather boots, you have to make sure your motorcycle boots are made in a full-grained pattern and that they are also thick.
Thickness signifies originality in leather because that part ensures ultra-protection from impacts for your legs in case of accidents.
It doesn't end there; leather boots protect against immense heat, rainwater, and unfriendly winds. This material is also well-known for being waterproof. Hence, if you purchase a genuine leather boot, you've got yourself something long-lasting and premium.
Design & Style Purpose
Getting your preferred style and design matters a lot when it comes to getting the right motorcycle boots.
Give some thought on where do you spend your time the most or what type of work you are related to. For example, for your office days, full-grain leather boots are highly recommended because they'll bring the essence of your work and turn it into pure class.
Kevlar boots are suggested if you are one of those people who ride to die. These boots will provide you with superior security to your muscles and bones of your legs. Because in rough riding environments, there are high chances of getting into life-threatening accidents.
Purchasing motorcycle boots which match with your everyday style and needs is essential. Hence, choosing the right structure design for your boots maintains both class and safety.
Comfort with Time
Comfortability is essential; there is no doubt in that. But, getting to be in your cozy zone feels even better. If you are one of those people who loves to go on track events and short rides, lightly padded boots will be the best choice to go with.
The reason is that these lightly padded soles will ensure the comfort that you desire in the occasional times that you will wear these boots.
However, if you want something that you can use for long rides so that you can take them anywhere you want to, be it work or hang out with friends, then going for something that will be wear-resistant and something that won't provide discomfort is highly recommended.
Well, getting something like that usually means you have to purchase boots which comes along with additional support for the ankle or removable cushioned insoles or a light weighted model. These are factors that will attain comfort for an extended period.
Climate 
This whole section is all about considerations that you shall have to think about before looking for the perfect motorcycle boot. Weather changes in the environment are the biggest form of consideration you have to make.
Warm weather could lead you to cause suffocation. Because wearing boots in a warmly surrounding can be a painful task as it sucks the air out of your feet and makes you feel numb. Immense heat can turn out to be a curse on those who wear boots regularly.
Hence, going for something with a breathable mesh lining will be able to provide you with complete comfort, because airflow will be adequately maintained.
Cool-weather conditions could lead to damaging the material of your boot over time. Moreover, these conditions also end up giving you a feeling of discomfort. Hence, motorcycle boots produced with insulation padded materials will ensure complete protection from windy blows.
Protection Level
Some designs and styles of motorcycle boots deliver the protection that you so desire, something which cannot be obtained from others. For example, ankle boots cannot provide the level of protection from debris and dirt, which calf-high styles can easily ensure.
Hence, choosing the level of protection that goes along with your riding style is highly preferred by professionals. Some boots are specialized with features like reinforced toes, heat shields, plastic planting, oil-resistant outsoles which enables ultimate protection for your legs in harsh environments.
However, in recent days, a trendy material such as faux leather is coming into recommendations. But, faux leather in logical terms is ultimately designed for fashion, which is why they'll deliver less protection and support. That is why it is necessary to make the general members come back at their place and accordingly.
Structure 
Construction of a motorcycle boot is crucial because the effort that the manufacturers put on the boots influences how long they will last for the days and months to come. Even if you are wearing one of the most stylish boots in town, are they of good value if they are replaced within a year?
One of the biggest issue with the structure of boot is that the soles of a model tend to wear out over time.
To solve this issue, raise your budget a bit and go for soles, which is Goodyear welted. The reason is that this is one of the most significant methods to ensure durability in a boot. Hence, consider this factor wisely before making the purchase.
The Price You Are Willing to Pay
The last factor is a very crucial one. We all know boots are costly, but there are cheaper ones also available in the market. Prices vary from $50-$500. We often feel like getting a cheap boot will be efficient. However, if it is put into details, cheaper boots tend to be less wear-resistant and are produced by synthetic materials.
Cheap models are for those who are highly occasional users of boots. Moreover, a casual rider can ride with an inexpensive one fairly easily, so paying a high price would seem very unnecessary.
But, if you desire for something that won't require you to replace for a long time then pushing your budget a bit more would be the best choice. Because, a frequent rider requires more protection, durability, and mostly a motorcycle boot that will last for at least a couple of years.
Hence, spending money on such a thing won't be a waste but cost-effective.
Top Brands Available on the Market
Materials aren't the only factors that signify quality; brands do too. Choosing the right brand is also an important aspect to consider. Although there are thousands of brands available in the market, only a few sit at the mountain top.
1. BMW
BMW is a brand that offers the best cruiser boots for all the road riders out there. Long journeys and road trips will always feel great if you have a BMW with yourself. Boots are available at a price range of around $250 to $550.
2. DeRidder
It is an Australian brand which brings protective gears for the rough riders. If you are on a budget, then this would be the best brand for you to choose. DeRidder delivers versatile motorcycle boots of the finest quality along with cool features. Approximate price range would be $150 to $350.
3. Fox
This is not the brand you come to if you are looking for something regular. They are the expensive ones in the jungle with superior quality boots starting from around $400 and ranging to $800. Fox focuses all on hefty-ness and durability; if you are an off-roader, this will be the best choice.
4. Alpinestars
Alpinestars are best known for their versatility. Whether you want to wear your boots to work or race on dirt tracks, they have a large stock of options available regardless of the budget you have. A boot from this brand would cost around $250 to $650 max.
5. Harley Davidson
If you are an old-schooler who loves to hit the road with some vintage boots on, you'll know where to go. Harley Davidson is one of the most premium quality brands out there on the market. It is best for the classic vibes you want to achieve with their products priced between $150 to $350.
Frequently Asked Questions
Well, let's have a look at some of the most commonly asked queries;
1. What's the difference between regular boots and motorcycle boots?
A regular boot will get you through the day and might save your feet from a scratch or too, but that's just it. However, a motorcycle boot comes along with tons of features which is engineered to provide you with flexibility and safety.
2. Do motorcycle boots consist of steel toes?
Not necessarily. Steel toes add a bit of aesthetics and insulation. So, it is up to your preference whether you wish to get one or not.
3. Are they waterproof?
Well, motorcycle boots are not completely waterproof. Most of them are just water-resistant, which means they'll save you from rain or splashes.
4. What's the accurate height for a motorcycle boot?
There isn't any standard measurement, but you have to make sure at least your ankles are covered up because that will provide you with the most protection.
5. Is there any brand of motorcycle boots that's better than the others?
Surely there are top brands available in the market, but no one is the king in this jungle. It all comes down to your preference at the end with which brand you feel the most secure with.
Final Words
Now you know the importance of having a motorcycle boot. It is not only protection that these boots offer, but they also come along with so much more.
Since you've gone through the list of the best motorcycle boots available in the market, you know all the ins and outs to make the final purchase.
See Also: