10 Best Motorcycle Camera For Helmets, Touring – Reviews 2020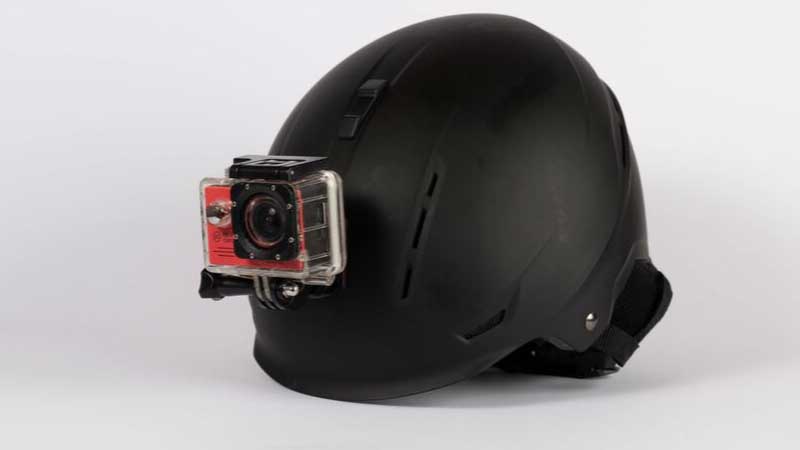 Imagine capturing every single second of your motorcycling adventure in high resolution?
That's precisely what the best motorcycle camera enables you to do!
As you view the recorded videos and photos later, you'll start feeling the fun and thrill of your trips again…it's like you're re-living the moments.
Sharing your travel footages with friends will also feel cool.
However, it can be quite embarrassing and frustrating when you're showing off your adventure footage and realize it was poorly shot—looks shaky, blurry, and has lots of background noises.
To get crisp-clear, smooth footage, you'll need a good quality cam for the job.
You'll have to compare varieties and varieties of helmet cameras out there, specs, and customer feedbacks, until you find something that works for you.
Fortunately, our research team has done the job for you.
In the following guide, we'll share with you our findings on the best cameras on the market today for capturing sharp, smooth videos in your next adventure.
Camera Positions Guide (include photos)
Even if you've got a helmet camera with the latest filming technology, you won't get much out of it if you don't know how to position it on your helmet correctly.
That said, there are multiple ways you can position your camera to help you achieve your specific needs—whether you want to film the road in front of you, show your body position on your bike, show yourself racing.
The point is, you want to position your camera in such a way that it captures what you want to see on the recorded videos.
Let's take a look at the 3 most common camera positioning (and what they help you achieve):
1. Top mounting
Photo: motosport
This is one of the conventional mounting positions among motorcyclists. It involves positioning your camera at the top, center of your helmet. This gives you something close to POV (point of view)—where the captured video will show you and your buddies what you saw when riding.
Because the camera is positioned far away from your motorcycle, it means less vibrations for clearer footages.
2. Side mounting
Photo: motosport
Single mounting is also gaining popularity, especially among riders who don't wear full-face helmets. Just like the top-mount position, the side mounting will provide you with a close POV feel. However, this view might appear a little offset to the right/left, depending on the side you secure it to on your helmet.
The only downside of side-mounted position is that your helmet will partially appear in your shots. Also, head motion will appear in the video.
3. Chin mounting
Photo: filmora
Most riders are slowly shifting to this relatively new position. This is simply because it gives you the BEST POV (point of view), and the resulting footage appears as if it was filmed from your eye level.
What's more, a chin positioned camera is more aerodynamic than the above positions in the sense that it won't create wind drag or pull your helmet around during riding.
Other mounting positions:
Other than the above 3 most common mounting positions, there are optional positions like the ones outlined below:
Keep in mind, though, that this position might be tricky depending on your visor size, your specific camera, and the mounting system.
Photo: motosport
Quick TIP: Once you've secured your camera in your preferred position, you should angle its lens so that they capture your adventures correctly. You don't want to check the footage after the trip, only to find hours of sky or ground filming. You might even want to test it before you begin actual filming to ensure it'll capture correctly.
10 Best Motorcycle Helmet Camera
1. GoPro HERO 7 Black
This is doubtlessly one of the best motorcycle cameras ever made for you. And it comes as no surprise given than GoPro is one of the leading brands in the manufacturer of top-end helmet cameras whose popularity wave has swept across the entire globe.
This particular GoPro makes a great action camera (and a great travel buddy) that helps you capture every moment of your adventure. It enables you to record super-stunning 4k 60fps videos and beautiful, vibrant 12MP photos. For the video recording part, it even allows you to shoot time-lapse videos so that you can turn longer events into shorter, sharable moments.
One feature that really puts it ahead of other action cameras is the ability to stabilize during rides. That is, it can detect movement and correct itself to ensure it captures smooth footages. No more shaky, disappointing shots!
Since this camera features a rugged and waterproof design, you can rest assured that no weather conditions will affect its performance. And no accidental drops and rough terrains will break it.
The highly intuitive touchscreen makes the camera easier to use for you, just like your smartphone.
Other cool features you'll get when you purchase this cam include voice control, video stabilization, ability to shoot vertically (i.e., portrait orientation, ideal for snapchat or Instagram stories), and even a photo timer.
Highlighted Features:
2. Dragon Touch 4K Action Camera
If you're looking for the best helmet cam that gives you value for money, you'll be hard-pressed to find a model as good as Dragon Touch 4K camera. The camera allows you to take super-sharp 1080p 60fps 4k videos, yet it costs you way less than what you'll get in other 4K action cameras.
Not just videos, it also enables you to shoot high-quality photos at 16MegaPixels. It presents you with a wide range of zoom ranges (1.0x to 4.0x) to help enhance your views
The 2-inch LCD screen gives you a clear view of everything being recorded in real-time…and also allows you to review your previously recorded footages whenever you wish to.
Like any other professional helmet cam, this model also comes with a handy waterproof case to prevent your camera when submerged up to 30m. We also like that this camera comes packed with 2 batteries. And depending on the type of resolution you use, each of them will last for as long as 90 minutes.
Other BONUS features you'll get from this camera include auto white balance, loop recording, driving mode, and Wi-Fi connectivity which lets you hassle-freely connect it to your smartphone.
Installing the camera is made easy with the FREE mounting kit that comes included in the box.
Overall, this is an awesome package which comes at a great price!
Highlighted Features:
3. GoPro HERO5 Black — Waterproof Digital Action Camera
If you swear by top brands, here's another best GoPro for motorcycle helmet for you. This Action camera dictates stunning video quality, durability, multiple shooting modes, and user-friendliness—all in a single product.
The GoPro carries on the company's legacy of top-performance cameras. The compact model allows you to shoot professional-looking 4K videos and 12MP resolution pictures. The integrated video stabilization feature ensures you record super-smooth videos, whether the cam is handheld or mounted or helmet.
It also presents you with different shooting modes, including the handy burst and time-lapse mode.
Because this GoPro also comes with voice control feature, you can hassle-freely command this camera to do various actions without getting your hands off the bike.
You'll love how GoPro optimized this digital camera to be convenience easy for you to operate. The 2-inch touch display will help you easily preview, playback, or trim your footages. The single-button control ensures easy recording, and auto-upload to cloud for easy access of your files anywhere.
As it's standard across all GoPros, this cam has a rugged and waterproof (up to 33m) design. When fully charged, the included rechargeable will let you enjoy up to 90 minutes of video recording without a break.
Highlighted Features:
4. GoPro HERO6 Black 4K Action Camera
GoPro Hero6 is yet another best GoPro for motorcycle…and an upgrade of the Hero5 we have just discussed above. The camera comes designed to deliver 2x performance of its predecessor, with ultra-sharp 4K60 and 1080p240 video recording capabilities.
Unlike Hero5, this model boasts of a revolutionary GPI chip technology which provides you with unsurpassed image quality. Even better, it comes packed with next-level advanced stabilization features which ensure you capture incredibly smooth footages, whether your cam is handheld or mounted.
As for the display, the cam features the same screen size (2inches) as the Hero5 model. However, this screen has touch zoom capability, which makes it easy to frame your shots, adjust settings, or play back footage.
Just like all its brothers from GoPro, this 4K action cam featured an extremely rugged and durable design, with water-resistance up to 33ft (10m). This ensures it can survive accidental drops and downpours.
Other cool features that place this camera ahead of Hero5 include 5GHz wifi connectivity for faster transfer of files to your smartphone, ability to capture your GPS path, elevation gain, and speed, and voice control for hands-free operation.
Highlighted Features:
5. Crosstour 1080P Full HD 12MP Waterproof Action Camera
If you're on a tight budget, the Crosstour 1080 Full HD 12MP action camera should be your go-to option. Priced way below $50, this action camera comes packed with high-end features and capabilities to help you record everything you saw in your biking trips.
The cam made it to our top motorcycle helmet camera reviews because it enables you to record high-resolution videos and pictures. It captures photo and vides at 12MP and 1080HD to ensure the footage captured have got unmatched clarity and quality. Not to forget it comes with wider (170 degrees) lens to ensure you capture wider scenes—wider than your eye field of view!
You'll receive this camera in a pretty and solid waterproof case. But keep in mind that it can only resist water up to 30m when fully submerged under water. Apart from water-resistance, this case will keep your camera safe from dust, scratches, and shocks, for a longer lifespan.
Keep in mind that you'll also get up to 2 rechargeable, high-capacity batteries when you invest in this camera. This will ensure you always have a spare battery by your side in case one of them gets depleted when you're far away from civilization.
Thanks to the built-in wifi feature, you can remotely control this camera from your smartphone to record videos, capture photos, or download and delete files.
Other than bike riding, you can also use this camera for other sports such as diving, surfing, and surfing.
Highlighted Features:
6. GoPro HERO Session Waterproof Digital Action Camera
We're not yet done with GoPros. Here's one more best GoPro for motorcycle by the name Hero Session Action Camera. Ideal for first-time GoPro users, this camera comes in a compact, simple design which packs the power of GoPro.
Hero Session is one of GoPro's user-friendliest models. It features a single button operation, which you simply press and the cam jumps into recording footages of your trip automatically. And when you stop recording, the cam automatically powers itself off.
Needless to mention, this GoPro will also provide you with superb image and video quality. For videos, in particular, it captures high resolution up to 1440p per inch, which translates to pleasantly sharp, professional videos.
Because it also comes with time-lapse plus burst feature, you can use it to take a burst of photos (with up to 10 frames per second).
Don't forget that this camera also features Bluetooth and Wifi connectivity options for versatility. You'll have an easy time connecting it to various GoPro apps, accessories, etc. Like the previous GoPro cams, this model also has a rugged and waterproof design (up to 10m feet), so the rainy weather doesn't affect its performance.
Highlighted Features:
7. Dragon Touch 4K 16MP Vision 3 Pro Waterproof Camera
Want to get the BEST bang for your buck? Invest in this Dragon Touch 4K today. If you take a look at the world of 4K videos, you'll realize that they're a pure definition of the best motorcycle helmet cam. Unfortunately, they hang on the higher-end of the price spectrum.
However, this Dragon Touch 4K Action camera separates itself from the pack by featuring a wallet-friendly cost without compromising the power and quality of the 4K cams. This makes it an affordable alternative to GoPro and other premium 4K models.
One of the key features you'll love about this cam is the whopping 16MP camera which allows you to take superior quality shots. Add this to the camera's ability to make professional 4K/30FPS videos, and you've got what it takes to capture spectacularly stunning moments in your biking trips.
Flexibility gets a new meaning with this camera! It features a 4x zoom features which help you adjust the subject distance in your camera for more customized shots. Moreover, you can adjust the camera lens through 70-170 degrees to customize the field of the scene captured.
The camera gets even better with a 100ft waterproof casing. This means you never have to worry about your camera getting affected in heavy downpours. You can also use it to capture beautiful sceneries when involving yourself in water sports such as swimming, diving, surfing, and more.
With a wireless wrist remote control, operating your camera becomes a breeze. A bunch of accessories is also included in this package to make it incredibly flexible for various outdoor applications. The included mounting kit facilitates hassle-free installation.
Imagine getting all those high-end, premium features plus bonus accessories and mounting kit at a crazily low price. This Dragon Touch 4K camera is a damn good deal, no doubt! It's totally worth the bucks you'll pay for it!
Highlighted Features:
8. Drift Ghost X Full HD 1080P Action Camera
Imagine recording high-quality videos and photos for 5 straight hours on a single battery charge? This is exactly what this Drift Ghost X action camera enables you to do. It boasts one of the longest life battery performance to let you capture the moment without getting distracted by low battery notifications.
The compact and streamlined action camera can record at 1080p HD, up to 30 frames per second for shockingly crisp-clear videos. What's more, it gives you the option of recording videos at 720p, up to 60 frames per second to meet your preferences. When it comes to taking shots, this camera too doesn't disappoint with its 12MP high-resolution photo quality.
Another unique feature that qualifies this model to appear on our helmet camera reviews involves the rotating lens. The lens is soo flexible that it can move through a 300-degrees path to let you narrow or expand the field of view as you wish.
You can wake up this Ghost 4K camera from sleep mode with just a single button press to ensure you don't miss a single moment of your trip. The included wearable remote ensures you can easily start the cam for recording as soon as the action begins.
Other cool features of this cam include car DVR mode (for recording new videos over old ones automatically, in real-time) video tagging, built-in WIFI connectivity, and waterproof design up to 40m.
Given its extra-long battery life, this model will make the best camera for motorcycle touring long distances without frequently recharging your battery.
Highlighted Features:
9. Sena 10C Pro Bluetooth Headset & Camera
If you often go riding with your buddies, this product will be a good option for you. Why? Because it features both the camera and communication system in a single body—allowing you to communicate with your fellow riders and at the same time record your adventures.
Both the camera and the headset come are put together in single, solid body design. The camera itself has excellent capabilities as it allows you to shoot in 1080p (with 60 frames per second), or 1440p (with 30 frames per second). This translates to superior clarity in your videos and photos.
Apart from the videos, the camera also comes ready to take stunning photos in short bursts or time lapse. This will leave you with lots of memory space to get creative with your camera footages.
Mind you; the camera lens can rotate as much as 30 degrees, increasing the field of scene captured.
Just like most of the other cameras featured here, this device is also waterproof so that you can use it in extreme weather conditions.
As for the Bluetooth headset, it lets you seamlessly connect with up to 4 riders and hold conversations as you explore the adventures. The advanced noise control function helps block the noise for clear communication between the riders.
Remember that both the intercom and camera are Wifi enabled for easy connectivity to your smartphone.
Highlighted Features:
10. DJI OSMO Action Cam Digital Camera
Signing off our list of the best motorcycle helmet cameras is the DJI's OSMO Action helmet camera. Most people recognize DJI as a drone manufacturer. But lately, they have caused a stir in the helmet camera industry with the release of this OSMO Action Cam—a direct rival to the GoPro.
Like the GoPro, it can shoot videos at resolutions of up to 4K60 and 1080p240. And still 12MP pictures.
What makes this camera different from the park is its front display, which comes in handy when you want to take selfies as you ride. However, this feature will be less helpful when the camera is mounted on the helmet.
The OSMO Action motorcycle helmet cam brings its expertise in stabilizing their drones' tiny cameras to action cameras. They have armed this cam with the "Rocksteady" image stabilization technology, which is a direct rival of GoPro's "HyperSmooth" function.
On top of this, the camera boasts of HDR function which easily picks out details from shadows during bright days—for unparalleled image clarity.
You'll also love the voice control feature, which facilitates hands-free camera control. This is a helpful feature as it helps operate the camera without getting your hands off your bike. With up to 11 meters waterproofing, you don't have to worry about getting caught in a downpour with this camera.
The final shot that DJI took on this competition-level cam is matching its mounting system to that of GoPro cameras, meaning you can use it with a wide variety of mounts and accessories out there.
Highlighted Features:
What To Look For Before Getting One?
The search for the best motorcycle helmet camera isn't a walk in the park, especially for beginners who don't know much about these devices.
In this section, we'll give you KEY features to look for to help you cut the chase and get the perfect model for you easily.
KEY features:
Image quality
One of the MOST important things to look for in a new motorcycle helmet camera is the quality of videos and pictures it produces.
The last thing you want to experience is investing your money in a camera and then realizing later on that it shoots blurry, grainy images which you strain to see.
If you want to record high-quality videos which you can view clearly and in high definition, then look for a helmet cam with a resolution of 1080p.
This is what most top-rated cams deliver. And it's advantageous in that most computers can easily edit 1080p footages without any issues.
If you want professional quality images, then you go for a higher resolution, the 4K..but keep in mind that some computers might have a hard time rendering your footage during recording.
Battery life
The helmet cameras usually come equipped with a rechargeable battery.
But don't just look for a battery.
The perfect motorcycle helmet cam for you should come with a longer life battery to enable you to spend more time filming your adventure and less time charging the battery.
The more hours a battery can last on a single charge, the better. Healthy batteries can last for over 1 hour. Some can go for as long as 5 straight hours.
Models which come with lithium batteries are preferable as you can charge them multiple times without damaging them.
While still at it, look for manufacturers who ship include a spare battery in the box for your own convenience.
Models which automatically switch off when the camera is idle are also good as they help preserve the battery charge for longer life.
Connectivity options
A motorcycle hemmer camera that presents you with some connectivity options is also worth considering. This is because they help make the camera even more convenient and versatile for you.
On such connectivity is the built-in wifi capability. This offers you a couple of benefits, as outlined below:
Additional connectivity features you'll find convenient in a motorcycle cam include Bluetooth and HDMI port (lets you connect directly to other devices)
Durability (and waterproofing)
The wonderful small device you see houses super-sensitive technology which can sustain permanent damages with a single drop.
For this reason, we also recommend you to check the durability of any model you wish to buy.
Most of the top-rated cams out there will feature some form of a protective casing which helps protect the inner sensitive components from impacts and shock.
In case of a crash, a cam with rugged housing will continue recording, so you'll have full footage of what caused the accident.
While still on it, be sure to check if the cam comes with a waterproof design. this is especially true if you plan to ride in areas with extreme weather conditions such as rain, snow, etc.
Wide angled lens
You want to capture as much of your surroundings as possible, right?
In this case, you should also check the type of lens the camera you purchase comes with.
We advise you to look for models which come wide angle (170 degrees) lens as they do a great job of capturing as much as of your surroundings as possible, so you don't miss a single detail.
Of late, manufacturers are also incorporating adjustable angle lens into their helmet cams. This is a great feature to have as it allows you to easily adjust your recording angle according to your preferences.
Cost
The beauty of these small devices is that they're evenly spread across the price spectrum, so getting one that falls within your budget range is pretty easy.
But how much should you spend on a motorcycle cam?
If you want a decent model with high-quality video recording, wider angle lens, long-life battery, and touchscreen ability, then be sure to set your budget around $50 to $100.
Go above this price range if you want sleeker and slender cams which capture professional clips and photos, like the GoPro cameras. Some unique features you'll enjoy here include enhanced low light effect for night recording, advanced image stabilization, and Bluetooth connectivity.
Other features:
How to Mount Action Camera On Motorcycle Helmet?
Finally, you have received the best motorcycle helmet camera you ordered. And now the only thing troubling you is how to mount it on your helmet so that you get started capturing the moments.
So, how do you get it done?
The helmet cam manufacturers usually include the mounting kit and instructions in the box to make the installation easy and fast for you.
With that in mind, the easiest way to mount that camera on your helmet is by using adhesive mounted provided by the manufacturer. This enables you to securely mount your camera without affecting the integrity of your helmet.
Just ensure your helmet's surface is clean for the adhesive to work well.
However, some manufacturers supply you with straps instead of adhesive mounts. You need to refer to the manufacturer instructions on how to correctly configure these mounts for a safe and secure setup.
As for the best position to mount the cam on your helmet, that will depend on what you wish to film.
You can mount the cam at the top, at the side, or on the chin of your helmet (refer to our camera positions guide above to see the pros and cons of each of these positions).
Frequently Asked Questions:
1. Can I use my helmet cam footage as evidence in court?
Absolutely! If you get involved an accident when motorcycling and it wasn't your fault, your motorcycle helmet camera recordings can help you.
Provided your camera was correctly angled and recorded the entire incident clearly, it can help you avoid the common argument over who is to blame.
Since filming in public areas isn't illegal in the US, you can present the recording to court as evidence without any fears.
However, you must inform your solicitor of the footage and be sure to preserve it in a CD or even memory stick. DON'T alter or edit the clip in any way. Don't change the format either. Keep it as original as possible. Resist the urge to share it on social medial too.
The way we see it, having such solid evidence from your camera can also save both parties the time you might spend in court as you can easily determine who was at fault and settle your disputes.
2. Are motorcycle helmet cameras legal?
Probably one of the most debated topics about motorcycle helmet cams is whether they're legal.
This is probably because most traffic rules and regulations state that no modifications should be made to helmets. And drilling holes into your helmet to mount the camera is one form of modification.
But no rule in the US prohibits you against mounting a camera on your helmet.
To answer your question, it's 100% legal to use a helmet camera as long as the way you mount it doesn't affect the integrity of the helmet.
In line with this, we advise you to stick to adhesive-based camera mounts as they don't damage your helmet in any way.
Still have doubts about the legality of helmet cams?
If yes, we advise you to confirm with your local area road safety enforcement bodies to avoid getting on the wrong side of the law.
3. what are some crucial tips to keep in mind when using a helmet cam?
When using your new helmet cam, observe the following tips to ensure you get the most out of it:
4. How long do helmet camera batteries last?
The average life of a helmet cam is around 90 minutes.
So, if you'll be riding for long hours, you should equip yourself with extra batteries or look for a battery that has a longer lifespan.
The Drift Ghost X Action Camera we reviewed above has a long battery life of up to 5 hours, making it the best camera for motorcycle for long-distance bikers.
5. Do I have to record my footages in 4K resolution?
No! 4K videos are usually suitable for bikers or videographers who want to get as much detail as possible in their footage.
If you're recording for fun, 1080p or 720p resolution will meet your needs. Plus, most household computers have no problems editing 1080 or 720 videos, unlike in the case of 4K videos.
Final Verdict
The best motorcycle camera grants you the golden chance of recording your riding adventures so that you can watch them later or share them with your friends. The feeling of watching your biking trips will bring up those cool memories in your head, and you'll re-live those moments.
In our helmet camera reviews section above, we've provided you with a bunch of top-rated cams which will let you capture high-resolution videos and photos. These models have decent battery lives, excellent build quality, waterproof design, and are incredibly easy to use.
Have you already picked the perfect cam for your next biking trip?
See Also: