10 Best Motorcycle Chain Lube Reviews 2020 – Buying Guide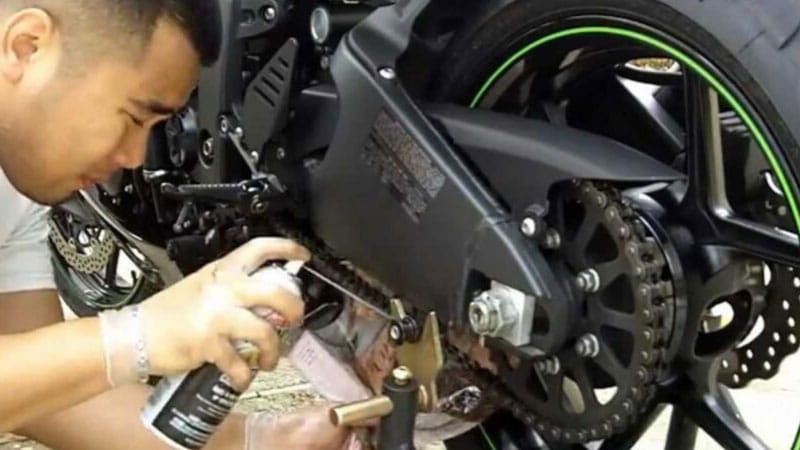 Are you wondering which is the best motorcycle chain lube to buy?
If yes, this guide will help you out.
As you're already aware, using the right chain lube is crucial in ensuring your chain rides smooth, preventing tear and wear, and prolonging its life.
Most chain lubes now go a step further and incorporate cleaning agents which help remove dirt and grime that's notorious for reducing your chain efficiency.
We realized that bikers easily drown into the sea of numerous motorcycle chain lubes out there, and end up choosing wrong, which can spell further damage to the chain.
That's why we did the dirty job for you—we dived into the sea and manually selected the most suitable chain lube that you should use today for maximum chain efficiency and longevity.
Discover these lubes below…
How Often Should I Lubricate My Motorcycle Chain
FIRST things first…before we outline the top chain lubes curtly available at the market, let's have a quick discussion on when you should lubricate your motorcycle chain.
Nearly all bikes manufacturers recommend that you lubricate your motorcycle chain for every 500 miles you cruise your bike.
However, we don't think you should always follow this rule.
Why?
Because anything could interfere with your chain in between these intervals, demanding immediate care.
For instance, if you might ride through mud and dirt or dusty area, you'd want to lube your motorcycle, even if you haven't covered the 500 miles to keep it in top condition.
Also, if the chain feels stiff (you can quickly notice this while riding your motorcycle), immediate lubrication should be done to keep the chain working effectively.
We suggest that you oil the chain when it's still warm. This will help the lube easily spread through the chain and spread through its rollers faster.
Lubing your chain before cleaning your bike is also a good move. The oil will help repel the water from the chain, as opposed to locking it in.
Quick Tip: Remember to consult your manual to see what the manufacturer recommends as the perfect time to lubricate the chain of your specific motorcycle.
10 Best Motorcycle Chain Lube:
1. DuPont Teflon Chain-Saver Dry Self-Cleaning Lubricant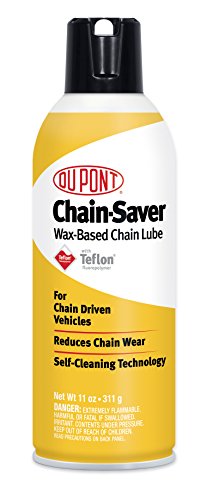 DuPont is synonymous with high-performance, technologically driven lubricants that'll meet your specific chain lubrication needs. This particular product from the company is a motorcycle chain cleaner and lube, with both self-cleaning and lubrication properties.
When inside the can, the lube is in the state of 100% dry-film formula…but on getting out of the can, it becomes wet to allow for easy penetration into your chain components. And once applied, it settles into a dry, clean, white micro-thin coating. This lube will NOT fling-off, even when driving your motorcycle at top speeds.
The lube comes incorporated with Teflon coating, which helps keep dust, dirt, and debris from sticking onto your chain. Moreover, the formula contains moly, which gives the lube excellent water and wear-resistant properties.
This DuPont can withstand incredibly high temperatures (as high as 300 degrees F). It's sure to get rid of all the squeaking sound that comes from your bike chain. It's also O-rings safe. Other than motorcycle chains, you can use it for mowers hinges, locks, outdoor power equipment, and more.
Highlighted Features:
2. Maxima 74920 Chain Wax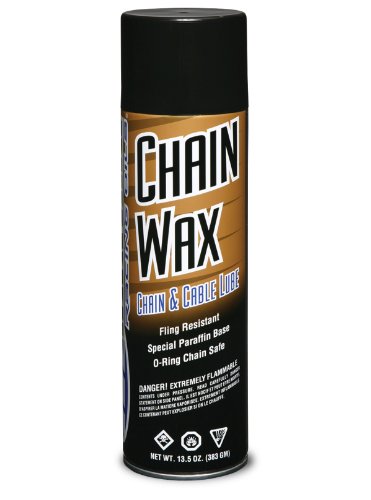 If you're looking for the best motorcycle chain lube that works with all types of chains (O, X, and Z ring), this Maxima chain wax will do for you. The superior power spray lubricant comes in a variety of sizes to help you choose one that meets your needs or fits in your tank bag.
We featured this chain lube on our list due to the great rust and corrosion resistance properties it presents you with.
It boasts of a special Parafilm formula which lets you spray it as a liquid for easy penetration and spread around your motorcycle chain moving parts…eventually, it settles into a soft waxy film. Overall, this exclusive formulation helps make the lube easier to use while ensuring all parts of your chain are well lubricated.
Another reason we love this lube is the fact that it comes packed with heavy-duty, anti-wear, and extreme pressure additives—all of which work together to form superior lubrication for your chain, sprockets, and cables.
Highlighted Features:
3. PJ1 13oz Blue Label Motorcycle Chain Lube

If you can't figure out the perfect chain lube to use for O-rings chains, try this lube today! The lubricant is specially designed to easily penetrate and protect O-rings, keeping them moist, protected, and rolling with minimal resistance.
We all know that some lubes are a pain to apply…but this PJ1 isn't one of them. It comes designed for easy application, so you take less time maintaining your chain and more time cruising around with your baby. The lube penetrates deep into the O-rings effortlessly, where it offers much-needed protection and lubrication.
It works wonders when it comes to reducing shock and frication on your chain. This means less wear, and you'll not need to a lot of adjustments on your chain. Since the lube's formula is also designed to repel and displace water, rusting and corrosion will not get way into your chain. That's why it can also work as the best motorcycle chain cleaner.
The petroleum-based assumes a clear form, and once applied, it won't fly off, ensuring extended protection (and prolonged chain life).
If you want to safely and adequately lubricate O-ring chains for maximum efficiency, minimal rolling resistance, and the ultimate longevity, this is the chain lube for you.
Highlighted Features:
4. Lucas Oil 10393 Chain Lube Penetrant Aerosol
Lucas penetrant aerosol is another best motorcycle chain lubricant with favorable pricing. It's a semi-synthetic spray lubricant designed to meet the demands of your high-performance motorcycle chain and sprocket.
One thing that keeps this aerosol lubricant ahead of the pack is its easy application, deep penetration ability. This is made possible by its foam style, which enables it to easily find its way around X and O rings, …and the deeper the penetration, the better the performance.
Once it reaches its destination, this lube will become dry and form a protective film that excellently repels dirt, dust, rust, corrosion, and drag. It also has excellent water-resistant properties which further aids in resisting rust and extending its lifespan.
Oh! Don't forget that this chain lube has undergone rigorous tests by professionals as well as competitive race teams to ensure it's the perfect lubricant for keeping your chain in excellent condition for an extended period of time.
Highlighted Features:
5. Motul M/C Care Factory Line Chain Lube
We're hallway the journey of our best motorcycle chain lubricant reviews. This Motul chain lube comes specially designed for road racing chains. It can work with O, Z, and X-ring chains.
The chain lube is unlike most of the other lubes in this list in that it comes in paste form. You'll notice a brush applicator tip that helps you easily apply the lube on your road racer chain.
Most people complain that this lube comes in a 5.07oz package, unlike other lubes with the same price tag which comes in almost twice the amount. However, this doesn't make any significance since the paste is much easier to spread than the spray lubes—so you'll only need a small amount to adequately lubricate your chain. You might even be surprised to discover that this lube will outlast most spray lubes out there.
The brush application tip is sure to make things easy when applying this lube on your motorcycle chain. The paste's milky color makes it easy for you to see where you've lubricated, making your whole job even easier. Once you apply this lubricant, it stays on the chain for a pretty long time for continued chain protection and efficiency.
Highlighted Features:
6. Bel-Ray Super Clean Chain Lube
This aerosol chain lube utilizes the latest in motorcycle chain lubrication technology to offer your chain long life and maximum efficiency.
The lube combines exceptional anti-wear protection (for extended chain and sprockets life) plus an outer protective coat which guards the lube against dust, sand, dirt, grit, etc., which can interfere with your chain's performance.
When used as directed, this lube also promises not to fling off. It will stay exactly where it needs to be to protect your chain's moving parts.
We also find it amazing that this lube comes in white color. Why? Because it makes it easier to know when you have fully lubricated your chain. This is unlike the dark lubes, which might be a bit hard to see, especially in low light conditions.
This chain lube is designed for use with nearly all chain styles—including the O, X, and Z ring as well as roller style chains for racing, street, and off-road use.
For a chain oil that stays in place and offers maximum protection, this Bel-Ray white lube is hard to beat.
Highlighted Features:
7. Liquid Wrench L711 Chain & Cable Lube
This chain and cable lube is the perfect definition for a lube that stays put on your chain's moving parts to deliver maximum protection, maximum performance. And like most of the previously discussed products, you can use not only on your bike chain but also throttle cables, farm equipment, ATVs, UTVs, 4-wheelers, garage doors, and more.
This formula comes specially formulated to penetrate deep into your chain lube. The manufacturer has achieved this by designing it in such a way that it only dries after entering your chain links.
And once it has penetrated and settled, this lube starts delivering its superior protection. It prevents oxidation, which helps prolong your chain life. The manufacturer has also injected anti-wear additives plus synthetic moly into it, giving it totally superior performance.
Once applied, this lube will stay precisely where you want it to be, thanks to its powerful anti-sling properties.
Did we mention that this lube is compliant in up to 50 states? With only 4 states out of the equation, it means you can use it almost anywhere in the US and enjoy superior of your motorcycle chain against corrosion, rust, and other chain killers.
Highlighted Features:
8. Nextzett 96050515 Ultra Gel Chain Grease
If you're looking for an incredibly versatile motorcycle chain oil that doesn't leave holes in your pocket, this ultra-Gel is a cool choice. The synthetic chain lube grease comes designed for use on all driven vehicles—ranging from motorcycles, ATVs, Go-Karts, bicycles, and more.
Tracing its origins from aerospace use, this chain grease comes formulated such that you can use it for high speed and high-load applications.
With an extended temperature range over which it can perform excellently well (i.e., from -40 degrees F all the way up to +430 degrees F), this grease is sure to perform in both low and high-temperature conditions. And this means it'll outlast most of the lubricants out there.
We also like that this grease is 100% resin and acid-free. And when you apply it, the liquid flows effortlessly until it reaches the deepest end of your chain where it turns into grease. It contains active corrosion protection which teams up with excellent adhesion to protect your chain from rusting.
The great adhesion nature of this ultra-gel helps keep it from slinging off your chain or attracting any dirt, dust, and debris along the way—which can seriously affect the performance of your chain. It also exhibits excellent waterproof properties. And has an active O-ring protection for proper maintenance of your motorcycle chain/sprockets.
Highlighted Features:
9. DuPont Teflon Multi-Use Lubricant
Like the other DuPont product, this is also a high-performance, general-purpose lubricant that you can trust to reduce the friction between your chain's moving parts for increased efficiency and longevity.
One of the top reasons to love this lubricant is the fact that it comes incorporated with Teflon. This goes a long way in eliminating squeaks, keeping off rust, and protecting all the moving parts.
With its low surface tension, you can rest assured that this lube will penetrate deeply into all your chain's accessible area, translating to the ultimate rust and corrosion protection. What's more, it can withstand extreme temperatures from -30 degrees Celsius up to 300 degrees (140 degrees F)—making it suitable for use in both low and high-temperature conditions.
Keep in mind that this lube has a minimal odor, so you can also use it indoors.
As a multi-purpose oil, you can use this DuPont on high RPM chains such as motorcycles, Go-karts, ATVs, etc. Or you can use it around your house for overheard and garaged door chains, window jams, and more.
Highlighted Features:
10. YAMALUBE Full-Synthetic Chain Lube
Finally, we have one of the best chain lube for motorcycles from Yamaha. This is a reputable brand which has all-great quality products, hence the reason why motorcycles across the entire planets swear by their products.
As for this chain lube, it's made using the highest quality standards to ensure it meets your chain lubrication needs. It's a fully-syndetic oil, which means it comes with uniform molecular size which greatly minimizes friction between your chain moving parts—ensuring an increased lifespan. Not to forget refinement and engineering, which helps reduce deposits.
The top-quality lube also delivers great penetration properties to ensure it touches every part of your motorcycle for maximum protection and increased efficiency. It has excellent resistance to corrosion and water, just like most of the other lubes we've discussed above.

Remember that this is 100$ genuine Yamaha product and can be used with all motorsports drive chains—including O-ring chains. Whether you're looking for a top-performance lubricant for your road racing, off-road, or street sports bike, this lube will work for you.
Highlighted Features:
Things To Consider Before Buying:
Type of lube
As you've seen in our list of top-performing motorcycle chain lubes above, these products vary depending on lubrication properties and lubrication style.
Knowing which type to choose is crucial for you.
The most common types include:
Chain-ring type
Which chain style do you have on your motorcycle? The two widely used chain styles include O and X rings. Both do the same job of sealing the inner & outer plates, pins, bushings, and rollers of the motorcycle chain links.
That said, some lubes are designed to only work with specific chain…other can work with all the chain styles. Make sure the lube you choose is compatible with your specific chain type. Otherwise, you might end up damaging your chain.
Other important considerations:
Once you have identified the right type of lube that's compatible with your specific chain type, you'd want to ensure it also has some extra properties like resistance to water and dust. Water is the top agent for forming rust and corrosion, while the accumulation of dust can gum up your motorcycle chain, and possibly break it.
A lube with strong anti-fling properties is also worth considering. This ensures that when you decide to hit the road, the "fast and furious" style, the oil won't fly off your chain and leave it unprotected from friction and elements.
Pro Tip: Where do you usually drive your motorcycle?
The conditions you find yourself driving in most of the times should come into play when looking for the ideal lube for your chain. Keep in mind that a good lube can also work as the best motorcycle chain cleaner.
If you cruise around humid and wet area, then you should get a lube that has resistance to water and dust.
For those who love hitting off-road, then your best bet will be a dry lube which has excellent resistance to dirt, grit, and sand.
Frequently Asked Questions:
1. What are the best motorcycle chain lube brands?
With soo many chain lube brands out there, it's not easy to determine which one to buy and which one to ignore. Luckily, some manufacturers have stood from the rest for their unwavering efforts of producing top-notch, high-performance products that leave their customers satisfied and happy.
Some of the most reputable manufacturers for chain lubes include: DuPont, WD-40, and Maxima.
These top brands have a few things in common—they've got a versatile line of lubes that can with different chain types, their lubes can fit a wide variety of applications, and offer maximum chain protection against rust, corrosion, and harsh elements.
2. How do I apply motorcycle chain lube?
Applying the lube on your chain is quite simple, so you don't need a motorcycle mechanic for this job.
If you're applying the lube after cleaning your bike, we suggest that you give it enough time to dry first. Make sure you entirely remove the cleaner. When you're satisfied that the chain is ready to get lubricated, you can then get down to work.
The best application method is ensuring you evenly apply the lube on both sides of your motorcycle chain.
When the chain gets into action, it'll do the rest of the job of circulating the oil to all the parts for friction reduction and protection.
3. Can I use bicycle oil on my motorcycle chain?
If you already have some bicycle oil, you might be lucky as you won't need to invest in new oil for your motorcycle.
But BEFORE you use that bike oil on your motorcycle, it's crucial that you check the brand specifications. If the oil is labeled as multi-purpose, you should be able to use it to lubricate your motorcycle chain without any issues.
The oil just needs to have excellent lubrication properties and resistance to dust, water, and other suitable features for motorcycle oil.
Final Verdict
The reason why you haven't been enjoying maximum performance from your chain is that you have been using the wrong chain lube on it, or you've neglected it altogether.
We suggest that you invest in a good motorcycle chain today; one that's easy to use and penetrates deep into your chain moving parts to protect it against rust and corrosion, promote smooth rolling, and reduce those undesired squeaking noises.
Ability to resist fling off, water, dust, dirt, sand, grit, etc., is also a huge plus when looking for the ideal chain lube.
Ready to prolong your chain life? Great…order one of the top-rated chains lubes we've outlined for you today. Thank us later!
The best motorcycle chain lube + a well-lubricated chain = happy biker!
See Also: