5 Best Motorcycle Disc Locks in 2023 [Hand Picked]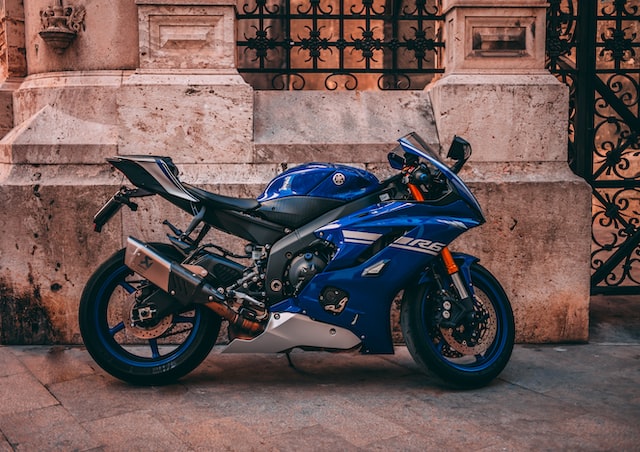 Motorcycle theft is a real and growing problem in the US. According to a report by the NICB, motorcycle theft has increased 26% since 2019. With this increase, it makes sense that more and more riders are beginning to take action to help prevent their own bikes from being taken. 
One measure that can be taken to deter potential thieves is to employ a disc lock. These devices are simple to use, and can certainly make it significantly more difficult for anyone looking to steal your motorcycle. Aside from simple locking mechanisms, many disc locks will also include features such as high-powered alarms, bluetooth location services, and more that improve the security of your motorcycle. 
We've done the research on the disc locks currently available, and chosen 5 of the best options on the market. In this review and buying guide we'll go over our top picks, as well as a few things to look for when choosing the best disc lock to protect your motorcycle. 
Hi! I am David, a motorcycle enthusiast, and I'm going to help you pick the top five disc locks for your motorcycle. We'll examine the factors you need to consider to help you choose the right product.
5 Best Motorcycle Disc Locks
A disc lock provides extra security for your motorcycle, and is especially useful when parking outside in unfamiliar or high risk locations. After doing the research, we have selected 5 of the very best disc locks to consider in 2023. 
This disc lock from Urban has been through rigorous testing to ensure that it provides maximum security for your motorcycle. Featuring a powerful 120 decibel alarm, an anti-pick and anti-drill lock cylinder, and high quality alloy steel construction, the 999 is designed specifically to prevent theft. 
In addition to the alarm, lock, and construction, this disc lock is also Class SRA approved, going through testing to ensure that it is as effective as possible at securing your motorcycle. The French SRA certification indicates that this motorcycle disc lock has not only been designed to be effective, but has also been tested and found to be effective in practice as well. It is the best motorcycle disc locks in the market.
Features:
High quality alloy steel construction
120 decibel alarm disc lock
SRA tested and certified
Double-Closing lock mechanism
Pros
Sturdy, heavy duty construction.
Very powerful alarm.
Tested and certified for effectiveness.
Cons
Lock is powered by a CR2 battery which may need replacing every so often.
This high end lock from Artago is built from stainless steel, and backed up by advanced testing from independent labs, earning numerous motorcycle security certifications including France's respected SRA certification. The mechanism makes use of a 15.5mm locking pin and a proprietary S.A.A. locking system to prevent theft, and a 120 decibel alarm will alert you if your bike is tampered with. 
This heavy duty disc lock is also designed to be easy to transport on your motorcycle, and is waterproof to prevent any sort of issue with the electronic components. A single CR2 battery powers the lock, however in the event the battery dies the lock can still be used as a purely mechanical disc lock. You can consider it as the best motorcycle disc locks for your bike.
Features:
High quality stainless steel construction
Proprietary S.A.A. triple locking mechanism
120 decibel alarm
SRA Tested and certified
Pros
Heavy duty construction.
Patented locking system.
Functions as an alarm and as a purely mechanical lock.
SRA Certified.
Cons
Battery will need replacing periodically.
For riders that are looking for a low cost and lightweight option that still provides solid locking capabilities, this stapler-style lock from Kryptonite delivers exceptional motorcycle security. This lock features a 5.5mm diameter locking pin to allow it to fit into narrow brake holes, allowing it to be attached to most models of motorcycle. 
An extra advantage of this lock is that it is a very lightweight model, making it more convenient to carry and use without sacrificing build quality. As a purely mechanical key lock, however, this lock does not feature any alarm or app notification functions. Kryptonite 000877 Keeper 5s is a reliable bike lock with a brake disc lock, providing added security and peace of mind.
Features:
Lightweight and portable design
Attractive chrome finish
5.5mm diameter locking pin to accommodate most models of bike
Pros
Lightweight, easy to carry design.
Fits most models of motorcycle.
Stainless Steel construction.
Cons
No alarm system.
Has not been tested for quality by SRA.
Any rider looking for an alarm with a lower price tag might consider this option from Mysbiker. Offering a 110 decibel alarm and motion detector along with durable, waterproof construction, the Silver Knight is designed to provide quality protection for your motorcycle at a fraction of the cost of higher end models. 
The locking pin is designed to work with any motorcycle with over 6.7mm brake holes, and an included reminder cable provides a visible indicator that the lock is present, deterring thieves and preventing you from trying to ride off before removing it yourself. The lock is powered by 6 LR44 batteries, which can be easily replaced using the included mini wrench. 
Features:
110 decibel alarm
Locking pin designed for bikes with 6.7mm or larger brake holes
14mm locking pin for added durability
Pros
Alarm and motion detector features for a low cost.
High quality stainless steel construction.
Cons
Requires 6 LR44 batteries that will require periodic replacement.
Has not been tested by SRA.
Also Read: Best Motorcycle Helmet Lock Reviews
5. Radikal RK10 – Best Budget Disc Lock
This SRA approved disc lock from Radikal offers top-quality security for your motorcycle, including features like a 120 decibel alarm, waterproof construction, and interchangeable alarm module. The lock cylinder has been tested against picking and drilling, ensuring that potential thieves will not be able to bypass your lock. 
The lock is made from high quality steel, with the 10mm locking pin being tested against shears, saws, hammers, levers, and many other common forms of attack. A double-locking mechanism ensures that the lock stays securely in place and cannot be removed without its key. An included CR2 battery powers the lock, although should the battery die the lock can be used as a purely mechanical option as well. 
Features:
SRA Tested and approved lock
120 decibel alarm
Locking pin successfully tested against most common tools used in motorcycle theft
Can be used with or without the alarm
Interchangeable alarm module
Pros
High quality steel construction.
SRA tested and approved.
120 decibel alarmed disc lock.
Can be used with or without alarm.
Cons
Batteries will need occasional replacement.
Also Read: Best Motorcycle GPS Navigation Devices
Things to consider before buying Motorcycle Disc Locks [Best Buying Guide]
While motorcycle theft is a growing crime, police and law enforcement agencies often have limited options available once a bike has been stolen. For this reason, it is a good idea to take preemptive measures to prevent motorcycle theft from occurring. Using a disc lock is an excellent measure to take, however with so many models to choose from, deciding on the best lock for you can be difficult. 
Even though each situation may differ, there are some features that should be considered when looking into any disc lock. Keeping these things in mind when shopping for the best lock for you will help make sure that you are able to find the best option for your specific needs. 
Size
Considering the dimensions of your motorcycle discs as well as those of the lock itself is the first step in knowing whether the lock you are looking at will be compatible with your bike. Checking the depth of the brake holes from the outside of the disc, as well as the diameter of the holes, will ensure that you know the maximum width of the locking pin. 
In most cases, motorcycle locks are meant to fit a wide variety of different bikes. However, it is still a good idea to check the size and placement of the locking pin just to be sure of the lock's compatibility with your motorcycle's brake discs. 
Portability
As a tool that you will be carrying with you from place to place, it is a good idea to ensure that the lock you choose is easy and convenient to carry. Be sure that the lock that you choose can easily fit in a tank bag, or be attached to the bike using a clip. Many of the more popular disc locks on the market may have optional attachments that make transporting them more convenient. 
Design
When considering the design of your chosen disc lock, you may want to consider a lock that is highly visible. This ensures that any potential thief can see the lock, which can often keep them from making an attempt to steal your bike. This can also have the benefit of reminding you that the lock is in place before taking off for your next destination. 
Other things to consider when it comes to the lock's design include how easy the lock is to attach, and how easily it can be maintained when necessary. This may include changing batteries for disc locks that feature alarms or motion detectors. 
Materials
Choosing a motorcycle security lock that is made with high quality, durable materials is especially important for a lock's ability to handle attacks from the various tools commonly used in motorcycle theft. High quality steel is a very resilient material and does not easily deform when subject to pressure. Better materials will also be resistant to sawing tools and chemical attack, as well as rust and weather. 
Audible Alarm
A motion-sensitive alarm is a great way to ensure that you are aware if anyone is tampering with your motorcycle. This is especially useful, as a common method for stealing motorcycles is to lift them off of the ground and into a truck. Simple mechanical disc locks can do nothing to prevent this, however a motion sensitive alarm will produce an audible signal to let you and everyone in the surrounding area be aware that something is being done to the motorcycle. 
Reminder Cable
A disc lock reminder cable provides a visual reminder that the lock is attached, ensuring that you don't attempt to ride off with the lock in place and damage your bike. Typically a reminder cable will be a highly visible color, allowing it to be seen from a distance. These cables also usually attach to the handlebars, making them nearly impossible not to notice. An added benefit is that prospective motorcycle thieves will see that a lock is in use, and choose not to tamper with the bike. 
Cost
Deciding how much to spend on your motorcycle disc lock may come down to factors such as how frequently you will be using the lock, as well as the areas you typically park in, and even how long you intend to use the lock. Higher priced units will usually be made from higher quality materials, have more features to provide a higher level of motorcycle security, and even have gone through more testing to ensure their quality. 
The lower the cost of the motorcycle disc lock, the fewer features it is likely to have, with some disc locks even compromising on the quality of the lock itself in order to achieve a lower price point. When factoring in the cost of your disc lock, consider how likely it is that the advanced features or build quality will come into play. 
Frequently Asked Questions
What is a motion sensor on the disc lock?
A disc lock motion sensor is a feature that couples with an audible alarm to alert you to any tampering with your motorcycle. If the sensor detects motion or shock it will set off an alarm that draws attention to the bike. This provides an extra layer of motorcycle security and lets you react to any tampering. 
Will a disc lock damage my motorcycle in any way?
A disc lock can damage a motorcycle if you attempt to ride away while it is still engaged. It is a good idea to have a reminder cable on your lock to ensure that you are always aware when the lock is in use. 
Are disc locks better than padlocks?
Disc locks are much better at securing your motorcycle than padlocks. The locking pin on most disc locks features a very small exposed segment that is very difficult to get at with tools or cutting implements which might make short work of a simple padlock. Additionally a simple padlock will not have the sort of features, such as alarms and motion sensors, that are commonly available on disc locks. 
Are motorcycle disc locks effective?
While there is no 100% effective method for preventing motorcycle theft, motorcycle disc locks provide excellent security, and make it significantly harder for a potential thief to steal a motorcycle. Disc locks lock the wheel of the bike, preventing it from easily moving, and many disc locks include motion sensors and audible alarms that draw attention to the bike, scaring thieves away and alerting you at the same time. 
Where do you put a disc lock on a motorcycle?
Disc locks attach to the brake discs of a motorcycle in order to prevent the wheel from moving. While a disc lock can attach to either wheel, it will generally be more awkward to remove them from the rear discs, making the back side of the bike an ideal location to attach a disc lock. 
Final Thoughts
Investing in a motorcycle disc lock is an effective way to deter potential thieves and provide extra peace of mind. While it may be difficult to sort through all of the different options available on the market, we have outlined some of the most critical things to consider when looking for the best option for you and your motorcycle. 
The list of locks we have provided for 2023 include different options that cater to a variety of different priorities, with the Urban 999 providing the best overall security. Always remember to have your own riding situation in mind, though, as your specific needs may vary. However, with the pointers provided in this guide you will have all the information you need to make an educated decision when choosing a best motorcycle disc locks for your own motorcycle.