5 Best Motorcycle Disc Locks in 2023 [Hand Picked]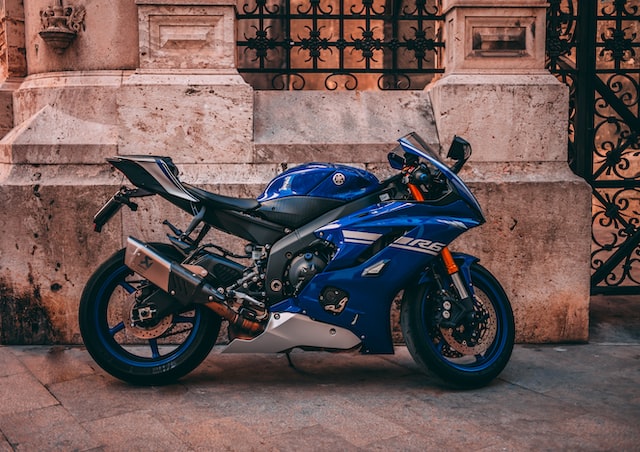 According to a new NICB report, motorcycle thefts are up by 26%. For this reason, the probability of losing your bike to thieves is not something you should ignore. Besides, you can't always find the safest parking spot or the most secure garage.
No wonder finding proper protection for motorbikes is necessary. However, no accessory or tool can provide 100% protection. That is why employing any lock, even a low-priced one, will lower the possibility of stealing your bike.
Using the best motorcycle disc locks makes things difficult for thieves. They are tough, portable, and easy to use, making them the most reliable form of security. Aside from high-intensity alarms, motorcycle disc locks can also have Bluetooth location services. These features make them reliable for safety if someone is tampering with your bike.
Hi! I am David, a motorcycle enthusiast, and I'm going to help you pick the top five disc locks for your motorcycle. We'll examine the factors you need to consider to help you choose the right product.
At A Glance: Best Motorcycle Disc Locks
5 Best Motorcycle Disc Locks
You should get a disk lock for additional theft protection when parking your bike outside. Otherwise, a thief would casually and easily ride the motorcycle away. Here are the best motorcycle disc locks in 2022.
Features:
Shock and movement sensors
Push down locking system
Freeze spray-resistant key barrel
Replaceable alarm module
Hardened steel body
Auto arm/disarm
6 mm steel locking pin
120 dB alarm
Pros
It can fit the holes in any brake disc due to its small size.
The unit is easy to install on a brake rotor.
You can use it under any temperature or in the rain.
It has an alarm on the inside, making it difficult to silence by just covering.
Cons
You need to update the alarm yearly; otherwise, it will malfunction.
The alarm gets triggered easily, even by random animals or objects.
Review
XENA Motorcycle Disc Lock Alarm is suitable for virtually any motorcycle brake disc. It is a stainless steel disc lock with an audible alarm and a movement sensor for more security on the road.
The package includes a locking tool etched with a unique key code, a spare battery, and three keys. The unit is easy to install and features a push-down locking mechanism. You also get enough time to lock without the alarm going off for complete peace of mind.
It gives a warning beep before sounding its alarm. The alarm produces 120dB, loud enough to attract attention if a thief comes near your bike. It also resets on its own after a while if unattended due to its automatic arm and disarm module.
The unit has a high-grade steel locking pin of 6 mm, a mono-bloc, and a stainless-steel body construction, allowing it to withstand temperatures, weather threats, and external impact.
While the device has a well-balanced sensitivity to decrease the chances of false alarms, its motion sensor system is extra sensitive. It can go off randomly, even when an animal passes by your motorcycle. This could prove to be a dampener for some users.
It would be best to lubricate the key insertion opening for the key and all its moving parts. For convenience, you should clean the mirror to eliminate water droplets or dirt particles.
Also Read: The Best Way to Lock a Motorcycle
Features:
5.5 mm locking pin
Hardened metal disc lock
Three keys and an additional mini flashlight key
Disc lock reminder cable
Weather-resistant rubber cap
Anti-drill round key lock cores
Pros
The front brake rotor discs can slip over the disc easily since it is 5 mm thick.
It has a bright yellow color, thus easy to spot for potential joyriders.
You can lock it by pressing down the keyhole area.
It comes with a free zipped carrying pouch.
Cons
The carrying pouch is sewn so that it cannot attach to anything unless you zip it.
Its locking pin can get stuck if not thoroughly lubricated.
Review
Trimax company provides innovative security solutions for all kinds of automotive. The Trimax T645S Hardened Metal Disc Lock is one of its most popular products. It has an engineering design to provide a layer of protection for your motorcycle.
This product will be a good fit if you want a budget-friendly, efficient, and durable disc lock! It has a 5.5 mm thick locking pin, making it capable of fitting perfectly on most disc brakes.
This unit features anti-drill round key lock cores that protect against tampering or theft. The disc lock is also metal hardened to resist corrosion, sawing, hammer impacts, and cutting.
On top of that, it has a yellow color with an orange reminder cable that attaches to the handlebars. These bright colors ensure you do not drive the motorcycle off while the lock is still engaged.
You will appreciate the small carrying pouch for storage secured with a Velcro flap. Again, aside from 3 keys, it has a mini flashlight key if you want to use the lock at night.
The major setback of this device is the sticky locking pin. The key might get stuck during unlocking. The keyhole needs to spin freely; therefore, lubricate it frequently.
Features:
5 mm diameter pin
Dual reinforced disc-style cylinder
Two stainless steel keys
Stapler-style disc lock
Disc lock reminder cable
Weather-resistant rubber cap
Key safe program
Pros
The pin diameter is small enough also to fit smaller vent holes.
It is compact, lightweight, and durable.
This device is resistant to bad weather, especially rain.
It is relatively light, easy to use, and takes a few seconds to install.
Cons
You might have a hard time keeping the weather-resistant rubber cap in place.
The paint would rub off if not properly stored.
Review
The Kryptonite 000877 Keeper Disc Lock is a convenient motorcycle security lock system. This disc lock can immobilize the bike and prevent ride-away or roll-away theft. Moreover, it is durable with an improved and new dual-reinforced disc-style cylinder.
This unit doesn't take up too much storage space, making it ideal for the road. It is heavy-duty and would take a lot of effort for a thief to cut this lock off. Additionally, the space between the disk and the lock body is too small to provide a space for a cutting tool.
The device has a 5 mm diameter pin, making it flexible to fit the brake disc holes of most motorcycles and scooters. 
This lock has a very effective reminder cable; the cable is bright orange to draw attention to the lock and deter thieves from stealing your bike. It also prevents you from riding away while the disc lock is intact. 
Moreover, it comes with two stainless steel keys with an ergonomic design that are hard to break or bend. They also have a key safe program deal that registers your key. If you lose it, you can quickly get a new key for free or at a small price.
Some users complain about the paint coming off after a few months. To avoid this problem, you can store the lock in a secure zip lock bag each time it is not used. The good thing is that it is small enough to fit inside a small pouch.
Features:
Shock and movement sensors
7 mm locking pin
Disc lock reminder cable
Hardened aluminum alloy body
Two lock keys
Carrying pouch
Auto arm/disarm
110 dB alarm
Pros
It is very durable due to its high-quality material.
The unit is easy to mount and use.
This device is waterproof to keep out moisture.
It has an alarm that is loud enough to attract people's attention.
Cons
Its alarm is very sensitive and gets triggered easily by environmental factors.
The plastic coverage on the cord is quite fragile.
Review
One of the best motorcycle disc locks is the Linkax Motorcycle Lock. It works well for the price, and you get value for your money. The lock is compatible with motorcycles, e-bikes, and scooters. It will fit if the brake rotor is less than 7 mm.
The device is small, with a lock pin 7 mm in diameter. You can easily lock it in a one-key operation and then hear a beep once it goes into alarm mode. It also packs a 110 dB alarm, loud enough to draw anyone's attention. The alarm gives three warning beeps before going off if someone walks by. 
It also has a built-in shock and movement sensor to detect nearby activity, keeping bike thieves away and ensuring motorcycle safety. 
The lock is made of a durable, high-quality aluminum alloy resistant to high temperatures. It's also waterproof and sealed against dust particles, making it suitable for outdoor climate conditions.
Furthermore, it has a reminder cord long enough to run from the back disc brake lock to the handlebar. The orange cable prevents you from riding off with the lock in place; you avoid potential damage. You also get a small carrying bag that fits under the seat compartment.
While this is a high-quality product, users complain about the alarm's sensitivity decreasing after long-term usage. But you can fix this by replacing the batteries with an Allen key. Also, the plastic coverage on the cord is quite fragile, so be gentle when handling it.
Also Read: Best Motorcycle Helmet Lock Reviews
Features:
7 mm locking pin
Disc lock reminder cable
110 dB alarm
Hardened zinc alloy body
Allen key
Two keys
Carrying bag
Pros
It comes with a user manual for easy setup and usage.
The reminder cable is long enough to stretch up to 5.2 feet (1.58 m).
Its zinc alloy body can resist corrosion.
Locking the brake disc is simple.
Cons
It will go off at the slightest nearby movement.
The device does not automatically disarm.
Review
This Disc Lock Alarm with 5FT Reminder Cable boasts durability and top-notch security. It has a zinc alloy body that is resistant to high temperature, waterproof, and impenetrable by cutting.
The device is sturdy and ideal for most motorcycles or vehicles with spokes or holes on the wheel. It has a 7 mm locking pin that is fixable in any location. Moreover, the unit comes with two keys and an additional Allen key.
Apart from being convenient, this disc lock is very sensitive. It has an alarm sound that reaches up to 110 dB and is loud enough to draw attention. 
The lock will beep once closed, and its alarm activates once it senses any nearby vibrations. It is best to use the motion alarm if you want to park the motorcycle in an area protected from rain or wind.
Furthermore, you get a bright-colored reminder cable that is noticeable to any thief. It also ensures you do not forget to remove the lock before driving away. 
The major disadvantage of this unit is that users complain about the alarm going off with the slightest movement of wind or rain. This can be annoying; therefore, consider using an Allen key to remove the batteries. 
Also Read: Best Motorcycle GPS Navigation Devices
Things to consider before buying Motorcycle Disc Locks [Best Buying Guide]
A motorcycle news report reveals how little action police take, despite how big an issue motorcycle theft is becoming. This only means that you have to take precautions on your own. Some users might find it challenging to find a suitable bike disc lock model.
I, therefore, did some research to help you pick the right lock. Here are the factors to consider before purchasing a disc lock. 
Size
Consider the dimension of the motorcycle disc lock since their depths vary from bike to bike. The locking pin should be big enough to fit the diameter of the holes in your rotor. The good thing is that most brake disc locks are standard to fit all motorcycles, scooters, or bicycles.
Portability
Motorcycle disc locks are compact and small enough to take up less storage space. You can conveniently pack them in a tank bag, carrying pocket, or under the seat. They are lightweight, and bikers can carry them everywhere. Besides being highly portable makes them the best security source for the road. So look into their weight and ensure it takes up small storage space.
Design
For more convenience, consider the overall design of a disc lock. Go for a lock that is easy to use, clean, and maintain. It is also best to pick one that has a bright color to draw both your attention and that of the thief.
Materials
High quality and durability should be your number one priority if you plan to use the device often. The material used to make the lock should be resistant to angle grinders, hammer blows, chemical attacks, and bolt croppers. It would also be best if it is weatherproof, rust-proof, and resistant to high temperatures.
Audible Alarm
Lifting the targeted bike off the ground and loading it into a van is a common technique motorbike thieves use. This is why a motion-sensitive alarm is essential. It only takes a small amount of motion to trigger a motorcycle disk lock alarm. Once it goes off, the alarm scares the thief away and notifies you about any movement near your bike.
Reminder Cable
A disc lock reminder cable ensures you don't forget the disc lock before driving. This way, you don't cause any damage to the motorcycle. The cord usually has a conspicuous color to make them visible from a distance. You should attach one end to the bike hand grip and the other to the disc lock.
Cost
The prices for motorcycle disc locks range depending on material quality and features. In most cases, low-quality units are less expensive and have fewer features. At the same time, high-quality ones are more expensive with advanced features. Therefore, invest in a high-quality unit if you intend to use the lock for longer. After all, if you pay more for it, you'll want to get its money's worth. Consider going for products with warranty guarantees if you are worried about losing money.
Frequently Asked Questions
What is a motion sensor on the disc lock?
A disc lock motion sensor is a feature that couples with an audible alarm for an additional layer of security. When the sensor detects movement and shock, it sends a signal that triggers the disc lock alarm.
Will a disc lock damage my motorcycle in any way?
Disc locks can cause damage to the motorcycle if you try to ride away when the lock is still engaged. This is why it is advisable to have a reminder cable, so you don't forget. Another damage a disc lock can cause would be scratches on the motorcycle painting since they are made of metal. But you can buy a disc lock with rubber or nylon covers to prevent such damage.
Are disc locks better than padlocks?
Disc locks provide better security than padlocks. They are made from sturdy steel or alloy than most standard padlocks. Disc locks have a round shackle that makes them difficult to cut with any tool. Moreover, unlike padlocks, disc locks have a shielded or covered shackle with a small exposed part.
Are motorcycle disc locks effective?
Although no tool provides 100%protection, a disc lock is one of the most disputed locks for motorcycles. It immobilizes the bike by locking the wheel, making it less likely to get stolen. Going for a disc lock with a motion-sensitive alarm can be a good idea. The alarm scares away the thief and alerts you at the same time.
Where do you put a disc lock on a motorcycle?
It is best to put the disc lock on the rear wheel of the motorbike. They are generally more awkward to remove in that location. Ensure the locking pin passes through the hole in the brake disc and locks on the other side.
Final Thoughts
Investing in the best motorcycle disc locks is a good way of keeping thieves away from your bike. It is hard to know which disc lock to go for, given that hundreds of them are on the market. Our top five picks all cater to different needs. We've included sturdy and durable locks, along with locks built for convenience, versatility, and compatibility with other two-wheeled vehicles. Our best overall disc lock is the XENA – Motorcycle Disc Lock Alarm Stainless Steel. It is a quality lock suitable for virtually any motorcycle brake disc. It has a 6 mm steel locking pin and is easy to install.