Best Motorcycle Drink Holder / Cup Holder Options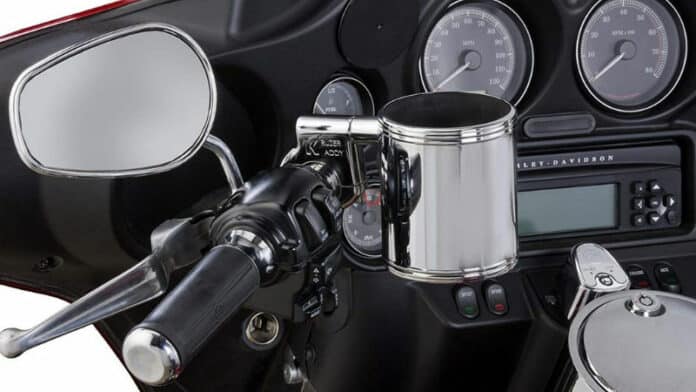 If we had a penny for every time someone told us that riding a motorcycle is not "exercise", we'd have enough to buy a 1299 Panigale Superleggera. Seriously though, riding a powerful motorbike for long hours can feel like a full blown workout.

Needless to say, staying hydrated is super important. You give your bike the best fuel and the best engine oil; why deprive yourself of the fluid that keeps you alive?

Staying hydrated keeps you alert and focused during a ride. We suggest investing in a drink holder and even a hydration bladder pack. The latter is more useful on the long haul; for shorter rides, a cup holder will do just fine.

So, which is the best motorcycle drink holder out there? We did some research and highlighted the top 10 units. Read on to find out about each of the products.
Do Cup Holders on a Motorbike Really Work?
Okay, before you can even consider having a cup holder on your motorbike, you might wonder if they truly work. We won't judge because we were also inquisitive at first. But yes, these cup holders do work, and they will help you whenever you want to have a cold or hot drink when riding your bike.
However, they will only work if some factors are considered:
Do They Hold Liquid Securely?
So, you have installed the cup holder on your motorbike, but can it hold a cup or drink properly? Can it fit at all in the first place? The container has to fit if you want the cup holder to be of any use.
This means that the drink shouldn't wobble in the holder as you ride because it will spill. And that won't be so helpful
10 Best Motorcycle Handlebar Cup / Drink Holder Reviews
Now that you are curious to know which is the best motorcycle cup holder out there, we have compiled a list of the 10 best units. Keep in mind that this list is only based on our findings and considerations. Let's get on with it:
1. Kruzer Kaddy 200 Chrome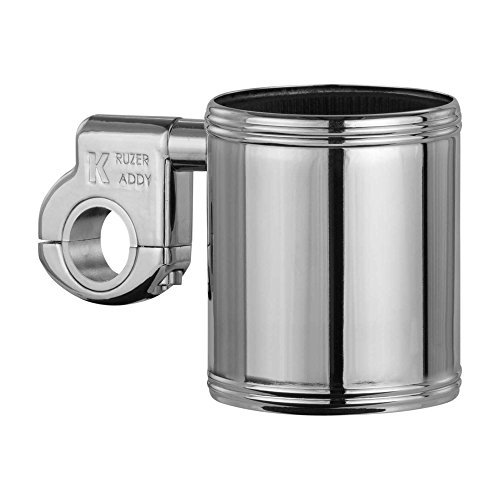 We kick off our list with this cup holder from Kruzer Kaddy. One feature that makes it a top choice for many bikers is the glossy chrome look. Anybody would love to have this cup holder on their motorcycle.

The cup holder is completely made of metal, and it is triple chrome-plated. Well, you can guess that this helps to make it look incredibly glossy. But it also helps to keep it free of rust and corrosion. Besides the glossy chrome exterior, the cup holder also comes with a top-notch interior design.

This one comes with two foam inserts in the interior. With these inserts, you can put bottles between 16 oz and 20 oz. Furthermore, you can comfortably put your 12 oz cans in this holder. These inserts are also insulated liners that help to hold the small-sized drinks in place.

By the way, this is a handlebar mount, so it is a plus for you if you prefer that type of cup holder. The best part is that everything needed for installing the cup holder is provided by the manufacturer.
2. Accmor Stroller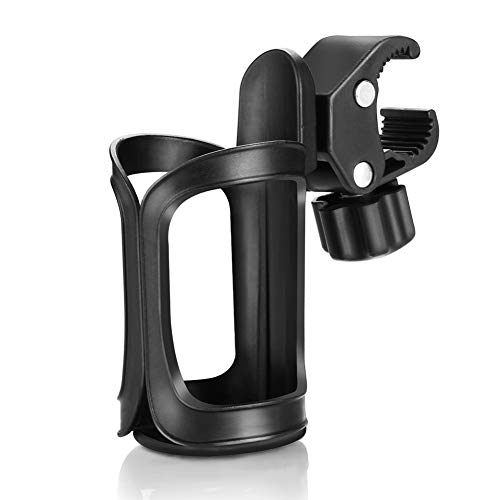 Our second cup holder comes from Accmor, and it proves to be one of the best out there. Okay, this one is made of plastic, but it is still strong enough to hold cups and bottles with drinks. We loved how adjustable the cup holder is.

Firstly, this one can be rotated 360 degrees, and you can install it just about anywhere on your bike. Of course, not just anywhere. Rather, you can mount this cup holder on the handlebar, down tube, under-seat, front pipe, and even on the fork.

Plus, it comes with a clamp diameter that can be adjusted between 0.59 inches and 1.57 inches. The plastic is of high-quality that will hold your drinks securely as you ride your motorbike.

Also, there is a little anti-skidding pad, along with a powerful clamp. These two features help to keep the cup or bottle steady in the holder.

By the way, you can use the bottle or cup without the antiskid pad if the clam is stable enough. The anti-skidding pad is only used when the clamp seems somewhat weak. The pad also prevents the clips from scratching your bike.
3. Ram Mounts RAM-B132R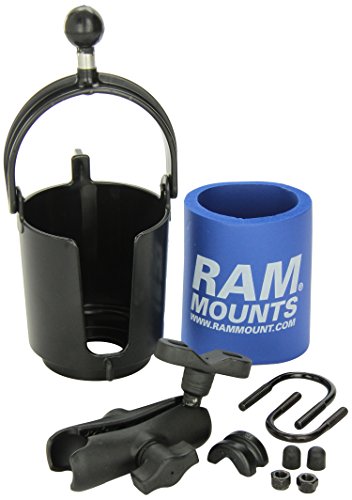 If you are looking for a cup holder with a minimalistic design but also strong enough to hold your cup and bottles, here is a great pick for you.

The cup holder is made of a marine-grade aluminum mount, along with a U-bolt rail base that is zinc-coated. In other words, you won't have to worry too much about oiling the mount. This also means that there won't be any chance of rust or corrosion getting in there.

Another plus feature of this cup holder is that the mount comes with a 1-inch diameter rubber ball and a socket system. An adjustment point is also at the base and the cradle. All you need to do is twist the arm knob to move the cup holder mount to your perfect viewing position.

But the main part is the holder itself, and this one is made of high-quality composite. You don't have to worry about rust or corrosion getting on this holder. Also, you can easily ride your motorbike in the rain, and the holder will remain strong in perfect condition.
4. Accmor Upgrade Edition
Are you looking for a cup holder that can be rotated at 360 degrees? Why spend time and energy searching when you can opt for this unit from Accmor?

Besides the cup holder being able to rotate at 360 degrees, you also get it in a two-pack. So yes, you will be getting two cup holders with a single purchase. But that doesn't mean that the price is off the roof. On the contrary, it is very cheap compared to most single cup holders on this list.

You can install this cup holder on the handlebar, under the seat, on the fork, down tube, or the front pipe. It is very lightweight and effortless to install. We didn't need any tools to set up the cup holder. As soon as you get it, you can mount it on your bike without the need for special tools or supplies.

Luckily, it has been designed to keep the bottle and cup secure. There won't be any spills when you have your cup or bottle on this unit.
5. Accmor Universal
According to the name of this cup holder, it can be installed on just about any motorbike. It also accepts any cup or bottle. Being a product of Accmor, this one has also been designed to rotate 360 degrees.
Generally, this is a multifunctional cup holder that you can install not only to your motorbike. Rather, you can also install this baby on your lawnmower, scooter, wheelchair, kid's bicycle, or pushchair.
Another versatility aspect of this cup holder is its adjustability. This one is suitable for all bottles that are not bigger than 95mm. You can freely adjust the clip of the cup holder to install on any stroller out there. We noticed the flexible clamps that come with rubber pads. This allows it to rotate at 360 degrees.
Are you worried about your drinks spilling or falling down? Worry not because this cup holder comes with three automatic springs in the cage. These springs will hold on tight to your bottle to keep it secure. It is made of ABS plastic and non-slip rubber that keeps it secure even when you cruise on a rough road.
6. Bearclaw Can-Am Spyder
Bearclaw is known to produce high-quality products, and their Can-Am Spyder drink holder isn't an exception. The previous products we reviewed are designed to be installed on the handlebar. But this one is different.
This drink holder has been designed to be mounted on the passenger grab rail. In this case, you can reach your hand behind and grab your bottle or cup to take a sip of your drink as you ride the bike.
So, it comes with a different mounting, but the installation of this unit is as simple as those we have covered. It could even be simpler than some of the cup holders on the list. This cup holder comes with a quick no-slip mounting that you can do in a matter of seconds. And no, you won't need any tools to mount this cup holder.
The cup holder comes with a cool, satin black finish that will match your bike's color. Furthermore, this finish helps to keep the rust away. You will enjoy the easy-on easy-off design that comes with a hand-operated 'cam-locking lever'.
It can only hold a container that is not bigger than 80mm in diameter. Furthermore, it is not advised to use Styrofoam or paper cups on this holder.
7. Ciro 50611 Black Rubber
The bikers that own a Harley-Davidson would find this cup holder very convenient. It has been made for the Harley bikes, but one that comes with a 1-inch handlebar. Also, your bike must have a perch mount that is factory installed.
This cup holder is made from high-quality neoprene rubber, which will perfectly endure the outdoor condition. Even when you are cruising the road in the rain, the cup holder won't catch rust or corrosion. Plus, the cup holder comes with contoured rubber net that will hold your cup or bottles securely.
There is no need to worry about the container falling off the holder, especially when riding on a rough and bumpy road. We loved the ball-mount design that enhances the convenience of the cupholder. There is also a rubber-lined ring that helps to hold the cup firmly in its place.
It is important to know that the rubber material also helps to keep your bike free of scratches. Mounting it is quite easy, but you can also detach it effortlessly – thanks to the ball mounting system.
8. Bearclaw V-Twin Chrome
Bearclaw takes yet another spot on our list with their V-Twin that is also designed for Harley motorbikes. This holder comes with two show chrome inserts that are recessed for a custom look.
The cup holder comes in a black satin finish that gives it a cool look. Besides, this also helps to match your motorbike. Furthermore, the black satin finish promotes rust and corrosion resistance.
With this cup holder, you can mount it on either the left or right side of the motorbike. Besides that, you can even mount it on the passenger grab rail, engine guard, or saddlebag. We loved the easy-on easy-off design that gives you an easy time installing it or dismounting it from the bike.
It is made of durable black satin nylon with a non-slip serrated mounting clamp. This clamp will not slide or move once you tighten it to your bike. There is a unique cam-lock turn lever that is hand operated.
Installing it is a walk in the park because all you have to do is rotate the lever until the clamp is tight. After that, you can push the lever down to lock it in place.
9. Lexin LX-C3
We move on with our list with this cup holder from Lexin. The cup holder comes with a nice gear construction basket. This design can hold bottles and cups securely. The gear design basket is unique among other cup holders out there.
With this design, your cups and bottles will be held steadily in the basket as you ride your bike.
We loved the nice-looking chrome rings that take up most cans, bottles, and cups. However, the cup holder cannot take bottles, cans, or cups bigger than 3 inches in diameter. Plus, you can install it on handlebars that range from 7/8 inches to 1 ¼ inch in diameter. It is quite easy to install this cup holder, by the way.
The LX-C3 comes with a selectable positioning with a 360-degree swivel ball design. In this case, you can rotate the cup holder at 360 degrees without any problem.
In terms of holding drinks securely, this one comes with an enhanced rubber beverage retention system. With this feature, it will ensure that there are no container losses or spills when you are carrying the drink.
10. Ciro Big Ass Drink Holder
If you are the type of biker who likes the big-size drinks, this holder will suit you perfectly. The drink holder has been designed for the 30 oz tumblers or other large cups or bottles.
It also comes with a 4 1/8-inch diameter opening that will comfortably accommodate those large cups and bottles. This holder will easily mount to the Ciro ball mounts. Installing it, in general, is fast and effortless.
Another point worth pointing out is the construction of the cupholder. It is made of durable neoprene rubber molded net, which offers a strong grip to your drinks. This way, you will not lose your cup or bottles easily.
Also, the tuber is weatherproof. In this case, it will not deteriorate in the sun or be tampered by the rain. The holder will hold your drinks securely, which prevents them from bouncing out as you ride your motorbike.
Moreover, it is big enough to be used as a cell phone holder as well. Thankfully, there are rubber straps that you can use to hold the phone securely.
Benefits of Drink/Cup Holders
A cup holder for a motorcycle is convenient because it keeps your drink close at hand and is easier to access on the go. Using a cup holder allows you to continue riding without needing to stop and drink the beverage of your choice! You can drink from it without spilling or dropping it while driving because it will stay securely fastened. Cup holders are also helpful for keeping your drinks cool and reminding you to take a sip to prevent dehydration. 
There are a few different versions available. For example, a chrome-plated cup holder would match the chrome on your motorcycle. In contrast, a polycarbonate cup holder is designed to be used in all kinds of weather. Any cup holder can also hold your cell phone or be used as a temporary waste disposal unit.
Types of Drink/Cup Holders
There are several drink holders for motorcycles you can take advantage of. Here are the most popular ones.
1. Collapsible Silicone Cup
A silicone cup is collapsible so that you can store it easily. It collapses to about 1/3 its size when not in use. The cup can be cleaned with soap and water or placed in the top rack of your dishwasher (without detergent).
2. Kuryakyn Universal Drink Holder
The Kuryakyn Universal Drink Holder gives you a convenient place to hold your favorite drink. This versatile cup holder can accommodate most water bottles, soda cans, beer cans, and energy drink cans. The unique insert allows it to hold cups with handles—perfect for coffee mugs.
3. K&N Universal Clamp-On Cup Holder
You can attach this cup holder to any motorcycle, scooter, ATV (dirt bike or street bike), cruiser, or touring bike. It can also be used with sports touring bikes. Use the included adapter sleeve or drill holes directly into your bike's bodywork to make it fit your vehicle.
4. Kuberg Water Bottle Holder
The Kuberg Water Bottle Holder is a good option if you want to carry multiple different-sized bottles, including small and large ones. This cup holder installs easily and screws onto your bike's frame. Ensure all the screws are tightened, so they don't come loose while you're riding. 
If you have an extra seat on your motorcycle, we recommend using this cup holder. Otherwise, you might prefer another model that can hold multiple drink types without extra space.
5. Motorcup Motorcycle Cup Holder
The Motorcup is a high-quality ABS plastic cup holder that fits most motorcycles. It installs in minutes and is compatible with most water bottles, energy drinks, coffee mugs, soda cans, beer cans, and soda bottles—even bulky energy drink bottles.
Drink Holder for Motorcycles: Buying Guide
Okay, so now you have a list of your best cup/bottle holder for your motorbike. But what if none of the aforementioned cup holders satisfy you?
If that's the case, here is a guide that you should use to purchase the right cup holder. By the way, we used the same guide when picking:
Material and Construction 
The first thing you must keep in mind is the material used to make the cup holder. In most cases, it can either be metal or plastic.
High-quality plastic cup holders are good at withstanding the outdoor weather, hence avoiding cracks in hot or cold weather. On the other hand, metal holders are sturdy and extra-durable, but they are not expandable like plastic. You can also find holders that combine metal and plastic in one unit.
The Design
How is the design with regards to your motorbike? Ideally, the drink holder should have a uniform design. Avoid going for drink holders with extra bright colors since they can distract you when riding. Instead, go for holders with neutral colors like black, white, or a matte finish.
Is It Detachable?
A detachable drink holder can be removed if you don't want to leave it on the bike. If you are worried about the safety of your cup holder, then it would be good to go for a detachable one. A non-detachable unit, on the other hand, tends to be sturdier and it won't fall off in any conditions.
Other Features
Some of the extra features you should consider on your cup holder include a rubber ring for preventing your cup from getting scratches or vibrating. The insulation of the holder is another feature you should consider. Above all, it should be easy to install/mount the drink holder.
Frequently Asked Questions
Below are some of the most commonly asked queries regarding motorcycle drink holders:
Q: Should I buy plastic holders?
A: Yes, you can go for a plastic holder because some high-quality plastic units are durable enough. If you go for the good-quality plastic, it will be more flexible, rust-resistant, and strong too.
Q: Is it easy to install a cup holder?
A: According to most drink holders we have covered, it is very easy to install one. Just make sure you follow the user instructions.
Q: How much should I pay for a drink holder?
A: It can be tricky to answer this question because the cost of the holder will depend on its quality, material used, and size. Generally, buy the cup holder that falls in your budget.
Q: Do I have to take care of the drink holder?
A: Yes, proper care is needed for your drink holder. For starters, never put a cup or bottle that is too big or too heavy than the recommended size/weight. Also, try to wipe the holder with water and a soft piece of cloth once in a while.
Q: Can I make any customization to the drink holder?
A: Yes, you are free to make customizations or adjustments to your cup holder. Just make sure that it doesn't affect the functionality, condition, or quality of the holder you are customizing.
Final Words
So there you go. You know have an idea of the best motorcycle drink holders out there. Regardless of what you choose, just make sure you go for one that offers the best support/grip for your drinks.
Ensure that you buy one that is in your budget bracket and from a reputable brand. Remember to mount the holder securely to ensure that it delivers as expected.
See Also: