5 Best Motorcycle Drink Holder / Cup Holder Options [Tried & Tested]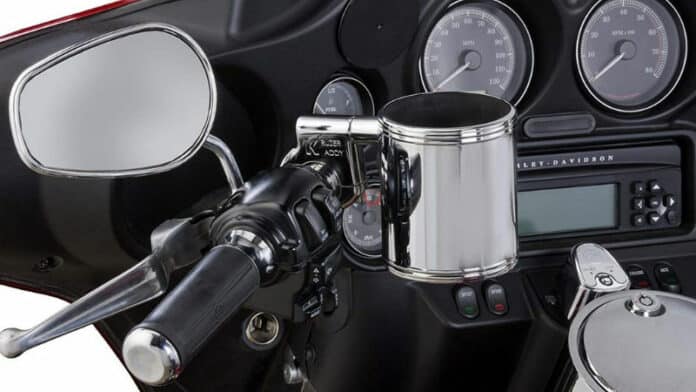 Riding a motorcycle is a task that requires you to be alert and focused, ready to react to changing conditions or traffic when necessary, and to make adjustments in real-time. A big part of being able to maintain the kind of focus needed to operate a motorcycle safely is staying hydrated, especially during the hotter months of the year when you will be spending more time on your bike. 
On long rides especially, there may not always be a pit stop for you to get a drink when you need one. In situations like that, it helps to be carrying a drink with you that you can just pull over and enjoy any time you are feeling a bit parched. To make this easier, it may be a good idea to invest in a drink holder so that your drink is easily on hand. 
We've done some research and found the 9 best drink holders available for your bike so that you won't find yourself without a drink on hand in the middle of a long ride.
Do Cup Holders on a Motorbike Really Work?
Okay, before you can even consider having a bike cup holder on your motorbike, you might wonder if they truly work. We won't judge because we were also inquisitive at first. But yes, these best cup holders do work, and they will help you whenever you want to have a cold or hot drink when riding your bike.
However, they will only work if some factors are considered:
Do They Hold Liquid Securely?
So, you have installed the cup holder on your motorbike, but can it hold a cup or drink properly? Can it fit at all in the first place? The container has to fit if you want the bike cup holder to be of any use.
This means that the drink shouldn't wobble in the bike cup holder as you ride because it will spill. And that won't be so helpful
10 Best Motorcycle Handlebar Cup / Drink Holder Reviews
Now that you are curious to know which is the best motorcycle cup holder out there, we have compiled a list of the 10 best units. Keep in mind that this list is only based on our findings and considerations. Let's get on with it:
1. Kruzer Kaddy 200 Chrome
At the top of our list is the Kruzer Caddy 200 in a very stylish chrome finish. This look works especially well with cruiser bikes and won't get in the way of your bike's looks once installed. It is a simple and purposeful addition to any motorcycle. 
The unit itself is made completely out of metal, making it far sturdier than plastic, and the chrome finish helps defend against rust or corrosion. The interior of the unit is also adjustable, allowing it to fit both 16 oz and 20 oz containers thanks to foam inserts that are included with the product. The inserts are insulated as well, which helps keep a cold drink cold. 
All of the tools and hardware necessary to install this handlebar cup holder are included, which means you will not need to purchase or borrow any additional tools in order to attach them to your bike.
Pros
All metal, chrome plated design
All tools and hardware needed for installation are included
Adjustable mounting stud allows for bike and user specific installation
Rust and corrosion resistant
Cons
Somewhat more costly than other options
---
2. Accmor Stroller
This bike cup holder from Accmor is a decent budget option with a great range of adjustability. The clamp diameter has a range of 0.59 to 1.57 inches, allowing it to be mounted in a variety of different locations based on your own personal preference. An anti-skid pad is included to allow for more secure installation. 
Being made of plastic, though, this mount can break or lose its shape more easily than one made from a sturdier material, especially in extremely hot conditions.
Pros
Very cost-effective option
High degree of adjustability
Cons
Plastic construction can lose shape or break more easily
Clamp-style mounting can be less secure
---
3. Ram Mounts RAM-B132R
This cup holder setup from Ram Mounts is designed to ensure that your drink always stays level, minimizing the risk of spilling. The bike cup holder attaches to a marine-grade aluminum mount designed to rotate with the lean angle of the bike. The mounting hardware is designed to accommodate bars from 0.5 to 1.25 inches. 
The cup holder itself is made from high-grade composite material, which is far more durable than plastic and will not lose its shape in extreme conditions. An insulated koozie is also included, allowing the cup holder to accommodate a wider range of containers and help keep your drink at the desired temperature. 
The moving parts of this unit are its main area of failure, and the holder has sometimes come loose from its mounting hardware on rougher rides. However, Ram Mounts backs up their product with a lifetime warranty.
Pros
Marine-grade aluminum mount is sturdy, and corrosion resistant
Composite cup holder is sturdier than plastic
Backed up by warranty
Cons
Has been known to come loose in rough riding conditions
Moving parts may wear over time
---
4. Accmor Universal
If you are looking for a bike cup holder for a short trip, but don't want to invest in the kind of holder specifically designed for motorcycles, then this universal cup holder by Accmor may be worth a look. Designed for general application, this unit can be repurposed to work for several different applications. 
Unlike motorcycle-specific holders, this option does not include any complicated or heavy hardware or mounts but features a compact design with a clip attachment. This means that you can simply attach the holder to your bike and tighten the clip before riding. However, this convenient mounting style is also significantly less secure than those that do use mounting hardware and will come loose on rougher rides. For this reason, it is not recommended for long rides or rides through difficult terrain.
Pros
Inexpensive option
Compact design
Easy attachment and detachment for multipurpose use
Cons
General purpose design may not hold up to tough riding conditions
Plastic construction is less durable than other materials
Clip mounting style is less secure, especially in difficult conditions
---
5. Bear Claw Grab Rail Cup Holder for Can-Am Spyder
This mount from Bear Claw is designed specifically for the Can-Am Spyder's passenger grab bar, and features a no-tool installation for easy attachment and detachment. The clamp tightens down to remain securely in place while on the move. 
As a brand-specific product, this particular cup holder is meant to be used in a very specific way, and its design is not intended for use on other vehicles or the handlebars of the Spyder. While the clamp could be attached to any grab bar, the effectiveness on other bikes will vary considerably, making it difficult to know ahead of time how well it will grip.
Pros
No-tool attachment for easy on and off
Sturdy and stable construction
Cons
Brand-specific application, may not fit on every bike
Limited rotation and adjustability
---
6. Ciro Drink Holder
This option from Ciro is made from tough neoprene rubber for a secure hold on your drink. Rubber construction offers a superior grip to hard plastic or metal and is tough enough to handle difficult riding conditions without issue. 
This specific mount is available in a variety of mounting options, including mounts specifically designed for Harley Davidson motorcycles equipped with perch mounts and clip mounts for everything else. A ball mount design allows the cup holder to be adjusted for any application, ensuring that it can accommodate your specific needs.
Pros
Tough construction with neoprene rubber makes for a durable product
Multiple mounting styles available to suit different bikes
Ball-mounting allows adjustment of the cup holder
Cons
Higher price point than most competitors
---
7. Bearclaw V-Twin Chrome
Another offering from Bear Claw, this cup holder is a practical option that adds a bit of cruiser style as well. Aluminum inserts are designed to provide a visual compliment to the chrome of cruiser motorcycles. Featuring a clamp-style mounting, this cup holder can be attached without the use of any tools. 
Of particular note is that this holder has a maximum drink dimension of 80mm, meaning that wider drinks will not fit. The stiff plastic construction can also be hard on thin plastic bottles, and it is not designed for paper or plastic cups at all.
Pros
Clamp mount requires no tools or hardware for installation
Added style options compliment the look of your bike
Secure hold for most standard water bottles up to 20 oz
Cons
Narrow fit will not accommodate larger drinks
Not particularly adjustable
---
8. Lexin LX-C3
The Lexin LX-C3 is a unique and elegantly designed option for motorcycle cup holders. The "gear basket" design allows this unit to hold cups and bottles very securely, and ensures maximum grip while riding. 
This product is made from chrome metal which is significantly more durable than plastic and ensures that the holder will not become damaged or break, even during long or difficult rides, drinks sit in a rubber basket that is just over 4 inches deep, allowing it to accommodate most standard drink containers. 
Installation is done with the included clamp and tightened via an allen screw, which results in a more secure attachment than a tightening clip. The rubber on the inside of the clamp maximizes grip while minimizing vibration transmitted through the handlebars.
Pros
Unique "gear construction" holds drinks very securely
Elegant design
360 degree rotation for maximum adjustability
Cons
Basket style holder may allow more movement when holding smaller size containers
---
9. Ciro Big Ass Drink Holder
This extra large option from Ciro is the answer for any rider that is looking to carry a larger container. Made from tough neoprene rubber, the basket is specifically designed to accommodate 30 oz containers, including the infamous Yeti brand containers that are too large for most motorcycle cup holders. 
Mounting is simple, and the holder will attach to Ciro's mounting brackets without issue, holding containers securely in place while you ride. The rubber material of the holder is also a factor that ensures whatever container it is holding will not slip out while riding. However, the larger cup holder basket is designed specifically for larger containers, and smaller bottles or containers may fit loosely in this unit.
Pros
Durable, weather-resistant construction
Specifically designed to hold larger containers
Easy mount with hardware
Cons
Higher than average price vs. competition
Small or regular-sized drinks may fit more loosely in the basket
---
Benefits of Drink/Cup Holders
Having a motorcycle cup holder on a motorcycle is convenient because it keeps your drink close at hand and means you won't have to carry a drink in your saddlebags or a backpack. This makes it far easier to stay hydrated on the go. Rather than pulling over and then going through your luggage, you can simply pause and take a quick drink before continuing on, which is much more convenient. 
Different versions of the best cup holders offer different benefits. In some cases, the main focus is on being able to attach or detach the unit quickly, while others are meant to be installed more permanently. With so many options, there will surely be one to fit almost any riding style or need. 
Types of Drink/Cup Holders
These are the most popular designs of cup and drink holders available on the market. 
1. Collapsible Silicone Cup
This type of motorcycle cup holder collapses to about a third of its full size for easy storage. Most cups of this type are dishwasher safe or can be cleaned with soap and water.
2. Kuryakyn Universal Drink Holder
The Kuryakyn Universal Drink Holder gives you a convenient place to hold your favorite drink. This versatile cup holder can accommodate most water bottles, soda cans, beer cans, and energy drink cans. The unique insert allows it to hold cups with handles—perfect for coffee mugs.
3. K&N Universal Clamp-On Cup Holder
You can attach this motorcycle cup holder to any motorcycle, scooter, ATV (dirt bike or street bike), cruiser, or touring bike. It can also be used with sports touring bikes. Use the included adapter sleeve or drill holes directly into your bike's bodywork to make it fit your vehicle.
4. Kuberg Water Bottle Holder
The Kuberg Water Bottle Holder is a good option if you want to carry multiple different-sized bottles, including small and large ones. This motorcycle cup holder installs easily and screws onto your bike's frame. Ensure all the screws are tightened, so they don't come loose while you're riding.
5. Motorcup Motorcycle Cup Holder
The Motorcup is a high-quality ABS plastic cup holder that fits most motorcycles. It installs in minutes and is compatible with most water bottles, energy drinks, coffee mugs, soda cans, beer cans, and soda bottles—even bulky energy drink bottles.
6. Single Piece Construction
If you have an extra seat on your motorcycle, we recommend using this cup holder. Otherwise, you might prefer another model that can hold multiple drink types without extra space.
Drink Holder for Motorcycles: Buying Guide
We've gone over some of the best-reviewed and popular options in motorcycle cup holders; however if none of these will suit your specific needs, there are still some important factors to consider when checking out the rest of the market on your own.
Material and Construction 
The first and most impactful thing to consider when looking into a cup holder for your motorcycle is the material it is made from. There are two common materials used to make cup holders for motorcycles: metal and plastic. Both of these have advantages and disadvantages. 
Plastic cup holders are lighter, lower profile, and much cheaper. Because it is inexpensive to make, and because it is popular, the majority of cup holders you will find will be plastic. 
Metal is significantly more durable than plastic, but it is also heavier and bulkier as well. Cup holders made of metal are often a more costly option than plastic because they are more difficult and expensive to manufacture.
Design
Choosing a cup holder that matches the design of your bike can be important for the look of your bike but can also impact the ergonomics of your ride. If the cup holder is designed in a way that doesn't work with the control arrangement or orientation of the handlebar or grab bar where it is installed, it can become unsafe. This is not typically an issue if the cup holder in question is designed with a specific make or model of bike in mind, but it is a major thing to look out for when looking at universal holders. 
Is It Detachable?
You may want to be able to quickly remove or replace your cup holder, and if that is the case, it is a good idea to buy a cup holder that is easily removed. Detachable cup holders will usually have mounting systems that are easy to remove from the bike, or that use a separate mount that the holder attaches to. 
It is important to remember, though, that detachable cup holders will usually be less sturdy than permanently affixed ones. 
Other Features
Some cup holders will add other features in order to stand out and provide advantages over their competition. Rubber components to minimize vibrations or damage to the bike, insulation, and integrated attachments for other accessories are all examples of features that may be found in some of the cup holders on the market. These features may have no direct influence on the functionality of the unit you buy, but some riders can and will find them useful for their specific situation.
Frequently Asked Questions
Below are some of the most commonly asked queries regarding motorcycle drink holders:
Should I buy plastic cup holders?
Plastic is a material that trades durability for cost-effectiveness or a more compact design. While it is not a terrible option, especially if you are working with a seriously limited budget or if you need a lower-profile option, it is less durable than metal. Whether or not you should buy a plastic or metal holder will depend on your specific needs, though.
Is it easy to install a cup holder?
Usually, yes. Most cup holders are designed with clamps that tighten down and hold them in place. There are some permanently affixed options that are more involved in the installation, but they are extremely uncommon. Remember to always follow the manufacturer's directions when installing a cup holder. 

How much should I pay for a drink holder?
This question again depends on the features you need as well as your budget. In general, however, the average cup holder will range between $20 to $30, with more costly options having additional features or being built in different ways and cheaper options making compromises in construction to lower the price. Ultimately, you should go with the best balance of features that are important to you specifically and cost.
Do I have to take care of a drink holder?
Just like any accessory on any motorcycle, drink holders do require proper care. Overloading a drink holder or letting it collect dirt and debris over time can and will wear one down overtime. 
Can I make any customizations to the drink holder?
So long as any personalizations you make do not affect the functionality of the drink holder, then there is no reason not to add your own personal touches.
Final Words
With this guide and the list of the best options on the market, you should now have a good idea of what to look for in a cup holder for your motorcycle. Regardless of the style or options that you need, there is sure to be a cup holder out there to suit you. 
Always remember to go for a holder that can securely hold your drink container while you ride, and to always install your cup holder as directed by the manufacturer to ensure a safe and pleasant ride anytime and anywhere.
See Also: