10 Best Motorcycle Ear Plugs – Reviews & Guideline 2020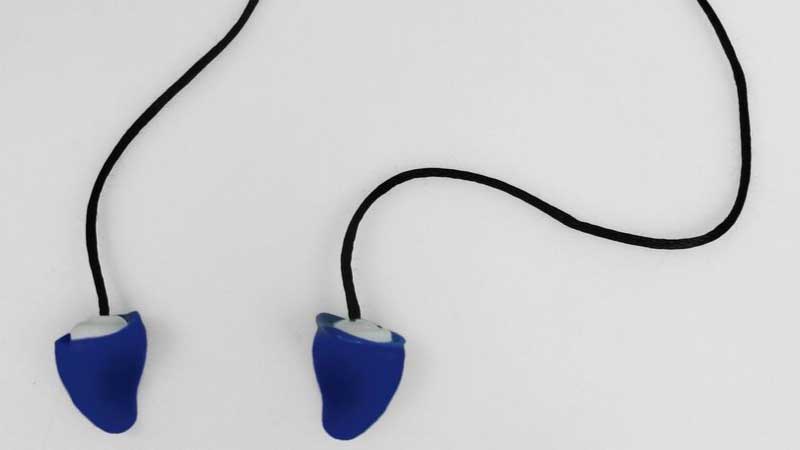 Confused about the best motorcycle ear plugs to use to protect your hearing when your ride?
You're in the right hands.
The noise produced by your motorcycle engine is 95dB; the equivalent of chainsaw sound. Also, the wind noise you hear when riding at highway speeds can go as high as 100 dB or more.
This passes the safe sound level for human's year, 85 dB, showing that your favorite activity can also become the source of your hearing loss.
Fortunately, using earbuds can help block the dangerous noises while granting you 100% situational awareness.
In the following post, we'll look at some of the best-performing earplugs as rated by other riders to protect your hearing when riding.
Can Riding a Motorcycle Damage Your Hearing?
Sadly, YES!
Repeated exposure of your ears to the noise produced by your motorcycle engine can lead to noise-induced hearing loss (NIHL). Not just the engine noise, the wind noise too produced when riding your motorcycle at high speed can have damaging effects on your hearing.
According to the Centers for Disease Control and Prevention (CDC), exposing your ears to noises over 85 decibels (dB) for a prolonged period can lead to hearing loss. Exposure to louder sounds, over 120 dB, can cause immediate harm to your ears. (Source)
This explains why the motorcycle engine, which produces approximately 95 dB, is a culprit for riders' hearing loss.
Mark you; the 95 dB rating is equivalent of chainsaw sound or standing in the middle of a rock concert.
Wind noise is the second BIGGEST culprit. And it gets louder the faster you ride. At a speed of 40mph, your ears will get exposed to a sound as loud as 90 dB. And at 100mph, your ears will suffer dangerously high noise levels rated up to 110 dB.
The longer you get exposed to this sound, the more it destroys your inner ear's sensory hair cells…and the damage is permanent!
Let nobody fool you; motorcycle helmets can't save your hearing!
As you already know, helmets are majorly designed to protect your head against injuries in crashes and not to fight the wind noise. The maximum amount of noise a helmet can cut down is 7-10 dB, which isn't much.
So, what's the best solution?
The safest, proven motorcycle ear protection involves putting on earbuds.
You can easily find highly affordable disposable foam earplugs, which help block noise by up to 25 dB. Quite significant, right?
For a more reasonable budget, you can even go for the noise-canceling earbuds, which have even greater noise blocking capabilities.
Remember…the earbuds can block noise without interfering with your ability to hear the surrounding traffic sound, music, and more.
Let's take a look at some of the best-performing motorcycle earplugs you can find on the market today.
10 best earplugs for motorcycle riding:
1. Etymotic ETY-Plugs High Fidelity Earplugs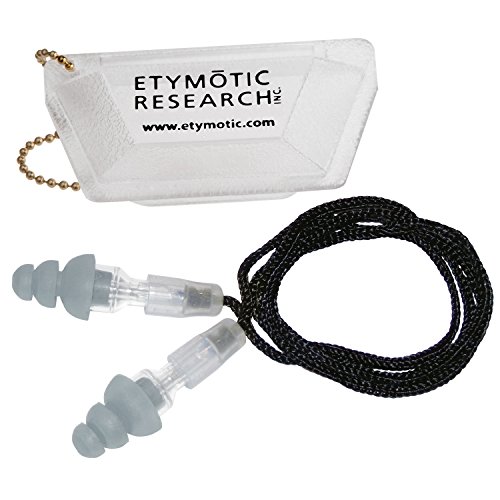 Etymotic ETY-Plugs are one of the best earplugs for motorcycle riding. They help reduce noise by up to 20 decibels, minimizing the risk of hearing loss from loud noises when riding or when in concerts, airshows, theaters, parades, motorsports events, and so on.
The earplugs utilize a patented technology that replicates the human's ear canal natural response. This ensures that the sound you hear with these earplugs on is super-clear and original, only that it's quieter.
You don't have to worry about the ETY-plugs not fitting you since they come in 2 sizes, standard and large. According to the previous users' experience, the standard size comfortably fits a majority of ear sizes.
Above all, the high fidelity earplugs come at a wallet-friendly cost, so most motorcyclists can afford them.
If you want a pair of earbuds that preserve sound quality pretty well while reducing the dangerous engine and wind sounds to safe levels, this pair of earplugs will work for you.
Highlighted Features:
2. Eargasm High Fidelity Earplugs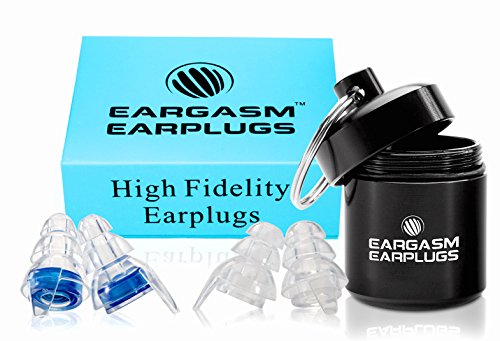 This is another set of high fidelity earplugs design to help protect your hearing from the harmful noise levels produced by your motorcycle engine and the wind turbulence around your helmet. They can reduce noise by up to 21 dB and feature an NRR of 16dB.
Using the Eargasm's patent-pending innovative attenuation filters, these earplugs can reduce the wind noise while maintaining the full sound spectrum, ensuring you can still listen to music, speech, and surrounding sound.
Each complete package comes with 2 pairs of earplugs shells with varying sizes to ensure you easy, perfect fit for both small and large ears. Note that these shells are made using hypoallergenic, plush silicone to make them non-toxic and comfortable for prolonged wear.
To help you safely store or carry these earplugs, they come with an ergonomic aluminum case that you can easily attach to your keychain. The case's interior is non-stick and fully weatherproofed to keep your earplugs from getting damaged.
The entire package comes in a premium blue gift package, which makes these earplugs a good choice if you're looking for the perfect gift for that motorcyclist in your life.
Highlighted Features:
3. The Ear Buddy Premium Soft Foam Ear Plugs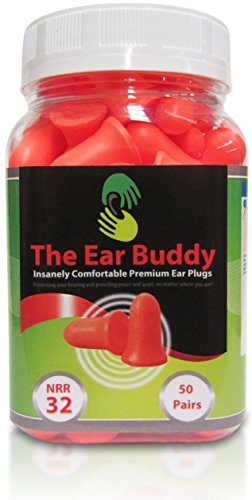 The Ear Buddy Premium Soft Foam also appear in our listing of the best motorcycle ear plugs. They're made using top-quality non-abrasive polyurethane foam and feel incredibly comfortable around your ears, and won't easily fall off. The flange design at the end makes the super-easy to extract from your ears.
The earplugs boast of up to 32 dB noise reduction rating, and they block your motorcycle engine noise perfectly well to protect your hearing from getting damaged. However, they still permit adequate noise levels to sneak in, which is perfectly okay as it helps ensure you remain fully aware of your surroundings.
Users who fail to follow the manufacturer instructions on how to use these earplugs have issues with the noise dampening ability. We encourage you to go through the instructions first if you want to enjoy the best noise reduction experience.
When not riding your motorcycle, you can count on these earplugs to help eliminate the noise from your annoying neighbors so that you can enjoy a peaceful sleep. They let you shut down your neighbors without causing conflict!
Highlighted Features:
4. DownBeats Reusable High Fidelity Hearing Protection
DownBeats high fidelity hearing protection comprises a set of two clear and simple earplugs that you can use to shoot down the noise levels produced by your motorcycle angina as well as wind noise by up to 18 dB, preventing the hearing loss tragedy.
Unlike the cheaply designed foam earplugs which distort your surrounding sounds, these reusable earbuds are different. They dial down the noise levels moderately and evenly to ensure that you can still crisp-clearly hear music, speech, and warnings on the road.
You also can't help noticing the low profile design of these earplugs. Combine this with their clear nature, and you've got a set of discreet motorcycle hearing protection that you can wear anywhere without grabbing attention.
The rugged aluminum case included in the package provides you with a convenient way of bringing these earplugs with you wherever you go, to ensure your hearing stays protected anywhere, anytime.
Apart from motorcycle riding, you can also use these reusable earplugs for concerts, music festivals, nightclubs, airshows, and other events associated with high noise levels.
Highlighted Features:
5. Reverbs High Fidelity Ear Plugs
Our 5th motorcycle ear plugs review spot goes to the Reverbs High Fidelity Ear Plugs. The complete package comprises of 2 pairs of noise reduction motorcycle earplugs—with each pair having a different noise reduction rating—all at the same affordable price.
You'll notice that the two pairs of earplugs are marked with different colors for easy recognition. The white filter reduces noise by 28 dB and the green model by 20 dB. If you usually ride your motorcycle at high speeds, we suggest that you go for the white (28 dB) set as wind noise increases with speed.
The earplugs also come equipped with Reverbs' precision filter, which helps block out background noise while preserving the music and voice quality. This means your conversation or music listening experience will not be affected whatsoever.
Regarding user comfort, these earplugs are made from high-grade, natural hypoallergenic silicone. This makes them feel soft and comfortable in your ear canal…you can wear them all day long without feeling uncomfortable.
Thanks to the included durable aluminum carry case, you'll have an easy time safely carrying these headphones to any place. When not riding your motorcycle, you can use these earplugs for music concerts, airplanes, and other noisy activities.
Highlighted Features:
6. Hearprotek High Fidelity Noise Reduction Ear Plugs
These reasonably priced earplugs will help you reduce the noise without affecting the sound quality. They filter the background noise when you ride at a safe and comfortable level while preserving the audio quality sharpness and clarity.
The earplugs come in 2 different sizes, small and standard, to help offer the perfect fit for different ears. They come integrated with 20 dB protection filters, which means they cut down noise by up 20 dBs. This is a pretty impressive figure which will keep the sound at safe levels.
Just like most of the other reusable earplugs out there, this set is made using hypoallergenic silicone material for comfortable feel all-day long. Both earplugs feature a discreet, low-profile design, which makes them less noticeable when out there.
The earplugs come in a durable aluminum case that you can easily clip to your belt, bag, etc. for easy carry to any place. The product is backed by the manufacturer's 30-day money-back guarantee plus 12-yr replacement warranty.
Highlighted Features:
7. EarPeace Motorcycle Ear Plugs
If you're looking for professional-grade earplugs that will effectively filter out wind and engine noise when riding your motorcycle, the EarPeace set is a good deal. The earplugs are designed to exceed the expectations of the toughest riders for safer, more enjoyable riders.
The earplugs cut the wind and road noise while granting you full situational awareness. That is, they don't distort the sound quality, so you can clearly hear approaching traffic, listen to your intercom clearly.
Because they also feature hypoallergenic, soft silicone material, they assure you of all-day comfort, so you won't feel irritated after hours of wearing them.
The complete package included Medium, High, and Max motorcycle earplugs, to equip you with the perfect hearing protection for every riding situation. Also, you'll get a milled aluminum case that offers you a secure storage/transport solution.
Highlighted Features:
8. Audiomate High-Fidelity Earplugs
Audiomate High-Fidelity Earplugs also let you ride your motorcycle without risking your hearing system. The earplugs are rated as one of the best motorcycle earplugs which offer value for money due to the impressive list of perks they offer you at an attractive price tag.
The earplugs boast of a True Noise Reduction Rating (NRR) of 27 dB for superior hearing protection. They come armed with high-fidelity attenuating filters, which actively tone down the wind and road noise volume so that you clearly listen to your favorite playlists as you ride.
Design-wise, Audiomate must have hired the smarted minds for the job. The set comes with a low profile and transparent design, which helps keep things sleek and discrete. Moreover, they're fitted with understated pull-tabs to promote fumble-free adjustments. And the unique ventilation channels facilitate free airflow to keep your ears comfortable and healthy.
Like nearly all the other earplugs featured on this list, these earplugs also feature super-soft and hypoallergenic silicone material—making them safe and comfortable to wear for long hours.
The earplugs come in both small and standard sizes to ensure you easily find a set that perfectly fits your unique ear size.
Highlighted Features:
9. Ava-Senses High Fidelity Earplugs
The Ava-Senses High Fidelity Earplugs also made it to our ultimate motorcycle ear plugs review list. These earplugs have an excellent noise reduction rating of 27dB, which enables them to bring down the wind, road, and engine noise quite well.
Wearing these earplugs does not deny you the freedom to hear your surroundings. In fact, they make it better by using the latest filtering technology to take off the loud edges of surrounding sound so that your ears receive the surrounding sound in excellent quality (clarity, if you like).
Listening to your Bluetooth intercom conversation and music, or the approaching traffic will not be a problem with these earplugs.
Keep in mind that this pair of earplugs is made using the incredibly soft silicone to facilitate a comfortable feel when worn for long periods.
As a BONUS, the manufacturer also included a pair of flight earbuds (NRR: 24 dB) and a pair of sleeping earbuds (NRR: 30 dB) to ensure you have the ideal set for every situation or event. The included keychain carry case offers you a safe way to store and transport all your earbuds.
Highlighted Features:
10. BetterSound High Fidelity Ear Plugs
Concluding our list of the best earplugs for motorcycle riding is this set of quality reusable earplugs from BetterSound. The package falls in the affordable price range but does a wondrous job at scaling down the noise by 23 dB—keeping off dangerous noises from damaging your hearing.
The high fidelity earplugs come integrated with flat attenuating filter & resonance channel, which "reduce the noise volume" without affecting the sound quality. In other words, you'll still hear the conversation, music, etc., clearly, but at a safer sound level.
When riding your motorcycle over long distances, you want to put on earplugs that feel incredibly comfortable to prevent pain pressures or itchiness. BetterSound made these earplugs using super-soft, ergonomic, and hypoallergenic silicone material to make them comfortable for all-day wear.
Don't forget that these earplugs also feature a discreet design to make them almost invisible when on your ears.
A flat, round box comes with the package to offer you a safe and convenient way to carry these plugins with you to any place. You'll get a FREE extra pair of tips for replacement plus quality cord to prevent loss or misplacement of your earplugs.
Highlighted Features:
How To Buy?
When looking for the best motorcycle ear protection, we advise you to focus on the factors outlined below to ensure you get the perfect set of earbuds for the job.
Noise reduction
How much noise does the pair of earbuds you want to buy reduce?
The figure is usually indicated in terms of decibels and is indicated by the NRR (Noise Reduction Rating) acronym.
You can easily locate the NRR rating on the earplugs package to see how much noise they can dial down.
The best earbuds for motorcycle riding should be able to cut down by over 20 decibels. The greater then NRR rating, the better the earbuds.
Fit
You should also look for a good fitting set of ear plugs.
If you get a set that's too small, it might get stuck in your ear canal. If you get too big earbuds, they might keep falling off when riding, making them less helpful.
The one size fits all earbuds might not offer you perfect fit if your ear canal is too wide or too narrow.
Look for models that come in different sizes to help you find the perfect fit for your unique ear size.
If you don't find good-fitting earbuds, your only remaining option would be custom-made models.
Comfort
Comfort is everything in motorcycle earbuds!
Remember, you'll be wearing these things in your ears for long hours, so you don't want something that feels uncomfortable and takes your focus from the road.
Most of the popular motorcycle earbuds are made using hypoallergenic, soft silicone. The materials feel soft against your skin and don't cause any irritation or pressure pains.
Assuming you also wear a helmet when riding your motorcycle, you should also look for low profile earbuds with shorter stem to ensure they don't get crushed by the helmet.
Disposable or reusable earplugs?
As you go about shopping for motorcycle earplugs, you'll be met with both disposable and reusable options.
Disposable models are usually made from foam, and you should use them once. They're highly affordable and comfortable to wear. However, inserting them incorrectly can make them less effective. They also don't dampen the noise evenly.
Reusable earplugs, on the other hand, are made for wearing more than once (you can use them for months). But you'll need to do some maintenance on them to keep them in top working conditions. They're also more expensive than disposable models.
So, which of these two should you get?
If you ride your motorcycle more often, then we suggest that you go for reusable earplugs. They might be expensive than disposable hearing protection, but they're a better investment for long-term use.
Other considerations:
Frequently Asked Questions
1. What are the best ear plugs for motorcycle riding?
The best earplugs for motorcyclists are the ones which help cut down the wind and road noise by a significant value while allowing you to hear the approaching traffic clearly, listen to your songs, and talk with other riders with your intercom.
The perfect set of earbuds should also fit your ears perfectly well and feel comfortable with prolonged wear.
2. is it legal to wear earplugs when riding a motorcycle?
Most states allow you to wear earplugs when riding your motorcycle.
However, some states like Ohio, California, and Maryland have restrictions for the use of earplugs when on the road.
If you're not sure about the legality of ear plugs in your state, be sure to consult your state traffic rules and regulations to avoid getting caught on the wrong side of the law.
3. How loud is a motorcycle in decibels?
The sound produced by your motorcycle engine when running is approx. 95 dB, according to the CDC.
This is equivalent to the sound you hear from a running chainsaw or if you stand in the middle of a rock concert.
Such loud noise has the potential to damage your hearing after around 50 minutes of exposure, according to the CDC (Centers for Disease Control and Prevention).
Final Verdict
Your motorcycle's engine noise is equivalent to a chainsaw at work. The wind noise is even higher than your engine's sound. Prolonged exposure of your ears to both engine and wind noise can lead to a gradual loss of hearing, which in most cases is permanent.
But you can guard your ears against damages by rocking on a pair of earbuds to help block the dangerous noises while still allowing you to hear your surroundings.
DON'T let the hearing loss tragedy catch up with you. Grab one of 10 best motorcycle ear plugs we have outlined above to block those dangerous noises when cruising your beloved baby.
Related Posts: