10 Best Motorcycle Exhaust – Reviews & Guide 2021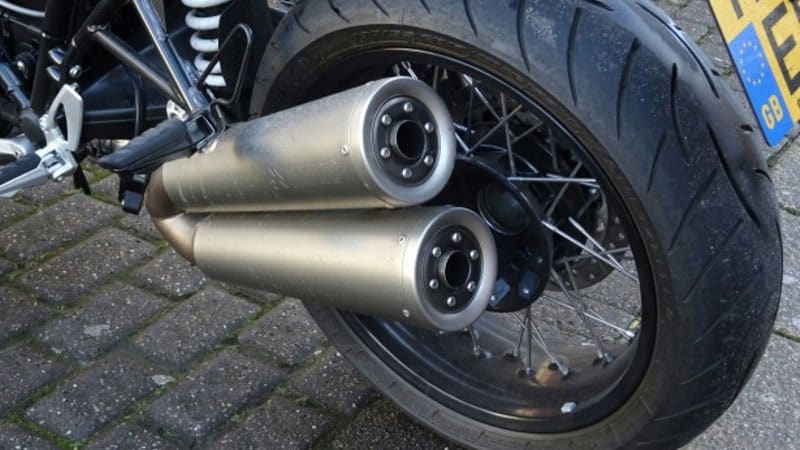 Having a hard time deciding the best motorcycle exhaust for your lovey bike? If yes, you're not alone.
Many other bike owners, especially novices with less knowledge of exhaust systems, usually struggle to choose a suitable exhaust system.
Ideally, you want to get something that looks sexier, produces that rumbling sound you're always obsessed with, saves weight, and improves your overall bike performance.
BUT…most importantly, you want an aftermarket exhaust that perfectly fits your bike.
So, where do you start? What do you look for?
Our research team has done 99.9% of the job for you. We listened to various motorbike exhausts on YouTube, scanned various bike forums, and read user feedbacks for the exhaust systems to help you find the perfect one for your bike.
We concluded that the 10 exhausts outlined below have what it takes to improve your overall bike looks, sound, and performance.
Is Aftermarket Exhaust Bad for Engine?
Practically speaking, an aftermarket motorcycle exhaust won't harm your motorbike engine.
As we were going through various motorcycles forums, we discovered that most people argue that it's best to stick to your factory-installed motorcycle exhaust as it comes specially developed and tested by the manufacturer for your specific style of bike.
But think of it this way, your pre-installed exhaust was designed with a budget in mind. This creates the possibility that the manufacturer might have been unable to install the best exhaust for your bike at the price you paid for it.
And then comes a better opportunity…a top-notch aftermarket exhaust with an improved design, and it's not restricted by emissions regulations.
The truth is…a high-quality aftermarket exhaust helps boost your engine's performance and help you ride even faster.
But how?
To understand this, view your engine as a pump that takes in a precisely metered mixture of fuel and takes out (exhaust) burned air plus fuel.
If you improve its pumping efficiency, then you can make the exhaust flow better.
And this will reduce the amount of effort your engine must put in to expel exhaust gases, especially when combined with air and fuel flow improvements on the intake side.
Other ways in which best motorcycle exhausts can have an impact on your bike include:
10 Best Motorcycle Exhaust Reviews:
1. RANSOTO Motorcycle Slip-on Exhaust system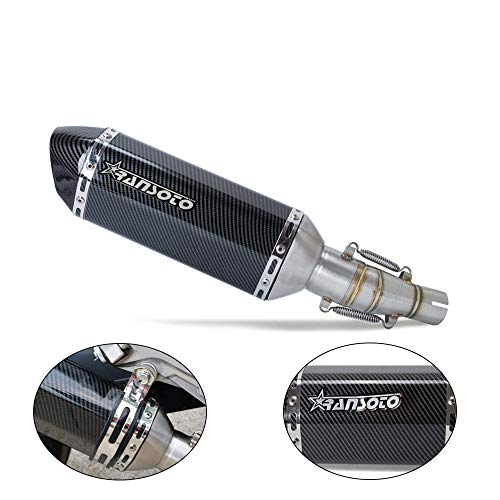 If you're looking for the best sounding motorcycle exhaust that will transform your motorcycle into a real street bike with great sound quality, this model will meet your needs.
You'll instantly fall in love with the sound produced by this system. It provides you with a fully removable baffle that you can use to change the dull noise into awesome sound that's low and deep. If you want loud sound, all you have to do is remove the baffle.
Another exciting thing about this exhaust system is that it's incredibly easy and fast to install. You can easily figure out which part goes where without looking at any instructions…the whole process should take you around 10-15 minutes. No welding is required.
Quality is also great for this model. It boasts of aluminum and stainless steel construction for excellent durability. The aluminum bit keeps things light. The springs have got excellent quality and will help firmly hold the adapters in place.
The manufacturer states that this exhaust system is suitable for Kawasaki Ninja 250R, Ninja 300, Z300, and Z250 (2008-2017 years).
Don't forget it features a carbon fiber sticker finish, which gives your bike a boost in looks.
Despite the excellent construction quality, sound performance, and stylish looks, this exhaust system comes at an incredibly affordable. Why spend several hundred bucks for a slip-on exhaust while you can get a cheaper option with equally great features?
Highlighted Features:
2. Universal 1.5-2" Inlet Slip On Exhaust Muffler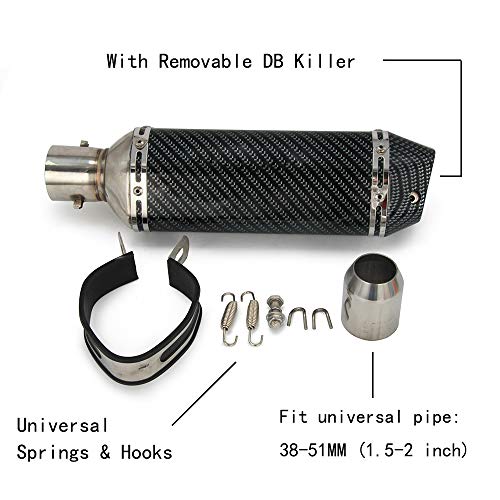 This is a universal slip on exhaust muffler that works with various bike styles, including dirt bikes, street bikes, scooters, ATVs, quad, to name but a few. This is made possible by its welded stainless steel adapter which enables it to seamless blend fit pipes from 38mm to 51mm.
The 100% brand new muffler has 100% stainless steel body for exceptional build quality. The body is then covered with a carbon fiber color vinyl that makes it look luxurious and attractive on your bike.
Installing the bike is also relatively easy as you just need to slip it right on and then install the bracket. However, you'll need a professional to do some minimal welding for you (i.e., if you can't do it on your own) since it doesn't come with its own bracket.
As with our previous muffler, this model also delivers fantastic sound quality that you've been yearning for. It comes with a dB killer which you can hassle-freely to make it super-loud…loud enough to make you get scared of the cops! Of course, you can always put the baffler in to minimize the sound produced.
Overall, this model comes with surprisingly great build quality and looks really good. It also sounds really loud (just as you'd like). Remember, you're getting all this at an unbelievably low cost (less than 50 bucks)!
Highlighted Features:
3. ANODIZING RACING Motorcycle Slip on Exhaust system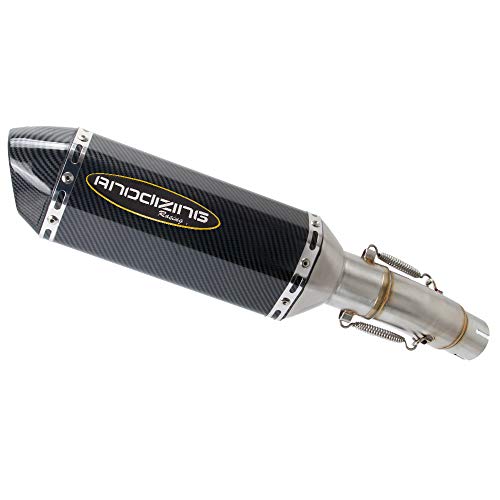 If you own a Kawasaki Ninja 400 (2018-2019 model), you can't go wrong with this aftermarket motorcycle exhaust. The system features an attractive price tag, looks great, sounds great, and has an excellent build quality.
It features aluminum and stainless steel construction which make it feel pretty durable and strong enough to serve you for longer. Moreover, this muffler will help bring down your Ninja's weight to approx. 6lbs for better performance.
You'll also love the excellent sound quality this exhaust system it delivers. You can use it with a baffle to experience low, deep sound. Or you can completely remove the baffle to make it sound LOUD!
The carbon fiber finish will give the exhaust system great looks and make it enhance the overall looks of your motorbike, unlike the ugly OEM exhaust you've been using all along. The finish will last for long, with some little care.
For the installation part, things get quite easy. You can hassle-freely slip in this muffler onto your head pipe without any headaches. You won't even need to look at any instructions. The whole task should take you an average of 10 minutes.
Highlighted Features:
4. Annpee Carbon Fiber 1.5-2 "Inlet Exhaust Muffler
Still looking for the best universal exhaust muffler that you can use street/sport, motorcycles, and even scooters? If yes, this Annpee muffler exhaust system is another viable option. The model comes designed to easily fit all bikes with 38-51mm diameter exhaust pipes, making it an incredibly versatile option.
The exhaust also boasts of great build quality with stainless steel metal construction. Plus, it has a carbon fiber color vinyl, which makes looking appealing to the eyes.
When it comes to producing that classic rumbling sound, this muffler doesn't disappoint. It produces an incredibly loud sound. And the fact that it comes with a fully removable dB killer allows you to minimize the loudness to fit your needs or riding environment.
Installing this muffler is incredibly easy for you. It comes with a clamp and hardware for even easier, hassle-free installation.
Again, this is a universal muffler that you can use on any bike with 38-51mm exhaust pipe diameter. It has a fantastic sound and can easily transform your simple moped into a sportbike with deeper, fluttery sound when idling.
Highlighted Features:
5. Yoshimura RS-5 Carbon Fiber Slip-On Exhaust System
Yoshimura is one of the best motorcycle exhaust brands available today. The manufacturer has been in the field for over 60 years, and have been consistently producing some of the finest motorcycle exhaust systems across the world. This particular slip-in muffler isn't an exception.
As one of the company's most unique exhaust system, this model comes with a unique trapezoid shape that enables it to transform the looks of your bike. It also features a carbon fiber finish, which further adds to its stylish looks.
The system is incredibly easy and straightforward to install. You simply slip on the clampdown bolt up, slide on the spring, and then slide on the muffler, and you're ready to go. All the included hardware plus instructions with clear pictures will make the process easy and quick.
You'll also love the awesome sound characterized by deep grow and loudness in both lower and high RPMs. It also comes with a heat shield that prevents insulate your exhaust. This keeps the heat inside, ensuring it doesn't burn your legs.
The good-looking exhaust is sure to change the whole game of your motorbike. With an easy to install design, awesome sound delivery, and a free heat shield, this model comes at a great price point, and it's well worth every cent.
Highlighted Features:
6. XMT-MOTO 4" Megaphone Slip-On Mufflers Exhaust
Here's another best slip on exhaust that will offer you value for money. The muffler features a quality construction of 16G cold-rolled steel for exceptional strength and durability. It perfectly fits all Harley Bagger Touring models (1995-2016).
The slip-on also gives your bike the ability to produce those awesome deep rubble sounds—not too loud but throaty. And you can always remove the baffler if you need your bike to produce loud sounds. No more listening to the obnoxious sound produced by your old factory-installed exhaust!
Keep in mind that this muffle also presents you with flawless fit for all compatible bike exhaust pipes. It has a beautiful finish which is sure to transform the way your bike looks.
Overall, if your priority in a motorcycle slip on muffler is sound, then the deep, powerful sound produced by this exhaust is hard to resist. The deal gets even better with the attractive price tag. This exhaust gives you precisely what you get when you spend in brand names that come with exaggerated prices of up to $600-800.
Highlighted Features:
7. PACEWALKER Carbon Fiber Exhaust Muffler
This is another universally fitting exhaust muffler for street and sport motorcycles as well as scooters with exhaust pipes with a diameter ranging from 38 to 51mm.
It comes with excellent build quality as its made using aluminum and stainless steel metal with nice, well-thought-out welds. The body alone is made using aluminum metal for durable but lightweight feel while the connector features durable steel construction.
The muffler also sounds great! It produces a deep rumbling sound that you're looking for, with or without the dB-killer. If you wish, you can always remove the dB-Killer to get louder sound output.
As for the looks, the exhaust system has a carbon fiber finish, which makes it look really appealing to the eyes. It's easy to install and slips on hassle-freely and quickly.
Remember, this muffler is backed by 100% satisfaction. If for any reason you're not satisfied with its performance, you can reach out to the manufacturer for a full refund. Their friendly, easy-to-reach support also stands ready to help you with at all times.
Highlighted Features:
8. Yoshimura TRC-D Slip-On Exhaust
Yoshimura shows up once more on our list of the top-rated aftermarket motorcycle exhausts. Unlike the other Yoshimura we discussed earlier, this model comes with a dual taper exhaust which translates to incredible sound on high-power as well as high-power applications.
Quality takes a whole new curve with this slip on muffler. It comes with a polished 304 stainless steel body which gives it unmatched durability while making it look really cool. What's more, the mid-pipe and header feature MIG welding, which further enhances its overall durability.
As you examine this exhaust closely, you'll also easily notice its tri-oval body design (comprising the dual stainless baffle tips pus carbon fiber tip). This design not only creates a trick look but also helps reduce noise and improve your bike engine's overall performance.
Don't forget that this exhaust also has a low volume that helps minimize the volume. You can struggle-freely remove this insert at will since the exhaust system doesn't rely on it to hit its maximum efficiency.
The exhaust is quite easy to install and the easy to understand instructions makes the installation even easier.
Highlighted Features:
9. Akrapovic Titanium Muffler Slip
The Akrapovic is also one of the best motorcycle exhaust brands with a reputation that spreads across the globe. Since 1990, they have taken price in producing top-of-the-line aftermarket exhausts for serious racers.
Akrapovic designed this particular slip-on megaphone to offers you a great balance between the price and performance. It's specially made to fit all the Yamaha YZF-R6 2006-2018.
The exhaust comes engineered to deliver a big power plus torque increase across the full RMP range.
It boasts of high-quality titanium body construction, which gives it a durable feel while enabling it to keep your overall bike's weight low. Not to forget that using metal gives your motorcycle the highly appreciated MotoGP touch.
And yes, this megaphone also sports a distinctive noise dampening insert that you remove to fit your needs.
Installing this slip is probably the easiest part. You don't require any technical know-how to it in place. Even total newbies can put in place without any struggles.
Highlighted Features:
10. Ducati Scrambler Termignoni Sport-Line Racing Silencer
The last product on our list of the best motorcycle exhausts is the Ducati scrambler racing silence. A 100% genuine product of the respected Ducati brand, this muffler is specially designed for racing use.
The key thing that puts thing racing muffler on the map is the thrilling sound delivery with its removable dB-killer. It also boasts of full power delivery with its dedicated mapping—an up-map that lets you enjoy an exciting journey from the word go.
Since this silencer is made from durable steel, it has great build quality and will serve you for longer.
The Ducati also features a carbon fiber end cap, which adds that trick factory look to your motorbike. The fully removable dB-killer means you can easily take it out of the way to enjoy a louder sound output.
Above all, the silencer feels lighter than most of the factory-installed exhausts, so it'll definitely have an impact on your overall bike weight for increased performance.
Highlighted Features:
What Makes The Perfect Motorcycle Exhaust?
Some crucial factors and aspects should come into play when shopping for an aftermarket motorcycle exhaust to help you make a more informed decision.
Let's discuss these aspects below:
Slip on vs full-system
Before you can even start your purchase process, you need to understand that you'll come across two varieties of motorcycle exhausts.
These include the slip-on (or bolt-on) and full systems:
Full system: these systems require to replace everything, from the engine block all the way up to the fuel system. If you don't change the fuel system, your bike might suffer a lean condition that causes the engine to overheat, perform poorly, and last a shorter period of time. Needless to mention, the installation process will be a bit complex here.
Materials used
You should also keep in mind the materials used to make the motorcycle exhaust you're looking for.
The most popular materials right now include carbon fiber and titanium. These are loved because they're highly durable and feel lightweight.
Stainless steel is also preferred due to its lightweight and budget-friendly cost. If you want great looks, then chromed steel would make a better option.
Other materials you'll come across include aluminum, which is cost-effective compared to steel.
Style of exhaust
You'll also need to understand the configuration of a given motorcycle exhaust before you purchase.
In most cases, you should consider getting a 4-in-1 exhaust. Why? Because its design allows you to quickly move it through new, less restrictive systems, eliminating the need for using a second muffler. Plus, this system feels much lighter.
BUT…keep in mind that some bike engines will only function with a specific exhaust configuration. For this reason, we suggest that you have a good understanding of what's best for your bike to avoid investing in the wrong model, which doesn't work with it.
If you have no clue how to go about it, don't hesitate to seek professional advice from experienced bikers.
Extra Tips:
TIP: Before you purchase a new motorcycle exhaust, you might want to understand some crucial info revolving around your motorbike, such as engine display, model, year, and make of the bike. This is especially true if you're investing in full system as it'll help you get a compatible exhaust for your motorbike.
TIP II: depending on the model of exhaust you buy, you might need to make some modifications, such as relocating the oxygen sensors. Some manufacturers also don't include all the bolts and accessories required for replacing the exhaust. Make sure you have the extra tools and accessories needed at hand before you purchase that exhaust.
Frequently Asked Questions
1. Are motorcycle exhaust systems universal?
Not really. Motorcycles exhausts aren't universal, which can be explained by the fact that different bikes come with varying specifications.
Most manufacturers are fully aware of this, and they offer you an interactive system where you can quickly check for compatibility before buying that exhaust.
The info you usually need to determine compatibility includes the model, year, and engine displacement of your motorcycle.
Some manufacturers also specific the types of bike or even specific bike brand makes that are compatible with their exhaust systems.
The best aftermarket motorcycle exhaust is one that fits your bike perfectly well. It's the secret to improved motorcycle performance.
2. what causes the exhaust to turn blue?
The bluing or discoloration you see on your motorcycle exhaust is caused by your system running too hot.
Most experts suggest that you dust your motorcycle pipes, then wash, polish and buff them to prevent this discoloration issue.
However, we don't advise you to do this too often as it can lead to the destruction of your pipes' finish. As time goes on, you might even damage your entire exhaust system.
3. Why do bikers wrap their motorcycle exhausts?
You might have come across bikes with wrapped exhaust systems. And this might have caught you wondering…why do they do it?
Different bikers do it for different reasons.
A good number of them, however, do this to prevent overheating. Yes, a wrapped pipe overheats, so it won't burn your legs and cut short your riding enthusiasm. If you can find a high-quality wrap paper, it can bring down the radiant heat by up to 50%.
Another benefit of wrapping your motorcycle exhaust is increased horsepower. This simple act of the wrap causing the heat to remain inside the headers will make your motor perform better—possibly improving fuel burning efficiency as well as the power output.
And oh! A wrap around your exhaust pipe can also give your lovely bike a more personalized look!
4. How do I achieve deeper sound from my bike's exhaust?
The easiest way to make your bike exhaust produce more rumbling involves removing the bafflers. To do this, you'll need to remove nut situated at the bottom of your exhaust pipe with the help of a wrench.
Make sure the nut doesn't remain inside the pipe when removing it, however, as this can easily interfere with the sound quality produced.
In case it accidentally falls inside, you can use a magnet to get it out.
Final Verdict
An aftermarket motorcycle exhaust can be a good investment for serious bikers who want to enjoy more rumbling sound, reduce overall weight, make your engine perform better (and go faster), and make it look more stylish.
However, you need to know exactly what type of exhaust system will work with your specific bike make and engine for you to enjoy all these benefits.
Having taken you through all the crucial factors to consider when purchasing a new exhaust system for your bike, we're confident that sailing through the selection process will feel much easier for you.
You can also pick your best aftermarket motorcycle exhaust from our list of the best-performing models on the market today.