Best Motorcycle Exhaust Wrap – Ultimate Buying Guide 2020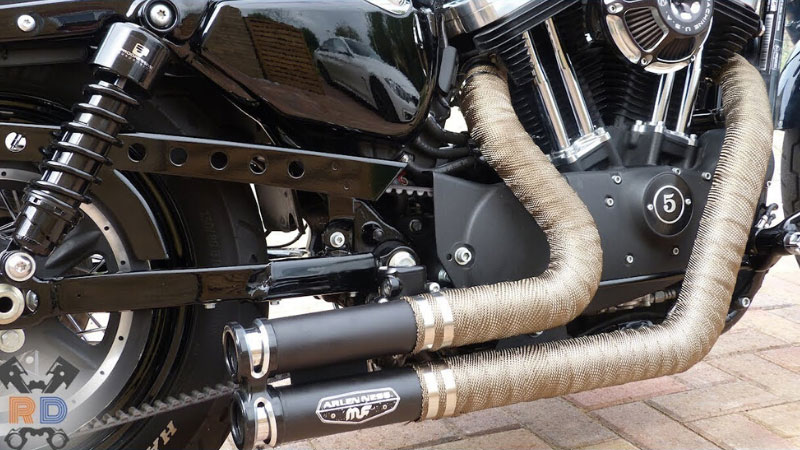 Most motorcycle enthusiasts admit that exhausts are the lungs of the vehicle. It's where all the harmful fumes are discarded, along with all the heat produced within the vehicle during a long journey.
Regular motorcycles don't include high-quality exhausts which can safely emit all that heat without hurting the driver. Fortunately, regular motorbikes can use the best motorcycle exhaust wrap to keep the heat regulated. This protects bikers from scalding their legs and also saves their pants!
What Does Wrapping Your Exhaust System Do?
Starting with the visible appearance, wrapping motorcycle exhausts gives it a more defined look. It makes your bike look more attractive without putting much effort into it. Wrapping the exhaust accurately prohibits the heat from emanating from the exhaust pipes.
This saves your legs from being burned by the intense heat emitted during a long journey. It doesn't let the heat escape from the exhaust pipes. Hence, it can't overheat the core engine while riding over long distances.
This efficient heat retaining feature keeps the entire automobile in a constant cooldown. It keeps the critical electronic components intact and functional for more extended periods.
It muffles unnerving noises, especially made by older vehicles. Specialized motorcycle wraps are made of superior materials. These undergo rigorous certification methods until they check out for ultimate durability.
Wrapping your exhaust system can also lead to enhanced vehicular performance. The heat wraps efficiently stop the heat from reaching the gas tank. The engine is also untouched by the intermittent heat.
As the gas flow is fluid throughout the body of the vehicle, it runs even more smoothly. The cold engine can utilize the horsepower to full extent, and the motorcycle runs noticeably faster.
10 Best Motorcycle Exhaust Wrap Reviews
Exhaust wraps come in different shapes and sizes, and are made of different materials. Each material is suitable for particular purposes. Fortunately for you, we have listed below the ten best motorcycle exhaust wraps, along with their notable features.
1. SunplusTrade Black Exhaust Heat Wrap
This 2" x 50' exhaust wrap kit comes with its stainless steel ties. If you want your heat wrap to fit the exhaust perfectly, then look no further. The SunplusTrade exhaust is made of specially designed material that withstands severe levels of heat emissions. It also manages to keep the occasional heat radiation to a minimum.
After you have soaked the wrap, roll it around your exhaust. Make sure it is tightly wrapped around before tying the loose ends. The stainless steel ties, which are included, will help to keep the exhaust wrap tied perfectly. Due to the modified material, it will disintegrate upon contact with heat, and fit the exhaust like a glove.
The material is also durable and is guaranteed to last several months without tearing. Instead of burning due to excessive heat, this exhaust wrap absorbs up to 50% of the heat emitted by your motorcycle.
You can often feel a scalding sensation on your legs if you have been continuously driving for a few hours. This item is undoubtedly going to reduce that by a noticeable amount.
Moreover, this durable exhaust is also resistant to oil spills as the material doesn't soak in oil. Superior mechanics also make it resistant to abrasions, which might be caused by the wheels grazing against it. To top it all off, this item comes in black!
2. Design Engineering Exhaust Heat Wrap
Made from DEI titanium, Design Engineering heat wrap is one of the strongest exhaust wraps out there. With the help of efficient LR technology, this product is made using pulverized lava rocks. It is then stranded into a durable fiber material and woven with utmost precision.
Due to the intricate process of manufacturing, these exhaust wraps are guaranteed to be durable. It also holds a high thermal capacity and can effectively perform in the harshest conditions.
The titanium material is said to be reliable as it can resist up to 1800 degrees Fahrenheit of heat emitted from the exhaust. The incredibly high heat resistance also makes it suitable for keeping your exhaust comparatively cool on a hot summer day.
Most people often face the problem of fuel leaking from their vehicles during a long journey. Fortunately, this specialized titanium-based wrap cannot be weakened by dripping oil. It's completely resistant and carries out its purpose at optimum levels.
Setting up this exhaust wrap is also convenient. You don't need to soak it in water. Just wrap it tightly around the exhausts and tie up loose ends using DEI stainless steel locking ties.
It also maintains vibration damage caused while riding a motorcycle. It comes in a matte gold color, which might increase the cosmetic value of your vehicle.
3. LEDAUT Exhaust Heat Wrap
If your engine is overheating to alarming temperatures, and you are tired of looking for solutions, LEDAUT has the perfect package for you. Besides the titanium-based wrap material and several strips of stainless steel locks, they offer you a LEDAUT T6 turbocharger blanket.
This particular addition can prove highly beneficial as it's capable of regulating the engine's temperature. Now you can drive for long distances without having to worry about resting your motorcycle.
Moreover, due to the exhaust wrap's efficient heat distributing capabilities, your vehicle can now use its horsepower to the fullest extent. Both the exhaust heat wrap and the additional turbocharger blanket are made of high-quality titanium.
As you might know, titanium has excellent heat resisting capabilities. Therefore, it effectively minimizes the heat emission from the exhaust.
Pulverized basalt rocks are also a fundamental element of these exhausts. This enables them to resist intermittent heat of up to 2000 degrees Fahrenheit. They can even withstand 1400 degrees Fahrenheit of direct heat without being damaged. Intense abrasion resistance is also a remarkable feature of this item.
Due to this, they tend to last longer, keeping your motorbike in top-notch condition. If you choose to utilize this product, you can simultaneously save yourself from unintended burns and keep your engine's performance at its peak.
4. ARTR Titanium Header Exhaust Wrap
ARTR is globally renowned for its amicable customer service. Apart from providing top quality automotive kits, they don't shy away from catering to their customers' needs.
They have several informative videos on the necessary safety measures for using their products. The manufacturer's instructive guideline will surely make setting up exhaust wraps a piece of cake.
If that doesn't vouch for their reliability, their exclusive titanium header wrap surely will. This specially modified exhaust wrap is made of crushed lava rocks. Thus, it excels in resisting heat on an unparalleled level. Its unique manufacturing technology makes it suitable for consuming most of the heat the exhausts emit.
Due to their superior design, the titanium wraps can withstand radiant heat of around 2500 degrees Fahrenheit. This tends to keep your vehicle cooler for longer times and promotes maximum performance. Now, you can take your bike on a long journey without having to worry about overheating.
Some people often face the inevitable dilemma of the exhaust wraps shedding over time. ARTR has taken care of this issue, and these wraps can endure extreme environments.
Furthermore, they have also modified the product in such a way that the repulsive burning smell is non-existent after a couple of hours. This product not only ensures utmost durability but also reduces the side effects significantly.
5. HM&FC Exhaust Header Pipe Wrap
Looking to reduce overheating and maximize engine performance? HM&FC has the perfect solution for you. This inexpensive yet productive exhaust wrap kit can serve both purposes with ease.
It's built on the latest fiberglass technology to give you an automotive kit that is arguably unbreakable. Each fiber in this material is tightly woven to make sure it doesn't wear out.
Once soaked and securely wrapped around the exhaust pipe, the 100% fiberglass wrap works inadvertently to absorb most of the heat produced. No longer will you feel fumes of heat grazing your legs while you ride your motorcycle to work.
Due to the high heat absorption rate, the engine stays cool. The ideal temperature makes your vehicle utilize the horsepower more effectively than ever.
As a result, you can experience your automobile running at a steady pace. The engine works smoothly regardless of the heat it gives off. This shall noticeably extend the engine's life span in the long term.
You will also be saving a lot of fuel as engine performance will be at its peak. This will end up saving you more money than you have invested. So, it's a win-win situation!
On the other hand, this efficient exhaust wrap will help you reduce heat emission by 70%. When the motorbike travels longer distances by consuming less fuel, the amount of heat produced is significantly minimized.
6. Motorcycle Exhaust Heat Wrap Heat Shield Sleeve
This exclusive heat wrap contains every tool required for transforming your motorcycle into a well-oiled machine. It is made up of fiberglass, which is known to withstand some serious levels of heat. Due to this feature, this motorcycle exhaust heat wrap can absorb up to 50% of the dissipated heat.
Moreover, an instruction manual is included in the package. The manual is easy to read and educative. It gives all the essential knowledge you need and makes setting up the tool a breeze.
The fiberglass material goes through extensive certification procedures to ensure that it lives up to its expectations. This certainly increases its credibility, so that customers can get the best of their money. The package also includes 15 pieces of stainless steel locks, which can be used to wrap the material securely in place.
However, due to its 2" x 50' length, it is mostly suitable for heavier motorcycles like the Harley. A single roll of wrap is capable of covering a medium-sized exhaust header tightly.
You can also wrap downpipes if you wish to increase the motorcycle's velocity. Wrapping motorcycle pipes with the heat shield sleeve can save your legs from burning. Apply the wrap in all the places necessary, as instructed in the manual. You will notice a positive change in your vehicle's performance.
7. LIBERRWAY Exhaust Heat Wrap
Next on the list is an exhaust wrap that can make vibration breakdown almost negligible! Most motorcycle exhaust heat wraps deteriorate due to relentless vibrations during heavy usage. This causes the material to wear out, and its heat-absorbing effects tend to fade away.
Thankfully, LIBERRWAY heat wraps are like no other. They are specially designed with highly durable material to prevent breakage in the long term as well.
It comes with its own stainless steel zip ties that hold the wrap in place. Once the product is set up, and the engine is switched on, the material starts showing its magic! There is hardly any noticeable presence of heat emissions in the first few hours. Even after extended use, the heat dispersion is comparatively low.
This is because of the material's ability to resist direct heat of up to 1400 degrees Fahrenheit. It evenly distributes heat radiation across the vehicle. The radiant heat of about 2000 degrees Fahrenheit can be easily soaked in by the exhaust wrap.
Nevertheless, there are certain steps you need to take for it to work efficiently. Make sure to wet the wrap in water before applying it to the exhaust pipe. Otherwise, the material might not stick to it permanently. To prohibit any excess heat, seal the loose ends using the provided zip ties.
8. Pandure Titanium Lava Fiber Heat Wrap
Is the strength of fiberglass not living up to your satisfaction? Well, fret no more as Pandure brings you the Titanium Lava Fiber heat wrap. The material is made up of Titanium Magma, which is 25 times stronger than fiberglass.
It is called 'lava fiber' as the material is made from crushed volcanic rocks clinically amalgamated with carbon fiber. If this isn't enough evidence for its long-lasting durability, I don't know what is.
It is often called the best exhaust wrap kit as it can be used to solve heat emission issues in various vehicles. Even larger vehicles like the muscle car or the ATV can rely on its heat soaking efficiency. This scientifically modified heat wrap can easily regulate heat signatures in headers and exhaust pipes.
When installed, it evenly distributes the heat among the body of the vehicle. Its effective design allows it to reduce gas density in exhaust pipes. It also manages to keep the hood cool, which keeps the engine good as new. The hood temperatures are reduced by 40%, and therefore, vehicle performance is at its peak. 
Unlike other exhaust wraps, Pandure's promises don't surpass its capabilities. The exhaust wrap's heat resistance capacity is measured on real-world temperature rules. Based on that, it can persistently withstand the heat of up to 1200 degrees Fahrenheit.
9. Titanium Exhaust Wrap Rolls
These thermal heat wraps are only 1" x16' in size but don't be fooled as it can effectively disperse heat and bring down hood temperatures by a whopping 50%.
Like any other titanium-based material, it is not prone to alarming levels of heat. It can effectively soak the excessive heat from the exhaust system like a sponge. These titanium wrap rolls are intelligently devised to redirect the heat to keep the all-round temperature constant.
As you might already know, the hood of the motorcycle contains an important part of the vehicle – the engine. Several other vital parts are also residing in this area. This exhaust wrap is cleverly functioned to maintain the health of your motorcycle and grants it a longer life span.
Manufactured under supervised guidance, this particular heat wrap will give satisfying results since day one. It's completely fire retardant, so you don't have to worry about overusing it. Its resistance limits range up to 2000 degrees Fahrenheit. The uniform heat absorption rate makes it a suitable partner for your vehicle.
This particular wrap consists of the specifically modified weave, which creates an almost unbreakable bond between its molecules. Thus, it's even harder to break and will serve your motorbike well, even in the harshest conditions. Due to its relentless endurance, you are deprived of the hassle of changing the wraps repeatedly.
10. Foneso Exhaust Heat Wrap Kit Roll
Finally, the Foneso heat wrap kit offers 2 separate rolls with 24 stainless locking ties. It's highly resistant to any abrasions caused due to repeated contact with the rugged wheels.
These exhaust wraps are immune to abrasive surfaces and don't wear out easily. The material introduces a different level of durability. The long-lasting trait makes it suitable for all kinds of environments.
Oil spills can't deter the Foneso exhaust wrap rolls as it retains no stains whatsoever. It stays in the same fresh state for a long duration, even after several days of application. It is safe to say that this feature portrays the utmost reliability.
Consistent vibrations induced by the motorcycle engine are also unable to alter its original state. The black-colored material complements your ride's cosmetics. If anything, it will make your bike look more rugged and classy. The stainless steel locking ties make it fit perfectly.
Not only is the heat wrap safe from unusual vibrations, but it can also reduce it to a noticeable extent. This will end up boosting your vehicle's performance and prevent it from needing additional maintenance.
Apart from regular motorcycle exhausts, this product is also generally used in racing headers. It can be exposed to around 1800 degrees Fahrenheit of exhaust heat and still stand strong.
What Makes A Good Exhaust Wrap?
There is a wide array of benefits for using a proper exhaust wrap. But the range of choices available for exhaust wraps is even wider. Before you set off to buy any heat wrap for your automobile, you first need to know the traits that define a perfect exhaust wrap.
Also, you need to be able to decide which of those options is best suitable for you. Since the future state of your vehicle will heavily depend upon these features, we have made a list of all the crucial factors you need to keep in mind.
Strength of the Wrap
This factor will surely have a major impact on the longevity of the exhaust wrap's life span. First of all, you need to ascertain the number of times you ride on your motorcycle, whether it's regularly or just on the weekends. The number of distances you cover will also play a vital role in this case.
The strength of a heat exhaust wrap mainly depends on the sort of materials it's made out of. If you are an occasional driver, and motorcycles aren't your basic means of transport, then don't sweat over it. You don't need to pick the best materials in that case. Just focus on the other factors for a suitable one.
But if you tend to ride on your bike frequently, then you should pay special attention to the type of materials and their limits. Most heat wraps are made from crushed lava rocks mixed with other resources to increase its durability.
There are even some specially modified wraps that consist of 100% fiberglass made by state-of-the-art technology. You should consider buying those if you wish to use it for a long duration.
Heat Resistance
Heat resistance plays a pivotal role not only for the extended life of the wrap but also to ensure your vehicle isn't heating up too much. If you choose poorly, the heat wrap might not serve its purpose at all, and you might end up putting your money down the drain.
The ability of an exhaust wrap to consume maximum amounts of heat from your vehicle will prevent it from overheating. This will keep the vital parts perfectly functional and will also improve your bike's performance. This also depends on the material of the wrap.
The ideal resistance threshold can range between 1000 degrees to 1800 degrees Fahrenheit. Some materials can withstand heat radiations of up to 2500 degrees Fahrenheit. We have discussed a few of the best among those types above. Feel free to choose one but only after assessing all the other features.
The Thickness of the Wrap
You should ideally choose a wrap with a minimum length and width of 1.6 inches and 2 inches, respectively. The thicker the layer of wrap on your exhaust, the safer your legs will be from being burned by the heat.
Similarly, when riding for long periods, the intense heat accumulated in the exhausts can burn a hole through your pants. Most people don't even realize it until it's too late.
Furthermore, if a thick wrap covers the exhausts, the heat won't be able to disperse through the entire motorcycle and will be absorbed by the wrap instead. It will act as an efficient insulator.
Motorcycle exhausts tend to radiate heat, which can result in an overheated engine, eventually destroying it. This usually happens when you are driving for hours on end.
Therefore, try to pick a wrap as thick as possible, for both your own and your bike's safety. It also keeps your gas tank cool when driving on a hot summer day. We have specifically handpicked a few exhaust wraps with this designated feature.
Effects on Engine Performance
If an exhaust wrap is efficient in regulating vehicle temperature, it usually leads to a high functioning engine. This improved performance is courtesy of a perfect wrap, either directly or indirectly.
A material that can retain the heat within the exhausts will cause the gas inside it to stay hot. Due to the heat, the gaseous particles are in low density. It's well known that low-density gas can travel faster with more fluidity.
As a result, the gas smoothly circulates within the vehicle, making mechanical operations steadfast. The vehicle, especially the gas tank, remains cool at all times.
Because there is no overheating, all the components work together in harmony, and the vehicle performs to its fullest extent. This will naturally keep your vehicle working with ease, and last longer than expected. It will also save a lot of maintenance costs in the long run.
Reduced Vibration Noise
Some exhaust wraps specialize in significantly minimizing the vibrations caused while riding your motorcycle. The noise can often seem irritating and can take your mind off the beautiful scenery. If you are easily disturbed by the unnecessary chaos, several wraps can solve this issue.
When the exhaust is enveloped by a heat wrap, the gas inside stays hot. Sound traveling through these hot molecules can hardly be heard. It rather creates a deeper sound, which might seem pleasant to your ears.
Customize Your Motorcycle
Apart from all the mechanical features, heat wraps can redefine the look of your motorcycle. Even though your exhaust pipes are still fully functional, they might look a bit worn out. But you can still salvage it with the help of a colorful wrap.
Nowadays, exhaust wraps come in many colors. Some even have especially drawn patterns on them. A single product can also have diversity due to exceptional color choices.
You can customize your vehicle according to your choice and give it an equally aesthetic look. Or, you can just go crazy with different colors and bring out your inner child. It's an easy way to redo your bike's looks, and it's certainly cheaper than getting a paint job done. Feel free to browse online for unlimited choices.
Motorcycle Exhaust Wraps Pros and Cons
If you are still confused about whether to get an exhaust wrap or not, you should consider comparing the pros and cons of motorcycle exhaust wraps. This shall enlighten you further on the subject and hopefully show you what you are missing out on.
Pros
There are various exhaust wrap brands out there each with different features. It can be difficult choose from if you have no idea how those features can help you. Therefore, listed below are the general advantages of a good exhaust wrap.
Reduced Heat Emissions
Exhaust wraps were previously only used by professional bike racers to decrease the production of heat within the vehicle. Motorcycle engines used to get intensely overheated due to consecutive laps.
The racers reported that the application of wraps had significantly decreased heat emissions. But in modern times, professionals started relying on the latest, more effective technologies which showed better results.
Increased Durability
Heat wraps are the most inexpensive and convenient way to regulate the heat within your motorbike.
Most people think they don't need it as they don't mind tolerating the excessive heat. But riding a bike regularly, with below-average exhausts, can be dangerous. Even if it doesn't harm you, the heat eventually destroys the machine from inside out.
Many people don't realize that and end up having to pay maintenance bills over and over again.
Enhanced Performance
Let's face it, tuning your vehicle to boost its performance can be pretty expensive. Dismantling and reassembling all the components back in place takes a lot of effort. On the other hand, attaching exhaust wraps have never been easier.
It only takes a few minutes to finish the whole process completely. Plus, it generally optimizes the vehicle mechanics and boots its performance over time. It is an ideal way to save both your money and precious time.
Additional Perks
Furthermore, some heat wrap kits come with a turbocharge blanket. These extensive additions are capable of reducing hood temperatures by 50%.
It promotes a major decline in temperatures even during the summer months. This also decreases vibrations and spikes up the performance to its peak.
Cons
Despite of all the benefits and perks, exhaust wraps have some common drawbacks. These cons, although not to so significant, can create some issues on the long run.
Hence, it's wise to keep them in mind when buying.
Expulsive Odor
Cons of using a motorcycle exhaust wrap include tolerating the revolting odor of burning plastic. For most brands, the stench lingers on for the entire first week.
While companies have shown serious concern about this complaint, but the smell is still slightly existent.
Melting Components
Another major problem customers have to face arises from the same heat-retaining features they are famous for.
Due to a lot of heat assimilating inside the pipes, they can often start melting from the inside. Titanium-based alloys are especially prone to this disadvantage.
Therefore, it's recommended not to use heat wraps made of crushed magma rocks with titanium exhausts. Similar effects have been reported when using wraps, which are made of 100% fiberglass.
Frequently Asked Questions
1. What does motorcycle exhaust wrap do?
Exhaust wraps control the temperatures and keep it even within the motorcycle by trapping the heat within the gas pipes.
It also improves vehicle performance to some extent. It keeps the engine and the other vital components cool.
As a result, they tend to last longer. It is also an easy way to customize your motorcycles according to your personality without spending too much.
2. Does motorcycle exhaust wrap work?
Yes, it does if you manage to set it up as instructed in the manual. Even if it doesn't improve a vehicle's performance immediately, it will surely serve its heat reduction purposes.
The smell of burning wrap is practical proof that it is effectively soaking in the heat. You won't be harmed by the harmful fumes anymore.
3. How long does motorcycle exhaust wraps last?
Its life span usually depends on how frequently you are driving your motorcycle. The terrain quality and the type of environment it has been through will also play a crucial role.
4. How to wrap around motorcycle pipes?
Some wraps need to be dampened before use. Wrap it carefully around a motorcycle pipe and secure the ends ​using locking ties.​ It's that easy!
5. What precautions should I take to set up exhaust wraps?
Exhaust wraps must be carefully handled using a glove. Otherwise, it may start itching. Also, wear safety goggles and a protective mask for extra security.
Final Words
You now have all the essential knowledge you need to pick the best motorcycle exhaust wrap for yourself.
Try to read thoroughly and pay special attention to all the safety measures. Carry them out accordingly. We hope this article has enlightened you with all you needed to know.