Best Motorcycle Fairing Speakers & Stereo Systems For Music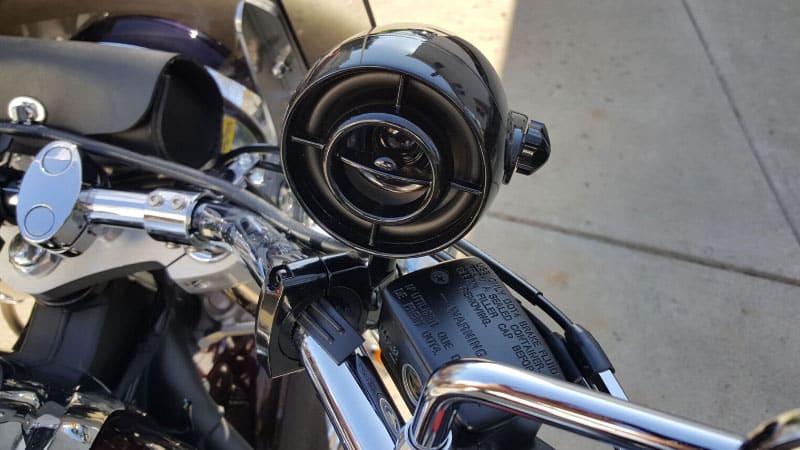 For many, motorcycles and music are inseparable. Here are the best motorcycle fairing speakers and stereo systems for your Harley.
For many bikers, motorcycles and music are inseparable. However, using headphones while riding really divides people and it's a controversial subject all together. Fairing speakers on the other hand, are a whole different story. They allow you to enjoy music, while retaining the much needed situational awareness.
Because of the highly competitive nature of the motorcycle speakers market, however, you'll find hundreds of speakers with different sets of features, configurations, and extras. To say the least, it's going to be pretty tough picking the right one for you.
Here are the best motorcycle fairing speakers and stereo systems on the market right now.
Are Fairing Speakers Worth It?
If you're having second thoughts on whether it's really a good idea to install fairing speakers on your motorcycles, the following reasons might convince you to go ahead with your idea.
More Enjoyable Rides
If you usually love traveling or go camping with your motorcycle, then installing high-quality speakers in your motorcycle is a sure way to keep you entertained the entire journey as they blast with your favorite tunes throughout your journey. Even better, these speakers are usually flexible and can accept input from multiple sources like Bluetooth, USB, and even CB, placing them a notch ahead of other speaker systems.
Enhances Your Bike's Aesthetics
Who doesn't want a bike that looks cool? Everybody does! As a matter of fact, most bikers spend a lot of time pimping their motorcycles with various aftermarket accessories to make them look better. And one such aftermarket accessory is—you guessed it right—the fairing speakers.
Increases the Resale Value
Another benefit that comes with installing fairing speakers in your bike is that they can increase the resale value of your bike. If you fit those top-quality motorcycle fairing stereo systems in your bike, wouldn't that make it even better than you bought it, and raise its overall value? It definitely will!
Having discussed the top reasons on why a fairing speaker is worth installing on your motorbike, we can now move on to reviews of the top-rated products you can find on the market today…
10 Best Motorcycle Fairing Speakers and Stereo Systems
1. TCMT Lower Vented Fairing Box Pods 6.5"
Our list of the top-rated motorcycle fairing speakers starts with this 100% brand NEW speaker system from TMCT. The system comes with two 6.5 speakers alongside two speaker box pods and two lower vented fairings. All these come at a pocket-friendly cost.
Installing these speakers on your motorcycle is quite easy. They feature the standard 6.5' inch size and will easily replace your stock speakers without making a lot of modifications. They're designed to perfectly fit a variety of Harley Davidson bikes, including the 1983-2013 touring models and (with little modifications) the 1998-2009 FLTR.
The speaker system boasts of high-quality ABS plastic construction. This material has demonstrated countless times its ability to hold up to impact resulting from bumpy roads, accidental drops, etc., so you can rest assured these speakers will last for a long time.
As for the speaker cone, it's made using polypropylene, which has excellent moisture-resistance and low-distortion properties, assuring you of quality performance.
The speaker system comes in vivid black finish. The paint looks sharp and quite good and will easily match your HD's vivid black color decently.
Highlighted Features:
2. XFMT 6.5"
If you're looking for speakers that you can install in the lower vented fairings, this is the perfect set for you. Like the previous system, these speakers are also 100% brand new and come with their own lower vented fairings, box pods, and speaker grilles for painless installation on your motorcycle.
These speakers fall on the lower side of the price ladder, but their performance is much better than what you'll get in other products at this price range. The quality of these speakers is truly fantastic as they're made from high-quality ABS plastic material that can hold up to the impact of rough riding conditions and various elements.
If you own a Harley Davidson touring bike (2014-2018 models), then you'll be happy to discover that these speakers are designed to perfectly fit these bikes without any issues. They also come with a rich black color finish that matches your HD's gross black finish.
Highlighted Features:
3. Rockford Fosgate TMS65 6.5" Full Range
Rockford Fosgate TMS65 is the best motorcycle fairing speaker for Harley Davidson Street Glide series motorcycles made between 2006 and 2013. The speakers are 6.5" and are incredibly easy and quick to install without making modifications on your bike.
The package comprises two speakers, each having a wattage of 75 Watts. The total wattage, therefore, is 150 Watts. Such a high power rating boosts the performance of these speakers, and you can rest assured you'll hear them when cursing at top speeds of over 70mph.
The installation is effortless and fast and takes you around 20-30 minutes. It simply involves connecting the speaker system to your existing, factory-installed speaker connectors.
Regarding the construction, these speakers come with a weatherproof construction that keeps off the dust, grime, and other undesired elements. They're also resistant to corrosion and vibration to enable them to withstand extreme weather and bumpy roads.
Highlighted Features:
4. XFMT Motorcycle 6" x 9" Dual
For better sound quality and more enjoyable rides, get this XFMST motorcycle 6 by 9" speakers unit today. These are not usually refurbished speakers but 100% brand new sets that come fully optimized to give you the quality and performance you're looking for.
Talking of quality, the speaker system boasts of top-quality ABS plastic build. The material has outstanding tensile strength and offers high resistance to physical impacts and chemical corrosions—making this speaker set a long-lasting investment.
The full package has a total of 4 speakers. Each speaker is made with an over side magnet, which produces deep bass that makes you feel more energized as you take those long country rides. The paper cones are reinforced with fiberglass for increased stiffness and ability to hold up to the deep bass produced by these speakers and reduce distortions.
Just like pour previously discussed speaker units, this model will also perfectly and painlessly fit 1994-2013 Harley touring bikes. It also comes with quality gross black paintwork that matches with the vivid black finish of your Harley for an overall clean, uniform look.
Highlighted Features:
5. TCMT Lower Vented Leg Fairing w/ 6.5"
If you don't want to spend on the Harley Davidson made fairing speakers that come at inflated prices, the TCMT 6.5" speakers will offer you a better alternative. They come designed to effortlessly mount to many Harley Davidson 2014-2020 air-cooled Touring as well as Trike models and are hard to beat for the price.
Installing them in place is easy as a breeze. With just a little effort, you'll get them up and running. All the necessary installation hardware and accessories are included for problem-free setup.
Designed from durable and impact-resistant ABS plastic, these speakers will last a very long time. They come engineered with an over side magnet that enables them to produce deeper bass than your stock speakers.
Highlighted Features:
6. Hoppe Quadzilla Fiberglass Fairing HDF-RK
If you're still looking for the best audio system for your Harley Davidson, this model from Hoppe won't let you down. This fairing speaker boasts of high-quality fiberglass construction (with hand-laid with premium-grade resin) to enable it to last long, even when you ride through tough terrains or in extreme weather.
The top-rated speaker system features Eclipse AM/FM/CD/USB radio for motorcycle fairing plus a total of 4 speakers. Each of the speakers has a power rating of 40 Watts. When you combine all of them, they'll produce high-quality sound that you can easily hear even when you have your helmet on or when riding at high speed.
Because the unit also comes with 3-band EQ, you can easily customize your audio experience for the ultimate fun and entertainment in your rides.
The best part is that this fairing speaker system has a clear 12-inch shield to protect you from various elements for a safer ride. The antenna comes fully concealed in the interior to ensure you have a cleaner look once you mount this speaker system on your bike.
Highlighted Features:
7. Reckless Motorcycles Batwing Fairing
You can now transform your HD Road King into the ultimate touring machine with these stereos for motorcycle fairings. The batwing fairing is designed to look exactly like Harley Davidson's batwing fairing. It will help you keep the wind away while providing you with cool sound experience.
The full kit comes with Infinity PRV250 Stereo Bluetooth audio system plus FOUR 2.2.5" Rockford Fosgate speakers that produce crisp and clear sound. The stereo system has USB/AUX/AM/FM capability for increased versatility. Since it's a marine-grade audio system, it's also resistant to harsh elements.
When it comes to installing the system in your touring motorcycle, the experience is smooth and easy. The kit comes fully assembled and ready for mounting. It also comes with a windscreen and mounting hardware for a quick setup. The plug and play wiring makes the process even easier. Since the batwing fairing is fully detachable, you can always remove it when not needed.
Remember that this speaker system is constructed using injection molded fiberglass material for maximum resistance to vibration and impact on rough roads and increased longevity. The black gel-coat finish complements the looks of your motorcycle.
Highlighted Features:
8. Rockford Fosgate TMS6SG
Another viable option are these Rockford Fosgate TMS6SG which pack a punch wherever you take them. They come designed to perfectly fit the fairing speaker space for Harley-Davidson Street Glide 2006-2013 motorcycle models.
You don't need to make any modifications to put these speakers in place. This is because they directly replace your existing factory speakers and use your factory mounted hardware and speaker connectors.
The system features two full-range speakers with a combined wattage output of 150 Watts for greater sound quality. Its ultra-efficient 25mm dome tweeter delivers super-clear and crisp highs that you can easily hear even when at highway speeds. What's a better way to spice up your motorcycle trips?
Rockford Fosgate is known for its top-notch build quality across all their speakers, and this unit isn't an exception. It's designed to be 100% waterproof and weather-resistant, and will not entertain dust, UV, corrosion, temperature, and vibration.
Highlighted Features:
9. J&M Corporation Lower Fairing
If you're looking for a good lower motorcycle fairing stereo system, this is it. The speaker comes with a 100% waterproof driver cone made from extremely durable and lightweight injection-molded polycarbonate. This enables the speakers to produce livelier sound while allowing them to last a lifetime.
This is a pretty powerful system consisting of speakers with a 7.25-inch diameter. They feature a cone mass and volume that's similar to that of 6x9 speakers. All the speakers gang up to blast a whopping 140 Watts worth of power coupled with 2ohms impedance— resulting in superior audio performance.
Keep in mind that this unit also presents you with dual-donut Neodymium magnets, which are known for their lightweight nature and high-flux strength capability for increased speaker efficiency.
As for the looks, these speakers come with a matte finish. And you can always paint them to match the look of your bike's exhaust pipe wrap or any other accessories on your motorcycle.
Highlighted Features:
10. Hogtunes 352F-AA
Lastly, we have this Hogtunes 352F-AA Front Speaker. Regarded as one of the perfect aftermarket speaker models for Harley-Davidson FLH Touring 2006-2013 models, this unit comes designed to give you better sound quality than your current speakers.
One of the key reasons why you should install these speakers on your motorcycle fairings is their increased power handling, all thanks to the vented magnet design. They can continually handle as high as 100 Watts of power. This translates to higher audio quality and volume, taking the performance of these speakers a notch higher than the competition.
It also comes equipped with 1-inch titanium dome tweeters, which ensure you enjoy super-clear and smoother highs.
The speaker system features a simple plug-and-play installation. No need to do any modifications on your motorcycle in order to fit this speaker. Users who have this radio installed in their bikes agree that the radio delivers crisper sound (in both highs and lows). And the sound is loud enough when riding at high speeds.
Highlighted Features:
What Makes The Right Fairing Speaker?
Knowing what defines a good fairing speaker will make things easier for you when picking the right one for your unique needs. In this section, we outline the key factors that make a great motorcycle fairing speaker.
Audio quality
One thing you'd want from your new set of fairing speakers is the ability to produce quality sound. The first thing you should, therefore, look for in the speakers is their sound performance. Make sure you get a system that delivers crisp and clear audio that you can easily hear, even when riding at high speeds on the freeway.
Power Rating
Another essential thing to look for in a fairing speaker is the power rating or wattage, usually expressed in Watts. The power rating shows the amount of power a speaker can produce and directly determines its effectiveness. The higher the wattage a speaker comes with, the better the audio quality and the more volume they can deliver.
Quick tip: Go for a high wattage speaker if you usually take long country rides. If you prefer riding around town, then a low wattage speaker is a good option for you.
Build Quality
Motorcycle speakers tend to take a lot of abuse, which explains why you should look for something built to stand up to the beating and last for longer. Models made using ABS plastic, tough resins, polycarbonate, etc., have shown excellent resistance to impacts and vibration and ability to stand the test of time. The speaker installation hardware should also be sturdy to ensure they tightly hold the speakers to your bike and minimize sound quality that might end up affecting the audio quality.
Weather Resistance
Besides a durable construction, you should also check that the speaker unit you buy comes with a weather-resistance design. You never know when rain might catch up with you on the road, so having speakers with a waterproof design will help ensure exposure to rainwater doesn't damage them. Models that are weatherproof also protect from other undesired elements such as ice, snow, dust, grime, and even UV rays.
Size of Speaker
Examining the size of fairing speakers before buying will also help you find high-performance units. Pay more attention to the diameter and depth of the speaker as these aspects directly affect its frequency range and audio quality (source). Also, make sure the size of the speaker will perfectly fit in the available fairing space without compromising your ability to ride the bike.
Extras:
Frequently Asked Questions
Q: Who makes the best fairing speakers?
A: Though you'll come across countless brand names when looking for fairing speakers, only a selection of these has proven their ability to make genuinely quality speakers. Some of the big names include Rockford Fosgate and Boss Audio systems. That said, it's not important not to shop by brand but by looking for a speaker with the unique features you're looking for and its compatibility with your motorcycle.
Q: Are fairing speakers audible at high speeds?
A: Yes. It's absolutely possible to hear your motorcycle fairing speakers when riding at highway speeds of over 70mph if you invest in a quality, powerful unit that produces crisp and clear sound at high volumes.
Q: Does weatherproof also mean waterproof?
A: Not really. A speaker rated weather-resent means it can withstand foggy and humid weather and occasional showers. Leaving such a speaker in rainy weather for long can damage it. A waterproof rated speaker, on the other hand, is optimized to work in rainy weather, and you can leave it exposed to rain for long hours without worrying that it might get damaged.
Final Verdict
You can now add flavor to your motorcycle trips by installing fairing speaker systems. Most of these speaker types are highly affordable. And they will output good quality sound that's sure to kill the boredom that catches up with you when cruising for long hours. We hope that you have already identified the perfect match for your bike from the best motorcycle fairing speakers we have just outlined in this guide to keep you entertained every inch of your upcoming motorcycle trip.
Enjoy!