Best Motorcycle Gloves In 2020 – Reviews and Guide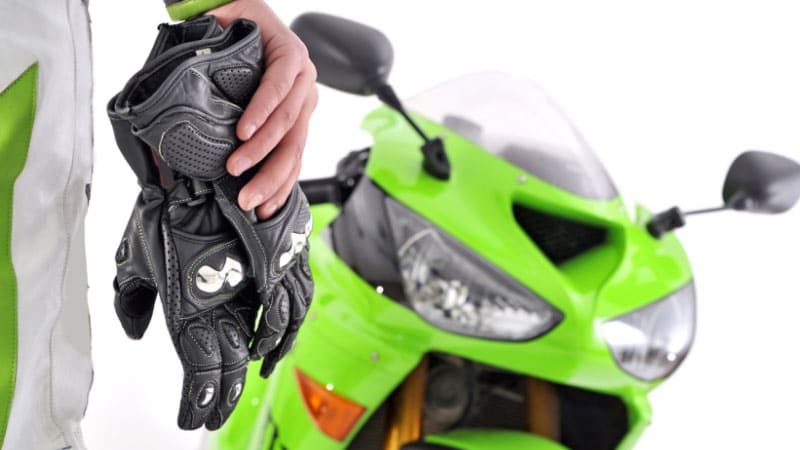 Motorcycles are not only made for going out on random journeys and having fun, but they are also made to make a statement.
Everyone loves it when that cold breeze of air hits us in the face while we have that adrenaline rush running through our veins.
Regardless of how much an extreme rider you are, necessary steps should be taken to ensure minimal risks. Therefore, you must get yourself a slick helmet and a pair of the best motorcycle gloves.
Whether you are facing rough weather, your hands are slipping away due to immense sweat, or you are about to face an unwanted accident, motorcycle gloves play a crucial role in ensuring safety from all of that.
Benefits of Using Motorcycle Gloves
If you have done your research on any specific moto gloves review or many ones, you know that these are essential for bike riders and they are highly beneficial.
Weather Savior
Have you ever thought how hard it would be if you decided to go on a ride with your hands naked in very sunny or cold weather? Either you will slip due to sweaty hands or your hands will get frozen. Hence, having a motorcycle glove will ensure you the essential insulation required every day.
However, not all gloves tend to be an all-weather glove. Sometimes a glove could be fantastic for a sunny day and not necessary for winter and vice versa. So, it is essential to ensure how much of a bike person you are.
Protection from Sudden Accidents
It is quite evident in the moment of an accident while on a bike, you'll try to use your hands as a shield to save yourself. In case of such eventuality, it is necessary to keep your gloves on to minimalize the damage.
Anti-Numbness
Some gloves such as anti-vibration motorcycle gloves are made to ensure that you don't feel the shocks and vibrations that continuously tend to happen during rough rides. Because at times after a long journey, your hands will manage to get completely numb.
Moreover, longer journeys can cause wrist fatigue. The longer you keep a grip on your bike, the higher are the chances of you developing unwanted pain. It is inevitable. Hence, gloves provide an essential comfort necessary for an everyday ride.
Complete Grip
Most of the gloves are made of silicone, which means that even if your hands are sweaty and hot, you'll still be able to have to full control over your bike. Motorcycle gloves ensure complete control over your bike.
Hence, when you are wearing those fresh motorcycle gloves, you are not guaranteeing absolute safety over yourself but also others.
Short Cuff Vs. Gauntlet Motorcycle Gloves
Usually, when you go through any motorcycle gloves review, you'll find two major categories in gloves. And those two categories lead you to difficult questions: "Should I go for short cuff gloves? Or should I purchase a pair of gauntlet gloves?".
Short Cuff Gloves
If you want to have that feeling of fresh air and make your hands breathable, this is the perfect type of gloves for you. They are easy to maintain and use.
Even during a sunny day, you will find your hands very cool, calm, and ventilated. However, they tend to be a bit risky while on rides. If you are looking for something sophisticated and sensible, a short cuff glove will be the perfect choice for you.
Gauntlet Gloves
These are heavy-hitting gloves that provide the utmost protection during extreme conditions. They offer more security during rides than short cuff gloves any day.
The wrist protection enabled in these gauntlet gloves enable more security. During any accident there is like a 90% chance of your arms falling first, making your jacket sleeves to go up. Hence, this is where the wrist protection of these gloves come into play.
However, during hot summer days, these gloves will make you sweat like a pig. They are quite comfortable, but depending on rough weather conditions, they might make you feel suffocated.
Both of these glove categories are amazing. It's all up to you to go for something that suits you the most. A personal preference would be to go for both since that will allow you to switch any time you want to.
12 Best Motorcycle Gloves Review
Researching for hours and days for the ideal motorcycle glove can be extremely painful. Luckily for you, we have gone through several reviews, surveys, and hands-on tests to break it down to 12 of the most quality motorcycle gloves you'll ever find in the market.
Whether you are looking for budget motorcycle gloves or off-the-charts motorcycle gloves, this list has it all. So without further ado, let's begin!
1. FREETOO Tactical Gloves Army Military Police Rubber Knuckle Outdoor Gloves for Men
If you want to feel like Jason Statham while riding a bike, then this model would be the perfect choice for you. This is a premium quality product which falls into the list of best motorcycle gloves under 50. The features that come along with this glove are exceptional.
Let us start with the fact that it is highly flexible. It has an adjustable waist with elastic spandex fabric. What more could you possibly ask for? They provide enhanced fit in whatever the size of your hand is. Hence, you are getting immense comfort at such a budget range of a price.
The dual-layered synthetic material has been inserted in the gloves to prevent slipping. Because, if you are wearing a regular motorcycle glove, it is almost inevitable that you are doomed to slip. This material ensures that doesn't happen and that you get a superior grip.
What makes this motorcycle glove so good? It is the fact that this model is as an all-weather product due to its exquisite ventilation system. Due to odor-free materials, you're getting somewhat a breathable comfort. So, it doesn't matter if it is a hot or a cold day; you are guaranteed to get a good experience.
Moreover, the cushions in the knuckles are ergonomically designed to absorb the heaviest of impacts taken. They'll provide superior security and protection. This leads to you getting a firmer grip over the motorcycle you dearly own. Hence, you are achieving comfort and stability in a single feature.
Lastly, the rugged build ensures these gloves remain sturdy for an extended period. It is not one of those typical bulky and stiff gloves. They are made of high-quality microfiber which provides durability at its finest. Moreover, the risk abrasion is completely minimalized due to the quality materials it is produced in.
2. ILM Alloy Steel Knuckle Motorcycle Motorbike Powersports Racing Tactical Paintball Gloves (L, BLACK)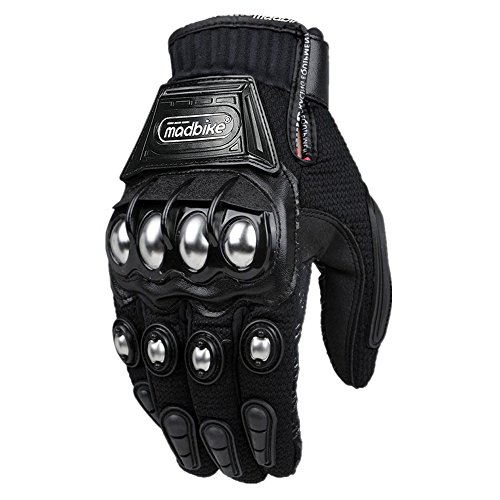 When you think of the word 'protection', and you don't go through the products of this brand, it might as well be considered a crime. The models from ILM are supposed to provide security at its finest, and this particular motorcycle glove tops the list.
The reason for this product being so protective is because this motorcycle glove is produced by injection molding. Complete alloy-steel security is achieved through such an element inserted in this product. The emphasis provided on this glove for protection is merely outstanding.
This model has been engineered to match the anatomy of a human body so that you can achieve the perfect fit on your palms. People tend to struggle when it comes to fitting, and sometimes it might be a bit loose or a bit too tight, but that's just not the case when it comes to this glove.
Each joint in this motorcycle glove is stitched with anti-collision material. Because after long hours of riding at a stretch can make your hands extraordinarily numb and cause inevitable fatigue. Hence, this material will undoubtedly keep you comforted throughout that time.
For additional protection, the outer layer of this glove is formulated using a large area of a specific U-type security, and there is an arch-shape design made in the back of the hand to further the protection. This product is certainly living up to the title it has been signified with.
Design of the hand was made through 3D classic plastic non-slippery lines to make sure the glove remains fully anti-skid. This will let you grasp on to your bike as tightly as possible. Hence, it helps in achieving the maximum level of the anti-slip function.
3. Street Bike Full Finger Motorcycle Gloves 09 (Large, black)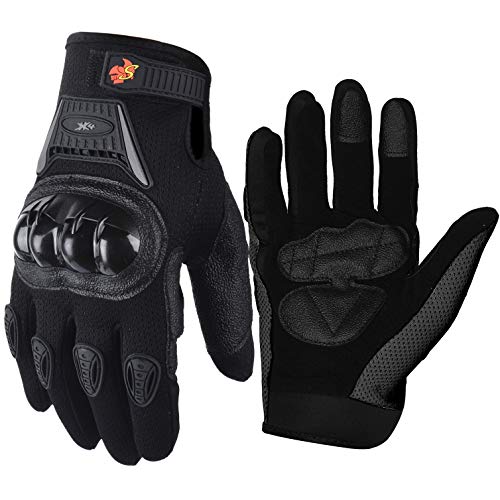 Here is one model which will be of value once you empty your pockets for it. A versatile bike riding glove is compatible with rough conditions like street biking, motocross, and even off-road.
One of the core values a motorcycle glove should provide is to make sure that the biker gets to keep his calm intact while riding. When you ride machinery, there are always chances of getting hit with vibrations. Thankfully the model is shock-resistant due to the premium fabric it is made out of.
Regarding fabrics, this glove is made up of high-quality polyester and nylon mixture. So, when you have a journey, and suddenly rain starts to pour down, there is absolutely no reason to worry because the materials make the whole model waterproof.
It is not just during rainy weather that this material will provide protection. Even if the day is entirely chilly and there are high chances of hands getting numb, you will get a considerable amount of support from this pair of gloves. Well, the premium nylon/polyester mixture will ensure your hands reach the warmth it deserves.
However, this moto glove is not formulated with thick fabric, which makes it extremely lightweight and comfortable. Moreover, the designed has been made so intricately that air gets passed on well, making the whole structure quite breathable. So, don't be afraid to go out on sunny days.
Now, the most significant factor we expect from a glove is security. Well, be sure of the fact that this model provides protection and more. Even the most vulnerable knuckle areas are finely padded to ensure additional protection. Moreover, the whole finger knuckle structure is sturdy, which will inevitably keep you safe.
4. WTACTFUL Touch Screen Military Rubber Hard Knuckle Tactical Gloves Full Finger and Half Finger Cycling Motorcycle Gloves
This is one beast of a motorcycle glove. Every stitch is stitched to the core of every fabric in this product. If you want to get yourself a multi-functional glove that is going to help you out in your everyday life when it comes to bike riding, then look no further.
The very first thing that will woo you is the design; it is just so detailed and precise. Every inch of the fabric feels premium. The material of this design is very lightweight yet extremely sturdy. This means the glove will easily be able to take on the highest of impacts.
One of the factors that make this model stand out is the ease of access. At times during research, you'll see products that are very well-padded on the knuckle area for extra protection.
However, when it comes to bending your fingers properly, the task gets quite tricky. Hence, the durable rubber inserted in this glove makes sure that you are getting safety as well as maneuverability.
In the case of sweat, the nylon fabric takes care of that problem flawlessly. Most of the people out there tend to sweat a lot while riding a bike, and if you are wearing a standard glove, you will gross within a matter of time. However, this material ensures breathability at its finest.
Nylon material of these gloves also ensures thickness and durability. Hence, you won't worry much about your gloves not lasting for a rough period, as the material plays the longevity game quite smoothly.
Mostly, if you give a good thought on it, you are getting all of this at such an affordable range. Premium motorcycle gloves tend to be expensive due to the quality, but with this model, thankfully, there is an exception.
5. TitanOPS Full Finger Half Finger Hard Knuckle Motorcycle Military Tactical Combat Training Army Shooting Outdoor Gloves
This is one of the best tactical motorcycle gloves in the market. The features and attributes this model possesses are just beyond measures comparing to the budget it requires to purchase these tactical gloves.
Materials like leather, lycra, nylon, and microfiber were used to produce these gloves. Some extra dose of stitches ultimately ensures that your palms get the warmth that it deserves.
In case you fear that somewhere along the journey, your hands might get numb, then fear not, as the breathability function is also enabled in this model. If you are looking to go with a product for the long term, then these gloves are just perfect for your cause. The materials that formulated this product has made it quite wear-resistant.
Moreover, these gloves are machine washable, which means you'll be able to clean the gloves easily, and the high-quality leather will swiftly soak it off.
Additional stitching does do wonders for every product, and this model makes no exception. The durability of this tactical military glove is unrivaled. So much so that it can also be used in tons of different scenarios and not just in motorcycling.
Let's move on to the functionality of this product. The adjustable wrist strap, along with the reinforced palm allows you to have so much flexibility and grip during extreme journeys; it is just astonishing.
It is the gloves that cover the fingers along with shield knuckles that ensures ultra-protection. You certainly don't have to worry about conceding any serious injuries in your arm area due to such fortified, tactical gloves wrapped around your hands.
6. Seibertron Motorcycle Motocross Sports Gloves Touch Recognition Full Finger Glove
When you get something aesthetically mesmerizing and highly accessible, you instantly know it is a valued product. It is a very great sight to see that a motorcycle glove is providing helpful features and also looking fantastic at the same time.
The design was not only made for the looks so that you could stare it all the time, which you definitely will. It was created to provide functionality at its level best. Due to lycra being the primary material for the production of this glove, you are getting a much more breathable product for your palms.
There are new rubbers injected in the knuckle and back of the hand area. This is a recently developed, innovative technology that has been booming in the market. It provides extra protection because those areas are the first to get hit during significant impacts.
To reduce skidding or slipping, designers tend to apply a lot of methods so that it minimalizes. However, the most successful way has to include silicone grippers. These do wonders when it comes to getting a grip on your handles.
Versatility is maintained to its utmost level as these gloves can be used in any terrains or rough conditions. Moreover, to add more safety to the core, pressurized areas like the knuckles and the thumb are significantly strengthened to ensure adequate support for the consumers.
And, if that's not enough for you, then you are also getting choice on which design to pick as there are three design options available for you to choose from and all of them are just scintillating.
7. Tcbunny Pro-biker Motorbike Carbon Fiber Powersports Racing Gloves (Red, Large)
Want something that looks amazing, cost less, and consists of a lot of features? This motorcycle glove from Tcbunny is one of the best rated out there in the market.
Carbon-fiber is the main component used to produce these gloves. The reason for it being carbon is that carbon is a very sturdy material when it comes to protection, and when it is stitched to perfection, you are safe from dealing with injuries.
Abrasions are a significant problem when it comes to using a motorcycle glove. They tend to cause harmful defects to your palms. Hence, the carbon fiber shell protection also makes sure that the gloves stay from eroding to its core.
Breathability and comfort are achieved through a 3-dimensional mesh fabric material. Weather can be a big issue when it comes to wearing a glove if you don't have the right kind of gloves; it could either make your hands numb or extremely uncomfortable.
Hence, this material will undoubtedly ensure that you are at your comfort zone and that the air is passing through your palms just fine.
Another significant part about this model is the shock-absorbent foam that has been inserted in these gloves. They provide enhanced protection to your hands so that proper safety is maintained.
Moreover, additional leather is stitched to the core of the fingertips. This ensures a laminated safety which most brands fail to provide. So, if there is a must-have product on this list, the best seller from Tcbunny would be the product of your choice.
8. Joe Rocket Men's Eclipse Gloves (Black, Large)
If you are looking for a heavy-hitting product that's booming in the market, then this model from Joe is what you are looking for. These gloves are made for those who tend to struggle in search of the perfect fit. Even if you are somewhat of a giant, they'll fit just fine.
The framework of this glove is made through utility-grade poly chassis, which provides extreme durability, and this enhances their resistance to withstand any kind of pressure applied to these gloves. Moreover, this material makes them pretty long-lasting.
Like all the products you've seen in the list so far, this also comes along with a certified element throughout the knuckles. But, the reason for making this product stand out from the rest is that the element which ensures enhanced protection is made out of polymers.
Let's move on to the comfort zone. This model has been inserted with a pre-curved ride-friendly design which enables you to use your fingertips with complete precision. Hence, you will have less pressure on your finger joints, which will allow you to ride effortlessly.
Your palm area will be stitched with additional leather, which will make the journeys less strenuous. Hence, you will be able to get an excellent and firm grip on your handles, and you will also stay in your comfort zone.
Conductive material has been applied at the tip of fingers in these gloves. This makes the model touch screen compatible, which makes this particular feature an icing on the cake.
9. Milwaukee MG7510-BLK-L Men's Summer Cruising Gloves (Black, Large)
A complete premium leathered pair that is for sure to make things a whole lot easier for you in everyday bike riding. If you are looking for the best leather motorcycle gloves in the market, then be sure of the fact that this is the one for you.
These gloves are perforated to every inch allowing your fist to breathe comfortably. At times, it gets pretty disgusting when your hands start to sweat a lot underneath those gloves, and it might, in turn, cause you to lose focus while riding your bike. Hence, the gloves are pierced adequately to maintain a good airflow inside.
It comes along with a sweet adjustable wrist strap. They are so smoothly placed that you won't have to fiddle much while looking for the belt. If you happen to get stuck, these durable Velcro straps will stay intact for an extended period.
Unlike other models in the market which tend to make overkills at specific points, the knuckle areas are extremely flexible in this one. The fingers won't budge a bit, allowing you to have to complete control of your palm and efficiently run things.
The palm area has been entirely gel-padded to ensure heavy impact protection and additional comfort. And the gel-padded palm helps in making your finger movements easy and get a nice and firm grip. Your long rides will surely be comforting from now and onwards.
This model has the most simplified and sophisticated look in the entire list, which is highly recommended by professionals. They give off a retro vibe which most men nowadays crave for.
10. Hugger Glove Company Men's Air Pro Sports Motorcycle, Driving, Police Patrol Summer Glove Water Resistant Leather
If there is any category of "best motorcycle gloves under 100", this model will undoubtedly top the list. Every inch of this glove's fabric is stitched with efficiency. It may look effortless from the outside, but once you start using it, you will understand the effectiveness of this model.
The wrist area is fully elasticized so that you get the perfect fitting and immense comfort over your hands. But you have to be sure of the fact that you got the right size. Otherwise the tight-fitting could be too much, and your palm might just get a bit too pressurized.
However, the fabric is quite soft in this model, so you do not have anything to worry about. Speaking of the exceptional fabric, the whole package is made out of Technaline leather; one of the most beautiful kinds of leather in the globe.
A standard leathered glove is quite right, but a Technaline leather goes on for years. Hence, there is no need to scratch your head over the exceptional quality this model will provide.
These gloves are your perfect pals for the summer. Even if your palms tend to sweat a lot, the water-resistant leather material will take care of that part pretty smoothly. Moreover, they dry out very swiftly.
Let's discuss the palm area of this model; it is seamlessly leathered. Hence, you will be able to enjoy reaching your utmost comfort zone while driving your bike and also get a soft grip with a little texture in your hands. Moreover, the fingertips are so smoothly stitched that it makes these gloves compatible with a touch screen.
To ensure optimal airflow is passed on to your hands so that you don't feel nausea due to immense sweat, a complete pin-hole saturation is provided. Hence, air will flow in and out so that your hands can simply breathe.
11. Tactical Gloves Touch Screen Military Rubber Hard Knuckle Outdoor Gloves for Motorcycle Paintball Airsoft Cycling Camping, Full Finger
Here's another tactical glove in this list that is sure to wonder you when it comes to outdoor usage. It comes along with tons of features and attributes. Whether you are thinking about protection, comfort, or budget, these gloves have it all.
First comes the Adjustable Velcro Wrist strap; this allows you to adjust the glove to your desired size. Hence, you'll be able to properly utilize the wrist strap to the utmost efficiency when it comes to taking your bike outdoors.
Substantial ventilation technology is provided in the knuckle area to attain breathability. Even if you are not a claustrophobic person, we all face issues when we are riding our bike, and our palms start to sweat inside. That sickening feeling is entirely pathetic. Hence, these vents allow you to ride precisely at every point.
That sickening feeling mentioned above could make you lose your focus, which could result in severe accidents. Hence, an additional anti-skid layer has been inserted so that you can lock your handles.
This is a fear almost every consumer faces while purchasing gloves, the fear of the gloves slipping off; thankfully, this layer comes in real handy.
Next up are the knuckleheads; they are made of high-quality thermal plastic. This material is extremely durable, which will allow you to get maximum control over these gloves. Moreover, when it comes to taking blows, the gloves are pretty impact-resistant.
Does it get any better? Yes, it surely does. The overall design structure of these gloves is made of microfiber. Erosion can cause severe injuries at times, and microfiber almost neutralizes this factor.
12. Men's Premium Leather Street Motorcycle Protective Cruiser Biker Gel Gloves XL
Last to make to the list is a glove that you will desire; it doesn't matter whether you are a beginner or a professional. This one is a genuine leathered motorcycle glove. It is formulated with high-quality materials and consists of high profile features that are sure to bring value for your money.
There is standard leather, and then there is Aniline Goat leather, which has been used to stitch every inch of this model. The fabric makes this structure amazingly flexible and yet durable at the same time. Hence, the construction of this glove will always stay intact; all you have to do is that you have to place your hands in it.
A layer of gel padding has been added to the wrist area to get protection from vibrations that tend to occur during bike rides. This makes the whole thing entirely synthetic and comforting to use. Hence, you won't tend to be out of focus during a rough journey in your bike as vibrations cause a lot of issues.
They are following that up with a Velcro strap on the wrist area with an adjustable hook for accurate fitting. Most of the time, we tend to ignore a wrist strapped glove because people assume they are uncomfortable. However, it's quite the opposite as they ensure more protection.
Enhanced flexibility is attained through elasticized panels that have been inserted in the upper area of your hands. This will allow you to be easy and make you feel like you are wearing something substantial, which means you are gaining more control. Moreover, they'll also ensure enhanced fitting.
You'll be able to tell just by having a glance, the superior quality of stitching that has been applied to these gloves. They are engineered to last for a very long time. Moreover, in some pressure points, double stitching has been used to add in more comfort.
Motorcycle Gloves Buying Guide for Newbies
If you're a professional, you know the ins and outs when it comes to usage and purchase of these motorcycle gloves. But if you are a newbie, it can be a tad bit difficult when it comes to considering which model to buy.
So, buckle up! Because there are a lot of factors to note down before you get yourself the ideal motorcycle glove.
Fit and Size
Let's start with one of the critical factors to look out for. Suppose you make a purchase and the gloves just don't seem to go with your arms and then you have to change. This step goes on and on, which could lead to you inevitably losing your mind.
Hence, before making that monumental decision of getting a motorcycle glove, please note that you have the right measurements of your palm so that it could meet the needs of your desired brand.
Materials
Would the warrior go to war without his armor? Simply think of the content as the armor that is used to formulate your choice of gloves. There are tons of materials available in the market: lycra, nylon, leather, sheepskin, etc.
All of them are good options, and all of them comes along with their distinctive attributes. For example, goatskin is considered to be the most resilient among all materials, and leather is considered to be the most premium quality material.
Moreover, for further protection in the glove, plastic as well as metals such as titanium and steel are used. Thermal plastic can be one tough nut in the knuckle area when it comes to resisting impacts.
Hence, choose the material which will best suit your environment and conditions. Don't get yourself a material based on its looks.
Weather and Comfort
These two factors have the same issue. If you are living in a heated climate zone, getting yourself the most breathable material would be a wise choice. Because in warm-weather your arms could get suffocated.
If you happen to be living somewhere cold, get yourself a model that keeps your hands warm. Leather is highly recommended as they will surely provide you with the warmth that is required. In this scenario, a breathable product would just be unnecessary.
This is a confounding factor to consider, but if you keep comfort as your subject, things will get a whole lot easier. When you tend to ride with sweaty hands or in freezing temperature, you tend to lose the enjoyment of the journey. Weather plays a huge part in this factor.
Performance
Most of it depends upon what type of a rider and on which type of conditions you tend to ride on. Hence, getting an all-in product would be a good choice, but they tend to be on the pricey side. Moreover, they are usually not a well-balanced product.
Suppose you are an urban area rider. You do not have to spend a lot of bucks to get the perfect motorcycle gloves. An inexpensive glove with a textile material or well-stitched leathered glove will do the job just fine because they offer complete protection and comfort when it comes to riding for a couple of hours.
Sometimes it is best to get yourself a waterproof motorcycle glove because they tend to give you peace of mind in any kind of weather.
Ultimately, whether you are an aggressive or a regular rider, the decision would be to go for the product that is best suited to your conditions. In this way, you will be able to get maximum performance.
Additional Features
Some gloves tend to have extra air vents so that your palms don't sweat a bit and the airflow provides a breathable environment. Hence, for an extended period, you will be able to get a really good grip on your bike handles.
At times you might get a wearer attached to your glove, which will provide you with the ability to use your smartphone even with your gloves on. Or, at times there are extra padded gels provided for deduction in vibrations. This ensures more safety.
Hence, always go for the features that will assist you in your everyday rides. Don't go for unnecessary features just because they seem cool.
Budget
Now it is not necessary to get yourself an expensive model. This is the factor where you have to do some rough research. Because at times you will find a product which is less in price but offers more quality than those products that has a high price tag.
Types of Motorcycle Gloves
There are tons of variations of gloves that are available in the market for you to choose from. You can see it in the designs the quality of fabric a motorcycle glove will provide. So, it is necessary to go for the right type.
1. Adventure Gloves
These gloves are one of the most expensive gloves available in the market. The materials that are used for this product are mostly chemically formulated. They ensure the utmost comfort and protection, and they are compatible with almost any climate.
This glove is just for ones who like to travel a lot. With hard materials like textile inserted in this glove, they make sure to match every need required for your journeys.
2. Racing Gloves
You like racing and go on extreme adventures? Then, these are the perfect type for you.
The reason for that being, extreme adventures has the potential to cause extreme injuries, and these injuries could lead to life-threatening traumas. Because, during aggressive rides, your palms tend to be vulnerable. A little shift in your focus can cause damage.
So, it is necessary to make sure your hand is sealed with the gloves that are formulated for racing environments. High-end materials are used in the knuckle section to provide extra protection.
3. Fingerless Gloves
They are called fingerless because well, everything apart from the fingers stay well protected. If you are thinking of fashionable terms, then these gloves are very slick.
However, if you are a rider who happens to ride on rough terrains, then this won't be the right option for you. Urban areas are preferable for these gloves.
4. Gauntlet Gloves
They are quite the opposite of fingerless gloves and more, as they go up to your forearm. In terms of size, they are the biggest among all the gloves available in the market.
Multiple layers of high-profiled materials are added to these gloves, whether it be knuckles, fingers, or wrists. Everything remains completely covered with this one. If you are thinking about protection, these glove types should be on your top priority list.
Frequently Asked Questions
Let's have a look at the most commonly asked queries related to motorcycle gloves;
1. Is wearing a motorcycle glove a necessity?
If you are thinking about your wellbeing, then yes. Because it is extremely dangerous to go on rides with your hands being exposed to the environment. Moreover, your palms can go numb because of the friction generated from the handles of the motorcycle.
2. Are motorcycle gloves supposed to be tight?
They can't be too tight, and they can't be too loose. You have to get yourself a balanced model that fits your hands perfectly.
3. Can you clean a motorcycle glove using a machine?
Well, some gloves tend to be machine washable. But, it is not a good idea to use machines because they lower the quality of the materials. Different materials require different methods of clean-up. The information is available on the packaging of the product you buy or can also search on the internet.
4. Which material can provide the maximum warmth in a product?
Leather is undoubtedly the best material to choose if you are looking for warmth. However, on the positive side, they tend to provide less breathability.
5. Are motorcycle gloves waterproof?
Yes, some products are made to withstand elements such as water. But you should still keep in mind to clean-up your gloves after every usage. As the materials absorb water, a simple touch-up is required to avoid defects.
Final Words
If you have come up to this point, you do not only know the importance of having a motorcycle glove but also the type of products to choose from. These articles include a range of products and also the factors behind choosing the right models, whether be it high-profiled or low-profiled.
Hence, it is mandatory to ensure that all the factors are matched with your needs to get the best motorcycle gloves.
Related Posts: