Best Motorcycle Grips Reviews in 2020 & Buying Guide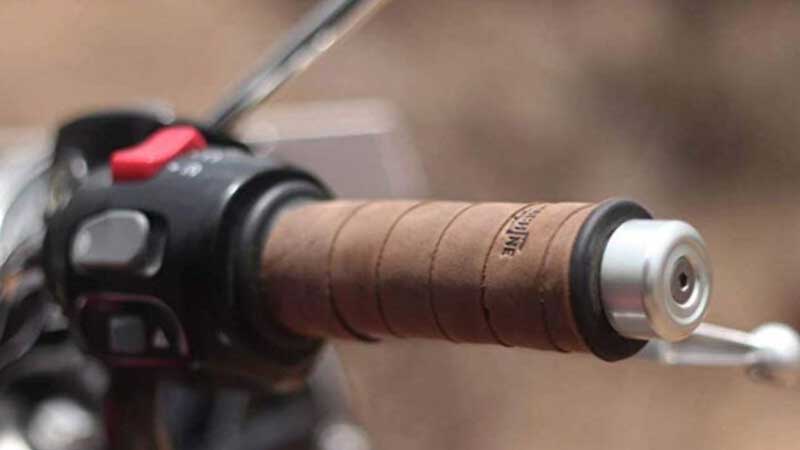 Every motorcyclist will say nothing but amazing things about riding a motorcycle. They aren't wrong. But, before you get all geared up about your bike, you should know that maintaining control is one of the critical things while driving a motorcycle.
Most will say that tires and brakes are how you manage to control, and most will quickly forget to mention about one thing- Motorcycle grips.
That is why we have assembled an article about the best motorcycle grips, which will act as an informant about everything you need to know about this item in question. Let's crank the gear up, shall we?
What is a Motorcycle Handgrip?
Instead of a steering wheel, a motorcycle has a front fork that holds the front wheel in place and holds the handles which are used by the rider to maneuver the bike.
This panel has all the fancy bike instruments, but most importantly, this is the place where you exercise bike movement. Often, beginners may forget about hand grips, but they are essential.
The handgrip is synthesized rubber grips for your bike handles which foster better control along with other benefits. A handgrip is external and needs to be changed from time to time. There are different types of grips for different bike arrangements, but they are necessary.
10 Best Motorcycle Grips Review
As an already overlooked product, you must be confused about what kind of grip your bike needs. Besides, there are tons of such items which promise fake claims, and we want to relieve you of that trouble. Which is why we have gathered the best motorcycle hand grips in one place.
1. Grip Puppy Comfort Grips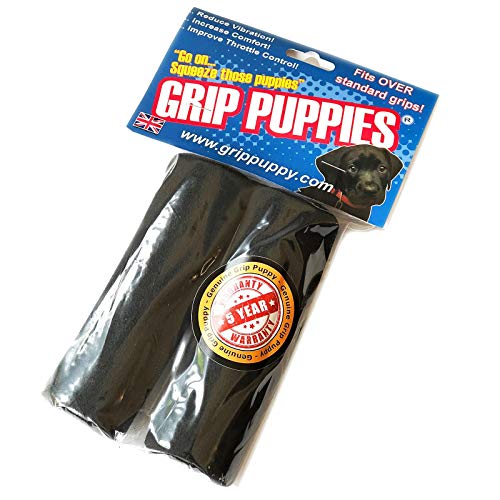 We want our clamps to come with stability; however, there is no undermining the need for comfort, especially if you are going out for long rides. There cannot be anything better than riding while it feels like you are petting some incredibly soft puppies.
Enter Grip Puppy's comfort grips; offering you a level of comfort reminiscent of nice and warm puppies. Your hands will hardly get tired as they stay square onto the handles. You might begin to enjoy the feel of your handles more the ride itself.
They are not just soft but squeezable. Your hands will not get all that tired as you tightly hold onto the handles. These tactile grips give you a nearly unparalleled level of comfort.
However, these grips do not end with just comfort. They have a lot more things going on to make them such an incredible option. For instance, the softness absorbs much of the vibrations generated from the engine.
They stay unmoving and smooth, eliminating the uncomfortable and interfering vibrations from your arms. They also have a lot to offer in terms of durability. You will be holding down these grips frequently.
As such, they can wear out quickly. Grips are also vulnerable to environmental conditions. However, Grip Puppy utilizes incredible UV, Ozone, and Oxidation resistance which eliminate these concerns.
2. PRO GRIP 714BK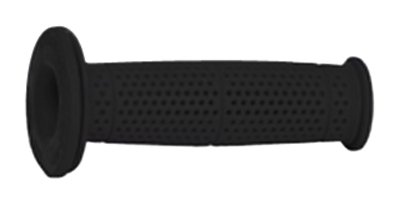 The primary function of a grip is to, as the name implies, keep a firm on your handles. Although comfort is vital, if they do not let you secure your grip, they are not useful. As such, PRO GRIP introduces a feature that drastically improves your grasp.
First, let us talk about its large diameter. Hands have a tough time grasping small things. Especially if your hands are significant, it feels congested and unpleasant to hold for long periods. As such, PRO GRIP increased the size of the grip to just the right amount.
This gives your hands a lot of room to breathe and plenty of space to hold onto, improving the overall feel. It makes the experience more pleasant and less taxing. Once you get a feeling for this design, it is hard to move onto anything else.
To improve the overall grip and maximize comfort, it employs something called the pimple design. It has little dots all over the handle which register onto your palm. It presses your hands in a comfortable amount.
That is not all it does. The dots also create friction so that your hands do not slide off when you do not want them to. This, coupled with the fantastic shape, gives it a unique edge.
Finally, we must take a step to appreciate its incredible gel design. It amazingly absorbs shock, keeping you steady despite vibrations from the engine. Overall, it gives you everything you could want from grips.
3. Kuryakyn 6240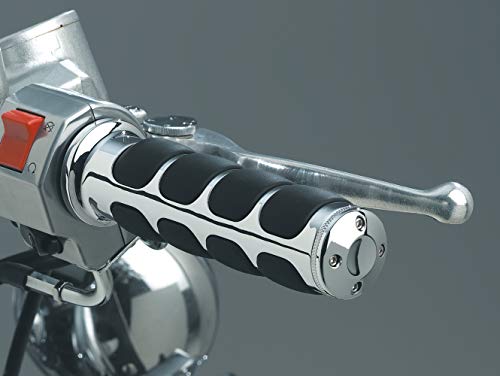 So far, we have gone over some excellent grips. However, it is hard to match something as premium as this chrome handlebar. With its immense features and shocking comfort, you will know how it justifies its price.
You will notice that the handle has padding separate from one another. There is a decent amount of gap between each filling. This allows air to flow through and hit your palms.
With this kind of innovative air ventilation, you will hardly find yourself with sweaty palms after a long ride. Speaking of the padding, they are just among the most comfortable material we had the pleasure of grasping. They melt in your arms, letting you hold onto the handles for a long time.
The comfort does not sacrifice its non-slip surface. You can hold onto this without dealing with losing your hold. Besides, it feels so good; you will not even want to let it go.
Its material is on a whole new league. The incredible chrome build will last ages without showing signs of wear. Also, it gives your bike a premium and sophisticated look.
The end caps of each grip are also removable. This is in case your handlebars have an air reservoir. It covers every possible side, making it such an outstanding option and worth every penny.
4. Progrip 719
We have discussed quite a bit about a premium grip, so let us take a step back to examine more standard and price-efficient options. When it comes to those types, this new entry from PRO GRIP has a lot to offer you. Whether it be comfort, grip, or style, this unit has you covered.
If you are looking for open-ended grips, this one is hard to beat. The open nature gives this some added flexibility, and adaptively that is so important in such grips. Aside from that, it fits 7/8-inch bars, so if you happen to have that size, this should be your go-to the unit.
Fitting over those, they will give you a better grip, as your hands have more space to rest on. Say goodbye to those claw hands and say hello to the welcoming embrace of these grips. It is a must-have if the size is right.
Now, we cannot undermine the value of the aesthetic appeal of each of these grips. Most usually stick to one or two styles. However, that is not an option if you want an authentic customization experience.
Thankfully, this model is not just in Black Titanium. There are numerous other color options for you to choose from. You can stylize your bike in whatever way you want with this freedom to choose colors.
Over, its comfort and grip are also worth mentioning. They feel pleasant to hold and does not slip. They have the signature feel of a PRO GRIP unit that is so hard to find in other brands.
5. Renthal G149
When looking for the best motorcycle grips, soft and durable are the crucial aspects to look out for. Among them, you can hardly find anything that does the job as well as Renthal. They bring a unique blend of each feature to make a genuinely great handle.
These fit 7/8-inch handles, effectively making them the perfect size accommodate your hands into a comfortable and relaxed posture. They have an excellent form of letting you easily place your hands and keep them there for hours on end. They do more to add some extra comfort.
The whole is rimmed with countless small dots. These sink into your palms to not only secure your grip but also relax your pressure points to give you an excellent deal of comfort. Furthermore, the material makes it so much better.
It utilizes DuPont Kevlar brand resin. This not only drastically improves its softness; it also enhances its longevity. With this combo, it lasts longer and retains incredible softness.
This kind of formula is unique to Renthal. It is a patented design; meaning you cannot get the same experience anywhere else. If dual compound patterns are not your preference, you could go for the tapered design.
It is just such an excellent grip; the price becomes a steal. The open-ended design also makes it compatible with handles of any length. There is a good reason so many professionals use this.
6. PRO TAPER
When its name has the word 'pillow' in it, you can count on it to be comfortable. These Pro Taper units feel so pleased that you will often forget that you are holding a grip in the first place. It could be mistaken for a pillow.
Aside from the degree of comfort, there is a lot you are getting out of this magnificent unit. The box-shaped rims have a particular cushy feel to them. They fit softly into your hand and extenuate the pleasure in every second.
Its design is quite sturdy, so they will not break off that quickly as well. Furthermore, they utilize a closed system. Its level of cushioning also makes it fantastic for vibrations.
You will barely feel anything as the handle absorbs all the vibrations. Your hands will stay completely still. Your riding will not be interrupted, and you will have comfortable riding experience.
There are hardly any anti-vibration motorcycle grips this good. In addition to all that, it comes at an unbeatable price. It is almost surprising how cheap this is despite the low-price tag.
Overall it is an excellent unit for the price. At such a minuscule price, there is no reason why you should not try it out. With its comfort, it quickly becomes one of the most comfortable motorcycle grips in the market.
7. Motorcycle Hand
It is great to have a grip that does so many things at once. Such versatility is very rare, and when it is not, they are only available in high-end high-cost units. For a lot of people, that is not an option.
DKIIGAME has an astounding reputation for building amazing units that are both feature-full and affordable. This unit takes the best material and features and delivers at an unbelievable price tag. To start, the unit has a lot of minuscule rims to help support your grip.
It utilizes soft rubber that feels comfortable and firm. You can always hold it and rely on it to keep you covered . The rubber gel material produces tremendous results that you must try out.
This material also does an excellent job of minimizing vibrations from your bike. So, if you are the best motorcycle grips for vibration, then definitely keep it in your considerations. It eliminates those sensations to feel still and in control.
Your arms and shoulders will stay steady and firm as you keep your gasp on the bike. It feels like such a fantastic addition; you will become baffled that other grips do not use it. This truly is a one of a kind grip.
It utilizes machined aluminum with superb durability and strength. This makes it a reliable asset for long term use. Furthermore, it is simple and easy to install.
8. Nuoxinus
Now if you were having doubts with the previous unit, but still know that it has the features you need then let us introduce you to this Nuoxinus model.
On paper, it has a lot of similarities to the previous entry; however, it differentiates itself enough to become its grips. It elevates non-slip design to new heights, making it a prime choice for anybody.
Starting, let us talk about its spectacular vibration resistance. It feels so natural that the constant vibrations of even the loudest motors feel non-existent. You will feel at home as it absorbs all the vibrations and takes you to a transcendent state.
You will understand why it is regarded as one of the best motorcycle grips for vibration reduction. Aside from that, it has a comfortable rimmed design. It fits easily into your hand and makes 7/8-inch handles into the perfect grasping item.
Nonslip is an essential feature for grips. High-quality grips do not slip off your hands no matter what. Astoundingly, this unit achieves this and much more.
It makes sure that the throttle handle stays completely non-slip. As such, you will never lose control of your throttle, giving you the perfect biking experience. It goes without saying; features like these are what makes this so great.
Indeed, it is amazing how this manages to be so feature-full despite its price. The grips' ability to do so much should not be underestimated. You should keep it for consideration.
9. Universal Motorcycle Arrow Rubber Gel Hand Grips
When it comes to sheet style, ergonomics, and efficiency, these units are hard to beat, especially if you have a Japanese bike. They have so much to offer it is almost ridiculous.
Just from a glance, even professionals can appreciate its aesthetics. It is an incredible design. It feels alive with how it integrates the colors into its design.
Moreover, there are just so many different color options for you to choose from. You could get a stylish red or cool and calm blue. It is up to you to style your bike however you want, and the number of options you get makes it even better.
Aside from just colors, it has a lot to offer in the material department as well. Mainly it has an incredible aluminum build. You can rely on it for hours on end with no worries what so ever.
It easily places itself among the best anti-vibration motorcycle grips due to its incredible non-slip rubber gel design. Your fingers will hardly move out of place and stay comfortably onto the bike. It is also easy to stylize with any bike.
However, its primary affinity lies with Japanese bikes. Whether you get a Yamaha or a Kawasaki, you can count on this to make you look cooler than ever. Just attach and see how perfect your ride will become.
10. HTTMT ET006
For our last entry, we will introduce a grip cover reminiscent of our first entry. However, that is where the similarities end. This does so much that it truly deserves respect as its amazing grip cover.
First off, it has incredible padding that melts in your hand. It does an amazing job of keeping each finger engaged to your handles; giving you longer and more relaxed riding experience. This kind of comfort is easy to get into and hard to forget.
The excellent padding also makes it better at absorbing vibrations. Even with heavy vibrations, you will barely feel anything. As such, it is one of the best Harley grips.
They are quite long, and you might worry about fitting. However, this can easily be solved by cutting it down to a proper length. They slip in well onto your handles, leaving great results and a better feel.
It will not matter how comfortable it is if it cannot handle rough use. Some of its kind is also vulnerable to the environment. However, these have UV resistant material that stays strong no matter what.
Also, it is an astounding unit that deserves your attention. With all the features, this hands down are one of the best motorcycle handgrip money can buy. With a price like this, how can anyone refuse?
How to Identify the Perfect Motorcycle Grip?
There are a few things you need to know before you become a pro at identifying the good ones from the mediocre ones. Give these details a good read, and you will be able to identify the best grips for you instantly.
Shape and Size
It will not matter how good the handles are, if they are not compatible with your bike, they are mostly useless. For this, you have first to examine the dimensions of your bike. Usually, the left side is 7/8-inches while the throttle side is 1-inch.
However, different bikes might have different specifications from these. They have to match if you want your grips to work. So, study the handles on your bike and match it with the size and shape of the grips.
Types
Compatibility is not everything. You cannot expect to get the best results by just seeing if something fits. You have to make, so it synergizes with your bike to generate the best results possible. You cannot just go in blindly.
For example, if you are riding a Harley Davidson bike, you need to get something that has high-grade vibration resistance. If you do not account for that, you will not be able to make the most out of your investment. So, make sure you are getting the type you need.
Material
If the material is bad, then you will not be getting much use out of your grips for long. Of course, the better the material is, the more expensive it is, so you know to consider that too. Whatever you take, make sure that the exterior is non-slip so that your hands stay firm.
On top of that, you will want something comfortable as well. Your hands will be planted onto the grip for hours on end after all. If it's uncomfortable, it will lower your willingness to ride and hamper the experience immensely.
Price
Finally, you have to pay attention to what you will be paying. Generally, you would not want to spend over 20 dollars on a handle. However, if you are trying to get something premium, you might have to invest more.
Grips wear out, and you have to be ready to invest in repairing them time and time again. So, it could be safer to buy multiple cheap units. However, the more expensive a unit is, the longer it could last, and the nicer it could feel.
Ultimately, how much you are willing to spend depends on you. Nonetheless, you have to be sure that whatever you are getting is worth the investment based on your preferences. In case it is not, try to look for a different unit.
How to Install the Motorcycle Grip on Your Motorcycle?
The old grips tend to wear and melt into the cylindrical handle, which is why a specific procedure is needed to take them off. Moreover, as these grips are bounded on all sides, they must be attached which also requires some expertise. The whole procedure is as follows:
Frequently Asked Questions
1. Are both the grips of the same size?
No. the grip on the right bar has a bigger diameter.
2. Can the grips absorb water?
Some of the grips are specialized to absorb water.
3. Will the grips leave the hand with a sticky feeling?
No, the grips are synthesized rubber and will not leave a sticky feeling on the hand.
4. What kind of grip is suitable for a Harley?
Heavy cushioned grips are best suited for a Harley.
5. Is it possible to use a grip cover over a damaged grip?
Yes, however, it is best to change the damaged grip.
Final Words
Hopefully, our reviews on the best motorcycle grips were an easy read to learn why grips are so essential and how you can maintain one. Control is everything while riding a bike, so don't throw that away by not using a simple item such as a grip.
See Also: