10 Best Motorcycle Helmet Reviews – Buying Guide 2021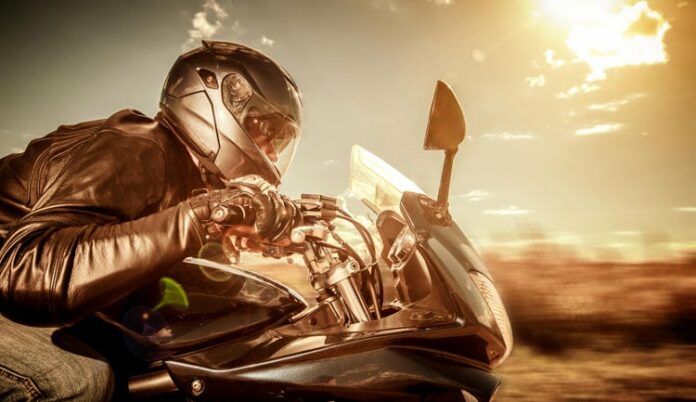 The annual cases of head and brain injuries (and even deaths!) among motorcyclists can magically drop if all riders wear the best motorcycle helmet.
Helmets have saved lives before, and they continue to do so today. According to the Insurance Institute for Highway Safety, they're up 37% effective in preventing rider deaths…and up to 67% effective in preventing brain injury. (Source)
That said, the motorcycle helmets come in various shapes, sizes, styles, colorways, etc. These multiple options can leave you confused about where to start when shopping for a helmet.
In the following post, we'll talk you through everything you need to know before you buy your motorcycle helmet.
We have also picked for you some of the top-rated helmets using the latest technology to keep you safe on the streets and off-road.
Types Of Motorcycle Helmets
Your first step to buying the right motorcycle helmet is getting to know the different types available and what makes them different from each other.
Let's briefly discuss the 6 most common types:
1. Full-face helmet: As its name suggests, this type of helmet is designed to cover your entire head and face for maximum protection. It comes with a chin bar and face shield/visor, and even a ventilation system to facilitate airflow through the interior.
2. Open face helmet: This type of helmet is as good as the full-face model in the sense that it covers/protects the top, the sides, and the back of your head. However, it leaves your face exposed, so you might need to put on motorcycle goggles to protect your eyes.
3. Modular helmet: If you want to get the best of both worlds—the full-face and open-face helmets—then modular is the way to go. It features a chin bar that you can easily lock down for full-face experience. You can also unlock it or flip it up for open face helmet experience. Marky you, the modular helmet popularity has risen in the recent years owing to its great versatility.
4. Dual-sport helmet: Dual-sport helmet comes engineered for versatility. It features a full-face design that combines the features of off-road helmets with motocross realm with those of street and road touring. In other words, it offers you multiple configurations to match the changing driving conditions (whether you're driving on- or off-road).
5. Half helmet: Helmets in this category get their name from how they cover half of your face when you put them on. They cover the top of your head only, with some designs extending a bit down the back of your head. Needless to mention, these helmets will offer you the least amount of protection when an accident occurs…but we believe they're better than riding with no helmet.
6. Off-road helmet: Also known as motocross helmets, off-road touring helmets come with a full chin bar plus an opening for the googles, instead of the shield. They also come with visors on top to help deflect any debris, roost sun glare, and rain.
IMPORTANT: Although these helmets vary in style and design, they're all design to achieve a common goal—protect you and make your ride more comfortable.
All these helmets share similar features such as hard exterior shell, impact-absorbing interior liner, padded inside for comfort and fit, and a retention strap that goes under the chin.
Our Best Motorcycle Helmet Reviews 2020:
1. Bell Qualifier Full-Face Motorcycle Helmet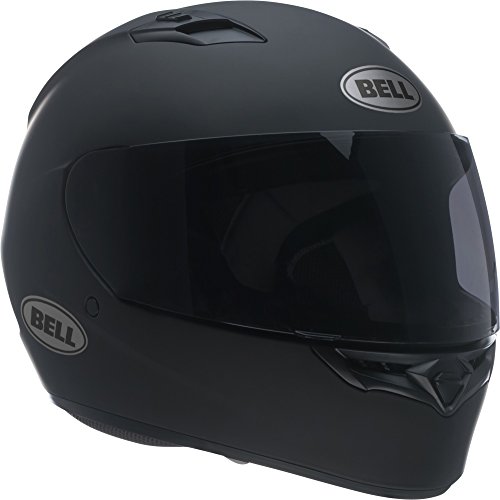 Our list of the best motorcycle helmets begins with this Bell Qualifier Full-Face Motorcycle Helmet. Packed with some of the coolest features you can ever get in a full-face helmet at an affordable cost, this Bell sets new standards for performance to value quotient.
It boasts of an aerodynamic shell made from lightweight (but super-tough) ABS material for the ultimate protection and durability.
The helmet also comes optimized for incredible fit and comfort—thanks to its contoured cheek pads. With an adjustable ventilation system, you'll definitely feel cool and more comfortable when riding in hot weather.
The aggressively styled Bell also presents you with a unique face shield with superior anti-fog, scratch-resistant, and UV-protection properties. Since this shield comes with a click-release design, changing it is easy, fast and tool-free.
Other features that make this helmet a favorite for motorcyclists all over the world include: integrated audio speaker pockets, padded chin strap, padded wind collar, and a fully removable washable & antibacterial lining. It also comes with both DOT and ECE seals of approval.
Highlighted Features:
2. Fuel Helmets SH-FF0016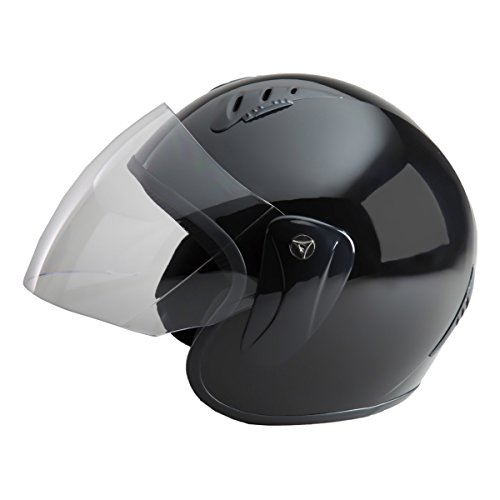 Here's the best motorcycle helmet for the money that provides you with genuinely high-end features without being hard on your wallet. Designed by riders for riders, this helmet is also DOT approved—meaning it meets the strict Federal Motor Vehicle Safety Standards.
The helmet is engineered using a lightweight thermoplastic outer shell with UV clear coated paint. This design optimizes the helmet for safety, speed, and comfort.
Another reason why this helmet enjoys popularity revolves around the dual venting system it comes with. That is, it features a front and rear venting—which pairs with the internal venting system—ensuring free airflow around you for comfortable riding in hot weather.
Keeping this helmet snug around your head isn't a problem. It features a chin strap with D-ring closure (with retention strap) which you can easily adjust to your preferred fit.
Both the chin pads and the visor are designed to be easily removed. And this means one thing…hassle-free cleaning!
Highlighted Features:
3. ILM Bluetooth Integrated Modular Full Face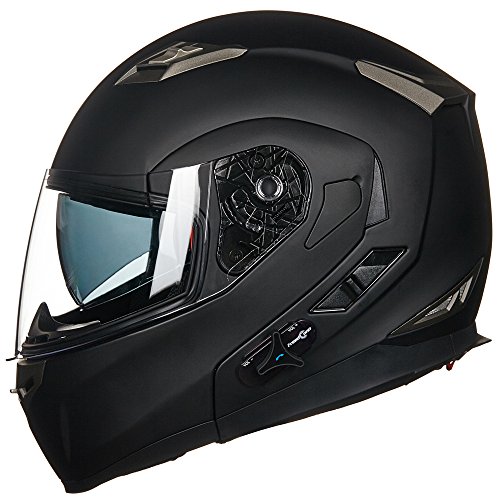 Imagine a helmet that enhances your safety on the road while acting as a reliable communication system? That sounds like a motorcycle helmet from future, right? Well, the ILM Bluetooth Integrated Modular Full Face Helmet fits the perfect definition of such a helmet.
Soo amazing is this helmet's Bluetooth function that it supports Intercom between you and a fellow rider up to 1000ft away. This means you can keep in touch with fellow bikers when riding. Not only that, it provides you with a one-touch control for call answering, redialing, or rejecting. Heck, it even allows you to connect to mp3 player/phone and listen to music, answer call, give GPS commands, and more.
What's more, it features a noise-canceling mic and 2 hi-quality speakers for enhanced user experience.
Being a modular full-face style helmet, this model features a modular face that rises high enough to feel comfortable for you. It also features wind/sun visors that do their job perfectly well.
The helmet fits snuggly in your head, and it's 100% waterproof. It comes in several size options to ensure you get your best fit. It's both DET and ECE certified. And its inner pads are removable for easy cleaning or replacement.
Highlighted Features:
4. Torc T14B Bluetooth Integrated Mako Full Face Helmet
Yup! We got another top-rated motorcycle helmet with Bluetooth function. The Torc T14B full face helmet is the latest addition to Torc's popular line of integrated Bluetooth collection. It comes with major upgrades that make it even better than the previous models.
Named after Mako, the fastest shark species, this helmet feels incredibly lighter than its previous models.
It comes with Bluetooth function which lets you enjoy reliable intercom with a fellow biker up to 400ft. The function provides you with up to 24 hours talk time and up to 600hours standby. The helmet also features an anti-noise mic and integrated dual stereo speakers so you can listen to your favorite music on the fly.
The great-looking helmet also boasts of dual-density EPS system plus laser contoured comfort liner padding for a comfortable feel. Using Torc's newest locking drop-down internal visor, this helmet is sure to keep off sun glare and bugs from distracting your ride. The padded chin strap with D-ring closure ensures you enjoy a snugger fit.
Highlighted Features:
5. TORC T55
If you're the cruiser type rider, you'd want to invest in this TORC T55 Half Helmet. This is the type of helmet that protects the top, sides, and back of your head while leaving your face open for excellent visibility and maximum airflow/ventilation.
The half helmet feels extremely light (at only 2.8lbs) and has a slim fit to your head profile—making it one of the most comfortable motorcycle helmets ever made.
It comes in dual shell helmet design to offer you the perfect fit for comfortable riding experience and maximum protection. Its inner paddings and liners are made from soft, breathable, hypoallergenic fabric for superior comfort.  The linings and paddings are fully removable for easy cleaning. They're also 100% machine washable.
Unlike most of the half helmet designs out there, this helmet features a drop-down visor which offers you full protection from the sun's UV rays. The cheek padding is fully adjustable for a snug fit
Don't forget that the gorgeous flat black helmet has the flag graphic for those who wish to practice their patriotism while cruising their motorcycles.
Highlighted Features:
6. WOW Motorcycle Full Face Helmet
If you're looking for the best full-face motorcycle helmet for the money, this Wow motorcycle helmet is a cool choice. Ideal for both men and women, this model comes with a stylish design (and in multiple color options), while holding up to the DOT standards.
The helmet is made using a lightweight thermoplastic shell. This makes it feels incredibly light than most of the other options out there. So, this helmet won't strain your neck muscles and make you feel uncomfortable. It comes armed with air vents which freely channel air in and out of the helmet to keep your head cool and comfortable.
As a full-face helmet, this model also presents you with a face shield. But this isn't just a face shield…it has a blue glossy, UV finish which makes it suitable for riding in the daylight hours when the sun rays are out.
And if you want to, you can easily replace this shield with a clear one for night riding.
Proper cushioning facilitates proper fit and comfy feel. This helmet comes with a heavily cushioned interior which makes your noggin feel snug and comfy along the ride. You can easily remove this cushioning and wash it after a long ride to keep it smelling good.
Highlighted Features:
7. Crazy Al's Sons of Anarchy Inspired Helmet   
If you wanna look like those badass guys from the crime drama TV series Sons of Anarchy, you better get yourself this Crazy AI's best rated motorcycle helmet. The design and styling of this helmet were inspired by the hit TV series to make your wishes come true while keeping your head fully protected.
Designed from fiberglass, this helmet has a great level of flexibility and feels pretty solid and durable. It features an ultra-low profile design that easily eliminates the mushroom head form found in other similar helmets.
Because of the manufacture using fabric sparingly when manufacturing this beanie-style helmet, it feels incredibly light. And that's a good thing because you can rest assured it won't strain your neck and make you feel fatigued before you can complete your ride.
Highlighted Features:
8. HJC CL-17 Full-Face Motorcycle Helmet
What could be a better deal than a moto helmet that presents you with a set of premium features without taking a toll on your wallet? The HJC CL-17 Helmet is one such a deal—it defines the real back of your back with its top-notch safety and comfort-oriented features.
The race-optimized full-face helmet boasts of ACS (Advanced Channeling Ventilation) technology. Unlike other ventilation systems, this system embarks on full front to back airflow, flushing heat and humidity up and out of your lid. What's more, it comes with a moisture-wicking interior to help keep your head as cool as possible.
After a long ride, the interior lining and padding might not produce a pleasant smell. That's why the manufacturer the interiors fully removable and washable for hygienic reasons. Not to forget the fabric has antibacterial properties.
Don't forget that this helmet features a premium construction of advanced polycarbonate composite shell which is super-lightweight, durable, and long-lasting.
Like all the other full-face models that made it to this list, it also comes with a face shield to keep the sun rays, bugs and flying debris off your face. The shield is scratchproof and has 2-stage closure system for a tighter and more secure seal.
Highlighted Features:
9. 1Storm Full Face Motorcycle Helmet
Ultra-lightweight…Strong…Stylish…all these are the key pillars that make this 1Storm helmet stand high above most of its competitors. You can't help noting the helmet's beautiful and sleek exterior finish, making it one of the best looking motorcycle helmet models currently available on the market.
What really makes this helmet feel incredibly light and sturdy is the thermoplastic shell plus alloy composite construction it comes with. It also has a rather unique (advanced aerodynamic) design—which significantly reduces wind drag force and increases rider stability.
The multi-density EPS materials used in this product helps ensure maximum impact absorption, which goes a long way in keeping your head safe from injuries in case of an accident.
Another feature that wins this helmet a spot on the top moto helmets circle revolves around a great ventilation system. To be precise, it comes with an 8 ventilation opening system—with 3 front and 2 top adjustable vent switches. Needless to mention, this system lets you take control of air intake as well as exhaust.
To help you easily keep the inside of your helmet clean and odor-free, the inner liner and pads are made to be fully removable and washable.
Keep in mind that this helmet features a quick-release buckle to help ensure the helmet stays secured in place and releases hassle-freely. The versatile flip-up shield design means you can easily lift up the clear face shield to expose your face for even more ventilation.
Highlighted Features:
10. Triangle Full Face Street Bike - Top Rated Motorcycle Helmet
Want proof that you don't have to break the bank to get yourself a good-quality full-face helmet? This is it! The Triangle Full Face Motorcycle Helmet falls in the category of the cheap motorcycle helmets but has remarkable features to keep your safety and comfort in check.
The low budget, DOT-approved helmet features advanced ABS outer shell construction with high-quality thermoplastic technology that excellently resists big impacts—keeping your head fully protected.
It also comes with a multi-density EPS interior lining which offers you the ultimate comfort, especially when taking long rides. What's more, the soft laser cut padding offers you dry comfort. And you can easily remove the interiors for easy cleaning.
Maintaining this gets easier with the double PC anti-scratch visor plus removable DVS treatment with quick-change mechanism system. You'll find ventilation systems installed at the front and back of this helmet for excellent airflow during a long ride.
Above all, it comes with a padded chin strap with micrometric closure to help tightly fasten and secure it on your head.
Highlighted Features:
11. Conquer Full Face
As we edge closer to the end of our list of top motorcycle helmet reviews, we have this full face auto racing helmet designed for riders who want to compete at any level. As we've seen in all the other top helmets above, this model comes optimized for fit, comfort, and safety...along with a clean sneak design.
It features a lightweight fiberglass composite shell which ensures it doesn't strain your neck muscles. What's more, this material makes the helmet feel sturdy and hold up to accidental drops.
The Snell-approved helmet also comes with a venting system which plays the crucial role of circulating air in and out of your helmet to ensure a cool environment for your head.
As you move to the interior of this, you'll discover that it has a fully padded lining plus Kevlar cheek pads. These not only add to the rider comfort but ensure you achieve a snug fit. Mind you; this lining is 100% fire retardant, so it won't catch fire in case of an accident.
Don't forget that the helmet also features a 3mm anti-scratch, fire-resistant shield to keep you protected from the sun rays and an accident that involves fire.
Highlighted Features:
12. HJC CS-2N
So, you're on a tight budget but want to get the best in a half helmet? In that case, the HJC CS-2N will make a viable option for you. Just likes its siblings from HJC, this helmet makes use of CAD technology to ensure you enjoy superior comfort and fit when riding your bike.
The half helmet won a space on our list of the best-rated motorcycle helmets owing to its high-end features at an unbelievable low cost.
Its construction involves a lightweight injection-molded thermoplastic alloy shell for a lightweight, sturdy feel. The solid shell also comes equipped with dual forehead vents which facilitate optimal airflow to keep your head cool when riding for long distances.
We were also pleased to note the plush, brushed Nylex interior lining of this open face helmet plus a zip-out removable neck curtain helmet. These two will take your comfort and fit to a whole new level.
Even better, it has a unique aerodynamic, low-profile visor to keep your face covered and safe from UV sun rays.
Thanks to the nylon strap retention system which neatly secures the chin strap, it will remain snug and unmovable around your head. Like all the other HJC helmets, this model also meets or exceeds the DOT safety standards.
Highlighted Features:
13. YEMA YM-926 Modular Full Face Helmet
The last sport on our list of best-rated motorcycle helmet reviews goes to the YEMA Modular Full Face Helmet. This is doubtlessly a super-safe, highly versatile, and one of the best-looking modular helmets you can get on the market at a fair cost.
It is made of good-quality materials all-around. It features an aerodynamic ABS shell for durability and multi-density EPS for maximum impact absorption. It also comes with a fully adjustable ventilation system that creates a constant flow of air and out of your helmet, keeping you cool and comfortable.
Speaking of comfort, this helmet comes with reinforced chin strap and a quick-release buckle. On the interior part, it features fully removable and washable liners and pads for unmatched comfort.
As with all the other modular helmets, this YEMA also presents you with a high-impact sun visor system to keep your eyes safe from the harmful UV rays. For your own convenience, this helmet offers you extra space for glasses as well as Bluetooth speakers.
Highlighted Features:
Key Things That Makes A Perfect Motorcycle Helmet
In this part, we'll take you through the KEY factors that dictate the perfect helmet you should choose to keep you comfy and protected.
These factors include:
1. Type or Style
Just before we outlined our top motorcycle helmet reviews list, we listed the various types of motorcycle helmets you can find on the market today.
We mentioned that these different styles offer varying degrees of protection and style.
Just a quick reminder—these types include the full face, half face, open face, modular, dual-sport, and off-road models.
We urge you to revisit our brief introduction to these types of helmet again before making a purchase to ensure you understand which style perfectly fits your specific needs and requirements.
The full-face is the most popular choice among riders because it offers full protection to the entire head and face.
Modular helmets—hybrid of full-face and open-face helmets—also enjoy high popularity due to their versatility.
Even though they feature different designs, all these types of helmets share a common goal of keeping your head protected and comfortable.
Once you have decided on which style of helmet to choose, you can move to the next step below…
2. What's your head size?
Countless motorcycle riders have admitted before that the trickiest part about choosing moto helmets involves settling on the right size to buy.
This is quite understandable given that all riders have different head sizes as well as shapes.
Luckily, the manufacturers are trying to make the size selection exercise as easy as possible. For instance, most brands now produce helmets that match the three most common head shapes—namely round oval, intermediate oval, and long oval.
What's your head shape?
After determining your basic head shape, picking a helmet size becomes easier.
You simply grab that measuring tape and wrap it around your head's largest part, just an inch above the eyebrows.
Note down the resulting measurement. And use it to compare to the manufacturer's sizing chart.
REMEMBER…that different manufacturers or even helmet models might have varying sizing charts, so it's important that you compare your size with every manufacturer's sizing table.
TIP: a properly fitting helmet should be snug, not too tight. You should be able to feel as much of the helmet's interior as possible. And it should move from side to side or up and down whenever you move your neck.
TIP 2: if the helmet you want to buy gives you the option of fine-tuning fit with internal paddings of varying thicknesses/densities, then you might want to try several options to see which feels best. Wear the helmet for up to 5 minutes or even more and see if any pressure points will be revealed.
3. Helmet material and components
As you might have noted from our list of top helmets above, different models are constructed using different materials. They also feature different sets of features and components.
That said, the most common materials used for the exterior shell include fiberglass, carbon fiber, aramid, Kevlar, and other similar material. The high-end helmets feature a more complex combination of materials.
Simply put, the ideal material for the exterior shell should be highly lightweight and durable.
As for the helmet's interior, you'll note that the top-rated helmets use multiple EPS densities. This comes from the fact that multiple densities excellently disperse the impact forces than a single layer.
Helmets with moisture-wicking interior padding are a plus as they help ensure your face remains cool and dry.
Paddings with anti-microbial properties are also worth considering as they help reduce odor.
As for the sun visor, most of the top helmets have anti-fogging treatment on their face shields.
Some also include a Pinlock visor system (that is, a double lens compatible visor system). The pinlock system creates an air buffer between the double lens to help keep off fogging.
A good helmet should also come with breath deflectors—small molded rubber pieces situated at the eye-port bottom to help channel the exhaled air away from the visor and prevent possible fogging.
Talking of the ventilation system, models on the higher-end of the price ladder come with more vents or more elaborate ventilation design to help efficiently force air from front-to-back, through the lid.
Helmets with adjustable ventilation systems help you customize the intake vents based on the current weather conditions.
What about chin pads? Well, these are small fabric pieces installed right below the chin bar. They play a major role in dampening the road noise while protecting your face from any bugs and flying debris. Which is great if you travel frequently.
4. Safety standards
Helmets are such an essential biking gear that they're usually tested to various safety standards by various bodies.
Check if your helmet comes with a certification seal from any of these bodies:
A helmet that comes with DOT/Snell/ECE stickers means they meet or exceed the safety standards set by these bodies.
Let's briefly discuss what DOT and Snell safety standards entail:
DOT (Department of Transport)
This is the most common safety standard test for a helmet designed in the USA for on-road use…though even the off-road helmets comply with the DOT standards.
For a helmet to be DOT-approved, the manufacturer MUST send samples directly to a third-party contractor (and NOT the government) to conduct the necessary safety tests to ensure the helmet meets or exceeds the set standards.
During the test, the helmet is put on a dummy head and taken through rigorous impact and penetration tests. If the helmet keeps the dummy head safe, then it becomes DOT-approved.
Also, keep in mind that the helmet's retention system and all its components might also hold up to all loads without breaking. They should not be over 2.5cm from the original position.
Other things DOT puts into consideration include the field of view. They ensure that no solid bits project from the helmet that might catch anything in case of an accident.
Snell (Snell Memorial Foundation)
Though Snell is an optional safety test for helmet manufacturers, it's known for being even more rigorous than then DOT.
Snell not only carries out the DOT's impact, penetration, and retention systems tests but also takes helmets through specific chin bar testing, flame resistance -testing (for racing-specific products), and helmet's positional stability during impact.
Once a helmet passes the Snell's test and earns their sticker, the manufacturer is NOT allowed to make any design changes.
Snell will actually conduct random tests on the previously approved helmets to ensure they meet the original standard.
Quick TIP: Though a helmet that comes with DOT approval is all you need, models that come with both DOT and Snell stickers are even better. These safety standards act as an assurance that the helmet will offer maximum impact protection in case of an accident.
5. What's your budget?
The cost of a motorcycle helmet heavily depends on the manufacturer you're buying from and the type of helmet you wish to purchase.
Let no one lie to you…the overall safety level of the helmet doesn't always affect its cost, keeping in mind that al the helmets released into the market must pass the DOT or SNELL safety tests.
The number of features a moto helmet comes with will also affect its pricing. That said, you must consider a helmet that comes with basic features like the visor, venting system, etc.
If you have some cash to spend, you can go for models with extras such as Bluetooth capability.
When coming up with a budget for your motorbike helmet, be sure to keep the above tips in mind.
Top Brands Available On Amazon
Knowing the top moto helmet brands on the market today will go a long way in helping you easily determine which one to choose.
Below, we outline the best motorcycle helmet brands whose products are available on Amazon:
1. Bell
Decade after decade, Bell Helmets have proved that they're experts in what they do. They're credited with having manufacturers the first-ever full face helmet back in 1971.
Since then, they have expanded their line of products. And today, they boast of some of the most stylish, highly functional motorcycle helmets. The company puts great detail into their helmet design to ensure they meet your safety and comfort needs.
Bell's helmets are so good that top motocross racers like James Stewart and Josh Herrin have worn them when in action.
2. Arai
Arai is an old Japanese company that dates back to 1926.
Over the years, the company has perfected their art, and they're currently one of the most reliable manufacturers of top-quality helmets used all over the globe.
What sets their products from their competition is that they're all hand-built. And each helmet undergoes safe test up to 3 times—once after making the shell, next after the painting job, and finally after the full assembly.
All the Arai helmets meet/exceed the strict Snell safety standards.
Prominent motor racers trust Arai helmets. Case in point, Dani Pedrosa and Nicky Hayden have raced using these helmets.
3. GDM Duke
GDM Duke changes the narrative that good motorbike helmets look boring and bulky. They have invested lots of efforts into designing helmets that balance between style and functionality.
The company dedicates extensive research to each product development to ensure they produce nothing short of top-notch products that meet all your biking needs and preferences while minding your safety.
4. Shoei
Since 1959, Shoei has been consistently innovating and provides bikers across the globe with some of the best-quality helmets…and winning awards for their efforts.
Mark you; Shoei is credited with designing the first-ever helmet for supermotard/dual-sport riding.
What's more, Shoei was the first brand to use Kevlar, carbon fiber, and dual liners for ventilation, versatility, and durability.
Today, Shoei boasts of a full line of top-end street and off-road helmets that meet the DOT standards for the ultimate rider comfort and safety.
Frequently Asked Questions:
1. How long should motorcycle helmets last?
As long as the Rule of thumb goes, you should replace your helmet after every 5 years, even if it has not been involved in an accident or has suffered drops.
This is simply because the materials used to make the helmet degrades with time—leading to loss of protection quality.
If you suffer a crash, we also advise you against using the helmet again, even if the helmet suffered minor get-off or looks the same. This is because there are high chances the structure of the helmet not visible to your eyes has already been compromised.
TIP: Some top brands like Shoei allow you to send a damaged helmet to them for inspection and determine if you can still use the helmet.
2. Do I really need to wear a helmet?
If you really mind your safety and don't want to suffer any head and brain injuries, then there's NO debate on whether you should wear a motorcycle helmet. Learn more here.
A good helmet protects your head from the force of impact resulting from a crash. It absorbs and disperses the shock and energy, ensuring it doesn't directly impact your head and brain.
Numbers don't lie!
The Centers for Disease Control and Prevention (CDC) states that helmets saved approximately 1,859 lives in the years 2016 alone. They explain that if all the motorcyclists were helmeted in the same year, 802 more lives could have been saved (Source)
Currently, up to 19 states have mandatory requirements for all bike riders to put on a helmet. A total of 28 states have provisional laws on motorcycle helmets. And the remaining 3 states have no single helmet law.
Be sure to check what your local law says regarding motorcycle helmet to avoid getting yourself on the wrong side of the law.
3. How do I take care of my moto helmet?
Just like the rest of your biking gear, your motorcycle helmet also needs special care and maintenance to keep it in good shape and to ensure it functions at its best.
Follow these tips on how to take care of your helmet:
Just keep your helmet simple and clean!
Final Verdict
You're not ready for your next biking adventure until you have that top-rated motorcycle helmet, with all the crucial safety and comfort features, by your side.
If the worst happens when riding your bike and a crash occurs, a good helmet can go a long way in protecting your head (and brain) from the impact, saving you from the nightmare that is brain trauma or severe head injuries—or even death!
Don't let the multiple styles, design, sizes, colors, etc., intimidate you. In this guide, we've outlined an easy-to-follow guide on how to choose the perfect helmet for the ultimate comfort and protection.
Get ready for your next biking adventure by grabbing one of the 10 DOT-Approved, best motorcycle helmets above today!
BILT Spirit Full-Face Motorcycle Helmet
BASIC PRODUCT INFO
---
Motorcycle Helmet
BILT Spirit Full-Face Motorcycle Helmet
ONLINE
---
| | |
| --- | --- |
| | |
| | BILT Spirit Full-Face Motorcycle Helmet |
HELMET INFO
---
Anti-Scratch

Internal Shield

Separate Sun Visor

Head Top

Head Back

Helmet Chin Guard
EXPANDED HELMET FEATURES
---
| | |
| --- | --- |
| | Injection molded polycarbonate shell |
| | Removable air-flow comfort padded lining |
| | Five point surface mounted airflow ventilation system |
Bilt is the in store brand for Cycle Gear and gives riders options on new gear that might otherwise be too expensive. The Bilt Spirit full face helmet is a unit priced at $140.00 that is sometimes marked down as low as $60.00. In other words, get on Cycle Gear's mailing list and stay tuned for their sales.
The BILT Spirit Full-Face Motorcycle Helmet features many of the features you would expect in a new full face helmet. The DOT approved Spirit features closeable air vents, an internal sun visor operated by one large, easily operated button and a removable, washable inner liner.
Good Value Helmets
The first helmet I bought was a low cost, no save that it was cheap. In fact that is what I told the sales man I wanted, the cheapest helmet they sold. It turned out to be a KBC model and I loved it! In fact, I still have it until this day. So cheap helmets are not always a bad thing, but having a helmet is a necessary thing.
When buying a helmet the two most important things are safety and comfort. If the unit does not have both the SNELL and DOT seals of approval, it is not going to be at the top of my list. Comfort is just as important as safety, because if the helmet does not fit, it is not going to be worn. No matter how safe a helmet is, if it is not worn, it can do anything for the rider.
BILT Spirit Full-Face Helmet Features
Shoei Hornet DS: The Swiss Army Knife of Helmets
With more and more riders gravitating to dual-sport and adventure motorcycles, it is clear why helmet manufacturers are scurrying to develop equally versatile lid designs.   Shoei has been a top-tier helmet company for decades.  It follows that their dual-sport (DS) helmets are among the most respected in the industry.
The Shoei Hornet DS is hard to beat for all-terrain protection.  What you get with the Hornet DS is really three helmets in one.  It can be worn with the visor and shield in place for true dual-sport riding.  It can also be worn with goggles and visor for pure dirt situations.  Finally, it can be worn without the visor but with the shield for high-speed street riding.
The Hornet features a very technical ventilation system that adventure riders swear by.  The liner is fully removable for cleaning and the cheek pads are available in various sizes for custom sizing.  The helmet is both DOT and Snell certified.
In an Internet search, the best price I found on the Hornet DS was at Competition Accessories.  The retailer also offers a page that shows a 360 degree view of the helmet and a nice video of its technical features.