10 Best Motorcycle Helmet Under 200 – Reviews 2020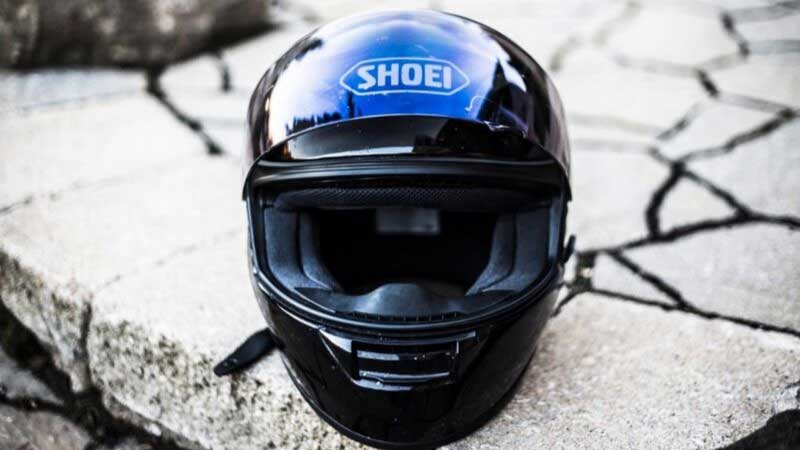 One of the biggest reasons why motorcyclists have a hard time picking the perfect motorcycle helmet is how these products are distributed across the entire price spectrum.
Coming up with a budget can help you narrow down your choices on the spectrum.
Now, if you have set your budget below $200, it means you'll be looking for the best motorcycle helmet under 200.
But this price range is populated by both good quality and poorly engineered models, so you should be more careful what product you pick.
Luckily, we have come to your rescue. We evaluated dozens of helmet models under 200 based on safety ratings, build quality, fit, comfort, and customer ratings.
This is how we ended up with our ultimate list of the 10 top-rated helmets priced below 200 outlined below…
What To Expect On $200?
Now that you have decided you want a motorcycle helmet for $200, you might be wondering what you'll get in the products under this price category.
The truth is, '200 and below' is regarded not only as the mid-range cost in the helmets price ladder but as the range where you find Value for Money!
You'll be pleased to note that a helmet with such an affordable cost comes with all the necessary safety requirements for motorcycle helmets.
They also come in various size options to offer you the perfect fit.
Do you prefer full-face, open face or modular helmet? No matter what your preferences are, you'll be graced by well-built full-face, half face, and modular helmet styles for under $200.
Within this budget, you'll also get a lid with excellent build quality—which is precisely what you want in a helmet.
Models costing under $200 will also come with some perks…like a couple accessories, features such as integrated Bluetooth, suede lining, specialty shields, speaker compartments, to name but a few.
Overall, helmets under 200 offer you the best performance-to-value quotient. A helmet below 200 will help you stay safe on the roads without breaking the bank.
10 Best Motorcycle Helmet Under 200 Reviews:
1. Bell Qualifier Full-Face Motorcycle Helmet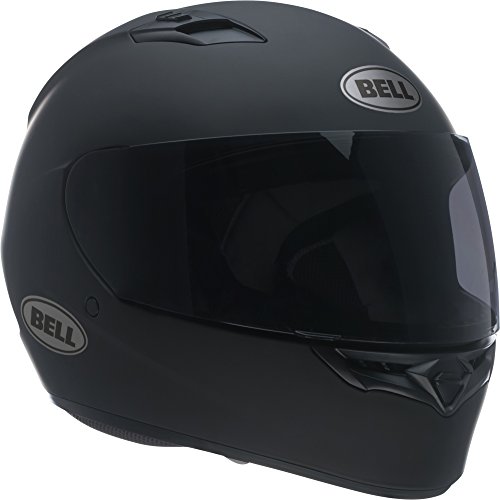 If you're looking for the best full face motorcycle helmet under $200, this full-face helmet from Bell is a great choice. Proudly designed by Bell, a popular brand, this DOT-certified full face has undergone optimization to give you the best in terms of performance at a fair price.
One of the key features of this helmet is the incredibly lightweight design. The largest model weighs as light as 1470 grams. The secret lies in the lightweight polycarbonate/ABS composite shell used to construct it.
The helmet also feels remarkably comfortable on your head. They feature an EPS lining which perfectly forms on your head, and its softness soothes your head for all-day comfort. The interior padding snaps in and out easily for easy cleaning. For even more comfortable feel, the lid features excellent ventilation system for free airflow around your head.
Other cool features you'll get from this helmet include contoured cheek pads, integrated speaker pockets, padded wind collar, and quick-release shield system
The best part? This helmet comes in a multitude of colorways to meet the tastes of different riders. This particular model comes in a smooth, sexy matte black finish which gives it a great look and feel!
Highlighted Features:
2. ILM Bluetooth Integrated Modular Motorcycle Helmet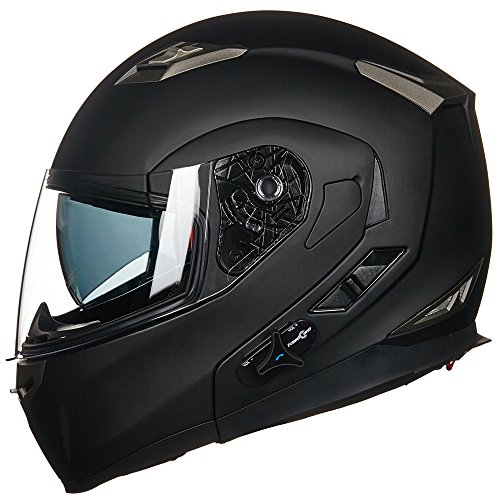 If you want the best modular helmet under $200 with an integrated Bluetooth headset, you can't go wrong with this ILM modular helmet. The model comes integrated with Bluetooth V3.0 tech, which lets you listen to music, FM radio, get GPS voice commands, talk to a fellow rider, and more.
Because this is a modular style helmet, it features fuses the full-face and half-face designs into a single model—giving you a lot of versatility. Talking of versatility, you'll also enjoy the double visor (sun and wind visor) design. You can easily switch between the two to suit your riding situations.
All previous users of this helmet agree it offers a perfect fit—not too tight, not too loose. And it comes in a variety of size options. Moreover, the helmet feels really light, so it won't distract you when riding.
Mark you; you can easily operate the visors and Bluetooth switch with your gloves on. Plus, the quick release is also super-easy to unfasten the helmet.
Regarding the Bluetooth headset, it delivers crisp-clear audio, even at high speeds of up to 75mph, and supports intercom between you a fellow rider up to 1000ft. It also lets you make hands-free calls and connect to your Bluetooth enabled devices to listen to your favorite music on the move.
Overall, this ILM helmet is one special model which blends a helmet and communications system into one. It'll ensure you stay safe on the road while keeping your communication with fellow rider clear…not to forget keeping you entertained when riding for long trips.
Highlighted Features:
3. Bell Pit Boss Open-Face Motorcycle Helmet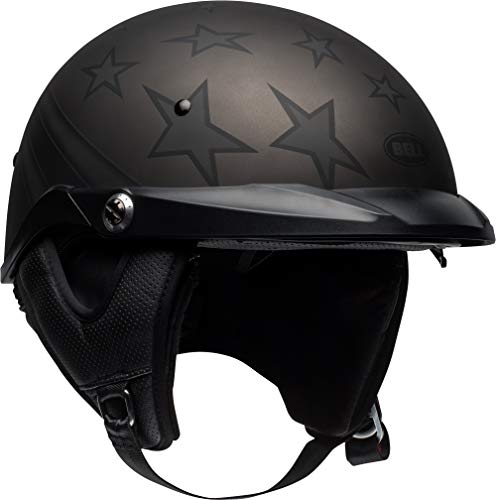 And now…the MOST affordable motorcycle helmet on our list. If you prefer the open-face helmet, this is one of the most affordable models you can find on the market today. It features a basic design but has what it takes to keep your head well cushioned and protected in the event of an accident.
One of the coolest things about this helmet is how it uses a superbly tough tri-matrix composite shell (blends Kevlar, fiberglass, and carbon) while keeping things light (weighs 900grams only). As you're already aware, a lightweight helmet means your head won't be bogged down by a weighty lid, making you feel comfortable.
The helmet doesn't just feel light; it also feels incredibly comfortable around your head. This is made easy by the integrated speed dial adjustable fit system which offers you a truly custom, snug fit for your unique head shape and size. No more lifting and slippage of your helmet!
The half helmet also features a drop-down internal sun shield which provides you on-the-fly protection from the sun's glare, so you don't get distracted from the rider.
If you always find yourself riding in cold weather, this helmet will become your true buddy. It'll get you covered by using the removable neck curtain it comes with. Also, it features a speaker pockets to let you hassle-freely add audio enhancement to your helmet.
Bell Pit Boss perfectly defines a pocket-friendly half helmet with a lightweight feel and built-in convenience.
Highlighted Features:
4. HJC CL-17 Full-Face Motorcycle Helmet
So you're planning to upgrade your racing helmet without breaking the bank? In this case, HJC CL-17 full-face helmet has got you covered. It features a round, oval fit, and has undergone testing at Wind Tunnel Lab to ensure it'll transform your riding (racing) experience.
The reason why we included thus helmet on our best full face helmet under 200 reviews list is the amount of comfort and safety it offers you. It features advanced channeling ventilation system which ensures you enjoy cool air around your head for comfort. You can easily fine-tune the system to control how much air gets in.
The vent system works closely with the mister-wicking interior to keep your head dry and comfy.
It also comes with an anti-scratch face shield to keep your eyes safe form's the sun's unforgiving glare. We like that this shield comes with a pin lock mechanism which lets you achieves an ultra-secure seal for fog-free riding experience. Switching between different shields is quite easy, thanks to the RapidFire Shield Replacement System.
Remember that this helmet's cheek pads and liner are fully removable and boast of anti-bacterial fabric. Plus, they're fully interchangeable. The helmet meets/exceeds both DOT and SNELL safety ratings.
Highlighted Features:
5. LS2 Helmets Rebellion Unisex-Adult Half Helmet
LS2 unisex half helmet is a true rebel in a world full of varieties and varieties of motorcycle helmets. It comes with a class of its own and charts its own course. Ideal for both male and female motorcyclists, the helmet features a unique, stylish shell constructed from high-performance, lightweight Kinetic Polymer Alloy (KPA).
Another way in which this helmet stands from the pack is the flow-through ventilation system it comes with, which keeps you cool when riding in warm weather.
If you're riding your motorcycle when the sun is on the horizon, you simply deploy the twin shield system drop-down visor to block the sun's glare from reaching your eyes. Unlike the standard sun shields out there, this one has 2-stage adjustability, letting you drop it halfway if you want a little shade or full closure for total protection.
The multi-density EPS liner meets or exceeds DoT safety requirements and has excellent moisture-wicking properties to keep your head dry. You can also remove the lining for easy cleaning. The helmet comes with a compartment where you can easily install LS2's Bluetooth headset (sold separately).
If you want to be a rebel, set your own course, LS2 Rebellion Helmet is exactly what you need.
Highlighted Features:
6. RaceQuip 273995 Flat Black Large PRO15 Full Face Helmet
If you're still looking for a great racing helmet, this RaceQuip full face model is another viable choice. It meets all the SNELL safety requirements and comes at a price that won't break the bank.
The helmet employs fiber-reinforced polymer (FRP) to help achieve a balance between weight and affordability. Reinforced M6 threaded inserts plus EPS liner are also included in this shell for enhanced integrity.
One of the major strengths of this full face helmet is the ability to deliver a great fit. It comes in several size options to match your unique head size.
It boasts of comfort fit blended Nomex® interior plus exhaust vents on the back and top parts of the shell to keep your scalp cool all day long.
The helmet also features a distortion-free 3mm polycarbonate face shield with aluminum pivot kit and a silicone eye port gasket which completely seals out dirt and dust for a more comfortable ride. The helmet's wide eye port gives you enhanced peripheral vision and even allows you to hassle-freely use your personal eyewear.
Remember that this helmet's interior, Kevlar chin strap, and the paint are 100% fire-retardant—making them suitable for use in various motorsports. The helmet comes in several color options, including gloss black, gloss white, gloss steel, and flat black options.
Highlighted Features:
7. TORC T1 Retro Unisex Full-Face Motorcycle Helmet
Torc T1 is a beautiful-looking, retro style motorcycle helmet that comes packed with modern safety features to keep your noggin comfortable and safe while racing at extremely high speeds. It comes with both DOT and ECE certifications. And also meets the federal motor vehicle safety standards.
The helmet boasts of lightweight fiberglass shell which looks and feels strong. It comes in a variety of sizes to fit people with different head sizes. Provided you pick the right size, it'll fit your dome perfectly well. On the inside, you'll be met with sufficient padding, which looks luxurious and high-quality for added comfort.
On the road, Torc T1 performs as you expect it to. Its massive visor provides you with plenty of field of view to ensure you can easily view everything happening around you without taking off the helmet. It also features vents which do a great job of passing cool air in and around the helmet while pushing the hot air out.
The included D-ring closure will securely hold your helmet in place no matter what speed you're riding at. A serviceable locking lever lets you operate the visor hassle-freely.
Overall, if you're looking for an affordable super-stylish helmet for racing at a price that won't break the bank, this Torc T1 Retro model is a wise choice!
Highlighted Features:
8. FreedConn Bluetooth Motorcycle Helmet
As we approach the end out our list, we have this FreedConn product as another best modular motorcycle helmet under $200. It comes integrated with Bluetooth intercom, which facilitates communication between riding buddies while keeping you safe out there.
Talking of the Bluetooth communication, the model features built-in Bluetooth 3.0 Technology which lets you crisp-clearly communicate with another rider up to 500m away. You can also take advantage of this BT tech to connect to your smartphone and other BT-enabled devices and listen to your favorite tracks, make hands-free calls, listen to GPS voice commands, and more.
The helmet boasts of ABS thermoplastic shell which feels incredibly lightweight and durable. It also comes in different size options (M, L, and XL) for sung fit on different heads.
It comes with a clear visor which offers you incredible visibility in various light conditions, and you can easily flip it up when not in use. It also features an inner sun visor which you can easily raise/lower using the smooth slide system. This visor also offers you a wider field of view for excellent peripheral vision.
As you'd expect in any modular helmet, this FreedConn helmet comes with a well laid out ventilation system—comprising of 2 air in vents at the top and near chin bar—to keep you cool and comfortable in hot weather.
We like that the manufacturer uses highly absorbent materials for the cheek pads and liner, with excellent deodorant properties. Not to forget all the interior lining are fully removable for easy cleaning.
Highlighted Features:
9. HJC CS-R3 Helmet – Stormtrooper
Do we have fans of Star Wars in the house? If yes, I know you won't mind rocking a lid whose designs looks like those helmets worn by the Sith's badass stormtroopers. The stormtroopers' helmets inspired this HJC CS-R3 helmet design.
The unique full-face helmet has a lot to offer you for its affordable price. Most riders are crazy about the snug fit, super-comfy feel offered by this helmet. It comes in a variety of size options to help you choose on that matches your head size. And once you set it on your head, it fits as described the manufacturer!
We also noted that the visor has a locking feature, which is nice as it ensures the visor doesn't open when riding at high speeds or when you're turning your head around. The helmet doesn't feature a chin curtain, which allows as much fresh air as possible to freely flow in the helmet for added user comfort.
Since it comes in a soft matte WHITE finish, it offers you a great deal of visibility, which adds to your overall safety on the roads.
If you're a huge Star Wars fan, this Stormtrooper helmet is for you. If you have a motorcyclist who loves Star Wars movies, get them this helmet. For the great price, this Star Wars stormtrooper helmet will make you look like the badass stormtroopers and take on the galaxy while minding your safety.
Highlighted Features:
10. Bell SRT Street Motorcycle Helmet
We have another Bell helmet concluding our list of the best motorcycle helmets under 200 reviews. The modular street motorcycle helmet has an extremely lightweight fiberglass composite shell which makes it stronger than the average helmet...or the helmets in the same price range.
The wonderfully made, stylish looking helmet features comes in several shell size options to ensure you find one that fits your specific head size and shape. It also comes in up to 3 interior EPS lining dimensions so that you can enjoy a customized fit your noggin. This ensures a snug fit—eliminating the shifting and lifting associated with poor fitting models.
Another cool feature that puts this helmet on the map revolves around the Bell's proprietary Panovision which not only offers you crisp vision but also increases your field of view. It also incorporates a drop-down tinted sun shield. The sliding knob on the helmet's left side lets you hassle-freely operate the visor, even with your gloves on.
Just below the visor, you'll notice two chin bar ports which supply you with plenty of airflow to keep your dome cool without increasing the noise level.
And on the inside of this helmet, you'll be pleased to discover the recessed speaker pockets, which let you hassle-free add an intercom to your speaker or any other audio enhancement you wish.
Highlighted Features:
Is 200 a Good Budget?
Absolutely! A helmet for $200 has everything you need to stay safe on the roads.
Most motorcyclists don't know this buy 200 is regarded as the perfect budget for those who want to get the best motorcycle helmet for the money.
In other words, helmet in this price range gives you the BEST bang for your buck.
As you might have noted from our bunch of top-rated helmets above, models in this price range have safety approval from the relevant bodies—meaning they'll keep your dome safe out there.
They also feature quality construction. And come with a list of perks that makes them a reasonable investment.
Remember…it's still in this budget range that you'll find all types of helmet.
Some manufacturers will even go out of the way and add a sense of style to their products to make them look good in your eyes (if looks matter to you).
Don't get surprised when you bump over a reputable brand's helmet in this price range!
Frequently Asked Questions
1. Do I really need to wear a helmet?
Yes, you need to put on that helmet before you start riding your motorcycle to ensure you don't suffer serious head injuries in case of a crash.
As for the regulations regarding wearing helmets, they differ from state to state. Some states require all motorcyclists to wear helmets.
Some states such as Illinois, Iowa, and Hampshire have no rules for motorcycle helmet at the time of writing this post.
2. What's the best type of motorcycle helmet for me?
If you're looking for maximum safety, then you should go for a full-face helmet as they cover and protect your entire head, face, and neck. Unfortunately, these helmets might feel cumbersome and bulky.
Other helmet types offer varying levels of protection.
Overall, we suggest that you look for a helmet that balances between safety, functionality, and style.
3. Must a helmet come with both DOT and SNELL safety ratings?
Not really. DoT and SNELL are two different bodies that set safety standards for motorcycles.
DoT approval is enough for a motorcycle helmet.
A model with both ratings is even better.
If you're looking for a racing helmet, then you'd want to ensure it comes with SNELL certification.
Final Verdict
Coming up with a budget for a motorcycle helmet is one of the greatest hacks for easily choosing a helmet which meets your unique needs and preferences.
In this guide, we have focused on the best motorcycle helmet under 200.
We picked our 10 helmets above based on their safety ratings, overall build quality, how they fit your dome, the level of comfort they offer you, and what customers are saying about them.
Order one of these helmets today if you want to enjoy SAFETY on the road without breaking the bank.
See Also: