10 Best Motorcycle Hitch Carrier – Reviews of 2020
If you're looking for a cheaper, easier, and safer way to carry your motorcycle in your vehicle, then the best motorcycle hitch carrier comes in as a sure bet.
The handy tool acts as a "motorbike rack" that securely holds your prized motorbike behind your SUV, van, or pickup truck so that you can ride with peace of mind to your destination.
Our research team has assessed different carriers out there, and analyzed their strengths and weaknesses to help you choose the most reliable ones.
Below, you'll discover our final list of the most dependable hitch carriers which scored the highest in terms of sturdiness, ease of assembly, and value for money.
How Safe Are Motorcycle Hitch Carriers?
Motorcycle hitch carriers are, without a doubt, a 100% safe way of taking your motorcycle with you anywhere. However, problems are bound to occur if you don't use your carrier the right way.
If you want to enjoy a smooth, safe experience transporting your bike with a hitch carrier, keep these measurements in mind at all times:
Overall, motorcycle hitch carriers offer you an incredibly safe and secure way of carrying your bike behind your vehicle. Just ensure you use your carrier for what it's intended for. Beyond its limits, it might cause problems.
10 Best Motorcycle Hitch Carriers Review:
1. TMS T-NS-MRC001 Heavy-Duty Motorcycle Carrier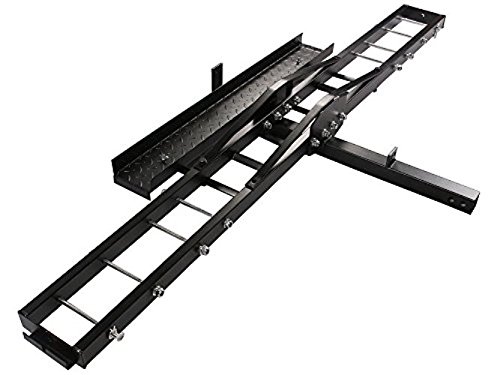 TMS heavy-duty motorcycle carrier kicks of our list of the top-rated motorcycle hitch carrier reviews currently available at the market. The carrier makes the perfect choice for bikers who wants something solidly build with the ability to carry a bike weighing around 500lbs.
Rated as one of the most reliable hitch carriers for motorcycles, scooters, and off-road dirt bikes, this carrier boasts of 100% heavy-duty steel construction. This gives it the strength and durability to reliably hold your 500lbs motorcycle over and over again. It even features a durable powder coating that prevents chipping, scratch, fade, and wear, ensuring even greater durability.
The carrier comes designed to easily fit 2-inch square receivers. Even though the manufacturer provides vague instructions, you can quickly figure out the installation of this model by just looking at the pieces.
With a dual loading ramp, you'll have a smooth experience loading your bike for transport.
If you have had a bad experience with your bike wobbling during transport, this carrier will change your story. It features an anti-tilt locking device which securely holds your bike to ensure it doesn't shake an inch through the journey. Moreover, it comes with tie-down sites on either side of the track for extra security.
Highlighted Features:
2. Best Choice Products SKY1375 Motorcycle Carrier
The Best Choice Products motorcycle carrier falls squarely in the class of affordably priced carriers with high dependability. But don't judge it yet…the carrier can help you securely and safely haul your 500lbs heavy motorbike, scooter, or dirt bike to your destination.
The source of the carrier's unwavering strength and durability lies in the heavy-duty steel metal it's constructed with. Plus, it has a black powder coating which not only matches the color of most vehicles but also gives your carrier the ability to resist rust and corrosion for increased durability.
Installing this carrier onto your vehicle is as easy as ABC…it works with a 2-inch square hitch receiver, and you just need 8 bolts and nuts to attach it to secure it in place.
Things get even easier when it comes to the loading part. This carrier presents you with a 38.5-inch long (and 4.75-inch wide) ramp which ensures easy loading for a variety of bikes. The multi-load feature allows you to load your bike from either side.
You'll appreciate the anti-tilt locking device which keeps your bike from wobbling, especially when driving on rough, bumpy roads. With the tool's easy assembly, it offers you an excellent level of portability when not in use.
Highlighted Features:
3. Rage Powersports Hitch-Mounted Motorcycle Carrier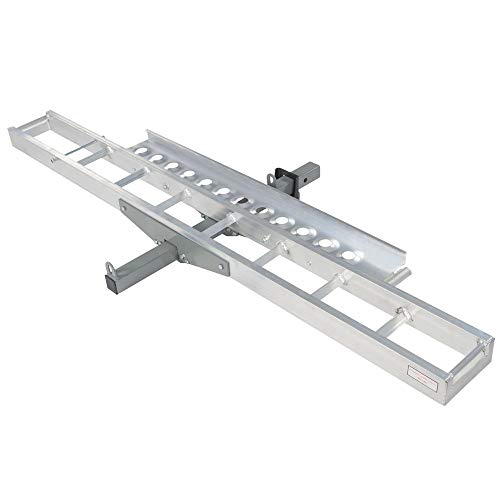 The Range Powersports Hitch-Mounted carrier lets you safely haul your 400lbs heavy motorbike to your family trips, repair shop, or show. Constructed from high-strength aluminum metal, this carrier strikes a good balance between durability and lightweight.
One of the most notable aspects of this carrier is its loading ramp, which you can easily install on either the front or back. It also allows for hassle-free loading and unloading from either side. When not in use, this ramp stores flat for convenient carry.
Another great thing about this carrier revolves around the anti-rattle device it comes with. Needless to mention, this works tirelessly through the journey to ensure your bike stays in a stable condition.
With the included space bar adapter, transporting your youth 50-80cc dirt bikes with this hitch carrier also becomes easy.
The lightweight hitch carrier works with the class III and IV hitch receivers. It's also struggle-free to put together, and all its assembly holes match up perfectly well for quick setup. The fact that it works with 5½-inch bike wheels means it can work with a wide variety of bike types.
Highlighted Features:
4. Goplus 600 LBS Motorcycle Carrier
This GoPlus features of extremely strong sturdy steel construction, which grants it unrivaled strength and durability. This makes it the best motorcycle hitch carriers for carrying heavier machines—as heavy as staggering 600 pounds!
The carrier is incredibly easy to install and works with all vehicles with a 2-inch hitch receiver. It comes armed with an adjustable wheel stop, which helps ensure your bike stays in a stable (wobble-free) state when on the move.
Loading and unloading your bike into this carrier is safe, easy, and fast, thanks to the quick-release amps it comes with. What's more, this ramp has a longer length (measures 72 inches long) than most competitors out there, enabling it to easily work with a wide variety of bike types.
Keep in mind that this motorbike carrier also features 2 quick release locks to help you secure your prized possession in place, minimizing potential wobbling…even when driving at high speeds.
The black powder coat finish around the steel frame enables the carrier to resist corrosion, rust, and withstand various weather conditions for prolonged service life.
What really catapults this motorcycle hitch carrier to popularity it's incredibly low price point and versatility. It can work with an extensive variety of bikes, and using it is straightforward. Which is way better than other expensive products and makes it cost effective.
Highlighted Features:
5. EGO BIKE Steel Motorcycle Carrier
Standing at the center of our motorcycle hitch carrier reviews list is the EGO Bike motorcycle carrier. The carrier also provides you with a safer and secure way of transporting your motocross bike, scooter, off-road dirt bike, or motorcycle to any place.
Like most of the other top-rated hitch carriers out there, this model comes with a heavy-duty steel frame which makes it highly reliable, and gives it strength and durability. It presents you with a carrying capacity of 500lbs, which makes it suitable for hauling a wide range of motorcycles.
The incredibly easy to assemble carrier works with 2-inch square hitch receivers. It also presents you with a ramp which easily to load your bike on the carrier. You simply roll your bike up the ramp and into the carrying channel. And once it's in place, you can then unhook the ramp and secure it on the frame for easy transport.
Don't forget that this motorcycle carrier has anti-tilt locking ​bracket which helps ensure your bike doesn't wobble during the whole journey. The ramp has multi-load design, so you can load it from just any side. The carrier accommodates bike wheels as wide as 4.75 inches.
Highlighted Features:
6. Direct Aftermarket Steel Motorcycle Carrier ​
This is another well-made motorcycle hitch carrier that scored highly in overall sturdiness. It boasts of durable steel frame with 10) weather-resistant epoxy powder coating which translates to maximum durability and extended lifespan.
The carrier comes ready to help you safely haul your 500lbs bike in your vehicle to your upcoming family trip or the mechanic's shop. Not just your motorcycle, you can use it to haul your dirt bike, scooter or any sport bike.
As we all know wobbling and shaking have damaged many carriers as well as motorcycles in the past, especially when hauling your bike off-road. Fortunately, this carrier comes with an anti-tilt locking device, which makes the carrier solid, preventing wobbling activity.
The carrier is also fairly to assemble and comes with everything you need for the job, including the assembly hardware and clear instructions. The whole task will take you around 15-20 minutes.
With a loading ramp that attaches to either side of the carrier, loading your bike into the carrying channel for hauling becomes even easier. This ram accommodates wheels up to 5 inches wide. The carrier easily fits standard 2-inch square hitch receivers.
Highlighted Features:
7. Black Widow MCC-500 Steel Motorcycle Carrier
If you're looking for a quality motorcycle carrier that hauls various styles of bikes weighing up to 500lbs, then the Black Widow MCC-500 will match your needs. This carrier features durable, powder-coated steel for maximum durability, strength, and toughness—making it one of the most reliable carriers available. Thus, instead of black widow amc-400, we are recommending this as one of the best motorcycle hitch carriers.
One of the top reasons why we featured this model on our motorcycle carrier reviews is its incredible versatility. It features a hauling rack and loading ramp as wide as 7 inches, allowing you to safely haul a wide variety of bike styles with wheels as wide as 7 inches.
Mark you, the loading ramp install on either side of the carrier for easy, convenient loading.
The carrier comes with a Class III or IV hitch receiver that you use alongside the included 2-inch hitch pin for a painless installation. It also presents you with anti-rattle device which injects maximum stability into the carrier, eliminating wobbling and shaking.
You don't need any special skills to assemble this carrier. All you need is the assembly hardware and a set of instructions (included) to guide you through the task.
Because this is a foldable carrier, it easily retracts when not in use for convenient storage. The included hitch tube folds your carrier upwards when not in use.
Highlighted Features:
8. VersaHaul Dirt Bike Hitch Carrier
Do you own a dirt bike that you wish to transport safely to any place?
If yes, you just bumped on the best hitch mount motorcycle carrier for a dirt bike! The carrier has a maximum weight capacity of 500lb, making it suitable for hauling nearly all dirt bike models and sport bikes. Compared to other models that costs the same has limited weight capacity.
The carrier boasts of a high-quality steel frame material for the ultimate durability. On top of this, it features a powder coating that resists weather and corrosion, and lets you use the carrier in all weather conditions.
Since this hitch carrier is easy to put together or disassemble when not in use, it becomes one of the most convenient models to store when not in use.
The carrier comes with retractable tie-down straps which help hold down your dirt bike in place during transportation on bumpy roads. What's more, it features adjustable wheel stops which further secure your bike in place for wobble-free hauling experience.
Remember, this carrier works with class III or IV hitch receivers. It presents you with a longer ramp design to facilitate easier loading. The 2 reflectors included help ensure you remain visible when riding at night.
Highlighted Features:
9. Black Widow MCC-600 Steel Motorcycle Carrier Review
Here comes another one from Black Widow! This is a premium motorcycle which comes packed with a list of premium features. It has a maximum load capacity of 600lbs, making it the perfect carrier for the heaviest motorcycle, scooter or dirt bike you can imagine.
Sturdiness gets the center-stage in this carrier. It boasts of heavy-duty steel construction for maximum strength and durability. It also features a corrosion-free powder coating which further extends its lifespan. Which makes it way better than black widow amc-400 model.
Another fantastic thing about this top-of-the-line carrier is the superior security it grants your bike during transport.
It presents you with anti-tilt brackets plus motorcycle stabilizing tie-down points plus 7-position adjustable wheel stop—all of which work closely to stop your bike from shaking and wobbling around during, no matter what speed you're driving at or the condition of the road.
Assembling and installing this carrier is a breeze! You might not even need to look at the instructions to figure out how to set it up.
With the extra-long loading ramp (measuring 71 inches long), you'll have a smooth experience loading your bike into the carrier…without hurting your bike. When not in use, the ramp stores compactly on the carrier.
Highlighted Features:
10. MotoGroup Motorcycle Scooter Dirt Bike Carrier
Signing off our list of top motorcycle carrier reviews is the MotorGroup motorcycle carrier. If you own a scooter, dirt bike or classic motorcycle with 5.5-inch wide tires and weighs 400lbs, this is the perfect carrier for you.
While most of the carriers that made up this list are designed from steel metal, this carrier took a different path with aluminum construction. It's made using aircraft aluminum metal which is not only durable but also gives the carrier a light feel (at only 36.3 pounds).
The carrier also features an equally lightweight loading ramp that attaches to either side of the carrier for convenient loading.
Because this carrier perfect fits in 2-in square receiver of class II, III, IV, and V hitch receivers, it lets you haul your motorbike using various means of transport—including the camper, van, RV, SUV, pick-up truck, and other compatible vehicles.
We also can't fail to mention the anti-wobble device that comes with up to 3 locking screws to promote maximum security and stability of your bike. This is unlike most of the competition who uses only 2 screws.
Highlighted Features:
Here's What to Look for Before Buying? (Updated For 2020)
Motorcycle hitch carriers feature almost a similar design and working mechanism, but you need to consider certain factors to get the best motorcycle carrier for your unique motorcycle hauling needs. After, reading this short guide, I'm optimistic that you'll be choosing the perfect product and make a wise decision.
These factors include:
Build quality
One of the most important factors to consider when looking for a motorcycle hitch carrier is the materials used to construct it.
The two most popular materials include steel and aluminum. Each of these materials has its good and ugly side, and knowing them in details will help you make a better decision.
Steel usually feels more durable and rigid, making it a more reliable option for heavy machinery. For this reason, we suggest that you go for a steel carrier if you wish to transport heavier bikes.
Aluminum carriers feel incredibly light than steel models. They're also incredibly easy to install and have a higher resistance to corrosion. However, they may feel fragile when used to haul heavy bikes.
Weight limit
Another crucial thing to consider when purchasing a motorcycle hitch carrier is its load capacity.
Truth be told,... you might have the finest, most durable hitch carrier by your side, but if it can't support your bike's weight, then it might end breaking down and causing serious damages.
Most of the carriers out there have a load capacity ranging between 400-600 pounds, which makes sense given this is the same weight range for motorcycles.
Ensure the carrier you invest in matches the weight of your bike.
While still on it, you should consider also consider your vehicle tongue weight. This is the max. weight your vehicle hitch can safely carry (you can easily find it in your vehicle manual).
Here, you want to ensure the overall weight of the bike plus carrier doesn't exceed that of your vehicle's tongue weight limit for safe hauling.
Hitch compatibility
Another important thing you want to look for in a hitch carrier is whether it'll fit in your specific vehicle hitch receiver.
That said, it's important to know that the hitch receivers are divided into 5 classes, depending on the type of vehicle and its load capacity.
Here's a quick outline of the different receiver classes:
Class I: 300lbs
Class II: 525lbs
Class III: 1200lbs
Class IV & V: up to 2700lbs
The key here is to check the hitch class your motorcycle carrier comes with and see if it matches the hitch receiver on your vehicle (again, your car manual will help you easily find this info).
Extras:
How to Use Motorcycle Hitch Carrier?
Installing a hitch carrier to your vehicle to loading your motorcycle into its carry channel is something you can do at home on your own.
Let's take a look at the general steps you need to follow to properly use your carrier.
That's it! You have just installed a motorcycle hitch carrier to your vehicle. The whole task should take you around 20-30 minutes.
If in doubt, it's advisable to consult the manufacturer of a professional mechanic.
Frequently Asked Questions
1. Are motorcycle hitch carriers legal?
Yes, motorcycle hitch carriers are legal in the US. However, the laws dictating the usage of hitch carriers might vary from state, so it's always important to check with your state laws before you can start using the carrier.
That said, we suggest that you put a few measures in place to ensure your carrier doesn't compromise your safety and that of other motorists on the road.
Firstly, ensure your vehicle remains visible to other road users, and the license plate stays readable to other motorists.
If your hitch carrier blocks your plate license, consider buying an extra plate, and mount it onto the back of your carrier.
You might also consider installing additional lighting on the back of your carrier to increase your visibility at night. Reflectors, too, can boost your visibility at night.
Since your hitch carrier might compromise your rear view, you'd also want to test your blind before you start the journey. This is for your own safety.
2. Are motorcycle hitch carriers really safe?
Motorcycle hitch carriers are safe to use. Problems can only arise if you use a model that's not designed to handle the weight of your motorcycle. But the solution is always there.
Or if you don't install your carrier correctly. If you don't load the bike onto the carry channel and secure it the right way, you might also have safety issues.
Failure to use a carrier that's made for your specific car hitch receiver can also result in safety issues.
Just ensure you get the right hitch carrier for your specific motorbike, and use it correctly for a safe hauling experience.
3. What is tongue weight in relation to motorcycle hitch carrier?
Tongue weight refers to the amount of weight your car hitch can safely support. Note that this tongue weight can be specific to your vehicle hitch combination.
Before you buy that motorcycle hitch carrier, we highly advise you to first go through your car user manual to check your vehicle's tongue weight capacity.
Having this figure at hand will help you look for the perfect carrier that ensures smooth and safe hauling.
4. Can I construct my own hitch carrier?
If you google this topic right now, you'll be awed by the numerous tutorials out there, indicating how you can easily come up with your own carrier from start to finish.
However, we won't recommend you to come up with your own carrier as you might not have an idea how safe and secure it is, how much weight it can hold, or how stable it feels during transit.
A rack that's not safe and secure can inflict serious damages not only on your motorcycle but on your vehicle as well.
Don't risk the safety of your prized possessions! Just stick to the manufacturers-based carriers. You can easily find reliable models that fit every budget. A hitch carrier is the right decision, when comparing between trailers and motorcycle haulers.
Also, remember that hitch mount comes in various sizes, so make sure to use the perfect size.

5. Will this carrier damage my vehicle or hitch?
NO! if you get a carrier that matches your vehicle's hitch weight limit and perfectly fits the hitch receiver, your vehicle shouldn't get any damages after use.
To ensure your vehicle doesn't get any damages, we also advise you to load your bike onto the hitch correctly and follow the owner's instructions regarding how you should drive with a motorbike on board.
Final Verdict
A motorcycle hitch carrier provides you with a quick, cheap, and safe way of moving your motorcycle to any place you want—whether it's a family trip, mechanic's shop, etc.
The best motorcycle hitch carrier should be made of strong and sturdy materials for maximum strength and reliability. It should also have a load capacity that matches your bike's weight.
Other crucial things to remember when shopping for a carrier include hitch compatibility, ease of installation and use, and anti-wobble mechanism.
Our list of the 10 top-rated hitch carriers review matches our selection criteria for the sturdiest, most reliable, and easy to use carriers available at the market today.
Get yourself one of the above carriers for easy, quick, and safe motorcycle hauling experience!