10 Best Motorcycle Intercom Reviews and Buying Guide 2020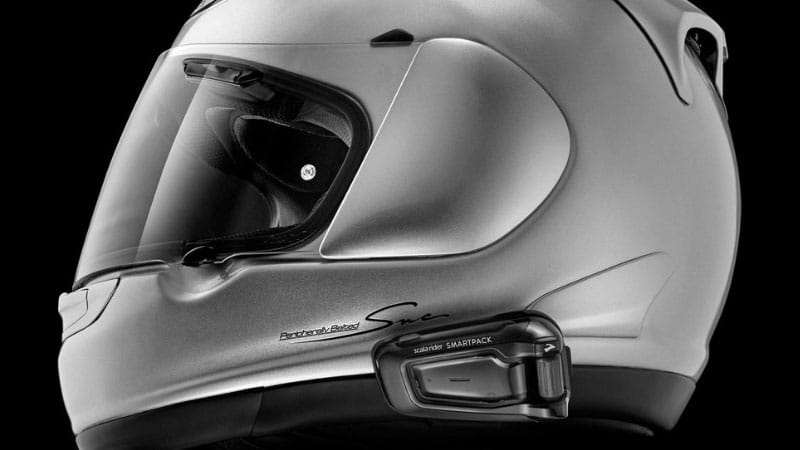 Gone are the days when motorcyclists used to communicate using sign languages, lights, and bike indicators.
Technology and innovations and have given birth to modern motorcycle intercoms—completely transforming how bikers talk to each other.
Using the best motorcycle intercoms, you can hold smooth conversations with your riding clique using the latest in communication technology…and even connect to your smartphone and make or respond to calls, and even listen to favorite music on the go.
Unfortunately, we can't recommend a specific intercom to you because there is a wide variety of them out there. Plus, what works for one biker might not work for you.
Below, we'll give you a list of some of the top motorcycle communication systems that stand from the rest in enhancing safe and smooth communication.
Why You Might Need One?
There are many reasons why you need a motorcycle intercom system.
Picture yourself group riding with friends and the need to keep in touch with all of them.
In this case, it'd be impossible to communicate with your voices keeping in mind that motorcycle riding is a noisy affair—from the roaring of your bike engine to the horns and sounds made by cars and trucks, whipping winds, sounds, etc.
The same case applies when you have a passenger, and you want to talk with them.
This is where a motorcycle intercom comes in…
By using Bluetooth and other close-range communication technologies, the system allows you to clearly communicate with your friends amidst all the noise pollution hanging around you.
You might argue that proven hand signals, indicators, and lights are all you need to communicate. Though you might easily recognize the basic ones, you'll get lost when your buddies start using more complicated signals you've never seen.
Not to forget that these signals can be blocked by people, cars, or even luggage, making you miss them.
Instead of trying to remember all these signals or some of them getting blocked from your vision, you can simply invest in a motorcycle intercom for hassle-free communication.
And oh! Sometimes those hand signals can result in miscommunication (think confusion and distraction).
Remember that you're using the road with other motorists and the act of waving hands and making never-seen-before signals can appear strange to these motorists. This can lead to accidents on busy roads.
All things considered, a motorcycle communication system beats the old methods. It has proven to be the easiest, safest, and smoothest communication method for riding buddies.
Best Motorcycle Intercom Reviews:
1. Sena SMH10D-11 Motorcycle Bluetooth Headset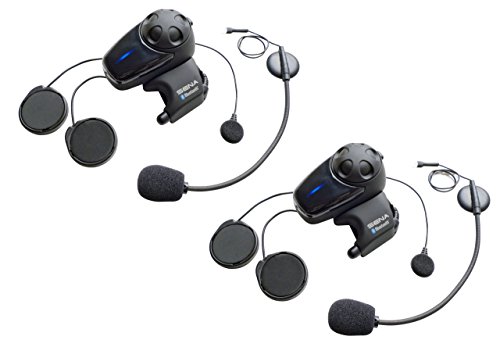 Sena SMH10D-11 is one of the best motorcycle intercom systems ever made for riders. It allows you and your fellow riders to keep in touch and share music over extended ranges of up 900m (980 yards).
The beauty of using this intercom is that you easily pair it with your Bluetooth-enabled smartphone and make hands-free calls, listen to stereo music, receive GPS navigations voice instructions, and enjoy full-duplex chat with your passenger or fellow riders.
Using the latest V3.0 Bluetooth technology plus advanced digital procession tech, this headset delivers crystal-clear, natural sound across your riding group. The headset integrates an Advanced Noise Control tech that surprisingly gets a boost when communicating in noisy places, ensuring clear communication for incoming or outgoing audio.
Don't forget that this intercom comes with 2 universal mic kits (the boom mic and wired mic) to facilitate versatile helmet installation. The easy to access, intuitive bottom gives this headset a user-friendly interface, making it the perfect companion for you.
The headset allows for intercom allows up to 4 riders to pair and converse hassle-freely. The 2-year manufacturer warranty against ALL workmanship defects makes this intercom a risk-free investment.
Highlighted Features:
2. LEXIN LX-R6 2pcs BT Bluetooth Helmet Intercom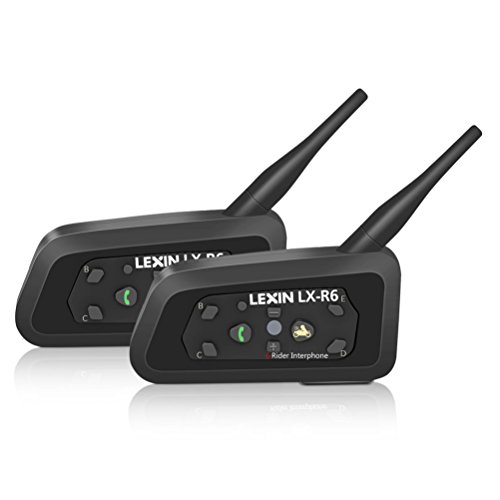 If your group consists of up to 6 riders, this is the best cheap motorcycle intercom you can invest in. Compatible with most open face, flip-face, and full-face helmet designs, this device lets you smoothly communicate with fellow bikers for extended ranges of up to 1000 meters.
Like our previously discussed intercom, this model also features Bluetooth v2.1, which allows you to connect it to your Bluetooth enabled device. This way, you can enjoy hands-free calls, stereo music, GPS voice instructions, etc.
The great-looking comms system facilitates conversation between as many as 6 riders, 2 of them at a time.
Because it boasts of upgraded, high-performance HiFi speakers, you can rest assured that you'll never miss a word when communicating with your fellow riders. Moreover, these speakers will give you the best music experience.
Did we mention that this intercom uses the boom microphones? Well, this is what enables it to fit various types of helmets easily. And oh, this intercom also features a universal pairing feature, so you can use it with Bluetooth headsets form different brands.
Highlighted Features:
3. Yideng Bluetooth Headset Intercom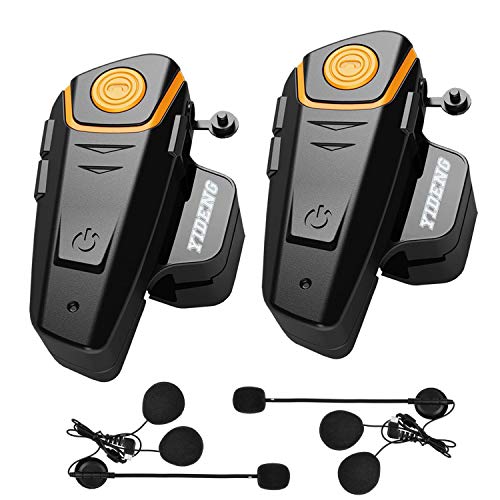 If you enjoy cruising around with your other half or spouse, but you always have problems communicating, this Yideng Bluetooth intercom will solve your problem for good. It comes designed to facilitate communication between 2-3 riders, with 2 riders at a time, and for pretty long distances of up to 1000 meters.
What makes this intercom different from its competitors, is its ability to deliver remarkably smooth communication, even when you're riding at speeds as high as125km/hr. (or 75mph). It utilizes DSP echo cancelation & noise suppression technology to deliver crystal-clear, high-definition incoming/outgoing audio. This translates to smooth chat with your partner!
Apart from communicating with your spouse, this intercom also lest your pair it up with your phone and listen to your favorite tracks, makes hands-free calls, listen to FM radio, GPS voice instructions, and so much more.
The extremely easy to install comes with 100% waterproof design, enabling you to communicate without worrying about the weather affecting your chat or device functionality. The one-year manufacturer warranty will give you confidence when ordering this intercom.
Highlighted Features:
4. Fodsports M1S Pro 2000m 8 Riders Group Intercom
So, you and 7 fellow riders (8 in total) are having problems communicating with each other while racing on the busy and noisy streets? In this case, we advise you to get this Fodpsorts M1S Pro intercom system and enjoy talking to each other clearly, even when you're up to 2000 meters apart!
The M1S comes equipped with V4.1 Bluetooth, which makes it incredibly versatile and highly versatile. It grants you a maximum communication range of up to 2000 m, which is the highest we have seen so far in this motorcycle communication reviews list.
And you don't have to be skeptical about audio clarity at such extended distances. This system produces high definition sound quality at these distances…more so its bass which has exceptional reproducibility. What's more, it features an incorporated CSR chip which works excellently to minimize surrounding noises—including wind and engine noise—for the ultimate clarity.
Like the other intercoms discussed above, this model also lets you connect to your smartphone and enjoy hands-free calls, enjoy immersive stereo music experience, retrieve GPS routes, wirelessly receive voice commands, and so on.
Since this system features a waterproof and dustproof design, you can use it without getting interrupted by any weather conditions. Above all, it features a truly long-lasting 900mAh battery coupled with power levels notifications to let you know much charge is remaining.
Highlighted Features:
5. Scala Rider Smartpack Duo Motorcycle Intercom
This is probably the most advanced intercom on our motorcycle communication review list. Designed by Scala, a market leader in the motorcycle communications, this Smartpack presents you with great capabilities and unique functions that make its price tag look like a joke.
The intercom combines both Bluetooth (v.41) plus the groundbreaking DMC (dynamic meshwork communication) technologies to give you the BEST of both worlds. The Bluetooth makes it possible to connect with non-Smartpack riders, receive navigations instruction from GPS< operate your mobile phone, and listen to music.
But the real juice is in the DMC tech. Instead of relying on the traditional "daisy-chain" network for uninterrupted communication, this special technology enables up to 4 riders to communicate at remarkable ranges of up to 3 miles (5km). And any of the riders can leave/join the group at will.
Also, DMC makes it possible for you to recover incoming phone calls without compromising the rest of the group's conversation.
Other cool features worth mentioning include the self-adjusting volume, SmartSet App (smartphone) capabilities, voice recognition, and up to 12 hours talk time. The waterproof & dustproof feature makes this intercom ready for all-weather use.
All things considered, this Scala will change the way you communicate with your fellow motorcycle riders. The intuitiveness of the DMC tech is something out of this world. It's, doubtlessly, one of the best deals you can find on the market today.
Highlighted Features:
6. FreedConn Motorcycle Communication System
Spice up your long rides with friends with this top-rated motorcycle intercom from FreedConn. Despite its reasonable cost, this intercom presents you with some of the most remarkable features found in the high-end models.
It comes with a pretty extensive talking range of up to 800 meters. It can facilitate smooth communication for up to 3 motorcycle riders. And at incredibly high speeds of up to 120km/hr.
Using advanced echo cancelation and noise suppression technology, this intercom delivers incredibly clear, high-definition audio. This ensures you get your buddies loud and clear while enjoying music experience that's out of this world.
Even better, it features audio multitasking technology—allowing you to answer calls and listen to music or GPS simultaneously.
With V3.0 Bluetooth, this system also allows you to enjoy additional features such as hands-free calls (auto-answer, last call redial, reject) FM radio, GPS voice prompt, and listen to MP3 music.
Remember that this intercom has true waterproof/sun-proof design to enable you to use in all weather conditions, it also feels pretty durable. Installing it on various helmet designs and operating it is also a breeze.
Highlighted Features:
7. Fodsports BT-S3 1000m Motorcycle Bluetooth Intercom
It's Fodsports again! This BT-S3 1000m Bluetooth intercom is an excellent option for those looking for the ideal rider to passenger intercom, thanks to the integrated Bluetooth 3.0 technology.
The moderately priced intercom headset delivers clear audio, thanks to the incorporated with progressive noise technology. If you're riding at high speeds, this technology will actively block the noises to ensure your conversation remain uninterrupted and clear.
This intercom supports communication for up to 3 riders, making it best suited for rider-passenger communication. It has a remarkable communication range of up to 100 meters. The Bluetooth itself has a 10m range and seamlessly connects to a variety of cellular devices and easily fits most helmets. You can also connect it to your GPS and receive voice instructions as you cruise your bike.
Regarding the power source, this intercom comes armed with a 500mAh Lithium-ion battery which fully charges in 3 hours. It grants you up to 10 hours phone talk time or 6 hours intercom. Pretty long-lasting, right?
This device has a waterproof design, so you don't have to worry about using it in extreme weather conditions. Its clips securely grip on your helmet to ensure it remains in place, without compromising your comfort. The included easy-to-follow manual will show you how to install and operate this device easily.
Highlighted Features:
8. ALLROS T10 Bluetooth 3.0 Motorcycle Helmet Intercom
As we draw near the end of our best motorcycle intercom system reviews, we have this Allros T10 motorcycle intercom. This is the perfect choice for 2 -3 riders who want to have a chat as they go about their riding activities. It allows 2 people to talk simultaneously at a time.
One of the reasons we picked this intercom is its extra-long range capability. It comes with a built-in CSR chip which lets you enjoys crystal clear audio quality over extended distances of up to 546 yards or 1312 yards in open terrain.
Like the previously discussed intercoms, this intercom also allows you to pair it with your phone. This means you can make hands-free calls, via the stereo button. Note that this button has a convex, 3D design to let you easily press it with your motorcycle gloves on.
You also don't have to worry about this device not fitting your helmet correctly. The package comes with 2 different types of microphones for versatile fit on the full-face, open face, and convertible helmets. With a waterproof and windproof design, you can use this intercom in all weathers.
Highlighted Features:
9. Gelaten BT-S3 1000M Wireless Communication Systems
When was the last time you held listened and responded clear to your passenger while cycling at high speeds? Gelaten BT-S3 1000M makes it possible to hold smooth and clear talks with your passenger or other bikers 1000 meters apart, listen to music, and do more.
This comms presents you with easy to install speakers with mic with velcro pad attached to them for easy sticking inside your helmet for modular helmets. Or you can use the clip-on style for other helmet types.
Once set in place, this system delivers truly great audio quality for crisp-clear conversation and music experience. The device comes incorporated with the advanced DSP noise and echoes cancellation technology which ensures your conversation doesn't get interrupted by engine roars and other noises filling the air.
Even when riding at top speeds, the audio volume remains good enough to enhance clear communication.
Owing to the Bluetooth 3.0 chip implanted into this intercom, it allows for full-duplex communication—where up to 3 riders can communicate with each other (2 at a time). The maximum communication range falls between 800 to 1000m. The Bluetooth also supports your smartphone device for hands-free calls, unlimited music experience, FM radio, and more.
Keep in mind that this intercom has a powerful battery which offers you up to 300hours standby time, 8 hours talk time on the phone, and 6 hours for intercom communication. The device is 100% waterproof. The included manual has easy to follow instructions for easily installing and operating this device.
Highlighted Features:
10. HuanGou BT-S2 Motorcycle Bluetooth Intercom
Let's close our best motorcycle intercom system reviews with this BT-S2 Motorcycle Bluetooth Intercom from HuanGou. This is the perfect intercom for the money. It's incredibly easy to set up. And it delivers sound quality as good as what you get in the top-end models.
Like most of our previous intercoms, this device facilitates communication for up to 3 riders over a distance of 1000m, with 2 riders chatting at a time.
You'll be impressed with the sound quality that comes out of this intercom. Using the advanced DSP noise & echo cancellation technology, this intercom is sure to give you the smoothest and clear conversations…and music experience that carries you away. Even in noisy roads and at high speeds (80km/h-120km/h), this intercom gives you the best sound quality experience.
Needless to mention, this intercom will also pair up with your smartphone or other cellular devices so that you can enjoy hands-free calls, music, FM radio, etc.—all of which allow you to have more relaxed & enjoyable music experience.
Don't forget that this intercom is widely versatile and will work with just any helmet. Its big push button makes it easy to operate, even with your gloves on. The silicone construction gives the device a waterproof function so that you can use it in rainy and snowy conditions without any issues.
Highlighted Features:
What To Check For Before Getting This?
As the motorcycle comms tech gets smarter, and more products enter the market, choosing the perfect communications system becomes challenging.
Different bikers also have unique needs and requirements for motorcycle headset, making the selection process even harder.
Let these features guide you into quickly picking an intercom that best fits your needs:
Maximum range
The number one thing to look for in a motorcycle intercom is its maximum range of communication.
Of course, this will depend on how large your riding group is and where you plan to ride your bikes.
If you'll be riding in the countryside, where there's less traffic, you won't be far from each other. And in this case, you'll need an intercom with a smaller range of around 500m.
What if you're riding along the highway or in a city filled with traffic? In this situation, you'll likely spread out far apart with your riding buddies. So, you'll need a comms with an extended range of around 1000m.
If you want an intercom to speak with your passenger, the maximum range isn't that important.
Audio quality
You're purchasing that motorcycle intercom because you want to clearly and smoothly hear and talk to your riding buddies, right?
With this mind, you should ONLY settle for intercoms that deliver real sound quality.
Be on the lookout for advanced audio technologies such as DSP (Digital Signal Processing) and noise and echo cancellation capabilities. The play a crucial role in blocking the noise caused by your bike engine, wind, and surrounding traffic, for maximum audio clarity.
Ensure that the intercom delivers crisp-clear audio quality even at top speeds.
You should also ensure that the intercom comes with high definition speakers, with powerful bass. These not only contribute to audio clarity but also gives you a truly immersive music listening experience.
Number of users
How many riders make up your riding clique? Asking yourself this is also a crucial factor in determining what type of intercom you by.
As you have seen in our motorcycle communication reviews above, most motorcycle comms support around 3-4 riders and allow only 2 riders to communicate at a time.
The more advanced intercoms can support up to 6-8 riders, and allow up to 5 or 6 riders to communicate simultaneously.
Remember that the more riders a device supports, the costlier it becomes. So, we suggest that you stick to intercoms which support the number of connections you need.
Connectivity
Another great feature to have in a motorcycle intercom is the ability to connect to your smartphone, iPad, iPod, and other cellular devices.
Think of it…if you pair the headset with your smartphone, you'll be able to answer/reject/dial calls hands-free.
You'll also get to listen to your favorite playlist from the phone, and so on.
Battery life
You'll agree with me that a device whose battery dies in the middle of a conversation with your fellow bikers is frustrating.
For this reason, we also suggest that you try to look for a model with a more reliable battery that gives you long hours of talk time, both on your phone or the intercom.
Most of the headsets we've reviewed above come equipped with batteries which deliver an average talk time of around 6-8 hours and have an impressive standby time of 300 hours.
One more thing…look for a battery with shorter charging time for your own convenience.
Other features:
Frequently Asked Questions
1. Can motorcycle intercoms play music as well?
Absolutely! The motorcycle intercoms are not only designed to facilitate communication but also to help add color to your ride.
They do this by allowing you to connect to your smartphone or mp3 player with Bluetooth tech and listen to your favorite playlists as you cruise your baby around.
Some models even go out of the way to allow you to share music with your fellow riders. It doesn't hurt to tap into what your buddies are listening to, right?
2. Wired vs. wireless motorcycle intercom: which is better?
Wireless motorcycle comms are high favored given that you don't have to deal with any wires. No wires getting in your way means you can't accidentally rip them out during riding.
What's more, wireless (Bluetooth) models allow you to connect to any BT compatible devices within your range for communication, listen to music, etc.
Wired intercoms involve connecting the passenger and rider via wires. As you can easily guess, these models can be tiresome for riders as you'll need to plug and unplug anytime you hop onto or get off your bike.
The only advantage of wired comms is that they don't suffer from external interferences, so no loss of connection as with the Bluetooth headsets.
3. How do I take care of my motorcycle intercom?
If you want your motorcycle intercom to stay in top condition and serve you for an extended period of time, then you'll need to show proper care to it.
This is how you care for your comms:
Final Verdict
Thanks to technology, you can now talk with your riding buddies on the fly make route changes, point out any problems, and share music.
A great intercom also lets you clearly talk with your passenger as you ride through noisy streets. Trainers too will find these devices useful when giving coaching tips to beginners on the road.
From our list of the 10 best motorcycle intercom systems, it's clear that the market has all sorts of intercoms, with different sets of features and capabilities. What works for you might not work for another biker.
We advise you to let your unique needs lead you into choosing the most suitable communication system for your bike.
See Also: