Best Portable Jumper / Jump Starter for Your Motorcycle Battery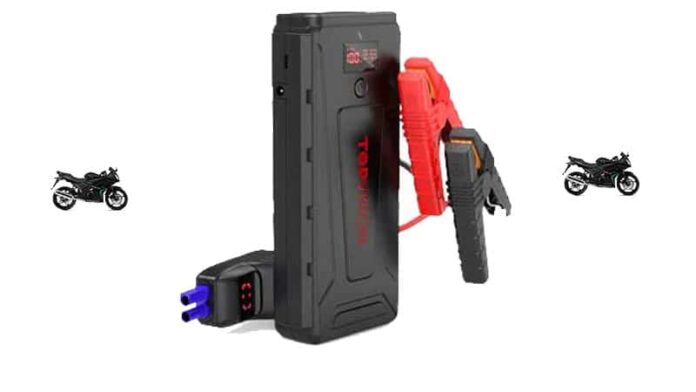 It's not a strange thing for your motorcycle to not start due to a dead battery. The worst-case scenario is when this happens in the middle of nowhere with no sign of forthcoming help.
Fortunately, there's an easy solution. A motorcycle jump starter gives your battery the push it needs in order to spring back to life and start your bike so you can continue with your ride.
In the complete buying guide below, you'll discover the best motorcycle jump starters on the market today, and expert advice on how to pick one that works for your bike.
Why Do Motorcycle Batteries Die So Fast?
There are many possible reasons for your motorcycle battery dying at unexpectedly faster rates. Knowing these reasons can help you make the necessary adjustments and prolong the life of your battery.
The most common reasons include:
Electrical Short
A short in your motorcycle electrical system is one of the major culprits behind batteries dying quickly. If you suspect this to be the issue, you should consider hiring a professional mechanic to examine the system as it might be too complicated for you.
Overloading
Another reason why your battery might die too fast is due to overloading. This happens when you have too many accessories on your bike drawing power from the battery, stressing it, and reducing its lifespan.
Heat and vibration
Yes, excessive heat and vibration experienced by your motorcycle battery when riding it are also known to significantly affect its lifespan. Excessive heat and vibration will cause damage to the internal parts of the battery and cut short its lifespan.
Battery Gone Bad
The motorcycle batteries don't last forever. The average lifespan of the best motorcycle battery is roughly 48 months, though some tend to quit before this duration. If you have an old battery about to expire, you might consider switching it with a new one.
Poor Grounding
This is a common reason why your battery dies pretty fast! An improper ground connection between the battery and the frame prevents proper battery charging and reduced battery health.
Other common reasons why your battery tends to drain fast include corroded terminals, faulty voltage regulation/rectifier, faulty stator, bad terminal connection, and leaky circuit (i.e., parasitic draw on the battery by your bike accessories).
The Best Motorcycle Battery Jumper / Jump Starter
1. DBPOWER 800A 18000mAh
Opening our list is this DBPower 800A jump starter. The highly-rated unit comes with a compact and portable design, allowing you to easily carry it with you everywhere the road takes you and jumpstart your motorbike in emergency situations.
Though pretty small in size, this device packs a powerful punch! It boasts whopping 800 Amperes worth of peak current, which will enable you to quickly get your motorcycle back up and running. It also comes packed with heavy-duty cables and clamps to ensure easy jump start experience.
Even better, it comes with intelligent jumper clamps with integrated protection against overcurrent, short-circuiting, overload, overcharging, and overvoltage.
With the built-in smart USB port and a total power capacity of 1800mAh, you can rely on this unit to fully charge your laptop, smartphone, tablet, and other devices you might be carrying with you.
Extras you'll get when you purchase this jump starter include an LCD screen to help you easily monitor the remaining power and a compass to help you easily find your way in case you get lost out there.
Highlighted Features:
2. NOCO 1000 Amp 12-Volt UltraSafe
Next up on our list of top-rated motorcycle jump starter reviews is another portable jump starter from NOCO, a respected manufacturer of battery-related products and accessories.
This NOCO comes with an even higher amperage rating of 1000 A, enabling it to quickly charge your dead motorcycle battery. It safely connects to all 12V automatic batteries, making it suitable for use with all 12V motorcycle batteries. It ensures an easy and safe way to jumpstart your bike, thanks to the built-in spark-proof technology and reverse polarity protection.
Besides jumpstarting your motorcycle, this unit presents you with additional goodies such as a 100-lumen LED flashlight and portable power bank to help you quickly charge your mobile devices.
With its rugged and water-resistant housing, this device will serve you for longer than the competition. It even features rubberized overmolded casing to prevent scratching of its surfaces. Don't forget that this jump starter is exceptionally portable—with an ultra-compact and lightweight design, and a microfiber bag for easy carry.
Highlighted Features:
3. STANLEY J5C09 JUMPiT Portable Power Station
This STANLEY J5C09 is designed to give you peace of mind when traveling with your motorcycle. It produces up to 1000 peak amps and 500 instant starting amps, which is enough power to bring your motorcycle battery backup.
Using this portable jump starter is incredibly easy, even for the absolute beginners. You simply connect the cables, turn on the switch and start your bike. It comes with a reverse polarity alarm to alert you in case you make an improper connection, making it even easier to use.
STANLEY J5C09 is more than just a motorcycle jump starter! It comes integrated with a high-powered LED that rotates at 270 degrees to help you work in dark or low light conditions. It also comes equipped with a 120PSI air compressor to help you inflate tires with little pressure.
Like the previously discussed units, this model also presents you with USB ports to help you easily charge your smartphone and other electronic devices. The built-in 120V charging cube lets you easily charge this unit by plugging it into a standard household outlet.
Highlighted Features:
4. GOOLOO 800A Peak 18000mAh SuperSafe
GOOLOO 800A jump starter is another lifesaver when it comes to roadside emergencies and one of the best motorcycle jump starters you can get on the market today.
The device packs up to 800A peak current power, sufficient for jumpstarting 12V batteries for motorcycles, ATVs, UTVs, watercraft, snowmobiles, boat, yacht, lawnmowers, and more. It also presents you with charge indicators to enable you to easily see when your device needs charging.
The included jumper clamps boast an intelligent design and offer advanced multi-protection capabilities against overcurrent, overloading, over-voltage, overcharging, and high protection. This ensures you always have a SAFE experience jumpstarting your motorcycle.
We like that this unit comes equipped with a quick-charge 3.0 USB port. This helps you charge your phone, tablet, kindle, digital camera, and other electronic devices faster and efficiently—helping you save time. It also comes with a built-in LED flashlight that will come in handy when camping, outdoors, indoors, or during emergencies.
Note that this jump starter has an ultra-compact design and comes with a convenient carry bag for high portability.
Highlighted Features:
5. Bolt Power D29 900 Peak Amps
Why pay for towing services for your motorcycle to the nearest city while you can get this reasonably priced portable jump starter and take it with you for use in roadside emergencies?
The Bolt Power unit presents you with a total power capacity of 18000mAh. It can deliver a peak current output as high as 900A. It produces a normal continuous current of 500A and 450 Amps of cold start. This makes it the perfect device for reviving your dead battery in case your motorbike fails to start when you're far, far away from civilization.
Just like the other top-rated starters featured on this list, this starter comes with two heavy-duty clamps to enable you to easily jump start motorcycle and get it running quickly. What's more, the unit has built-in protection to ensure the battery or your bike's electric system doesn't get damaged due to improper connections.
You'll be pleased to discover that the device's built-in battery has dual USB ports that allow you to conveniently and efficiently charge up to 2 electronic devices at a go—with each port delivering a total charging speed of 2.1Amps. You can easily monitor the unit's charge level and the USB amperage using the provided digital display.
Highlighted Features:
6. DBPOWER 2000A 20800mAh
If you're looking for a powerful jump starter unit for your motorcycle, you can't go wrong with this DBPower model. The device is rated at 2000A peak power, so it's capable of starting all bikes and other vehicles with 12V batteries.
The jump starter only allows you to get your motorcycle running quickly, but also enables you to do it safely. It comes packed with advanced intelligent protection clamps to provide the ultimate protection against overloading, over-current, over-voltage, overcharging, and more. The clamps also feature an LED screen that indicates the charge level.
Remember that this jump starter comes with QC3.0 charging ports that offer you 4x time the charging speed of normal USB ports—saving you a lot of time. The unit even features an ultra-bright LED flashlight with up to 3 modes to help you in emergency situations.
In terms of size, this jump starter has an ultra-compact and lightweight design for easy carry and transportation to any place.
Highlighted Features:
7. TOPVISION 2200A Peak 20800mAh
This is the most powerful unit on our list of top motorcycle jump starter reviews. It outputs an unparalleled 2200A of peak current to jump start 12V motorcycles as well as vehicles in a matter of seconds. And will provide you with up to 50 jump starts on a single charge.
It comes equipped with high-quality clamps for maximum longevity, with repeated use. The clamps also feature built-in protection against overcurrent, overload, short circuit, over-voltage, and overcharge protection. No more worrying about damaging the battery or electrical system when jumpstarting your bike.
The portable battery starter also features an ultra-bright LED flashlight with up to 3 light modes that come in handy in case you get caught up in an emergency or when pursuing outdoor adventures at night.
Other notable features include USB charge ports and LED screen for displaying the battery charge level. Remember, the unit comes in a pretty compact size and lightweight design to enable you to easily carry it with you anywhere.
Highlighted Features:
8. TACKLIFE T8 800A Peak 18000mAh
Tacklife T8 jump starter also comes with a compact design, yet it packs a powerful punch! It comes rated at 800 amps peak current, and that means it can jump-start just any 12V motorcycle battery to ensure you don't get stuck again with a dead battery!
The sweet spot of this jump starter is its exceptionally longer standby time compared to other units out there. It comes designed in such a way that you can manually turn it off to slow down the self-discharge rate of the battery—allowing it to hold its charge for as long as 12 months when not in use!
The compact jump starter also boasts a high capacity (18000mAh) with dual USB ports to enable you to easily charge all your mobile devices. Out of these ports, one is a quick charge port to allow you to quickly charge your electronic devices and save time.
Apart from jump-starting your motorcycle, this device also presents you with a super bright LED light that can work as an emergency light, built-in compass to help you find your way home, and a digital LED screen for monitoring the battery charge level.
Inside the complete package, you'll find cool bonus accessories such as cigarette lighter socket adapter, car charger, wall charger, and smart jumper cables.
Highlighted Features:
9. Nekteck 500A Peak
As we edge closer to our list of top motorcycle jumpstarter models, we have another incredibly popular portable unit that will act as a lifesaver if your battery decides to surprise you in the middle of nowhere.
The Neckteck comes ready to provide you with up to 500 Amps, a sufficient amount of power for starting most motorcycle batteries as well as ATVs, lawnmowers, and other vehicles. It features a power capacity of 12000mAh, translating to several jumpstart sessions before requiring charging. It has heavy-duty jumper cables with clamps to let you hassle-freely jumpstart your motorcycle.
When using this jump starter, you'll enjoy peace of mind knowing that it has built-in protection for short-circuits, overvoltage, overcharging, and other potential hazards.
As for the extras, this jump starter comes with a flashlight that will prove quite helpful if you get stuck out there at night or when camping. It also comes with a cigarette adapter, micro USB cable for charging your devices, and a convenient storage bag for easy transportation.
Highlighted Features:
10. GOOLOO 1500A Peak 20800mAh
If you're still looking for a powerful jumpstarter for your motorcycle, this is it! The GOOLOO boasts up to 1500 Amps peak current that enables you to start not only motorcycle but other 12V cars, including RVs, tractors, cargo vans, ATVs, yacht, light-duty trucks, and more!
The jump starter comes packed with advanced 12V battery clamps—with built-in smart protection—to ensure you don't damage your motorcycle electricity system or battery when jumpstarting. The clamp has also been upgraded to be bigger and more durable than the previous models from the manufacturer.
The jump starter will even start your motorcycle in cold weather, so you don't need to worry about an exhausted battery in cold weather environments.
Keep in mind that this powerful unit also features an equally powerful battery capacity of 20800mAh. It even features quick-charge dual USB ports to let you charge up to 2 devices at a time.
It also offers you the convenience of a built-in LED flashlight for emergency situations and an LED display where you can monitor its charge status.
Despite being one of the most powerful units available, this Gooloo comes at a small and portable design, and will easily fit in a glove box for transpiration to any place. It even comes with a bonus carry case to help you easily carry it to any place.
Highlighted Features:
How To Buy a Motorcycle Jump Starter?
As we promised you at the beginning of this guide, in this section we'll give you our expert tips on how to pick the best motorcycle jump starter compatible with your bike.
The perfect device for you should meet the following requirements:
Amperage
One of the key things to look out for in a jump starter for your motorcycle is its ampere rating. For beginners, the amperage rating shows how fast the charge will enter your motorbike's battery. The higher the rating, the faster your bike will get charged and start running again. A model rated from 1000mAh will meet the needs of an average motorcycle.
Voltage
Another essential aspect to look for when shopping for a motorcycle jump starter is its voltage rating. This is important to ensure you get that's compatible with your motorcycle battery. Since most motorcycle batteries are 12V, you should get a battery with a maximum rating of 12V. This will safely jump start your bike as well as charge your devices such as smartphones, tablets, etc.
Built-in protection
The process of jump-starting your motorcycles isn't always safe. There lie potential hazards that can end up damaging your motorcycle battery or even your bike's electrical system. This can cost you a lot in terms of repairs and replacement. Luckily, you can avoid this by purchasing a jump starter that comes with built-in protection against short-circuiting, overloading, over-current, over-voltage, reverse connections, etc.
Extras
The modern-day motorcycle jump starter units do more than just give life to your dead battery. Most of them come equipped with extra features that you'll find quite handy when out there. Some of the coolest extras to look for include USB ports for charging your devices (models with quick-charge ports are even better!), built-in flashlight, compass, cigarette lighter, USB cables digital LED screen, heavy-duty clamps, and more.
How Do You Start A Motorcycle With A Dead Battery?
There are multiple ways to jump-start your motorcycle. In this section, however, we'll focus on how to do it using a portable jump starter. The beauty of using this unit is that it's pretty easy and fast to use, and you can carry and use it anywhere.
Follow these 4 simple steps to use your new jump starter:
Step 1. Connect the Cables Correctly
With both your jump starter and the motorcycle turned off, connect the cables from the jump starters to your battery terminals correctly. Start by connecting the clamp with a red handle to the positive (+) battery terminal, followed by the clamp with a black handle to the negative (-) terminal. If you're having problems reaching your battery terminals, you can simply connect to the terminals on the chassis, where the battery connects to the motorcycle.
Step 2. Turn on Your Jump Starter
Turn on your jump starter to put it to action. If your unit comes with multiple voltage settings for use with different batteries, then make sure you set it to the correct voltage for your motorcycle battery. For instance, set it to 12V if your battery is rated 12V.
Step 3. Start Your Motorcycle.
With the jump starter on, now it's time to start your bike. And be sure to crank it for 2-3 seconds ONLY at a time. These units are designed to deliver short bursts of max. power, which makes cranking for a long time can end up damaging the built-in battery.
TIP: In case your bike fails to start, you'd want to give the ump starter a few minutes to cool down before trying again. If your bike fails to start after many attempts, then it means the battery is completely dead, and you need to replace it with a new one ASAP.
Step 4. Disconnect the Jump Starter.
Once your motorcycle has started, the only remaining thing is to disconnect the jump starter and continue with your ride. The correct way to disconnect it to start with the negative terminals, followed by the positive one. After disconnecting, ride your bike at high revs for approx. 15-30 minutes to help recharge the battery.
Frequently Asked Questions
Q: Can I use a car jump starter on a motorcycle?
We advise you against using a car jump starter on your motorcycle because you might end up damaging your battery or electrical system. This is because the motorcycle batteries usually feature higher amperage than motorcycle batteries. When in a desperate situation, however, you might consider using a car battery to help you get your bike running and get to the nearest mechanic shop or home.
Q: Can I overcharge my motorcycle battery?
Yes. It's possible to overcharge your motorcycle battery, but such action may cause it to die faster. This is why experts warn you against leaving the charger connected to your battery as it ends up draining and cutting short its lifespan.
Q: How many amps does it take to start a motorcycle?
A typical 12V motorcycle battery will require 200 amps or more to start. However, the condition of your bike engine can also affect how much amps you need to start it. For relatively new engines, you'll need around 210 amps to get them up and running. Older, rust engines with functionality problems might require more amps to start.
Final Verdict
Using our complete guide above, you'll be able to choose the perfect jump starter that works with your motorbike to help you easily start it and continue with your journey. Our expert tips will help you pick a unit that bears the unique features you need in a motorcycle jump starter.
Arm yourself with one of the best motorcycle jump starters we have outlined above and see how easier your life will become when you get caught up in an emergency!